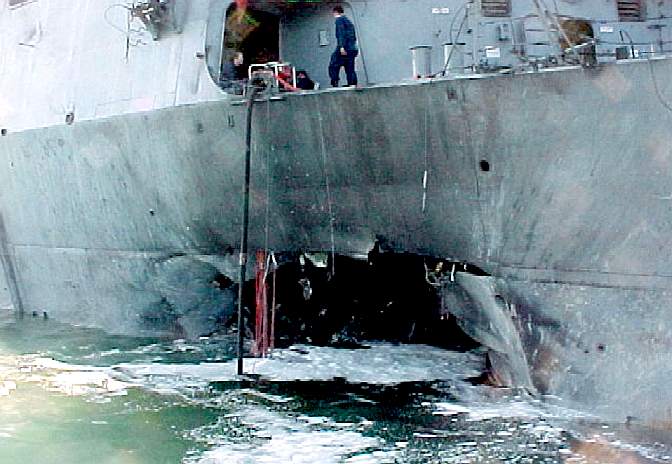 The portside damage to the guided missile destroyer USS Cole is pictured after a bomb attack during a refueling operation in the port of Aden, Yemen, October 12, 2000.
Reminiscent of the underwater chariots and frogmen attacks of World War II, the attack on the USS Cole demonstrates just how vulnerable a large warship is, once their Achilles heel is identified.
With the world in a 'drone' technology race, it won't be long before Al-Qaeda cotton to the fact that robots are potentially the equalizer that they are looking for.
SWARM BOATS COULD HAVE PREVENTED ATTACK ON USS COLE RESEARCHERS SAY

A new video from the U.S. Navy shows that the military is adapting drone technology for the seas. Navy researchers are testing autonomous boats that, under the control of a single sailor, could protect U.S. warships by essentially swarming adversaries.

The video, released Saturday, shines a light on a secret project by the Office of Naval Research in an attempt to better protect American sailors docked in ports around the world. The Navy video shows five unmanned vessels, like the drones that buzz in the skies over Pakistan, confronting a would-be attacker and preventing it from reaching the larger ship. It all happens under the control of a single navigator, who steers and commands the five 11-meter boats remotely from a safe distance.

The research comes 14 years after a suicide bomber drove a small craft packed with explosives into the side of the USS Cole, which was refueling in the port of Aden, Yemen, at the time. The blast killed 17 American sailors, wounded 39 others and inspired the Navy to reassess the rules of engagement.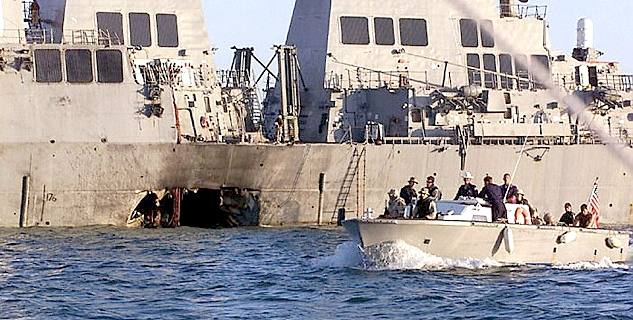 Such an attack might have been prevented had the USS Cole been equipped with a pack of swarming boats to stop the suicide bomber before it was too late.

"We're talking about multiple, multiple vessels that can be in a defensive posture and then when called upon can become offensive, surround an adversary - let them know that you are coming no closer to our ship," Rear Adm. Matthew Klunder, the chief of naval research, said in the video. "But of course if an adversary or threat decides to come closer, we can give them another warning or potentially we can say, 'You've come too close, we are now going to destroy your vessel.'"

The swarm boats, which one developer compared to a naval guard dog, could be equipped with automatic weapons, although the Navy said any guns on board the autonomous ships would be entirely controlled by the human operator.

Swarm boats, which could be deployed as soon as 2015, also take inspiration from the self-driving road vehicles the U.S. Army developed to use in the Middle East. Improved explosive devices were one of the leading killers of American troops in Iraq and Afghanistan, inspiring researchers to build the M-ATV armored vehicle, which was designed specifically to detect and resist IED explosions.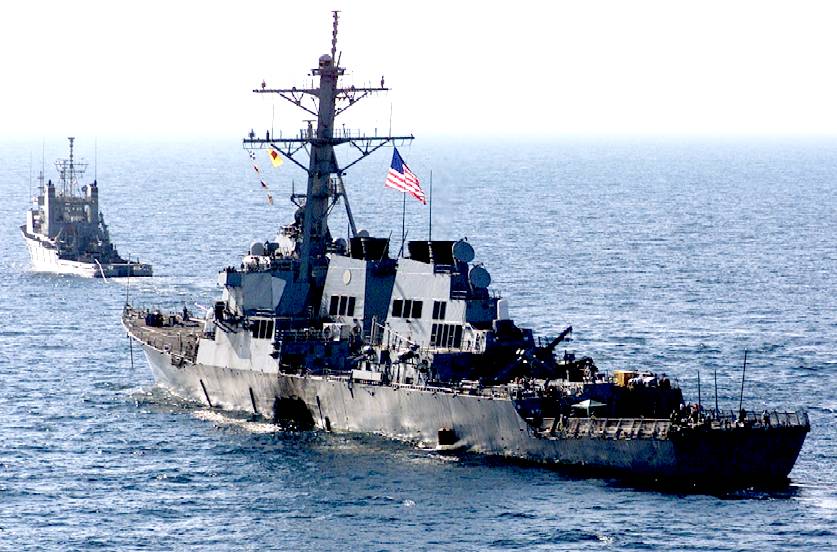 RESCUE - After the attack the USS Cole was assisted by a number of ships
USS COLE
USS Cole (DDG-67) is an Arleigh Burke-class Aegis-equipped guided missile destroyer home-ported in Naval Station Norfolk, Virginia. Cole is named in honor of Marine Sergeant Darrell S. Cole, a machine-gunner killed in action on Iwo Jima on 19 February 1945, during World War II. Cole is one of 62 authorized Arleigh Burke-class guided missile destroyers, and one of 21 members of the Flight I-class that utilized the 5"/54 caliber gun mounts found on the earliest of the Arleigh Burke-class destroyers. The ship was built by Ingalls Shipbuilding and was delivered to the US Navy on 11 March 1996.

On 12 October 2000, Cole was the target of attack carried out by Al-Qaeda in the Yemeni port of Aden; 17 sailors were killed, 39 were injured, and the ship was heavily damaged. On 29 November 2003, Cole deployed for her first overseas deployment after the bombing and subsequently returned to her homeport of Norfolk, Virginia, on 27 May 2004 without incident.
AL-QAEDA ATTACK
On the morning of Thursday, 12 October 2000, USS Cole, under the command of Commander Kirk Lippold, docked in Aden harbor for a routine fuel stop. Cole completed mooring at 09:30; refueling started at 10:30. Around 11:18 local time (08:18 UTC), a small craft approached the port side of the destroyer, and an explosion occurred afterward, creating a 40-by-60-foot gash in the ship's port side, according to the memorial plate to those who lost their lives. According to former CIA intelligence officer Robert Finke, the blast appeared to be caused by explosives molded into a shaped charge against the hull of the boat. Around 400 to 700 pounds (200–300 kg) of explosive were used. The blast hit the ship's galley, where crew were lining up for lunch. The crew fought flooding in the engineering spaces and had the damage under control after three days. Divers inspected the hull and determined that the keel was not damaged.

17 sailors were killed and 39 were injured in the blast. The injured sailors were taken to the United States Army's Landstuhl Regional Medical Center near Ramstein, Germany, and later, back to the United States. The attack was the deadliest against a U.S. naval vessel since the Iraqi attack on the USS Stark on 17 May 1987. The asymmetric warfare attack was organized and directed by the terrorist organization al-Qaeda. In June 2001, an al-Qaeda recruitment video featuring Osama bin Laden boasted about the attack and encouraged similar attacks.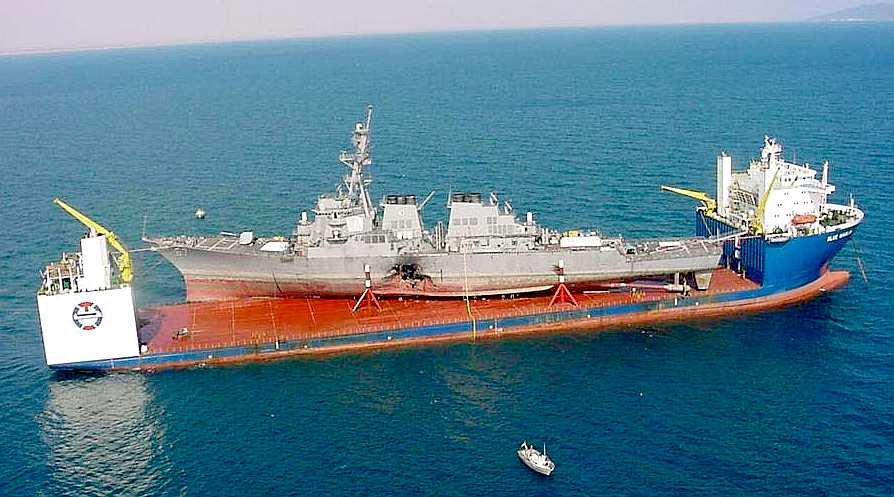 Al-Qaeda had previously attempted a similar but less publicized attack on the U.S. Navy destroyer USS The Sullivans while in port at Aden on 3 January 2000, as a part of the 2000 millennium attack plots. The plan was to load a boat full of explosives and explode it near The Sullivans. However the boat was so overladen that it sank, forcing the attack to be abandoned.

Planning for the attack was discussed at the Kuala Lumpur al-Qaeda Summit shortly after the attempt, which was held from 5 to 8 January 2000. Along with other plotters, it was attended by future 11 September hijacker Khalid al-Mihdhar, who then traveled to San Diego, California, where he established a close relationship with "9/11 imam" Anwar al-Awlaki, who was later linked to numerous plots and attacks, including the Fort Hood shootings and the "underwear bomber" of 2009 and put on a targeted killing list by President Obama as a terrorist threat. On 10 June 2000, Mihdhar left San Diego to visit his wife in Yemen at a house also used as a communications hub for al-Qaeda. After the bombing, Yemeni Prime Minister Abdul Karim al-Iryani reported that Mihdhar had been one of the key planners of the attack and had been in the country at the time of the attacks. He would later return to the United States to participate in 9/11 on American Airlines Flight 77, which flew into the Pentagon, killing 184 people.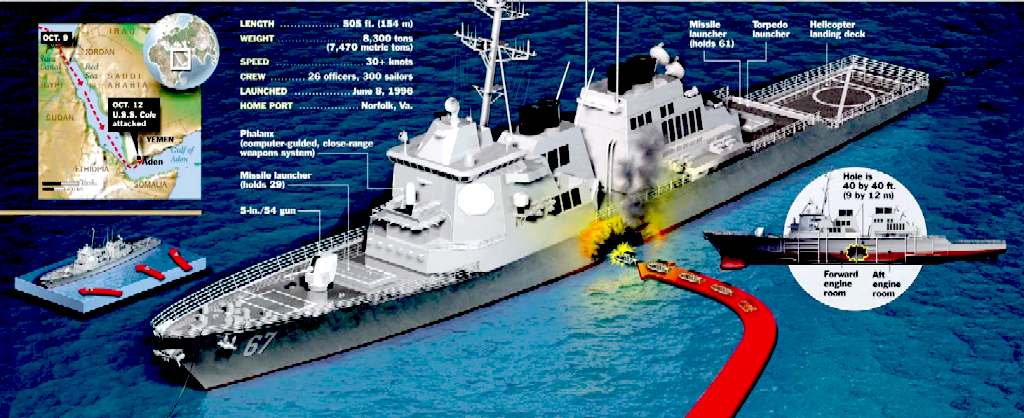 RULES OF ENGAGEMENT
The destroyer's rules of engagement, as approved by the Pentagon, kept its guards from firing upon the small boat (which was not known to be loaded with explosives) as it neared them without first obtaining permission from the Cole's captain or another officer.

Petty Officer John Washak is quoted as saying that right after the blast, a senior chief petty officer ordered him to turn an M-60 machine gun on the Cole's fantail away from a second small boat approaching. "With blood still on my face", he said, he was told: "That's the rules of engagement: no shooting unless we're shot at." He added, "In the military, it's like we're trained to hesitate now. If somebody had seen something wrong and shot, he probably would have been court-martialed". Petty Officer Jennifer Kudrick said that if the sentries had fired on the suicide craft "we would have gotten in more trouble for shooting two foreigners than losing seventeen American sailors."
This incident has changed the way that the Pentagon and other Governments view the rules of engagement, prompting the "swarm drones". A credible threat such as an unidentified small vessel approaching a warship, may now be treated as hostile - without any shots fired. In our opinion as military strategists, this should not be limited to harbour situations, but extend to blue waters.
The fact that small boats always were treated with suspicion and could not be neutralized at an early stage is interesting. Modern sensing and behavioral analysis algorithms (such as used to identify pirates) might be used to ward of potential risks before they become serious, for which a network of persistent drones at sea is a valuable fleet insurance that the navies of the world may want to investigate.
USS STARK, IRAN-IRAQ WAR & EXOCET MISSILES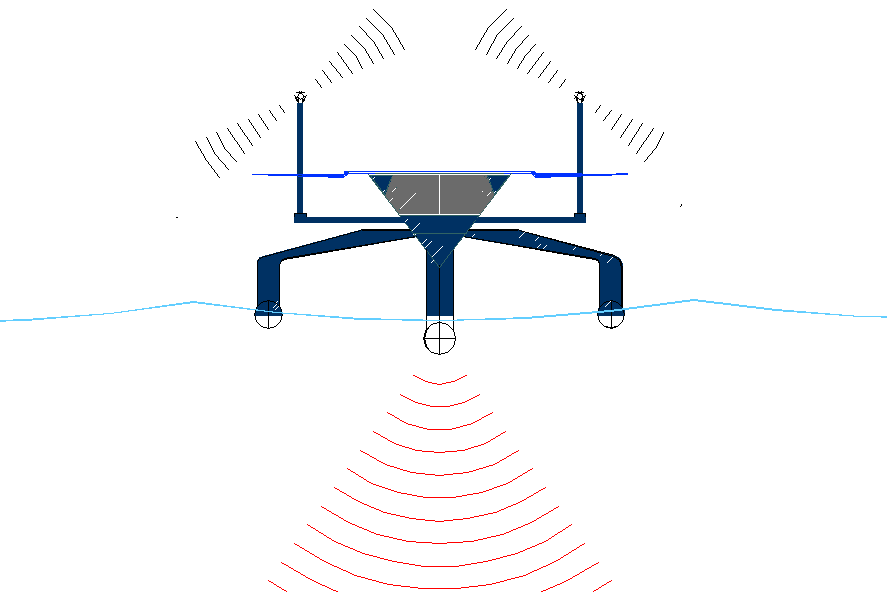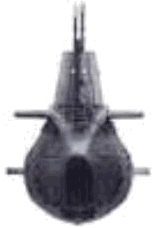 DRONE SUBS -

The submerged nuclear submarine above is in grave danger, because the submarine hunter-killer (HK) on the surface above it is a drone that can either track the submarine and pass information to a network of marine drones, or, in times of hostilities - sink the submarine as soon as it is located with torpedoes or depth charges.

A submarine might get lucky and evade the HK, wolf pack, but once the position of a submarine is known and transmitted, it will never be safe and from then on the drone HKs will converge upon it. The mission of drone HKs is to find enemy submarines: persistently. The secondary objective of drone HKs is to sink destroyers and aerial drones that may be sent out to hunt them.

COST EFFECTIVENESS - By a process of attrition, drone HKs will decimate an enemy fleet and financially frustrate any state, even a super power. The maths is simple. A drone HK cost only a few $million with no loss of life, compared to a manned destroyer which costs a small fortune and kills hundreds of crew. The traditional investment in huge floating iron coffins becomes wasted capital.

UNMANNED SUBMARINES - The logical conclusion is to eliminate the crew from submarines and bring in countermeasures. The technology exists to enable this, but submarines, either manned or unmanned will need to be supported by friendly surface drones where aerial and marine drones like that shown could make their situation untenable. Thus, the main reason for maintaining a fleet of nuclear submarines, namely to be able to launch a nuclear strike, is neutralized. Contact BMS to find out more.




Much of the discussion and fear of armed unmanned vehicles ignores a central fact. Aerial drones like the Predator or Reaper are operated by two-man human teams, a pilot to steer the drone, and a sensor operator to control the various mechanical eyes and ears. The boats that participated in the event on the James River were able to sense one another as well as other vessels, and execute complicated "swarm" maneuvers, with a bare minimum of guidance. These boats are not your average drones.

LINKS & REFERENCE

Extreme Tech US-navy-deploys-autonomous-unmanned-swarmboats-to-keep-its-larger-ships-safe

Daily Mail Navy-set-introduce-self-guided-unmanned-patrol-boats-fleet-year-swarm-attack-potential-threats

The Guardian 2014 Oct 5 US Navy unmanned drone swarm boats

Wired Navy-self-driving-swarmboats

IB Times autonomous-us-navy-swarm-boats-could-have-prevented-attack-uss-cole-researchers-say

EV world submarine drone launch

Spectrum IEEE military robots navy launches drone from submarine

MOD Contracts Intellectual Property - defending and commercialising ideas

http://www.army.mil/

http://en.wikipedia.org/wiki/USS_Cole_bombing

http://en.wikipedia.org/wiki/USS_Cole_%28DDG-67%29

http://www.theguardian.com/us-news/2014/oct/05/us-navy-unmanned-drone-boats
http://www.wired.com/2014/10/navy-self-driving-swarmboats/

http://www.lockheedmartin.com/

http://www.lockheedmartin.co.uk/

http://www.ipo.gov.uk/types/patent/p-os/p-find/p-ipsum/Case/PublicationNumber/GB2511731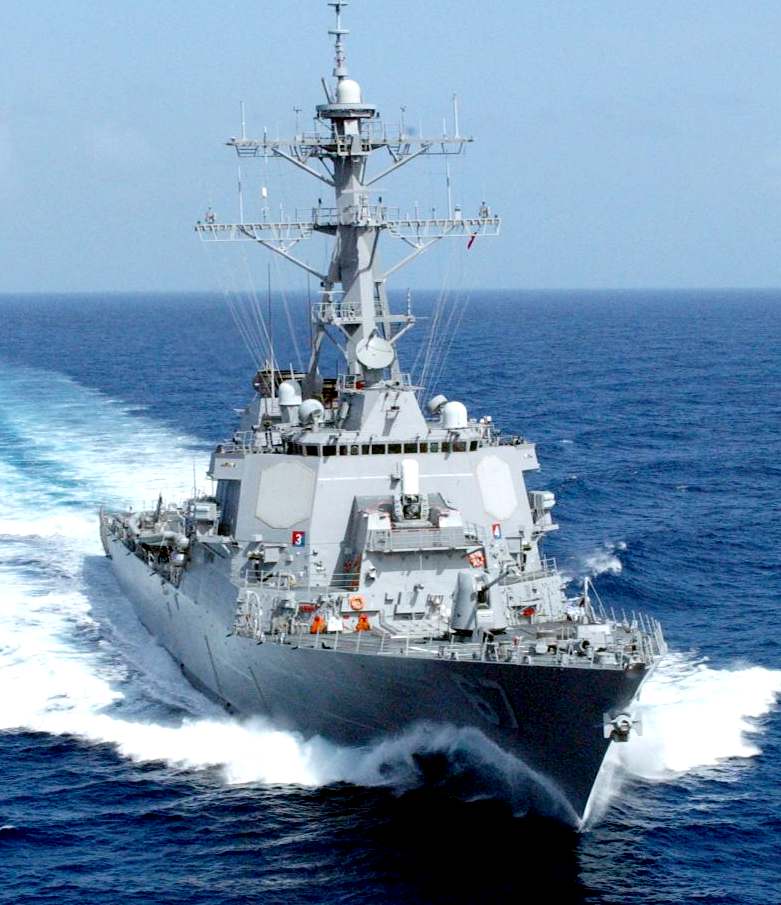 Arleigh Burke-class Aegis-equipped guided missile destroyer

67, US Navy destroyer.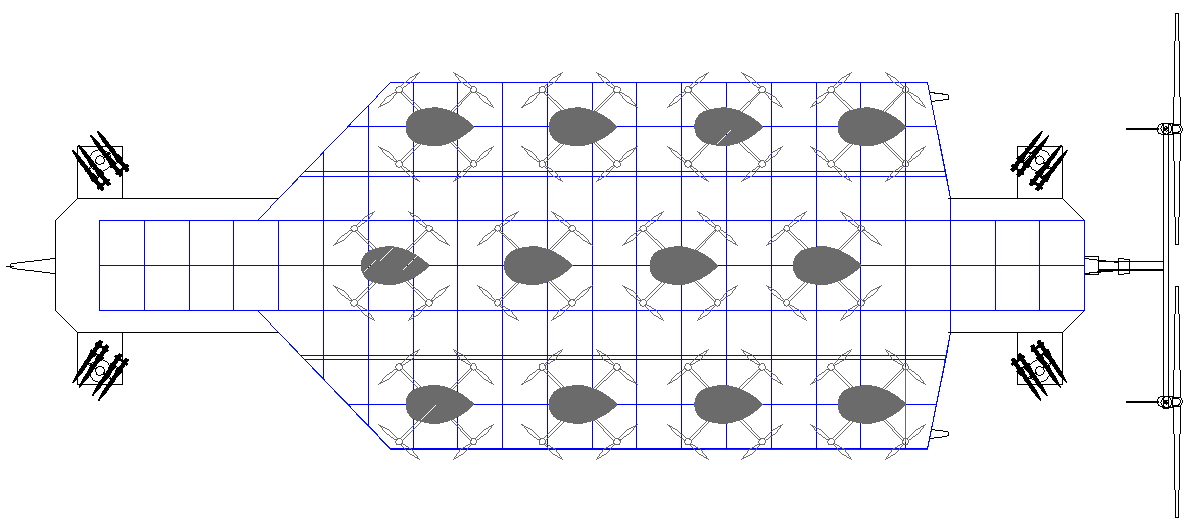 WORLD FIRST - An HK-ZCC class autonomous aircraft carrier / destroyer, showing deployment of a squadron of 12 fighter quadcopter drones. To overcome the potential for communications jamming, in a cyber-warfare situation, the battleship and the quadcopter squadron would be able to operate independently to target and neutralize incoming threats - or indeed, carry out operational attacks. There are no rules in war when dealing with an aggressor who themselves have no rules. Civilised military go all out to safeguard humans from unnecessary suffering. It's a two stage response situation, where, if an enemy breaks the rules of humane engagement, the gloves are off.