The Thales Watchkeeper WK450 (RPAS), Intelligence, Surveillance, Target Acquisition and Reconnaissance (ISTAR) drone.
CONFERENCE NEWS ROUND UP - 11 SEPT 2014
We were fortunate to have a speaker at this event who passed us his notes verbatim. He reports that the venue was more than adequate to cope with many such gatherings in tandem. Around 300 delegates were in evidence. The feedback was that this venue should be added to the calendar of anyone serious about keeping pace with UAS and other unmanned technology. The basic ingredients for a problem free conference were all in place to include ample parking for those with cars. The organizers were friendly and helpful, greeting all attending at first registration. The hospitality was also a comfort, providing a suitable backdrop for the all important networking sessions, or simply for sustenance.
One slight hiccup was that the remote page changer for the many PowerPoint presentations appeared to have a slight delay, prompting presenters to modify their style, as they were part thinking on whether or not the slide would change in time with their presentation. Our (BMS) representative was the first to come across the issue, which he said altered his presentation, but then all of the other speakers had to cope similarly - when the techies operating the computer equipment to the rear of the hall came to the rescue - changing slides for speakers on demand. The most affected was Timothy Beard and Scott Winship, mainly because their presentation on behalf of Northrop Grumman relied on a superb PowerPoint slide show with video footage. The presentation was impressive nonetheless. We can't wait to report on the latest advances and thinking at the event planned for 2015.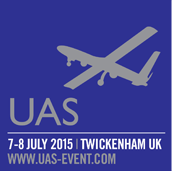 AGENDA 2014
The 3rd Annual UAS Conference took place on 9-10 September 2014 at Twickenham Stadium.

The focus of the 2014 conference was the benefits of unmanned technologies in the civilian domain. The UAS team is currently putting together the content for this year's programme and is inviting conference papers from thought leaders to share their expertise and knowledge with the UAS audience.

UAS would particularly encourage your participation if you have compelling experience in the following areas:

* Regulatory updates
* Current UAS research projects
* Humanitarian sector
* Energy Sector, oil, gas & alternative
* Search and Rescue
* Emergency response sector
* Broadcasting applications
* Press
* Agricultural applications
* Traffic monitoring
* Wildlife and Conservation applications
* Mining and survey
* Law enforcement
* Military
* Software applications
* Other unmanned systems applications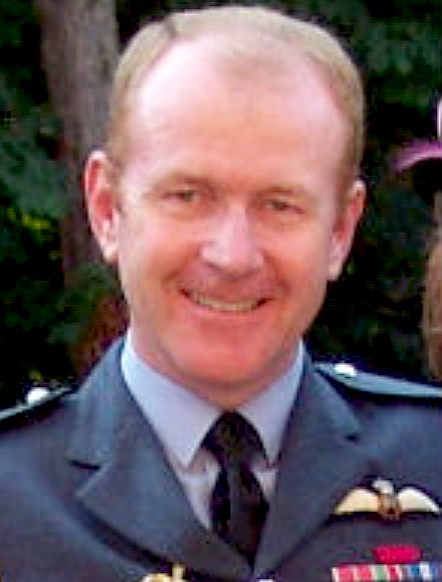 CHAIRMAN - Air Marshal Philip Sturley CB MBE - Has been involved with Unmanned Aircraft Systems (UAS) for nearly 15 years. He was the first senior UK joint coordinator for military UAS development as Assistant Chief of the Air Staff in MOD. This was at a time when air forces were beginning to appreciate the enormous potential UAS could make to future air operations, particularly where persistence was required. The Air Marshall was also Chief of Staff at the NATO Air HQ. Since then, he has been chairing conferences on UAS around the world and for the last 8 years, AM Sturley has been a Specialist Adviser to the House of Commons Defence Committee (HCDC) on all aspects of UAS operations.
THE CHAIRMAN
Air Marshall Sturley chaired the conference superbly, not only coordinating the event and introducing speakers in his unhurried manner, but also bringing his experience in operations to the table when seeking to clarify points that may have been raised by those presenting - of which there were many. There was a wide variety of topics, to include agriculture and biology, that may seem far removed from the focus of UAS, but part of the debate was that the use of unmanned aircraft is a valuable tool for farmers and environmental scientists, not just the military or those wanting film footage for movies or media broadcasts. There was though a significant military contingent, with the Royal Navy featuring highly in the numbers.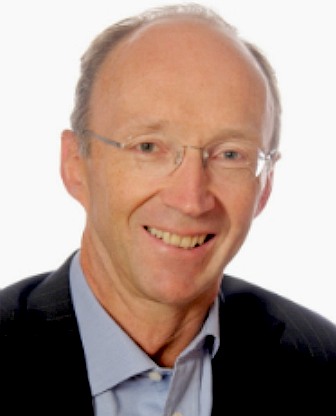 KEYNOTE SPEAKER - Matthew Baldwin is the Director of Aviation and International Transport Affairs, European Commission. He was recently Director in DG Trade in charge of market access and industry matters. Before that, he was deputy chief of staff for five years in Commissioner Lamy's cabinet, covering all trade issues, notably the launch of the Doha Round and China's accession to the WTO. From 2007-10 Matthew served in President Barroso's cabinet as advisor for all issues relating to trade, energy, development and climate change. Before joining the Commission in 1999, he worked for the British Government in a variety of posts in London, Brussels and Washington. He worked on a range of issues such as US trade policy, competition, the Single Market, and energy. He is responsible for: Coordination of international transport policy; The EU's international aviation negotiations; Aviation single market; developing the Single European Sky reforms for Europe's air traffic control system; Air safety issues; Aviation and the environment; Airports and infrastructure.
EUROPEAN COMMISSION
Tuesday morning (9-9-14) kicked off with the director of Aviation and Transport, Matthew Baldwin, giving a presentation on UAS from an EU perspective. The message seemed to be that the EU wished to keep pace with the rest of the world, such as to provide an administrative base to encourage, rather than stifle growth, in what is seen as an emerging technological market. The focus seemed to be mainly on civilian opportunities and economic benefits for smaller aircraft - as features popularly in the press relating to privacy issues. Baldwin played down the necessity for the military to keep pace and develop such markets (with drones) as the UK (or EU) might have done in years gone by, given the broad domestic knowledge base that may otherwise be looking for openings in more fertile regions.
PANEL DISCUSSING REGULATIONS
PANELIST - Gerry Corbett joined the CAA's Safety and Airspace Regulation Group in June 2012, where he is the CAA's focal point for all matters associated with the operation of Unmanned Aircraft Systems in UK airspace. He is also the sponsor for Civil Aviation Publication 722, the primary guidance document for Unmanned Aircraft System Operations in UK Airspace. Immediately prior to this he undertook a similar role whilst working as a serving Royal Naval officer on a 3 year secondment to the CAA's Directorate of Airspace Policy (DAP). During this period, the focus of the UAS 'portfolio' moved from being purely an airspace issue to more one of Operations and Airworthiness. Gerry has a background as a military Air Traffic Control Officer and has served airfield and Area Radar units ashore in the UK and at sea worldwide from the RN's Aircraft Carriers. He has also held a number of staff posts with the RN and RAF in the maritime air safety, aviation incident investigation and ATC equipment procurement roles.
PANELIST - Lambert Dopping-Hepenstal FREng, CEng, FIET, FRAeS worked for BAE Systems and its predecessor companies for 41 years, retiring as Engineering Director Systems and Strategy for Military Aircraft & Information in 2013. He was a systems design engineer on Hawk, Sea Harrier and Harrier II and managed the systems development of Tornado and Typhoon before running the Military Aircraft research programmes. Following the formation of BAE Systems, he moved to the centre as corporate Technology Director. He was elected a Fellow of the Royal Academy of Engineering in 2007. He has been the ASTRAEA Programme Director since 2006.
PANELIST - Elliott Corke started HexCam in 2012 and has been operating commercially, specializing in multi-rotors, for 2 years. He is UK Legislation Representative for ARPAS-UK (Association of Remotely Piloted Aircraft Systems – UK) and runs flight training courses to prepare pilots for the current UK qualifications that lead to a CAA Permission for Aerial Work. Elliott's Marine Biology degree and background in environmental education means that many of his projects are related to environmental, agricultural and conservation uses of UAS technology.
PANELIST - Nelson Kruschandl is a conceptual design engineer at Bluebird Marine Systems Ltd, Sussex, UK. He won the physics prize at Ratton School, thereafter attending Eastbourne College of FE and Brighton College. He hand built a car with joystick controls in 1986 for which he was granted patent GB2218187 in 1992. In 1995 he was granted patent GB2253379 for an electric vehicle instant charging system, since when he has worked on sustainable smart cities and EV infrastructure support.

Nelson first proposed an autonomous ship in 1995/6, building proof of concept test models, that led to unmanned and drone ships, whence collision regulations became the identified obstacle to acceptance, the subject of patent application GB1301488 in 2013. Similar resistance to UAS in the commercial arena is anticipated for warships and commercial liners, the subject of ongoing research by BMS Ltd. Nelson resides in Eastbourne, Sussex and can be contacted via: ip@bluebird-electric.net
CIVIL AVIATION AUTHORITY
Refreshingly, Gerry Corbett began by saying that the CAA were listening. Regulators so often want to jump on new technology, in so doing stifling development, both economic and technical. The most draconian restrictions by regulators must be the absurd speed limits that were imposed by the Locomotive Act 1865 (the "Red Flag Act") which required all road locomotives, which included automobiles, to travel at a maximum of 4 mph (6.4 km/h) in the country and 2 mph (3.2 km/h) in the city - as well as requiring a man carrying a red flag to walk in front of road vehicles hauling multiple wagons. Thirty-one years later the 1896 Act removed some restrictions of the 1865 act and raised the speed to 14 mph (23 km/h), but still the limits were insensible to the potential for transport - because of course, regulators are not innovators.
There was none of this with Gerry. He (the CAA) seemed content to allow development of the industry relying on existing law to regulate the use of 'hobby' craft in the hands of the uninitiated, where experienced UAS operators who might offer a specific service, appeared more than aware of their responsibilities. The problems that were likely to arise may thus be misuse, or rather, inattention to, or lack of knowledge of the rules. This begs a solution by way of education, should the CAA care to be proactive.
ASTRAEA - AUTONOMOUS SYSTEMS TECHNOLOGY RELATED AIRBORNE EVALUATION & ASSESSMENT
ASTRAEA is a project to develop UAVs to fly in civil airspace. Both UK government agencies and a consortium of companies such as BAE Systems, Qinetiq, Rolls-Royce plc, Airbus Defence & Space, Cassidian, Cobham plc, EADS and Thales UK are involved. The project began in 2006. Currently UAVs can only operate in UK airspace under restricted conditions.
The aim of the ASTRAEA programme is to enable the routine use of UAS in all classes of airspace without the need for restrictive or specialised conditions of operation. This is to be achieved through the coordinated development and demonstration of key technologies and operating procedures required to open up the airspace to UAS.

ParcAberporth has a centre dedicated to ASTRAEA. Permission has been sought for a permanent segregated airspace around ParcAberporth for testing UAVs over land. Concerns about safety, privacy and noise were raised during consultative sessions.

In April 2013 the first unmanned flight over British airspace was successfully completed when BAE Systems flew a Jetstream 31 from Warton, Fylde near Preston to Inverness in Scotland. The aircraft, described as the "flying test bed" was controlled by a pilot at Warton using advanced sensors and on-board robotic systems. The flight was not strictly "unmanned" as two pilots flew in the cockpit as a precaution but they were required only to monitor the flight and not to actively engage in any flying. ASTRAEA programme director Lambert Dopping-Hepenstal is quoted as saying that the work being done:
"will likely impact all of us in the next five, 10, 20 years as unmanned aircraft and associated technology develop and become a part of everyday life". The governments Business and energy minister Michael Fallon said: "We welcome this pioneering flight at the end of the ASTRAEA programme. ASTRAEA has made significant achievements, placing the UK industry in a good position globally on unmanned aircraft and the development of regulations for their civil use."
ARPAS UK - ASSOCIATION of REMOTELY PILOTED AIRCRAFT SYSTEMS
The objectives of ARPAS are the organisation, representation, promotion and encouragement of small unmanned aircraft systems or remotely-piloted aircraft systems flying and operation in all its aspects nationally and internationally through the medium of individual and operating company members.

In furtherance of these aims ARPAS assist and guide individual or operating company members. They also promote the collaboration between members of the Organisation and the co-operation on behalf of members of the Organisation with National Aviation Authorities or other government departments and any other bodies and organisations around the world.

Other means of support for members is to produce, collect and distribute information in connection with unmanned aircraft systems. From where they will encourage and support research in unmanned aircraft design theory, construction and certification and establish and support (financially or otherwise) any educational scheme or establishment that will benefit the small unmanned aircraft systems operating community.
SPEAKER - Timothy R. Beard, a retired US Navy Rear Admiral, is the Head of Program Integration for Northrop Grumman Aerospace System's Advanced Air Warfare Development group. Since joining Northrop Grumman following his USN career he served as Director of Unmanned Systems Business Development and then as the deputy program manager for the Fire Scout and USN UCAS-D (Unmanned Combat Air System carrier Demonstration) programs. He was also the carrier integration team lead for the UCAS-D program and is currently involved with advanced air warfare strategy development as well as marketing for the UCAS program.
SPEAKER - Scott Winship is vice president of Advanced Air Warfare Development at Northrop Grumman Aerospace Systems. He is responsible for strategic integration and pursuit of new opportunities in the Strategic Systems portfolio that includes several restricted advanced program pursuits for global surveillance and strike programs. He has served as the Vice President and Program Manager of the Navy X-47B Unmanned Combat Air System carrier Demonstration (UCAS-D) program, PM for first flight of the Fire Scout VTUAS program. He led pursuit evaluation and proposal strategy development for the Presidential Helicopter Replacement and the Combat Rescue Helicopter programs. Prior to joining Northrop Grumman, Winship managed the Joint Strike Fighter X-35B STOVL program at Lockheed Martin Skunk Works and was a team leader in the X-35 and the YF-22/F-22 programs.
NORTHROP GRUMMAN
Northrop Grumman Corporation is a US global aerospace and defense technology company formed by the 1994 purchase of Grumman by Northrop. The company was the fourth-largest defense contractor in the world as of 2010. Northrop Grumman employs over 68,000 people worldwide. It reported revenues of 25.218 billion in 2012. Northrop Grumman ranks No. 72 on the 2011 Fortune 500 list of America's largest corporations and ranks in the top ten military-friendly employers. It is headquartered in West Falls Church, Virginia.
Timothy Beard and Scott Winship gave a superb presentation at the UAS conference in London. A packed auditorium was shown the development of the X-47B as may be deployed in various theatres of operation. The duo's lively talk was made more interesting as each speaker took over from the other at various crossover points, such as to complement their areas of expertise. The projector slides were well prepared and informative, crowned with a video that showed the take off and landing of the tailless, strike fighter-sized unmanned aircraft developed by their company as part of the U.S. Navy's Unmanned Combat Air System (UCAS) Carrier Demonstration program. One slight hiccup was the transition between projector slides, which both presenters coped with well - and did not detract from the importance of their work.
History in the making: the Northrop Grumman X-47B unmanned combat aircraft takes off and lands on a UN Navy aircraft carrier, without a pilot onboard.
The X-47B UCAS is designed to help the US Navy explore the future of unmanned carrier aviation. The successful flight test program is setting the stage for the development of a more permanent, carrier-based fleet of unmanned aircraft. The contract to develop this technology was awarded in 2007. In 2013, these aircraft made history with a demonstration of the first ever carrier-based launch and recovery by an autonomous, unmanned aircraft. The program is currently maturing relevant carrier launch, landing, and integration technologies. The logical development of this technology is to amalgamate with the latest developments in unmanned shipping, being pioneered by Rolls Royce at present as part of the MUNIN collaboration for cargo vessels, and of course ourselves (BMS) in connection with all forms of ocean going craft, to include submarines.
PANEL DISCUSSING UAS OPERATIONS IN BROADCASTING
PANELIST - Peter Lee is a senior commercial technology lawyer at Taylor Vinters LLP. He enjoys working in sectors where disruptive technologies interface with law and regulation – a good example is unmanned systems, otherwise known as drones, but his practice also includes software (SaaS, apps, free and open source code etc.), financial technology, digital media, data aggregation and big data matters. Many of the projects he works on are international in nature. Outside of the law (but not illegally) he has variously been a marine biologist, soldier and co-founder of a failed tech start-up company. Peter is recognised as one of Europe's leading unmanned systems lawyers; he regularly speaks at conferences, writes and blogs on the subject.
PANELIST - Creative Director and Founder 'Dependable Productions.' Richard Critchlow is Creative Director and founder of Dependable Productions, an end to end video production company which operates aerial filming UAS for their own and third party productions. Prior to establishing Dependable, Richard was a Senior Producer of Special Events at the BBC and was responsible for large scale outside broadcasts, many of which used helicopters as camera platforms and mid points. For many years, he looked after BBC News' relationship with aerial filming suppliers giving him a deep insight into both the possibilities and limitations of helicopters in broadcast. When he saw the possibilities offered by filming from UAS he could see the potential they offered and set about gaining the necessary BNUC-S qualification to allow Dependable Productions to carry out aerial work. In doing so, he also unwittingly embarked on what has become one of the steepest learning curves of his career!
PANELIST - Mr Mike Garner is a Broadcast Documentary Cameraman and UAS operator. Mike was born in Zimbabwe in 1954. He was educated in Zimbabwe and started with Zimbabwe Television in August 1977 working in the studios. He moved to the UK in April 1977 and started a television career in London with Zoom Television in April 1978 doing Corporate and Commercial working in the Studio and Outside Broadcast unit. In Feb 1980 he joined ITN news started in the studios and outside broadcast before moving to news gathering as a cameraman in June 1982. Mike was a news cameraman traveling in the UK and World Wide on all major news events until August 1989 when I left to become freelance. In August 1989 to the present he freelances as a documentary cameraman for all major Broadcasters, BBC, ITV, CH4, CH5, Discovery, National Geographic, Sky. He has worked with David Dimbleby, Jeremy Paxman, Dan Cruickshank, Jimmy Doherty, Fiona Bruce , Michael Moseley, and many other presenters on a wide range of programmes. Science, History, Arts, Travel, Current Affairs. Mike started flying UAS 5 years ago when he saw the potential of the new technology. He's done aerial work for Sky 3D with David Attenborough at Kew, a 3D Wildlife shoot for Sky in Masai Mara game reserve, Kenya. Other aerial work has been for BBC, Ch4, Ch5, ITV, Discovery and has travelled to USA, Morocco, Mexico, Spain, Italy, Kenya, Cambodia, South Korea, with his UAS system. He continue to be employed as a UAS operator on a wide variety of Broadcast programmes.
PANELIST - Director of Rogue State Media - Benjamin Kenobi is an ex-Londoner who used to sit in a dark room and take x-rays. Now he lives in the Cotswolds and roams the country with his multirotor doing aerial filming. His company, Rogue State Media Ltd, hit the ground (or sky really) running and has in its first year worked with major UK broadcasting companies and been nominated for Rock the Cotswolds. He is thrilled to be part of this industry and is always delighted to see how much production value aerial filming adds to the final product. Benjamin is 35 years old and lives with his wife Inger in the picturesque village of Amberley.
TAYLOR VINTERS LLP
Taylor Vintners is a law firm with offices in London and Cambridge, also operating internationally and offering specific services in emerging technology and interpretation of the laws that may be applicable, or may not even be fully formed yet, where developments are so new as to be untested. TV welcome the opportunity to talk with the media about key areas where they have experience to be able to comment on the following areas:

> Technology
> Investment
> Branding
> Employment Law
> International Employment Law
Peter Lee is a senior associate with Taylor Vintners. He was a member of a panel at the UAS conference in London, mainly comprised of commercial operators who gave the audience, including our representative, in-depth insight into the ways that UAVs, especially the smaller multi-rotor helicopters, are used by film makers to capture footage that might otherwise be very expensive, or even impossible to obtain in some circumstances. The main topic of discussion was privacy and safety. Peter gave some examples of operator liability, where things might go wrong - and the expert operators told of their experiences filing flight plans and the (battery technology) limitations of the vehicles they are working with, and in some cases driving development for a market that is sure to grow rapidly, provided that regulators do not use cases of untrained hobbyists causing problems (typically out of ignorance) to prevent legitimate business from integrating remotely operated aircraft into their portfolio of services.
Our representative (also a panelist) caught up with Peter in a networking session and very soon had a meeting of minds as to human rights and other potential legal difficulties concerning robotic vehicles at sea. Peter is an excellent communicator who grasped the specifics of unmanned (in our case autonomous) vehicles as may be used in peace keeping and other security duties. Peter's technical and military background is particularly useful in this regard.
TV LLP CONTACTS
Taylor Vinters LLP
Tower 42, 33rd Floor
25 Old Broad Street
London, EC2N 1HQ

Tel: +44 (0)207 382 8000
Fax: +44 (0)207 382 8001

peter.lee@taylorvinters.com

Tel: +44 (0)1223 225149

ROGUE STATE MEDIA
Rogue State Media (RSM) is an aerial filming and aerial photography company based in Gloucestershire, UK. RSM offer clients this exciting new technology to add that little bit of Hollywood magic to their video productions or stunning aerial photos for promotions. Whether you want to make a website compatible video to promote your company or get a different perspective on a property/structure or event.

Their equipment produces broadcast quality video for TV applications and low budget movies, at a fraction of the cost compared to using a manned helicopter. Fully CAA licensed and insured for UAV operations across Europe, RSM can go anywhere, even very hard to reach locations such as at sea, off a cliff, across open water, up a mountain, through a forest, chasing a car at 40mph, from the top of a tall building, over man eating tigers or just your back garden.

The goal is to provide a complete service in aerial video production. RMS can edit your footage or simply hand over the raw data for you to do with as you please. We work with you to get the footage you require on site. RSM can travel to any location within the UK. You will have full control over the shots obtained and which ones are used. RMS claim a very quick turnaround time and can release the footage to you the same day as acquiring it if just the raw footage is required. RMS can provide you with aerial imaging, including:

> HD Video recording (100MB/S) (1080, 25P)Aerial
> Photography including 360° Panoramic Photography
> Inspections of tall or hard to reach structures
> Archaeological SurveysBuilding Site Surveys and inspections.

RMS CONTACTS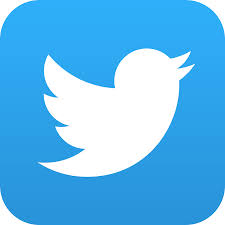 Phone: 01453 878 535 Mobile: 07941 820 353
Email: pilot@roguestatemedia.co.uk
Website: http://www.roguestatemedia.co.uk/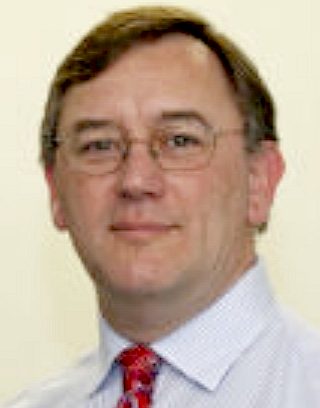 SPEAKER - Dr Paul Martin, Chief Technology Officer. Paul joined Plextek in 2011 and was quickly appointed Chief Technology Officer. During his time at Plextek Paul has successful led disruptive innovation engagements securing substantial contracts across healthcare, defence and automotive technologies. This success results from taking technologies from one marketplace and shaping them to provide a compelling application in a different marketplace. Paul has also used his extensive experience in secure communications technologies to spearhead the increase in resilience of Plextek's product engagements. Before joining Plextek, Paul was Technical Director for one of the Cobham Group of companies specialising in secure communications. Paul obtained his Doctorate in Communications Engineering from the University of Bristol and is a Member of the Institution of Engineering and Technology.
PLEXTEK CONSULTING
Plextek Limited is an electronics design house based in the Cambridge area. It specialises in product and systems design for communications, automotive, aerospace, defence and medical applications. Defence and security is their largest market. They have profound technical expertise associated technologies including: acoustics and sonar, avionics, image and signal processing, radar systems, radio communications, sensing and countermeasures and surveillance technology. Plextek have extensive experience in commercial communications, consumer and automotive technologies. Their understanding of such systems and the protocols and standards that they use enables us to exploit such systems in support of lawful intercept and crime prevention.

Plextek have also been able to deploy their expertise in low SWAP systems, high efficiency signal processing and novel radio architectures to the development of bespoke equipments for intelligence gathering. A strong product engineering and manufacturing team allows the group of companies to support very small volume special requests through to high volume production runs.
PLEXTEK CONTACTS
Tel: +44 (0) 1799 533200
Email: info@plextek.com
Websites: http://www.plextek.com/ http://www.plextekgroup.com/


Plextek Limited
London Road
Great Chesterford
Essex, CB10 1NY

| | |
| --- | --- |
| | |
| Simon Luck | Dawn Huckson |
SPEAKER - PS Simon LUCK has served in a number of policing roles at various locations with Sussex Police in the ranks of Constable and Sergeant including: Response, Neighbourhood and Firearms Team daily management and more recently, supervising Gatwick Airport's Community Safety Team.

Joining Sussex Police in 1984, Simon has spent his entire career carrying out frontline uniform duties during his 29 years service, gaining a wealth of knowledge and experience in this crucial role.

Promoted to Sergeant in 1995, moving to Gatwick Airport (part of Sussex Police) in 1999, he has carried out a number of specialist uniform roles.

Since 2008, he has been supervising a team of officers working in support of the Airports Neighbourhood Policing Operation. Since March this year, he has been leading a three month trial at Gatwick, using the Aeryon Skyranger UAS and is one of four trained operators.
SPEAKER - Dawn Huckson joined Sussex Police as a constable in 2003. After completing nearly 4 years of response duties she moved to Gatwick Airport in order to specialise as a firearms officer.

At the latter part of 2010 Dawn joined the Runway Protection Team, a role which entails the mapping and surveying of vulnerable areas in and around Gatwick Airport.

During this time Dawn has qualified as a Police Search Advisor, which involves providing advice, planning searches and writing strategies in respect to Counter Terrorism operations, Missing Persons and Serious Crime. Dawn has also been an integral part of a small team looking at different projects to enhance the way the airport is policed using modern technology.

In March this year the team began a three month trial of the use of UAS in support of policing objectives; from airport security to missing persons. This is as a result of two years research carried out by Dawn and her supervisor Simon Luck. The system that is being used in support of the trial is the Aeryon Skyranger and Dawn is one of four trained operators.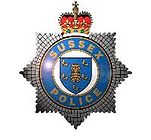 SUSSEX POLICE
Sussex Police is the territorial police force responsible for policing the county of Sussex in southern England (which for administrative purposes is split into East Sussex, West Sussex and the city of Brighton and Hove). Its headquarters is in Lewes, East Sussex.
Sussex Police is commanded by Chief Constable Martin Richards. The remainder of the command team consists of Deputy Chief Constable Giles York, Assistant Chief Constable Robin Merrett, and Assistant Chief Constable Robin Smth. Also forming part of the command team are the Director of Human Resources and the Director of Finance although both of these roles are filled by civilian members of staff.

The force consists of three divisions, each being led by a Chief Superintendent. As at April 2013 West Sussex was led by Chief Superintendent Martin Walker, East Sussex by Chief Superintendent Neil Honnor and Brighton & Hove by Chief Superintendent Nev Kemp. Divisions are sub-divided into districts, each led by a Chief Inspector, providing a local identity for policing. These districts are Chichester, Arun, Horsham, Adur & Worthing, Gatwick, Crawley, Mid Sussex, Brighton & Hove, Wealden, Lewes, Eastbourne, Rother and Hastings.

Sussex Police are also responsible for Gatwick Airport under the command of Superintendent Brian Bracher.
SUSSEX POLICE CONTACTS
Police Station
North Street, Lewes
BN7 2PA

Email: contact.centre@sussex.pnn.police.uk

Telephone: 01273 470 101
Telephone from outside UK: 0044 1273 475432
Minicom: 01273 483435
Fax:01273 404577
Text: 07786 208090
Watch Commander Pat Mika joined West Midlands Fire Service in 1985, serving for 29 years. Pat has served in a variety of roles serving as an operational Firefighter at some of the West Midlands busiest stations for a decade and subsequently as a front line Fire Officer for a further eight years. Pat then took a role in the newly formed operational training unit and spent several years at training academy developing ventilation and fire behaviour tactics. Pat was substantively promoted into a research and development role at Fire Service headquarters. After involvement in several challenging projects Pat was chosen to lead on the innovative Unmanned Aircraft Systems (UAS) project, the first of its kind for a UK Fire & Rescue Service. After working on the introduction of a UAS Pat was invited to become the Chief Fire Officers Policy and Communications Adviser, a role within which he maintained links with the UAS community attending and speaking at conferences. More recently Pat and has been involved in the West Midlands Fire Service UAS system upgrade and re thinking of UAS strategy.
Watch Commander Andy Cashmore has worked for the West Midlands Fire Service for over 20 years. In that time he has held a variety of roles and is currently a manager within the Technical and Operations Support Directorate. Since November 2007, Andy has been a key member of the WMFS team that operates its Unmanned Aerial System and he has piloted the WMFS Incident Support Imaging System in response to a number of diverse incidents and in some very challenging environments. Amongst his other roles, Andy is a Hazardous Materials and Environmental Protection Officer and one of the cadre of Fire Service National CBRN(E) Tactical Advisors and it is in support of these roles that Andy would like to develop an enhanced detection, identification and monitoring UAS response capability in the future. Andy recently delivered a project to identify and then purchase the replacement for the current UAS and the development of the air monitoring capability was considered within the framework of that procurement process.

IMECHE
The Institution of Mechanical Engineers (IMechE) is an independent engineering society, headquartered in central London, that represents mechanical engineers. With over 106,000 members in 140 countries, working across industries such as railway, automotive, aerospace, manufacturing, energy, biomedical and construction, the Institution is licensed by the Engineering Council (EngC) to assess candidates for inclusion on the EngC's Register of Chartered Engineer and Professional Engineer.

The Institution was founded at the Queen's Hotel, Birmingham, by George Stephenson in 1847 and received a Royal Charter in 1930. The Institution's headquarters, purpose-built for the Institution in 1899, are situated at One Birdcage Walk, London. The Institution runs Formula Student, the world's largest student motorsport event, and the Manufacturing Excellence (MX) Awards.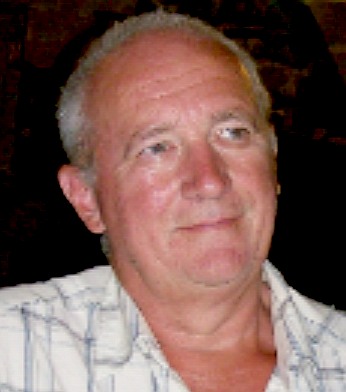 SPEAKER - John Turton is Chairman of the Steering Group for the Unmanned Aircraft System Challenge, an Institution of Mechanical Engineering competition for undergraduate university teams. John is a member of the Institution of Mechanical Engineers Aerospace Board and of the Aerospace Professional Network of the Institution of Engineering and Technology. He is also a member of the Aerospace Partnership management group between the IET, IMechE and the Royal Aeronautical Society. A former Research & Development Programme Director for aerospace and communication systems. He has led a wide range of fixed wing and rotary wing aircraft definition, demonstrator and development programmes, as well as deployable communications and exploitation system acquisitions.
UAS UNIVERSITY CHALLENGE, UNMANNED AIRCRAFT SYSTEMS
The Unmanned Aircraft Systems Challenge (UAS Challenge) bridges the gap between academia and industry in developing applied UAS-related activities; giving you the perfect opportunity to strengthen links with industry and universities in your area and enhance employment opportunities for your graduates in aerospace.

The UAS Challenge asks teams of undergraduates to undertake a full design and build cycle of a UAS with specific mission objectives from September 2014 – before competing in a final 'fly-off' and judging in June 2015.

Given the experience we have from the Institution's globally successful Formula Student competition, our direct links and relevance to both your students and industry are assured.

Give students real-world engineering experience before leaving university

Throughout the competition, students will get to demonstrate their technical, engineering design and manufacturing skills, learn key team-working, time management, project management, budgeting and presentation skills – and become better equipped for a long-lasting career in engineering. Aspects of the design can constitute their final year project.

Benefits for participants:

> Opportunity to promote benefits / fill the void
> Inspire young people to pursue career in aerospace
> Obtain practical aerospace engineering skills for industry
> Win backing from potential employers that they would like to work for
> Develop connections with other like-minded students from other universities and network
> Learn more about the next generation of aircraft
> Gain accolades for achievements

The UAS Challenge has been established to:

> Encourage and promote UAS research within academia
> Promote inter-university collaboration to encourage fundamental and interdisciplinary UAS research
> Encourage integration of enabling technologies in curriculum
> Create a hub to foster closer academia / industry links
> Enhance employment opportunities in the sector
> Stimulate interest in sector and set challenges or aspiring engineers
> Promote aerospace as a career for engineers
> Develop team building skills of participants
> Promote the public and professional perception of the Institution in aerospace
> Promote awareness by both the educational establishment and the public of the role of the Institution in aerospace technology
> Provide an opportunity for students to develop and demonstrate team working, leadership and commercial skills
IMECHE CONTACTS

To find out more about the competition contact: Rachel Pearson (organiser of the UAS Challenge)
Email: r_pearson@imeche.org or telephone 020 7304 6867
Website: http://www.imeche.org/
The above list is in order of appearance and is not all inclusive and we apologise that due to practical limitations, not all panelists and speakers will be commented on, even though their contribution to the conference was in the context of their experience using unmanned aircraft, and was most illuminating. We will do our best to add to the above, where a topic strikes us as particularly relevant to the autonomous marine development work that we are interested in. Bear this slant in mind and draw your own conclusions from our reporting and perhaps compare this to the independent media, where such reporting may exist.
FINALLY - BY WAY OF A SUMMARY OF THE EVENT:
STEPHANIE SEARLE SPEAKER INTERVIEW - UAS 2014

Q. Please tell us about your role and use of UAVs?

NK. Initially I/we were not involved in UAVs, save only that we share a great deal in terms of navigation and command & control hard and software. In other words, robotics.

Q. What changes have you seen in the unmanned community over the last 12 months?

NK. The struggles though are the same in terms of acceptance by the powers that be; a common issue. Overcoming, or rather meeting regulations that sometimes are not applicable or outdated is challenging.

Having filed for a patent to overcome Collision At Sea Regulations (as a prerequisite to bids for funding) we have developed a strategy for unmanned warfare at sea. In doing so, we came to realise, that inevitably, this will involve UAVs. It is likely that countermeasures will also play a part in future scenarios - again, a common bond.

We see the aircraft carriers of the future being drone vessels carrying drone aircraft, which is both disruptive and politically sensitive, event where such machines are the future. Of course in a balanced fleet, to include manned vessels.

Q. What are your priorities for the next year ahead?

NK. Our aims for the year ahead are to continue to lobby a fluid (political) situation where some in the business appear not to have fully understood the implications of sitting on the fence. Standing still in a technology race, is actually going backwards.

Q. How can industry help overcome your current challenges?

NK. This is going to be a difficult task at best. Industry will need to pull together on these issues if there are going to be contracts awarded (or breakthroughs in commercial markets) that allow such development. It would be folly to invest in an area where there is no market and regulators are holding back domestic businesses, but where there should be a market and ministerial acquiescence for the sake of our economy.

Q. In your opinion, why should industry representatives attend Unmanned Air Systems 2014 this September?

NK. For all the above reasons and to hear first-hand some of the obstacles and ideas, those in the industry should, really, must attend. A lot of what is not said in public can be said while networking. The UAS event, by giving progressive futurists a chance to share their vision with industrialists and defence officials, are in effect, fertilising the soil of business growth.

A show such as UAS allows stakeholders to see competitor progress and products with a view to building alliances, or future incorporation.

EXHIBITORS
Industry leaders with confirmed stands to August:

* Alker Optical Equipment Ltd
* Cobham
* Cranfield University
* IMECHE
* Northrop Grumman
* OSG Ltd
* Verocel Limited
PARTNERS


UAS CDC
MOD Boscombe Down
Salisbury, SP4 0JF
Tel: 01980 663311
Email: CapJTES-TEUCDCCoord@mod.uk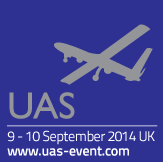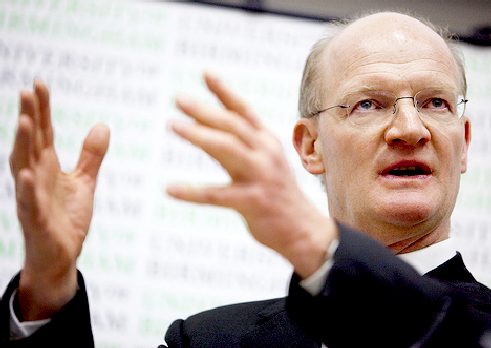 The Rt Hon David Willetts MP, Minister of State for Universities and Science, was to have delivered the keynote address at this year's UAS conference. Willetts is a British Conservative Party politician and the Minister for Universities and Science. He has been MP for Havant since 1992 and previously worked at HM Treasury and the Number 10 Policy Unit. He served as Paymaster General in the last Conservative Government. Willetts has written widely on economic and social policy, and is a council member of the Institute for Fiscal Studies.
UAS HISTORY
UAS is one of the industry's leading conferences and exhibitions examining the latest military, civil and cross governmental applications of unmanned systems.
Clarion's events portfolio (defence/security) is among the world's leading forums where high level government officials and senior military personnel converge to share ideas, discuss industry developments, conduct business and develop partnerships for future growth. Whilst military technology is at the core of the industry, the sector is adapting to meet the changing needs of the world - where national security can be threatened by humanitarian disasters such as food and water shortages, or pandemic.

With a wealth of experience from operations in segregated airspace, as well as the potential proliferation of unmanned systems in the civilian and commercial market; the time is right to bridge the gap between these two areas by creating a hub for the unmanned community.

The UAS event is in association with the Unmanned Air Systems Capability Development Centre (UAS CDC) and Cranfield University. UAS 2014 offers an opportunity to receive the very latest operational, regulatory and commercial updates from the unmanned community, and dedicated time to do business with more than 300 senior military, government and industry professionals.
Last year UAS was a success with 240+ delegates from 16 countries worldwide in attendance; 47% of whom were military figures including the newly appointed Assistant Chief of the Air Staff.
CONFERENCE PROGRAMME
Day One – Tuesday 9 September *
08.00 - 09.00 Registration, tea, coffee
09.00 - 09.05 Chairman's Opening Address

Air Marshal Philip Sturley CB MBE RAF (Retd)
09.05-09.30 Keynote Address
Mr Matthew Baldwin, Director Aviation and International Transport Affairs, European Commission
09.30 - 10.30 Regulations in the Civilian Domain
Mr Gerry Corbett, UAS Programme Lead, Intelligence Strategy and Policy, Safety and Airspace Regulation Group, Civil Aviation Authority
Mr Elliott Corke, Director and UK Legislation Representative, ARPAS-UK
Mr Nelson Kruschandl, IP Consultant & Patentee, Bluebird Marine Systems Ltd
Mr Lambert Dopping-Hepenstal, ASTRAEA project
10.30 - 11.00 Morning Break
11.00-11.20 UAS Capability Development– The Way Forward
Dr Peter Downer, Air Strategy, FMC - Weapons, Evaluation & Capability Assurance, UAS Capability Development Centre
11.20-12.00 Applying Military Lessons Learned to the Civilian Domain
Panel Speakers to be Announced Shortly
1200-1230 UAS for Emergency Response
Mr Robert Whitehouse, Business Development Director, TEKEVER
1230-1300 Northrop Grumman's X-47B and concept for UCAVs of the Future – for the Navy and Air Forces
Mr Scott Winship, Northrop Grumman Aerospace Systems, Strategic Systems Vice President for Advanced Air Warfare Development, Northrop Grumman Corporation
Mr Timothy Beard, Director for Advanced Air Warfare Development's Program Integration, Northrop Grumman Corporation
13.00 - 14.00 Lunch Break
14.00-14.20 Government Working Group on RPAS – Strategy & Priorities'
Speaker to be Confirmed Shortly
14.20-15.00 Potential Applications of UAVs in the Emergency Response Sector
Mr Pat Mika, Watch Commander, Emergency Response, R&D Project Support, West Midlands Fire Service
Mr Andy Cashmore, Watch Commander, Emergency Response, West Midlands Fire Service
Sergeant Simon Luck, Gatwick Airport Community Safety Team, Sussex Police
Ms Dawn Huckson, Police Search Advisor, Sussex Police
Mr Pete Keller, Director, Business Development, Aeryon Labs, Inc.
15.00-15.30 The Use of UAVs for Freshwater Ecosystem Monitoring
Dr Monica Rivas Casado, Applied Environmental Statistics Lecturer, School of Applied Sciences, Cranfield University
15.30 - 16.00 Afternoon Break
16.00-16.15 New roles. New rules. New thinking in massive long-range humanitarian aid and global SAR vehicles
Dr Donough Wilson, Innovation Lead, VIVID/futureVision
16.15-16.30 Precision Agriculture UAV Applications
Dr Toby Waine, Academic Fellow in Land Resources Monitoring, Cranfield Soil and AgriFood Institute, Cranfield University
17.30 - 18.30 Networking Drinks Reception
Day Two – Wednesday 10 September *
08.00 - 09.00 Registration, tea, coffee
09.00 - 09.05 Chairman's Opening Address - Air Marshal Philip Sturley CB MBE

09.05-09.30 Small UAS Detection – Case Study of Transition of Military Applications to Civil Sector

Dr Paul Martin, Chief Technology Officer, Plextek Consulting

0930-1030 UAS Applications in Broadcasting

Mr Mike Garner, Broadcaster Cameraman, UAS Operator

Mr Peter Lee, Senior Associate, Taylor Vinters

Mr Ben Kenobi, Remote Pilot (RPQ-S), Director of Rogue State Media

Mr Richard Critchlow, Creative Director, Dependable Productions
10.30-11.00 Morning Break
11.00-11.20 Data optimisation: Getting the Most from what you Already Have
Mr Robert Kerby, Sector Lead-Unmanned Air Systems and ISR Training, 3SDL Ltd
1120-1140 Development of Knowledge-Based Software for UAV Autopilot Design
Mr George Tarrant, Director, Closed Loop Systems Ltd
11.40-12.00 Global Unmanned Systems Training Academy (GUSTA)
Mr Michael Davidson, Managing Director, AV8 UAS Solutions Ltd
12.00-12.20 Artificial Immune System Applied to the Problem of Health Management of Remotely Piloted Aircraft
Mr Jonathan Pelham, Researcher, Cranfield University
12.40-13.00 Panel Discussion: Questions & Answers
13.00 - 14.00 Lunch Break
14.00-14.30 Bridging the Gap between Academia and Industry – The Unmanned Aircraft Systems Challenge
Mr John Turton, Chairman of the UAS Challenge Steering Group, Institution of Mechanical Engineers
14.30-15.00 Applications of Tethered UAVs
Dr Stephen D Prior, Reader in Unmanned Air Vehicles, University of Southampton
15.30 End of Conference
CONFERENCE VENUE
Train/London Underground

The nearest train station is Twickenham, which is a short walk from the stadium. Turn right out of the station, and then continue down Whitton Road. Regular trains run to Twickenham from London Waterloo, Clapham Junction, Reading, Ascot and Windsor & Eton Riverside. Other stations in the vicinity of the stadium are Whitton, St Margarets and Hounslow.

The London Overground service also runs from Richmond to North London and Stratford. The nearest Underground stations are Hounslow East for the Piccadilly Line, and Richmond for the District Line.

By Road
Twickenham Stadium is on the northern side of the A316 into London. From the M25, exit J12 onto the M3. This becomes the A316 and Twickenham Stadium is off the Whitton Road roundabout next to the Lexus/Toyota car dealership. From London, turn right off the A316 at Whitton Road roundabout. Please arrive EARLY to avoid congestion and temporary road closures prior to the event.
Twickenham Car Park

A controlled parking zone operates over an area of approximately one mile around the stadium. Fines and towing are enforced in this area, including Sundays. To pre-book parking at Twickenham please visit www.rfu.com to book online, or download a booking form.

It is recommended that you pre-book a car parking space online via the RFU eTicketing site or using a booking form available in the parking section. Limited parking may be available on the day, but to guarantee a space pre-booking is advised.
UAS CONTACTS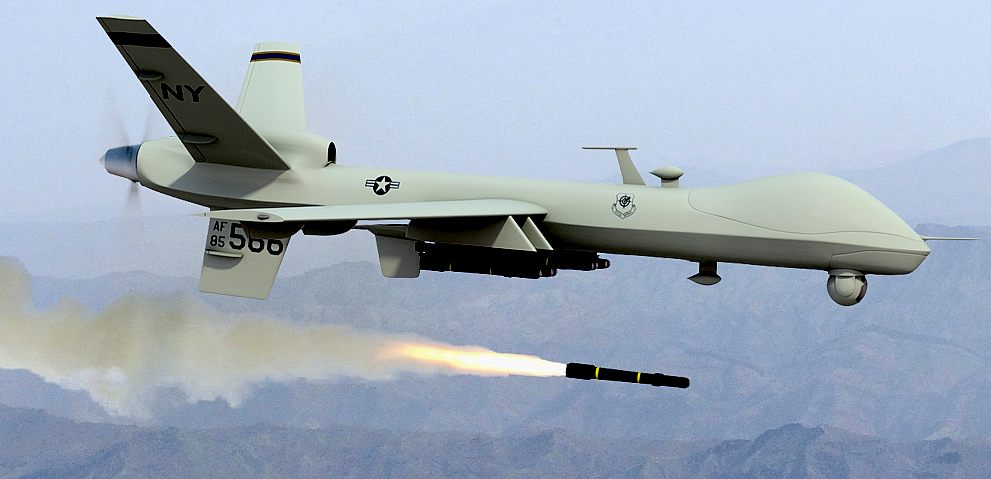 ABOUT UAS
An unmanned aerial vehicle (UAV), commonly known as a drone and referred to as a Remotely Piloted Aircraft (RPA) by the International Civil Aviation Organization (ICAO), is an aircraft without a human pilot aboard. Its flight is controlled either autonomously by onboard computers or by the remote control of a pilot on the ground or in another vehicle. The typical launch and recovery method of an unmanned aircraft is by the function of an automatic system or an external operator on the ground. Historically, UAVs were simple remotely piloted aircraft, but autonomous control is increasingly being employed.

They are usually deployed for military and special operation applications, but also used in a small but growing number of civil applications, such as policing and firefighting, and nonmilitary security work, such as surveillance of pipelines. UAVs are often preferred for missions that are too "dull, dirty or dangerous" for manned aircraft.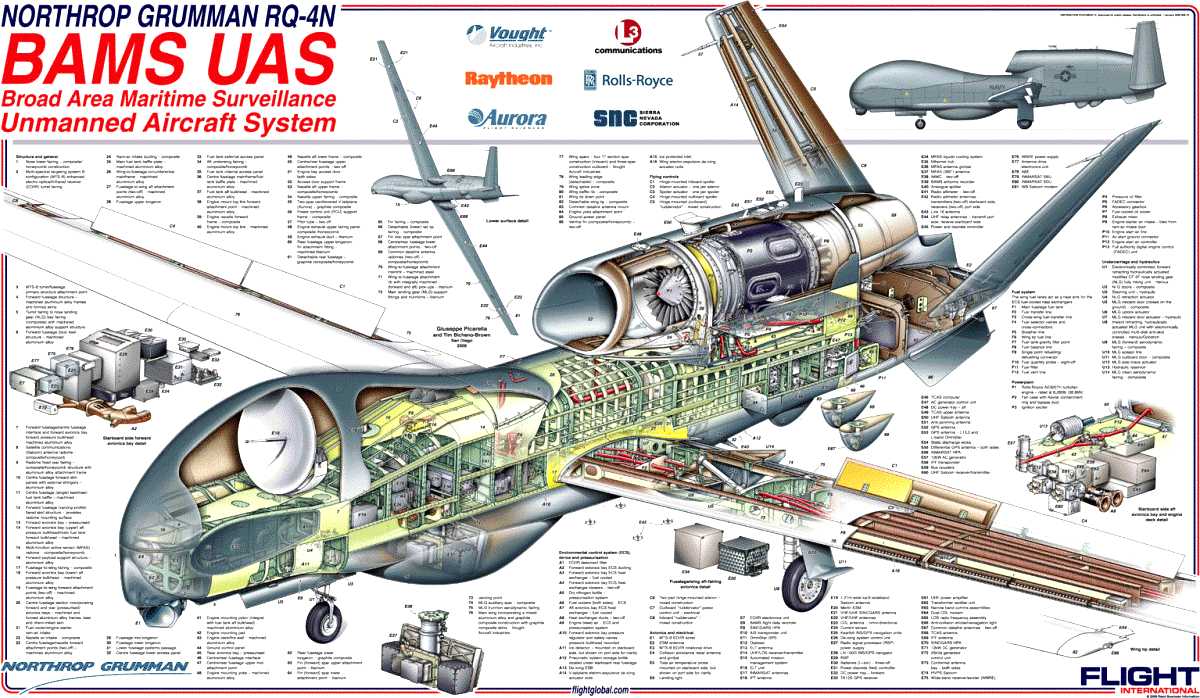 SYSTEMS
An unmanned aircraft system (UAS) includes ground stations and other elements besides the actual aircraft. The term was first officially used by the FAA in early 2005 and subsequently adopted by DoD that same year in their Unmanned Aircraft System Roadmap 2005–2030. Many people have mistakenly used the term Unmanned Aerial System or Unmanned Air Vehicle System, as these designations were in provisional use at one time or another. The inclusion of the term aircraft emphasizes that regardless of the location of the pilot and flightcrew, the operations must comply with the same regulations and procedures as do those aircraft with the pilot and flightcrew on board. The official acronym UAS is also used by the International Civil Aviation Organization (ICAO) and other government aviation regulatory organizations.

The military role of unmanned aircraft systems is growing at unprecedented rates. In 2005, tactical- and theater-level unmanned aircraft alone had flown over 100,000 flight hours in support of Operation Enduring Freedom and Operation Iraqi Freedom, in which they are organized under Task Force Liberty in Afghanistan and Task Force ODIN in Iraq. Rapid advances in technology are enabling more and more capability to be placed on smaller airframes, which is spurring a large increase in the number of Small Unmanned Aircraft Systems (SUAS) being deployed on the battlefield. The use of SUAS in combat is so new that no formal DoD wide reporting procedures have been established to track SUAS flight hours. As the capabilities grow for all types of UAS, nations continue to subsidize their research and development, leading to further advances and enabling them to perform a multitude of missions. UAS no longer only perform intelligence, surveillance, and reconnaissance missions, although this still remains their predominant type. Their roles have expanded to areas including electronic attack, strike missions, suppression or destruction of enemy air defense, network node or communications relay, combat search and rescue, and derivations of these themes. These UAS range in cost from a few thousand dollars to tens of millions of dollars, with aircraft ranging from less than one pound to over 40,000 pounds.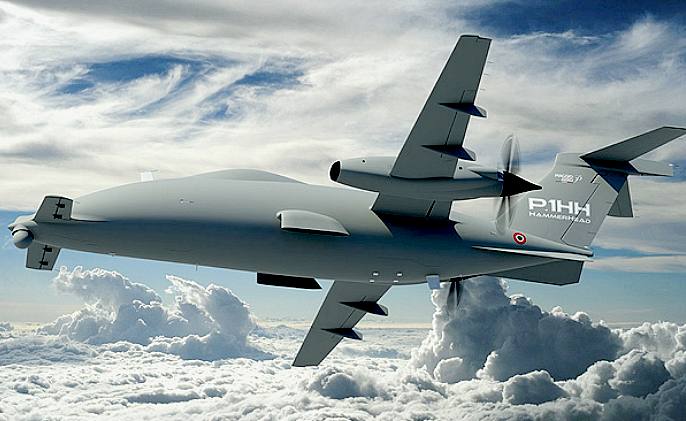 The P.1HH HammerHead is a full-sized, medium-altitude, long-endurance (MALE) unmanned aircraft system (UAS) developed by Piaggio Aero Industries. The HammerHead UAS was derived from the P.180 Avanti II commercial aircraft. The P.1HH HammerHead UAS made its first flight in February 2013, from an Italian Air Force base. The UAS was first announced at International Defence Exhibition and Conference (IDEX) held in Abu Dhabi, UAE. The UAS was unveiled in June 2013 at the Paris Air Show. The UAS is designed primarily to perform intelligence, surveillance and reconnaissance (ISR) operations. It is also capable of performing several other missions by using a combination of payloads. Some of its mission capabilities include communications intelligence (COMINT), electronics intelligence (ELINT) and signals intelligence (SIGINT). The mission management system (MMS) installed aboard the P.1HH HammerHead helps it to perform patrol and ISR missions for preventing terrorist activities. The Hammerhead has two reliable Pratt & Whitney Canada PT6A-66B turbine engines integrated with low noise 5 blade scimitar propellers.
When the Obama administration announced in December 2009 the deployment of 30,000 new troops in Afghanistan, there was already an increase of attacks by unmanned Predator UAVs against Taliban and al-Qaeda militants in Afghanistan and Pakistan's tribal areas, of which one probably killed a key member of al-Qaeda. However, neither Osama bin Laden nor Ayman al-Zawahiri was the likely target, according to reports. According to a report of the New America Foundation, armed UAV strikes had dramatically increased under President Obama – even before his deployment decision. There were 43 such attacks between January and October 2009. The report draws on what it deems to be "credible" local and national media stories about the attacks. This can be compared to a total of 34 in all of 2008, which was President Bush's last full year in office.
Between 2006 and 2009, UAV-launched missiles allegedly had killed between 750 and 1,000 people in Pakistan, according to the report. Of these, about 20 people were said to be leaders of al-Qaeda, Taliban, and associated groups. Overall, 66% to 68% of the people killed were militants, and 31% to 33% were civilians. U.S. officials disputed the percentage for civilians. The U.S. Air Force has recently begun referring at least to larger UAS like Predator, Reaper, and Global Hawk as Remotely Piloted Aircraft (RPA) to highlight the fact that these systems are always controlled by a human operator at some location.
China is building up a drone based air force in preference to conventional manned fighters

However, artificial intelligence is advancing to the point where the aircraft are easily capable of taking off, landing, and flying themselves. Then they simply have to be instructed as to their mission. The military distinguishes between "man in the loop" (piloted) and "man on the loop" (supervised) systems, with "fully autonomous" (issued orders) growing organically from the second into a third category. A.I. systems have been capable of making decisions and planning sequences of actions for decades; as of 2013, few fully autonomous systems have been constructed, but this is more a matter of convenience and technical implementation than of any fundamental barrier.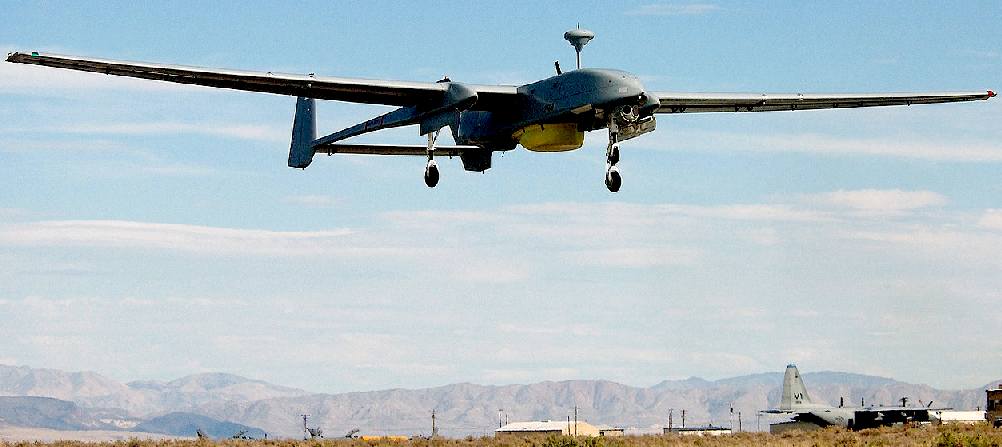 The Israeli Heron UAV is used to keep tabs on developments in a hostile region

To distinguish UAVs from missiles, a UAV is defined as a "powered, aerial vehicle that does not carry a human operator, uses aerodynamic forces to provide vehicle lift, can fly autonomously or be piloted remotely, can be expendable or recoverable, and can carry a lethal or non-lethal payload". Therefore, cruise missiles are not considered UAVs because, like many other guided missiles, the vehicle itself is a weapon that is not reused, even though it is also unmanned and in some cases remotely guided.

As of January 2014, the U.S. military operates a large number of unmanned aerial systems: 7,362 RQ-11 Ravens; 990 AeroVironment Wasp IIIs; 1,137 AeroVironment RQ-20 Pumas; and 306 RQ-16 T-Hawk small UAS systems and 246 MQ-1 Predators and MQ-1C Grey Eagles; 126 MQ-9 Reapers; 491 RQ-7 Shadows; and 33 RQ-4 Global Hawk large systems.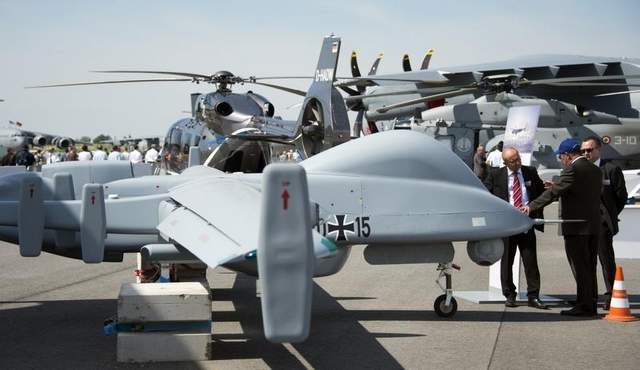 Heron 1 Drone on display at the Berlin Air Show - Israel Aerospace Industries - The IAI Heron (Machatz-1) is a medium-altitude long-endurance unmanned aerial vehicle (UAV) developed by the Malat (UAV) division of Israel Aerospace Industries. It is capable of Medium Altitude Long Endurance (MALE) operations of up to 52 hours' duration at up to 10.5km (35,000 ft). It has demonstrated 52 hours of continuous flight, but the effective operational maximal flight duration is less, due to payload and flight profile. There is a new version, Heron TP, also known as IAI Eitan.
CIVILIAN USES
Beyond the military applications of UAVs with which "drones" became most associated, numerous civil aviation uses have been developed, including aerial surveying of crops, acrobatic aerial footage in filmmaking, search and rescue operations, inspecting power lines and pipelines, and counting wildlife, delivering medical supplies to remote or otherwise inaccessible regions, with some manufacturers rebranding the technology as "unmanned aerial systems" (UASs) in preference over "drones." Drones have also been used by animal-rights advocates to determine if illegal hunting is taking place, even on private property. Drones equipped with video cameras are being used by the League Against Cruel Sports, a British animal-rights group, to spot instances of illegal fox hunting. UAVs are nowadays routinely used in several applications where human interaction is difficult or dangerous. These applications range from military to civilian and include reconnaissance operations, border patrol missions, forest fire detection, surveillance, and search/rescue missions.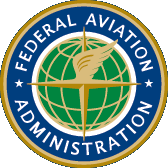 FAA DESIGNATION
In the United States, the Federal Aviation Administration has adopted the name unmanned aircraft (UA) to describe aircraft systems without a flight crew on board. More common names include UAV, drone, remotely piloted vehicle (RPV), remotely piloted aircraft (RPA), and remotely operated aircraft (ROA). These "limited-size" (as defined by the Fédération Aéronautique Internationale) unmanned aircraft flown in the USA's National Airspace System, flown solely for recreation and sport purposes, such as models, are generally flown under the voluntary safety standards of the Academy of Model Aeronautics, the United States' national aeromodeling organization. To operate a UA for non-recreational purposes in the United States, according to the FAA users must obtain a Certificate of Authorization (COA) to operate in national airspace. At the moment, COAs require a public entity as a sponsor. For example, when BP needed to observe oil spills, they operated the Aeryon Scout UAVs under a COA granted to the University of Alaska Fairbanks. COAs have been granted for both land and shipborne operations.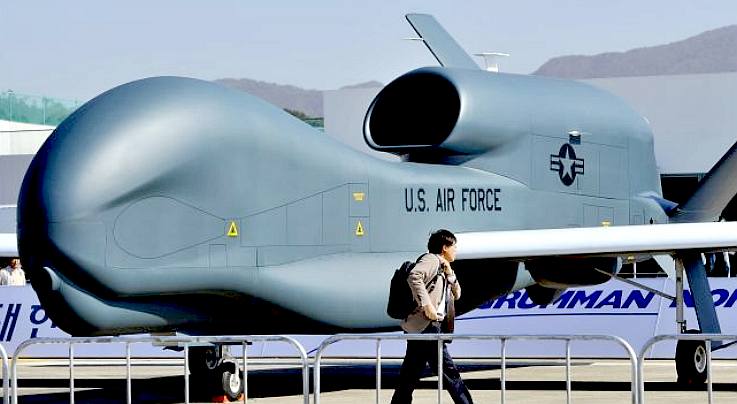 US Air Force Global Hawk at the Seoul Aerospace Exhibition, this is one of the largest drones built to date. Most drones have a smaller frontal area to conserve fuel. The Northrop Grumman RQ-4 Global Hawk is an unmanned aerial vehicle (UAV) surveillance aircraft. It was initially designed by Ryan Aeronautical (now part of Northrop Grumman), and known as Tier II+ during development. In role and operational design, the Global Hawk is similar to the Lockheed U-2. The RQ-4 provides a broad overview and systematic surveillance using high resolution synthetic aperture radar (SAR) and long-range electro-optical/infrared (EO/IR) sensors with long loiter times over target areas. It can survey as much as 40,000 square miles (100,000 km2) of terrain a day. According to the United States Air Force, the superior surveillance capabilities of the aircraft allow more precise weapons targeting and better protection of friendly forces. Cost overruns have led to the original plan to acquire 63 aircraft being cut to 45. Each aircraft was to cost US$35 million in 2005, but this had risen to $222.7M per aircraft (including development costs) by 2013.

The FAA Modernization and Reform Act of 2012 sets a deadline of September 30, 2015, for the agency to establish regulations to allow the use of commercial drones. In the meantime, the agency claims it is illegal to operate commercial unmanned aerial vehicles, but approves non-commercial flights under 400 feet if they follow Advisory Circular 91-57, Model Aircraft Operating Standards, published in 1981. However, the FAA's attempt to fine a commercial drone operator for a 2011 flight were thrown out on 6 March 2014 by NTSB judge Patrick Geraghty, who found that the FAA had not followed the proper rulemaking procedures and therefore had no UAV regulations. The FAA will appeal the judgement. Texas EquuSearch, which performs volunteer search and rescue operations, was also challenging FAA rules in 2014.

As of August 2013, commercial unmanned aerial system (UAS) licenses were granted on a case-by-case basis, subject to approval by the Federal Aviation Administration (FAA). The agency expects that five years after it unveils a regulatory framework for UASs weighing 55 pounds or less, there will be 7,500 such devices in the air. In December 2013, the FAA announced six operators it was authorizing to conduct research on drone technology, to inform its pending regulations and future developments. These were the University of Alaska (including locations in Hawaii and Oregon), the state of Nevada, Griffiss International Airport in New York State, the North Dakota Department of Commerce, Texas A&M University–Corpus Christi, and Virginia Tech.

In May, 2014, a group of major news media companies filed an amicus brief in a case before the U.S.'s National Transportation Safety Board, asserting that the FAA's "overly broad" administrative limitations against private UAS operations cause an "impermissible chilling effect on the First Amendment newsgathering rights of journalists", the brief being filed three months before a scheduled rollout of FAA commercial operator regulations.
Laser development still has a ways to come before it really counts, but when the breakthrough comes, it could alter the balance of power in favour of terrestrial and ocean defenses, over aerial superiority.
JANUARY 2013 DARPA WANTS DRONES WITH LASERS
The Pentagon this week edged closer to mounting missile-destroying lasers on unmanned and manned aircraft, awarding $26 million to defense contractors to develop the technology.

Under the name Project Endurance, DARPA, the Department of Defense's research agency, awarded Northrop Grumman $14.6 million and Lockheed Martin $11.4 million in contracts for the effort, according to Military & Aerospace Electronics. Called "Project Endurance," the research will "develop technology for pod-mounted lasers to protect a variety of airborne platforms from emerging and legacy electro-optical IR guided surface-to-air missiles," according to DARPA's 2014 budget request.

The project focuses on "miniaturizing component technologies, developing high-precision target tracking, identification, and lightweight agile beam control to support target engagement," as well as "the phenomenology of laser-target interactions and associated threat vulnerabilities."

Those vulnerabilities have been a particular concern when it comes to slow-moving drones, whose job it is to loiter more than it is to evade, making them a potential easy target to be shot out of the sky.

In 2011, Iran claimed to have struck a RQ-170 Sentinel drone. Although the U.S. initially insisted the report was false, officials later acknowledged a drone had gone missing.

"We've asked for it back. We'll see how the Iranians respond," Obama said in a December 2011 press conference. However, a top Iranian military official said it had no intention of returning it.

"No nation welcomes other countries' spy drones in its territory, and no one sends back the spying equipment and its information back to the country of origin," Gen. Hossein Salami, deputy commander of Iran's military, told the semi-official Fars news agency, calling it "an act of invasion and belligerence."

According to DARPA, the design phase of the laser technology will be completed by the end of its 2013 fiscal year. In 2014, fabrication, assembly and testing of the systems will occur with an eye toward full implementation in 2016.

Project Endurance evolved out of DARPA's Excalibur program, which was designed to "develop coherent optical phased array technologies to enable scalable laser weapons that are 10 times lighter and more compact than existing high-power chemical laser systems," according to DARPA.

The Thales Watchkeeper WK450 is a Remote Piloted Air System (RPAS) for all weather, Intelligence, Surveillance, Target Acquisition and Reconnaissance (ISTAR) use by the British Army, provided under an £800 million contract awarded in July 2005 to Thales UK. The Watchkeeper is based on the Elbit Hermes 450 UAV. The engine is a rotary Wankel engine. It has a mass of 450 kg and a payload capacity of 150 kg, with a typical endurance of 17 hours. It was originally intended to enter service in June 2010. The Watchkeeper is built in the UK by a joint venture company, UAV Tactical Systems (U-TacS), set up by the Israeli company Elbit Systems (51% ownership) and French company Thales. UAV Engines Ltd, who build the rotary engine in the UK, is a wholly owned subsidiary of Elbit Systems.
MAY 2014 - DEFENSE ONE
It is reported that UAVs will be in every country in the world within 10 years, to include the purchase of vehicles capable of launching missiles at enemy targets. This will change the face of warfare.

Drone technology is quickly becoming the weapon of choice for militaries around the globe and it's too late for the United States – current leader in UAV technologies – to stop the rush. This is according to Defense One, a website devoted to security issues.

At present the elite drone club includes the US, United Kingdom, Russia, Israel, Iran, Pakistan and China. Other countries, such as South Africa and India, are actively seeking to join. According to the RAND organization another 23 countries "are developing or have developed" armed drones. Experts point to China's prowess in building knockoff drones, which are expected to flood the market very soon.

Once China (and others) start exporting these, they're going to be everywhere really quickly. Within the next 10 years, every country will have them. This is according to Noel Sharkey, a robotics and artificial intelligence professor from the University of Sheffield. "There's nothing illegal about UAVs unless you use them to attack other countries.

Meanwhile, some experts are pointing to the US military's reduced budget allocations for drone technology (down to $2.4 billion in 2015 from a high of $5.7 billion in 2013) as a sign that the United States is abandoning drone technology for other forms of weapons. Whereas, nothing could be further from the truth.

In December, the US Department of Defense released its 25-year roadmap that aims to make unmanned systems "ubiquitous on the battlefield" – even as the defense budget faces $487 billion in cuts over the next decade.

The Pentagon aims to develop: "fully autonomous machines by 2030 or beyond" (current 'unmanned' drones still rely on a human operator). The Pentagon envisions drones that can: "perceive, analyze, plan, react, and make decisions without human intervention."

Despite the obvious advantages that drone technology offers on the battlefield, the RAND report emphasizes that it is not in itself "transformative." "By themselves, armed UAVs do not win wars, and wars can be won without them." Thus, we may take for granted the change in technology, but the underlying strategies must be human based on day to day political assessments.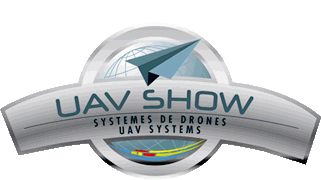 LINKS & REFERENCE
Defense One every-country-will-have-armed-drones-within-ten-years
China-building-army-unmanned-military-drones-rival-U-S
http://www.dailymail.co.uk/news/article-2011533/China-building-army-unmanned-military-drones-rival-U-S.html
Airforce Technology p1hh-hammerhead-unmanned-aircraft-system-italy
IMechE unmanned aircraft systems challenge uas
http://www.imeche.org/knowledge/industries/aerospace/auasc
http://www.northropgrumman.com/
http://www.totallyunmanned.com/
http://www.olympia.co.uk/whatson/commercial-uav-show
http://www.dsei.co.uk/page.cfm/link=127
http://www.wired.com/2013/11/drone-lasers/
http://en.wikipedia.org/wiki/Unmanned_aerial_system
http://www.uas-event.com/
http://www.uas-event.com/Content/Call-for-papers-now-open/6_11/
http://www.wired.com/wiredenterprise/2013/08/drone-autopilot/?mbid=social11284284
DSEI unmanned aerial systems 2014
http://www.dsei.co.uk/page.cfm/link=127
http://www.bluebird-uav.com/
http://rt.com/news/157340-us-drones-military-defense/
https://www.youtube.com/watch?v=_KxZa8W_H4M
http://www.wired.com/design/2013/02/crazyflie-nano/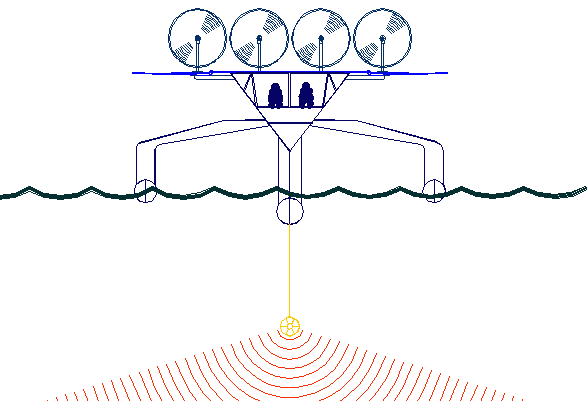 PATENT PENDING - A radical departure from the norm, but then thought leaders may only lead by thinking things through to their logical conclusion - which when forecast many years hence - is bound to appear considerably changed to that we know today. The Bluefish ZCC is a concept for a general purpose platform that might enjoy use as a countermeasure to the increasing number of aerial drones (at the moment enjoying 'uncontested airspace') to log and monitor, and if necessary shoot down airborne vehicles (under human command) that violate sovereign airspace. Strategic patrols of ZCCs could form a shield against invasion, much like the Israeli Iron Dome. A ZCC robot ship is designed to use no diesel fuel to monitor the oceans autonomously and continuously 24/7 and 365 days a year. This vessel would pay for itself in fuel saved every ten years. Any agency employing solar energy for transport will lower their carbon footprint and reduce their energy bill in one stroke. BMS are looking for international development (collaboration) partners to develop the concept and take to market.
NAVY FEARS - A manned ship with a crew is unlikely to be able to fix a large diesel or gas turbine at sea. Nuclear powered ships also require docking for serious breakdowns. Minor issues will benefit a ship by having a crew onboard as a quick fix. The advantage with an unmanned ship is that the robot captain will never leave the ship, maintaining communications, steerage, etc, until relief arrives. For nuclear powered vessels, the advantages are staggering, where the loss of life is eliminated. Submarines would need to be supported to make this work. Contact BMS to find out more.
Whereas, with an older manned ship, breakdown is more likely, but with an unmanned vessel, early warning of potential failures is built into the autonomous regime. Typically, there would be several layers of redundancy in a ship that is designed to operate unmanned. Thus, if a major failure occurred, the vessel might limp to port. This is particularly important with unmanned submarines.