The SSS Bluebottle drone, interfaces and output diagram
BLUEBOTTLE MARINE DRONE
BlueBottle USV drones operate on energy harvested at sea. They require no fuel and no crew, hence no supplies. They are self-deploying and self-retrieving and can roam widely or be kept on station virtually indefinitely. The company claims that their drones can provide a stable 'roll dampened' platform for low-cost cameras, radar and sensors above the water, below surface monitoring and surveillance, as well as power for communications linking subsea monitors and vessels, surface vessels, aerial vehicles and satellites.
This series of vessels is based on unique patented technology, the design of which allows these USVs to maintain full functionality to Beaufort Seastate 5 and survivability with some mission degradation up to Beaufort Seastate 7.
Ocius plans to build, Own and Operate (BOO) fleets of Bluebottle USV drones to be able to sell data to oceanographic research organisations, hydrography organisations and oil and gas operators. Ocius also plans to sell BlueBottle USV drones tailored for specific missions to defence companies, navies and security organisations around the world.
Bluebottles achieves its, up to 6 knot speed by integrating: 1. Hull design 2. Solar power for sensors and communications via pivoting and opening 'solarsails' 3. Windpower for propulsion via pivoting and opening 'solarsails' 4. Wave power for propulsion.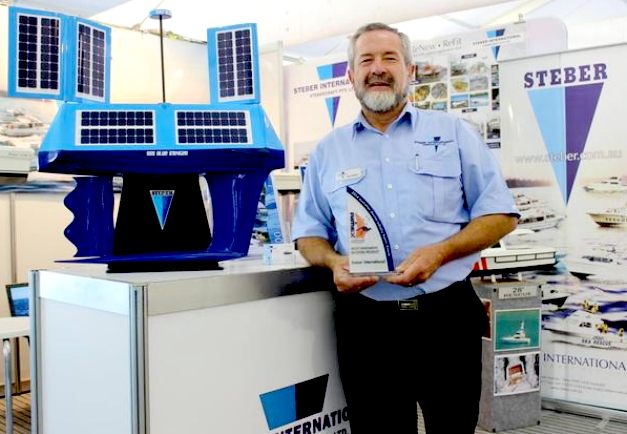 Alan Steber holding his award for the Bluebottle marine drone
SPECIFICATIONS COMPARED TO KNOWN COMPETITOR
Competitor

BlueBottle

Propulsion

Wave

Wind, solar + wave

Speed

0.4 to 2 knots

4 – 6 knots

Energy for sensors

Solar

Wind, solar, wave

Solar area/power

80 W (Peak) flat on deck,
shaded by mast,
cannot track the sun

2000 W (Peak) = 25x
Not shaded
can track the sun

Energy storage and payloads

Drag

Useful Ballast +++

Energy storage capacity

Li Ion 665 Watt – hours

Lead Acid 16,800 Watt-hours =25x

Collision avoidance

X

Roll dampened

X

Height above water for camera/radar

X

Fouling of propulsor

X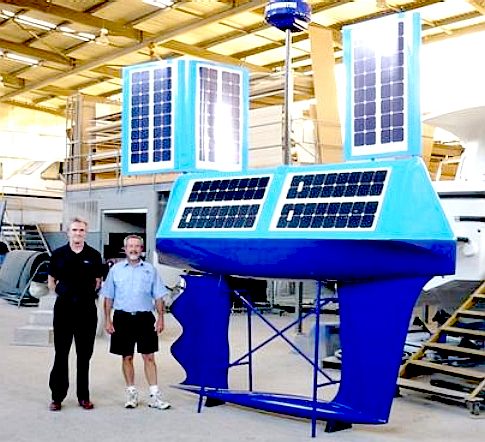 Robert Dane and Alan Steber, the innovators standing beside a large Bluebottle marine drone
COMMERCIAL SHIPPING
A new flat plate system is being promoted as an improvement to their patented SolarSail system.
These are a list of the advantages that OCIUS cite: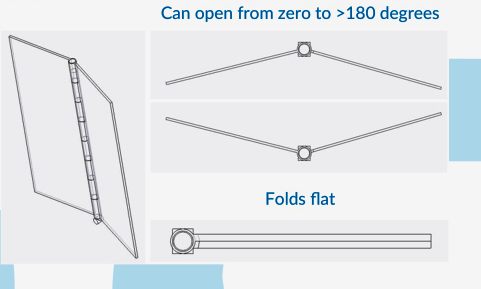 OPENS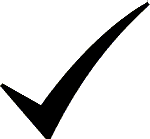 Changes 'camber' to wind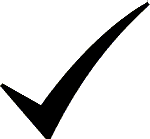 Sails on both sides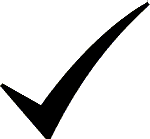 Doubles sail area = halves number of sails

STOWS FLAT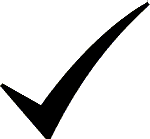 No interference with cargo handling, crew can walk on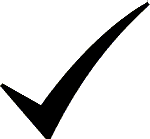 Safety and stability in storm – green water on deck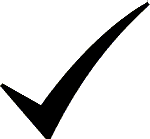 Minimal penetrations of deck (mechanism in upper hopper tank)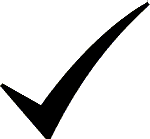 No penetrations of cargo space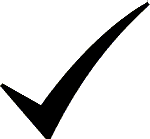 Visibility in harbour

SIMPLE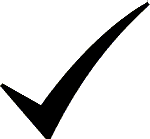 No solar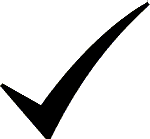 No curves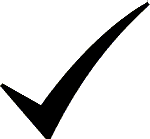 Steel – easy to build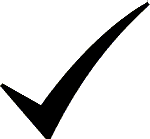 No extra crew required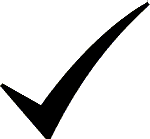 Software proven on commercial ferries
OCIUS was selected by the Carbon War Room and University College London to be one of four companies to present at the Danish Maritime Days 2014 on Tuesday 8th October. OCIUS is actively looking for a global partner to trial one sail on one designated ship for one year.

http://ocius.com.au/wind-assisted-shipping/
SOLAR SAILOR HOLDINGS
Solar Sailor Holdings Limited was an Australian company that supplies marine transportation technology. Solar Sailor was founded by Robert Dane in 1999, and the current chairman is Bob Hawke. The company develops and specializes in two forms of technology: hybrid marine power (HMP), and solar sails.

The company licences its technology and intellectual property world wide. The technology is applicable to all types of marine vessels, including commercial ferries, large ships, and recreational vessels.

Solar sails are pivotally mounted wings, capable of rotation on two axes. They can function as a sail, a solar collector, or both at once. Solar Sails can be hydraulically operated, with both computer optimization and manual control. By rotating to maximize exposure, solar sails can increase ship efficiency significantly.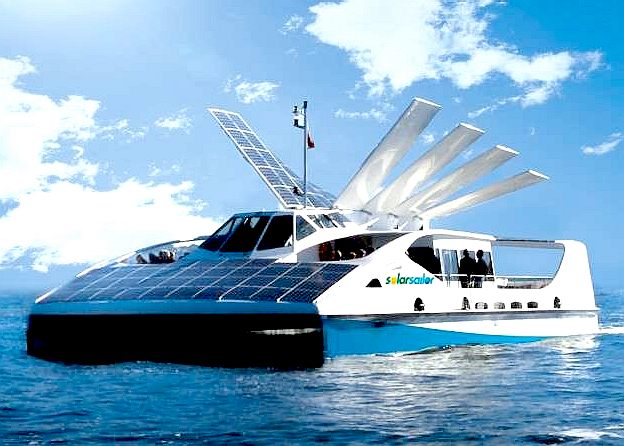 The boat that started it all, the Solar Sailor. Robert Dane started out with a much smaller and considerably simpler design, which eventually morphed into a commercial formula.

NOTABLE VESSELS

Solar Sailor - A chartered Solar Sailor ferry operates on Sydney Harbour, carrying 100 passengers.

A second ferry was built for the Shanghai World Expo, in association with Suntech Power, carrying 186 passengers.

Four ferries operate in Hong Kong carrying 100 passengers each. The vessels transport patrons of the Hong Kong Jockey Club to three golf courses on Kau Sai Chau island, off the coast of Hong Kong.
CONTACTS

Postal addresses:
SEILS Lab, SMART Building,
University of Wollongong, Northfields Avenue,
Wollongong, NSW Australia 2522

Ocius Technology Ltd
Office Box 4304
Castlecrag
Australia 2068
Robert Dane, CEO
robert@solarsailor.com.au
T +612 9924 6400
M +61 413 580 953
Fax: +61 2 9924 6401
Email: admin@ocius.com.au
Website: http://ocius.com.au/
PARTNERS
Ocius work with Stebercraft Pty and Wollongong University. The partnership has moved into offices at the University of Wollongong and so have access to wave tank and wind tunnel testing facilities, 3D printing and software, with plenty of lab space.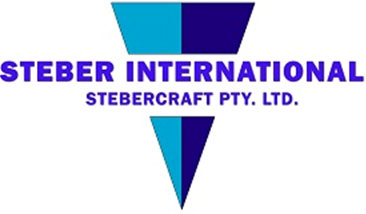 STEBERCRAFT INTERNATIONAL
Steber International is a family owned business operating on the Mid North Coast of NSW Australia. Operations were originally based in Brookvale, Sydney. The company relocated to their present position in 1974.
The business was founded in 1946 to produce timber clinker hulled boats. They changed to fiberglass (FRP) construction in 1959 as a pioneer in the construction of fiberglass vessels in Australia.
Stebercraft Pty has 50 years experience of selling marine craft to Navy, Fisheries and Police. Solar Sailor has 13 years of IP development with proven technology.

Stebercraft operate an integrated management system encompassing Quality Assurance to ISO9001, Occupational Health and Safety and Environment.

Steber International are committed to environmental sustainability. The Steber manufacturing plant is on a 4 acre site with approximately 2 acres under cover. The facility has designated areas of composite manufacture, construction, fitout, engineering, sheet metal (stainless steel and aluminium) and internal cabinetry, furniture and upholstery manufacturing facilities. Composite component manufacture is all undertaken in a climate controlled factory.
6 Elizabeth Avenue
Taree NSW 2430
Phone : +61 2 6592 0777
Fax : +61 2 6592 0770
Email : sales@steber.com.au
Web : www.steber.com.au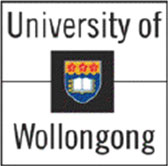 UNIVERSITY OF WOLLONGONG
In 2014, Ocius working in conjunction with the University of Wollongong's new Department of Oceanographic Engineering will deploy a fully autonomous BlueBottle USV drone off the Great Barrier Reef the aim being to supply specific oceanographic data to research organisations.
The University of Wollongong (informally known as Wollongong University or Wollongong), abbreviated as UOW, is a public research university located in the coastal city of Wollongong, New South Wales, Australia, approximately 80 kilometres south of Sydney. As of 2014, the University has over 37,000 students enrolled, included over 11,600 international students from 134 countries, an alumni base of over 112,000, and over 2,000 academic related staff. The University has been ranked 9th in Excellence in Research for Australia (ERA) Australian University Rankings in 2012, among the top 1% for research quality in the world, and among the top 2% of universities in the world. The University ranked 276th in the 2013 QS World University Rankings, 276-300th in the 2013-2014 Times Higher Education World University Rankings[8] and 301-400th (352nd) in the 2013 Academic Ranking of World Universities.

In 1951 a division of the New South Wales University of Technology (known as the University of New South Wales from 1958) was established at Wollongong for the conduct of diploma courses. In 1961 the Wollongong University College of the University of New South Wales was constituted and the College was officially opened in 1962. In 1975 the University of Wollongong was established as an independent institution. Since its establishment, the University has conferred more than 100,000 degrees, diplomas and certificates. Its students, originally predominantly from the local Illawarra region, are now from over 140 countries, with international students accounting for more than 30 percent of total.

The University of Wollongong has fundamentally developed into a multi-campus institution, three of which are in Illawarra (Wollongong, Shoalhaven and Innovation), one in Sydney and two overseas campus in Dubai, United Arab Emirates and Sejong City, South Korea. The Wollongong Campus, the University's Main Campus, is on the original site five kilometres north-west of the city centre, and covers an area of 82.4 hectares with 94 permanent buildings including six student residences. In addition, there are University Education Centres in Bega, Batemans Bay, Moss Vale and Loftus as well as the Sydney Business School in the City of Sydney. The University also offers courses equally based on the Wollongong Campus in collaboration with partner institutions in a number of offshore locations including in Singapore, Malaysia and Hong Kong.
Northfields Ave, Wollongong
NSW 2522, Australia
+61 2 4221 3555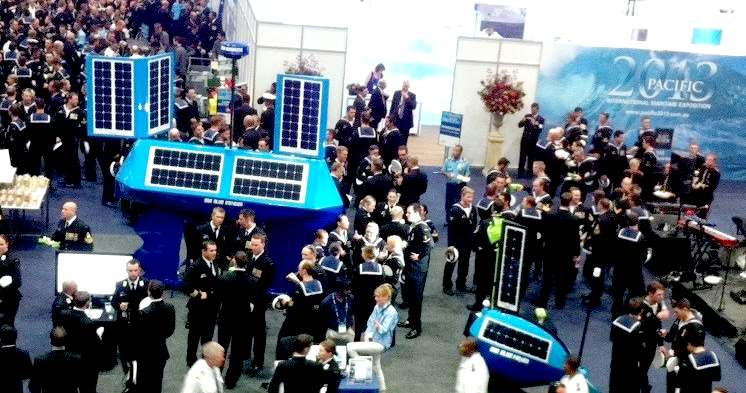 Bluebottle at the PACIFIC 2013 International Maritime and Naval Exposition. This was a showcase for a comprehensive range of technologies, services and products held from the 7th to 9th October 2013 at the Sydney Convention and Exhibition Centre.
LINKS & REFERENCE
Wikipedia University_of_Wollongong
Wikipedia Solar_Sailor_Holdings
http://www.pacific2013.com.au/
http://www.uow.edu.au/index.html
http://www.steber.com.au/
http://ocius.com.au/usv-bluebottle/
http://www.solarsailor.com/
http://ocius.com.au/
http://en.wikipedia.org/wiki/University_of_Wollongong
http://en.wikipedia.org/wiki/Solar_Sailor_Holdings