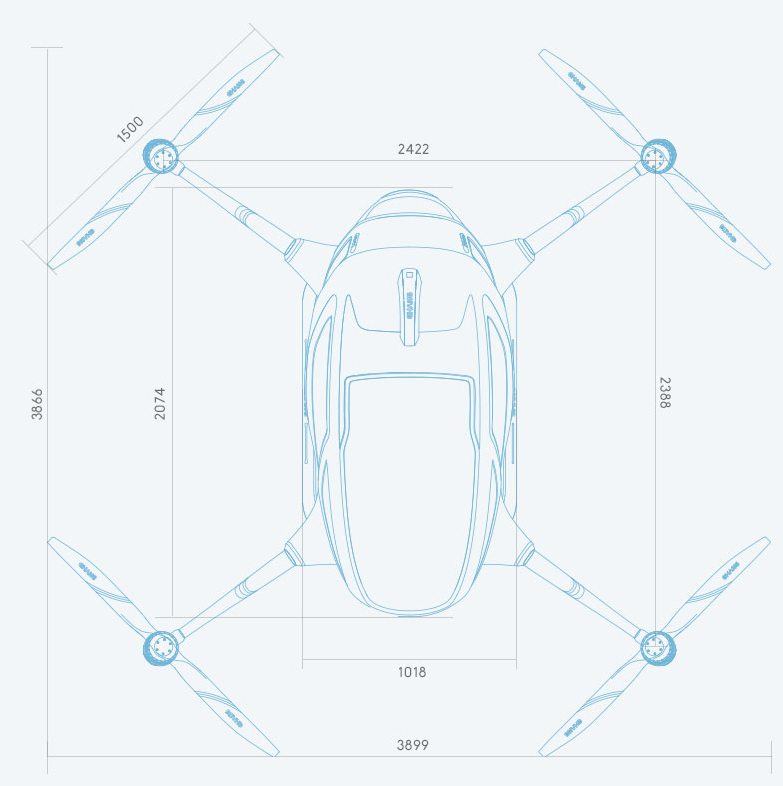 SKY TAXI - The essential dimensions. The propeller arms fold up for convenient storage.
CHINA - EHANG QUADCOPTER @ CES JANUARY 2016
Chinese company Ehang has unveiled the world's first passenger drone at CES 2016. The age of the Jetsons has arrived with this 500lb electric single-seat passenger drone. CES 2016 began on January 4, 2016 in Las Vegas. The exhibition space for CES 2016 will take up 2.4 million square feet or 223,000 square miles, up by 2 million square feet from the previous year.
Founded in April, 2014, EHang's headquarters are located in Guangzhou, China. Including other branches in Beijing, Shanghai and San Francisco, EHang has over 150 employees. The founding team members are from top institutions, such as Tsinghua University, Duke University, Massachusetts Institute of Technology & University of California, Los Angeles. Several high level managerial talents have also joined EHang from international listed companies including 21Vianet Group, Lenovo & Microsoft, making it a dream company aiming to innovate the future.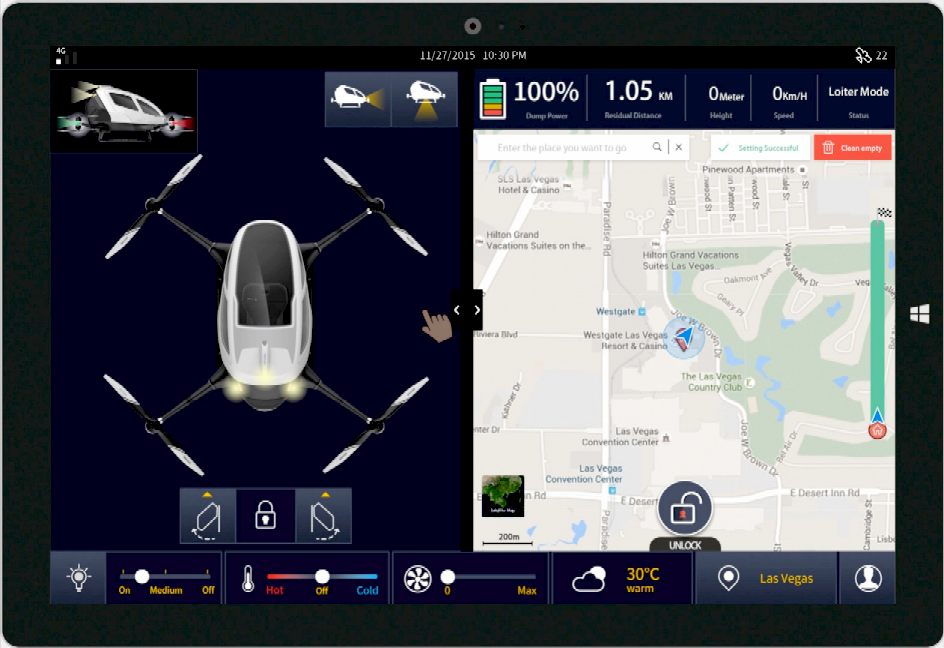 TABLET - What you see on the navigation tablet as the autopilot takes you to your destination.
The engineers at EHang are passionate about the union of hardware and software when bringing new models of aircrafts to life. We self-develop the original flight controller with an accurate algorithm, which utilizes a unique way of App, control. EHang created a revolutionary user experience which changes the drone industry's traditional way of RC control. This operation is simple and intuitive, thus anyone can enjoy flying a drone. Moreover, EHang looks forward to developing more functional applications based on mobile internet in the future.

These innovative drone products developed by EHang can be widely adopted in different industries including; filming,landscape mapping, news gathering, energy resource survey, search & rescue, investigation & monitoring, logistics and so on.
ABOUT THE 184

The Ehang 184 is a giant but elegantly designed drone; according to the company, it can transport one person at approximately 100 kilometers (62 miles) per hour in around 23-minutes. It can also carry a payload (that's the passenger and anything else they take with them) of about 100 kg (220 lbs). As such the vehicle is perfect for SeaVax, except that we do do not need the pilot for everyday use. You can plan your trip via an app on your smart phone and the drone takes off and delivers you to your destination autonomously.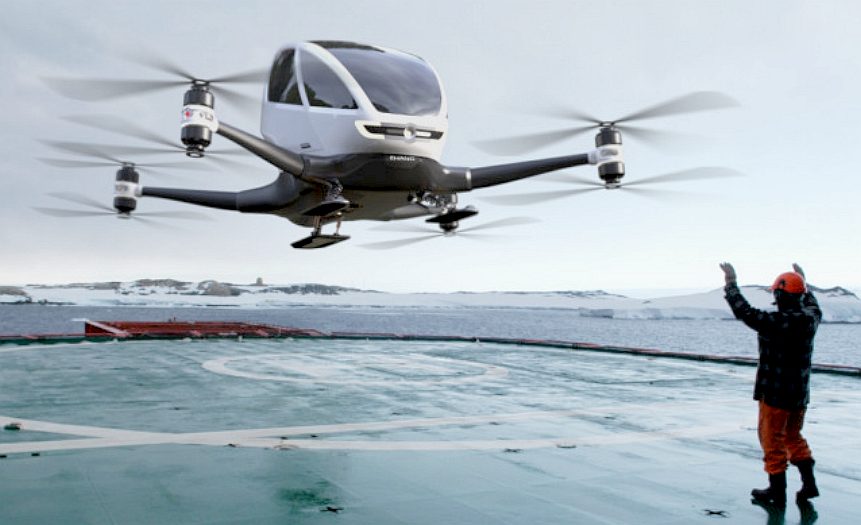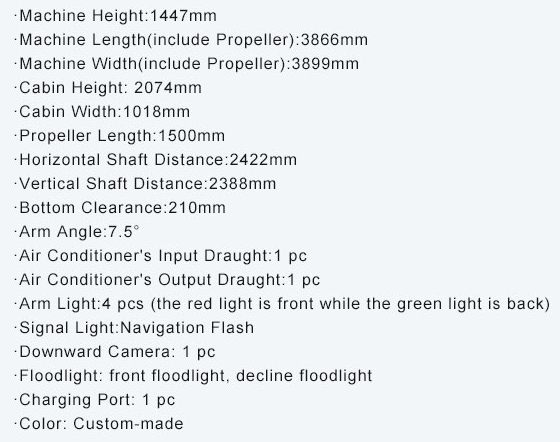 The makers claim that is has a fail safe mode so that anything goes wrong it goes into a hover or finds somewhere safe to land.

The design has built in redundancy with duplicate sensors, eight motors, eight propellers and sensors that prevent it taking off in a storm.

Whilst it is not legal in the US yet (or any other jurisdictions that we know of) it has completed over 100 test flights with a live pilot on board.

Reported to cost in the range of $200,000 to $300,000 its not a cheap way to avoid the traffic yet, but it certainly is brilliant and potentially disruptive technology.

QUADCOPTER - A great design, building on their experience with models and taking that to its ultimate conclusion. Contra-rotating props increase propeller efficiency.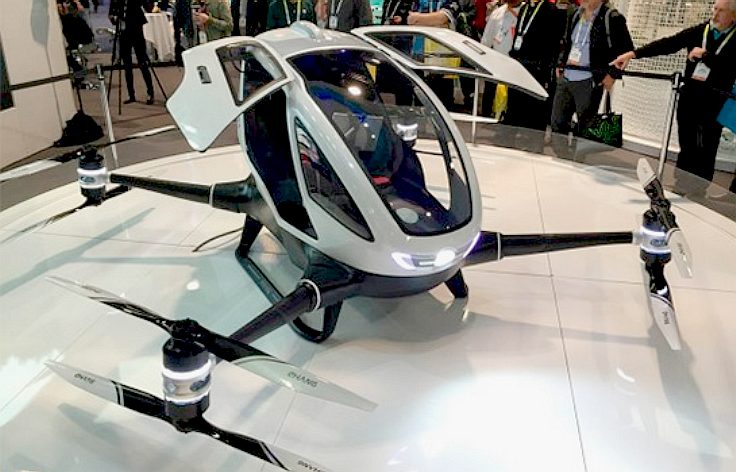 GULL WING DOORS - We love these stylish space saving doors.
THE INDEPENDENT - CES 2015
President and chief executive of Samsung Electronics, Boo-Keun Yoon, has called on industries to work together to make the Internet of Things (IoT) a reality.

Delivering the opening keynote speech at the International Consumer Electronics Show (CES) in Las Vegas, Mr Yoon emphasised the limitless possibilities of a "smart" life.

Mr Yoon announced a timetable for making Samsung technology IoT-enabled. By 2017, all Samsung televisions will be IoT devices, and in five years all Samsung hardware will be IoT-ready.

Mercedes-Benz was inviting people to imagine their luxury car of the future pulling in all by itself, without a driver behind the wheel, to bring its passengers home.

The carmaker unveiled the sleek concept car that it is calling F 015 on Monday night at The Cosmopolitan hotel.

"Mankind has been dreaming of autonomous cars since the 1950s," said the company's head, Dieter Zetsche. He said Mercedes-Benz has been working to make it a reality, albeit still a concept and not in production yet, since the 1990s. "It's basically a revolution," he said of the car.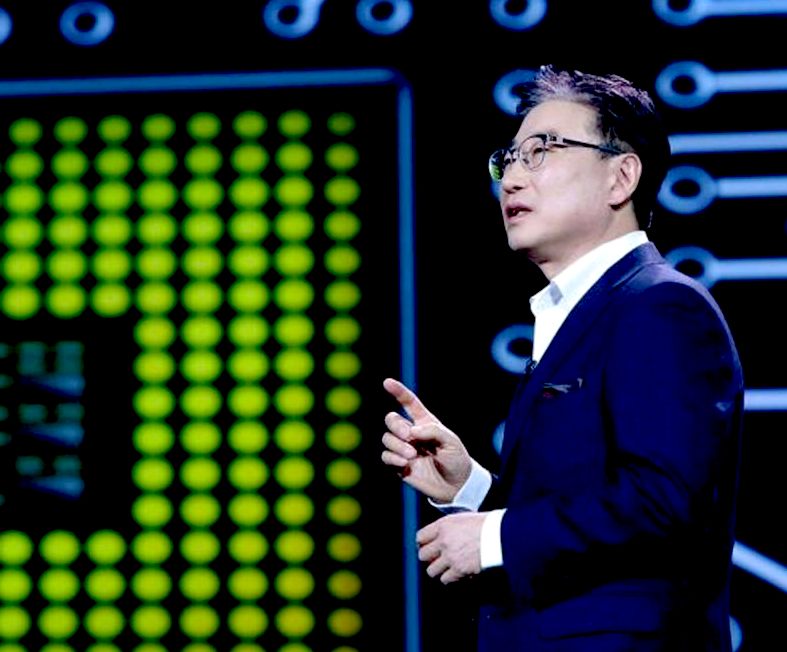 CES 2015 - Samsung's CEO, Boo-Keun Yoon, speaks on IOT
CES HISTORY

The International Consumer Electronics Show (International CES) showcases more than 3,600 exhibiting companies, including manufacturers, developers and suppliers of consumer technology hardware, content, technology delivery systems and more; a conference program with more than 200 conference sessions and more than 150K attendees from 150 countries.

And because it is owned and produced by the Consumer Technology Association (CTA), the technology trade association representing the $285 billion U.S. consumer technology industry, it attracts the world's business leaders and pioneering thinkers to a forum where the industry's most relevant issues are addressed.
CES is an internationally renowned electronics and technology trade show, attracting major companies and industry professionals worldwide. The annual show is held each January at the Las Vegas Convention Center in Las Vegas, Nevada, United States. Not open to the public, the Consumer Technology Association-sponsored show typically hosts previews of products and new product announcements. CES rose to prominence after a rival show, COMDEX, was canceled. In May 2015, CES Asia was held in Shanghai for the first time. For 2016, the name of the global technology event will be just "CES" and "International" will be dropped from the name.

The first CES was held in June 1967 in New York City. It was a spinoff from the Chicago Music Show, which until then had served as the main event for exhibiting consumer electronics. The event had 17,500 attendees and over 100 exhibitors; the kickoff speaker was Motorola chairman Bob Galvin. From 1978 to 1994, CES was held twice each year: once in January in Las Vegas known as Winter Consumer Electronics Show (WCES) and once in June in Chicago, known as Summer Consumer Electronics Show (SCES).

The winter show was successfully held in Las Vegas in 1995 as planned. However, since the summer Chicago shows were beginning to lose popularity, the organizers decided to experiment by having the show travel around to different cities starting in 1995 with a planned show in Philadelphia at the Pennsylvania Convention Center. However, the inaugural E3 gaming show was scheduled to be held on the West Coast in May and proved a source of increasing competition, causing the Philly Summer CES show to be cancelled. The 1996 Winter show was again held in Las Vegas in January, followed by a Summer show this time in Orlando, Florida, however only a fraction of the traditional exhibitors participated. Again, the 1997 Winter show in Las Vegas was very successful. The next "Summer" show was scheduled to be held in conjunction with Spring COMDEX in Atlanta, however when only two dozen-or-so exhibitors signed on, the CES portion of the show was cancelled.

In 1998, the show changed to a once-a-year format with Las Vegas as the location. In Las Vegas, the show is one of the largest taking up to 18 days to set up, run and break down.

CES CONTACTS

Consumer Technology Association (CTA)
Tel: 866-233-7968 (U.S.),
Tel: +1 703-907-7605 (Outside U.S.)

CES Badges

Attendees (U.S.): CESreg@CE.org

Attendees (Outside U.S.): internationalreg@CE.org
Tel: +1 703-907-7605

Press: press@CE.org
Tel: 703-907-4365

Exhibitors: exhreg@CE.org

Registration Help (U.S.): CESreg@CE.org

General Inquiries: To speak with a customer service representative, call 866-233-7968 Monday through Friday, 9 AM-6 PM EST.
LINKS
Independent UK news business ces-2015-the-internet-of-things-has-the-potential-to-transform-how-we-live-our-lives-says-samsung
BBC consumer electronics show Las Vegas news technology
Wikipedia /Consumer_Electronics_Show
https://en.wikipedia.org/wiki/Consumer_Electronics_Show
http://www.bbc.co.uk/news/technology-35192737
https://www.cesweb.org/
http://www.ehang.com/