R. Admiral Thomas K Shannon (Commander) R. Admiral Lawrence "Larry" B Jackson (Deputy Commander) and John S Thackrah (Executive Director) Military Sealift Command
US NAVAL OCEANOGRAPHIC OFFICE
The Naval Oceanographic Office (NAVOCEANO), located at John C. Stennis Space Center in south Mississippi, comprises approximately 1,000 civilian, military and contract personnel responsible for providing oceanographic products and services to all elements within the Department of Defense.
HISTORY
In 1830, the U.S. Navy established the Depot of Charts and Instruments maintain a supply of navigational instruments and nautical charts for issue to naval vessels. It soon became apparent that the Depot would be unable to obtain and maintain an adequate supply of the latest data unless it undertook production of charts from its own surveys. In 1837, the first survey sponsored by the Depot and led by Lieutenant Charles Wilkes resulted in four engraved charts published for use by the U.S. Navy.

Lieutenant Wilkes continued his surveying and gained fame as leader of the U.S. Exploring Expedition. The expedition ranged over the eastern Atlantic to Antarctica, the coasts of both Americas, and far into the west and southwest Pacific. It began the U.S. collection of world magnetic data and contributed substantially to hydrographic, meteorological, botanical and geological knowledge of the explored regions.

During the succeeding five years, 87 similar charts were published and issued from the results of surveys by Wilkes and his officers. These individual surveys, however, were limited in scope; the Depot needed a way to gather information quickly on a worldwide basis. Naval officer Matthew Fontaine Maury, who became known as "The Pathfinder of the Seas", supplied the answer to this dilemma.

Commander Maury, who held the position of Hydrographer of the Navy from 1842-1861, is credited with founding the science of oceanography. His system for collecting and using oceanographic data revolutionized navigation of the seas. Maury assumed command of the Navy's Depot of Charts and Instruments in 1842. Possessing an active, scientific mind, he immediately recognized possibilities for expanding the services of the Depot. He suggested that, if all shipmasters would submit reports of their experiences to a central agency, the data could be digested, compiled and published for the benefit of all. This idea became the basic formula of hydrographic offices throughout the world, making Maury's contributions a milestone in naval oceanography.

Within five years, 26 million reports poured into the Depot, which originally had been intended only as a storehouse of charts and instruments. In 1854, the agency was given the official name of The U.S. Naval Observatory and Hydrographical Office. In 1866, an Act of Congress separated the two functions, establishing the Hydrographic Office as a distinct activity. By this time the Office's mission had expanded to include "the carrying out of surveys, the collection of information and the printing of every kind of nautical chart or publication."

CONTINUED GROWTH

By the turn of the century, pleasure cruises had become a popular form of vacationing, and suddenly the attention of the world was drawn to a new danger to navigation - ice. The collision of the Titanic with an iceberg in 1912 prompted the Hydrographic Office to urge that an ice patrol be established to document sea-ice hazards to prevent such disasters. This was the beginning today's sophisticated, high-tech methods of surveying, measuring and recording ice thickness, ice-ridge profiles and other characteristics to monitor ocean-ice conditions above and below the surface.

Because features and conditions of the world's oceans are constantly changing, surveying, charting and mapping must be continuous processes. Experiences during World War I showed the need for greater accuracy for oceanographic data. By 1922, responding to these needs, the Navy had developed the first practical sonic sounding machine, making it possible to surpass all previous efforts in deep-sea sounding and bathymetric charting. Aerial photography was used for the first time that year.

Following the attack on Pearl Harbor, the demands for charts increased to about 40 times the normal pre-war rate. The Hydrographic Office was moved to more adequate facilities at Suitland, Maryland, about 6 miles (10 km) from the nation's Capitol building, and was placed under the cognizance of the Chief of Naval Operations to focus activities directly to programs of national security. Additional survey vessels were obtained, each equipped to conduct surveys and to produce printed charts aboard ship in a minimum of time to keep up with fleet advances across the Pacific. At the peak of World War II, 43 million charts were printed and issued in one year.

The Hydrographic Office was re-designated the U.S. Naval Oceanographic Office (NAVOCEANO) in 1962, and in 1976 the Office was relocated to the National Space Technology Laboratory (NSTL), which is now known as the John C. Stennis Space Center, in south Mississippi.


ORGANIZATION

NAVOCEANO oversees the Naval Ice Center in Suitland, Maryland, and the Fleet Survey Team at Stennis Space Center, Mississippi.

NAVOCEANO is the largest subordinate command under the Commander, Naval Meteorology and Oceanography Command, which is also located at Stennis Space Center.
Ships

NAVOCEANO's seven oceanographic ships are operated by the Military Sealift Command. Currently, the McDonnell is out of commission. Perhaps the hardest working ships in the Navy, the oceanographic survey ships have no homeport and are forward-deployed, surveying the ocean 365 days every year. To avoid interrupting continuous operations, oceanographers from NAVOCEANO relieve their fellow surveyors by flying to locations around the world to meet the ship.
T-AGS 60 Class

NAVOCEANO has operational control of six T-AGS 60 class ships: Pathfinder (T-AGS-60), Sumner (T-AGS-61), Bowditch (T-AGS-62), Henson (T-AGS-63), Bruce C. Heezen (T-AGS-64) and Mary Sears (T-AGS-65).

The T-AGS 60 class ships were designed and constructed to provide multipurpose oceanographic capabilities in coastal and deep-ocean areas for NAVOCEANO.

On board, surveyors are equipped to conduct physical, chemical and biological oceanographic operations; multidisciplinary environmental investigations; ocean engineering and marine acoustics; marine geology and geophysics; and bathymetric, gravimetric and magnetometric surveying.

Typical missions of the 329-foot-long (100 m) T-AGS 60 vessels may include oceanographic sampling and data collection of surface water, mid-water and ocean floor parameters; the launch and recovery of small boats known as hydrographic survey launches (HSLs); the launching, recovering and towing of scientific packages (both tethered and autonomous) including the handling, monitoring and servicing of remotely operated vehicles (ROVs); shipboard oceanographic data processing and sample analysis; and precise navigation, trackline maneuvering and station-keeping to support deep-ocean and coastal surveys.

T-AGS 50 Class

NAVOCEANO formerly operated one coastal hydrographic T-AGS 50 class ship, John McDonnell (T-AGS-51). At a length of 208 feet, USNS McDonnell was slightly smaller than the T-AGS 60 class ships. She was capable of collecting hydrographic data on all headings in seas with wave heights up to 9 feet and could launch and recover two HSLs and other survey equipment in seas up to 4 feet. She has been decommissioned while a new ship is being built.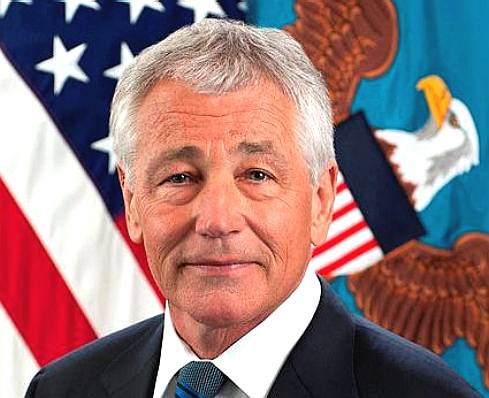 US Secretary of Defense - Chuck Hagel
MILITARY SEALIFT COMMAND (MSC)
The mission of the MSC is to operate the ships which sustain the USA's war-fighting forces and deliver specialized maritime services in support of national security objectives in peace and war. The MSC aim to be the preeminent provider of cutting-edge, commercial maritime solutions supporting future national security objectives.

Military Sealift Command is the leading provider of ocean transportation for the US Navy and the rest of the Department of Defense – operating approximately 110 ships daily around the globe.
MSC HISTORY

During World War II, four separate government agencies controlled sea transportation. In 1949, the Military Sea Transportation Service became the single managing agency for the Department of Defense's ocean transportation needs. The command assumed responsibility for providing sealift and ocean transportation for all military services as well as for other government agencies.

Only nine months after its creation, MSTS responded to the challenge of the Korean War. On July 6, 1950, only 11 days after the initial invasion of South Korea by communist North Korean troops, MSTS transported the 24th Infantry Division and its equipment from Japan to Pusan, South Korea, for duty.

During the Vietnam War, MSTS was renamed Military Sealift Command. Between 1965 and 1969, MSC transported nearly 54 million tons of combat equipment and supplies and nearly 8 million tons of fuel to Vietnam. MSC ships also transported troops to Vietnam. The Vietnam era marked the last use of MSC troop ships. Now, U.S. troops are primarily transported to theater by air.

Through the 1970s and 1980s, MSC provided the Department of Defense with ocean transportation in support of U.S. deterrent efforts during the Cold War years.

During the first Persian Gulf War's Operations Desert Shield and Desert Storm, MSC distinguished itself as the largest source of defense transportation of any nation involved. MSC ships delivered more than 12 million tons of wheeled and tracked vehicles, helicopters, ammunition, dry cargo, fuel and other supplies and equipment during the war. At the height of the war, MSC managed more than 230 government-owned and chartered ships.

Since Sept. 11, 2001, MSC ships have played a vital and continuing role in contingency operations around the world. As of January 2013, MSC ships delivered more than 25.7 billion gallons of fuel and moved 126.2 million square feet of combat equipment and supplies to U.S. and coalition forces engaged in operations supporting Iraq and Afghanistan.

In addition, MSC, the Navy and several non-governmental organizations have treated hundreds of thousands of patients in hospital ship deployments worldwide.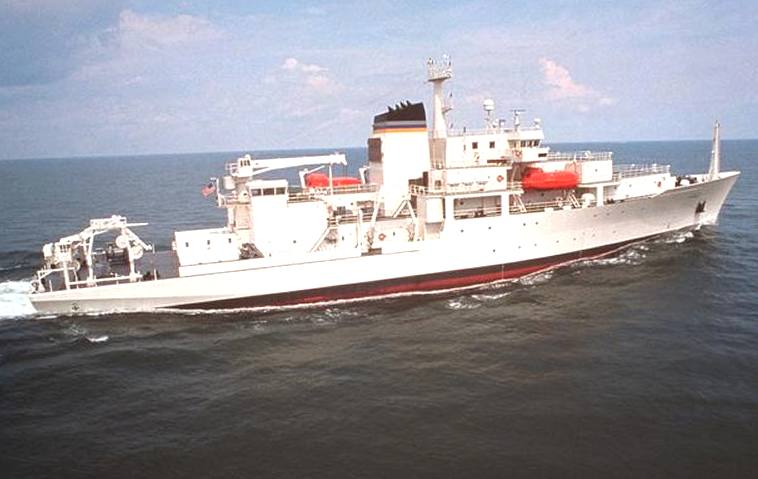 US OCEANOGRAPHIC SURVEY SHIPS
Support worldwide oceanography programs, including performing acoustical, biological, physical and geophysical surveys.

Specifications:

Length: 328.5 ft
Beam: 58 ft
Displacement: 5,000 tons
Speed: 16 knots
Ships

USNS Pathfinder (T-AGS 60)
USNS Sumner (T-AGS 61)
USNS Bowditch (T-AGS 62)
USNS Henson (T-AGS 63)
USNS Bruce C. Heezen (T-AGS 64)
USNS Mary Sears (T-AGS 65)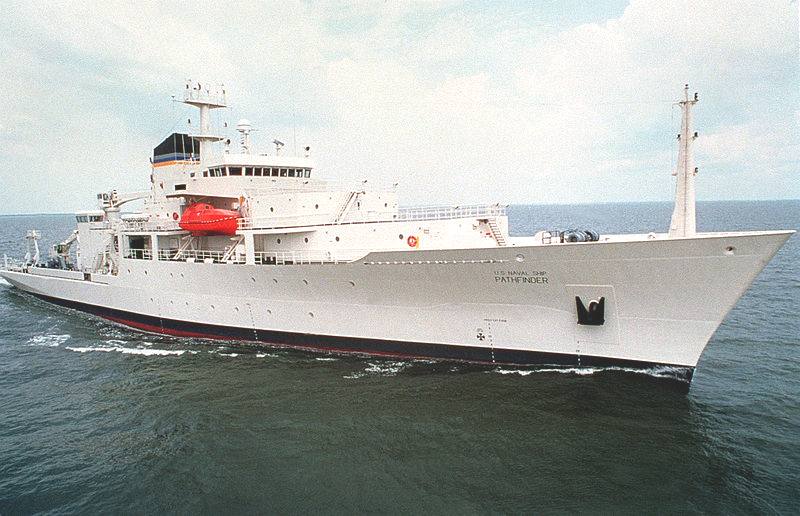 SHIPS A-Z
SEA-BASED X-BAND RADAR (SBX-1)
DEPARTMENT OF THE NAVY RESEARCH, DEVELOPMENT & ACQUISITION
As with other Naval institutions, finding those who might be interested in new technology is by no means straightforward and may swamp small concerns, absorbing much of the precious resources to no avail. By way of example, here are a few examples of the maze that you are likely to get lost in:-

Small Business Resources

Department of the Navy:
The Department of Navy Office of Small Business Programs (OSBP)
http://www.donhq.navy.mil/osbp/

The goal of the Navy Office of Small Business Programs is to assist small business entrepreneurs' navigation through the Department's decentralized acquisition program to ensure the Warfighter receives quality products. The Navy has and will continue to support small business participation as both prime and subcontractors. The Department of the Navy embraces the critical role of small businesses in maintaining the strength of our naval capability and the nation's economy by focusing on leadership, teamwork, customer service, and mutually beneficial partnerships.
Navy Exchange System (NEX)
http://www.navy-nex.com
This web site provides information on quality goods and services at a savings and to support quality of life programs. The retail stores and many services offered by Navy Exchange Service Command makes it an important quality of life benefit to customers, active duty, family members, retirees, national guard, and reservists around the world, both ashore and at sea. Within the Navy Exchange System are five primary business units. These include Navy Exchange retail stores and services, Navy Lodges, the Navy Uniform Program, the Ship Store Program, and Telecommunications.
ITEC Direct
http://itec-direct.navy.mil
The Information Technology Electronic Commerce (ITEC) program provides commercially available, Department of Navy (DON) standard compliant Information Technology (IT) products and services. ITEC Direct leverages technology to give Department of Defense (DoD) customers a fast and easy way to electronically locate, compare, and order IT hardware, software and services.
DoN Small Business Innovation Research
http://www.onr.navy.mil/sbir/
This site provides information on how to participate in the Department of the Navy's SBIR program. The SBIR program funds research and development projects at small technology companies. The projects funded serve a DoN need and are expected to have commercial applications.
DoN Marketing Info
http://www.hq.navy.mil/sadbu/marketing.htm
Small and Disadvantaged Business Utilization - Marketing the Navy
Navy Electronic Commerce Online (NECO)
https://www.neco.navy.mil/
This site is your link to the world of Navy Electronic Business Opportunities. It is the centerpiece of the Navy's strategy to convert to paperless processes in accordance with the DoD direction. All Navy business opportunities are either on this site or linked to it.

Department of Defense:
Doing Business with the Department of Defense
http://www.defenselink.mil/other_info/business.html
This powerful search engine site provides links to the Small and Disadvantaged Business Utilization Office, Defense Logistics Agency and other resources for selling to the military agencies.
The AbilityOne Program
The AbilityOne Program is the largest source of employment, on Federal contracts, for individuals who are blind or have other severe disabilities in the United States. Established in 1938, the program is administered by the Committee for Purchase From People Who Are Blind or Severely Disabled, an independent Federal agency, with assistance from National Industries for the Blind (NIB) and NISH-Creating Employment Opportunities for People with Severe Disabilities.
* DPAP AbilityOne Program Section: http://www.acq.osd.mil/dpap/cpic/cp/abilityone_program.html
* Committee For Purchase From People Who Are Blind or Severely Disabled: http://www.abililtyone.gov
* AbilityOne Program: http://www.abilityonedod.org
Mentor Protege Program (MPP)
http://www.acq.osd.mil/sadbu/mentor_protege/index.htm
This site provides information to large businesses who wish to participate in the program as mentors and small businesses and others who wish to participate as protege's.
DoD Small Business Innovation Research (SBIR)
http://www.acq.osd.mil/sadbu/sbir/
The SBIR program funds research and development projects at small technology companies. The projects funded serve a DoD need and are expected to have commercial applications. This web site describes the program.
Subcontracting Opportunities
http://www.acq.osd.mil/osbp/doing_business/index.html
The publication exclusively addresses the defense subcontracting opportunities market. The DoD encourages small business and small disadvantaged business to enter the defense subcontracting market. By entering the market, goods and services flow to strengthen national security and the defense industrial base.
DoD Small Business Specialists
http://www.acq.osd.mil/osbp/doing_business/index.html
The Military Services and Defense Agencies have contracting offices located throughout the United States. Each service and agency has an Office of the Director of Small and Disadvantaged Business Utilization. They also have small business specialists at each of their procurement and contract management offices to assist small businesses, small disadvantaged businesses, and women-owned small businesses firms in marketing their products and services with the DoD. These specialists provide information and guidance on (1) defense procurement procedures, (2) how to be placed on the solicitation mailing lists, and (3) how to identify prime contract and subcontract opportunities.
CCR
http://www.ccr.gov/
Central Contractor Registration (CCR) is a single database of basic business information from contractors that want to do business with the Department of Defense (DoD). Contractors MUST be registered in CCR in order to do business with the Department of Defense.
DoD Small and Disadvantaged Business Utilization
http://www.acq.osd.mil/sadbu/
This website contains information on DoD programs that benefit small businesses and DoD business opportunities.
Other Government Sites:
U.S. Business Advisor
http://www.business.gov
This Small Business Administration's search engine site provides on-line, one-stop access to government forms, business development software & business sector oriented information.
Federal Acquisition Jumpstation
http://nais.nasa.gov/fedproc/home.html
Provides over 100 hotlinks to federal contracting activities and other sources of federal procurement information throughout the United States.
Procurement Technical Assistance Center (PTAC) Listing
http://www.dla.mil/db/procurem.htm
The DLA administers on behalf of the Secretary of Defense the DoD PTA Cooperative Agreement Program under which Procurement Technical Assistance Centers (PTACs) provide assistance to business firms that want to sell goods and/or services to Federal, state and local governments.
U.S. Small Business Administration
http://www.sbaonline.sba.gov
The U.S. Small Business Administration, established in 1953, provides financial, technical and management assistance to help Americans start, run, and grow their businesses.
FedBizOpps website
http://www.fedbizopps.gov/
FedBizOpps has been designated as the single source for federal government procurement opportunities that exceed $25,000.
U.S. Small Business Administration Subcontracting Network (SBA SUB-Net)
http://web.sba.gov/subnet
SUB-Net lists notices of subcontracting opportunities.
Federal Supply Service
http://www.fss.gsa.gov
GSA's Federal Supply Service provides federal customers with the products, services and programs to meet their supply, service, procurement, vehicle purchasing and leasing, travel and transportation and personal property management requirements.
GSA SmartPay
http://www.fss.gsa.gov/services/gsa-smartpay/
GSA Smartpay allows Federal Agencies to pay for commercial goods and services as well as travel and fleet related expenses with leading-edge card services.
Federal Supply Classification
http://www.dlis.dla.mil/h2/
The Federal Supply Classification site provides a searchable list of all Federal Supply Codes.
D&B Universal Numbering System
http://www.dnb.com/us/
The D&B D-U-N-S Number is a unique nine-digit identification sequence, which provides unique identifiers of single business entities, while linking corporate family structures together.
Defense Logistics Information Service - Cage Code
http://www.dlis.dla.mil/cage_welcome.asp
This site is a search engine for the Commercial and Government Entity (CAGE) Code system.
CONTACTS

MSC HOTLINE INFO:
Email: MSCHotline@navy.mil
Phone: 866-836-6919
Alt. Phone: 202-685-0138
DSN: 325-0138


Commander, U.S. Fleet Forces Command
Fleet Public Affairs (N00P)
1562 Mitscher Ave., Suite 250
Norfolk, VA 23551-2487

Important telephone numbers:

Quarterdeck
(757) 836-3644

Admin/Personnel
(757) 836-3802

Admin FAX
(757) 836-5089


Office of the Assistant Secretary of the Navy for Research, Development & Acquisition
1000 Navy Pentagon 4C656
Washington, DC 20350-1000
Email: webmaster_navyaos@navy.mil

703-693-8825


Public Affairs Officer
Special Assistant for Public Affairs
Office of the Assistant Secretary of the Navy for Research, Development & Acquisition
1000 Navy Pentagon 4C656
Washington, DC 20350-1000

703-695-0611
Director, Navy SBIR Programs
John Williams
Attn: Director, Navy SBIR Programs
Office of Naval Research
One Liberty Center
875 North Randolph Street
Code 03TSB, Suite 1425, Room 262A
Arlington, VA 22203-1995
Email: john.williams6@navy.mil
Phone: 703-696-0342
Other Navy SBIR Contacts
Navy SYSCOM SBIR Program Contacts
Navy Acquisition (ACAT I & II) Points of Contact
LINKS & REFERENCE
US Department of Navy Research, development & Acquisition - http://acquisition.navy.mil/
US Fleet Forces Command - http://www.cffc.navy.mil/
US http://www.msc.navy.mil/
http://en.wikipedia.org/wiki/Naval_Oceanographic_Office
http://www.maritimejournal.com/news101/industry-news/ukho-appoints-new-national-hydrographer
http://en.wikipedia.org/wiki/United_Kingdom_Hydrographic_Office
http://www.ths.org.uk
http://www.spri.cam.ac.uk/friends/committee/
http://www.thefutureofnavigation.com/ten_steps.aspx
http://www.quaynote.com/ankiti/www/?code=ecdis13&f=programme
Wiki United_Kingdom_Hydrographic_Office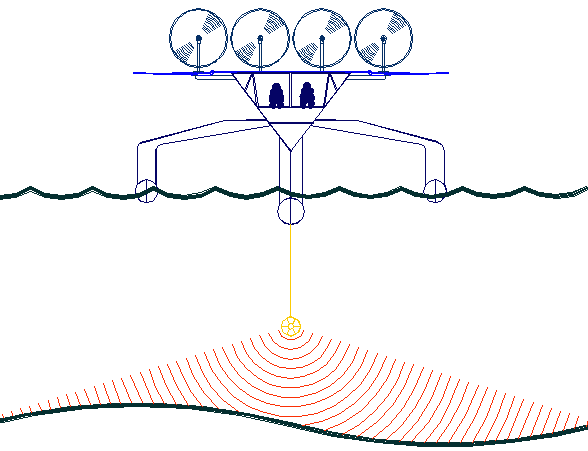 PATENT PENDING - The key to accurate hydrographic mapping is continuous monitoring, for which the Bluefish SNAV platform, presently under development, is a robotic ocean workhorse. Based on a stable SWASH hull this design is under development in the UK, looking to expand into the US. The robot ship uses no diesel fuel to monitor the oceans autonomously (COLREGS compliant) at relatively high speed 24/7 and 365 days a year - only possible with the revolutionary (patent) energy harvesting system. The hullform is ideal for automatic release and recovery of ROVs or towed arrays, alternating between drone and fully autonomous modes. International development inquiries are welcomed. This zero carbon vessel pays for itself in fuel saved every ten years.