AUGUST 18 2013

According to Clive Palmer the Australian tycoon behind the project, a 9.3m wooden model of Titanic II will be put through resistance and powering tests in a 300m long tank in around a month's time. Since initial announcements of the project made to coincide with the centenary of the original Titanic, Palmer has selected a yard to build the vessel and engaged the services of Deltamarin as project managers, Tillberg Design for the interior planning,V.Ships Leisure as vessel management partners and LR to review key design drawings, calculations and studies for Titanic II against relevant rules and regulation. Titanic II is scheduled to be launched from its construction base in China in 2016 and her maiden passenger voyage will be retracing the original journey from Southampton to New York.

"This model testing by HSVA will be an important stage in the Titanic II project," Palmer said. "The Titanic II model is to be tested in the HSVA tank at speeds of between 18 and 24 knots. This testing is crucial for assessing the speed and power performance of this prototype vessel design." HSVA Director of Resistance and Propulsion, Dr Uwe Hollenbach, said HSVA was delighted to be part of the historic Titanic II project in the company's centenary year. "Model testing is the only accurate and reliable method for a passenger vessel prototype such as Titanic II," he said. "Titanic II is a prototype as present day passenger vessels have a completely different type of main hull parameters and therefore are unsuitable as references. "The speed and power performance model testing is one of the critical aspects for a prototype vessel and needs to be verified before a construction contract is completed."

The RMS Titanic was commissioned by White Star Line and was the largest liner in the world at just under 270m long, 53m high and weighing approximately 40,000 tonnes. Palmer has said Titanic II would have similar dimensions as its predecessor, with 840 rooms and nine decks. The only changes to the original Titanic would be below the water line including welding and not riveting, a bulbous bow for greater fuel efficiency, diesel generation and enlarged rudder and bow thrusters for increased manoeuvrability.
Titanic II is an ocean liner planned as a near replica of the Olympic-class RMS Titanic. The project was announced by Australian billionaire Clive Palmer in April 2012, as the flagship of his cruise company Blue Star Line. The intended launch date is set in 2016, 104 years after the original voyage, and the ship will set sail from Southampton to New York within the same year.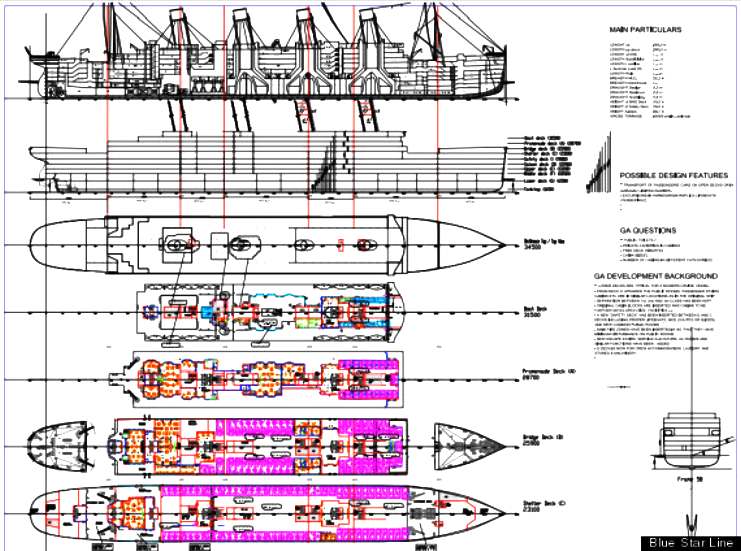 HISTORICAL REPLICA

The concept of a replica of the Titanic has been explored several times, especially following the resurgence of interest following the release of the film Titanic in 1997. The most widely publicised project was that of South African businessman Sarel Gous.

The South African project began in 1998, and was one of the subjects of an article in Popular Mechanics magazine in September of that year. The article discussed the changes to the original design required to produce a safe and economically viable ship, including a welded rather than riveted hull, diesel-electric propulsion in place of steam engines, and a bulbous bow. The article concluded that although the various Titanic revival projects would cost $400–$600 million, they could be economically viable.

Although he originally intended to construct the ship in Durban, Gous presented his £500 million proposal to Belfast City Council in June 2000. He commissioned Olsen Designs to design the ship, advised by Harland and Wolff Technical Services who produced a feasibility study, and Callcott Anderson to design the interior. In November 2000, he began his attempts to raise capital, including through government grants and a stock market flotation. After signing an agreement with a Monaco-based investment banking company, Gous claimed that construction would begin at Harland and Wolff within nine months. The design changed repeatedly, with claims emerging of 'the world's largest liner' with capacity for 2,600 passengers, and increasingly divergent plans for a heliport, swimming pools and discos eventually being released. In 2006, after repeatedly failing to secure investment, the project was abandoned.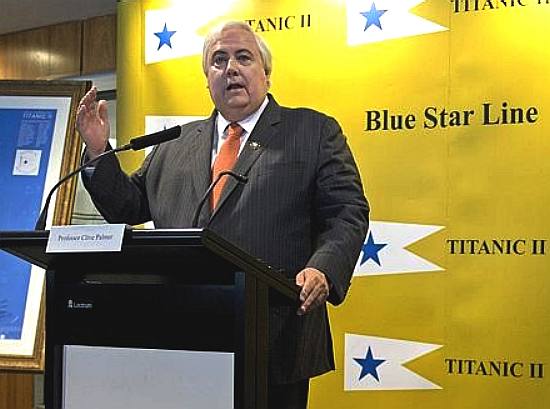 DESIGN

Clive Palmer first announced the project in a press conference on 30 April 2012, following the signature of a memorandum of understanding with state-owned Chinese shipyard CSC Jinling ten days before. On 19 June, it was announced that Finnish naval architecture firm Deltamarin Ltd. had been commissioned to undertake the design of the ship, and on 17 July a preliminary general arrangement was published.

In October 2012, Blue Star Lines announced that Titanic expert Steve Hall had been appointed as Design Consultant and Historian for the project, and that Titanic interiors expert Daniel Klistorner had been appointed as Interior Design Consultant and Historian. Hall and Klistorner had previously co-authored books such as Titanic: The Ship Magnificent and Titanic in Photographs, and gave a technical presentation at the unveiling of the designs in New York, as well as at the dinner in London. Later that month, it was announced that an advisory board would be formed to provide "suggestions and recommendations to Blue Star Line to ensure the Titanic II appropriately and respectfully pays homage to Titanic, her crew and passengers." Terry Ismay, the great-great nephew of White Star Line chairman and Titanic survivor J. Bruce Ismay will be a member of the board, as well as Helen Benziger, great-granddaughter of Titanic survivor Margaret 'Molly' Brown.

The design for the Titanic II was unveiled at worldwide launch events in Macau (China), New York (United States), Halifax (Canada), London & Southampton (United Kingdom). The gala event in New York was the official Global Launch and was held aboard the USS Intrepid in New York City on 26 February 2013. The gala dinner in London (UK) was held at the Natural History Museum on 2 March, which was accompanied by a display of items salvaged from the Titanic, as well as in Southampton on 13 March.

On 16 April it was announced that Deltamarin had been contracted for the project development phase, and will be responsible for coordinating the various parties involved in the project, including the shipyard, architects, interior designers and operations managers. The feasibility study is complete, and the project development phase is ongoing.

Further contracts and agreements relating to the design and construction were announced later in 2013; the project development contract to Deltamarin Ltd., the appointment of V.Ships Leisure as ship management services partner, and of Tillberg Design as provider of architectural and interior design services.

On July 17, 2013, Blue Star Line announced that the classification society Lloyd's Register has joined the Titanic II project. The work carried by Lloyd's will make sure that the ship's design is compliant with the current SOLAS regulations.

Model testing using a 9.3-metre (31 ft) wooden model will be undertaken in September 2013 at the Hamburgische Schiffbau-Versuchsanstalt (HSVA). Resistance and powering tests will be carried out in a 300-metre (980 ft) towing tank.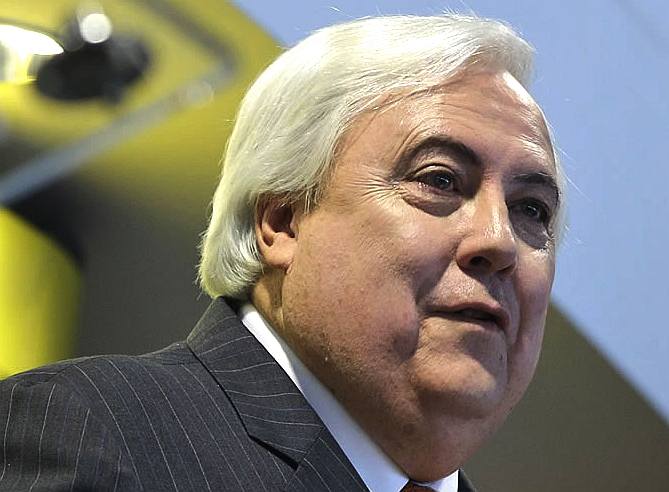 CONSTRUCTION DATE

The gross tonnage of the replica will be 56,000 GT, considerably more than that of the original.

Construction is scheduled to begin in 2013, with launch and maiden voyage in 2016.


COMPARISON

The ship is being designed to be as similar in internal and external appearance to the Titanic as possible. However, modern safety regulations and economic considerations will dictate several major changes to the design, including:-

* Greater beam for enhanced stability
* Welded, not riveted, hull
* Reduced draught
* Bulbous bow for higher fuel efficiency, although moderately sized compared to modern ships.
* Stabilisers to reduce roll
* Diesel-electric propulsion system with four diesel generating sets providing power for three azimuth
thrusters to replace the original coal-fired boilers, steam engines and steam turbine, as well as the
rudder
* An additional 'safety deck' between C and D decks for modern lifeboats and marine evacuation systems,
with the boat deck housing replicas of the original lifeboats. Space for the deck has been made by
lowering decks D and below by 2.8 metres, and for the taller centre section of the safety deck, which
houses the lifeboats, by raising the superstructure by 1.3 metres. In spite of the reduced draft, space
has been made for the lowered decks by removing the orlop deck, which mainly housed the boilers.
* New 'escape staircases' in addition to the original staircases, housed in the redundant boiler exhaust
uptakes.
* Viewing decks in the redundant first two funnels.
* No sheer or camber, unlike the original. Pronounced sheer was a cosmetic feature of ocean liners,
intended to add a graceful appearance to the ship, but made construction more difficult and therefore
costly. Renderings released in February 2013 show an upwards rake added to C Deck at the bow and
stern to give a superficial appearance of sheer, although an inauthentic wedge-shaped gap has had to
be added between C and D decks in these areas to produce this effect.
* A higher bridge relative to the bow, as the superstructure has been raised by 1.3 metres by the centre
section of the safety deck, and also by the removal of the sheer. This negates the requirement on the
original Titanic for lookouts.
* An overall increase in the height of the ship.

PROPULSION

The steam engines and coal-fired boilers of the original Titanic have been replaced with a modern diesel-electric propulsion system. The space which housed the boilers will be used for crew quarters and ships systems. Power will be produced by four Wärtsilä 46F medium-speed four-stroke diesel generating sets; two twelve-cylinder 12V46F engines producing 14,400 kilowatts (19,300 hp) each, and two eight-cylinder 8L46F engines producing 9,600 kilowatts (12,900 hp) each, running on heavy fuel oil and marine gas oil. Propulsion will be by three azimuth thrusters which will also be used for manoeuvring, while the replica of the rudder of the Titanic II is purely cosmetic, and will not extend substantially below the waterline. The positioning of the azimuth thrusters has necessitated the stern being made substantially more blunt than the original.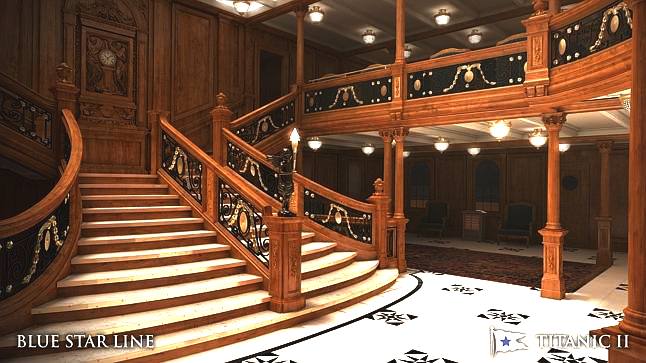 INTERIOR

The interior of the ship is intended to be as similar as possible to the original. Tillberg Design of Sweden has been contracted to produce drawings replicating Titanics original interiors. However, the original wooden panelling does not conform to modern fire regulations, so as in Queen Elizabeth 2, veneers will have to be used. Plans show a layout broadly similar to the original, but with the third-class cabins modernised, and consideration being given to en-suite cabins throughout the ship. The room freed up by eliminating the steam boilers of the original ship will be used for crew quarters and various services.


CRITICISM

If built, the Titanic II would represent the first major passenger vessel constructed in China, a country with much more experience of building cargo ships than cruise ships, and a significant investment would be required to ensure it meets the much more stringent safety requirements for passenger vessels.

The Chinese state-owned CSC Jinling shipyard has never built a large passenger vessel. In addition, it has no drydock, instead using side launching from a 200m slipway. The 269m Titanic II would be the largest side-launched vessel in history by a huge margin, and would require a significant extension to the shipyard's facilities.

Representatives from the shipyard have questioned whether the ship can be completed by 2016, and emphasize that no contract has yet been signed.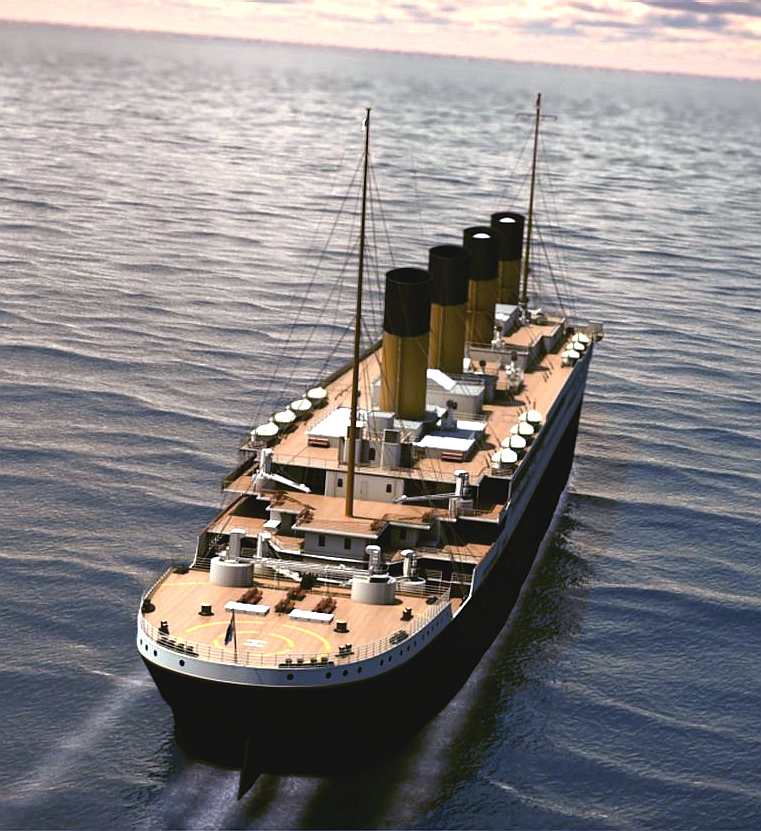 Clive Palmer has been described as an 'eccentric billionaire' with a reputation for bizarre publicity stunts, such as the attempt to create a massive Jurassic Park style dinosaur theme park at his golf resort. It has also been noted that the publicity surrounding the Titanic II coincided with Palmer's announcement of his entry into Australian federal politics, which was made immediately following the Titanic II conference. Palmer had previously claimed that he was the target of a conspiracy involving Barack Obama, the CIA, the Rockefeller Foundation and Greenpeace, who he believed were attempting to close down his mining operation. In 2010, Palmer started a company called Zeppelin International, with the intention of making a commercially viable Zeppelin. After the plan came to nothing, it was ridiculed as the 'bizarre move of the year' by Australian business website Smartcompany. He has gained a reputation in Australia for floating ambitious and unusual business ideas which he fails to see through, and the Titanic II has been described as 'a classic Clive Palmer announcement'. That is though a little unfair. If a business seems like a good idea, but there is little support for that idea, then surely you would abandon the idea.

The idea of a commercialised replica of the Titanic has itself been criticised, being described as "insensitive" and "a mockery of the memory of those who died". Cunard Line, which merged with the White Star Line, stated that they "have always been very mindful and very respectful of such a tragic event [and] don't think that building a replica or a 'II' is appropriate." Once again, there are mixed view on this subject. For starters, no matter how much Clive would like a 'replica' the Titanic II is no such thing. It is certainly inspired by the famous ship, but departs from that concept with a full compliment of lifeboats. A replica would not carry sufficient lifeboats, which might even add a little spice to a journey. Will it or wont it?
Equally, the hull is to be riveted, eliminating the main weakness of the original. Let us hope that the equivalent lookout is more robust in terms of navigation equipment. Certainly, a larger rudder is a massive improvement. We'd like to see footage of the tank test model executing a turn or two.

IRISH JIG

Mr Palmer said 40,000 people had already registered for tickets on the first voyage, which will "complete the journey" of those who left Southampton in 1912.

More than 540 people from the city were among the 1,517 who perished when the liner hit an iceberg and sank in the North Atlantic.

The Titanic 2 brochure promises an "authentic Titanic experience" with the ship including the grand staircase, reading room and Turkish bath.

Key differences from the original include air conditioning, a hospital, helicopter landing pad - and most notably, a modern quota of lifeboats.

As with the original, there will be first, second and third classes of passenger and they will not be allowed to mingle. Ticket prices are yet to be revealed.

Mr Palmer insists he will travel in third class for "the human experience". "To have a bit of Irish stew, to grab a fiddle and a drum and do an Irish jig - what more could a man want than that?" he said.

The scale of the loss in Southampton was felt for generations and families with Titanic connections have mixed feelings about the plans for a recreation.

IN THE NEWS FEBRUARY 2016 - Leonardo DiCaprio, 41, revealed how it was his co-star Kate Winslet, 40, who encouraged him to take on his 1997 breakout role in Titanic.

'Titanic was very much an experiment for Kate Winslet and I, We'd done all of these independent movies. I loved her as an actress and she said; Let's do this together, we can do this. We did it, and it became something that we could've never foreseen.'

The James Cameron directed blockbuster film went on to gross $2.18billion worldwide, making both actors instant household names.
3500 SOULS

The Titanic II will carry 2,600 passenger and 900 crew members. There will be enough lifeboat space for all of them.

And to give passengers a true Titanic experience, there will be three passenger classes, just as there were on the original ship in 1912. Palmer said those in first class will be kept apart from anyone in second or third class.

"There won't be TVs in the staterooms, though," Palmer said. Palmer said 40,000 people have expressed interest in tickets on the ship, which will sail the original course from Southampton, England, to New York.

When asked about the original ship sinking and what makes his design different, Palmer said, "Anything will sink if you put a hole in it. I think it would be very cavalier to say it. I think people in the past have done that and lived to regret it."

Palmer, a mining tycoon estimated to be worth $5.2 billion according to BRW magazine, wouldn't announce ticket prices, but said prospective passengers are offering up to $1 million to get on board. In June 2013, it was reported that Clive Palmer may be experiencing financial difficulties, and that his two most prominent businesses were running at a loss. This followed the leaking of a letter where he asked a Chinese business partner for a $200 million AUD payment. His net worth was believed to have fallen by $1.6 billion AUD in 2013.
Let us hope that this project will revitalize Clive's fortunes. It is a bold venture with vision, not only to recreate a legend, but to improve on it, for scenes of future passengers who might enjoy a taste of the past in the level of safety and comfort that come with advancement.

Palmer called the project "a tribute to the spirit of the men and women who worked on the original Titanic."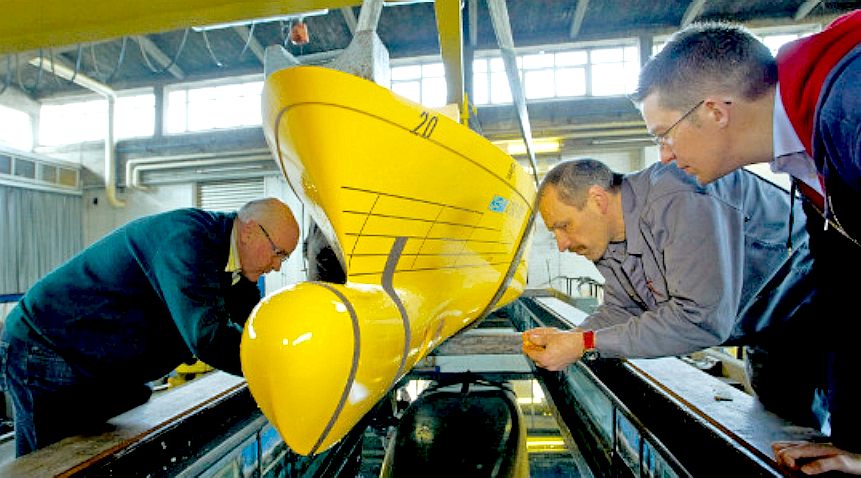 The Finnish naval architecture company, Deltamarin Ltd will be responsible for the design of the ship. Tillberg Design, a Swedish company, will be responsible for the architectural and design services for the ships' interior. The launch of the New Titanic ship is planned for 2016. The construction will be in China and the maiden voyage will be from Southampton to New York, as the unfinished one of the original RMS Titanic ship, leaving you guessing at the tag line to attract passengers: Go down in history with take two of the adventure. But will Kate Winslett and Leonardo di Caprio be guests?

The last important step in the ambitious project was the Titanic II ship model test. It was held September 9-12, 2013 in Hamburg Ship Model Basin, HSVA, Germany.

Hamburg Ship Model Basin is a Germany company founded in 1913. At the time of Titanic II Ship model test, the company celebrated its 100-year anniversary.

The company in independent and private, specialized in hydrodynamic research and tests. Hamburg Ship Model Basin has customers all over the world. The staff are trained to optimize any product or procedure. HSVA also works for the aircraft industry.

Hamburg Ship Model Basin led the Titanic II ship model development. The procedures, methods, technology and standardization were predefined. Titanic II Ship model was the 5000th model that was tested in the HSVA's facilities. Dr Uwe Hollenbach, HSVA Director of Resistance and Propulsion announced that HSVA are proud to be part of the RMS Titanic re-creation.

The tank tests were held in the period September 9-12, 2013 - just three days of hull experimentation. The Titanic II model is 9.3 m (30 ft) long and made of wood. The test was in a tank with length of 300 m. The Titanic II ship model was put through propulsion and power tests with speed of up to 23 knots. There were open water and resistance tests.

According to Dr Hollenbach, the Titanic II ship model testing is a reliable and accurate method for a prototype of a passenger ship and it is important to verify all the critical aspects before the start of the construction works.

TILLBERG, SWEDEN
Blue Star Line Pty Ltd Chairman, Professor Clive Palmer revealed that his cruise line has engaged Tillberg Design of Sweden to provide architectural and design services for the interior of the Titanic II project.
Blue Star Line has undertaken the task of building Titanic II, a replica of the original RMS Titanic, which is scheduled to sail from Southampton to New York on her maiden passenger voyage in 2016.
Professor Palmer said the engagement with Tillberg Design of Sweden was retained this month and includes the design of the first, second and third class accommodation, smoking room, first class lounge, Café Parisian, grand staircase and modern features on the safety deck.
Fredrik Johansson, Tillberg Design of Sweden partner and senior architect, said the Swedish company is thrilled to be associated with Blue Star Line and with this exceptionally exciting and prestigious project.
"The whole concept of building a period replica is naturally to give an experience that is as close to the original as possible," he said.
Titanic II, a full scale version of the original ship, is being designed by the Finland-based Deltamarin and will be built by leading Chinese shipbuilders CSC Jinling Shipyard, which since 1996 has built vessels for customers from more than 20 countries.
Titanic II will have every modern amenity along with 21st century technology and the latest navigation and safety systems.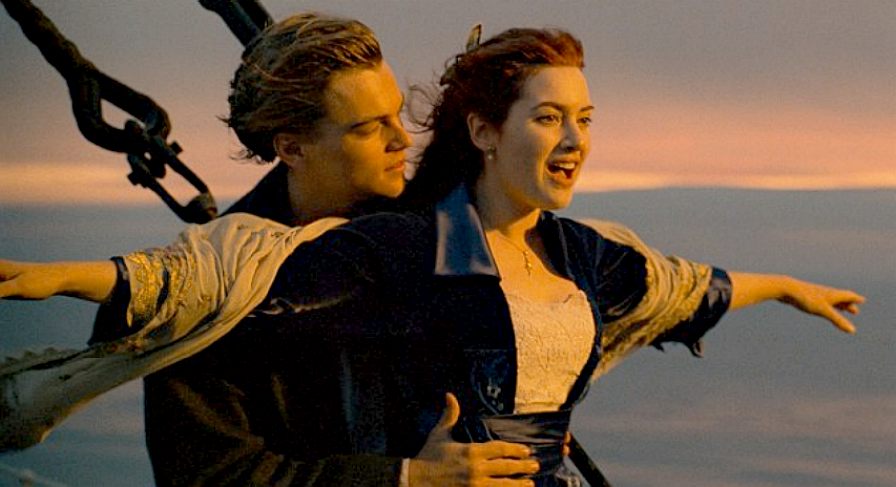 CONTACT BLUE STAR LINE
Head Office
Level 8, 380 Queen Street
Brisbane QLD,
Australia 4000

GPO Box 1538
Brisbane QLD
Australia 4001

Phone: (+61) 7 3832 2044

Fax: (+61) 7 3832 2021

Titanic II documentaries - Youtube
LINKS
http://bluestarline.com.au/
http://www.titanic2ship.com/titanic-ii-ship-model/
http://www.huffingtonpost.co.uk/2012/07/17/titanic-ii-plans-released-by-clive-palmer_n_1679835.html
http://www.brw.com.au/p/brw-lounge/global_warming_means_fewer_icebergs_PSUR43Vklbb8vzqFmQ85hK
http://www.bbc.co.uk/news/uk-england-hampshire-21657201
http://en.wikipedia.org/wiki/Titanic_II
http://shipinsight.com/2013/08/titanic-ii-tank-tests-starting-soon/
http://www.dailymail.co.uk/tvshowbiz/article-3442752/Leonardo-DiCaprio-reveals-Kate-Winslet-encouraged-Titanic-together.html
http://www.lusitania.net/lastrestingplace.htm
http://www.history.navy.mil/wars/korea/minewar.htm
http://en.wikipedia.org/wiki/HMHS_Britannic
http://twitter.com/titanic_ii
15 August 2013 - Clive Palmer announces TITANIC II model test to be held in Germany
17 July 2013 - Lloyd's Register Joins Titanic II Project
28 May 2013 - Titanic II Engages World's Leading Marine Architecture and Interior Design Company
7 May 2013 - V.SHIPS Leisure Appointed To Titanic II
16 April 2013 - Deltamarin To Manage Titanic II Project Development
The Atlantic - Google Maps