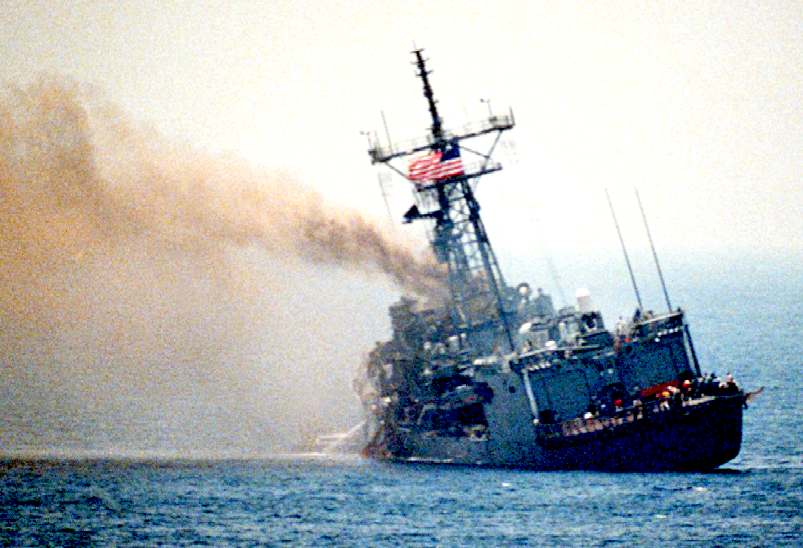 The USS Stark after the Exocet missile attack, listing to port and on fire
USS Stark (FFG-31), 23rd ship of the Oliver Hazard Perry class of guided-missile frigates, was named for Admiral Harold Rainsford Stark (1880–1972). Ordered from Todd Pacific Shipyards, Seattle, Washington, on 23 January 1978, as part of the FY78 program, Stark was laid down on 24 August 1979, launched on 30 May 1980, and commissioned on 23 October 1982, CDR Terence W. Costello commanding. In 1987, an Iraqi jet fired two missiles at Stark, killing 37 U.S. sailors on board. Decommissioned on 7 May 1999, Stark was scrapped in 2006.
MISSILE ATTACK
USS Stark was deployed to the Middle East Force in 1984 and 1987. Captain Glenn R. Brindel was the commanding officer during the 1987 deployment. The ship was struck on 17 May 1987, by two Exocet anti-ship missiles fired from an Iraqi Mirage F1 (although some believe it to be a Falcon) aircraft during the Iran–Iraq War. The plane had taken off from Shaibah at 8 pm and had flown south into the Persian Gulf. The pilot fired the first Exocet missile from a range of 22.5 nautical miles (41.7 km), and the second from 15.5 nautical miles (28.7 km), just about the time Stark issued a standard warning by radio. The frigate did not detect the missiles with radar; warning was given by the lookout only moments before the missiles struck. The first penetrated the port-side hull and failed to detonate, but left flaming rocket fuel in its path. The second entered at almost the same point, and, leaving a 3-by-4-meter gash, exploded in crew quarters. 37 sailors were killed and 21 were injured.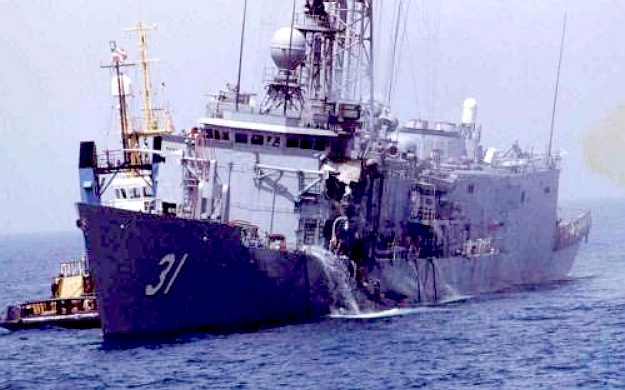 No weapons were fired in defense of Stark. The Phalanx CIWS remained in standby mode, Mark 36 SRBOC countermeasures were not armed until seconds before the missile hit. The attacking Exocet missiles and Mirage aircraft were in a blindspot of the STIR fire control director (Separate tracking and illumination Radar, part of the Mk 92 Guided Missile Fire Control System), and the Oto Melara Mk 75 76 mm/62 caliber naval gun, but in the clear for the MK 92 CAS (Combined Antenna System, primary search and tracking radar of the Mk 92 Guided Missile Fire Control System) and the Mk 13 Mod 4 single-arm launcher. The ship failed to maneuver to bring its Mk 75 to bear before the first missile hit.

On fire and listing, the frigate was brought under control by its crew during the night. The ship made its way to Bahrain where, after temporary repairs by the tender USS Acadia to make her seaworthy, she returned to her home port of Mayport, Florida, under her own power. The ship was eventually repaired at Ingalls Shipbuilding in Mississippi for $142 million.
It is unknown whether Iraqi leaders authorized the attack. Initial claims by the Iraqi government (that Stark was inside the Iran–Iraq War zone) were shown to be false. The motives and orders of the pilot remain unanswered. American officials have claimed he was executed, but an ex-Iraqi Air Force commander later said that the pilot who attacked Stark was not punished, and remained alive.

Citing lapses in training requirements and lax procedures, the U.S. Navy's board of inquiry relieved Captain Brindel of command and recommended him for court-martial, along with Tactical Action Officer Lieutenant Basil E. Moncrief. Instead, Brindel and Moncrief received non-judicial punishment from Admiral Frank B. Kelso II and letters of reprimand. Both opted for early retirement, while Executive Officer Lieutenant Commander Raymond Gajan Jr. was detached for cause and received a letter of admonition.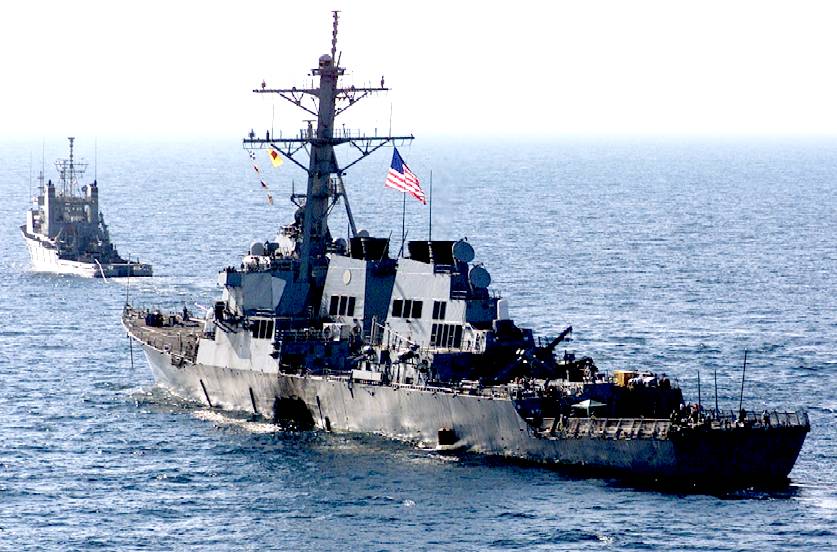 The portside damage to the guided missile destroyer USS Cole is pictured after a bomb attack during a refueling operation in the port of Aden, Yemen, October 12, 2000.
SPECIFICATIONS
Class: Oliver Hazard Perry (Short Hull, As Built)
Type: SCB No. 201 / 1973 - 1978
Number in Class: 25 (7, 9 - 34)
Displacement: 3109 tons (std), 3993 tons (full)
Length: 408' (wl), 445' (oa)
Beam: 45.4' (extreme)
Draft: 24' 6" (draft limit)
Propulsion: 2 GE LM 2500 gas turbine engines; 41,000 shp; 1 shaft, cp propeller, 325 hp retractable propeller pods
Speed: 29 kts
Range: 4,500 nm @ 20 knots, 5400 nm @ 16 knots
Complement: 13 / 206 (includes 19 man air detachment)
Missiles: 1-Mk 13 Mod 4 launcher, 4-SSM McDonnell-Douglas Harpoon missiles, 36-GDC-Pomona Standard SM-1MR missiles
Guns: 1 OTO Melara Mk 75 3"/62 cal., 1 Vulcan Phalanx CIS, 4-.50 cal. MGs
ASW Weapons: 6-324mm Mk 32 (2 triple) tubes / Mk 46 torpedoes
Radars: AN/SPS-55 (surface), AN/SPS-49(V)214 (air)
Sonars: AN/SQS-56, AN/SQR-19 TACTAS (Towed Array)
Elec. Warfare: SLQ-25 Nixie System, SLQ-32(V)2 Electronic Countermeasures System
Fire Control Systems: 1 Mk13 Weapon-Direction System, 1 Mk92 weapons FCS, 1 modified SPG-60 STIR radar (Separate Target Illumination Radar)
Helicopter: 1 - SH-2 LAMPS Helicopter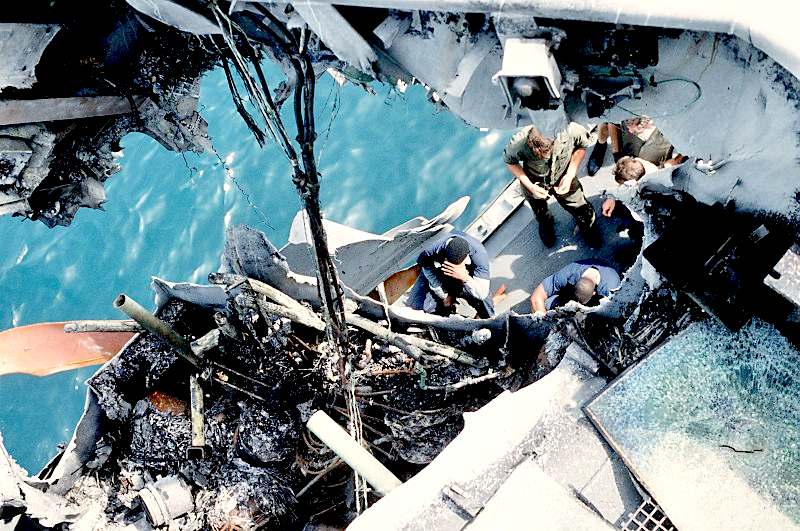 BUILD & OPERATIONAL HISTORY FFG 31
> 23 January 1978: Building contract awarded to Todd-Pacific Shipyard Corp.
> 24 August 1979: Keel laid by the Todd-Pacific Shipyard Corp., Seattle, Wash.
> 30 May 1980: Launched and christened
> 23 Oct 1982: Commissioned Seattle, Wash., Cmdr. Terence W. Costello, Destroyer Squad 8.
> 07 May 1999: Decommissioned after 16.5 years of service, Struck from the NVR
> 07 Oct 2005: Scrap contract ($1,718,836) awarded Metro Machine Corp. Philadelphia, Pa.
> 28 June 2006: Scrap completed. Metro Machine filed for bankruptcy soon after.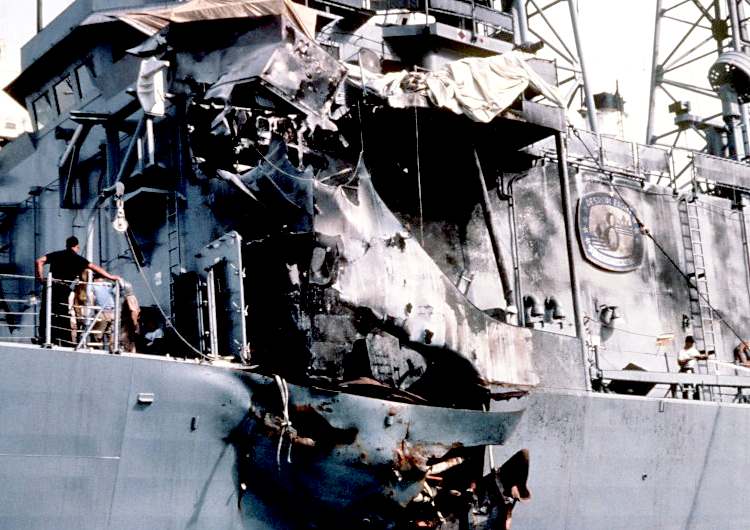 RULES OF ENGAGEMENT
The rules of engagement, as approved by the Pentagon, keeps its guards from firing a small boat (which may be loaded with explosives) as it neared them without first obtaining permission from the ships captain or another officer.
Incidents such as that with the USS Cole has changed the way that the Pentagon and other Governments view the rules of engagement, prompting the "swarm drones". A credible threat such as an unidentified small vessel approaching a warship, may now be treated as hostile - without any shots fired. In our opinion as military strategists, this should not be limited to harbour situations, but extend to blue waters.
The fact that small boats are treated with suspicion and could not in the past be neutralized at an early stage is interesting. Modern sensing and behavioral analysis algorithms (such as used to identify pirates) might be used to ward of potential risks before they become serious, for which a network of persistent drones at sea is a valuable fleet insurance that the navies of the world may want to investigate.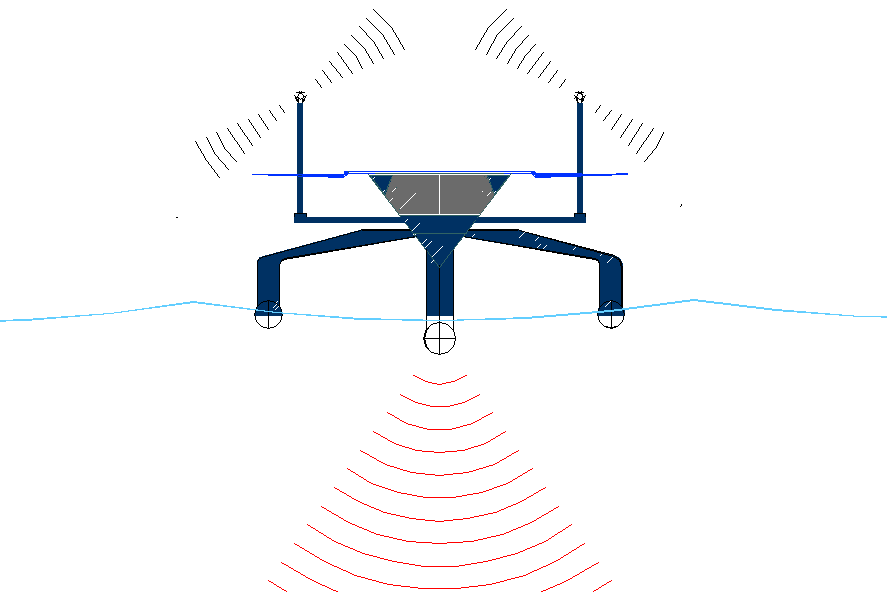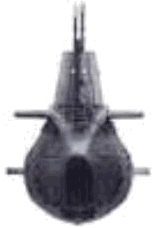 DRONE SUBS - If the submerged nuclear submarine shown above has a crew on board (most likely) they are in grave danger, because the submarine hunter-killer (HK) on the surface above it is a drone that can either track the submarine and pass information to a network of marine drones, or, in times of hostilities - sink the submarine as soon as it is located with torpedoes or depth charges.
A submarine might get lucky and evade the HK, or even sink it, but once the position of a submarine is known and transmitted, it will never be safe and from then on the drone HKs will converge upon it. The mission of drone HKs is to find enemy submarines: persistently. The secondary objective of drone HKs is to sink destroyers and aerial drones that may be sent out to hunt them.
COST EFFECTIVENESS - By a process of attrition, drone HKs will decimate an enemy fleet and financially frustrate any state, even a super power. The maths is simple. A drone HK cost only a few $million with no loss of life, compared to a manned destroyer which costs a small fortune and kills hundreds of crew. The traditional investment in huge floating iron hulls becomes wasted capital.
UNMANNED SUBMARINES - The logical conclusion is to eliminate the crew from submarines and bring in countermeasures. The technology exists to enable this, but submarines, either manned or unmanned will need to be supported by friendly surface drones where aerial and marine drones like that shown could make their situation untenable. Thus, the main reason for maintaining a fleet of nuclear submarines, namely to be able to launch a nuclear strike, is neutralized. Contact BMS to find out more.
Much of the discussion and fear of armed unmanned vehicles ignores a central fact. Aerial drones like the Predator or Reaper are operated by two-man human teams, a pilot to steer the drone, and a sensor operator to control the various mechanical eyes and ears. The boats that participated in the event on the James River were able to sense one another as well as other vessels, and execute complicated "swarm" maneuvers, with a bare minimum of guidance. These boats are not your average drones.
LINKS & REFERENCE
http://www.navsource.org/archives/07/0731.htm
Wikipedia USS_Cole_bombing
Extreme Tech US-navy-deploys-autonomous-unmanned-swarmboats-to-keep-its-larger-ships-safe
Daily Mail Navy-set-introduce-self-guided-unmanned-patrol-boats-fleet-year-swarm-attack-potential-threats
The Guardian 2014 Oct 5 US Navy unmanned drone swarm boats
Wired Navy-self-driving-swarmboats
IB Times autonomous-us-navy-swarm-boats-could-have-prevented-attack-uss-cole-researchers-say
EV world submarine drone launch
Spectrum IEEE military robots navy launches drone from submarine
MOD Contracts Intellectual Property - defending and commercialising ideas
http://en.wikipedia.org/wiki/USS_Cole_bombing
http://en.wikipedia.org/wiki/USS_Cole_%28DDG-67%29
http://www.theguardian.com/us-news/2014/oct/05/us-navy-unmanned-drone-boats
http://www.wired.com/2014/10/navy-self-driving-swarmboats/
http://www.ipo.gov.uk/types/patent/p-os/p-find/p-ipsum/Case/PublicationNumber/GB2511731