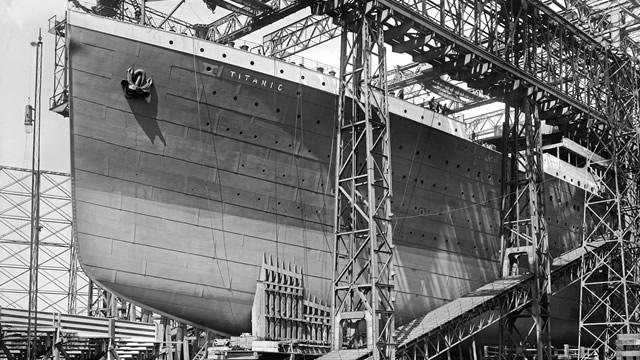 Titanic - the golden age of shipbuilding - Harland and Wolf
ABOUT THE SHIPBUILDERS & SHIPREPAIRERS ASSOCIATION (SSA)

The SSA is claimed to be the UK's fastest growing marine trade association. Their membership includes manufacturers with a 99% share of UK Ship Production. Membership also includes equipment manufacturers, service providers, research institutes, and Shipyards and Commercial boat builders.

The SSA supports the marine industry with the aim of improving performance and creating business opportunities. They also help provide access to funding and industry expertise.

The SSA organise numerous industry events and networking opportunities as well as holding national pavilions at several key industry exhibitions worldwide.

The SSA works alongside the Ministry of Defence dealing with their naval procurement and research programmes, the Department of Energy and Climate Change which is taking forward the UK Renewable Energy Strategy. We also work with Department for Business Innovation & Skills (BIS), which influences the sector's development through its facilitation of the Marine Industries Leadership Council (MILC).
The association exists to support its members and reaches out to the industry through their 7 working groups. Membership to all SSA working groups is open to all members.
REASONS TO JOIN THE SSA
1. Be part of the UK Maritime supply chain
SSA membership ranges from SME's to the largest international organisations, providing us with a united and authoritative voice and our members with fantastic networking opportunities at high level events, meetings and discussions.
2. Obtain Key Market & Business Information
SSA enquiry bulletin provides a comprehensive overview of MOD contacts, renewable and commercial shipping and business opportunities from around the world. SSA also issues market statistics, HSE updates and guidelines and minutes from various industry meetings direct to your inbox.
3. Improve your Profile & Visibility
Being part of the SSA places your business at the center of the UK marine industry; we can help promote your products and services in the global market place and bring buyers to your doorstep.
4. Increase international trade
SSA assists members to establish their products and services in emerging and existing global marine industries. SME's can benefit from funding to expand in overseas markets by participating in various international exhibitions and forums.
5. Develop Innovation and Technology requirements
SSA Innovation and Technology Centre specialises in identifying European and National R&D funding, including FP7 & TSB, for your organisation. Their specialists can assist in bid preparation and developing innovative solutions to your technical issues.
CONTACTS
Shibuilders & Shiprepairers Association
Pallion Yard
Sunderland
SR4 6WE
Tel: +44(0) 191 567 8965
Fax: +44(0) 191 510 0082

Director:
Dr Ash Sinha
Tel: +44(0) 191 567 8965
Email: ashutosh@ssa.org.uk
Administrators:
Miss Dana Seaman
Miss Laura Sheriff
Tel: +44(0) 191 567 8965
Email: office@ssa.org.uk
Business Development Consultant (Membership Enquiries):
Mr Gary Ball
Tel: +44(0) 191 567 8965
Email: gary@ssa.org.uk
Dr Martyn Lightfoot
R&D Project Manager: Tel: +44(0) 0191 567 8965
Email: martyn@ssa.org.uk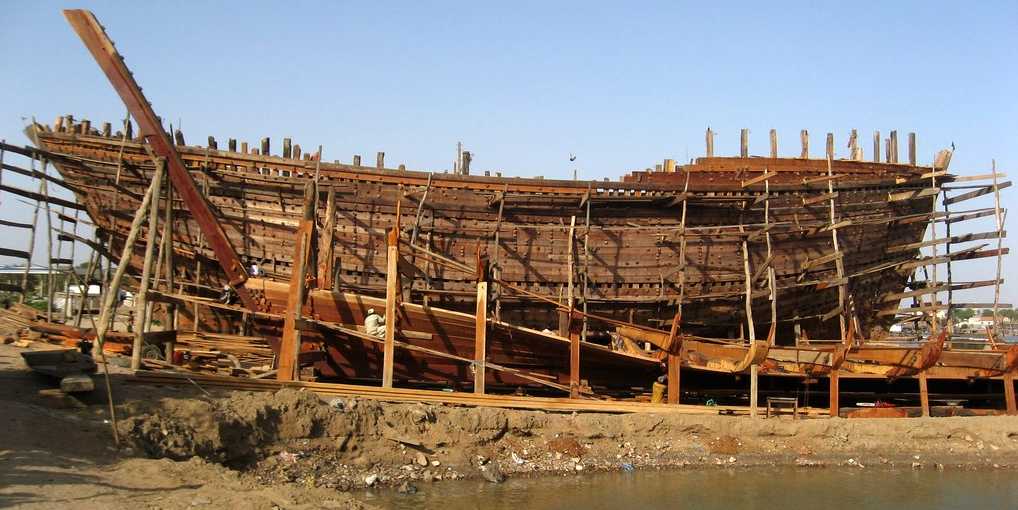 SHIPBUILDING HISTORY
THE SHIPBUILDING REVOLUTION
The industrial revolution made possible the use of new materials and designs that radically altered shipbuilding. Other than its widespread use in fastenings, Iron was gradually adopted in ship construction, initially in discrete areas in a wooden hull needing greater strength, (e.g. as deck knees, hanging knees, knee riders and the like). Then, in the form of plates rivetted together and made watertight, it was used to form the hull itself. Initially copying wooden construction traditions with a frame over which the hull was fastened, Isambard Kingdom Brunel's Great Britain of 1843 was the first radical new design, being built entirely of wrought iron. Despite her success, and the great savings in cost and space provided by the iron hull, compared to a copper sheathed counterpart, there remained problems with fouling due to the adherence of weeds and barnacles. As a result composite construction remained the dominant approach where fast ships were required, with wooden timbers laid over an iron frame (the Cutty Sark is a famous example). Later Great Britain's iron hull was sheathed in wood to enable it to carry a copper-based sheathing. Brunel's Great Eastern represented the next great development in shipbuilding. Built in association with John Scott Russell, it used longitudinal stringers for strength, inner and outer hulls, and bulkheads to form multiple watertight compartments. Steel also supplanted wrought iron when it became readily available in the latter half of the 19th century, providing great savings when compared with iron in cost and weight. Wood continued to be favored for the decks.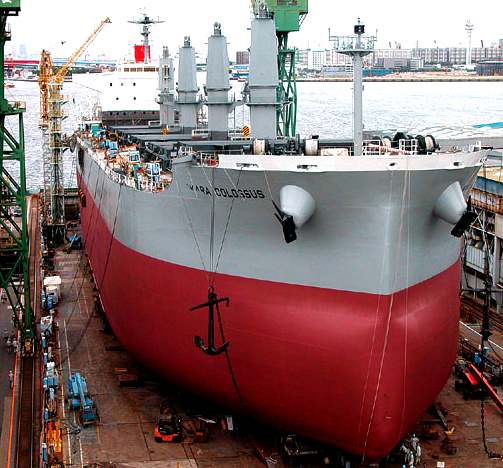 SHIPBUILDING POST WORLD WAR TWO
After the Second World War, shipbuilding (which encompasses the shipyards, the marine equipment manufacturers, and many related service and knowledge providers) grew as an important and strategic industry in a number of countries around the world. This importance stems from:
* The large number of skilled workers required directly by the shipyard, along with supporting industries such as steel mills, railroads and engine manufacturers; and
* A nation's need to manufacture and repair its own navy and vessels that support its primary industries.
Historically, the industry has suffered from the absence of global rules and a tendency towards (state-supported) over-investment due to the fact that shipyards offer a wide range of technologies, employ a significant number of workers, and generate income as the shipbuilding market is global.
Shipbuilding is therefore an attractive industry for developing nations. Japan used shipbuilding in the 1950s and 1960s to rebuild its industrial structure; South Korea started to make shipbuilding a strategic industry in the 1970s, and China is now in the process of repeating these models with large state-supported investments in this industry. Conversely, Croatia is privatizing its shipbuilding industry.
As a result, the world shipbuilding market suffers from over-capacities, depressed prices (although the industry experienced a price increase in the period 2003–2005 due to strong demand for new ships which was in excess of actual cost increases), low profit margins, trade distortions and widespread subsidisation. All efforts to address the problems in the OECD have so far failed, with the 1994 international shipbuilding agreement never entering into force and the 2003–2005 round of negotiations being paused in September 2005 after no agreement was possible. After numerous efforts to restart the negotiations these were formally terminated in December 2010. The OECD's Council Working Party on Shipbuilding (WP6) will continue its efforts to identify and progressively reduce factors that distort the shipbuilding market.
Where state subsidies have been removed and domestic industrial policies do not provide support in high labor cost countries, shipbuilding has gone into decline. The British shipbuilding industry is a prime example of this with its industries suffering badly from the 1960s. In the early 1970s British yards still had the capacity to build all types and sizes of merchant ships but today they have been reduced to a small number specialising in defence contracts and repair work. Decline has also occurred in other European countries, although to some extent this has reduced by protective measures and industrial support policies. In the U.S.A, the Jones Act (which places restrictions on the ships that can be used for moving domestic cargoes) has meant that merchant shipbuilding has continued, albeit at a reduced rate, but such protection has failed to penalise shipbuilding inefficiencies. The consequence of this is that contract prices are far higher than those of any other country building oceangoing ships.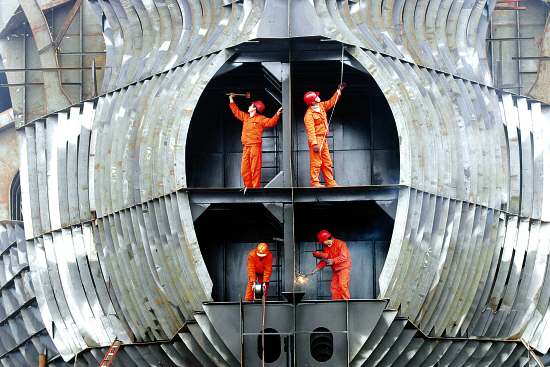 PRESENT DAY SHIPBUILDING
China is an emerging shipbuilder that overtook South Korea during the 2008-2010 global financial crisis as they won new orders for medium and small-sized container ships. China is now firmly the world's largest shipbuilder with 45% of the world's total orders, and its quality and technology have improved very much.
Today, South Korea is the world's second largest shipbuilding country with a global market share of 29% in 2012. South Korea leads in the production of large vessels such as cruise liners, super tankers, LNG carriers, drill ships, and large container ships. In the 3rd quarter of 2011, South Korea won all 18 orders for LNG carriers, 3 out of 5 drill ships and 5 out of 7 large container ships. South Korea's shipyards are highly efficient, with the world's largest shipyard in Ulsan operated by Hyundai Heavy Industries slipping a newly built, $80 million vessel into the water every four working days. South Korea's "big three" shipbuilders, Hyundai Heavy Industries, Samsung Heavy Industries, and Daewoo Shipbuilding & Marine Engineering, dominate global shipbuilding, with STX Shipbuilding, Hyundai Samho Heavy Industries, Hanjin Heavy Industries, and Sungdong Shipbuilding & Marine Engineering also ranking among the top ten shipbuilders in the world. In 2007, STX Shipbuilding further strengthened South Korea's leading position in the industry by acquiring Aker Yards, the largest shipbuilding group in Europe. (The former Aker Yards was renamed STX Europe in 2008). In the first half of 2011, South Korean shipbuilders won new orders to build 25 LNG carriers, out of the total 29 orders placed worldwide during the period.
Japan had been the dominant ship building country from the 1960s through to the end of 1990s but gradually lost its competitive advantage to the emerging industry in South Korea which had the advantages of much cheaper wages, strong government backing and a cheaper currency. South Korean production overtook Japan's in 2003 and Japanese market share has since fallen sharply. The market share of European ship builders began to decline in the 1960s as they lost work to the Japanese in the same way as Japanese builders have lost work to South Koreans more recently; Europe's production is now a tenth of South Korea's and is primarily military, although cruise liners and some cargo ships are still built in Italy, Finland, France, Germany and Denmark. The output of the United States also underwent a similar change.

Modern shipbuilding makes considerable use of prefabricated sections. Entire multi-deck segments of the hull or superstructure will be built elsewhere in the yard, transported to the building dock or slipway, then lifted into place. This is known as "block construction". The most modern shipyards pre-install equipment, pipes, electrical cables, and any other components within the blocks, to minimize the effort needed to assemble or install components deep within the hull once it is welded together.


SHIP REPAIRS

All ships need maintenance and repairs. A part of these jobs must be carried out under the supervision of the Classification Society. A lot of maintenance is carried out while at sea or in port by ship's staff. However a large number of repair and maintenance works can only be carried out while the ship is out of commercial operation, in a Ship-repair Yard. Prior to undergoing repairs, tankers must dock at a Deballasting Station for completing the tank cleaning operations and pumping ashore its slops (dirty cleaning water and hydrocarbon residues).



LIST OF NOTABLE SHIPBUILDERS and YARDS A - Z

ASIA

Indonesia

PT. Samudra Marine Indonesia 08111490328
PT. Batam Teknologi Gas ( Industrial Gases Supplier ) 0811 771.1017
PT. Dock & Perkapalan Kodja Bahari
PT. PAL Indonesia
PT. Daya Radar Utama
PT. Industri Kapal Indonesia
PT. Dumas Tanjung Perak Shipyard
PT. Karyasindo Samudra Biru Shipyard
PT. Jasa Marina Indah/Janata Marina Indah
PT. Caputra Mitra Sejati
PT. Batamec Shipyard
PT. Dok Pertamina Sorong
PT. Dry Dock Indonesia
PT. Indonesia Marine Shipyard
PT. Bens Santosa
PT. DPL (Dok Pantai Lamongan)
PT. Carita Boat Indonesia
PT. LMI (Lamongan Marine Shipyard)


Bangladesh

Three Angle Marine Limited
Ocean Shipbuilders Limited
Khulna Shipyard
DESH Shipbuilding & Engineering Ltd.
Dockyard and Engineering Works Ltd, Narayanganj.
Three Angle Marine Limited
Ananda Shipyard and Shipways
Highspeed Shipbuilding
Western Marine Shipyard
FMC Dockyard Limited
Khan Brothers Shipbuilding
Karnaphuli Shipyard
Meghna Shipbuilders & Dockyard Ltd.
Bashundhara Steel & Engineering Ltd.
Dhaka Dockyard & Engineering Works – Dhaka, Bangladesh
Hossain DockYard And Engineering Works
SouthMarine DockYard And ShipBuilders
Western Fishers Shipyard Ltd
Narayangonj Engineering & Shipbuilding Ltd
Taratari shipyard


China

All Shipyards locations in China
China State Shipbuilding Corporation
China Shipbuilding Industry Corporation
Dalian Shipbuilding Industry Company
Guangzhou Shipyard International
Jiangnan Shipyard
Yantai Raffles Shipyard
Aurora Dalian Yachts Limited
STX Dalian shipyard
Yizheng Xinyang Shipbuilding Co., Ltd.
Zhang Zhou Xiao Ye FRP Shipbuilding Industry Co. Ltd.


Hong Kong

Cheoy Lee Shipyards Limited
Hong Kong Ferry Company
Hong Kong Shipyards Limited
Hutchison Whampoa
Wang Tak Engineering and Shipbuilding Co. Ltd.


India - Public sector

Alcock ashdown Gujarat limited
Cochin Shipyard Limited*
Hindustan Shipyard Limited- Visakhapatnam
Garden Reach Shipbuilders and Engineers- Kolkata
Goa Shipyard Limited
Mazagon Dock Limited-Mumbai
Naval Dockyard (Bombay)
Jawaharlal Nehru Port Trust
Shalimar Works (1980) Ltd
Hooghly Dock & Port Engineers Limited
Central India Water Transport Company


India - Private sector

ABG Shipyard Limited
Aiswarya Marine Pvt Ltd
Bharati Shipyard Limited
Calex Marine and Industrial Services Pvt Ltd.
Century Shipyard Pvt. Ltd.
Dempo Engineering Works, Goa
Kanethara shipyard Pvt Ltd.
L&T Shipbuilding Limited, Hazira
L&T Shipbuilding Limited,Kattupalli,Chennai
Mandovi Drydocks, www.mandovidrydocks.com, Goa
Master Shipyard Pvt. Ltd.
Modest Infrastructure Ltd
Navgathi Marine Design & Constructions
Nigel Shipyard Private Limited
NorthStar Shipbuilding Pvt Limited
Pande Shipyard Pvt Ltd
Pipavav Defence & Offshore Engineering Company Limited
Sembmarine Kakinada Limited
Shoft Shipyard Pvt. Ltd.
SSR marine services pvt.ltd.
Sulkha Shipyard
Tebma Shipyard Limited
Timblo Drydocks Private Limited
Timblo Shipyards Limited
West Coast Shipyard, Loutolim, Goa
Western India Shipyard Limited, Goa
SI VI SHIPPING CORPORATION PVT LTD


Israel

Israel Shipyards
IAI Ramta


Japan

Kawasaki Heavy Industries (Sakaide)
Mitsubishi Heavy Industries (Nagasaki)
Sumitomo Heavy Industries (Oppama)


Macau

Estaleiro de Construção Naval

Malaysia

Sealink Sdn. Bhd (Miri, Sarawak)
Sealink Shipyard Sdn. Bhd (Miri, Sarawak)
Sealink Engineering & Slipway Sdn. Bhd (Miri, Sarawak)
Shin Yang Shipping & Shipyard (Miri, Sarawak)
Limbongan Batu Maung Sdn. Bhd (Batu Maung, Penang)
Shin Yang Shipping & Shipyard – Miri, Malaysia
Malaysia Marine & Heavy Engineering Shipyard
MSET Shipbuilding Corporation Sdn Bhd. Terengganu, Malaysia (www.mset.com.my)
Geliga Slipway Sdn Bhd. Terengganu, Malaysia (www.sumaigroup.com/geliga.html)
Labuan Shipyard & Engineering (www.labuanship.com)
TESDEC Engineering


Myanmar

Ahlone Shipyard (Inland Water Transport)
Dalla Shipyard (Inland Water Transport)
DawPone Shipyard (DMA)
Yadanarpone Shipyard (Inland Water Transport)
Mandalay Shipyard (Dept of Marine Authority)
Chindwin Shipyard (Inland Water Transport)
Sittwe Shipyard (Inland Water Transport)
Thanlwin Shipyard (Inland Water Transport)
Sinmalike Shipyard (Myanma Shipyards)
Thilawar Shipyard (Naval Dockyard Head Quarter)0
Philippines[edit]
Austal Philippines Pty. Ltd. (Balamban, Cebu)
Colorado Shipyard Corporation (Consolacion, Cebu)
Dansyco Marine Works and Shipbuilding Corp. (Navotas City, Metro Manila)
Gensan Shipyard & Machine Works, Inc. (General Santos City, Sarangani)
Hanjin Heavy Industries Corporation Philippines (Zambales)
Herma Shipyard Inc. (formerly Bataan Shipyard & Engineering Company) (Mariveles, Bataan)
Keppel Philippines Marine Batangas Shipyard (Bauan, Batangas)
Keppel Philippines Marine Subic Shipyard (Subic, Zambales)
Nagasaka Shipyard Incorporated (Consolacion, Cebu, )[28]
Nautillus Shipyard Repair Inc. (Navotas, Metro Manila)
Navotas Shipyard and Fishing Corp. (Navotas, Metro Manila)
Ocean Engineering Ship Design and Shipbuilding (Cebu)
Philippine Iron Construction and Marine Works (Jasaan, Misami Oriental)
Safii and Signal Marine Shipyard (General Santos City, Sarangani)
Subic Drydock Corporation (Subic, Zambales)
Tsuneishi Heavy Industries (Cebu) Inc. (Balamban, Cebu)


Pakistan

Karachi Shipyard


Singapore

ASL Marine Holdings Ltd
Jaya S.B. & Eng. (Singapore)
Jurong Shipyard (Tanjong Kling)
Singapore Technologies Marine Ltd (ST Marine)
PPL Shipyard
Sembawang Shipyard Pte Ltd.
Keppel Shipyard Ltd
Kreuz Shipbuilding & Engineering Pte Ltd
Kwong Soon Engineering Co. (Pte) Ltd
Otto Marine Limited
Pandan Shipyard Pte Ltd
DDW-PaxOcean Asia Pte. Ltd.


South Korea

Hyundai Heavy Industries Co., Ltd. (Ulsan)
Hyundai Mipo Dockyard Co., Ltd. (Ulsan)
Hyundai Samho Heavy Industries Co., Ltd. (Yeongam)
Daewoo Shipbuilding & Marine Engineering Co., Ltd. (Geoje)
Samsung Heavy Industries Co., Ltd. (Geoje)
STX Offshore & Shipbuilding Co., Ltd. (Jinhae/Busan)
Hanjin Heavy Industries & Construction Co., Ltd. (Busan)
Daehan Shipbuilding Co., Ltd. (Haenam)
Daesun Shipbuilding & Engineering Co., Ltd. (Busan)
SPP Shipbuilding Co., Ltd. (Sacheon)
Sungdong Shipbuilding & Marine Engineering Co., Ltd. (Tongyeong)
Samho Shipbuilding Co., Ltd. (Tongyeong)
Sekwang Shipbuilding Co., Ltd. (Mokpo)
Shinan Heavy Industries Co., Ltd. (Shinan)
Orient Shipyard Co., Ltd. (Gwangyang)
Chonhaiji Co., Ltd. (Goseong)
Ilheung Shipbuilding Co., Ltd. (Mokpo)
Mokpo Shipbuilding Co., Ltd. (Mokpo)
TKS Shipbuilding Co., Ltd. (Yeonggwang)
Yeosu Ocean Co., Ltd. (Yeosu)

Sri Lanka

* Colombo Dockyard PLC


Taiwan
CSBC Corporation, Taiwan (Kaohsiung)
Surya Prima Bahtera Heavy Industries – Ship Repairs, Shipbuildings, Ship Conversions, Offshore Fabrication


Thailand

The Bangkok Dock Company (Sattahip)
Marsun Company Limited (MCL) (Samutprakarn)
Marine Acme Thai Dockyard (MAT) (Samutprakarn)
Gold Coast Ships Ltd (Na Jomtien, Sattahip)
Unithai Shipyard and Engineering Ltd. (Chonburi)
Bakri Cono Co., Ltd (Chonburi)


Vietnam

Hồng Hà SY(Haiphong)
Lisemco (Haiphong)
189 SY (Haiphong)
Bạch Đằng Vinashin (Haiphong)
Bến Kiền Vinashin (Haiphong)
Phà Rừng Vinashin (Haiphong)
Nam Trieu Vinashin (Haiphong)
Hai Long (Haiphong)
Đông Bắc (Quangninh)
Thịnh Long (Haiphong)
Sông Đào (Namdinh)
Sông Thu (Danang)
SEAS (HCM)
X76 (HCM)
SaiGon Shipmarin (HCM)
Triyards SG (HCM)
Bason (HCM)
Saigon Shipbuilding Industry Company (HCM)
Hai Minh (HCM)
Strategic Marine (Vungtau)
Triyards VT (Vungtau)
PTSC SY (Vungtau)
PV shipyard (Vungtau)
Ha Long Vinashin (Quangninh)
TKV SY (Quangninh)
Cam Ranh SY (Khanhhoa)
Dung Quat SY (Quangngai)
Nha Trang SY (Khanhhoa)
Vung Tau SY (Vungtau)

Indonesia

PT. Palindo Marine Shipyard (Batam)
PT Surya Prima Bahtera Heavy Industries, in Batam, Indonesia.
PT. Indonesia Marina Shipyard (Gresik)
PT. PAL (Surabaya)
PT. Dok Koja Bahari (Jakarta)
PT. Sentek Indonesia, in Batam, Indonesia.

Iran
ISOICO SHIPYARD
Sadra Shipyard
Chahbahr Sadra Omid Shipyard
Arvandan


EUROPE

Austria–Hungary
Stabilimento Tecnico Triestino


Bulgaria

Bulyard, city of Varna
Varna Ship-Machine Building, city of Varna
Odessos Shiprepair yard, city of Varna
Dolphin 1 Shipyard, city of Varna
Terem Naval Shipyard, city of Varna
Keppel Fels Baltech ltd., city of Varna
Bourgas Shiprepair yard, city of Bourgas
Rousse Shipbuilding and Shiprepair yard, city of Rousse


Croatia

Brodogradilište 3. Maj (Rijeka)
Kraljevica Shipyard (Brodogradilište Kraljevica) (Kraljevica)
Brodosplit (Split)
Uljanik (Pula)
brodotrogir (trogir)


Denmark

Odense Steel Shipyard (Lindo)
Finland[edit]
STX Finland Cruise Oy (Rauma)
STX Finland Cruise Oy (Turku)
STX Finland Cruise Oy (Helsinki)


France

DCNS
Société Nouvelle des Forges et Chantiers de la Méditerranée
Chantiers de l'Atlantique, (now STX France Cruise SA at St. Nazaire)
STX France Lorient SAS (Lorient)
Constructions Mécaniques de Normandie (CMN) in Cherbourg


Germany

AG Weser
Blohm + Voss
Bodan-Werft
Bremer Vulkan
Danziger Werft
Deutsche Schiff- und Maschinenbau AG
Deutsche Werft
Deutsche Werke
Flensburger Schiffbau-Gesellschaft (FSG)
Friedrich Krupp Germaniawerft
Howaldtswerke-Deutsche Werft (HDW) (Kiel)
Kaiserliche Werft Danzig
Kaiserliche Werft Kiel
Kaiserliche Werft Wilhelmshaven
Lürssen
Meyer Werft (Papenburg)
Neptun Werft
Nobiskrug
Nordseewerke (Emden)
Nordic Yards (Wismar/Warnemünde)
Reichsmarinewerft Wilhelmshaven
Schichau-Werft
Stettiner Oderwerke
Stettiner Vulcan AG
Stülcken
ThyssenKrupp Marine Systems
Volkswerft (Stralsund)


Greece

Basileiades
Elefsis Shipyards
Hellenic Shipyards Co. (Skaramanga)
Neorion
Chalkis Shipyards S.A


Italy

Azimut
Baglietto (La Spezia)
Benetti (Viareggio)
Ferretti Group
Fincantieri
Nuovi Cantieri Apuania
Perini Navi (Viareggio)
Cantieri Navali Rodriquez
Cantieri Sangermani (Lavagna)
Stabilimento Tecnico Triestino
Cantiere Navale Vittoria (Adria)
Cantiere Navale Visentini (Donada)

Latvia

Riga shipyard
Tosmare shipyard


Netherlands

Amels
Damen Shipyards (Hoogezand)
Feadship
ICON Yachts
IHC Merwede BV
OceAnco
Bodewes Shipyard – Hoogezand
Shipyard de Hoop - Lobith and Foxhol yards


Norway

Kleven Verft
Bergen Group ASA
Havyard Group
Ulstein Group AS


Poland

Stocznia Gdańsk (Gdańsk)
Stocznia Gdynia (Gdynia)
Stocznia Szczecińska Nowa (Szczecin)


Portugal

ENVC Shipyard (Viana Castelo)
LISNAVE (Setúbal)


Romania

Daewoo Mangalia Heavy Industries (Mangalia)
Constanţa Shipyard (Constanţa)
Galaţi shipyard (Galaţi)
STX RO Offshore Brăila SA (Brăila)
STX RO Offshore Tulcea SA (Tulcea)
Shipyard ATG Romania (Giurgiu)

Russia

Admiralty Shipyard, aka Shipyard No. 194 and 196 Saint Petersburg
Baltic Shipyard, aka Baltiysky Zavod and Shipyard No. 189, Saint Petersburg
Russian Shipyard Number 10, aka Shikval, Polyarny
Sevmash, aka Shipyard No. 402, Severodvinsk
Zvezdocka,Severodvinsk


Slovakia

SLKB Komarno (Komárno) - Slovak Shipyard Komárno
Slovak Shipyard – Komárno, Slovak Republic


Spain

Navantia (Ferrol, Fene, Cartagena, Cádiz, Puerto Real, San Fernando)
Astilleros El Rodeo (Algeciras)
Astilleros Jose Valiña S.A (A Coruña)
Freire Shipyards - Cosntrucciones Navales P. Freire, S.A. (Vigo)
MetalSHIPS & Docks, S.A.U.(Vigo)
Armón (Navia, Vigo, Burela, Gijón)
Astillero Barreras (Vigo)
Factorias Vulcano, S.A. (Vigo)
Astander Shiprepairs & Conversions (Santander)
Zamakona Yards
Astillero Ignacio Olaziregi (Hondarribia)
Construcciones Navales del Norte - LA NAVAL Shipyard (Sestao)
Astilleros Gondán (Castropol)
Astican Repairs & Conversions (Las Palmas de Gran Canaria)
Boluda Shipyards(Valencia)
Factoría Naval de Marín (Marín)
Nodosa Shipyard - Shipbuilding & Shiprepair (Marín)
Astilleros Cardama (Vigo)


Turkey

Sedef Shipyard (Tuzla, Istanbul). (The shipyard has the largest shipbuilding drydock in the country, with the dimensions of 310 x 49 x 8.3 meters (length x width x depth), serviced by 1 gantry crane with the lifting capacity of 550 tons).
Tuzla Shipyard (Tuzla, Istanbul). (The shipyard has the 2nd largest shipbuilding drydock in the country, with the dimensions of 300 x 53.5 meters (length x width), serviced by 2 gantry cranes with the lifting capacity of, respectively, 260 and 220 tons).
Pendik Naval Shipyard (Pendik, Istanbul). (The shipyard has the 3rd largest shipbuilding drydock in the country, with the dimensions of 300 x 50 x 8.5 meters (length x width x depth), serviced by 1 Kone gantry crane with the lifting capacity of 450 tons).
Sefine Shipyard (Yalova, Turkey). (The shipyard has the 4th largest shipbuilding drydock in the country, with the dimensions of 240 x 42 x 9 meters (length x width x depth), serviced by 1 jib crane and 1 tower crane).
Besiktas Shipyard (Yalova, Turkey). (The shipyard has the 5th largest shipbuilding drydock in the country, with the dimensions of 235 x 40 x 6.5 meters (length x width x depth), serviced by 1 gantry crane with the lifting capacity of 200 tons, 1 jib crane and 1 tower crane).
Çiçek Shipyard (Tuzla, Istanbul). (The shipyard has the 6th largest shipbuilding drydock in the country, with the dimensions of 205 x 37 x 10.5 meters (length x width x depth), serviced by 1 gantry crane with the lifting capacity of 300 tons).
Yardgem Shipyard (Tuzla, Istanbul). (The shipyard operates two floating docks with the dimensions of, respectively, 230 x 37 meters (length x inner width) and 155 x 24 meters (length x inner width).
Içdaş Shipyard (Karabiga, Turkey).
UM Deniz Shipyard (Izmit, Turkey). (The shipyard has the largest semi-dry slipway in the country, with the dimensions of 340 x 60 meters (length x width), serviced by 1 gantry crane with the lifting capacity of 510 tons).
Çimtaş Shipyard (Kocaeli Free Trade Zone, Turkey).
Tersan Shipyard (Yalova, Turkey). (The shipyard has the largest capacity gantry crane in the country, with the safe lifting weight capacity of 550 tons).
Düzgit Shipyard (Yalova, Turkey).
Desan Shipyard (Tuzla, Istanbul). (The shipyard has the 2nd largest covered shipbuilding hangar in the country, with the dimensions of 136 x 40 x 38 meters (length x width x height), serviced by 2 portal cranes with the total lifting capacity of 300 tons).
Marmara Shipyard (Kocaeli, Turkey).
Tuzla Shipyard (Tuzla, Istanbul). (The shipyard has the largest floating dock in the country, Italian-built "Super Bacino", with the dimensions of 350 x 65.7 meters (length x width).
TVK Shipyard (Kocaeli Free Trade Zone, Turkey).
Altınova Shipyard (Yalova, Turkey). (The shipyard has the largest covered shipbuilding hangar in the country, with the dimensions of 160 x 65 meters (length x width).
Gisan Shipyard (Tuzla, Istanbul and Yalova, Turkey).
Dearsan Shipyard (Tuzla, Istanbul).
Adik Shipyard (Tuzla, Istanbul).
Uzmar Shipyard (Kocaeli Free Trade Zone, Turkey).
RMK Marine Shipyard (Tuzla, Istanbul).
Gölcük Naval Shipyard (Gölcük, Turkey).
Istanbul Shipyard (Tuzla, Istanbul)
Cemre Shipyard (Yalova, Turkey).
Ereğli Shipyard (Karadeniz Ereğli, Turkey).
Çelik Tekne Shipyard (Tuzla, Istanbul).
Gemak Shipyard (Tuzla, Istanbul).
Hat-San Shipyard (Yalova, Turkey).
Torgem Shipyard (Tuzla, Istanbul).
Akdeniz Shipyard (Yumurtalık, Turkey).
Özata Shipyard (Yalova, Turkey).
Ursa Shipyard (Pendik, Istanbul).
Türker Shipyard (Kocaeli Free Trade Zone, Turkey).
Seltaş Shipyard (Yalova, Turkey).
Aykın Shipyard (Tuzla, Istanbul and Yalova, Turkey).
Gelibolu Shipyard (Gelibolu, Turkey).
Astaş Shipyard (Tuzla, Istanbul).
Yachtley Shipyard (Kocaeli Free Trade Zone, Turkey).
Ada Shipyard (Tuzla, Istanbul).
Çeksan Shipyard (Tuzla, Istanbul and Yalova, Turkey).
Proteksan Turquoise Shipyard (Pendik, Istanbul and Kocaeli Free Trade Zone, Turkey).
Altınel Shipyard (Silivri, Istanbul).
Terme Shipyard (Terme, Turkey).
Gündoğdu Shipyard (Sakarya, Turkey).
Ustaoğlu Shipyard (Karadeniz Ereğli, Turkey).
Çeliktrans Shipyard (Tuzla, Istanbul).
Şahin Çelik Shipyard (Tuzla, Istanbul).
Su Marine Yachts Shipyard (Tuzla, Istanbul).
ARES Shipyard (Antalya Free Trade Zone, Turkey).
Aegean Yachts Shipyard (Bodrum and Antalya Free Trade Zone, Turkey).

Ukraine

* 61 Kommunara Shipbuilding Plant, Shipyard No. 445, Mykolaiv
* Black Sea Shipyard, Mykolaiv – Chernomorskiy (Nikolayev)
* Damen Shipyards Okean, Mykolaiv
* Kherson Shipyard, Quarantine Island, Kherson
* Pallada Plant, Quarantine Island, Kherson
* Sevastopol Shipyard
* Zaliv Shipbuilding yard, Kerch
* Leninska Kuznya Shipyard, Kiev
* More Shipbuilding yard, Feodosiya


United Kingdom

Between 1977 and the mid-1980s, the British shipbuilding industry, with the exceptions of a few minor yards, was nationalised as the British Shipbuilders Corporation. British Shipbuilders restructured the industry extensively, merging and closing many operations, with the remnants sold off throughout the 1980s. The list below is the present situation as of 2013.

Ailsa Shipbuilding Company
Appledore Shipbuilders
Sir W. G. Armstrong Whitworth & Company
Vickers-Armstrongs, Limited
Austin & Pickersgill Ltd
Barclay Curle & Company
Cammell Lairds Shipbuilding and Ship repairs
William Beardmore & Company
Caledon Shipbuilding & Engineering Company
Robb Caledon Shipbuilders
Clelands Shipbuilding Company
William Denny & Brothers
William Doxford & Sons
Fairfield Shipbuilding and Engineering Company
Ferguson Brothers
Appledore Shipbuilders
Hall, Russell & Company
Harland & Wolff
R. & W. Hawthorn, Leslie & Company
Henry Robb
Palmers Shipbuilding & Iron Company
John Readhead & Sons
Short Brothers of Sunderland
Smiths Dock Company
Swan, Hunter & Wigham Richardson
Thames Ironworks, Shipbuilding and Engineering Company
John I. Thornycroft & Company
Upper Clyde Shipbuilders
Fairfields, Govan
Alexander Stephens and Sons, Linthouse
Charles Connell and Company, Scotstoun
Yarrow Shipbuilders Ltd (YSL), Scotstoun
John Brown and Company, Clydebank
Vickers, Sons & Maxim, Ltd
Vickers-Armstrongs, Limited
VSEL
BAE Systems Surface Ships
BAE Systems Submarine Solutions
Vosper & Company
J. Samuel White


MIDDLE EAST and AFRICA

Cameroon

Cameroon Shipyard and Industrial Engineering Limited (CNIC)


Egypt

Arab Contractors Shipyard
Alexandria Shipyard
Egyptian Shipbuilding and Repair Yard
Port Said Shipyard
Port Tawfik Shipyard
Suez Shipyard
Timsah Shipyard


Ghana

P.S.C.Tema Shipyard Ltd
FKH Co Ltd
Larant Support Services Ltd


Kenya

Southern Engineering Company Limited
JGH Marine (www.jghmarine.dk)


Kuwait

Heavy Engineering Industries & Shipbuilding Company


State of Qatar

Nakilat & Keppel Offshore & Marine Ltd


Sultanate of Oman

Oman Drydock Company S.A.O.C.


Saudi Arabia

King Fahad Ship Repair Yard in Dammam - Operated By Albalagha Company
King Fahad Ship Repair Yard in Jeddah- Opearated by Zamil Offshore
Zamil Shipbuilding & Ship Repair yards in Dammam


South Africa

DCD Marine Ship and Rig Repair Services
SNN Ship Co. (Pty) Ltd
Damen Shipyards Cape Town


Tanzania

JGH Marine (www.jghmarine.dk)
Songoro Marine (songoromarine.com)


UAE

Abu Dhabi Ship Building (ADSB)
Drydocks Dubai (DDW-D)
Dubai Ship Building (DSBE)
GRANDWELD SHIPYARDS
Asis boats www.asisboats.com


Uganda

JGH Marine (www.jghmarine.dk)


NORTH AMERICA

Canada

AF Theriault & Sons (Nova Scotia Shipbuilders)
Allied Shipbuilders Ltd.
Davie Shipbuilding
Halifax
Halifax Shipyard
Levis
Marine Industries
MIL-Davie Shipbuilding
Seaspan Marine Corporation
Vancouver Shipyards
Sorel
TECO Maritime
Toronto Drydock Company
Seaway Marine and Industrial Limited


Mexico

Talleres Navales del Golfo (Veracruz Talleres Navales del Golfo Shipyard)
SEMAR (Veracruz Federal Shipbuilding)
Carso Marina
Pemex Construcción
Veracruz Kukulkan Shipyards
Lucas Shipyards, San Lucas
Strategic Marine Mazatlán
Zihuatanejo Marina
Acapulco shipyards (Acapulco Naval Shipbuilding)


United States

Government (Public) Shipyards[edit]
Boston Navy Yard, Charlestown, Massachusetts
Brooklyn Navy Yard, Brooklyn, New York
Charleston Naval Shipyard, Charleston, South Carolina
Mare Island Naval Shipyard, Vallejo, California
Marinette Marine, Wisconsin
Norfolk Naval Shipyard, Portsmouth, Virginia
Pearl Harbor Naval Shipyard, Pearl Harbor, Hawaii
Philadelphia Naval Shipyard, Philadelphia, Pennsylvania
Portsmouth Naval Shipyard, Kittery, Maine
Puget Sound Naval Shipyard, Bremerton, Washington
United States Coast Guard Yard, Curtis Bay, Baltimore, Maryland
Private sector shipyards[edit]
ADR Mare Island Shipyard, Vallejo Ca.
Aker Philadelphia Shipyard, Philadelphia, Pennsylvania
Alabama Drydock & Shipbuilding, Mobile, Alabama
American Shipbuilding, Cleveland, Ohio, Lorain, Ohio (1888–1995)
Atlantic Basin Iron Works, Brooklyn, New York
Austal USA, Mobile, Alabama
Avondale Shipyard, Westwego, Louisiana
BAE Systems Ship Repair, Norfolk, Virginia
Hans Ditlev Bendixsen, Fairhaven, California
Bethlehem Shipbuilding Corporation, Limited (BethShip) (1913–1964)
Fore River Shipyard, Quincy, Massachusetts (1901–1964)
"Victory Yard", Squantum, Massachusetts (1917–1919) The "Victory Yard" was constructed specifically for the building of destroyers for World War I, to free up the Fore River Yard for other vessels including the battlecruiser Lexington.
Bethlehem Sparrows Point Shipyard, Sparrows Point, Maryland (1914–1997)
BethShip San Francisco
Union Iron Works, San Francisco, California (1905–1941)
Alameda Works Shipyard, Alameda, California (1916–1956)
Bethlehem Shipyard (Southwest Marine Terminal at Berth 240), San Pedro, California (1940–1981)
Bethlehem Wilmington, Wilmington, Delaware (1904–1925, 1941–1945)
Bollinger Shipyards, Lockport, Louisiana
Leevac Shipyards, Jennings, Louisiana
Brown Shipbuilding, Houston, Texas
California Shipbuilding Corporation, Terminal Island, Los Angeles County, California
Chesapeake Shipbuilding, Salisbury, Maryland
Chester Shipbuilding, Chester, Pennsylvania
Commercial Iron Works, Portland, Oregon
Consolidated Steel Orange Shipyard, Orange, Texas
James O. Curtis, Medford, Massachusetts
Defoe Shipbuilding Company, Bay City, Michigan (1905–1975)
Delaware River Iron Ship Building and Engine Works, Chester, Pennsylvania
Detyens Shipyards, Charleston, South Carolina,
Dravo Corporation, Pittsburgh, Pennsylvania
Erie Shipbuilding LLC, Erie, Pennsylvania
Federal Shipbuilding & Drydock, Newark, New Jersey (1917–1949)
General Dynamics, Quincy, Massachusetts
Bath Iron Works, Bath, Maine
Electric Boat Corporation, Groton, Connecticut, Quonset Point, Rhode Island
National Steel and Shipbuilding Company, San Diego, California
General Engineering & Dry Dock Company, Alameda, California
George Lawley & Sons, Neponset, Massachusetts
Gulf Shipbuilding, Chickasaw, Alabama
Henry B. Nevins, City Island, New York
Higgins, New Orleans, Louisiana
Ingalls Shipbuilding, Pascagoula, Mississippi
Jakobson Shipyard, Oyster Bay, Long Island, New York
Jeffersonville Boat & Machine, Jeffersonville, Indiana
John H. Mathis & Company, Camden, New Jersey
John Roach & Sons, Chester, Pennsylvania and New York City
Kaiser Shipyards
2 yards at Vancouver, Washington
1 yard at Oregon Shipbuilding Corporation, Portland, Oregon
4 yards at Richmond Shipyards, Richmond, California
Lake Washington Shipyard, Houghton, Washington
Lawrence & Foulks, New York
Lockheed Shipbuilding and Construction Company, Seattle, Washington formerly Puget Sound Bridge and Dredging Company
Los Angeles Shipbuilding and Drydock, Los Angeles, California
Marinship – Bechtel Shipyards, Sausalito, California
Maryland Drydock, Baltimore, Maryland
Merchant Shipbuilding Corporation, Chester, Pennsylvania
Moore Dry Dock Company, Oakland, California
Morse Dry Dock & Repair Company, Brooklyn, New York
Neafie & Levy, Philadelphia, Pennsylvania
New England Shipbuilding Corporation, South Portland, Maine
Newport News Shipbuilding & Drydock, Newport News, Virginia
New York Shipbuilding Corporation (New York Ship), Camden, New Jersey (1899–1967)
Oregon Shipbuilding Corporation, Portland, Oregon, part of the Kaiser Shipyards
Pennellville Historic District
Pusey and Jones, Wilmington, Delaware
Reaney, Son & Archbold, Chester, Pennsylvania
Richmond Shipyards, Richmond, California, part of the Kaiser Shipyards
SAFE Boats International LLC, Bremerton, Washington
Seattle-Tacoma Shipbuilding, Seattle, Washington
Skinner & Eddy Corporation, Seattle, Washington
Sun Shipbuilding and Drydock Company, Chester, Pennsylvania
Tampa Shipbuilding, Tampa, Florida
T. J. Southard (Richmond, Maine)
Vigor Industrial, Washington, Oregon, and Alaska
VT Halter Marine, Pascagoula, Mississippi
W. A. Robinson, Ipswich, Massachusetts
Western Pipe & Steel, San Francisco, California
William Cramp and Sons Shipbuilding Company, Philadelphia, Pennsylvania
William H. Webb, New York City
Winslow Marine Railway & Shipbuilding, Winslow, Washington, Seattle, Washington
Zidell Marine – Portland, Oregon


OCEANIA

Australia

Adelaide Steamship Company (Birkenhead, South Australia) (1957–1973)
Austal (Henderson, Western Australia)
ASC Pty Ltd (Adelaide, South Australia)
BAE Systems Australia (Henderson, Western Australia and Williamstown, Victoria)
BHP Limited (Whyalla, South Australia) (1939–1978)
Cockatoo Island Dockyard (Sydney, New South Wales) (1870–1992)
Evans Deakin and Company (Brisbane, Queensland) (1940–1971)
Forgacs Group (Newcastle, New South Wales)
Incat (Hobart, Tasmania)
Morrison & Sinclair (Sydney, New South Wales) (1890s – 1970)
Mort's Dock (Sydney, New South Wales) (1855–1959)
NQEA Australia (Cairns, Queensland)
Poole & Steel Limited (Sydney, New South Wales) (1912–1954)
State Dockyard (Newcastle, New South Wales) (1942–1987)
Strategic Marine (Henderson, Western Australia)
Walkers Limited (Maryborough, Queensland) (1884–1974)


SOUTH and CENTRAL AMERICA

Argentina

Servicios Portuarios Integrados S.A. (S.P.I.)
Astilleros Argentinos S.A. (ASTARSA)
Astillero "Río Santiago" (AFNE) (Ensenada, Buenos Aires)
Puerto Belgrano Naval Base shipyard
Tandanor
Astilleros Mestrina S.A.


Brazil

INACE
EMGEPRON
Estaleiro Atlântico Sul
Estaleiro Ilha SA
Estaleiro STX
Estaleiro RENAVE/ENAVI
Estaleiro Mauá
Estaleiro Aliança
Estaleiro Erin


Chile

Asenav Valdivia
ASMAR Valparaíso
ASCON Puerto Montt
MARCO Chilena de Iquique


Colombia

Cotecmar


Peru

SIMA Peru


Uruguay

Tsakos Industrias Navales S.A. (shipyard and ship lifting, Montevideo Bay)
Navy, SCRA-Servicio de Construcciones, Reparaciones y Armamento de la Armada (since 1874 shipyard and drydock, Punta de Lobos)
Navy, SCRA-Servicio de Construcciones, Reparaciones y Armamento de la Armada (since 1872 drydock Mahua, Montevideo)
Astilleros Krause (Montevideo)
Astilleros Nereus (Montevideo)
RIN S.A. (Repair-Montevideo)
Astillero Nitromar S.A.-Cruz del sur Industrias Navales (Rapairs-Montevideo)
Metalizora Uruguaya S.A. MUSA (Repairs-Montevideo)
Leoner S.A. Taller Naval (Repairs-Montevideo)
Belmore S.R.L. Taller Naval (Repairs-Montevideo)
Temsi S.R.L. (Repairs-Montevideo)
Belnova S.A. Taller Naval (Repairs-Montevideo)
Metalock Uruguay S.A. (Repairs-Montevideo)
Metaldis S.R.L. Taller Naval (Repairs-Montevideo)
Aeromarine S.A. (Repairs, Communications, Electronics-Montevideo)
Ingenal S.A. (Repairs-Montevideo)
Astilleros Rosendo s.r.l. (Buceo Port-Montevideo)
Peace Shipbuilding
Kambara Uruguay S.A. (Pajas Blancas-River Plate)
Astilleros Santa Lucia (San Jose-Santa Lucia River)
Astillero Sioux (Salto-Uruguay River)
Rio de la Plata Marine (Shipyard and Sails- Colonia)
SNAC (Carmelo-Cow's River)
LINKS & REFERENCE
SSA IN EUROPE
CESA - Community of European Shipyards Association
ECASBA - European Community Association of Ship Brokers & Agents
ECSA - European Community Shipowners Association
ECNI - European Confederation of Nautical Industries
EuDA - European Dredging Association
EFIP - European Federation of Inland Portd
EMEC - European Marine Equipment Council
EMF - European Metalworkers Federation
GOVERNMENT DEPARTMENTS
DFT - Department for Transport
DECC - Department of Energy and Climate Change
EMSA - European Marine Safety Agency
MARITIME INDUSTRY
ECSA - European Community Shipowners Associations
RINA - The Royal Institution of Naval Architects
IMarEST - The Institute of Marine Engineering, Science & Technology
RESEARCH & DEVELOPMENT
MTC - Maritime Transport Cluster
http://en.wikipedia.org/wiki/Magnus_effect
http://en.wikipedia.org/wiki/Rotor_ship
http://en.wikipedia.org/wiki/Turbosail
Espacenet.com/Jaques_Cousteau_Turbosail_Patent US 4630997
http://www.dihocgh.com/shipbuilding.html
http://www.monorotor.com/fuel-savings-with-wind/
http://www.rolls-royce.com/marine/about/environmental_solutions/
http://en.wikipedia.org/wiki/Rolls-Royce_Marine_Power_Operations
http://www.ssa.org.uk/