At nearly three times the size of her sister ships, the Wind Surf (left) carries 312 pampered guests in 154 total staterooms: 31 ocean-view suites and 123 deluxe ocean-view staterooms. What that means in real terms is wide- open deck spaces; new services and lots of little extras that help to make a Windstar cruise a fresh air experience. Gross Tonnage: 14,745 - Length: 617 feet - Country of Registration: Bahamas - Passenger Capacity: 312 - Number of Crew: 163 - Officer Nationality: British, Norwegian. Windstar (right) Cruises operates three sailing yachts that accommodate 148 to 310 guests, sailing to nearly 50 nations and 100 ports throughout Europe, the Caribbean and the Americas. Enjoy a seven-day Classic Italy and the Dalmatian Coast, Mediterranean cruise from Rome to Venice that stops in the ports of Capri, Messina, Dubrovnik, Split, and Pula, among others. Rates start from $1,999 per person.
FINANCING WIND VESSELS 14 NOV 2014 - MARITIME JOURNAL NEWS

It has been announced that Active Communications International's 'Operating Specialist Wind Vessels Summit 2015' will include three specific modules covering finance & contract options for offshore wind vessels.

The event takes place in Aberdeen, UK from 25th -26th March 2015, and has the following three presentations geared to financial considerations:

- Contract Options for Offshore Wind Projects
- Financing the Procurement of New Vessels
- Exploring Options in Vessel Sharing

With a drive towards renewable forms of energy, the last few years has seen huge investment on a European wide scale in creating large wind farms off the coast of a number of European countries. The result has been the need for a specialized fleet of vessels to install and service these wind farms. The need to transfer both equipment and manpower in a safe and efficient manner has led to calls for more stringent health & safety guidelines and industry wide debate on how best to apply existing IMO instruments on operational activities. The conference will give a special focus to operational techniques used within this specialised area, highlight the developments in IMO regulation as well as considering these contractual and financing options for new vessels.

Delegates will be drawn from vessels owners, managers and operators, shipbuilders, shipyards, designers, energy companies, charterers, naval architects, engineers, classification societies, brokers, repairing companies and vendors. To register or find out more, please contact rbaryah@acieu.net Website: WPL Group aci conference Rohan Baryah Tel: + 48 61 646 9780. Sponsorship: Jean-Jacques Hermans Tel: + 44 (0)20 3141 0608 Email: jhermans@acieu.net
Please note this is not a conference about wind powered vessels, it is a conference about vessels that service wind farms. One day, the two may be interlinked.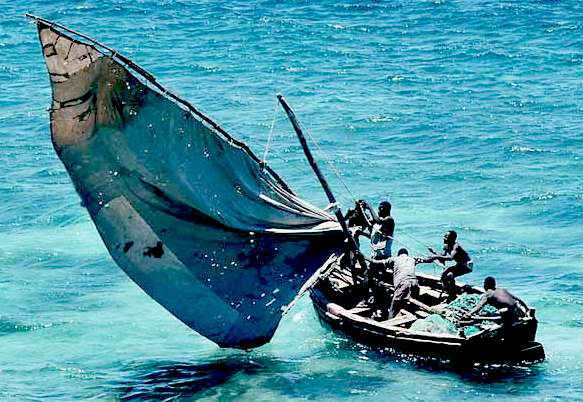 BACK TO BASICS - This picture says it all. The problems with sail powered craft has always been handling the harvesting medium. Sails need a lot of looking after and can, as these chaps could confirm, mean some tricky situations. Automation of sails and sail handling equipment has come a long way thanks mainly to ocean racing events, such as the Whitbread and Volvo, round the world ocean events, now attracting entries from China with the Dongfeng team. But even then, sails deteriorate and need regular renewal, and that gives rise to the economics as compared to rotary sailing craft. The burning question in the modern world of sailing is: which of the two technologies offers the best compromise of price and performance. We will only find out by conducting trials of the latest designs.
NOV 17 2014 MARITIME PROPULSION

An international association has been created to facilitate and promote wind propulsion for commercial shipping worldwide.

The founding members of a new association for the shipping industry have announced the establishment of the International Windship Association (IWSA), an association that will encourage, advise and advocate for the use of wind propulsion technologies in the shipping industry.

IWSA, established in the U.K. as an unincorporated, not-for-profit entity, will facilitate and promote the technology, applications and general concept of wind propulsion for the global commercial shipping industry and bring together all parties interested in catalyzing the development and uptake of these technology solutions. The IWSA will also play a role in acting on behalf of members and supporters within this sector in order to shape industry, regulators' and international bodies' perception of the concept of wind propulsion.

IWSA informed that a great deal of support has been received since its initial inception; thus far 50 members and supporters have registered and the organizers expect those ranks to swell in coming months following the inaugural annual general meeting for the association, held in October 2014.

Gavin Allwright, IWSA Secretary, commented, "Our goal is to be an advocate for the development of wind propulsion solutions in the industry, whether retrofit, wind-assisted, new builds or wind as the primary propulsion source. We recognize and applaud the efforts of the industry to reduce emissions, the increased interest in renewable energy sources and the gradual changing perceptions about wind propulsion."

Allwright continued, "With the help of our members, supporters within the industry, academia and other stakeholders, IWSA will be sending out a clear message: wind propulsion is a serious and increasingly proven option, financially a win-win situation and we are here to work with an industry ready for change."

It was at the Carbon War Room's Creating Climate Wealth Summit, late 2012, in Berlin that several representatives from the wind-assisted shipping sector came together to tackle the ongoing issues facing this highly innovative and increasingly relevant sector: isolated actions, lack of collaboration and limited sharing of knowledge.

The group of industry experts and innovators driving IWSA include;B9 SHIPPING (Diane Gilpin), ENERGY SHIP/MODERN MERCHANT SAILING VESSEL (Siegfried Manzel), FAIR WINDS TRADING COMPANY (Madadh MacClaine), NORSEPOWER (Tuomas Riski), PROPELWIND (Patrick Englebert), and SEAGATE SAIL (Marcello Segato).


IWSA OBJECTIVES

Network - create a clear sectoral approach, grouping like-minded organizations and individuals that can share ideas, skills, as well as technical and market information for the development of commercial wind-ships.

Promote – promote the economic value of wind propulsion to the industry

Incubate - assist in securing funding streams, project collaboration, grant applications, research and the pooling of resources.

Educate - act as a central information hub for the wind propulsion sector, ship owners and operators, shipyards, ports, governments, equipment producers, the media, NGOs, and the general public.

Facilitate – initiate the establishment of common approaches/criteria for all stages of wind propulsion projects, advise stakeholders and lobby legislative bodies on policies, activities, funding and incentives required to retrofit existing ships and build new commercial wind-ships.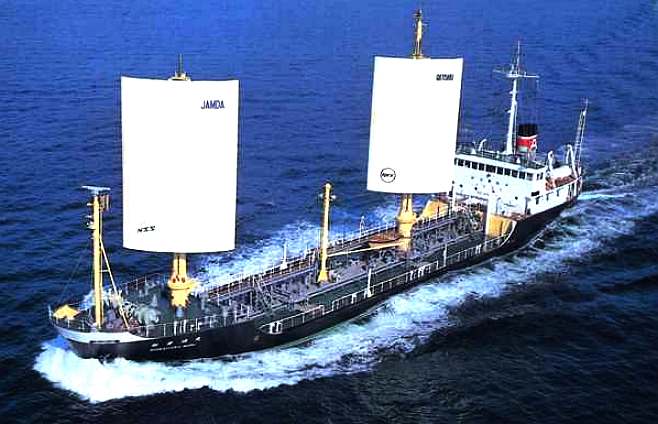 JAMDA - A computer controlled, sail assisted merchant ship.
IWSA MEMBERSHIP & SUPPORTERS
Membership of IWSA is available to companies and organizations involved in the marine wind propulsion sector along with associate members and supporters that share our vision coming on board from the wider industry, academia, nonprofit sector etc.

IWSA MEMBERS

B9 Shipping (UK)
Dykstra Naval Architects (Netherlands)
Energy Ship (Germany)
Fair Transport Shipping & Trading (Netherlands)
Fair Winds Trading Company (UK)
IDMM (Netherlands)
MARIN Marine Research Institute (Netherlands)
Modern Merchant Sailing Vessel (Germany)
NEOLINE Neoliner modern sailing cargo ship (France)
Norsepower - Push button auxiliary wind propulsion (Finland)
North Sea Foundation (Netherlands)
Propelwind - Racing technology for cargo ships (France)
Sailline Fish Ltd - Sail assisted commercial fishing (UK)
Salish Sea Trading Cooperative (US)
Seagate Sail (Italy)
TU Delft (The Netherlands)
Vindskip/Lase AS (Norway)
Wind Challenger (Japan)
Windvinder (Germany)
Wind+Wing Technologies (US)
WWF International (UK)

IWSA SUPPORTERS

University of South Pacific (USP)
Oceania Centre for Sustainable Transport (OCST)
Province of Fryslan (SAIL Program)
UCL Energy Institute (Sustainable Shipping)
Heinz Otto, Windschiffe, Hamburg
Trans Oceanic Wind Transport (TOWT)
Prof. Alastair Couper – Emeritus Professor, University of Cardiff (Pacific Ocean)
Dr. Peter Nuttall – Pacific Centre for the Environment and Sustainable Development
Portsmouth University
Plymouth University
The Windship project
Atlantis Trading Company (Commercial)
Lo Entropy
Sailing for Sustainability
Greenheart Project
Dr. Chris Rynikiewiicz, University of Sussex
Fiji Voyaging Society
Carbon War Room (Shipping Efficiency)
One Sails
Dr. Claus Schriver, KFW
Vally Athanasopoulou, Greenpeace International
Dave Walsh, Antarctic and Southern Ocean Coalition
Peter Schenzle, HVSA (rtd)
Prof. Richard Birmingham – Univ. of Newcastle
Emden Leer Hochschule
Katell Jaouannet, E&E Consultant
Taratari Shipyard
IWSA CONTACTS
IWSA Secretary – Gavin Allwright

International Windship Association
c/o Gavin Allwright
96 Salisbury Rd, Maidstone, Kent
ME14 2TX, England

ROTARY WIND POWER: A daring conversion; wind turbine powered catamaran, the Revelation II. We'd like to feature this vessel if the owner would care to get in touch.
USING RENEWABLE ENERGY FOR GREENER SHIPPING

The trend towards using renewable and alternative energy sources on land has gathered momentum over the last decade as the general public and policy makers tackle the issues of pollution, energy security and climate change. However at sea the shift towards the widespread adoption of alternative energy is only now beginning to take shape.

Over recent years the shipping industry has begun to seriously look at ways to reduce fossil fuel consumption and operate in a more environmentally friendly way. The concept of Green Shipping or Sustainable Shipping is now becoming an important issue for ship owners, shipping lines and ship builders globally.

In the 1970's and 1980's there were several ships fitted with rigid sails of various types with the aim of reducing fuel consumption. This was driven largely by the oil crisis in the 1970's which resulted in oil shortages and the price of oil soaring. However the oil crisis passed and as the prices fell in the 1980's the viability of rigid sails in terms of cost was undermined.

However Japanese ships such as the Shin Aitoku Maru and Usuki Pioneer did prove that rigid sails reduced fuel consumption. The rigid sail concept has also been applied to a range of smaller vessels but it has not gained widespread acceptance to date on either large ships or smaller vessels.

Another way to reduce fuel consumption on-board ships is through the use of solar power. Recent advances in solar cell and photovoltaic module technologies have lead to solar power becoming a cost effective fuel reduction option on pleasure boats, ferries and tourist vessels. However on large ships the amount of fuel saved through the use of solar power alone is relatively small. So the idea of a commercially viable solar ship seems impractical at the moment. Or is it?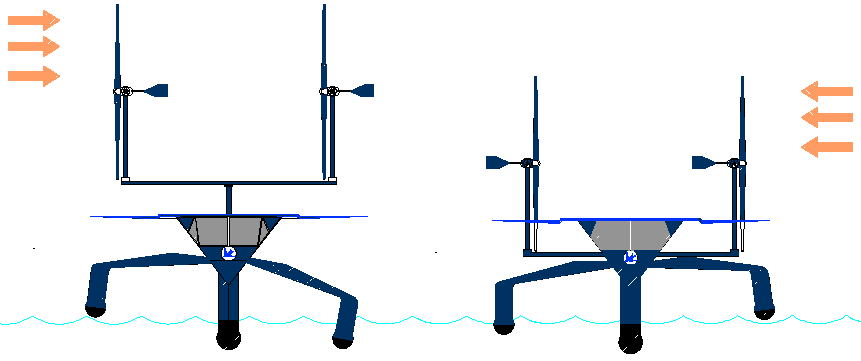 MODERN SAILING SHIP CONCEPT - The Bluefish ZCC shown above is a hybrid, solar and wind powered vessel designed to give comparable performance to the clipper ships of old, but without the manpower that was required to operate the rigging. Rotary sails in the form of wind turbines hold the potential for a return to clean ocean transport. This would be practical for oil tankers as well as cargo ships and cruise liners. The vessel could increase the wind generating quotient and reduce the solar collectors, such that this would be a mostly wind powered vehicle.
Military naval ships might also benefit from clean propulsion, where persistent patrols are inevitable to keep the peace. Automatic functions would ensure the highest performance as the weather allows, and also safety battening is adverse conditions. The picture above shows examples of two running conditions - where side winds most affect performance and stability, controlled by active outriggers. The design of this vessel is © August 2014 and the technology is patent applied for. BMS is looking to exploit this concept by developing partnerships with fleet operators, ship builders and investors. Please contact BMS if you are considering a move to wind powered vessels.
RUSSIA AIMS TO BLOCK CLEAN ZONE
The International Maritime Organization (IMO) will decide on a proposal by Russia, that aims to block the entry of a nitrogen limiting zone (NECA) for sea going ships in 2016. Nitrogen oxides (NOx) are main components for the formation of smog. International shipping will be the largest emitting source of NOx in Europe by the year of 2020. In recent years, the Netherlands and other North Sea countries have worked hard on a Nitrogen Emission Control Area (NECA) on the North Sea. In NECA sea areas, all new-built ships are required to limit NOx by over 80 %, by means of applying exhaust-gas cleaning or selective catalytic reaction (SCR). In May 2013, Russia and other European countries like Poland and Greece suddenly came with a proposal to block the NECA plans. Their main argument was that the technology for NOx reduction would still be inadequate. The entry of a NECA in US and Canadian waters, and repeated declarations of the engine industry process that the technology is applicable and ready to use. It is possible, and necessary, to declare the North Sea as a NECA area by 2016.

Harmful air pollutant

Many stakeholders, like the Ports of Rotterdam and Antwerp and the Cargo owners association, are of the same opinion as the North Sea Foundation. The Dutch government should work thoroughly on a proposal during the Marine Environmental Protection Committee (MEPC from the 31st of March to the 4th of April) to declare the North Sea as a NECA in 2016. The high emission levels of sulphur, NOx and particulate matter cause billions of Euros of damage to health care and cause around 50,000 premature deaths within Europe. NOx also causes severe damage to nature reserve areas.

Eelco Leemans, director of The North Sea Foundation and chairman of the Clean Shipping Coalition is quoted as saying: 'If clean up measures like these are erased, shipping can impossibly claim its much wanted reputation as a sustainable, modern clean mode of transport' The NECA is an important step in making shipping and the maritime sector more sustainable. Ship engines have a lifetime of 30 years or more. The NECA is part of a comprehensive compromise in 2008 to strengthen the air pollution regulations in Annex VI of the IMO Marpol treaty.

A - Z SAIL AND SOLAR ASSISTED BOATS & SHIPS
LINKS & REFERENCE
Maritime Propulsion International-windship-association-launched
http://wind-ship.org/
http://www.leow.de/boatbarn/jrwindm.htm
Blog Modern Mechanix wind propeller sails proposed for liners
http://en.wikipedia.org/wiki/Rotor_ship
http://www.sailwings.net/art.html
http://www.sailwings.net/rotaryhome.html
Worlds first fuel cell ship FCS ALSTER WASSER proves reliability
Renewables International Energy Ships
Maritime Journal news financing wind vessels
http://www.salishseatrading.com/
http://www.saillinefish.com/
http://www.propelwind.com/
http://www.noordzee.nl/
http://www.norsepower.com/
http://www.marin.nl/
http://fairtransport.eu/
http://energytransition.de/
http://www.renewablesinternational.net/energy-ships/150/435/73673/
http://sailingforsustainability.org/
http://www.fairwindstradingcompany.org/
http://www.host-be.de/sss/
http://www.b9energy.com/B9Shipping/tabid/4036/language/en-US/Default.aspx
http://www.b9energy.co.uk/
http://www.gdnp.nl/
http://www.tudelft.nl/en/
http://www.maritimepropulsion.com/news/international-windship-association-launched-017
http://www.ecomarinepower.com/wind-and-solar-ships
Maritime Journal eu-funding-for-renewables-research-facilities
http://www.seaspeed.co.uk/Trials-and-Testing-Projects/south-boats
http://en.wikipedia.org/wiki/Magnus_effect
http://en.wikipedia.org/wiki/Rotor_ship
http://en.wikipedia.org/wiki/Turbosail
Espacenet.com/Jaques_Cousteau_Turbosail_Patent US 4630997
http://www.dihocgh.com/shipbuilding.html
http://www.monorotor.com/fuel-savings-with-wind/
http://www.rolls-royce.com/marine/about/environmental_solutions/
http://en.wikipedia.org/wiki/Rolls-Royce_Marine_Power_Operations
http://cruiseweb.com/WINDSTAR-WINDSURF.HTM
http://www.ssa.org.uk/