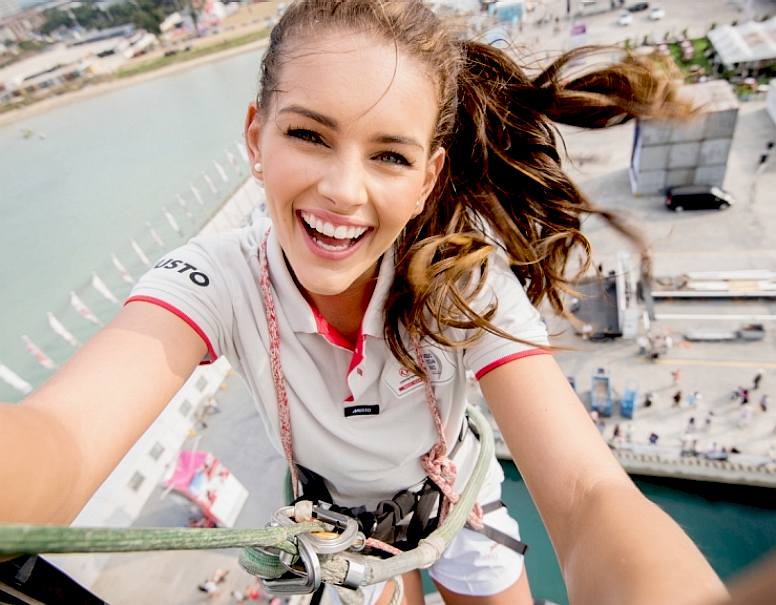 MISS WORLD - Rolene Strauss accepts the challenge to climb the boats mast
JUNE 2 2015 - MISS WORLD, ROLENE STRAUSS, CLIMBS LEG WINNER'S MAST
Miss World Rolene Strauss is used to being the focus of the photographer's lens but on Thursday she turned the camera on herself to capture the most amazing 'selfie' (see picture above) up the 100ft (30.3 metres) mast of a Volvo Ocean Race boat.

The challenge to shimmy up the mast turns many a strong guy into jelly, but the 22-year-old from Volkrust, South Africa, didn't need asking twice when Race leaders, Dongfeng Race Team, challenged her to do the climb in Sanya, China.

Miss Strauss, who won her title in London last December, was hoisted up the mast – the equivalent height of six giraffes – in a matter of a couple of minutes and took a leisurely view of the harbour before coolly lowering herself down.

Dongfeng and the rest of the fleet, on a nine-month, 38,739-nautical mile offshore marathon race around the world, leave China on Sunday for Auckland in New Zealand for the fourth leg of nine.

Rolene Strauss became the third South African to win the title in December and she quickly became acquainted with the crew as she prepared to climb the 30-metre high mast of the boat. This would obviously be no catwalk for the 22-year-old, and on her first visit to China she was not going to shy away from the challenge.

After getting strapped in there were no problems in getting to the top, where she wrote a special message for the team and for China. Hopefully her phone number.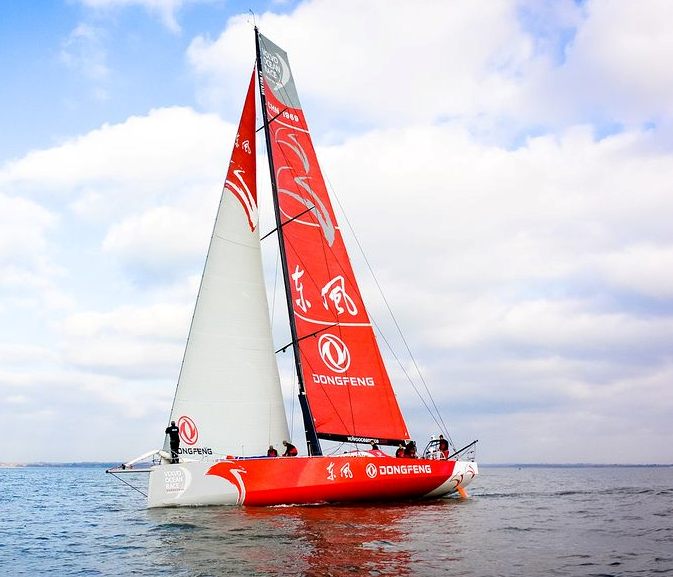 The 'Dongfeng' - Volvo Ocean Race entry for 2014/2015
18th OCTOBER 2014 - BREAKING NEWS: BROKEN RUDDER ONBOARD DONGFENG

Today at 0210 UTC we hit something. The impact was violent.
[When we got this from the boat, they did not have a position report and in fact won't get one for another few hours – but on land we have the latest one in now, and despite over 2 hours of 'pitstop' action, the determined men on Dongfeng have managed to hang on to 3rd place, just ahead of Vestas. Overnight though, the smashed rudder has meant they have gone from 18 miles ahead to 9 miles behind Abu Dhabi Ocean Racing]

Thomas: "J'ai volé à la barre! [I flew into the wheel]

"At 2:10UTC, Thomas was driving when we hit something. The impact was violent. We did not know what we hit. We check the windward runner, we started to check the keel, and we wiped out. Then we realised the leeward rudder was gone. We checked if there was any water ingress in the boat.

At 2:20 UTC, we gybed. We had two options: installing the emergency rudder, as an emergency rudder, or removing what was left from the old rudder, and putting the new one in place. We decided to go for the second option.

We prepared the rudder, we furled the A3, with dropped the A3 down, we dropped the mainsail down. At this moment, we saw ADOR passing next to us…
Thomas put the diving suit on. He jumped into the water. Kevin was in the aft compartment, and the rest of the crew on deck.

We removed what was left from the old rudder (not much), and we put the new one in place.
We hoisted the main, we hoisted the A3, we jibed, and we unfurled the A3.

We are now sailing 20 knts.

Charles: "It is not easy to accept this kind of things, when they happen." We are all disappointed. We haven't got any position report yet, but we obviously know that ADOR is now in front of us. We believe that the Spanish boat is ahead of us too. We don't really know about the other boats.

It does not seem very fair, but there is nothing we can do about this…

"We had an 18 mile lead and I went to bed happy." – Team Director, Bruno Dubois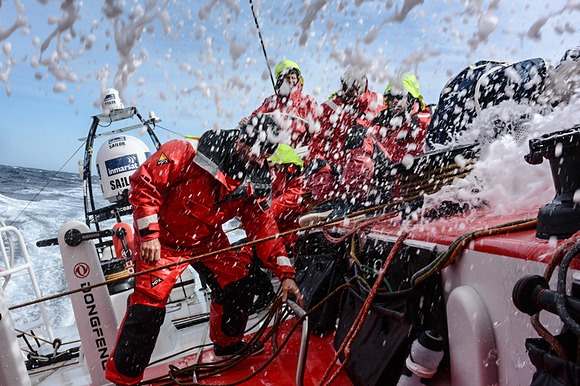 IT'S NOT HOW BIG THE PROBLEM IS, IT'S HOW YOU DEAL WITH IT!

"Last night we were leading by 18 miles and I went to bed happy…" – Team Director, Bruno Dubois

At 0210 UTC Dongfeng Race Team hit an unknown object in the Atlantic Ocean just off the coast of Africa and broke their rudder. This resulted in the team performing an emergency rudder replacement, a difficult operation in the pitch black of night, in less than 2 hours. After fighting to keep first place for nearly two days, they watched Abu Dhabi Ocean Racing sail straight past them as they dropped from first place to third, and then retook 2nd again as the pushed hard to regain lost ground.


22nd SEPTEMBER 2014 - A SMALL APPRECIATION

With our hearts in our mouths we countdown the days until Charles Caudrelier and his men are suited and booted ready for the start day of the Volvo Ocean Race.

Ready to take on some of the best sailors our generation has ever seen.

Even though the one-design has put a lot of emphasis on the sailors and their performance we feel that the power and the elegance of the Volvo Ocean 65 shouldn't go unnoticed. It's now 11 days to go before this beautifully crafted machine does what it was built to do. Race.


8th JUNE 2014 - A PROUD SKIPPER

It has been almost five months since Charles Caudrelier received a phone call from Bruno Dubois asking him to become skipper of Dongfeng Race Team. Since then Charles has covered 10,000 nautical miles with the team in training. He has become teacher and mentor to the Chinese sailors who hope to become part of his final race crew.

Team Principal, Dubois, had to choose a world-class skipper who would embrace the nature of the Dongfeng Race Team campaign and accept the challenges and responsibilities that come with such a role. This campaign was born with two key missions at it's core; to bring competitive offshore sailing to China and to become the first Volvo Ocean Race campaign in history to sail the world with multiple Chinese sailors onboard. The long term sporting mission of this team is to build towards a 100% Chinese campaign in the future editions of the race. This is not just your average Volvo Ocean Race campaign… Dongfeng Race Team is bringing something different to the table.

The team are in the last 24 hours of their first transatlantic crossing and the final training hurdle for the Chinese sailors. Charles Caudrelier sent this email today:

"For the past 48 hours we hit a very bad sea state and we've been pushing the boat like madmen since. We've been full on with 20-30 knots of wind, it's been relentless – no break! The deck has been full of water and we've been soaked through, it's impossible to get dry!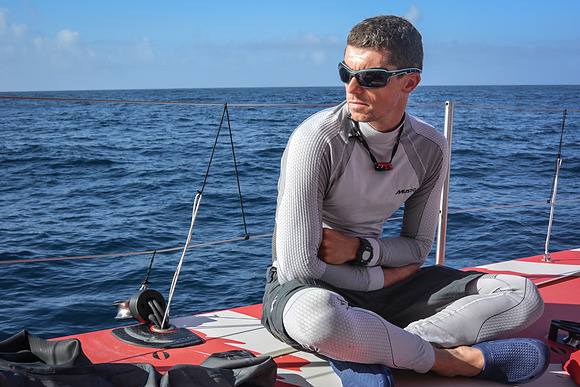 5th JUNE 2014 - DOWNTIME ON DONGFENG

It's been a whirlwind of a journey so far for the team since they left Newport last Friday, 30th May. With storm winds up to 45 knots, a power cut and a near collision with a whale, Charles and his team have had their fair share of excitement. Since our last update the team have been in a light spot with barely any wind, so what does one do for 'downtime' on a Volvo Ocean 65 in the middle of the Atlantic?

"We've had rare good weather today, the sun is up, with light wind but the sea is relatively calm. It's really 'leisure time' for us compared to the other days. We 'bumped' into the fog from the endless ocean and it felt like we are transcending through time and space. Dolphins jumped out of the ocean just tens of meters from us, we can also see the whales spouting water up from afar, thankfully. I think the sea creatures are too shy to get close to the mighty 'Dongfeng'. I saw a sea turtle, but it disappeared in no time by the time I turned on the camera – our boat is going too fast.

"Once the fog cleared the sailors finally got the chance to dry their wet weather gear under the sun. I can see the smile on the sailors' faces. Everybody is enjoying the rare good weather, as we will have up to 40 knots of wind in front of us in the following days according to the weather forecast. Although I hate to eat pasta, but the pasta I had today seemed to be the best one during this journey, I even made myself a cup of hot tea after the meal. All the Chinese sailors feel a bit homesick, missing their family members and home comforts. The whole team has been eagerly looking forward to arrive in Lorient, the sooner the better."


OC SPORT

OC Sport is an award-winning and leading sports marketing and event management company. Operating on a global scale OC Sport provides first class consultancy to global brands, host venues and other event organisers. The company also manages competitive teams and athletes all over the world. They are involved a wide variety of projects including professional sailing, running, cycling, adventure racing and winter sports. Their aim is to inspire both sport participants and fans.
To find out more visit www.ocsport.com
Facebook: https://www.facebook.com/DongfengRaceTeam
Twitter: https://twitter.com/DongfengRacing
Instagram: http://instagram.com/dongfengraceteam
Youtube: https://www.youtube.com/channel/UCGCGBd7AyJsjPqok9W8e39Q
Official website: http://www.dongfengraceteam.cn
Official Tracker: http://dongfengraceteam.geovoile.com/newport-lorient/2014/app/flash/


JUNE 26 2014 - NEW CHINESE SPONSORS and FINAL DONGFENG CREW SELECTED
It has been eight months since Dongfeng Race Team began their selection process to find Chinese sailors capable of taking on the Volvo Ocean Race, the world's toughest fully-crewed round the world race. Dongfeng Race Team's much-awaited announcement follows one of the most difficult selection trials in the history of the race. Today the full team, that combines sailors from France, China and Sweden, has been announced at the team's official press conference in Lorient, France.

Just as the race against time to select the Chinese sailors draws to a conclusion, another race against time is also coming to fruition – to find the supporting partners to complete the core campaign budget. Two new Platinum Partners join the team today supporting Title Partner Dongfeng Commercial Vehicles – China's Aeolus Tyres, a global top 20 premium tyre manufacturer, and the city of Shiyan, Dongfeng's home city and with its Wudang Mountains, the spiritual home of Kung Fu.

More than just business partners

Title Partner Dongfeng Commercial Vehicle Company Limited (DFCV) is a Chinese automobile company who specialise in medium and heavy-duty trucks. DFCV is one of the largest, most reputable and diverse companies of its kind in China who announced their sponsorship of a Volvo Ocean Race team at the end of October 2013 with the intention of using it to expand their global marketing strategy – 'Chinese Dongfeng, Global Dongfeng'.

Today, Aeolus Tyre Company Limited and the City of Shiyan were announced as Platinum Partners to Dongfeng Race Team. Both Chinese companies have strong business and historical links with DFCV. Aeolus Tyres is a major supplier to DFCV, specialising in heavy-duty tyres, and the products of Aeolus Tyres are sold all over China and exported to more than 140 countries and regions around the world. "As a strategic partner of Dongfeng Commercial Vehicle Company Limited, we are pleased to team up with DFCV again and support Dongfeng Race Team in this top sailing event – the Volvo Ocean Race!" said Aeolus CEO, Mr. Wang, "Aeolus means 'Guardian of wind' taken from a Greek mythical tale, managing the speed and the direction of the wind; whilst Dongfeng means 'east wind' in Chinese. I believe that with Aeolus guarding Dongfeng Race Team, together with the hard work the team is doing, we will achieve a good result at the end of the race."

The second Platinum Partner is the City of Shiyan in Hubei Province – the 'spiritual' home of Dongfeng, and the location of DFCV's headquarters. Situated close to the famous Wudang Mountains, a national 4-A level tourist attraction and a sacred place of Taoism, which attracts hundreds of thousands of tourists every year. Since 1967 Shiyan has developed into one of the most important centres of the automobile industry in China, labeled as the 'Detroit' of China. "As the official 'birth place' of DFCV, Shiyan has a long history in cooperating with Dongfeng Motor Group, we support each other and seek common development. The Volvo Ocean Race is one of the most influential professional sailing events in the world and the City of Shiyan will take this opportunity of becoming a Platinum Partner of Dongfeng Race Team to incorporate Shiyan elements into the race. We intend to raise global awareness of Shiyan – a city linked to the famous Wudang mountain. We seek to expand our overseas tourism market, and to achieve our goal of becoming an international tourism destination."

These three companies are not only closely linked but have now collectively taken their first steps into international sports sponsorship, through sailing as part of their global marketing strategies. Qin Jie, Vice President of DFCV commented: "Today we join hands with Dongfeng Race Team to achieve our dreams of 'going global'. Dongfeng Trucks share the same values with the race and the Dongfeng Race Team that are trustworthiness, professionalism and advancements in technology. It's a win-win choice for Dongfeng Trucks global ambitions and growing awareness of the Volvo Ocean Race in China."
Dongfeng crew: Charles Caudrelier and Kong Chen Cheng

Meet the team who dare to dream

Twenty candidates were chosen for the tough Selection Trials in December at the team's official training camp at Serenity Marina, Sanya in China; six were chosen by Dongfeng's skipper, Charles Caudrelier, to embark on the offshore training programme three months later on board the Volvo Ocean 65 Dongfeng to fully test the Chinese sailors offshore abilities which, at the time, were practically non-existent. Today four of those rookie offshore Chinese sailors have been confirmed as part of Dongfeng Race Team's final race crew. At the same time, five professional offshore Western sailors have been handpicked by Caudrelier for the mission ahead – to form a team united by the goal of putting forward a competitive entry in the Volvo Ocean Race that starts on the 11th October, 2014 from Alicante in Spain.

As Charles Caudrelier stood proudly on stage with his final race crew, there was an underlying sense of achievement in the air. The Dongfeng Race Team campaign was created with the ambition of developing competitive offshore sailing talent in China, and today was the first major step towards this. Dongfeng Race Team has the interests of Chinese sailing at its core with a significant number of Chinese in both the sailing and support team so that future editions of the Volvo Ocean Race could one day witness a fully Chinese entry.

China has an outstanding maritime history that remains relatively unknown, even in China, that dates back to the 15th century, when between 1421-1423 the fleets of Admiral Zheng He 'discovered the world'. In more recent times, Chinese dinghy sailors have excelled at the Olympics, and a growing base of Chinese sailors regularly compete in inshore regattas, but few have made the transition to offshore competitive sailing. Guo Chuan and Teng Jiang He (Tiger) were the 'token' Chinese onboard Green Dragon (2008) and Team Sanya (2011) respectively. Finding sailors with the aptitude and strength of mind and body to take on the mental and physical challenge of the Volvo Ocean Race has not been easy. A major recruitment campaign was launched to find the best sailors China had to offer. Dongfeng Race Team was flooded with applications from Olympians to local fisherman, but only those who stood out to the selection panel were chosen to attend the gruelling selection process. "We had an encouraging start that exceeded our expectations," recalls Team Director, Bruno Dubois. "But we knew there were not many offshore sailors in China and that our training process would have to be rigorous and intense. We were searching for candidates who could take on the challenges that the race will throw at them and I'm proud that after a six-month process and 10,000 miles of offshore training, we now have a great team here today. We have lost some of our best hopes along the way too – the challenge and hardships of ocean racing not suiting everyone of course."

Chinese sailors Jin Hao Chen (Horace), Jiru Yang (Wolf), Ying Kit Cheng (Kit) and Liu Ming (Leo) were the final four sailors chosen by Caudrelier to become part of the race crew to represent China. "I feel like everything is falling into place," said Wolf. "This is my dream and this is the proudest day of my life. Before Dongfeng Race Team I didn't feel like my life had direction, but now it does. I know who I am and where I'm going. I'm going to represent my country in the Volvo Ocean Race."

How did Caudrelier identify these Chinese sailors: "At first we picked the best sailors, then we realised that attitude was one of the most important attributes. Horace, Leo, Kit and Wolf had by far the best attitudes and were the most motivated," commented Charles.

"Leo is physically the best, he can move around the boat at ease and has one of the most competitive streaks I've ever seen. He always wants to be first, even if we're running he pushes to be in front of the others. He is quiet guy with the right attitude – his biggest challenge ahead is his lack of English. [Note: English is the language on board the international crew use to communicate]

"Wolf's progression since the start of the campaign has been the most impressive. He has benefitted from being around the professional offshore sailors as he's a very intelligent guy and learns quickly. His confidence has grown immensely and I know he wants this. He's fighting for it.

"Kit is the most experienced of our Chinese sailors. He's technically competent and very smart. Like Wolf his English is excellent. Everyone likes Kit and it's a pleasure to have him onboard. Something key about Wolf and Kit is their English is by far the best but they haven't kept things to themselves when they could have done to get ahead. They're great team players and that is another reason they're in the final team.

"Horace is the youngest and has the most potential. He can sometimes be a little over confident, but he's learning and I like that. He has great ambitions and only looks forward. He understands the importance of winning and always wants to better himself."

This quietly determined and competitive French skipper has also carefully chosen a selection of world-class professional offshore sailors that will be the backbone of Dongfeng Race Team.
His first choice was instinctively Martin Stromberg, his Swedish teammate onboard Groupama, with whom he won the last edition of the Volvo Ocean Race under the direction of famous French skipper Franck Cammas. Now it is Charles turn to step into the spotlight and Martin will be by his side. Martin is thought to be the 'glue' in this multicultural team and is described by his teammates as running like a diesel engine. He is strong, reliable and built for long distances. "Martin has the patience to teach and is one of the most skilled pitmen I know. I was looking for people who understood the overall ambition of the project and could contribute to the team in a selfless way. Martin was my first choice."

French sailor Thomas Rouxell was next on Caudrelier's list. Their friendship developed during a solo transatlantic race when Thomas (who was racing against Charles at the time) separated from the fleet and was left isolated in the middle of the Atlantic Ocean. He quickly spotted the more experienced Caudrelier pass him and followed him to the finish line only to overtake him in the final moments of the race! Charles describes Rouxell as talented, loyal and an intrinsic member of his team.

The legendary Pascal Bidegorry will be joining Charles as his right-hand man and navigator onboard. A genuine seaman in every sense of the word, Bidégorry is considered by his peers to be one of the most talented sailors of his generation. Having sailed across the Atlantic thirty times it was not a difficult choice for Charles. "Pascal is someone who will share his experience and continually progress in order to win. I believe people were born to do certain things with their lives, and Pascal was born to sail. When he's onboard, the boat goes fast – it's a fact."

All-rounder Kevin Escoffier was the fourth addition to the team. "Kevin has a very good reputation and has sailed with Pascal on multiple occasions. He is an excellent technician, tactician and sailor, he knows and understands these boats and his personality gels well with the rest of the crew."

The final and most recent addition to the crew is young French sailor Eric Peron. Although originally looking for an Anglo-Saxon, Eric brings professionalism and an impressive count of nautical miles to the team. "He has a way of making people feel comfortable in his presence and can always put people in a good mood, and this is absolutely key to every team," said Caudrelier. "Eric is an excellent sailor and a brilliant driver. This will be our first professional collaboration and Eric's first Volvo Ocean Race and I look forward to having him on the team."

Dongfeng Final Race Crew:

Charles Caudrelier, Skipper (FRA)
Pascal Bidegorry, Navigator (FRA)
Liu Ming (Leo), Trimmer (CHN)
Thomas Rouxel, Trimmer (FRA)
Martin Stromberg, Pit & Trimmer (SWE)
Jiru Yang (Wolf), Pit (CHN)
Kevin Escoffier, Bowman (FRA)
Jin Hao Chen (Horace), Bowman (CHN)
Eric Peron, Trimmer (FRA)
Cheng Ying Kit (Kit), Trimmer (CHN)
Onboard Reporter (TBC)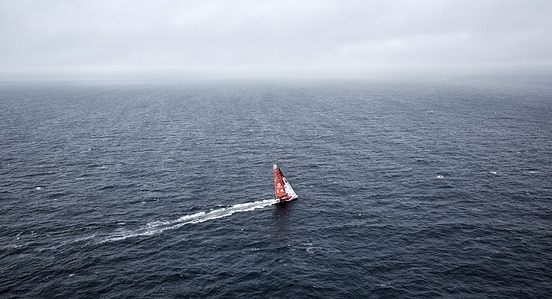 Team Director: Bruno Dubois

[Note: a total of 8 crew will race Dongfeng in the Volvo Ocean Race in addition to the Onboard Reporter. The skipper, Charles Caudrelier, will choose the 7 crew for each leg of the race from the 9 sailors above based on their skill set and the expertise required for each leg. The crew for the first leg from Alicante, Spain to Cape Town, South Africa, will be announced early September 2014, and the final crew for each leg thereafter, confirmed before each of the legs.]


DONGFENG COMMERCIAL VEHICLES

Since 1969 Dongfeng commercial vehicle is a core part of the Dongfeng Group. The head office is located in the cities of Wuhan and Shiyan in the Hubei province in China. Shiyan is also where the main production facilities are located. With core values of trust, professionalism and technique, Dongfeng Trucks is one of the leading truck brands in China. It has 29,000 employees and a production capacity of 200,000 trucks. Dongfeng Trucks have their own R&D resources, production and assembling facilities in China. This will cover not only the powertrain with engines, gearboxes and axles but also facilities for cabs and chassis. The product range covers heavy to medium heavy duty trucks, for operations in long haul, regional and local distribution plus construction and mining operations.

AEOLUS TYRES

Located in Jiaozuo, a beautiful city with well-developed transport facilities, Aeolus Tyre Co., Ltd. was founded in 1965 and has a total space of 625,000 square meters for manufacturing, research and development. The company is a bonded factory appointed by Customs General Administration People Republic of China, one of the key 520 enterprises of China, and Aeolus Tyres is ranked as top 5th tyre manufacturer in China and top 20th in the global tyre industry. Aeolus Tyre Co., stocks (A shares) are exchanged at SSE from Oct 21, 2003. The main products of the company consist of 'HENAN' brand and 'AEOLUS' brand for off-road tyre, all steel off-road radial tyre, all steel truck and bus radial tyre, passenger car radial tyre, all steel light truck radial tyre, truck and bus bias tyre, military tyre and industry tyre. Aeolus is one of the original tyre suppliers for DFCV and top original tyre supplier for Chinese leading engineering machinery corporations. The products of Aeolus Tyres are sold all over China and exported to more than 140 countries and regions worldwide.

CITY OF SHIVAN

Located in the heart of China, the unique City of Shiyan can be found in the northwest part of Hubei Province with the beautiful Han River running through it. Most commonly known as the birth place of Dongfeng Group, the City of Shiyan is one of the most prominent centres of commercial vehicle manufacturing in the world, ranking number one in China and number three in the world on a par with famous automobile cities, such as, Detroit.

Shiyan is also famous for its amazingly beautiful landscape and cultural heritage. It is the cultural centre of the Taoist faith, and one of the 100 'must-visit' tourism destination in the world. Wudang mountain is located in Shiyan alongside Asia's largest man-made lake the 'Danjiangkou Lake' (also known as the 'Asian Lake Léman').

Shiyan is a place with generous natural resources and a strong history surrounding them. Shennong, the legendary originator of Chinese herbal medicine tasted all the herbs here; while Li Shizhen, one of the greatest Chinese physician, scientist, herbalist and acupuncturist in history, completed his book 'Compendium of Materia Medica' in Shiyan.

OC SPORT

OC Sport is an award-winning and leading sports marketing and event management company. Operating on a global scale OC Sport provides first class consultancy to global brands, host venues and other event organisers. The company also manages competitive teams and athletes all over the world. They are involved a wide variety of projects including professional sailing, running, cycling, adventure racing and winter sports and strive to inspire both sport participants and fans. To find out more visit www.ocsport.com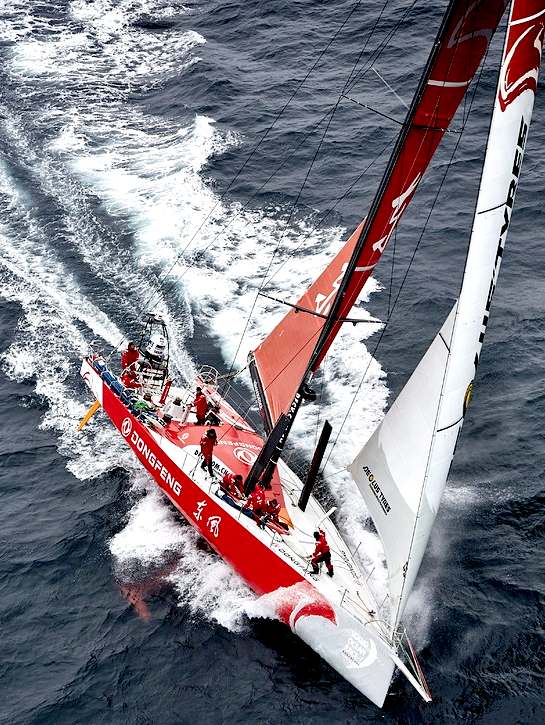 JUNE 3 2014 - DONGFENG'S NEAR MISS - The dangers of traversing the Atlantic Ocean

It's relatively easy to imagine the challenges you might face crossing the Atlantic Ocean in a Volvo Ocean 65. Dealing with storms, exhaustion, seasickness and feeling cold, wet and hungry 24/7 are a given, but few of us actually imagine some of the less obvious dangers that are out there in the depths of this unpredictable ocean, including other life forms.

From Skipper Charles Caudrelier: "We had the scariest experience to date during the night when we came so close to hitting a whale, so close we could hear it breathing. You can smell whales in the air but in the pitch black you can't tell where they are. You can't sense them in the water because very often when whales are at the surface it's because they're sleeping, so it's a nasty surprise for both the whale and us! I just held my breath knowing how close we were to potential danger but, thankfully, we didn't hit it – we just had a near miss. The night was one of the darkest I've ever experienced with absolutely no moon at all, we had barley any visual. When the night is that black it's hard for your eyes to adapt,"
reported Charles. "But all is well onboard. I'm very happy with how the Chinese guys appear to be coming into their own, they are showing true determination. I am especially pleased with how well Kong is doing considering he had less time to train than the other two. He has shown bravery and strength over the past 24 hours and I am very impressed. Onboard disappointment crept in as we realised that the high pressure in front of us had shifted, we tried to cross a front and it killed the wind from the west. We had light wind all day yesterday and as predicted at nightfall when the rain came we went from 10 to 40 knots in just a few minutes."

29 JANUARY 2014

ACADEMY SQUAD RACE 'HOME' TO A WARM WELCOME IN SANYA IN TIME FOR CHINESE NEW YEAR

It has been a thrilling adventure so far for the selected 8 Academy Squad sailors as they raced from Hong Kong to Sanya, China in two Jeanneau Sun Fast 3200's. Split into two teams they have been fiercely competing against each other for the past 48 hours in the South China Sea as part of their offshore training with Dongfeng Race Team. First team to arrive in Sanya at their Official Training Base at Serenity Marina was Team Number 2 with coach Nick Cherry and sailors Yang Jiru, Cheng Ying Kit, Shen Sheng, Lui Xue and Onboard Reporter Yuan Xiao. Sanya will now be home for Dongfeng Race Team and the Academy Squad as the training begins in earnest for the sailors in preparation for the start of the 2014-15 Volvo Ocean Race, backed by Dongfeng Commercial Vehicle Company Limited.

It was a picture of exhausted faces but smiles all round this afternoon as the Dongfeng Race Team Academy sailors arrived in Sanya to a warm welcome from the local community ahead of Chinese New Year. The two teams set off from Hong Kong late Monday morning to embark on this 48-hour mini offshore adventure to Sanya aboard the Sun Fast 3200's. The sailors were split into two teams with one coach and one onboard reporter per team. Winning Team 2 was lead by coach Nick Cherry who had
this to say, "Both Yang and Liu hadn't sailed overnight before and even though we were going downwind which is usually easier there was quite a big swell and they were both ill on the first night, which is normal. It's all about how you deal with it really and they both dealt with it very well, we're very pleased to have arrived at Serenity Marina first." Runners-up were Team 1 lead by coach John Thorn with Wu Liang, Zhang Yiran, Chen Jin Hao and Liu Ming, with female sailor Li Li trialling as their onboard reporter.
NOVEMBER 2013
A team from China backed by Dongfeng Commercial Vehicle Company and run by leading sailing company OC Sport, will race in the 2014/15 Volvo Ocean Race. Dongfeng Race Team will have the interests of Chinese sailing at its core with a significant number of Chinese in the final race crew, as well as its support team. Dongfeng Race Team is the third campaign to announce their participation in the 12th edition of the world's leading crewed offshore race that starts on October 11, 2014 from Alicante, Spain. Seven Volvo Ocean 65 boats are currently being constructed in readiness for the next race.
Two Chinese sailors have previously participated in the Volvo Ocean Race – media crew member Guo Chuan in 2008-09 on Green Dragon and "Tiger" Teng Jianghe in 2011-12 on Team Sanya, predating China's sailing success in the London 2012 Olympics with Xu Lijia winning gold in the women's laser radial.

But this project, and the planned establishment of an academy, has the potential to provide a major boost to the development of professional, and indeed all types, of sailing in China.

Volvo Ocean Race CEO Knut Frostad is quoted as saying that he expected Dongfeng Race Team to be a real contender. "I know there is a Chinese proverb saying: 'Everything is ready and all that we need is an east wind'. Now we have the support from DFCV and Dongfeng means "east wind" in Mandarin.
Ahead of being shipped to China on Wednesday, Green Marine have now officially handed over the Volvo Ocean 65 'Dongfeng' to OC Sport. On the other side of the globe in Sanya, China the Dongfeng Race Team is preparing to put Chinese athletes through their paces in the first of several sailing team selection trials.

Dongfeng has successfully completed its sea trials in the Solent, UK and was lifted out of the water this morning in preparation for shipment on the 18th of December to Hong Kong. "The sea trials and boat tests have gone really well over the past 10 days and Green Marine has done a fantastic job," said Team Director, Bruno Dubois. "It's a special first milestone for the Dongfeng Race Team campaign and it feels like it starts here as the team take delivery of the boat, and we begin our very exciting journey to the start line of the Volvo Ocean Race just 10 months away." Green Marine is responsible for the complete assembly and fit out of the Volvo Ocean 65s. Over the course of a 18-week period for the boat, Green Marine assembles the primary and secondary structures, installs and fits out the interior including all electrical, hydraulic, steering and other systems, fits the keel and deck gear, and finally paints and commissions the finished yacht.


Meanwhile on the other side of the world Dongfeng Race Team is preparing for the first round of the Chinese applicants selection trials. "The first phase of the Chinese recruitment process is predominantly focused on the sailing team. In other words, finding Chinese athletes who want to take on this extraordinary challenge," explains Dubois. "We have a team who manage the selection trials process for the UK-based Artemis Offshore Academy flying to China. They will put in place a series of tests over a period of 36 hours to test the candidates physical and mental capabilities – the nature of these tests are kept confidential so the sailors do not know what to expect and cannot prepare in anyway. What we know for sure is that they will get very little sleep! We will measure how they react, how they feel, how they adapt themselves to different and stressful situations because that's exactly how it will be out there on the Volvo Ocean Race."

The first round of the selection trials will last approximately two days from 8:00am Monday 16th December to the evening of Tuesday 17th December. The candidates will have little sleep during this time and will be expected to participate in team building tests, physical strength activities and mental challenges. The response to the recruitment process has exceeded expectations and 20 Chinese athletes have been selected to be trialled in what will be the first of several trials. "On paper some of them are looking very good," said Dubois. "Physically very strong, open to learning, speaking Chinese and some English, some have been sailing at a high-level like AC45, Laser, Finn. I think we will have some good candidates and it has not been a problem to find the first 20 to take part in these trials. The key is to pick the right ones, the ones that will learn quickest and gel as a team, and I need to make sure that from now to the start of the race they become really strong and grow into as good a Volvo Ocean Race sailors as is possible in the limited time we have."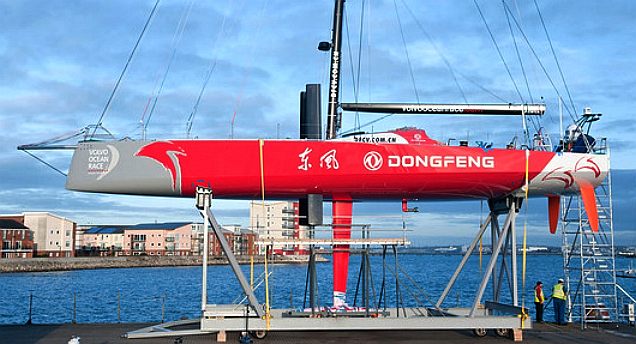 The training programme for Dongfeng Race Team will begin in earnest once the boat has arrived in China bringing together the professional western crew and the Chinese sailors. "It is likely we will run one or two more selection trials early next year," continued Dubois. "Our objective, come March, is to have an elite squad of 6-8 Chinese sailors. The 'only' thing we have left to do from there is sail from China back to Europe, effectively half of the Volvo Ocean Race course, during which the elite squad will sail on board in rotation over the legs. It's really quite ambitious what we're doing. But the guys need to clock up the hours, they need to spend night and day on the water, they need to experience the Southern Ocean and what it is like to round Cape Horn. If they arrive at the start in Alicante having completed this journey they will understand at least in part what they are heading for, and they won't be complete newcomers." The final crew line-up that will include up to three or four Chinese sailors will be announced next June (see above).
CONTACTS
Amy Monkman (English language)
amy.monkman@ocsport.com
Xiaowei Wu / Capri Wu (Chinese language)
capri@ocsport.com
Office Telephone: +44 1983 282 797
For more information on the Volvo Ocean Race please visit:
www.volvooceanrace.com
Digital Media Exchange (DME)
Download digital content e.g photos, videos, press releases at the Team Dongfeng Digital Media Exchange (DME) – Click here to signup/login.
If you have any problems registering or if you can't find the content you are looking for, please email dme@ocsport.com
news@teamdongfeng.com

LINKS
English CN TV 2015/02/06/ VIDEO Miss World Rolene Strauss Volvo Ocean Race Dongfeng
Volvo Ocean Race Miss World hits news heights
http://www.volvooceanrace.com/en/news/8399_Miss-World-hits-new-heights.html
http://english.cntv.cn/2015/02/06/VIDE1423192922715495.shtml
Dongfeng-confirms-four-chinese-sailors-who-will-race-in-the-volvo
http://www.mysailing.com.au/news/dongfeng-confirms-four-chinese-sailors-who-will-race-in-the-volvo
http://www.volvooceanrace.com/en/news/7360_Team-Dongfeng-a-Chinese-entry-in-the-Volvo-Ocean-Race-2014-15.html
http://www.bluebirdsailing.org.au/index.htm
http://en.wikipedia.org/wiki/Anton_Flettner
http://en.wikipedia.org/wiki/Rotor_ship
http://en.wikipedia.org/wiki/Turbosail
Espacenet.com/Jaques_Cousteau_Turbosail_Patent US 4630997