The aircraft carrier Charles de Gaul
The French Navy, officially the Marine nationale ("National Navy") and often called La Royale, is the maritime arm of the French military. Tracing its roots back from 1624 it is one of the world's oldest naval forces and historically played a key part in establishing the French colonial empire. Since 2008, its roles have been defined as maintaining intelligence, protecting populations, prevent crises, intervene wherever necessary to reestablish peace, and dissuade any threats against vital French interests. The Marine nationale consists of four branches, the Force d'Action Navale, the Forces Sous-marines, the Aeronavale and the Fusiliers Marins (including Commandos de Marine). As a blue-water navy the Marine nationale operates a wide range of fighting vessels, including a nuclear-powered aircraft carrier, nuclear-powered submarines, frigates, patrol boats and support ships. The French Navy does not use prefixes of the names of its ships (such as the Royal Navy uses HMS, for instance). Foreign commentators sometimes use the prefixes "FS" (for "French Ship") or FNS (for "French Navy Ship"); these are not official, however.

As of early 2012, the French Navy employs a total of 38,643 regular personnel. The reserve element of the French Navy consists of; 5,519 personnel of the Operational Reserve and 4,752 personnel of the Citizens Reserve.

The motto of the navy is Honneur, patrie, valeur, discipline ("Honour, Fatherland, Valour, Discipline") and these words are found on the deck of every ship in the fleet.
SHIPS and SUBMARINES
Where French naval doctrine calls for two aircraft carriers, as of 2013 the French Navy only has one, the Charles de Gaulle. Originally a planned order for the Future French aircraft carrier was based on the design of the British Queen Elizabeth class aircraft carriers currently under construction for the Royal Navy. However the French programme had been delayed several times for budgetary reasons and the result was priority being given to the more exportable FREMM project. In April 2013 it was confirmed that the second aircraft carrier project would be abandoned due to defence cuts announced in the 2013 French White Paper on Defence and National Security.

The French Navy operates three amphibious assault ships, one amphibious transport dock, two air defence frigates, 7 anti-submarine frigates and six fleet submarines (SSNs). This constitutes the French Navy's main ocean going war-fighting forces. In addition the French Navy operates five light frigates, six light surveillance frigates and nine Avisos (or sloops). They undertake the navy's offshore patrol combat duties, the protection of French Naval bases and territorial waters, and can also provide low-end escort capabilities to any ocean going task force. The four ballistic missile submarines (SSBN) of the navy's Strategic Oceanic Force provide the backbone of the French nuclear deterrent.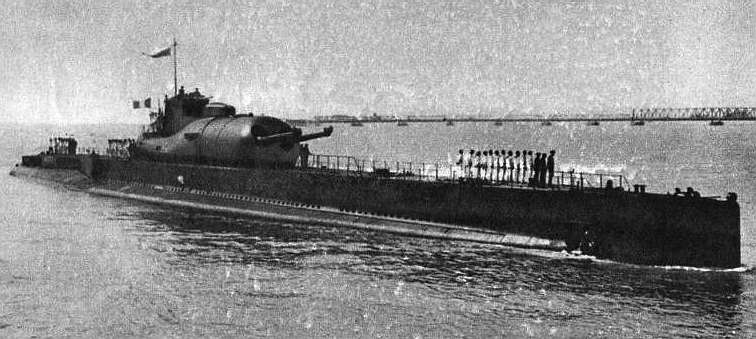 The French submarine Surcouf in 1935
FUTURE of the NAVY
1. FREMM multipurpose frigates — The first eight vessels were ordered in November 2005 and three more on September 30, 2009. Construction of the Aquitaine, the first ship of the series built for the French Navy, began in March 2007. She was unveiled during a ceremony at the DCNS shipyard in Lorient, France on May 4, 2010. The Aquitaine (D650) is due to be delivered during 2012, the second FREMM, the Normandie is scheduled for delivery 13 months later, followed by a delivery rate of one ship every seven months. The FREMM program is planned to continue until 2022. The first eight ships are to be supplied in an ASW (anti-submarine warfare) configuration. It looks increasingly unlikely that units 9, 10 and 11 will be ordered as per the 2013 white paper on defence and national security.

2. Barracuda class submarines — Six of the nuclear attack submarines are planned, the first to be commissioned, the Suffren, is being expected for 2017.

3. Gowind class corvette, L'Adroit.

4. New models of the successful Exocet missile to be produced.

5. Land-attack cruise missiles: such as SCALP EG to be used by surface warships and submarines.


2013 WHITE PAPER
The 2013 French White Paper on Defence and National Security announced significant cuts to the French Navy and abandoned plans for a second aircraft carrier.
The 2008 French White Paper on Defence and National Security was a defence reform of the French Armed Forces. On 31 July 2007, President Nicolas Sarkozy ordered M. Jean-Claude Mallet, a member of the Council of State, to head up a thirty-five member commission charged with a wide-ranging review of French defence. The commission issued its White Paper in early 2008. Acting upon its recommendations, President Sarkozy began making radical changes in French defence policy and structures starting in the summer of 2008. The proposed force structure was to be complete by 2014-2015.


SUMMARY

As part of the White Paper Sarkozy declared that France "will now participate fully in NATO." Total cuts of 54,000 personnel.

The French Armed Forces will retain the ability to deploy up to 30,000 troops in a single overseas deployment.
For the first time, cyber security (both defensive and offensive) was also listed as a key priority for the French state.
There will be a reduction of Navy personnel to 44,000 regular and civilian personnel. Possibility of a new aircraft carrier to complement the existing Charles de Gaulle (R91). Final decision to be made in 2012 - now abandoned.

There is a possibility of a 4th Mistral-class amphibious assault ship.

The 5 La Fayette-class light frigates are to be re-classified as "1st rank frigates".

They will build to a total strength of 18 "1st rank frigates" (including the less powerful La Fayette-class).

The expected order of FREMM multipurpose frigates will be reduced from 17 to 11. Units 10 and 11 to be built in the air-defence role (FREDA derivative).

The 6 light surveillance frigates to remain in service (the Floréal-class).

The construction of 6 Barracuda-class submarines will proceed.
ENTENTE FRUGAL

Entente frugale is a term for cooperation between the British and French governments, particularly in military procurement, which is driven by cost constraints, which was announced in November 2010.

The name is a wry reference to the entente cordiale.

Together, France and the UK account for half of all military spending in the EU, and two thirds of R&D.
LANCASTER HOUSE TREATY - ANGLO FRENCH ALLIANCE

The Lancaster House Treaties of 2010 are two treaties between the French Republic and the United Kingdom for defence and security cooperation. They were signed at 10 Downing Street on 2 November 2010 by President Nicolas Sarkozy and Prime Minister David Cameron.

Downing Street Declaration

The 2 November 2010 Downing Street declaration by President Sarkozy and Prime Minister Cameron. The elements of this declaration are as follows.

Defence and Security Cooperation Treaty: The purpose of this is to develop co-operation between British and French Armed Forces, the sharing and pooling of materials and equipment including through mutual interdependence, the building of joint facilities, mutual access to each other's defence markets, and industrial and technological co-operation.

Nuclear Stockpile Stewardship: Collaboration on the technology associated with nuclear stockpile stewardship in support of both countries' independent nuclear deterrent capabilities, including a new joint facility at Valduc in France that will model performance of nuclear warheads and materials to ensure long-term viability, security and safety – this will be supported by a joint Technology Development Centre at Aldermaston in the UK.

Operational Matters: It was also decided to sign a Letter of Intent, creating a new framework for exchanges between UK and French Armed Forces on operational matters.

Industry and Armaments: It was decided to direct the UK-France High Level Working Group to strengthen its work on industrial and armament cooperation.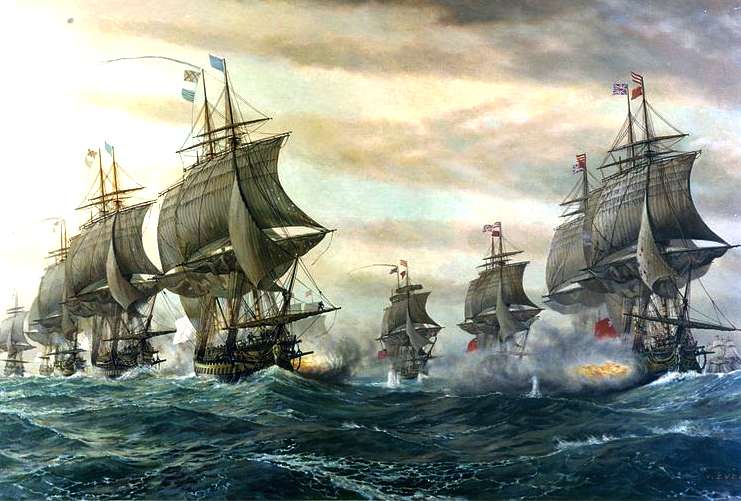 Those were the days, ships lining up for a jolly good pounding, canon against canon, brute force. Today, one missile would do the job. No matter how expensive and sophisticated your battleship, it only takes one strike from a modern weapon to neutralize $billions of dollars of military investment.

OPERATIONS and TRAINING

Combined Joint Expeditionary Force

It was decided to develop a Combined Joint Expeditionary Force suitable for a wide range of scenarios, up to and including high intensity operations. It will involve all three armed Services: there will be a land component composed of formations at national brigade level, maritime and air components with their associated Headquarters, and logistics and support functions. It will not involve standing forces but will be available at notice for bilateral, NATO, European Union, United Nations or other operations. It will begin with combined air and land exercises during 2011 and will develop the concept before the next UK-France Summit and progress towards full capability in subsequent years. The Force is intended to stimulate greater interoperability and coherence in military doctrine, training and equipment requirements.

Aircraft carriers

The UK had earlier announced that it had decided to install catapults and arresting gear to its future operational aircraft carrier, creating opportunities for UK and French aircraft to operate off carriers from both countries. Building primarily on maritime task group co-operation around the French carrier Charles de Gaulle, the UK and France would have aimed to have, by the early 2020s, the ability to deploy a UK-French integrated carrier strike group incorporating assets owned by both countries. This was to ensure that the Royal Navy and the French Navy would work in the closest co-ordination. The decision to install catapults and arresting gear was later reversed.
Equipment and capabilities

They agreed cooperation in the following areas.

* A400M support and training.
* Submarine technologies and systems
* Maritime mine countermeasures
* Satellite communications
* Air to air refuelling and passenger air transport
* Unmanned air systems
* A 10 year strategic plan for the British and French Complex Weapons sector.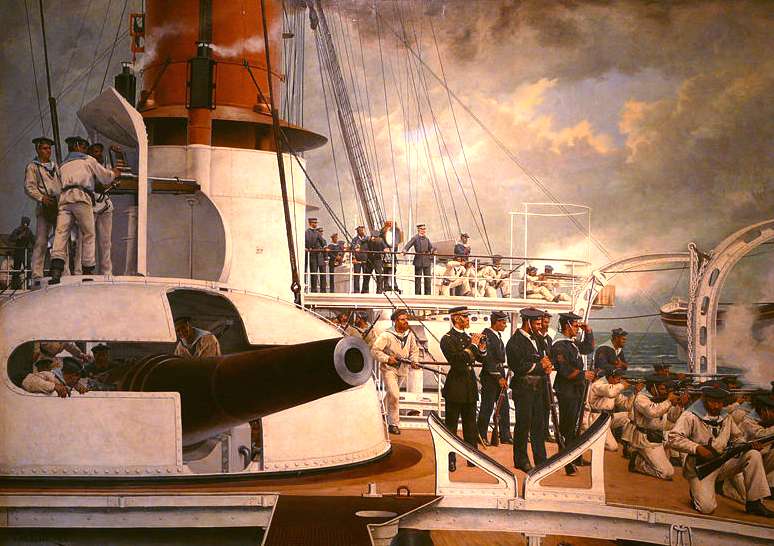 The development of warships continued with iron armour cladding, then steam power.
RESEARCH and TECHNOLOGY

To continue with their significant R&T co-operation, devoting an annual budget of €50m each to shared research and development, with the aim of increasing this where possible.

To focus on a set of 10 priority areas that will include time critical research support to satellite communications, unmanned systems, naval systems and complex weapons. including new areas of critical industrial importance such as sensors, electronic warfare technologies, and materials, as well as novel areas such as simulation and a jointly funded PhD programme.

Cyber security. France and the UK agreed a framework which will govern their enhanced co-operation in this area, leading to strengthened individual and common resilience.

Counter-terrorism

To develop co-operation in the following areas:

The early detection of terrorist activities and terrorist recruitment.
The sharing of information on changes in the national threat level.
The prevention of terrorism through nuclear, radiological, biological, chemical and explosive devices, including through the Cyclamen programme for screening traffic passing through the Channel Tunnel;
The protection of our populations and critical infrastructure.
The security of commercial aviation.
Support in building the capacity of countries outside Europe for the fight against terrorism.

International security

France and UK agreed that NATO remains the fundamental guarantor of Europe's security and that they would pursue closer co-operation across the board between NATO and the EU, and a lasting partnership between NATO and Russia based on practical co-operation and reciprocity.
Relationship to European Union Defence Policy

The treaty is bilateral between the UK and France and does not have a formal link with the European Union's Common Security and Defence Policy. It does not use the separate Lisbon Treaty's Permanent Structured Cooperation facility, nor involve the European Defence Agency.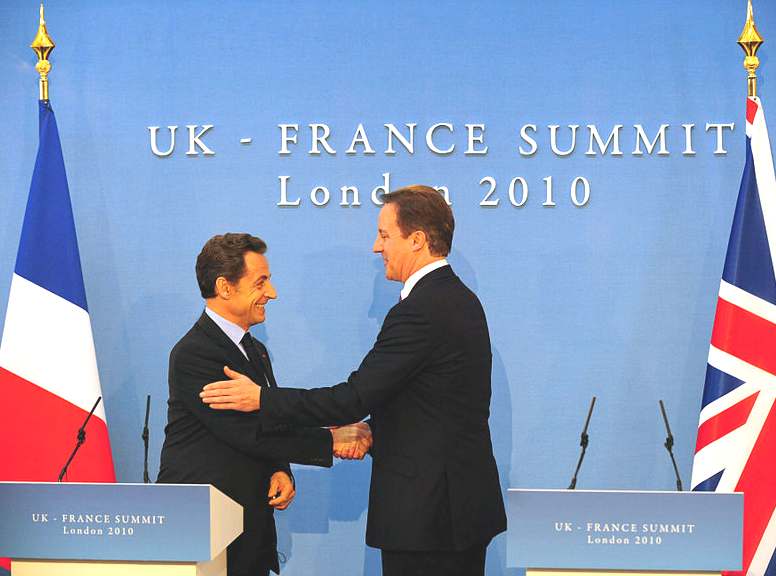 Nicholas Sarkozy and David Cameron signing the Lancaster House Treaty in 2010
LINKS
http://en.wikipedia.org/wiki/French_aircraft_carrier_Charles_de_Gaulle
http://en.wikipedia.org/wiki/French_Barracuda_class_submarine
http://en.wikipedia.org/wiki/FREMM_multipurpose_frigates
http://en.wikipedia.org/wiki/French_Navy
http://en.wikipedia.org/wiki/2013_French_White_Paper_on_Defence_and_National_Security
http://en.wikipedia.org/wiki/2008_French_White_Paper_on_Defence_and_National_Security
http://en.wikipedia.org/wiki/Naval_Oceanographic_Office
http://www.maritimejournal.com/news101/industry-news/ukho-appoints-new-national-hydrographer
http://www.ths.org.uk
http://www.spri.cam.ac.uk/friends/committee/
http://www.thefutureofnavigation.com/ten_steps.aspx
http://www.quaynote.com/ankiti/www/?code=ecdis13&f=programme
Wiki United_Kingdom_Hydrographic_Office