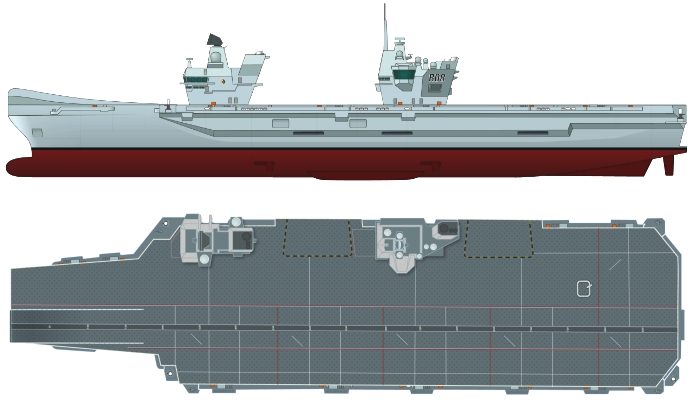 BATHTUB DINOSAUR SENILITY - With the advent of drones and intelligent guided missiles, these floating museums might be seen as showboating in the extreme. The breakdown of the HMS Prince of Wales in February 2023, demonstrates the folly of investing in one large chunk of floating metal, when it can be disabled completely, like the Bismark, with one well aimed shot. What is needed in the modern world, are smaller autonomous, robotic craft, that carry drones like the Raptor - as many as they can carry. Before returning to a friendly port to re-arm. The war in Ukraine has shown that missiles aimed with great accuracy, are the order of the day. Low level satellites can be used to target the enemy with pinpoint accuracy. It's all about numbers and bombardment in the real world. Top-Gun Maverick days are over. Great film though it was. We don't need to sacrifice fighter pilots and we don't need TO sacrifice crew. The same applies to land based warfare. We need small agile robotic vehicles, well armed with missiles, that are cheap to deploy in large numbers, and difficult to eradicate, through sheer numbers. Heavy tanks will one day be a thing of the past, as will infantry. The first nation to develop and deploy such machines, are more likely to be the victor. World class tech leaders.
LAUNCH: QE FLOATS FOR THE 1st TIME - JULY 17 2014
The U.K.'s largest ever warship the new R08 and R09 QE-class carriers – the Queen's 21st century battleships, has today been floated out of the dock in which she was assembled, according to BAE Systems.
The RO8 was ordered in May of 2008, contracts signed by the UK's MOD and industry (Portsmouth, July 3, 2008), she was laid down July 2009. The builders are: BAE Systems Surface Ships, Thales Group, Babcock Marine.
In an operation that started earlier this week, the drydock in Rosyth near Edinburgh was flooded for the first time to allow the 65,000-metric-ton aircraft carrier to float. It then took three hours this (17-7-14) morning to carefully maneuver HMS Queen Elizabeth out of the dock with just two meters clearance at either side and then berth her alongside a nearby jetty.
Teams will now continue to outfit the ship and steadily bring her systems to life in preparation for sea trials in 2016. The dock she vacates will be used for final assembly of her sister ship, HMS Prince of Wales, which will begin in September.
The float out of HMS Queen Elizabeth comes just 13 days after the vessel was named by Her Majesty the Queen in a spectacular ceremony.
HMS Queen Elizabeth and HMS Prince of Wales are being delivered by the Aircraft Carrier Alliance, a unique partnership between the Ministry of Defense, BAE Systems, Babcock and Thales.
Smiling all the way to the bank, British naval subcontractors are reaping the rewards of reckless government spending in times of economic austerity, on warships that are not needed in time of peace. Who in their right mind builds the biggest ever ship when there is no need for that vessel - and worse still, such behemoth is, as the Germans found out in WW2, a target that an enemy will sink first at very little cost. Talk about putting all your eggs in one basket.
CHRISTENING JULY 6 2014
Her Majesty The Queen has officially named the HMS Queen Elizabeth in front of a crowd that included shipbuilders, the Prime Minister and the Defence Secretary, informs the UK Ministry of Defence.

The naming ceremony concluded with the smashing of a bottle of whisky over the bow of the ship. Whilst traditionally a bottle of champagne is used to smash against the bow, given the carrier's Scottish roots, it seemed most fitting for a bottle of Islay whisky to be used instead.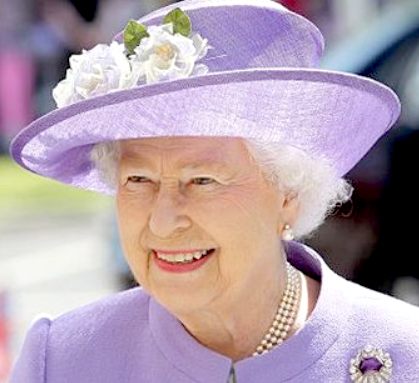 With the Royal Yacht Britannia gone, the Queen can hold her head high in the knowledge that GB still has something afloat to be proud of, and with her name on it. Proud of the size and achievement, not so enthusiastic about the pollution and debt we dare say.

UK MOD explains that towering at 56 metres and weighing in at [displacement] 65,000 tonnes, HMS Queen Elizabeth is the largest ship ever built for the Royal Navy in times of peace. She will be used in a full range of military tasks, from war-fighting to providing humanitarian aid and disaster relief, even though this should be a function of other organisations and not be for expensive military machinery to perform, but other more cost effective transport that does not require air strike capability.

Operating with Lightning II Joint Strike Fighter jets onboard and having a long-range 3D radar fitted which can track a tennis ball traveling at 2,000 miles per hour, HMS Queen Elizabeth will be versatile enough to carry out these capabilities.

Blocks of the ship were manufactured at yards in Devon, Rosyth, Portsmouth, on the Clyde, and on the Tyne, before being assembled in the dockyard at Rosyth.
Defence Secretary Philip Hammond is quoted as saying:

"HMS Queen Elizabeth is the largest ship that the Royal Navy has ever had, and is a true demonstration of the UK at its best, with over 10,000 people across the nation working together to deliver her. This occasion marks a major milestone in regenerating the UK's aircraft carrier capability, enhancing our ability to project power anywhere in the world."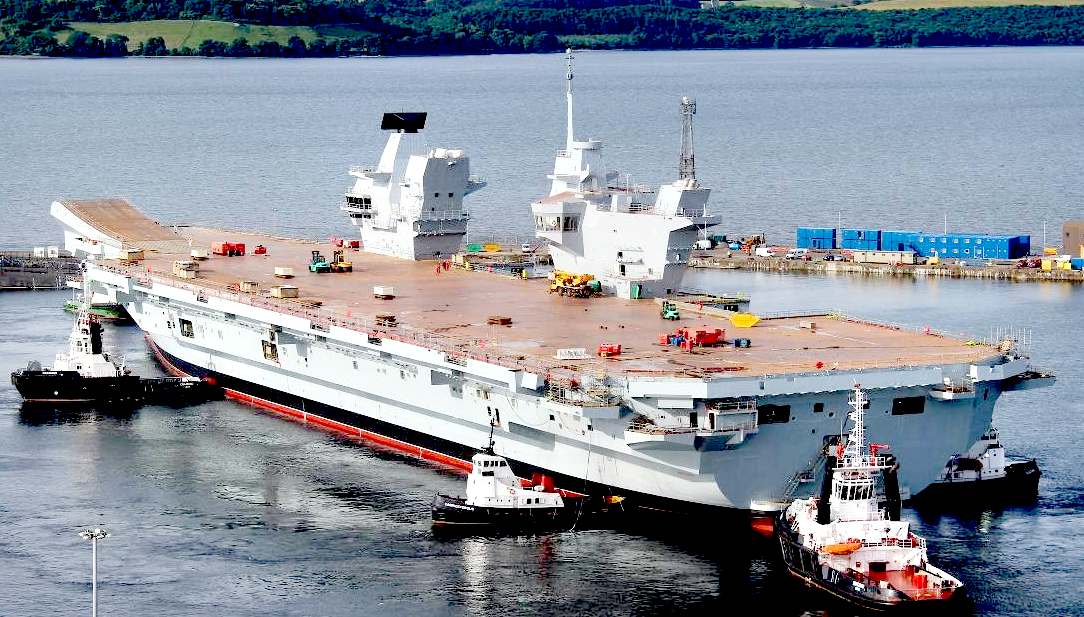 Aircraft carriers remain the ultimate symbol of a nation's naval power in an age where drones and missiles are the real threats. Geoff Searle, the program director for the ACA, battleships like HMS Queen Elizabeth aircraft carrier is quoted as saying: "are a significant diplomatic tool – they can go anywhere and do anything" – one colossal mobile airfield that you can park anywhere. At the staggering cost of over 5,5 billion dollars each, the two new UK aircraft carriers of the QE-class cost as much as 10 big cruise ships – each. In a WWIII situation, an enemy is likely to target the Nimitz and QE class carriers to level the playing field. It's a giant international "dick" measuring exercise with potentially far reaching consequences, not least of which is; how much has this increased our national debt?

Admiral Sir George Zambellas, the First Sea Lord is quoted as saying:

"The naming of HMS Queen Elizabeth heralds a new dawn, not only for the Royal Navy but also for the delivery of our nation's security. Her journey ahead will be global, strategic and one of inter-service and international partnership."

Work is already underway on HMS Queen Elizabeth's sister ship, HMS Prince of Wales, which will start to be assembled in Rosyth dockyard later this year (2014).
CONTRACT
It is truly amazing that we can construct such giant structures, very much in the way of a modern pyramid must have seemed to ancient Egyptians. The Queen Elizabeth class (formerly the CV Future or CVF project) is a class of two aircraft carriers planned to be built for the Royal Navy. HMS Queen Elizabeth is expected to begin sea trials in 2017 with an initial operational capability in 2020; the decision whether to operate HMS Prince of Wales will not be taken until 2015.

The contract for the vessels was announced on 25 July 2007 by the then Secretary of State for Defence, Des Browne, ending several years of delay over cost issues and British naval shipbuilding restructuring. The contracts were signed one year later on 3 July 2008 after the creation of BVT Surface Fleet through the merger of BAE Systems Surface Fleet Solutions and VT Group's VT Shipbuilding which was a requirement of the UK Government.

The vessels were originally expected to displace about 65,000 tonnes (64,000 long tons), however, as construction continued, the revised estimate of 70,600 tonnes was revealed by the Royal Institute of Naval Architects. The ships will be 280 metres (920 ft) long and have a tailored air group of up to forty aircraft (though are capable of carrying up to fifty at full load). They will be the largest warships ever constructed for the Royal Navy. The projected cost of the programme is £5.9 billion.

The carriers will be completed as originally planned, in a Short Take-Off and Vertical Landing (STOVL) configuration, deploying the Lockheed Martin F-35B. Following the 2010 Strategic Defence and Security Review, the British government had intended to purchase the F-35C carrier version of this aircraft, and adopted plans for Prince of Wales to be built to a Catapult Assisted Take Off Barrier Arrested Recovery (CATOBAR) configuration. After the projected costs of the CATOBAR system rose to around twice the original estimate, the government announced that it would revert to the original design on 10 May 2012.

Under the previous plans, the Royal Navy would operate only one aircraft carrier, routinely equipped with 12 fast jets. However, the Chief of the Defence Staff has subsequently said that the STOVL design, "gives us the ability to operate two carriers if we choose." The final decision will be made at the next major strategic defence review, expected in 2015.
From one extreme to the other. The leading section of the bows looks like a torpedo. It seeks to reduce hull drag by inducing laminar flow ahead of the conventional bow wave. All new cruise ships feature a "bulbous nose". It is a strangely looking protruding nose located at the ship's bow just below waterline. This hydrodynamic appendage reduces drag and increases the speed and operational range, making the QE fuel efficient (10-13%) and more stable (increasing buoyancy of the hull's forward part, thus reducing pitching motion to a very small degree). The "ER" on the bow stands for "Elizabeth Regina" – this is the QE ship's coat of arms.
The huge propellers are designed to convert rotary motion into thrust, to push the huge steel hull through the water. Any way you slice this particular cake, the warship will contribute hugely to global warming. £3.5 billion could be wiped out by one cruise missile. There must be a cleaner, safer way to patrol our oceans and deter threats.
In 2012 the Rolls-Royce company repackaged the MT30 turbine so that it would fit into smaller ships. The company will offer the MT30 model to the Royal navy for the CODLOG system in the RN's Type 26 frigates (their construction to start in 2015). The MT30 engine design is based on Rolls-Royce Trent 800 aero engine, which achieved a 44% share of Boeing's 777 program. Both QE-class UK aircraft carriers have the most powerful gas turbine in the world. HMS Queen Elizabeth power output is 109 MW (total). This absolutely stunning power generation capability features the two 120-tonne Rolls-Royce MT30 marine gas turbine engines.

Each of the HMS QE ship's 2 gas turbines (the MT30 model was firstly produced in 2002) generates 36 MW – enough to power a small town. Both gas marine turbines will provide the power for the 2 propellers, weapons, sensors, command systems, the lower voltage requirements of the ship's company. The MT30 turbine was engineered to meet the needs of both naval ships and commercial marine vessels. The list of its naval applications includes frigates, destroyers, and of course – aircraft carriers. The gas turbine main features are:

* compact size (15ft /4,5m in length)
* light weight (total module weight as a set 77t)
* great flexibility to the ship design process
* full authority digital control
* fully integrated alarm, monitoring and control
GAS GUZZLER STATISTICS
Cost to Build: £3,5 billion (US$5,520 billion), which is exactly £7 billion for the two carriers of the QE-class by the 2008 contract. And the money goes to (related to the construction of both ships): £1,325mill to BVT Surface Fleet (BAE and VT Group joint venture) for building the huge sections at Govan and Portsmouth, £300mill to BAE for the sections at Barrow-in-Furness, £675mill to Babcock Marine for the bow section/final assembly/completion at Rosyth, £425mill to Thales UK (design/engineering), £275mill to BAE (design and supply of Mission Systems (Insyte), additional contracts for the steel, diesel generators, aircraft lifts, key electronics.
Jobs created: hull section (Portsmouth – 1200), hull sections (Govan/Clyde – 3000+), hull section (Barrow-in-Furness – 400+), BAE Systems Insyte (Frimley, Surrey – 145), Thales UK (Bristol and Crawley – 250), for the assembly of both ships (Rosyth – 1,600). In the end of 2013, a total of 10,000+ people were involved in the process of building and providing equipment for the new UK carriers.
Size Comparison: HMS Queen Elizabeth will be 3 times the size of the UK's only one remaining carrier HMS Illustrious and will be 2nd only to the USA's nuclear-powered Nimitz-class aircraft carriers.
Year of service: the end of 2017, fully operational by the end of 2020 (with HMS Prince Of Wales 2 years behind). On HMS QE sea trials to begin 2017, flight trials – 2018.
Homeport: (Her Majesty's Naval Base) HMNB Portsmouth, one of three UK operating bases for the Royal Navy (along with HMNB Clyde and HMNB Devonport).

Capacity/Crew: 1450 (1600 company+aircrew), complement 686+, max 40 aircraft (which is double the existing UK carriers capacity).

The "food statistics" infographic (fun facts regarding the catering and food supplies on board the QE aircraft carrier) says the following: 40 chefs among the cooking staff, 12,000 tins of beans, 64,800 eggs, 66,000 sausages, 28, 800 bacon rashers, 1,000 loaves of bread (a day).

(Royal Navy) Ship Class: Queen Elizabeth-class aircraft carriers (2 ships-in-class – sister ship HMS Prince of Wales (R09).

HMS QE carrier's first Captain will be Commodore Jerry Kyd – former Captain of the UK aircraft carriers Ark Royal (1981-2013/scrapped) and Illustrious (1978-in active service). Godmother is Her Majesty the Queen Elizabeth II.
Including the Flight Deck, the QE hull is 9 decks deep. Due to budget restraints, a number of hull armor features were dropped form the original project design (the armored bulkheads and the side armorplates). QE's hull design allows a future upgrade/conversion to accommodate a catapult launch system.

Deck area/facilities: 172,220 ft2 (or 16,000 m2, or by the words of one official "4 acres of sovereign territory" at sea), a huge hangar below deck (50,600 ft2 / 4,700 m2, volume 29000m3), flight deck (140,000 ft2 / 13,000 m2, ski jump angled at 13°), 2 aircraft lifts (capable of 70t loads/ which means two F-35′s/ to flight deck from the hangar in 60 sec), machine rooms, water-treatment equipment, ammunition storage space, a weapons handling bay, a room for the crew to play football (located in the passageways), accommodations for 1650, no catapults/arrestor wires.
Weight/Displacement: 65,600 tonnes (64,600 long t) at deep/full load. This is about 3 times the size of the Royal Navy's current aircraft carriers of the Invincible class. For the construction of the two UK future aircraft carries a total of 80,000 t. of steel will be used.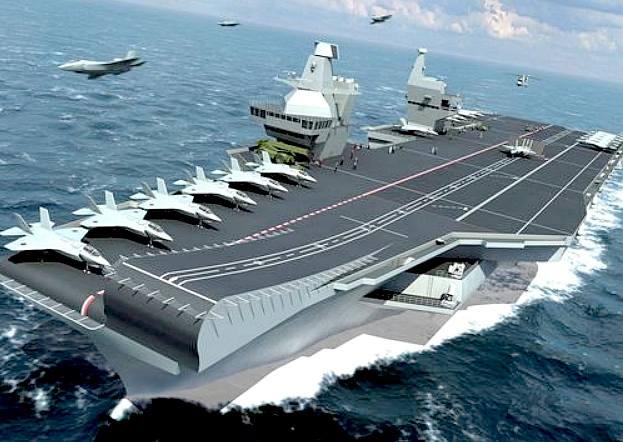 IMO number: 4907892.

* Length overall 932 ft (284 m).
* Width/Beam: overall/flight deck 239,4 ft (73 m), waterline 128 ft (39 m).
* Height: 184 ft (56 m) overall/from keel to masthead.
* Draught/Draft: 36 ft (11 m).
* Top Speed: 25 kn (29 mph or 46 km/h).
* Range: up to 10,000 nautical ml (19,000 km).
* Service life of up to 50 years.


DINOSAURS & TAXES
Aircraft carriers are an outdated form of battleship that superpowers like to parade about the ocean to demonstrate affluence, in the process polluting the planet massively and raping the taxpayer to be able to play with these new toys - that with other far more economical methods of defense, is nothing less than empire building.
The new UK Queen Elizabeth class carrier is no exception. It's like someone buying a suit that one cannot afford, just to come to the table and appear wealthier that one really is, but in reality the buying of the suit is at the expense of an unsustainable national debt.
Most navies have retired this class of warship with no plans to commission another. A few navies are newly dabbling with self-build to discover the tremendous cost causing delays to completion. Only the US and UK (both of whom have serious national debts) are investing seriously in replacing the Nimitz class so that they can continue to thumb their noses at poorer less advanced nations like playground bullies.
These days it only takes one torpedo, or one cruise missile to sink a large warship. The larger the conventional warship the more staggering the loss of life - and the blow to the nation concerned. It's a high price to pay for a bit of ocean swagger, where the money would be far better spent providing clean (free) energy from nature for housing and zero pollution electric motoring. That is of course another means to keeping the peace, instead of constantly coveting our neighbors oil reserves - the cause of most serious military engagements in the past ten years.
The question is that with stakeholders prepared to do just about anything to secure defense contracts, how is the man in the street to know who agreed what, why and how much may have been involved in brown envelopes. Generally in tackling procurement fraud one need look no further than the companies involved and the administration that is running the country. This is one reason that politicians should not be allowed financial interests in business, and especially not in foreign businesses, and that military procurement should be as a result of facts upon which the public have a direct say.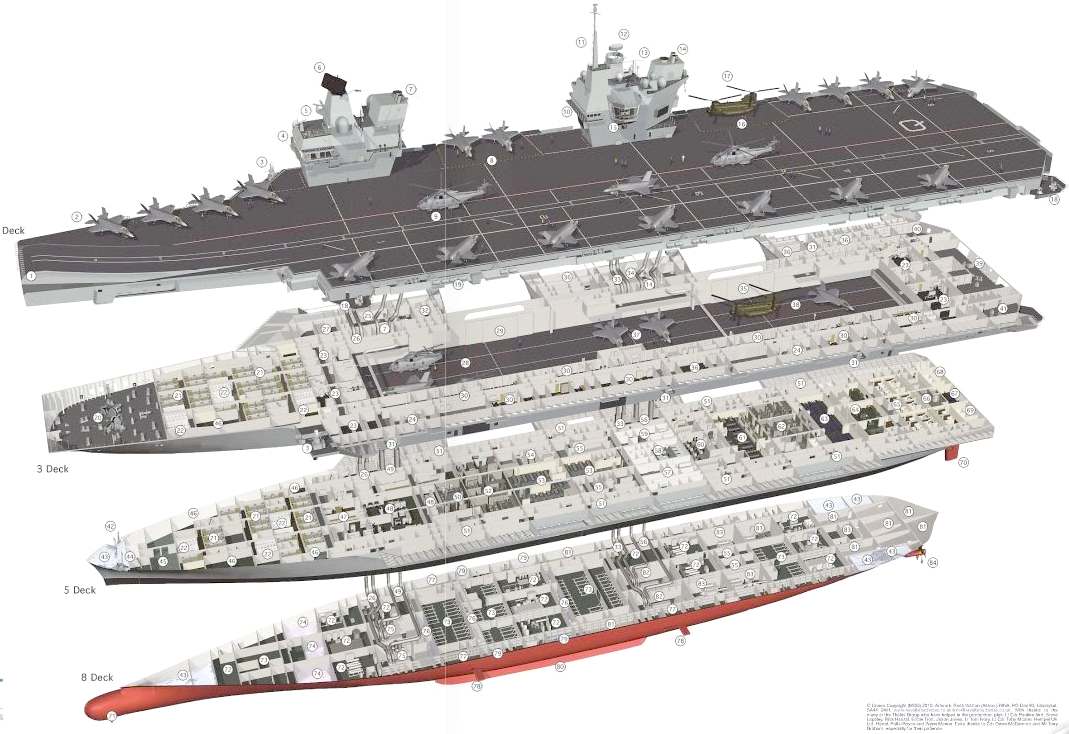 MY LORDS, LADIES and GENTLEMEN - 24 JULY 2014 DAILY MAIL
With a cynical grin, Russian business magnate Kirill Babayev told an audience of his peers how to inveigle their way into the British Establishment. The first step, he declared, is to hire a few 'grey-haired' members of the House of Lords to act as 'consultants', or non-executive directors, of your company.

For just a few thousand pounds a month (chicken-feed to the average oligarch) they'll usually agree to take a seat in your boardroom, Babayev said, providing an instant boost to a wealthy Russian's prestige and contacts book. After that, securing a UK stock market listing, signing lucrative deals with British firms, or simply getting invited to all the right London parties becomes a piece of cake.

This cunning ruse works, Babayev added, even if the British peers 'don't know a thing about the operations' of whatever company they agree to represent. 'They don't actually do anything, and they are perfectly aware of this fact,' he chuckled, shamelessly. 'But then again, these politicians are selling the name that they made in the last century.'

Babayev was speaking as senior vice-president at Alfa Group, a vast conglomerate controlled by Putin crony Mikhail Fridman, who is said by Forbes magazine to have a net worth of some £17.5 billion.

His audience — delegates at a business conference held in Moscow around the time of the 2008 economic crash — guffawed along with him. In London, however, Babayev's comments sparked the very opposite of hilarity. A few months later, researchers for the Channel 4 programme Dispatches were leaked a secret recording of his speech.

It went on to form the basis of a sensational 2009 documentary, Lords, Billionaires And The Russia Connection. Dispatches laid bare, for the first time, how very rich (and often highly dubious) Russian oligarchs had begun to use extreme wealth to buy political influence on these shores.

Its revelations were deeply embarrassing for, among others, two well-known Tory Party grandees: the former Foreign Secretary, Lord Hurd, and Margaret Thatcher's old foreign policy adviser, Lord (Charles) Powell.

Both men were, at the time, working as paid 'advisers' to Babayev's Alfa Group. This presumably meant they were the 'grey-haired' peers being so rudely described in his speech. Today, neither Hurd nor Powell continues to take this dubious shilling. Indeed, their entries in the House of Lords register of members' interests reveal that they have severed all financial ties with Putin's Russia.

For many of their colleagues, however, an entirely different state of affairs now prevails. Indeed, five years after the Dispatches programme first lifted the lid on the phenomenon, it seems the Russians are no longer at the gates. Instead, they have successfully bought comprehensive access to our corridors of power.

An investigation of company reports and Parliamentary records today reveals that the programme's direst warnings have been realised: a host of MPs, Lords, and even members of the Royal Family are now on the payroll of Russian oligarchs. Some are famous and highly influential. Others little known outside the Houses of Parliament. They hail from across the political spectrum.

The ruling class's links to moneyed Russians continue even as David Cameron raises the spectre of widening sanctions against the country 'to include the cronies and oligarchs around Putin', following the shooting down of flight MH17 in Ukraine.

They also endure despite growing criticism this week of Mr Cameron's decision to accept huge sums in donations from wealthy Russians, including £160,000 from the wife of Vladimir Putin's former deputy finance minister. The woman, Lubov Chernukhin, is married to Vladimir Chernukhin, who is also a former Aeroflot director and was until last year on the board of a gold company run by one of Putin's MPs.

These days resident in London, in a £7million flat near Regent's Park, she gave the money at a Tory fundraising auction earlier this month in exchange for a chance to play tennis with Boris Johnson and the Prime Minister.

Labour, for its part, has declared that the ongoing scandal exposes 'conflicts of interest' and 'hypocrisy' at the highest level of this Conservative-led Government. Stern words indeed. Yet on this issue, Labour is hardly in a position to lecture.

Take, for example, the extraordinarily close financial links between Lord Mandelson — one of the party's leading power-brokers of modern times — and the Putin establishment. The 'Prince of Darkness' is a non-executive director of the giant Russian conglomerate Sistema, which boasts stakes in Russia's oil, energy, banking, retail, telecoms and tourism sectors, and is controlled by billionaire Vladimir Yevtushenkov, a Putin confidant.

Mandelson also earns a shilling via Global Consultancy, a lobbying and strategic consulting firm which refuses to reveal the identities of its clients but is believed to represent a host of Russian firms. The firm is run by his former aide Benjamin Wegg-Prosser, who in his previous job worked in Moscow and has a Russian wife.

Mandelson is also an intimate friend of the steel oligarch Oleg Deripaska, having in 2005 famously joined him in a 'Banya' — a traditional sauna in which they were thrashed with bunches of birch twigs by a 25-year-old man, before jumping into freezing water.

Another member of Tony Blair's inner circle currently taking the Russian rouble is Lord Myners, who was City minister during the banking crisis. He is a director of the Russian telecoms group OJSC MegaFon, which is controlled by Alisher Usmanov, the country's richest man, who is also — surprise, surprise — a Putin loyalist.

Usmanov, who holds a significant stake in Arsenal Football Club, turns out to boast a second high-profile supporter in the House of Lords in the shape of Lord Owen, the 76-year-old former SDP founder who sits on the red benches as an 'independent social democrat'.

Owen's Left-leaning principles do not prevent him carrying out paid work for two of Usmanov's companies — Epion Holdings and USM Holdings — which are based in the tax haven of the British Virgin Islands. He is also a director of Europe Steel plc, a subsidiary of the oligarch's Russian parent company, Metalloinvest.

Another principled Left-winger who derives income from Moscow is George Galloway, the Respect MP, who has earned £36,800 since November 2013 working for Russia Today, the TV station regarded as a propaganda mouthpiece of Putin's Kremlin.

Then there is Lord Ponsonby, a Labour peer who boasts a directorship of EastSib Holding Company, an oil business, and Rosneftegaz, which he describes as 'a private oil and gas firm registered in Russia'.

Closest of all to the Kremlin, in the Lords at least, is perhaps Lord Truscott, a former Labour MEP suspended from the Upper House after a 2009 lobbying scandal, when he was accused of seeking £72,000 to amend a Bill. In 2004, Truscott wrote Putin's Progress, a flattering (some might say hagiographic) biography of the Russian leader.

In 2013, he decided to nominate Putin for the Nobel Peace Prize, announcing the move in Parliament in a bizarre speech where he declaring that the 'Russian-led Syrian peace plan is the most significant peace initiative this year'. Today, Truscott is a director of the consultancy firm Energy Enterprises, which has in the past had links with Gazprom, the Russian gas firm. He is also a former adviser to Gavin Anderson, a PR firm that was hired in 2006 to represent the Kremlin in Japan.

Back in the Commons, and on the Tory benches, sits Charles Hendry, Cameron's energy minister from 2010-2012. In February, he took a job with Vitol Group — an oil trader which has a contract with the Russian energy giant Rosneft.

According to the register of members' interests, Hendry earns £60,000 a year for one-and-a half days' work per month. He is also, by the by, president of the advisory board of the Russo-British Chamber of Commerce.

The Royal Household also turns out to have lucrative ties with Russians. Sir Michael Peat, who served as Private Secretary to Prince Charles from 2002 to 2011, has, since leaving, been a non-executive director of Evraz, a steel-maker which operates in Russia and the Ukraine, is listed in London, and boasts Roman Abramovich as a major shareholder.

Then there is Prince Michael of Kent, patron of the Russo-Britain Chamber of Commerce, who, as a descendant of the last Tsar and a fluent Russian speaker, makes a living from a consultancy business specialising in Anglo/Russian collaboration.

His son, Lord Frederick Windsor, once quipped that his father had no trouble paying the £120,000 rent on his Kensington Palace apartment because he 'makes an awful lot of money in Russia'.

Although his client list is largely confidential, one generous financial supporter we do know about was the late oligarch Boris Berezovsky — who, it must be said, was a staunch opponent of Putin. He paid Prince Michael £320,000 between 2002 and 2008, saying it was 'to assist with staff costs'.

There is, of course, nothing illegal in all of this. But to even the most informed observer, it still feels strange. 'Some Russians have an odd infatuation with the English aristocracy and political establishment,' says Antony Barnett, who made the Dispatches documentary. 'That's why they choose to live in Kensington and send their kids to our boarding schools. 'They believe its members confer status and respectability, while also giving them access to corridors of power and influence. And that buys them security — which all oligarchs are obsessed with.'

The peers benefiting from this phenomenon seem, meanwhile, to be staying put. Indeed, not one has chosen to sever ties with Russia this week. Would they even consider such a move? Indications suggest not.

In March, at the start of the Ukraine crisis, the prominent crossbencher Lord Skidelsky was asked by the Financial Times if he might consider resigning his non-executive directorship of the Russian state-owned investment vehicle Rusnano Capital. He replied in the negative, saying he would only consider resigning if Vladimir Putin started pursuing expansionism a 'bit more like Hitler'. Until that point, he, like so many members of our ruling class, seems happy to keep watching the Russian money flow in.


Looking at her afloat, the design could have been improved many ways. She is hardly aerodynamic for starters, and there's not a renewable energy harvester in sight. Shame on you Royal Navy. That would have been a real diplomatic coup - leading the sustainability cause by example.
LINKS & REFERENCE
http://www.marinelink.com/news/elizabeth-floats-queen373169.aspx
http://www.marinelink.com/news/christened-elizabeth372420.aspx
hms-queen-elizabeth-aircraft-carrier
Aircraft-carriers-hms-queen-elizabeth-and-hms-prince-of-wales-to-join-royal-navy
Queen-Elizabeth-Class-Aircraft-Carriers-News-and-Discussion
http://www.queenelizabethcruises.net/hms-queen-elizabeth-aircraft-carrier/
http://en.wikipedia.org/wiki/USS Nimitz_class_aircraft_carrier
http://en.wikipedia.org/wiki/USS_Dwight_D._Eisenhower_%28CVN-69%29
http://en.wikipedia.org/wiki/USS_Enterprise_%28CVN-65%29
http://en.wikipedia.org/wiki/Gerald_R._Ford-class_aircraft_carrier
http://en.wikipedia.org/wiki/Chinese_aircraft_carrier_Liaoning
http://en.wikipedia.org/wiki/Russia Admiral_Kuznetsov-class_aircraft_carrier
http://en.wikipedia.org/wiki/HMS Invincible_class_aircraft_carrier
http://en.wikipedia.org/wiki/Clemenceau_class_aircraft_carrier
http://en.wikipedia.org/wiki/Spanish_aircraft_carrier_Principe_de_Asturias
http://en.wikipedia.org/wiki/Spanish_ship_Juan_Carlos_I_(L61)
http://en.wikipedia.org/wiki/Thai HTMS_Chakri_Naruebet
http://en.wikipedia.org/wiki/Italian_aircraft_carrier_Cavour_(550)
http://en.wikipedia.org/wiki/Japanese Hyuga_class_helicopter_destroyer
http://en.wikipedia.org/wiki/S Korea Dokdo-class_amphibious_assault_ship
http://en.wikipedia.org/wiki/Indian Vikrant-class_aircraft_carrier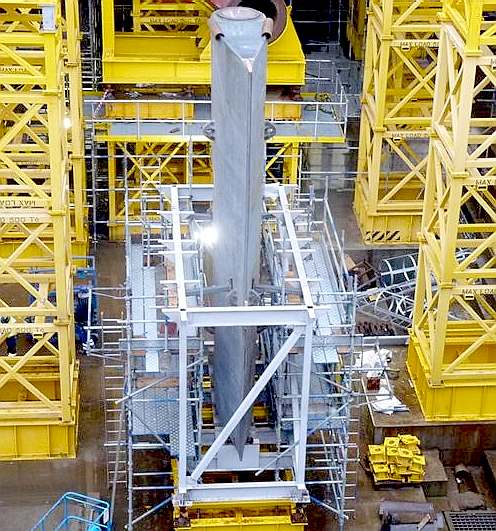 Now that is what we call a rudder. Let's hope it can turn the ship quicker than the Titanic, should an iceberg ever get in the way.
SUBMARINE INDEX
Alvin DSV - Woods Hole Oceanographic Institution
HMS Astute 1st of Class
HMS Vanguard- Trident
INS Sindhurakshak - explosion & sinking
Lusitania - Torpedo attack
Nuclear submarines lost at sea
Predator - Covert submarine hunter/killer
Seawolf - Autonomous wolf pack deployment of Predator mini-subs
Torpedoes - UUV anti submarine weapons
U20 - Kapitan Leutnant Walther Schwieger
USS Bluefish WWI submarine
USS Bluefish - Nuclear submarine
USS Jimmy Carter - Seawolf class fast attack nuclear submarine
USS Nautilus - 1st nuclear submarine & subsea north pole passage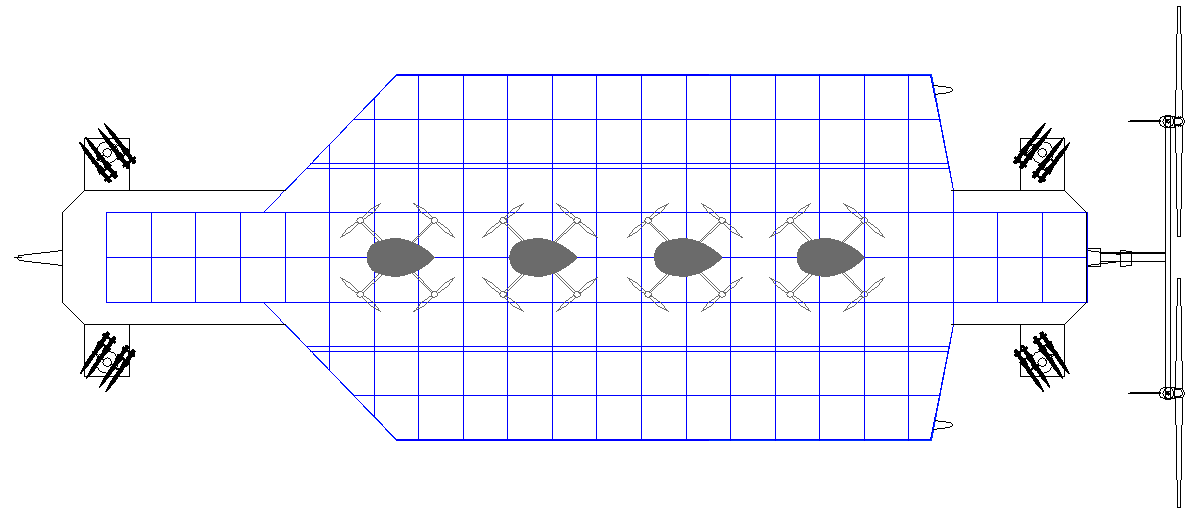 The world's first ever solar powered aircraft carrier, showing a squadron of 4 4.7m drone quadcopters. This ship could easily carry 12 birds. This is also, probably, the world's smallest ever aircraft carrier. A 1/20th scale model of this vessel will take to the water in 2015 for some naval wargaming fun.
AIRCRAFT CARRIER INDEX
Cavour - Italy
Chakri Naruebet - Thailand
Clemenceau - France
Dokdo - Republic Korea
Gerald Ford Class - USA
Hyuga - Japan
Invincible - UK
Kuznetsov - Russia
Liaoning - China
Nimitz - USA
Principe de Asturias - Spain
Queen Elizabeth - UK
Vikrant Class - India
WARSHIPS
Bismarck - Battleship - Germany
HMS Neptune - Leander class cruiser 1941 WWII
Type 23 - Duke class frigate - UK
Type 26 - Global combat ship - UK
Type 45 - Daring class destroyer - UK
Electric prototype - USA
Zumwalt - Class destroyer - USA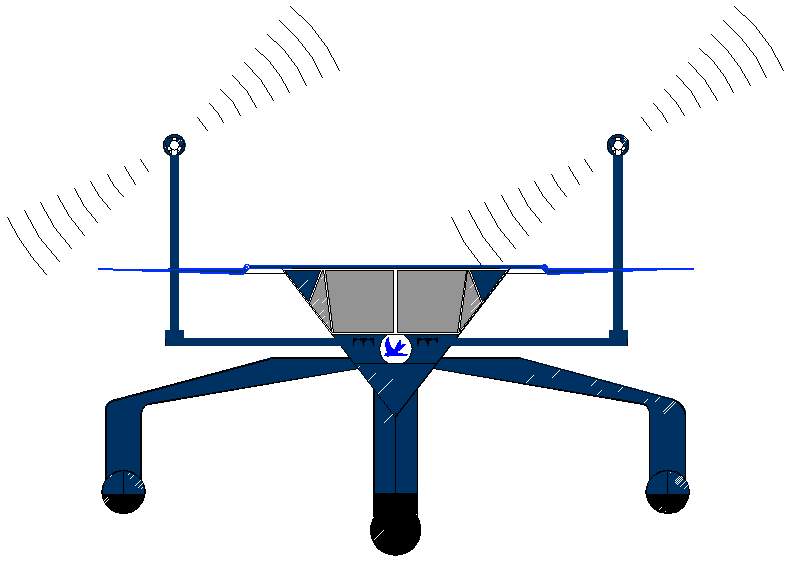 The Bluefish™ platform in a modified form is suitable for adaptation to a robotic battleship as a fleet replacement to the Type 45 destroyers and Type 26 combat vessel. The Wolverine ZCC™ in its ultimate form may carry 4 x Tomahawks, 30 x SAMs, 2 x 12.75" and 2 x 21" torpedoes + an ROV or minisub. Not bad for a 50 ton battleship that needs no crew and runs on clean energy from nature. A zoned network of these ships can police international waters, attack and sink enemy aircraft carriers and submarines in formation and shoot down aircraft that present a potential threat to national security. The development of such ships represents an opportunity for future exports and defence energy reductions.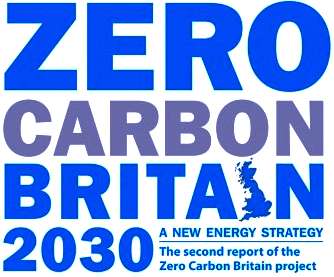 Fat chance. The way the Royal Navy conducts themselves, there is virtually zero prospect of sustainable convoys. It's more like an oil crisis disaster movie in the making.