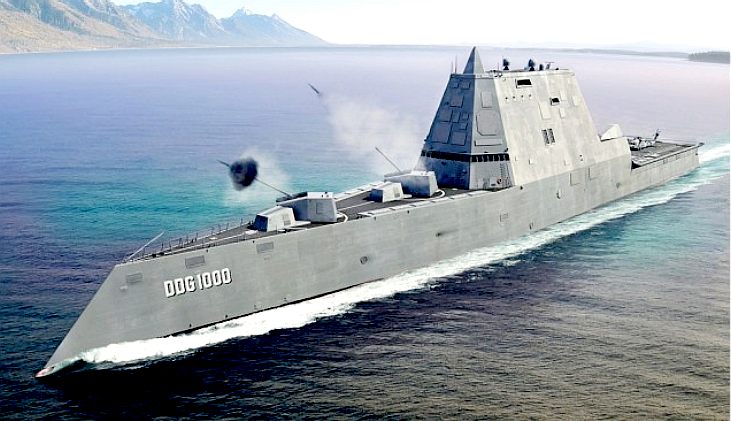 CHRISTENING CEREMONY - 12 APRIL 2014

The Zumwalt destroyer claims to be a silent and deadly addition to the US Navy's arsenal, and is finally ready for battle after its christening on Saturday at the Bath Iron Works in Maine.

This $3.5-billion bad boy is one of the most technologically advanced boats every built. At 600 feet, the new Zumwalt DDG1000 is twice the size of its aging destroyer peers but requires a crew only half the size because of its robot-like efficiencies, according to Raytheon, the defense contractor that designed its infrastructure. In October, the Navy said it had floated the vessel for the first time, but it was still only 87 percent finished.

Now, the champagne bottle has been cracked over the bow, and it's ready to start hurling long-range missiles at enemy combatants up to 72 miles away. Because it's a stealth destroyer, they'll have no idea what hit them. The ship was designed to lack right angles and protruding pipes and gadgets. Those things are dead giveaways for radar systems, which beam sound waves and listen for the waves to bounce back. Zumwalt's sleek frame foils the echo. It's quiet on the ears, too, because of its electric engine. In that sense, the Zumwalt is like a big floating Toyota Prius with 155 mm guns.
DESCRIPTION
The Zumwalt-class destroyers are a class of United States Navy destroyers designed as multi-mission stealth ships with a focus on land attack. The class is a scaled-back project that emerged after funding cuts to the larger DD-21 vessel program. The program was previously known as the "DD(X)". The class is multi-role and designed for surface warfare, anti-aircraft, and naval fire support. They take the place of battleships in filling the former congressional mandate for naval fire support, though the requirement was reduced to allow them to fill this role. The vessels' appearance has been compared to that of the historic ironclad warship.

The class has a low radar profile; an integrated power system, which can send electricity to the electric drive motors or weapons, which may someday include a railgun or free-electron lasers; total ship computing environment infrastructure, serving as the ship's primary LAN and as the hardware-independent platform for all of the ship's software ensembles; automated fire-fighting systems and automated piping rupture isolation. The class is designed to require a smaller crew and be less expensive to operate than comparable warships. It will have a wave-piercing tumblehome hull form whose sides slope inward above the waterline. This will reduce the radar cross-section, returning much less energy than a more hard-angled hull form. As of January 2009, the Government Accountability Office (GAO) found that only four out of 12 of the critical technologies were mature.

The lead ship will be named Zumwalt for Admiral Elmo Zumwalt, and carries the hull number DDG-1000. Originally 32 ships were planned, with the $9.6 billion research and development costs spread across the class, but as the quantity was reduced to 10, then 3, the cost-per-ship increased dramatically. The cost increase caused the U.S. Navy to identify the program as being in breach of the Nunn–McCurdy Amendment on 1 February 2010.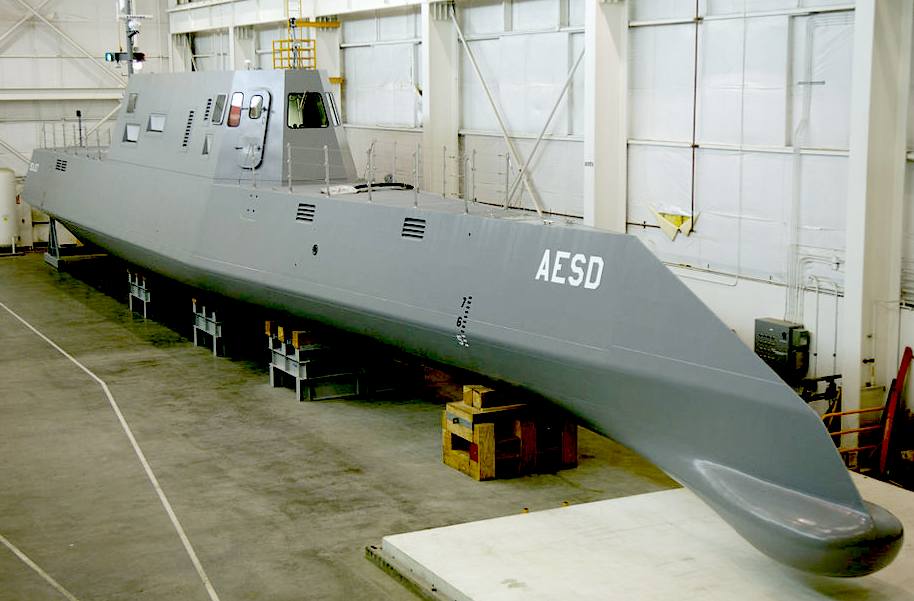 Bayview, Idaho (Aug. 23, 2005) - The Advanced Electric Ship Demonstrator (AESD), Sea Jet, funded by the Office of Naval Research (ONR), is a 133-foot vessel located at the Naval Surface Warfare Center Carderock Division, Acoustic Research Detachment in Bayview, Idaho. Sea Jet will operate on Lake Pend Oreille, where it will be used for test and demonstration of various technologies. Among the first technologies tested will be an underwater discharge water jet from Rolls-Royce Naval Marine, Inc., called AWJ-21, a propulsion concept with the goals of providing increased propulsive efficiency, reduced acoustic signature, and improved maneuverability over previous Destroyer Class combatants.
HULL DESIGN - TUMBLEHOME
A return to a hull form not seen since the Russo-Japanese War in 1905, the Zumwalt-class destroyer reintroduces the tumblehome hull form. Originally put forth in modern steel battleship designs by the French shipyard Forges et Chantiers de la Méditerranée in La Seyne in Toulon, French naval architects believed that tumblehome, in which the beam of the vessel narrowed from the water-line to the upper deck, would create better freeboard, greater seaworthiness, and, as Russian battleships were to find, would be ideal for navigating through narrow constraints (canals). On the down side, the tumblehome battleships experienced losses in watertight integrity and/or stability problems (especially in high speed turns). 21st century tumblehome is being reintroduced to reduce the radar return of the hull. The inverted bow is designed to cut through waves rather than ride over them. As mentioned above, the stability of this hull form in high sea states has caused debate among naval architects. The tumblehome has not been featured in USN concept designs since the Zumwalt class.
The stability of the DDG-1000 hull design in heavy seas has been a matter of controversy. In April 2007, naval architect Ken Brower said, "As a ship pitches and heaves at sea, if you have tumblehome instead of flare, you have no righting energy to make the ship come back up. On the DDG 1000, with the waves coming at you from behind, when a ship pitches down, it can lose transverse stability as the stern comes out of the water – and basically roll over." The decision to not use a tumblehome hull in the CG(X) cruiser, before the program was canceled, may suggest that there were concerns regarding Zumwalt's seakeeping. However, in a 1/4 scale test of the hull design, named Sea Jet, the tumblehome hull proved seaworthy.

The Advanced Electric Ship Demonstrator (AESD), Sea Jet, funded by the Office of Naval Research (ONR), is a 133-foot (40-meter) vessel located at the Naval Surface Warfare Center Carderock Division, Acoustic Research Detachment in Bayview, Idaho. Sea Jet was operated on Lake Pend Oreille, where it was used for test and demonstration of various technologies. Among the first technologies tested was an underwater discharge water jet from Rolls-Royce Naval Marine, Inc., called AWJ-21, a propulsion concept with the goals of providing increased propulsive efficiency, reduced acoustic signature, and improved maneuverability over previous destroyer-class combatants.
STEALTH
Despite being 40% larger than an Arleigh Burke-class destroyer the radar signature is more akin to a fishing boat, according to a spokesman for Naval Sea Systems Command; sound levels are compared to the Los Angeles-class submarines. The tumblehome hull reduces radar return and the composite material deckhouse also has a low radar return. Water sleeting along the sides, along with passive cool air induction in the mack reduces thermal emissions. Overall, the destroyer's angular build makes it "50 times harder to spot on radar than an ordinary destroyer.

The U.S. Navy solicited bids for a lower cost steel deckhouse as an option for DDG-1002, the last Zumwalt destroyer in January 2013. On 2 August 2013, the US Navy announced it was awarding a $212 million contract to General Dynamics Bath Iron Works to build a steel deckhouse for destroyer Lyndon B. Johnson (DDG-1002).
CONSTRUCTION

In late 2005, the program entered the detailed design and integration phase, for which Raytheon is the Mission Systems Integrator. Both Northrop Grumman Ship Systems and General Dynamics Bath Iron Works share dual-lead for the hull, mechanical, and electrical detailed design. BAE Systems Inc. has the advanced gun system and the MK57 VLS. Almost every major defense contractor (including Lockheed Martin, Northrop Grumman Sperry Marine, L-3 Communications) and subcontractors from nearly every state in the U.S. are involved to some extent in this project, which is the largest single line item in the Navy's budget. During the previous contract, development and testing of 11 Engineering Development Models (EDMs) took place: Advanced Gun System, Autonomic Fire Suppression System, Dual Band Radar [X-band and L-band], Infrared, Integrated Deckhouse & Apertures, Integrated Power System, Integrated Undersea Warfare, Peripheral Vertical Launch System, Total Ship Computing Environment, Tumblehome Hull Form.

The decision in September 2006 to fund two ships meant that one could be built by the Bath Iron Works in Maine and one by Northrop Grumman's Ingalls Shipbuilding in Mississippi.

Northrop Grumman was awarded a $90M contract modification for materials and production planning on 13 November 2007. On 14 February 2008, Bath Iron Works was awarded a contract for the construction of the USS Zumwalt (DDG-1000), and Northrop Grumman Shipbuilding was awarded a contract for the construction of USS Michael Monsoor (DDG-1001), at a cost of $1.4 billion each.

On 11 February 2009, full-rate production officially began on the first Zumwalt-class destroyer. Construction on the second ship of the class, Michael Monsoor, began in March 2010. The keel for the first Zumwalt-class destroyer was laid on 17 November 2011. This first vessel was launched from the shipyard at Bath, Maine on 29 October 2013.

PROPULSION

The DDX proposed to use a permanent-magnet motor (PMM) within the hull. An alternate twin pod arrangement was rejected as the ramifications of pod drives would require too much development and validation cost to the vessel. The PMM is considered to be another technology leap and is the cause of some concern (along with the radar system) from Congress. As part of the design phase, Northrop Grumman had built the world's largest permanent magnet motor, designed and fabricated by DRS Technologies. This proposal was dropped when the PMM motor failed to demonstrate that it was ready to be installed in time.

Zumwalt is to have Converteam's Advanced Induction Motors (AIM), rather than DRS Technologies' Permanent Magnet-Synchronous Motors (PMM). The exact choice of engine systems was somewhat controversial. The concept was originally for an integrated power system (IPS) based on in-hull permanent magnet synchronous motors (PMMs), with Advanced Induction Motors (AIM) as a possible backup solution. The design was shifted to the AIM system in February 2005 in order to meet scheduled milestones; PMM technical issues were subsequently fixed, but the program has moved on. The downside is that AIM technology has a heavier motor, requires more space, requires a "separate controller" to be developed to meet noise requirements, and produces one-third the amount of voltage. On the other hand, these very differences will force time and cost penalties from design and construction changes if the program wishes to "design AIM out".

INTEGRATED POWER SYSTEM (IPS)

The Integrated Power System (IPS) is, in some ways, similar to the old turbo-electric drive, the addition of PMMs and integration of all electrical power systems gives ten times the power available on current destroyers. It also reduces the ship's thermal and sound signature. The IPS has added to weight growth in the Zumwalt-class destroyer as noted by the GAO.

AUTOMATION

Automation reduces crew size on these ships: the Zumwalt-class destroyer's minimum compliment is 130, less than half of needed by "similar warships", Smaller crews reduce a major component of operating costs. Ammunition, food, and other stores, are all mounted in containers able to be struck below to magazine/storage areas by an automated cargo handling system.

Water spray or mist systems are proposed for deployment in the Zumwalt-class destroyer but the electronic spaces remains problematic to the designers. Halon/Nitrogen dump systems are preferred but do not work when the space has been compromised by a hull breach. The GAO has noted this system as a potential problem yet to be addressed.

COMPUTER NETWORK

The Total Ship Computing Environment Infrastructure (TSCEI) is based on GE Fanuc Embedded Systems' PPC7A and PPC7D single-board computers running LynuxWorks' LynxOS RTOS. These are contained in 16 shock, vibration and electromagnetic protected Electronic Modular Enclosures.


DINOSAUR TAX DOLLAR DINE OUT
Traditional manned warships are outdated combat weapons that superpowers like to parade about the ocean to demonstrate affluence, in the process polluting the planet massively. The Zumwalt destroyer is a step in the right direction in terms of automation - but still with 100 human lives will be lost in an engagement as a $3.6billion dollar liability. This class of warship has its uses but compared with robot battleships, its size and cost renders it an asset whose loss will hit the US hard, when confronted by ocean going drones such as the Scorpion HK. It only takes one well aimed torpedo, or one cruise missile to sink a large warship. The larger the conventional warship the more staggering the loss of life - and the blow to the nation concerned. It's a high price to pay for a bit of ocean swagger, however spectacular they look on open days. Stealth is an outdated concept with SeaWolf tactics where a network of drones will soon close on a ship, once it has fired, or otherwise strayed into a patrolled patch of ocean.
Lawmakers and others have questioned whether the Zumwalt-class costs too much and whether it provides the capabilities the U.S. military needs. In 2005 the Congressional Budget Office estimated the acquisition cost of a DD(X) at $3.8–4.0bn in 2007 dollars, $1.1bn more than the navy's estimate.

The National Defense Authorization Act For Fiscal Year 2007 (Report of the Committee On Armed Services House of Representatives On H.R. 5122 Together With Additional And Dissenting Views) stated the following: "The committee understands there is no prospect of being able to design and build the two lead ships for the $6.6 billion budgeted. The committee is concerned that the Navy is attempting to insert too much capability into a single platform. As a result, the DD(X) is now expected to displace over 14,000 tons and by the Navy's estimate, cost almost $3.3 billion each. Originally, the Navy proposed building 32 next generation destroyers, reduced that to 24, then finally to 7 in order to make the program affordable. In such small numbers, the committee struggles to see how the original requirements for the next generation destroyer, for example providing naval surface fire support, can be met."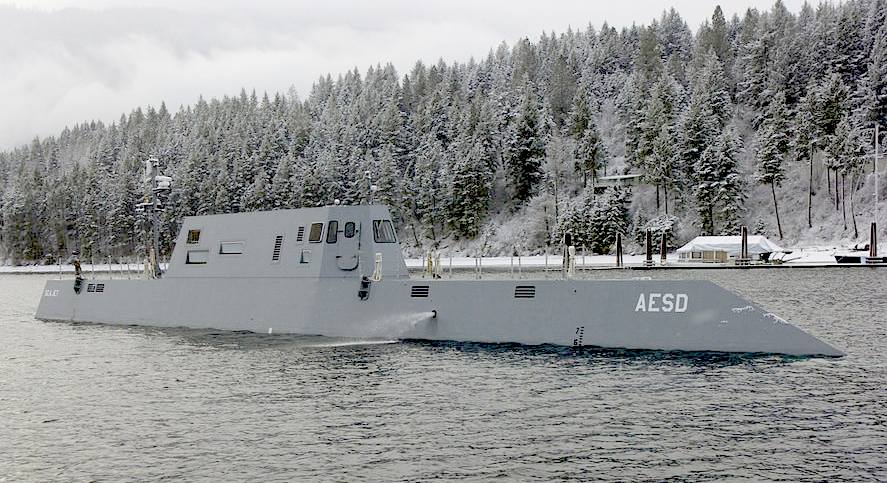 The Advanced Electric Ship Demonstrator (AESD) in icy waters. Sea Jet was funded by the Office of Naval Research. Without funding from navies, many innovations would never be tried or tested.
SPECIFICATIONS
Designation: DDG
Length: 600 ft
Beam: 80 ft
Draft: 28 ft
Displacement: 15,500 tons
Propulsion: All-electric Drive with (IPS), 2 Rolls-Royce MT30 Gas Turbines 36MW, 2 shafts
Speed: 30 knots
Crew: 142
Airwing: 2 SH-60 or 1 MH-60R, & 3 MQ-8 VTUAVs
Armament:
– 80 x PVLS (Std, ESSM, Tomahawk, VLASROC)
– 2 × 155mm Advanced Gun Systems
– 2 × Mk 110 57 mm gun CIWS
– 4 × 0.50 in (12.7 mm) machine guns
LINKS & REFERENCE
http://en.wikipedia.org/wiki/Zumwalt-class_destroyer
Model mayhem Zumwalt compared to Arliegh Burke destroyers
Defense industry daily dead-aim-or-dead-end-the-usas-ddg1000-zumwalt-class-program
On the north river ddg1000-the-zumwalt
http://www.modelmayhem.com/po.php?thread_id=921494
https://www.defenseindustrydaily.com/dead-aim-or-dead-end-the-usas-ddg1000-zumwalt-class-program-02574/
http://en.wikipedia.org/wiki/Zumwalt-class_destroyer
http://onthenorthriver.com/2014/04/13/ddg1000-the-zumwalt/
http://en.wikipedia.org/wiki/USS Nimitz_class_aircraft_carrier
http://en.wikipedia.org/wiki/USS_Dwight_D._Eisenhower_%28CVN-69%29
http://en.wikipedia.org/wiki/USS_Enterprise_%28CVN-65%29
http://en.wikipedia.org/wiki/Gerald_R._Ford-class_aircraft_carrier
http://en.wikipedia.org/wiki/Chinese_aircraft_carrier_Liaoning
http://en.wikipedia.org/wiki/Russia Admiral_Kuznetsov-class_aircraft_carrier
http://en.wikipedia.org/wiki/HMS Invincible_class_aircraft_carrier
http://en.wikipedia.org/wiki/Clemenceau_class_aircraft_carrier
http://en.wikipedia.org/wiki/Spanish_aircraft_carrier_Principe_de_Asturias
http://en.wikipedia.org/wiki/Spanish_ship_Juan_Carlos_I_(L61)
http://en.wikipedia.org/wiki/Thai HTMS_Chakri_Naruebet
http://en.wikipedia.org/wiki/Italian_aircraft_carrier_Cavour_(550)
http://en.wikipedia.org/wiki/Japanese Hyuga_class_helicopter_destroyer
http://en.wikipedia.org/wiki/S Korea Dokdo-class_amphibious_assault_ship
http://en.wikipedia.org/wiki/Indian Vikrant-class_aircraft_carrier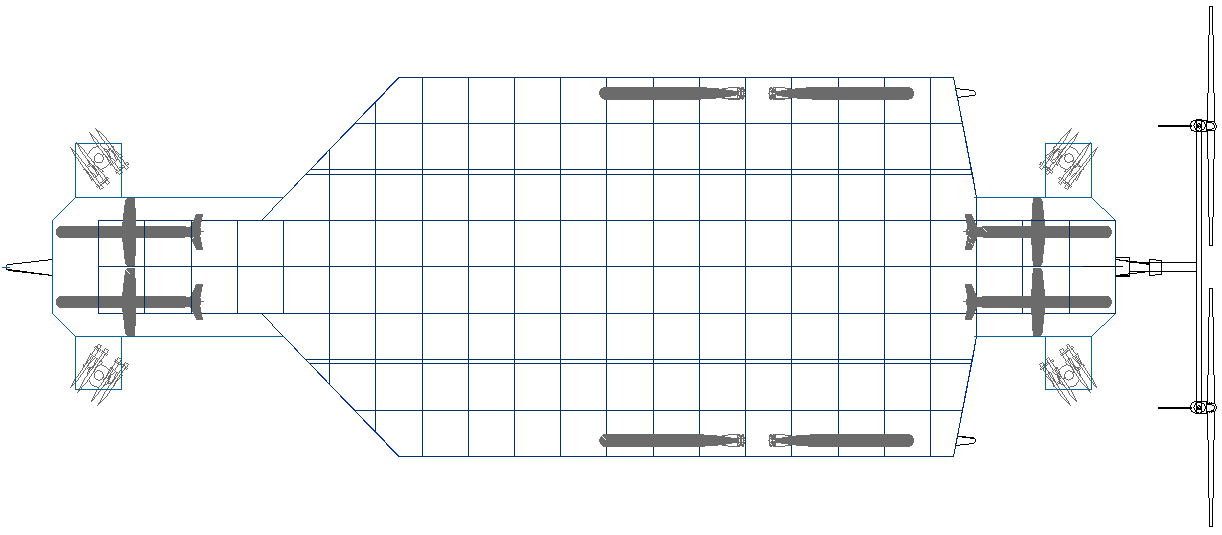 The Bluefish™ platform in a modified form is suitable for adaptation to a robotic battleship as a countermeasure to the ever increasing size and firepower of modern destroyers. The Wolverine ZCC™ in its the above form carries 4 x Tomahawks, 32 x SAMs, 2 x 12.75" and 2 x 21" torpedoes + an ROV or minisub. Not bad for a mini battleship that needs no (or vastly reduced) crew and runs on clean energy from nature. A zoned network of these ships can police international waters in formation, attack and sink enemy warships and submarines and shoot down aircraft that present a potential threat to national security. The development of such ships represents an opportunity for future exports and defence energy reductions that represent a no-brainer in terms of priority.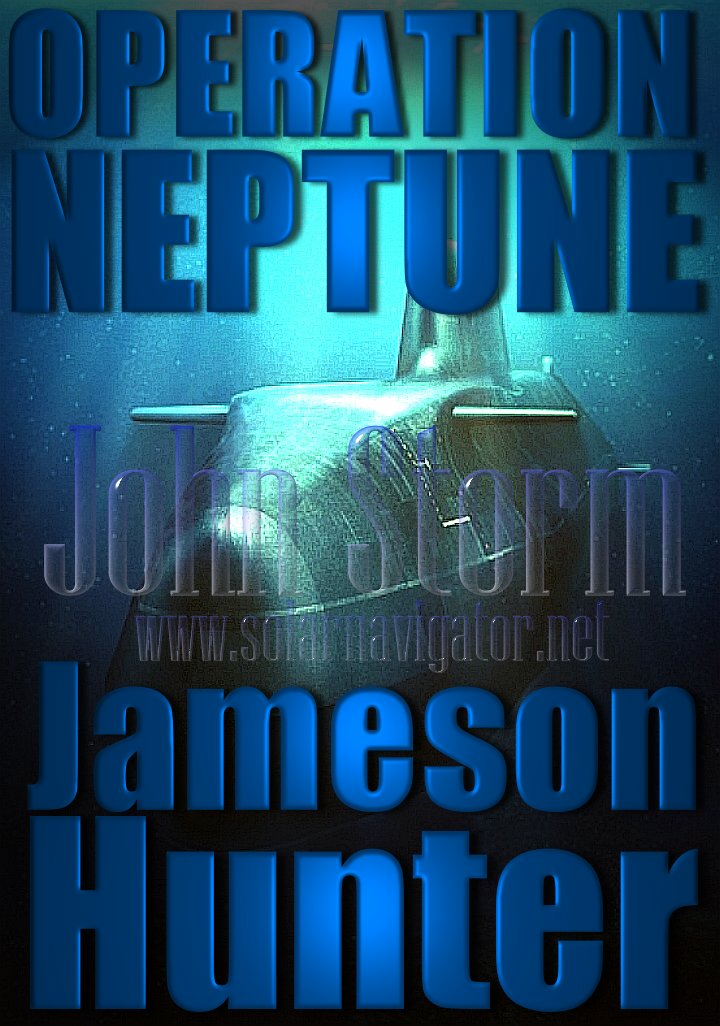 FICTION - Operation Neptune - An advanced nuclear submarine is hijacked by environmental extremists intent on stopping pollution from the burning of fossil fuels. The extremists torpedo a number of oil wells as part of a campaign to cause energy chaos, with bigger plans to come. When NATO tries to stop then, the terrorists sink the USS Jimmy Carter and HMS Queen Elizabeth. A more subtle approach is required, enter John Storm and Charley Temple. If you enjoyed Battleship, Pacific Rim, Under Siege or The Hunt for Red October, this is a must for you.
AIRCRAFT CARRIER INDEX
Cavour - Italy
Chakri Naruebet - Thailand
Clemenceau - France
Dokdo - Republic Korea
Gerald Ford Class - USA
Hyuga - Japan
Invincible - UK
Kuznetsov - Russia
Liaoning - China
Nimitz - USA
Principe de Asturias - Spain
Queen Elizabeth - UK
Vikrant Class - India
WARSHIPS
Bismarck - Battleship - Germany
HMS Neptune - Leander class cruiser 1941 WWII
Type 23 - Duke class frigate - UK
Type 26 - Global combat ship - UK
Type 45 - Daring class destroyer - UK
Electric prototype - USA
SUBMARINE INDEX
Alvin DSV - Woods Hole Oceanographic Institution
Deepsea Challenger - Mariana Trench, James Cameron 2012
HMS Astute 1st of Class
HMS Vanguard- Trident
INS Sindhurakshak - explosion & sinking
Littoral combat vessels
Lusitania - Torpedo attack
Nuclear submarines lost at sea
Predator - Covert submarine hunter/killer
Seawolf - Autonomous wolf pack deployment of Predator mini-subs
Torpedoes - UUV anti submarine weapons
Trieste - World record depth - Mariana Trench 1960
U20 - Kapitan Leutnant Walther Schwieger
USS Bluefish WWI submarine
USS Bluefish - Nuclear submarine
USS Jimmy Carter - Seawolf class fast attack nuclear submarine
USS Nautilus - 1st nuclear submarine & subsea north pole passage
USS North Dakota - 11th Virginia class submarine
USS Scorpion - Lost at sea with all hands