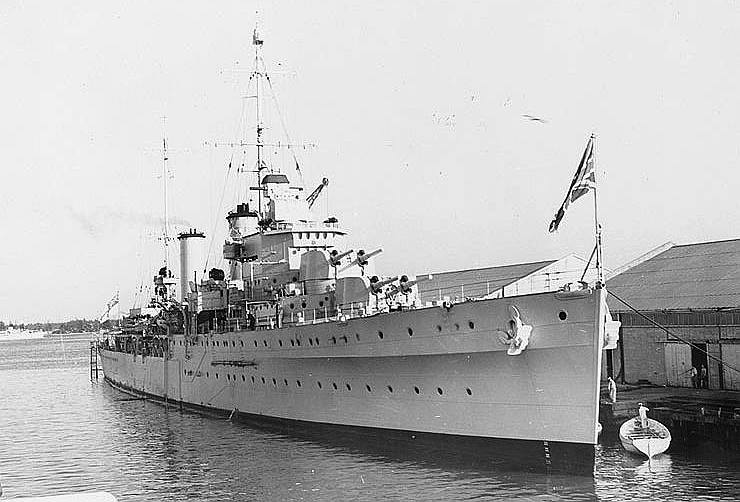 HMS NEPTUNE

The 19th December 1941 was a black day for the Royal Navy in the Mediterranean. Following so soon after the loss of the Prince of Wales and the Repulse in the Far East, it was not surprising that the British worked hard to conceal the scale of the calamity at the time. Details of the losses of HMS Neptune would not be released for six months.

Force K, the Malta based striking squadron which had so successfully taken the fight to the Italian fleet in the Mediterranean, struck calamity when it entered an unmarked minefield. HMS Neptune, leading the small task force hit the first mine and the other Light cruisers HMS Aurora and HMS Penelope were hit as well. The destroyer HMS Kandahar went to assist HMS Neptune but struck a mine herself. The remaining destroyer HMS Lively was ordered not to approach HMS Neptune. Soon HMS Neptune had hit a total of four mines and was sinking, only around 30 men from the complement of 762 got off the ship. Only one of them survived.

Able Seaman Norman Walton was the sole survivor from the Light Cruiser HMS Neptune. He was not able to provide an account of events until 1943.
ABLE SEAMAN NORMAN WALTON

" We had been at action stations since 8 p.m., when just after midnight there was an explosion off our starboard bow. The captain stopped engines and went astern but we hit another mine, blowing the screws and most of the stern away. Then we were hit abaft the funnel. We were ordered up top and had a bad list to port and were down in the stern. Aurora had also been mined and badly damaged and Kandahar came up to take us in tow.

With seven others, I was asked to go forward to help with the tow, but Kandahar then hit a mine and slewed off. Then we hit a fourth mine and we were lifted up and dropped back again. I got the Petty Officer of the forecastle from beneath the anchor chain but he had broken his back. Four of us Price, Middleton, Quinn and me, climbed down the anchor. They jumped in but I wanted somewhere to swim to, and not to just float around, and when I saw a Carley raft I jumped in and swam to it.

I took the tow rope back to Middleton, who had no lifejacket and when we got back to the raft it was crowded – about 30 people on and around it. We saw the ship capsize and sink and gave her a cheer as she went down. We picked up Captain O'Conor who was clinging to what looked like an anchor buoy and he and three other officers finished up on a cork raft attached to ours. The sea was thick with oil and most of us had swallowed a lot of it. A few died around us that night and at daylight there were 16 of us left. The weather was pretty rough and two officers tried to swim towards the Kandahar but they never made it.

Three more ratings died and we picked up an oar and I tried to steer the raft but could make no headway. By the fourth day there were only four of us left including the Captain who died that night. I was in the water for three days before being able to find room aboard the raft. Most of the lads just gave up the ghost but I was very fit because of playing so much sport and this is probably why I survived. I had a smashed leg and by Christmas Eve on the 5th day, there was only Price and myself left. I saw an aircraft; waved to it and an hour later an Italian torpedo boat came alongside and threw me a line. I collapsed when I got on board and woke up on Christmas Day in a Tripoli hospital. They told me Price was dead.

I was totally blind throughout Christmas because of the oil and was praying it was only temporary. On Boxing Day I got my sight back and looked in a mirror. My tongue was swollen to twice its size and my nose spread across my face, which was black from the oil and from exposure. Still, apart from my broken leg I was almost back to normal by New Year's Day, when I was put on a ship bound for Italy and full of German and Italian troops going on leave.

I spent 15 months in various prisoner-of-war camps until told I was going to be repatriated and arrived home in June 1943. The Italians had told me I was the only Neptune survivor, but I could never believe that until the Navy confirmed it for me in 1943. Sometimes even now it is hard to take in."
HISTORY

HMS Neptune was a Leander-class light cruiser which served with the Royal Navy during World War II.

Neptune was the fourth ship of its class and was the ninth Royal Navy vessel to carry the name. Built by Portsmouth Dockyard, the vessel was laid down on 24 September 1931, launched on 31 January 1933, and commissioned into the Royal Navy on 12 February 1934 with the pennant number "20".
OPERATIONAL HISTORY
During World War II, Neptune operated with a crew drawn predominantly from the New Zealand Division of the Royal Navy.

In December 1939, several months after war was declared, Neptune was patrolling in the South Atlantic in pursuit of German surface raider pocket battleship (heavy cruiser) Admiral Graf Spee. Neptune, with other patrolling Royal Navy heavy units, was sent to Uruguay in the aftermath of the Battle of the River Plate. However, she was still in transit when the Germans scuttled Graf Spee on 17 December.

Neptune was the first British ship to spot the Italian Fleet in the battle of Calabria, on 9 July 1940, marking also the first time since the Napoleonic wars that the Mediterranean Fleet received the signal 'Enemy Battle Fleet in Sight'. During the subsequent engagement, she was hit by the Italian light cruiser Giuseppe Garibaldi. The 6-inch shell splinters damaged her floatplane beyond repair, its wreckage being thrown into the sea. Minutes later her main guns struck the heavy cruiser Bolzano three times, inflicting some damage on her torpedo room, below the water line and the "B" turret. During 1941, she led Force K, a raiding squadron of cruisers. Their task was to intercept and destroy German and Italian convoys en route to Libya. The convoys were supplying Rommel's Afrika Korps in North Africa with troops and equipment.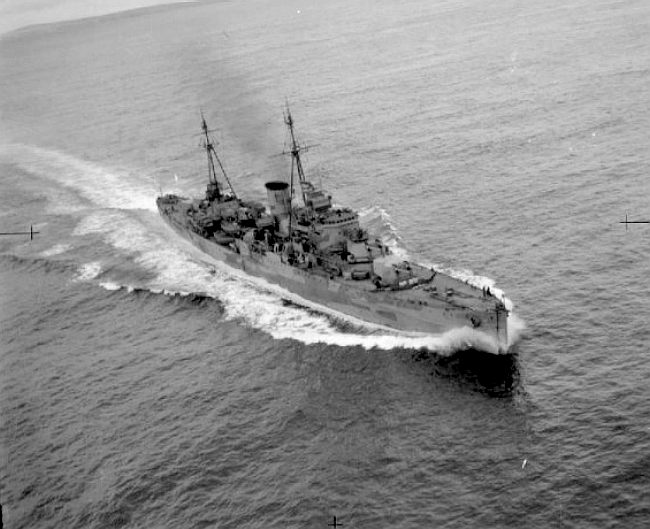 SINKING

Force K was sent out on 18 December 1941, to intercept a convoy bound for Tripoli, right after the brief fleet engagement known as First Battle of Sirte.

On the night of 19 – 20 December, Neptune, leading the line, struck two mines, part of a newly laid Italian minefield. The other cruisers present, Aurora and Penelope, also struck mines.

While reversing out of the minefield, Neptune struck a third mine, which took off her propellers and left her dead in the water. Aurora was unable to render assistance as she was already down to 10 knots (19 km/h) and needed to turn back to Malta. Penelope was also unable to assist.

The destroyers Kandahar and Lively were sent into the minefield to attempt a tow. The former struck a mine and began drifting. Neptune then signalled for Lively to keep clear. (Kandahar was later evacuated and torpedoed by the destroyer Jaguar, to prevent her capture.)

Neptune hit a fourth mine and quickly capsized. Only 30 seamen, out of her complement of 767, initially survived the sinking, and only one was still alive when their lifeboat was picked up five days later by the Italian torpedo boat Achille Papa.
LEANDER CLASS

The Leander class was influenced by the York-class heavy cruiser, and was an attempt to better provide for the role of commerce protection. The 7,000-7,200 ton Leanders were armed with eight BL 6 inch Mk XXIII naval guns in twin turrets, two forward and two aft. Their secondary armament consisted of four QF 4 inch Mk V naval guns, which were later replaced by twin mountings for eight guns (the later QF 4 inch Mk XVI naval gun). Their anti-aircraft weaponry consisted of twelve 0.5-inch (13 mm) Vickers machine guns in three quadruple mounts. They also shipped a bank of four 21-inch (530 mm) torpedo tubes on each beam and provision was made in the design for carriage of two catapult-launched Fairey Seafox aircraft.

Speed was 32 knots (59 km/h), and 845 tons of armour was provided. The first five vessels did not contain dispersed machinery; the boiler rooms were arranged together and exhausted into a single funnel, a unique feature amongst British cruisers. This meant that damage amidships was more liable to disable all the boiler rooms.
WARTIME MODIFICATIONS

During the war, significant modifications were made to the vessels. Various additional anti-aircraft armaments were added, and the two New Zealand vessels removed a turret to carry heavier 20 mm and 40 mm anti-aircraft guns in its place. Changes to the aircraft launching capability were reported, although use is unclear. Both Fairey Swordfish and Supermarine Walrus aircraft are reported to have been used by the class.


LINKS & REFERENCE
Wikipedia Leander-class_cruiser
Wikipedia HMS_Neptune 1909
Wikipedia Dreadnought
Wikipedia Neptune_mythology
Wikipedia Poseidon
HMS Neptune
Wikipedia HMS_Neptune 20
http://en.wikipedia.org/wiki/Leander-class_cruiser_%281931%29
http://en.wikipedia.org/wiki/HMS_Neptune_%281909%29
http://en.wikipedia.org/wiki/Dreadnought
http://en.wikipedia.org/wiki/Neptune_%28mythology%29
http://en.wikipedia.org/wiki/Poseidon
http://www.hmsneptune.com/
http://en.wikipedia.org/wiki/HMS_Neptune_%2820%29
http://en.wikipedia.org/wiki/USS Nimitz_class_aircraft_carrier
http://en.wikipedia.org/wiki/USS_Dwight_D._Eisenhower_%28CVN-69%29
http://en.wikipedia.org/wiki/USS_Enterprise_%28CVN-65%29
http://en.wikipedia.org/wiki/Gerald_R._Ford-class_aircraft_carrier
http://en.wikipedia.org/wiki/Chinese_aircraft_carrier_Liaoning
http://en.wikipedia.org/wiki/Russia Admiral_Kuznetsov-class_aircraft_carrier
http://en.wikipedia.org/wiki/HMS Invincible_class_aircraft_carrier
http://en.wikipedia.org/wiki/Clemenceau_class_aircraft_carrier
http://en.wikipedia.org/wiki/Spanish_aircraft_carrier_Principe_de_Asturias
http://en.wikipedia.org/wiki/Spanish_ship_Juan_Carlos_I_(L61)
http://en.wikipedia.org/wiki/Thai HTMS_Chakri_Naruebet
http://en.wikipedia.org/wiki/Italian_aircraft_carrier_Cavour_(550)
http://en.wikipedia.org/wiki/Japanese Hyuga_class_helicopter_destroyer
http://en.wikipedia.org/wiki/S Korea Dokdo-class_amphibious_assault_ship
http://en.wikipedia.org/wiki/Indian Vikrant-class_aircraft_carrier
SUBMARINE INDEX
Alvin DSV - Woods Hole Oceanographic Institution
HMS Astute 1st of Class
HMS Vanguard- Trident
INS Sindhurakshak - explosion & sinking
Lusitania - Torpedo attack
Nuclear submarines lost at sea
Predator - Covert submarine hunter/killer
Seawolf - Autonomous wolf pack deployment of Predator mini-subs
Torpedoes - UUV anti submarine weapons
U20 - Kapitan Leutnant Walther Schwieger
USS Bluefish WWI submarine
USS Bluefish - Nuclear submarine
USS Jimmy Carter - Seawolf class fast attack nuclear submarine
USS Nautilus - 1st nuclear submarine & subsea north pole passage
AIRCRAFT CARRIER INDEX
Cavour - Italy
Chakri Naruebet - Thailand
Clemenceau - France
Dokdo - Republic Korea
Gerald Ford Class - USA
Hyuga - Japan
Invincible - UK
Kuznetsov - Russia
Liaoning - China
Nimitz - USA
Principe de Asturias - Spain
Queen Elizabeth - UK
Vikrant Class - India
WARSHIPS
Bismarck - Battleship - Germany
Type 23 - Duke class frigate - UK
Type 26 - Global combat ship - UK
Type 45 - Daring class destroyer - UK
Electric prototype - USA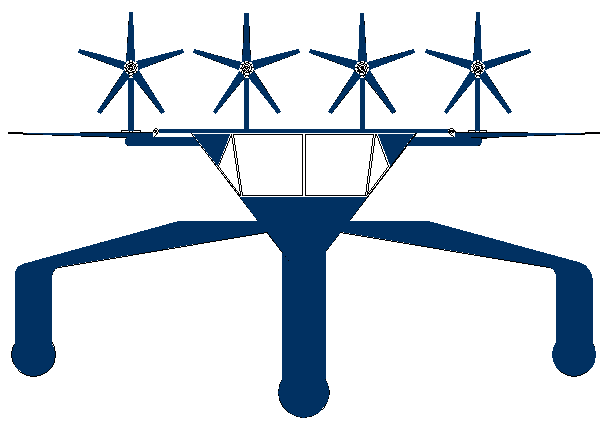 PATENT PENDING - The Bluefish™ platform in a modified form is suitable for adaptation to a robotic battleship as a replacement to the Type 45 destroyers and Type 26 combat vessel. The Wolverine ZCC™ in its ultimate form may carry 4 x Tomahawks, 30 x SAMs, 2 x 12.75" and 2 x 21" torpedoes + an ROV or minisub. Not bad for a 50 ton battleship that needs no (or vastly reduced) crew and runs on clean energy from nature. A zoned network of these ships can police international waters in formation, attack and sink enemy warships and submarines and shoot down aircraft that present a potential threat to national security. The development of such ships represents an opportunity for future exports and defence energy reductions that represent a no-brainer in terms of prioroty.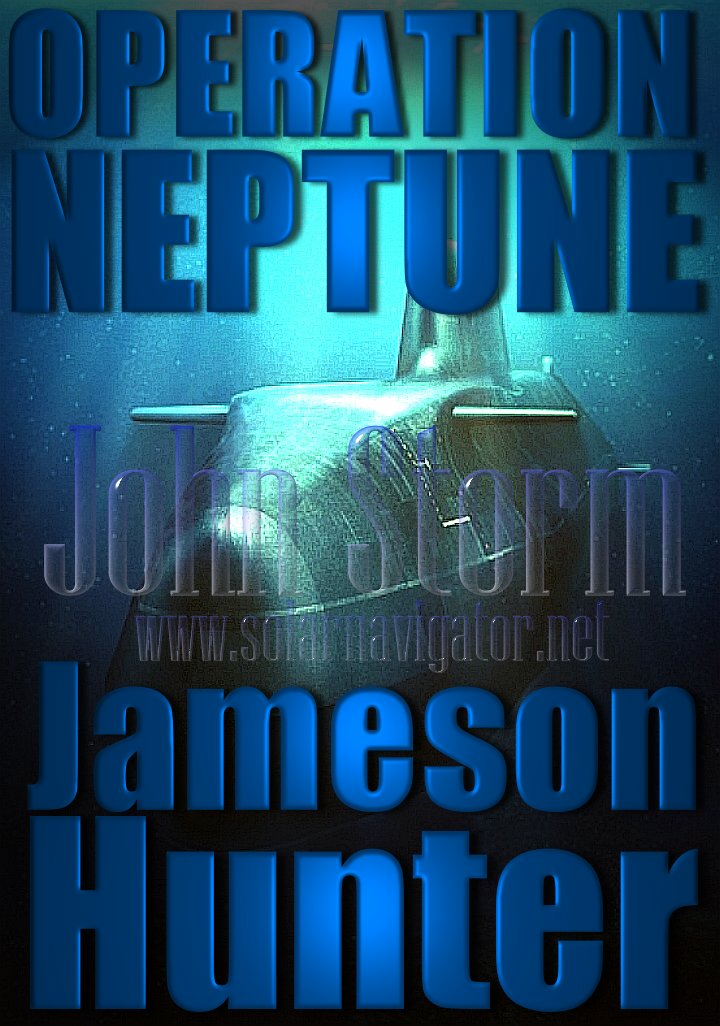 FICTION - Operation Neptune - An advanced nuclear submarine is hijacked by environmental extremists intent on stopping pollution from the burning of fossil fuels. The extremists torpedo a number of oil wells as part of a campaign to cause energy chaos, with bigger plans to come. When NATO tries to stop then, the terrorists sink the USS Jimmy Carter and HMS Queen Elizabeth. A more subtle approach is required, enter John Storm and Charley Temple. If you enjoyed Battleship, Pacific Rim, Under Siege or The Hunt for Red October, this is a must for you.