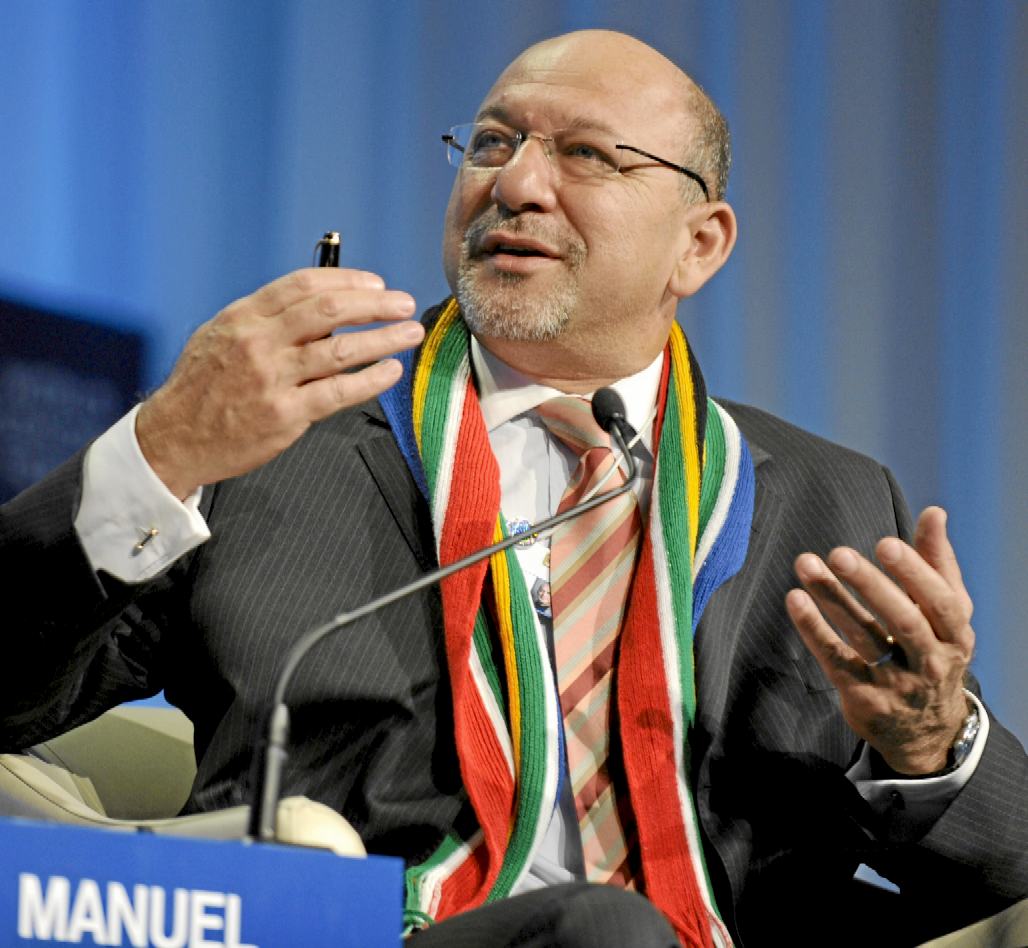 GLOBAL OCEAN COMMISSIONERS - CO-CHAIRS
CO CHAIR - Trevor Manuel was one of South Africa's longest serving Ministers of Finance, and is now Minister in the Presidency and head of the National Planning Commission. After South Africa's first democratic elections in 1994, Mr Manuel was appointed Minister for Trade and Industry. Two years later he became Minister of Finance. Trevor Manuel actively opposed apartheid policies for many years, and became head of the African National Congress's Department of Economic Planning prior to the 1994 election. He was a member of the ANC's National Executive Committee from 1991 to 2012. Mr Manuel has chaired the International Monetary Fund's Development Committee, served as Special Envoy for Development Finance for UN Secretaries-General Kofi Annan and Ban Ki-Moon, and served on the Commission for Africa and the task team on Global Public Goods. In 2011 he became a Co-chair of the Transitional Committee of the Green Climate Fund, a UN fund to help poorer nations combat and adapt to climate change. Mr Manuel has received numerous honorary doctorates and awards.
Trevor Andrew Manuel (born 31 January 1956) is a South African politician who served in the government of South Africa as Minister of Finance from 1996 to 2009, during the presidencies of Nelson Mandela, Thabo Mbeki and Kgalema Motlanthe, and subsequently as Minister in the Presidency for the National Planning Commission from 2009 to 2014 under President Jacob Zuma.
Trevor entered public life in 1981 as the General Secretary of the Cape Areas Housing Action Committee, after which he became a National Executive member of the United Democratic Front (UDF). In September 1985 Manuel was detained and then banned until 31 August 1990. However, Manuel's ban was lifted on 25 March 1986 after it was ruled that it was not in line with the provisions of the Internal Security Act. On 15 August 1986 Manuel was again detained under the emergency regulations for almost two years until July 1988. He was released from detention under severe restrictions but promptly detained again in September 1988, this time until February 1989. His release came with stringent restriction orders.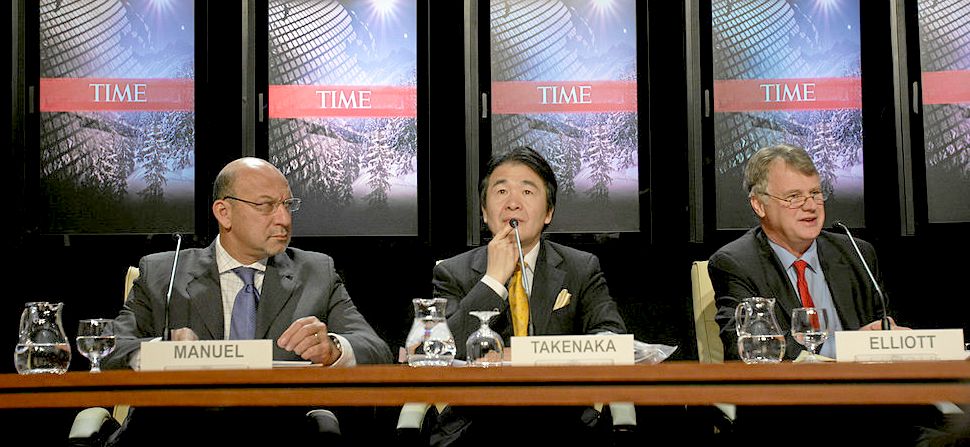 Trevor Manuel, South Africa Minister of Finance, Heizō Takenaka, Director of Global Security Research Institute of Keio University, and Michael Elliott, Editor of The Time, spoken at the World Economic Forum Annual Meeting in Davos Municipality, Graubünden Canton on January 28, 2009.
POST APARTHEID

After the un-banning of the African National Congress (ANC), Manuel was appointed as deputy co-ordinator in the Western Cape Province. At the ANC's first regional conference in 1990 Manuel was elected publicity secretary. At the ANC's 1991 national conference Manuel was elected to the National Executive Committee. In 1992 Manuel became head of the ANC's Department of Economic Planning. Manuel was elected as an ANC Member of Parliament in 1994 and was appointed by President Nelson Mandela as Minister of Trade and Industry; two years later, in 1996, he was moved to the post of Minister of Finance.

The World Economic Forum selected Manuel as a "Global Leader for Tomorrow" in 1994, and he has received numerous international awards and recognition for his accomplishments. He is regarded highly by a broad section of the South African public and is widely viewed as one of the most competent South African ministers.

South Africa reported its first budget surplus in 2007. A combination of increased prosperity, high commodity prices and a wider tax base were credited with the surge of revenue. Manuel increased spending for education, housing and sanitation.

In the 2002 election to the ANC's National Executive Committee, Manuel placed first. At the ANC conference in Polokwane in December 2007, he was again elected to the National Executive Committee, this time in 57th place with 1,590 votes. In April 2008 Manuel was announced chancellor of the Cape Peninsula University of Technology.

In September 2008, the International Monetary Fund commissioned a "Committee on IMF Governance Reform", to be chaired by Manuel. This report was submitted in March 2009.
HISTORY

Trevor Manuel was born in Kensington (Cape Town), during the apartheid era and classified as a Cape Coloured. His mother, Philma van Söhnen, was a garment factory worker, and his father, Abraham James Manuel, was a draughtsman. According to Manuel's "family legend", his great-grandfather was a Portuguese immigrant; he had married an indigenous woman.

Manuel grew up and was educated in the city. He matriculated from the Harold Cressy High School in 1973 and studied Civil and Structural Engineering, and later, during his detention, law. Manuel retired from active politics in 2014.
Trevor Manual at the free tribute concert to commemorate Mandela's death at the Cape Town Stadium on Wednesday, 11 December 2013.
GLOBAL OCEAN COMMISSION (GOC) OBJECTIVES
The objective of the Global Ocean Commission is to address the issues hereis by formulating 'politically and technically feasible short, medium, and long-term recommendations.

These final recommendations were to be published in early 2014, shortly before the UN General Assembly began discussions on protecting high seas biodiversity – a commitment made at the Rio+20 summit in 2013. The work of the Commission thus focuses on four key tasks:

1. To examine key threats, challenges, and changes to the ocean in the 21st century, and identify priority issues. The Commission will utilise both scientific and economic evidence, drawing on existing reports from world experts, as well as commencing original research in partnership with other organisations.

2. To review the effectiveness of the existing legal framework for the high seas in meeting these challenges. According to the Commission, this means a special focus on the effectiveness of regional fisheries management organisations, particularly with respect to their accountability, transparency, and performance. It also means reviewing the governance gap on biodiversity conservation and analysing options for combatting IUU fishing. The Commission will also assess the suitability of the existing legal regime for regulating emerging uses of the global ocean.

3. To engage with interested parties around the world, as well as the general public. The Commission will connect with fishers, military and merchant navies, recreational sailors, seafood companies, conservation groups and the emergent seabed mining business. The Commission also aims to raise understanding among policymakers, economists and other groups, including the general public, of the implications should high seas issues not be reformed.

4. To make recommendations regarding 'cost-effective, pragmatic and politically feasible reforms of high seas governance, management and enforcement.' While the threat analysis will take account of external issues such as climate change, recommendations will focus on reforms that can be achieved by evolving high seas governance. Some may concern the fundamental legal framework under which the global ocean is governed, whereas others may focus on improving the effectiveness of existing mechanisms.
The Global Ocean Commission
Somerville College
Woodstock Road
Oxford, OX2 6HD

UK+44 (0) 1865 280747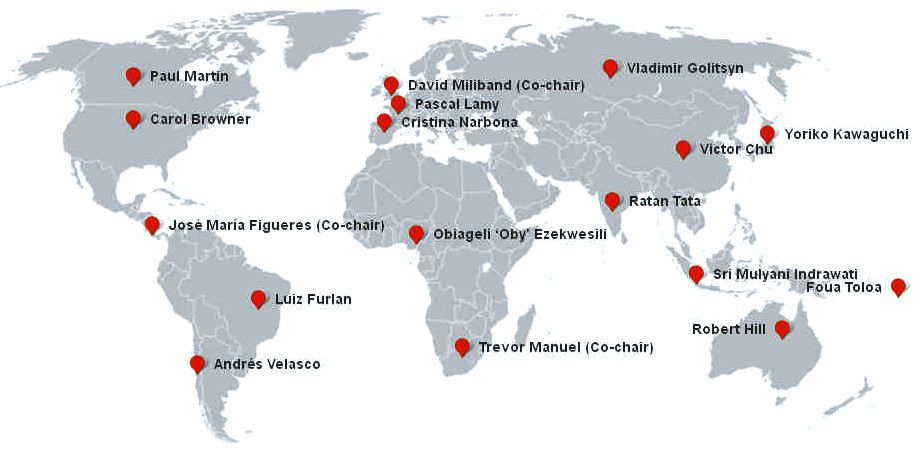 GLOBAL OCEAN COMMISSIONERS - A map of the world showing the location of the GOC's commissioners.
THE COMMISSIONERS
| | | | | | | |
| --- | --- | --- | --- | --- | --- | --- |
| | | | | | | |
| Carol Browner | Victor Chu | Obiageli Ezekwesili | Luiz Furlan | Vladimir Golitsyn | Robert Hill | Yoriko Kawaguchi |
| . | . | . | . | . | . | . |
| | | | | | | |
| Pascal Lamy | Paul Martin | Sri Mulyani Indrawati | Cristina Narbona | Ratan Tata | Foua Toloa | Andrés Velasco |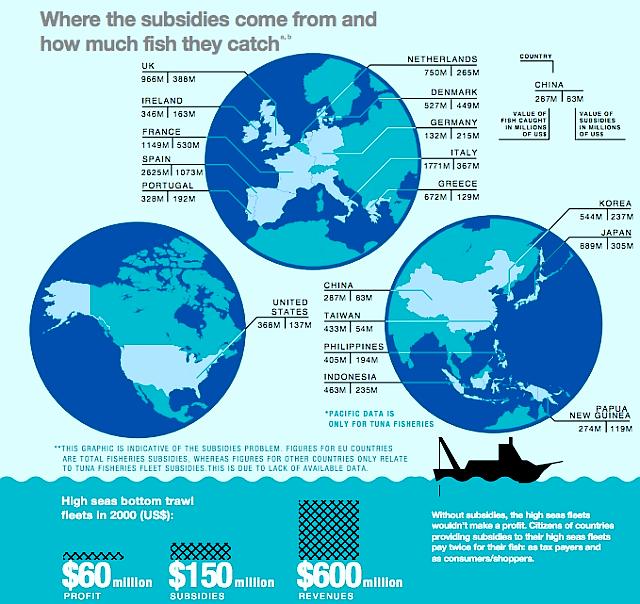 RICH COUNTRIES PAY ZOMBIES $5 BILLION A YEAR IN SUBSIDIES TO PLUNDER THE OCEANS - Without the subsidies, most of these businesses would fail. So thoroughly have industrial fleets over-fished the seas that they couldn't afford the fuel to travel the ever-increasing distance needed to catch the same amount of fish if their governments didn't lavish public funds upon them.

In economics, you'd call these zombies - unprofitable companies that would fail if governments didn't prop them up. There are two big problems with zombies. First, they take resources that could go to support new, productive companies. And by subsidizing zombies, governments allow them to keep prices low, driving productive companies out of business.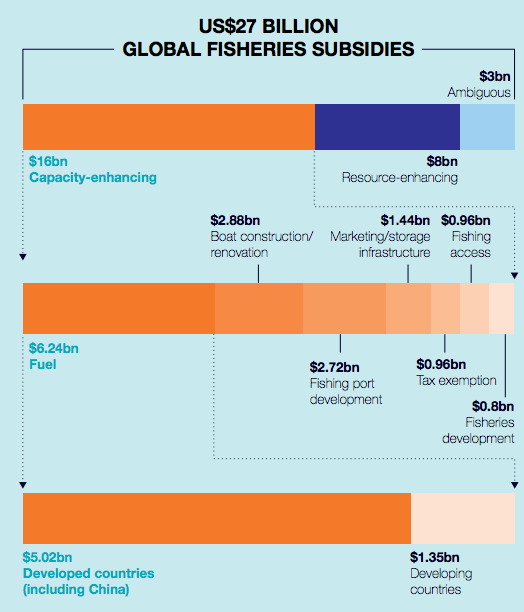 RICH COUNTRIES PAY ZOMBIES $5 BILLION A YEAR IN SUBSIDIES TO PLUNDER THE OCEANS - Not all subsidies are bad. In fact, subsidies to promote fishery resource conservation and management - things like stock assessments and stock monitoring - are exactly the kinds of things we should be pressing our governments to foot the bill for. But some $16 billion in subsidies goes exclusively toward making it cheaper to catch more fish. That's a problem, given that the global deepwater fleet is already 2.5 times bigger than what the GOC says is sustainable to maintain global fish stocks.

Take, for example, the global high-seas bottom-trawl fleet. The top 12 highest-catching nations pony up a total of $152 million a year, worth a quarter of what the fleet catches. Yet this fleet's margins are typically 10%. That means these highly destructive vessels couldn't stay in business if not for government gimmes.

Governments tend to be leery of slashing subsidies because of the potential impact on jobs and, hence, politics. For instance, in 2006 Spain upped its fuel subsidy 60% after fishermen blockaded Mediterranean ports to protest oil prices. But the industrial fisheries are actually not huge employers, even within their sector: GOC reports that the biggest vessels catch 65% of all marine fish, while employing only 4% of fishermen.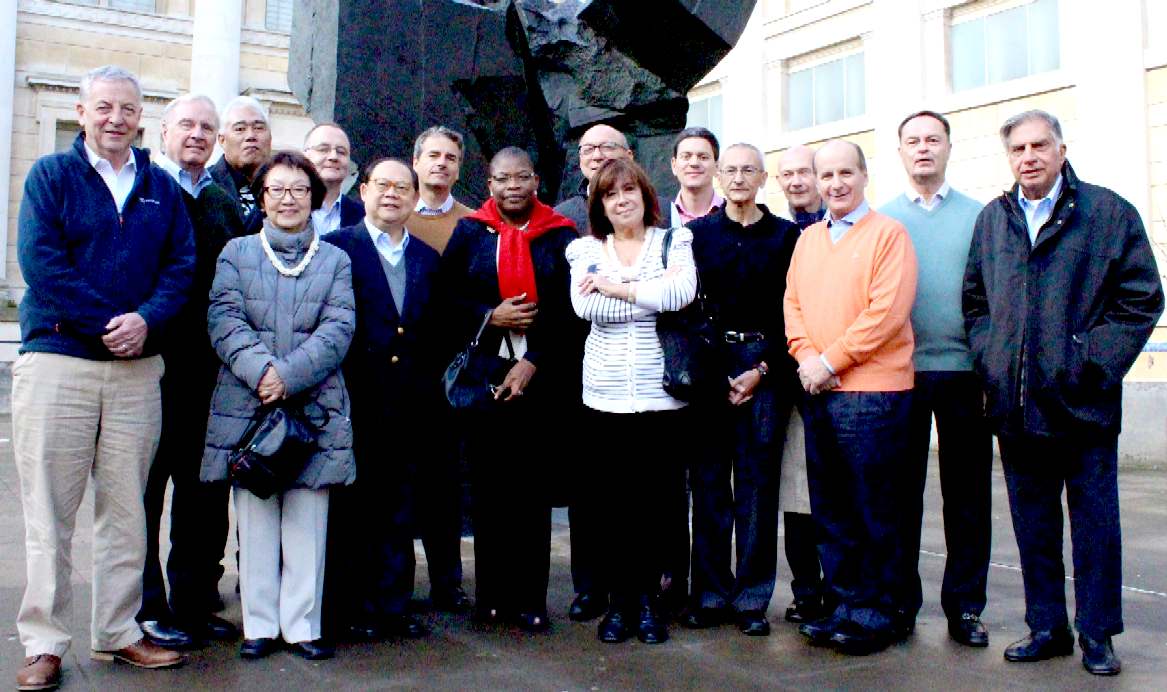 The Global Ocean Commission at its meeting in Oxford, 21st-23rd November 2013 (left to right) Robert Hill, Paul Martin, Foua Toloa, Yoriko Kawaguchi, Simon Reddy (Executive Secretary), Victor Chu, Andrés Velasco, Obiageli Ezekwesili, Trevor Manuel (Co-chair), Cristina Narbona, David Miliband (Co-chair), John Podesta, Pascal Lamy, José María Figueres (Co-chair), Vladimir Golitsyn, Ratan Tata.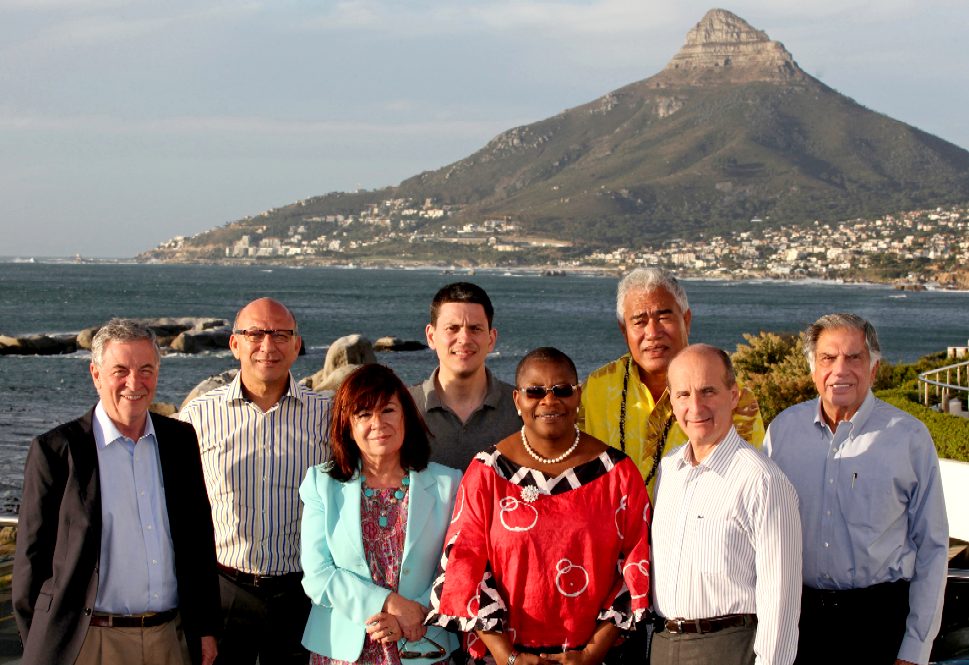 Members of the Global Ocean Commission at their inaugural meeting in Cape
Town, South Africa. Left to right: Robert Hill, Trevor Manuel (Co-chair), Cristina Narbona, David Miliband (Co-chair), Obiageli Ezekwesili, Foua Toloa, José María Figueres (Co-chair), Sir Ratan Tata.
LINKS & REFERENCE
Buzz South Africa Trevor Manuel profile biography
Telegraph US-royal-tour-Prince-of-Wales-makes-plea-for-cleaner-oceans
Prince-of-Wales-speech-hrh-the-prince-of-wales-event-titled-plastic-the-marine-environment-scaling
Daily Mail Charles-horrified-toll-plastic-dumped-sea-Prince-Wales-plea-solve-issue-sake-future-generations
The Guardian environment 2015 March 19 Prince-charles-calls-for-end-to-dumping-of-plastic-in-worlds-oceans
http://abcnews.go.com/US/wireStory/prince-charles-speaks-dangers-plastic-waste-oceans-29736519
National Geographic news 2014 June Global-ocean-commission-report-high-seas-fishing-environment
Virgin leadership and advocacy introducing global ocean commission
Wikipedia European_Commissioner_for_Maritime_Affairs_and_Fisheries
Reuters 2013 US oceans new global group to clean up
National Geographic 2014 global-ocean-commission-report-high-seas-fishing-environment
http://en.wikipedia.org/wiki/European_Commissioner_for_Maritime_Affairs_and_Fisheries
http://www.virgin.com/unite/leadership-and-advocacy/introducing-global-ocean-commission
http://www.scienceifl.com/ocean-plastic-pollution.htm
http://abcnews.go.com/US/wireStory/prince-charles-speaks-dangers-plastic-waste-oceans-29736519
http://www.globaloceancommission.org/
http://time.com/3750375/environment-prince-charles-oceans/
http://news.nationalgeographic.com/2015/03/150318-prince-charles-oceans-trash-plastic-britain/
http://en.wikipedia.org/wiki/Global_Ocean_Commission
http://www.itv.com/news/2015-03-18/prince-charles-makes-impassioned-plea-for-oceans-clean-up/
http://buzzsouthafrica.com/trevor-manuel-profile-biography/
http://mg.co.za/tag/trevor-manuel
http://whoswho.co.za/trevor-manuel-918
http://en.wikipedia.org/wiki/Trevor_Manuel
ACID OCEANS - ARCTIC - ATLANTIC - BALTIC - BERING - CARIBBEAN - CORAL - EAST CHINA - ENGLISH CH
GULF MEXICO - GOC - INDIAN - MEDITERRANEAN - NORTH SEA - PACIFIC - PERSIAN GULF - SEA JAPAN - STH CHINA
PLANKTON - PLASTIC - PLASTIC OCEANS - UNCLOS - UNEP - WWF