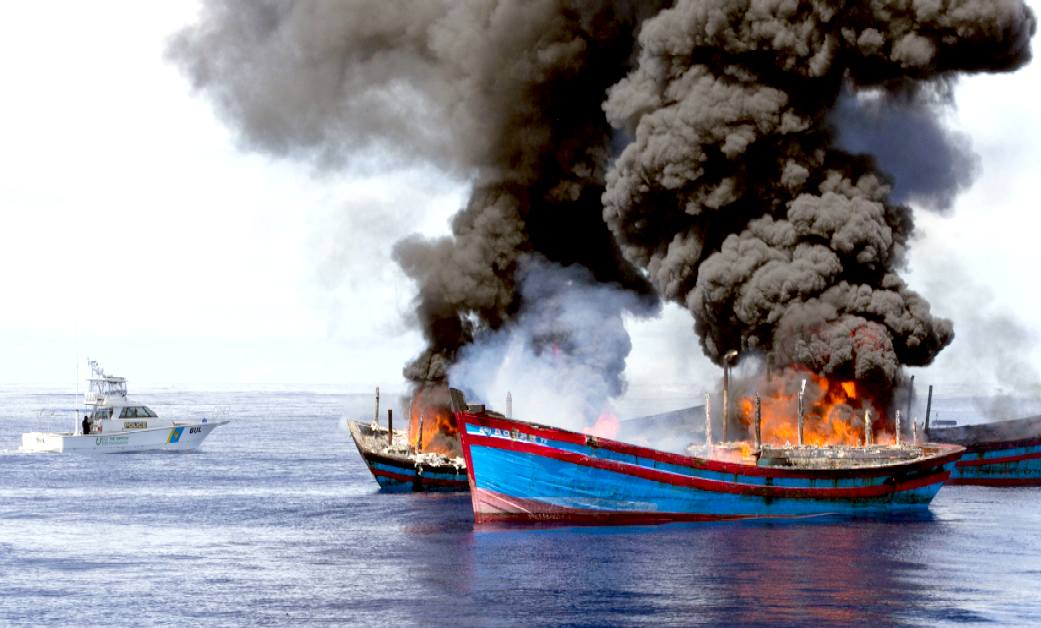 FUNERAL FIRE - Tightening up the policing of the oceans will not stop the current trend of fish stock decline, neither will hunting down fishing pirates halt global warming. So, enjoy your fish and chips while you can - and while savoring one of your Friday night favorites, remember that at the moment by paying for fish caught by bottom trawlers, you are helping to destroy the marine environment. Why not ask your chippie how his suppliers catch their fish? While you are at it, why not ask your supermarket how their fish is caught! The above picture shows three Vietnamese fishing boats burning to prevent them being re-used for illegal poaching that harms protected species. The cure is a fairer society based on a truly Circular World Economy.
WASHINGTON TIMES JUNE 11 2015

TOKYO (AP) - The tiny Pacific nation of Palau, fighting a rising tide of illegal fishing in its waters, has set fire to four boats of Vietnamese caught poaching sea cucumbers and other marine life in its waters.

Palau's president, Tommy Remengesau Jr., said the boats were burned Friday morning. He hopes to turn most of the island nation's territorial waters into a national marine sanctuary, banning commercial fishing and exports apart from limited areas to be used by domestic fishermen and tourists.

"We wanted to send a very strong message. We will not tolerate any more these pirates who come and steal our resources," Remengesau said in a phone interview with The Associated Press from Washington, D.C., where he was visiting.

The country created the world's first shark sanctuary in 2009, but until recently had only one patrol boat to help protect its great hammerheads, leopard sharks and more than 130 other species of shark and rays fighting extinction.

The four boats destroyed Friday were among 15 Palau authorities have caught fishing illegally in their waters since last year with loads of sharks and shark fins, lobsters, sea cucumbers and reef fish. Several of the boats that it seized, stripped of their fishing gear, are due to carry 77 crew members of the boats back to Vietnam.

Remengesau said that the stream of poachers showed that just stripping the rogue boats of their nets and confiscating their catches was not enough. "I think it's necessary to burn the boats," he said.

Palau, about 600 miles (970 kilometers) miles east of the Philippines, is one of the world's smallest countries, its 20,000 people scattered across a tropical archipelago of 250 islands that is considered a biodiversity hotspot. In 2012, its Rock Islands Southern Lagoon was named a UNESCO World Heritage site.

Driven by rising demand from China and elsewhere in Asia, overfishing threatens many species of fish. With 621,600 square kilometers (240,000 square miles) of territorial waters, including its exclusive economic zone, or EEZ, extending 200 miles (320 kilometers) from its coastline, Palau is battling to prevent poaching of its sea life by fishermen from across southeast Asia.

Despite progress in tracing sources of fish sold to consumers, about a fifth of the global market for marine products caught and sold, or about $23.5 billion, is caught illegally.

Advances in telecommunications and vessel tracking technology have improved surveillance, but enforcing restrictions on unauthorized fishing is costly and difficult, especially given the many "pockets" of high seas in the area.

"There's a lot of opportunity for illegal fishing and other transnational crime. It's a challenge," said Seth Horstmeyer, campaigns director for The Pew Charitable Trusts' Global Ocean Legacy program. High seas pockets, beyond the jurisdiction of any government, account for nearly two-thirds of all ocean areas.

From Palau to Japan is a vast expanse of seas that nobody controls and nobody owns, areas that serve as refuges for illegal fishing vessels.

The Vietnamese fishermen tend to prowl shallows seas and reefs in search of sea cucumbers and reef fish and then flee back into those deeper waters to evade capture, Horstmeyer said.

One way to counter that tactic is to create a "geofence" using vessel identification systems that could trigger alerts when vessels cross into national waters.

Nearby Indonesia also is taking harsher action, recently blowing up and sinking 41 foreign fishing vessels from China, Malaysia, the Philippines, Thailand and Vietnam, as a warning against poaching in the country's waters.

In Hanoi, Foreign Ministry spokesman Le Hai Binh recently told reporters the government was seeking to protect the rights of the fishermen. He urged other governments to "render humanitarian treatment toward the Vietnamese fishing trawlers and fishermen on the basis of international law as well as humanitarian treatment toward fishermen who were in trouble at sea."

While burning and sinking such ships seems drastic, the International Tribunal for the Law of the Sea has backed such moves, ruling that countries can be held liable for not taking necessary measures to prevent illegal, unreported or unregulated, so-called IUU, fishing operations by their vessels in the waters of other countries.

In a report on IUU fishing last year, the Indonesia government outlined a slew of tactics used by poachers, including fake use of Indonesian flags on foreign vessels, forgery of documents and use of bogus fishing vessels using duplicate names and registration numbers of legitimate ships.

Poachers "go where the risk of being discovered is lowest, said Johanne Fischer, New Zealand-based executive secretary at the South Pacific Regional Fisheries Management Organization, which works on conservation and sustainable use of fishery resources in the South Pacific Ocean.

"Part of the problem is the mafia type of the thinking of the industry of just trying to make money. It's human nature, whenever you have possibility to make money with illegal activities. It's the same in the ocean."

As Palau's plan for a national marine sanctuary moves through its legislature, other Pacific countries and territories are taking similar measures.

Britain is preparing to make the Pitcairn Islands, home to descendants of the mutineers from the HMS Bounty, the world's largest continuous marine reserve at 834,000 square kilometers (322,000 square miles).

Last year, the U.S. government announced it was expanding protected areas in three areas - Johnston Atoll, Wake Atoll, and Jarvis Island - of the Pacific Remote Islands Marine National Monument to encompass about 1.05 million square kilometers (405,000 square miles) of non-contiguous sanctuaries.

As it gears up for stricter enforcement, Palau is consulting with Pew, Japan's Sasakawa Peace Foundation and some foreign navies on ways to better police its waters using land-based radar, aerial surveillance and satellite identification systems.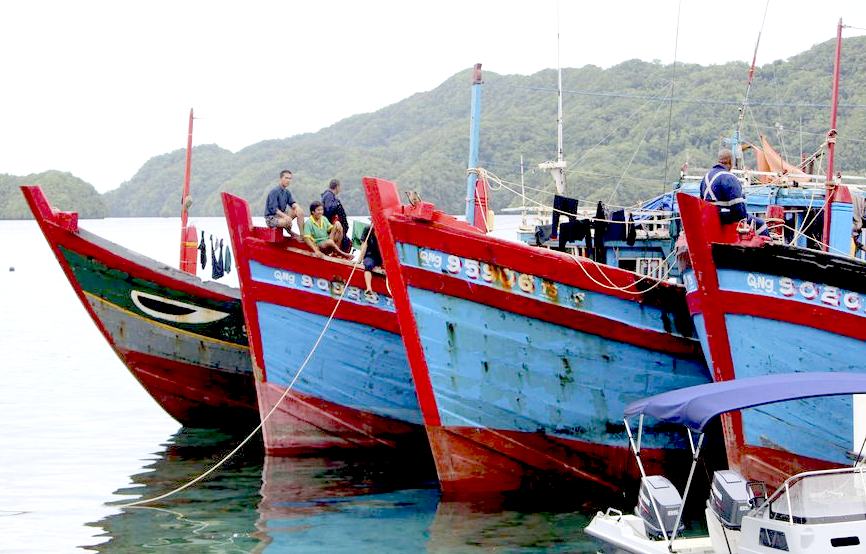 KOROR, PALAU - In this photo taken Wednesday, June 10, 2015 and released by the Government of the Republic of Palau, Vietnamese fishermen sit on their fishing ships anchored at the Marine Law Enforcement Division Port in Koror, Palau after being caught fishing illegally in the waters of the country. The tiny Pacific nation of Palau, fighting a rising tide of illegal fishing in its waters, has set fire to four boats of Vietnamese caught poaching sea cucumbers and other marine life in its waters. Palau's president, Tommy Remengesau Jr., said the boats were burned Friday morning, June 12, 2015. He hopes to turn most of the island nation's territorial waters into a national marine sanctuary, banning commercial fishing and exports apart from limited areas to be used by domestic fishermen and tourists.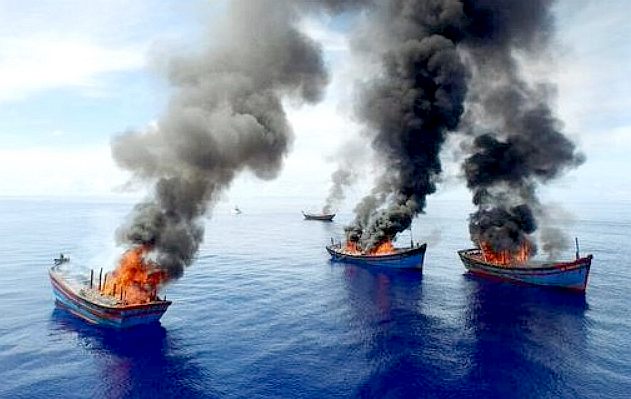 The Global Ocean Commission is looking to improve the system of fishing governance, thus ending high seas over-fishing, stopping the loss of habitat and biodiversity, and improving monitoring and compliance. The problem with the suggested identification systems is that pirate fishermen would be likely to remove all such equipment when planning a poaching trip. Also, we should not seek to penalize innocent ocean users with draconian (potentially unlawful) measures. Vigilance is therefore the best solution.
ABOUT PALAU
Palau, officially the Republic of Palau (Palauan: Beluu er a Belau), is an island country located in the western Pacific Ocean. It is geographically part of the larger island group of Micronesia. The country's population of around 21,000 is spread across 250 islands forming the western chain of the Caroline Islands. The most populous island is Koror. The capital Ngerulmud is located in Melekeok State on the nearby island of Babeldaob. The islands share maritime boundaries with Indonesia, the Philippines, and the Federated States of Micronesia.

The country was originally settled around 3,000 years ago by migrants from the Philippines and sustained a Negrito population until around 900 years ago. The islands were first visited by Europeans in the 18th century, and were made part of the Spanish East Indies in 1885. Following Spain's defeat in the Spanish–American War in 1898, the islands were sold to Imperial Germany in 1899 under the terms of the German–Spanish Treaty, where they were administered as part of German New Guinea. The Imperial Japanese Navy conquered Palau during World War I, and the islands were later made a part of the Japanese-ruled South Pacific Mandate by the League of Nations. During World War II, skirmishes, including the major Battle of Peleliu, were fought between American and Japanese troops as part of the Mariana and Palau Islands campaign. Along with other Pacific Islands, Palau was made a part of the United States governed Trust Territory of the Pacific Islands in 1947. Having voted against joining the Federated States of Micronesia in 1979, the islands gained full sovereignty in 1994 under a Compact of Free Association with the United States.

Politically, Palau is a presidential republic in free association with the United States, which provides defense, funding, and access to social services. Legislative power is concentrated in the bicameral Palau National Congress. Palau's economy is based mainly on tourism, subsistence agriculture and fishing, with a significant portion of gross national product (GNP) derived from foreign aid. The country uses the United States dollar as its currency. The islands' culture mixes Japanese, Micronesian and Melanesian elements. The majority of citizens are of mixed Micronesian, Melanesian, and Austronesian descent, with significant groups descended from Japanese and Filipino settlers. The country's two official languages are Palauan (member of the wider Sunda–Sulawesi language group) and English, with Japanese, Sonsorolese, and Tobian recognised as regional languages.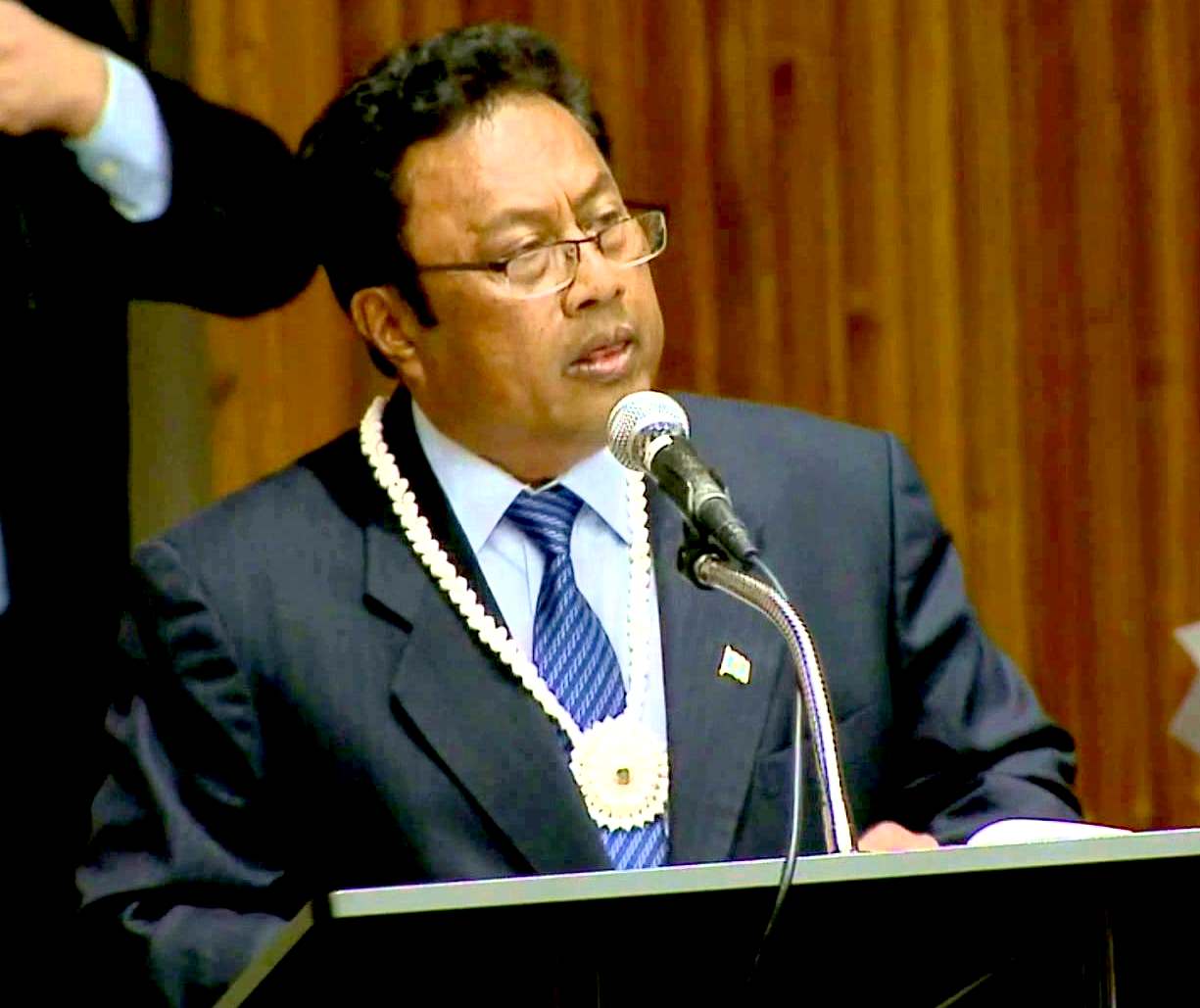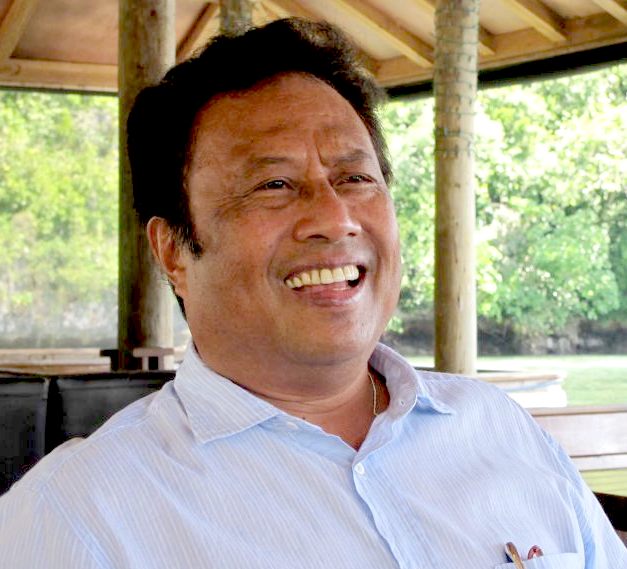 Thomas Esang "Tommy" Remengesau, Jr. was born on the 29th of February 1956. He is a Palauan politician who is the current President of Palau. Remengsau was originally president of Palau from 2001 to 2009. He was elected to another four-year term as President in November 2012 and took office on 17 January 2013.
He became Vice-President in 1992 and was elected as President in 2000; he took office on January 1, 2001. He wished to make Palau less dependent upon United States aid, and promoted the expansion and growth of the tourist industry through his policy and slogan of, Preserve the Best and Improve the Rest. The "best" here, being an allusion to Palau's especially gifted and diverse underwater resource in the Micronesian region, and its reputation of being considered among the top in underwater attractions of the world.
In Palau's foreign affairs, Remengesau had been active in maintaining Palau's presence in the UN. During his administration the tiny nation of Palau had elevated to becoming known as an unheralded leader amongst the international community through environmental initiatives, such as the Micronesian Challenge and its cooperation with South Pacific Nations in advocating awareness of Global Warming and its effects in the South Pacific Region.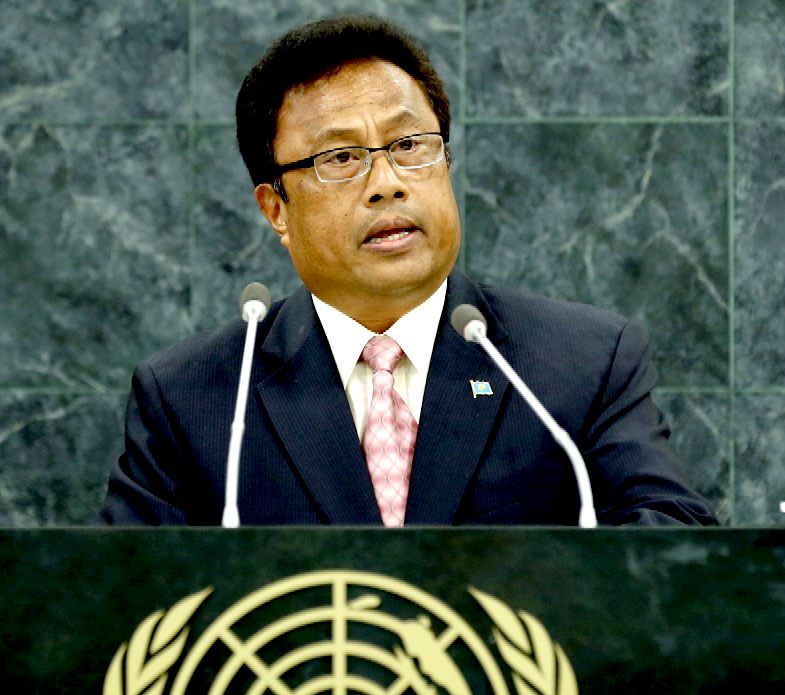 NEW YORK - At the sixty-eighth meeting of the United Nations General Assembly this fall, world leaders expressed their support for a Sustainable Development Goals on oceans. Statements of support came from Tommy Remengesau, President of Palau; Christopher Loeak, President of the Marshall Islands; Prince Albert II of Monaco; and Vince Henderson, Permanent Representative of the Commonwealth of Dominica.

All of the speakers stressed the importance of coalition-building. No one group or one country, no matter how big or powerful, can protect the oceans. We need all types of people to help save the oceans: from scientists sharing data, to the funding and support of major investment organizations, to political support and coalitions. It's all hands to the pumps.

It helped get people from different organizations on the same page, and helped everyone realize that each group, while so different on paper, is working toward the same goals. The session served as an important platform for understanding and inspiration: Now we just need to turn that inspiration into action.
ENVIRONMENT
Much of Palau remains free of environmental degradation/ There are though areas of concern including illegal dynamite fishing, inadequate solid waste disposal facilities in Koror and extensive sand and coral dredging in the Palau lagoon. As with other Pacific island nations, rising sea levels presents a major environmental threat. Inundation of low-lying areas threatens coastal vegetation, agriculture, and an already insufficient water supply. Wastewater treatment is a problem, along with the handling of toxic waste from fertilizers and biocides.

Saltwater crocodiles are also indigenous to Palau and occur in varying numbers throughout the various mangroves and even in parts of the beautiful rock islands. Although this species is generally considered extremely dangerous, there has only been one fatal human attack in Palau within modern history, and that was in the 1960s. In Palau, the largest crocodile measured in at 4.5 metres (15 ft).

The nation is also vulnerable to earthquakes, volcanic activity, and tropical storms. Palau already has a problem with inadequate water supply and limited agricultural areas to support its population.

On 5 November 2005, President Tommy E. Remengesau, Jr. took the lead on a regional environmental initiative called the Micronesia challenge, which would conserve 30% of near-shore coastal waters and 20% of forest land by 2020. Following Palau, the initiative was joined by the Federated States of Micronesia, the Marshall Islands, and the U.S. territories of Guam and Northern Mariana Islands. Together, this combined region represents nearly 5% of the marine area of the Pacific Ocean and 7% of its coastline.

On 25 September 2009, Palau announced that it would create the world's first shark sanctuary. Palau banned all commercial shark fishing within the waters of its exclusive economic zone (EEZ). The sanctuary protects about 600,000 square kilometres (230,000 sq mi) of ocean, a similar size to France. President Johnson Toribiong announced the sanctuary at a meeting of the United Nations. President Toribiong proposed a worldwide ban on fishing for sharks. In 2012, Palau received the Future Policy Award from World Future Council, because "Palau is a global leader in protecting marine ecosystems".

ECONOMY

Palau's economy consists primarily of tourism, subsistence agriculture and fishing. Tourist activity focuses on scuba diving and snorkeling in the islands' rich marine environment, including its barrier reefs' walls and World War II wrecks. The government is the largest employer, relying heavily on U.S. financial assistance. Business and tourist arrivals numbered some 50,000 in financial year 2000/2001.

The population enjoys a per capita income twice that of Micronesia as a whole. Long-term prospects for the key tourist sector have been greatly bolstered by the expansion of air travel in the Pacific, the rising prosperity of leading East Asian countries and the willingness of foreigners to finance infrastructure development.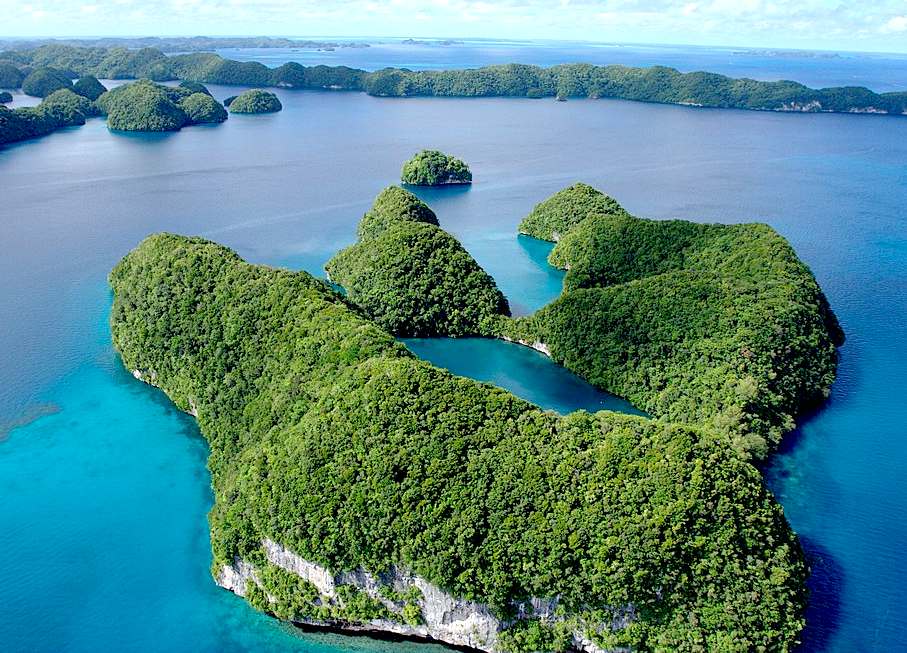 GEOGRAPHY & CLIMATE

Palau's territory consists an archipelago located in the Pacific Ocean. Its most populous islands are Angaur, Babeldaob, Koror and Peleliu. The latter three lie together within the same barrier reef, while Angaur is an oceanic island several miles to the south. About two-thirds of the population live on Koror.

The coral atoll of Kayangel is north of these islands, while the uninhabited Rock Islands (about 200) are west of the main island group. A remote group of six islands, known as the Southwest Islands, some 375 miles (604 km) from the main islands, make up the states of Hatohobei and Sonsorol.

Palau has a tropical climate with an annual mean temperature of 82 °F (28 °C). Rainfall is heavy throughout the year, averaging 150 inches (3,800 mm). The average humidity is 82% and, although rain falls more frequently between July and October, there is still much sunshine.

Typhoons are rare, as Palau lies outside the main typhoon zone. The strongest typhoon that struck Palau since reliable records was Typhoon Haiyan in 2013. A mandatory emergency evacuation was issued for Kayangel. A storm surge damaged several houses. Despite residents' refusal to evacuate safely, no fatalities or major injuries were reported.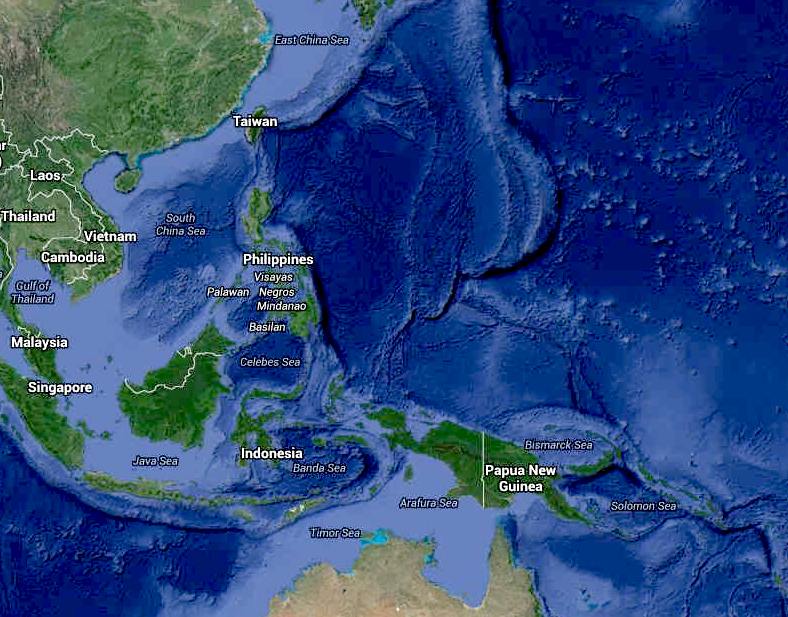 PALAU ISLANDS - Is seen here as a peak in the ocean in the middle of this map. This was the world's first marine sanctuary for sharks from 2009. Why fishermen from Vietnam cross the South China and Celebes Seas to plunder the oceans around the Palau Islands, some 3000km distant - is a mystery, unless they are parked up much closer.
THE GLOBAL OCEAN COMMISSIONERS A-Z
| | | | | | | |
| --- | --- | --- | --- | --- | --- | --- |
| | | | | | | |
| Carol Browner | Victor Chu | Obiageli Ezekwesili | Luiz Furlan | Vladimir Golitsyn | Robert Hill | Yoriko Kawaguchi |
| . | . | . | . | . | . | . |
| | | | | | | |
| Pascal Lamy | Paul Martin | Sri Mulyani Indrawati | Cristina Narbona | Ratan Tata | Foua Toloa | Andrés Velasco |

The Global Ocean Commission
Somerville College
Woodstock Road
Oxford, OX2 6HD
UK+44 (0) 1865 280747
LINKS
Washington Times news 2015 June 11 palau-burns-vietnamese-boats-caught-fishing-illegally
http://oceansalliance.org/
https://en.wikipedia.org/wiki/Tommy_Remengesau
https://en.wikipedia.org/wiki/Palau
http://www.washingtontimes.com/news/2015/jun/11/palau-burns-vietnamese-boats-caught-fishing-illega/
ACID OCEANS - ARCTIC - ATLANTIC - BALTIC - BERING - CARIBBEAN - CORAL - EAST CHINA - ENGLISH CH
GULF MEXICO - GOC - INDIAN - MEDITERRANEAN - NORTH SEA - PACIFIC - PERSIAN GULF - SEA JAPAN - STH CHINA
PLANKTON - PLASTIC - PLASTIC OCEANS - UNCLOS - WOC - WWF