A BRIEF HISTORY OF BLUEBIRD CRAFT 1931 - 1990
MALCOLM CAMPBELL'S K3 & 'BLUE BIRD' YACHT 1938
Sir Malcolm Campbell loved boats. In 1931 he built his first motor yacht, followed in 1938 by a 100ft cruiser. This was the same year that he set a water speed record in the K3, at the time cutting edge hydroplane technology with a state of the art Rolls Royce Merlin engine.

The K3 - advancement is made by building and testing ideas.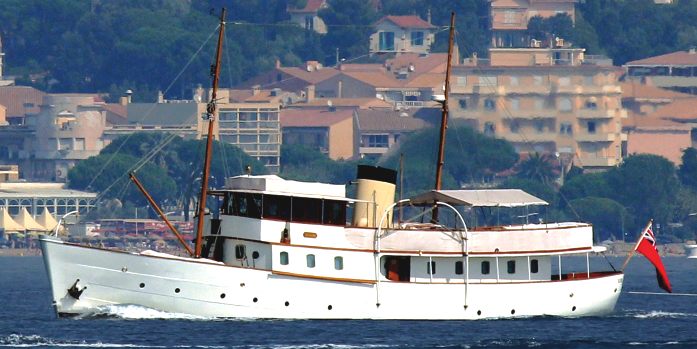 Something more practical - Sir Malcolm's traditional 1938 steel hulled 'Blue Bird' motor yacht.
Length : 103.70 ft / 31.60 m - Beam : 20.10 ft / 6.15 m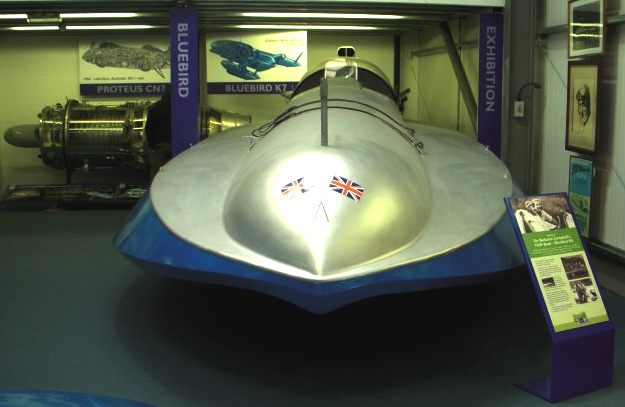 Sir Malcolm's K4 Bluebird hydroplane 1941 - lovely lines from this angle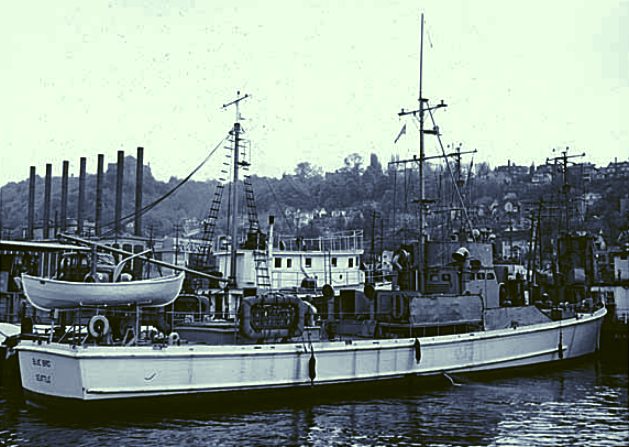 US Navy 'Blue Bird' minesweeper converted to fishing trawler 1944. Displacement: 314-585 tons - Length: 122'6"-150' - Beam: 23'-28'8" Draft: 10'11"-14'7" - Speed: 9-13 knots - Diesel engine. There were three US Navy ships named Blue Bird (Bluebird).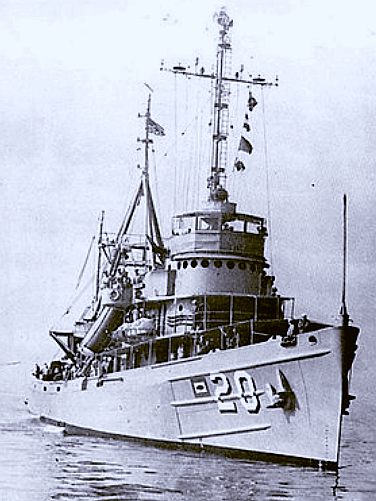 The USS Bluebird was a diesel powered US navy submarine rescue ship of 1780 tons, with a speed of 16 knots. There were three US Navy ships named Blue Bird (Bluebird). Click on the picture above to see the USS Bluebird, one of the Penguin Class submarine rescue ships decommissioned around 1950.
DONALD CAMPBELL - K7 1964
Donald Campbell was a technophobe. Today he would be into high-tech marine navigation equipment, just like us. In the 1960s he engaged the talented Norris brothers to design a jet powered boat for his water speed ambitions. This vessel was continuously modified over its short lifetime.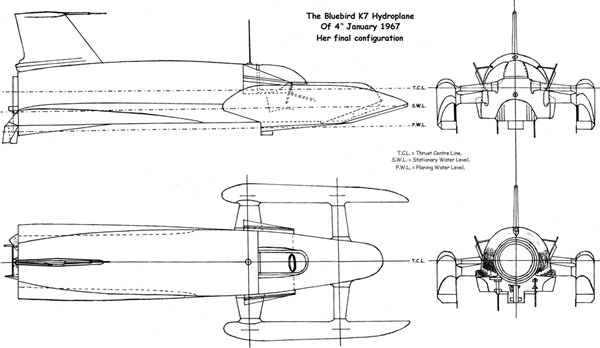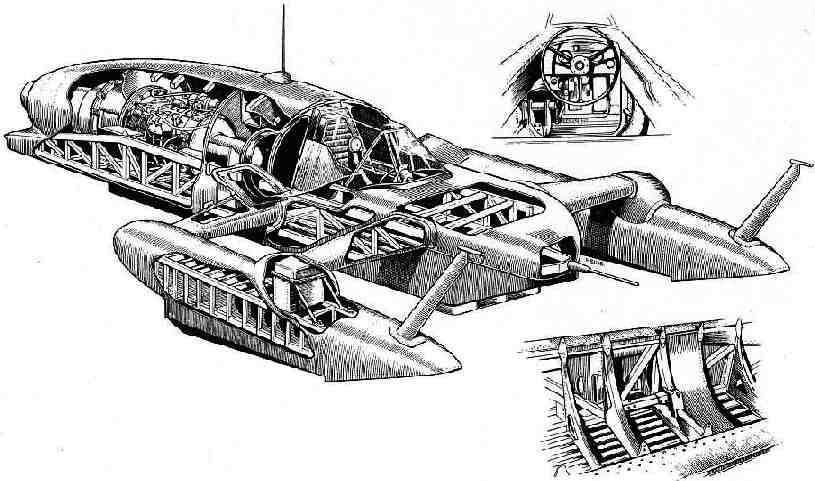 The Bluebird K7 hydroplane advanced mans understanding of hydrodynamics - taking it beyond the known boundaries in 1967. Boundary aerodynamics are better understood today thanks to Richard Noble's supersonic LSR projects.
DONALD CAMPBELL - JETSTAR 1967
Not strictly speaking a 'Bluebird' boat in the trade name sense, but the 'Jetstar' is included here for completeness, where the runabout was built by a partnership between Donald Campbell, Ken Norris and Leo Villa, via a company called "Bluebird Marine Limited" in 1967 (company ceased trading in the 70s). A Jetstar boat is therefore an interesting bit of Campbell paraphernalia and as such may be collectable.
A quick search at the IPO registry (2013) revealed that the trade name 'Jetstar' is registered with the IPO 10 times, but none so far in class 12 (boats). It is unclear if any of the partners ever registered the trade name and if so how it came to lapse. The design of the hull is also released from any form of design or copyright protection. That said there is nothing special about this design anymore, which is dated and has been improved on many times over the years by the likes of Fletcher and Glastron. Jet drives are also significantly improved, such as those from MJP.
The Jetstar went into limited production which continued after the death of Donald Campbell for a short time. Ken Norris owned the 'Bluebird' trademark for many years, until Nissan acquired it for their 2000cc petrol cars, leaving only a very small class of goods up for grabs in the UK. Both Ken Norris and Leo Villa passed away some years ago.

Donald Campbell in a Jetstar on Lake Coniston - Leo Villa (Uncle) beside a GRP prototype in Sussex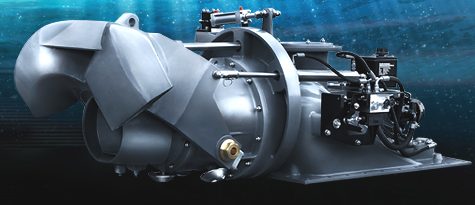 A modern 150 bhp MJP jet drive unit, spotted at Seawork in 2013
GINA CAMPBELL - AGFA BLUEBIRD 1984 > 1990
These were a series of powerboats (hydroplanes and offshore cigarettes) raced by Gina Campbell, the last of the family members bearing the famous Campbell name and the last of the 'world' records to be taken by a Campbell.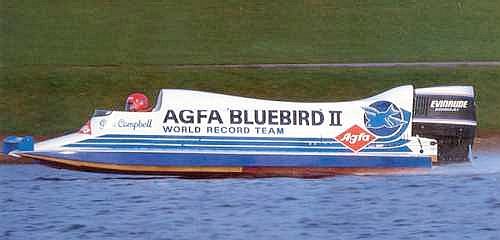 Gina Campbell in her Agfa Bluebird II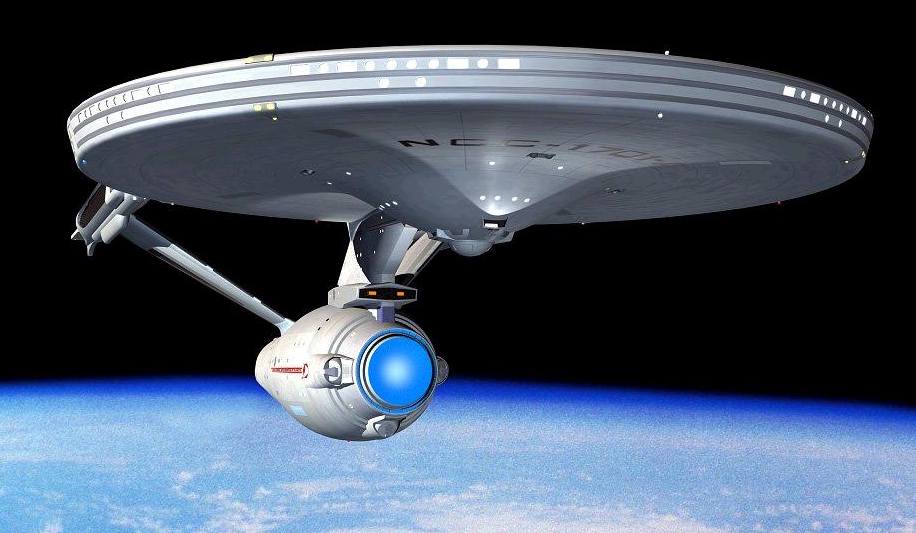 THE FUTURE: USS Bluebird as portrayed in the science fiction series Star Trek, created by Gene Roddenberry for television. The Bluebird class was designed for Starfleet to fulfill the need for confidential material and communiqués that could not be transmitted by subspace communication to be carried securely and safely. Up to this point ships like the modified Defiant Pathfinder had been used to fore fill this vital courier role. The Bluebird class was a cheaper and reliable option to bolster the small number to Defiant Pathfinders.
LINKS:
http://www.marineclassics.co.uk/electric-boat.html
http://www.oldspeedboats.co.uk/forum/index.php?topic=1002.0
http://www.bonhams.com/auctions/15342/lot/400/
http://www.nzjetboating.com/yabbse/index.php?action=printpage;topic=7445.0
http://intheboatshed.net/2007/04/02/donald-campbells-jetstar-appears-at-the-nmm-cornwall/
http://www.cmba-uk.com/forum/viewtopic.php?f=6&t=2734
http://www.nmmc.co.uk/index.php?/collections/featured_boats/donald_campbells_bluebird_jetstar_1
http://www.mby.com/news/403537/bluebird-jetstar-no-1-open-to-bids
http://www.britishpathe.com/video/donald-campbell-speed-boat-aka-water-jet-propelled/query/Campbell