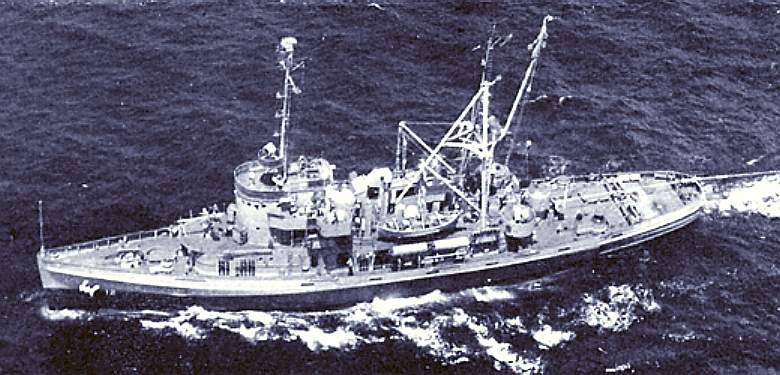 USS Bluebird ASR-19 - Penguin class submarine rescue ship
The second USS Bluebird (ASR-19) was a Penguin-class submarine rescue ship in the United States Navy. She was laid down on 23 June 1945 at Charleston, S.C., by the Charleston Shipbuilding & Drydock Co. as Yurok (ATF-164); re-designated ASR-19 on 7 November 1945; renamed Bluebird on 3 December 1945; launched on 15 February 1946; sponsored by Mrs. Paul Lambert Borden; and commissioned at the Charleston Naval Shipyard on 28 May 1946, Lt. Comdr. P. R. Hodgson in command.
Bluebird reported to the Commander, Training Group, Atlantic Fleet, in mid-July and completed shakedown training in Chesapeake Bay. After post-shakedown repairs at Charleston, the submarine rescue vessel reported for duty with the Submarine Force, Atlantic Fleet on 28 August. On the following day, however, she departed Charleston under orders to join Submarine Squadron (SubRon) 5, Pacific Fleet. She transited the Panama Canal on 5 September and, on the 7th, resumed her voyage to Pearl Harbor in company with Tawakoni (ATF-114), Cahuilla (ATF-152) and two tows. The ship arrived in Pearl Harbor on 12 October and relieved Widgeon (ASR-1) as rescue vessel for SubRon 5. Bluebird remained at Pearl Harbor for the next six months inspecting rescue and salvage equipment on board SubRon 5 submarines and assisting them in training missions.
On 29 April 1947, she departed Pearl Harbor for the Far East. The ship arrived in Yokosuka, Japan, on 10 May but departed there again the following day. On 14 May, she arrived in Tsingtao, China, and relieved Greenlet (ASR-10). For the next four months, Bluebird conducted rescue and salvage training with submarines at Tsingtao. On 12 October 1947, she departed that port to return to Hawaii. The submarine rescue vessel reentered Pearl Harbor on 3 November 1941 and began overhaul at the Pearl Harbor Naval Shipyard soon thereafter. The ship completed repairs in April 1948 and resumed duty with Pearl Harbor-based submarines. On 16 May 1949, she stood out of Pearl Harbor in company with Queenfish (SS-393) en route to the western Pacific. The two ships conducted exercises along the way before arriving in Yokosuka, Japan, on 20 June 1949. The submarine rescue vessel operated in the Orient exercising with submarines and destroyers until the following November. She visited such ports as Hong Kong, Guam in the Marianas, and Subic Bay in the Philippines. On 25 July 1949, she assisted SS John C. Fremont which ship had gone aground off Mayango Island. The next month between the 9th and the 10th, Bluebird towed the disabled USNS Cache (T-AO-67) into Yokosuka.
On 29 November, she departed Hong Kong in company with Sea Fox (SS-402) to return to Hawaii. The two ships conducted exercises along the way and made a stop at Midway Island before reentering Pearl Harbor on 13 December. After overhaul, she resumed active duty in March l950 with Submarine Division (SubDiv) 12. She operated with submarines and trained divers until 20 May, at which time she left Oahu for the east coast of the United States. Steaming via the Panama Canal and San Juan, Puerto Rico, the submarine rescue vessel arrived in New London, Conn., on 16 June 1950. Assigned to duty with SubRon 8, she conducted training for the Turkish crew that would take her over later that summer. Bluebird was decommissioned on 15 August 1950 and simultaneously transferred to the Turkish Navy. She was commissioned in that navy as Kurtaran. Her name was struck from the Navy list on 26 September1950.
USS Skylark ASR-20 and ASR-19 - a Penguin class submarine rescue ships
THE PENGUIN CLASS - USS PENGUIN ASR-12

The third USS Penguin (ASR–12) was a submarine rescue ship in the United States Navy during World War II. She was the lead ship of a class of three vessels (Penguin, Bluebird, and Skylark) all originally laid down as fleet ocean tugs before being converted to rescue ships before completion.

Penguin was laid down as Chetco (AT-99) by the Charleston Shipbuilding and Dry Dock Co., Charleston, South Carolina, 9 February 1943; launched 20 July 1943; sponsored by Mrs. H. S. Dickinson; renamed and reclassified USS Penguin (ASR–12), 23 September 1943; and commissioned 29 May 1944, Lt. Comdr. G. W. Albin, Jr., in command.

North Atlantic operations

Penguin, a submarine rescue and salvage vessel reported for duty with SubRon 1, at New London, Connecticut, 9 June 1944. Based there after shakedown training, she served as a target and torpedo recovery ship for Allied submarines training in the area; performed towing assignments; participated in the planting and sweeping of experimental mine fields; and conducted salvage operations. Included in the latter were operations on a sunken U-boat near Block Island between April and June 1945.

Shifting to Portsmouth, New Hampshire, for the period 5 July–7 September, Penguin served as a target vessel and a rescue and salvage ship for submarines undergoing sea trials, then returned to New London, and, for the remainder of the year alternated between those two submarine bases. Permanently attached to New London with the new year, 1946, she remained there until November when she participated in cold weather operations off Newfoundland.

Decommissioning

On her return to New London she continued her duties as rescue and salvage ship, target and torpedo recovery vessel, and escort and towing vessel. In June 1947 she joined the Atlantic Reserve Fleet, decommissioning, at New London, 4 September.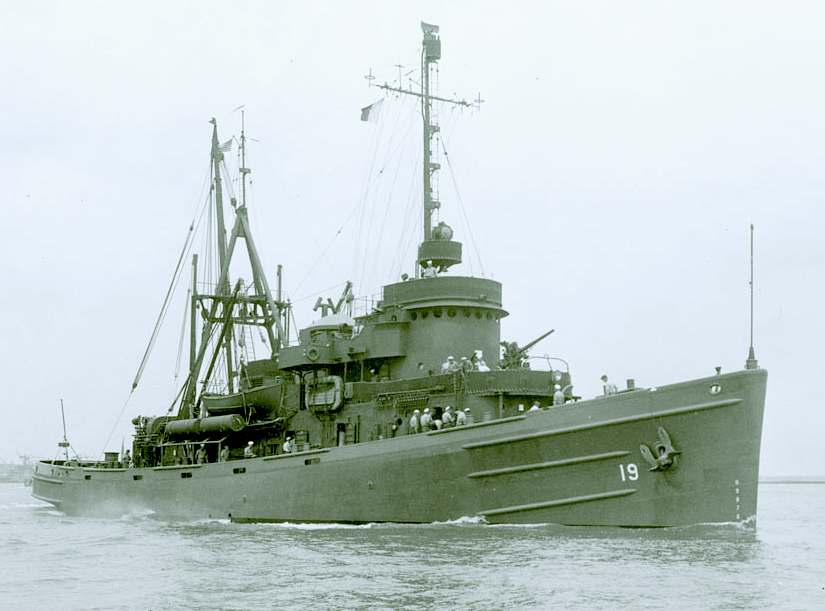 Reactivation for Atlantic operations

Penguin, berthed at New London for four and a half years, re-commissioned 3 April 1952. On 28 April, she reported for duty with the Atlantic Fleet's Submarine Forces, and on 23 July, arrived at Key West, her new homeport. For the next nine years, with only occasional interruptions for submarine exercises or salvage operations in the Caribbean, and, in August 1954, off Newfoundland, she carried out her mission in the Key West area for SubRon 12. During that period, however, she established a new record for ships of her class by "rescuing", during training operations, personnel from a submarine 349' below the surface, 24 February 1955.

In 1961, Penguin entered another first on her record. On 20 March she departed for Rota, Spain, becoming the first ASR to be deployed to the Sixth Fleet. Since that time she has continued salvage operations, primarily on downed aircraft, and weapons evaluation tests; provided target and torpedo recovery services; and performed towing services for the Atlantic Fleet and, in 1963, 1964, 1967 and 1969, for the 6th Fleet. While with the latter she has also served as flagship for that fleet's submarine force. Fortunately, however, into 1970, she had not been called on to conduct rescue operations for an actual submarine disaster.
| | |
| --- | --- |
| Displacement: | 1780 tons |
| Length: | 251 ft 4 in (76.61 m) |
| Draught: | 14 ft 3 in (4.34 m) |
| Speed: | 16 kts |
| Complement: | 102 officers and enlisted |
| Armament: | 2 3" 50 caliber guns |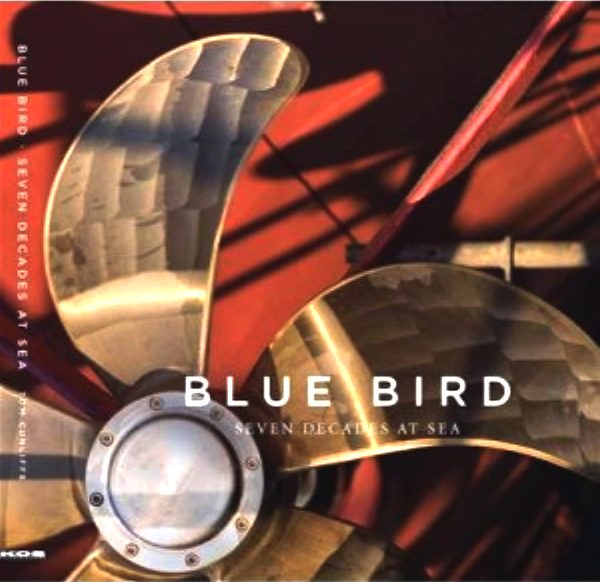 LINKS:
http://en.wikipedia.org/wiki/USS_Bluebird_%28AMS-121%29
http://www.shipspotting.com/gallery/photo id 791448
http://www.history.navy.mil/danfs/b7/bluebird-ii.htm
http://en.wikipedia.org/wiki/USS_Penguin_%28ASR-12%29
http://en.wikipedia.org/wiki/USS_Bluebird_%28ASR-19%29