CONCEPT 2000 STAND

Back in 1994 this was a radical concept that premiered at the Earl's Court show in London. The SWATH boat on display was a 1-10th scale radio controlled working model of the Mk1 SolarNavigator. You can see the route map behind the exhibitor, which is the same route that the Turanor Planetsolar completed some 18 years later.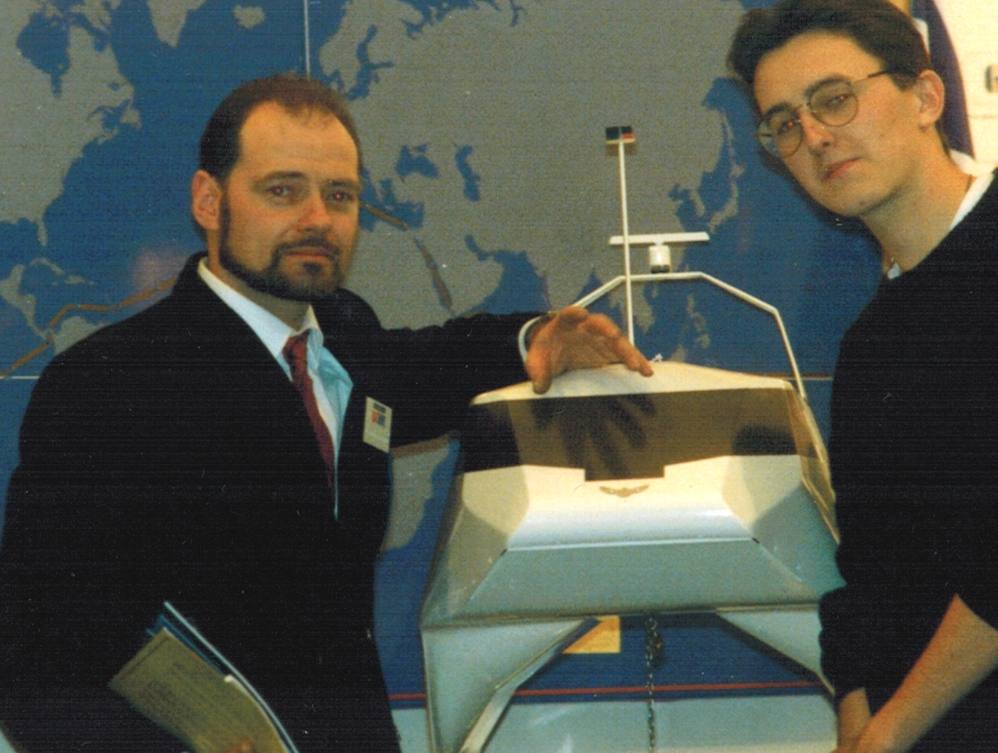 MkI SWATH model retired at the end of 1996 in favour of the more advance MkII. Just about everything worked on these models. The steaming lights, foghorn and even the radar turned. Dozens of visitors signed a book recording their comments on the project. The MKII was wider, so more stable and a joy to pilot when the trim was correctly adjusted. The adjustment though was difficult to balance on the MKI. This model was cannibalized to build the MKII, but should have been donated to the Child Beale collection in hindsight.
The organizers of the London Boat show provided a place on the Concept 2000 stand on a complimentary basis, in conjunction with the British Marine Industries Federation. The exhibition stand consisted of a treasure chest made from discarded pallets with a built in rotating turntable powered by a modified windscreen wiper motor with fan assisted cooling to enable the display to operate all day without mishap. In addition, the rotation swept a circle of micro-switches inside the treasure chest that lit up the route on the map display standing behind. This gave visitors the opportunity to see the ship from all angles.
Many event organizers seek to assist future, or concept projects by way of a philanthropic agenda. Invariably, such projects are not commercial in orientation, thus financially challenged, and as such would never get off the ground if the boating community did not help.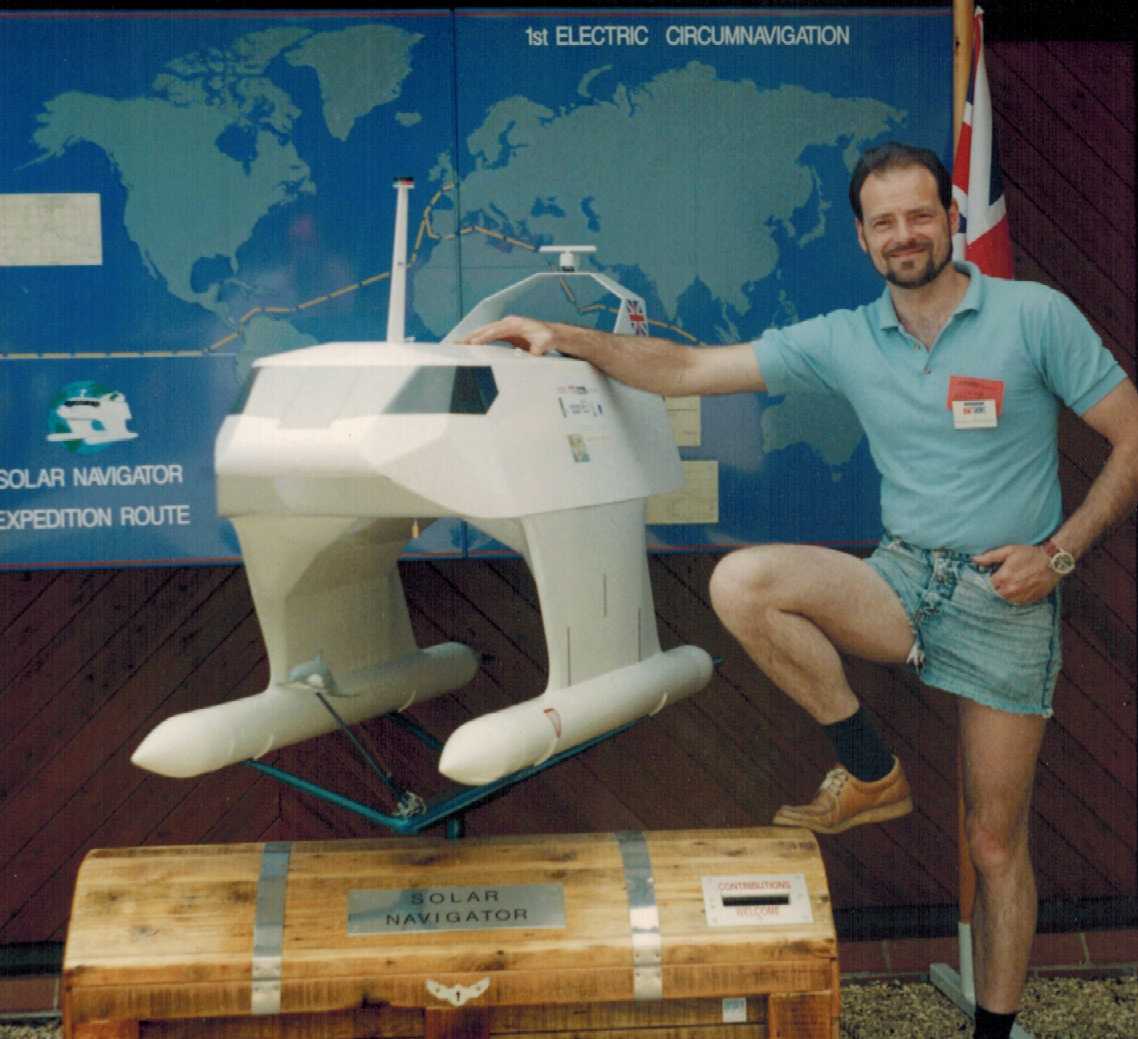 The Solarnavigator at Beale Park, founded by Gilbert Beale in 1956. The Park overlooks the Jubilee Water Gardens. The Pavilion boasts a collection of model boats and planes has become a museum with more than 400 models from the Merchant Navy and sailing boats dating back to the 1890's. The Park is happy to accept donations to its model collection. Contact them on: 0844 826 1761 or administration@bealepark.co.uk http://www.bealepark.co.uk/
CHILD BEALE MODEL COLLECTION

AIRCRAFT

Short Sunderland GB
De Havilland Mosquito GB
Supermarine Spitfire GB
Hawker Hurricane GB
Lockheed Lightning USA
Corsair USA
Avro
Avro Lancaster GB
Tutor GB
Gloster Gladiator GB
Sopwith Pup GB
North American Mustang USA
BA Concorde
Bell Jet Ranger USA
Bristol BE2 GB
De Havilland Tiger Moth
NA Mustang
Hawker Hurricanes of 1:48 Scale
Collection of 1:48 Scale Spitfires or various marks and countries that operated the type over a number of years.

BOATS

RNLI Lifeboat – 52 feet Barnett Class
RNLI Lifeboat
Gaff Rigged Pond Yacht @ 1910
RNLI Lifeboat Arun Class 52-10 'Soldian' Lerwick Lifeboat
RNLI lifeboat Small Pullin Boat on Carriage
RNLI Lifeboat Barnett Class, Holyhead 1963 St Cybi
RNLI Lifeboat Barnett Class, Plastic Model
Pond Yacht Sailing Schooner with Mizzan c. 1900
Range Safety Boat S124
RNLI Lifeboat Tyne Class 47-006 Cromer, Ruby & Arthur Reed 2nd
RNLI Lifeboat Tyne Class 54-05 Aberdeen
RNLI Lifeboat Tyne Class 38-01 Caster
RNLI Lifeboat 'Norman B Corele TT', New Brighton
Tinplate Pond Yacht, Red/Mustard
RNLI Lifeboat Barnett Class, Plymouth
RNLI Lifeboat Cromer 38-15, Lady Elizabeth Brownelea
Pond Yacht, Gaff Rigged Model
RNLI lifeboat, H F Bailey
RNLI Lifeboat Mersey Class, Doris M Mann of Anthill
RNLI Lifeboat, Solomon Browne, Penlee
Green Tin Plate Pond Yacht
Fireboat No. 39, Southampton
RNLI Rib B562 Quiver, Southwold
RNLI Waveley 44-009, Helen Turnbull, Sheerness
RNLI Rib B702 Manchester Unity of Oddfellows
RNLI Oakley 37-02 Manchester Unity of Oddfellows
RNLI Rib D307
Grace Darling Tribute Crew in Period Costume
RNLI Waveley Class 44-021, Helen Turnbull, Sheerness
RNLI Trent 14.13, George & Ivy Swanson
RNLI 37-05, Seaham Lifeboat Crew
RNLI Rib Atlantic 21 B531
RNLI Brede 33-07, Innel Wheel, Poole
RNLI Severn Class 17.74
RNLI, Shirley Jean Adye, Caster
Archibald Russell Four Masted Sailing Ship, Clipper
Very Small Galleon
Skeleton Builder's Model, 3 Masted Royal Navy Ship of the Line
Two Masted Sailing Smack Pond Yacht c.1900
Roman Galley
Golden Hind
Fishing Smack, Shamrock
Mediterranean Trader
Royal Navy Man of War
RN 30 Gun Man of War
Royal Barge, River Thames
Royal Navy 48 Gun Man of War
Pilot Boat Cumbrae No. 1
Royal Navy Man of War
Wave Venture Cable Laying Ship, London
HMS Ajax, 3 Masted Ship of the Line
Cutty Sark Tea Clipper
Danish Sail Trading Vessel
Rye fishing smack RX153, Three Brothers c.1896
Pourquoi Pas (Little Why Not) 1907, French
Danish Sailing Ship
Greek Sailing Trader
Cutty Sark Tea Clipper Full Sail 1869
Car Ferry
HMS Pelican c.1710 Sloop
Brixham Trawler, Red/White Sails
Western Star (Star Yacht) White/Blue
Western Star, Star Pond Yacht, Black
Western Star, Star Pond Yacht, White/Red
Thames Sailing Barge, Tan Coloured Sails
Arctic Star, Star Pond Yacht
Planet, Star Pond Yacht
Baltic Star, Star Pond Yacht
Pond Yacht, Red/Blue/White
Star Pond Yacht, Gaff Rigged, White/Red
Pond Yacht
Pacific Star, Star Pond Yacht
Southern Star, Star Pond Yacht
Pond Yacht, Blue/White
Ocean Star, Star Pond Yacht
Tug Boat
Tug Boat, Smit, Nederland
Tug Boat, Aki, Japanese
Reliant British Paddle Tug
Glasgow British Paddle Tug
Royal Eagle Passenger Ferry Paddle Steamer
Torridon Coastal Cargo Ship
Steam Trawler GY76, Model crossed Bristol Channel under radio control
Norland, North Sea Ferry, Hull
German Aeronaut Tug, Torben, Hamburg
USA Tug Boat, Wanda, New York
Tug Boat Saturn
Deep Sea Support Tug Boat, Happy Hunter
Shell Craftsman Coastal Shell Tanker
Tug Boat, Moorcock, London
Seabex One, Offshore Support Vessel, Rensburg
Normandie, French Lines
Coronia, Cunard Lines
St Columbia Sealink Ferry, London
Edinburgh Castle, Castle Lines, Southampton
Sirius Team Paddle Ship, first vessel to cross the Atlantic under steam 1847
Pilot Boat
Ferrari Speed Boat Hydroplane
Riva Aquarama Italian Speedboat
Riva Italian Speedboat, Aquariva
Riva Aquarama Italian Speedboat
Riva Rama Italian Speedboat
Four Winns
Isle of Guernsey Passenger Ferry
St Essyelt Cargo Passenger Ship
Roman Man of War
Countess of Breadaldane Passenger Ferry
USSR M3VMPVA Passenger Shhip
USSR Tug Boat 6APC
St David Sealink Passenger Ferry
Steam Yacht
Varnished Pond Yacht
Carousel Cruise Liner
Sea Princess, P&O Cruise Liner, London
Private Steam Yacht
Niniane, Car Ferry
Royal Navy Pinnace Renown
France Atlantic Passenger Liner
Albion Steam Paddle Passenger Ferry
Steam Paddle Tug Gordon Bennett, London
Tug Boat Garnock
Blue Nose Canadian Sailing Schooner
Blue Pond Yacht
Bohuslan Steam Passenger Ferry
Pond Yacht White/Green
Moygannon Inshore Coaster NC & Co
Trawler KF31 Progress
Arran Mail Inshore Ferry Coaster
Albion Steam Paddle Passenger Ferry
FD272 Boston Typhoon Steam Trawler
Pond Yacht Blue/White
Pond Yacht Green/White Gaff Rigged
SY Angela, Gilbert Beale's Private Yacht
Royal Yacht Britannia
Elaine Pilot Boat
HMS Grenville, Destroyer
FD149 Navena Steam Trawler
W Class Racing Yacht
Pond Yacht Green/Green
P258 Royal Navy Leeds Castle
HMS Ariadne, Destroyer
SH185 Progress Steam Drifter Trawler
HMS Khartoum, Destroyer
World War II Class, Destroyer
Thames Slipper Launch
HMS Cossack, Destroyer
Lady of Wroxham, Norfolk Broads Boat
VL75 Fishing Smack
HMS bluebell K80 Minesweeper
HMS Brecon M29 Minesweeper
Russian Battleship Potemkin
HMS 3 Masted Man of War
Small Sailing Ship, Greek
Private Steam Yacht, Blue Hull
Private Steam Yacht
'Hesperides', 3 Masted Clipper Ship
Britannia Beaver Dredger
Waveley Paddle Steamer
Norfolk Wherry
'Jean', Two Funnel Steam Ferry
Prinz Hendrick Passenger Steam Ferry
'Celtic Monarch', Steam Tramp Steamer
HMS LS Armed Trawler
Creole Queen, Mississippi Stern Wheeler
Private Steam Yacht, White with Sails
HMS Belfast, Cruiser
HMS Brigand W83 Tug
HMS Royalist
HMS Skirmisher, 1914 Far East White
HMS Bristol D23 Destroyer, I Type 82 Class
HMS Illustrious R06, Aircraft Carrier
D621 Destroyer
Speed Indicator
HMS Hermes
HMS S110 Submarine, S Class
Submarine
US Navy Higgins Fast Patrol Torpedo Boat
HMS M78 Fast Torpedo Boat
US Navy Fletcher Class, Destroyer

U2501 UBoat Submarine
HMS Fairmile Torpedo Boat
HMS Bluebell K80
Round the World Catamaran, Blue
Pond Yacht Gaff Rigged Red/Blue

Pond Yacht Sloop, White
French Yawl CC829
Queen Elizabeth II, Cunard Liner

German Navy No.48
Bismark, German Pocket Battleship
HMS Tank Landing Craft T1059
Three Masted Topsail Schooner, White/Green
Shetland Sixern 621LK
Downleaze, Cargo Ship
Tsavliris, Oil Rig Supply Vessel
RMS Titanic, White Star Line, 1200 scale model
THV Patricia Trinity Hoose
Austal Horizon, Cable Laying Ship
HMS Vanguard, Last British Battleship
HMS Anson
CS Umim Al Anber, Cable Laying Vessel
HMS Victory, Nelson's Flagship
HMS Fernie, Hunter Class, Model by Michael Hill 1930
HMS F61 Frigate, Leander Class
HMS M273 Minesweeper
Thames Spitsail Barge
Two Masted Schooner, Green/Black/White
Two Masted Topsail Schooner
Bota, Dutch Barge
Anne Bina, Brixham Trawler
Two Masted Square Rigged Sailing Ship, White/Black
Two Masted Topsail Schooner, Black
Danish Sailing Boat
Lopina, Passenger Ferry
Bristol Queen, Paddle Passenger Steamer
Calipso, French Expedition Ship
Annwood, A247 Trawler
Experimental Sail Assisted Freighter
USA Chris Craft Speedboat
Talisman, Paddle Steamer
Duchess of Fyfe, Passenger Paddle Steamer
Iris, Steam Launch
Sailing Dinghy D48, Trophy for Brigadier FH Rogers
Flying Cloud, Clipper Ship
Ann Makim, Three Masted Schooner
Kuskanook, USA Stern Wheeler
Helen B Thomas, Whaler, Boston Massacre 1902
Gry Maritha, Isles of Scilly Steamship Co
Viking Longboat
BM27 Ibex, Brixham Trawler
Maringa, Stern Wheeler
Cradby, Canal Narrow Boat
Caliph, Three Masted Schooner
HMS Bluebell Class
HMS Snowflake K168, Bluebell Class
Winston Churchill Sail Training Ship
HMS Grenville, Destroyer
UBoat
UBoat
RAF Rescue Launch
Reed Boat, Lake Titikaka, Peru
Kandahar, Trawler GY123
Two Funnel Cross Channel Ferry Paris
HMS Bluebell Class, after Sunk in Lake

Alibaster Model of Two Funnel Steam Boat
Danish Royal Yacht
Amerigo Vespucci, Sail Training Ship, Italy
Two Wooden Prisoner of War Galleons
Bosun's Whistle
Trawler in a Bottle
Pamela, Private Yacht
Natasha, Private Yacht
Steam Yacht, Funnel
Joyce, Private Motor Yacht
Sea Urchin, Small Motorboat
Thames Barge, Sails Russet/Blue
Brixham Trawler
Sealight, Greenock, Inshore Coaster
2 x RAF Rescue Launches made by POW's in UK c.1945
Three Masted Steam/Sail Trading Ship
Raven, Three Masted Sailing Ship with Lighthouses
Maryla, Steam Turbine River Launch
Case with HMS Endeavour, HMS Bounty, Three Inshore Crabbing Boats SU83, SM7; 1 Brass Binnacle Steering Wheel Cannon; 21 Annual Discs for Traditional Boat Rally and IWA
Model of Pavilion at Beale Park with Model Boats Inside, Scale 1:200
Diarama of Harbour at: 1250 Scale (no particular place)
Daisy Elizabeth, Steam Launch
New York Harbour Tug

EASTBOURNE ARNDALE
Even the local shopping center was pleased to donate space in the main hall seating area adjacent to Gamleys, so a bit of a treat for people out buying models at the weekend.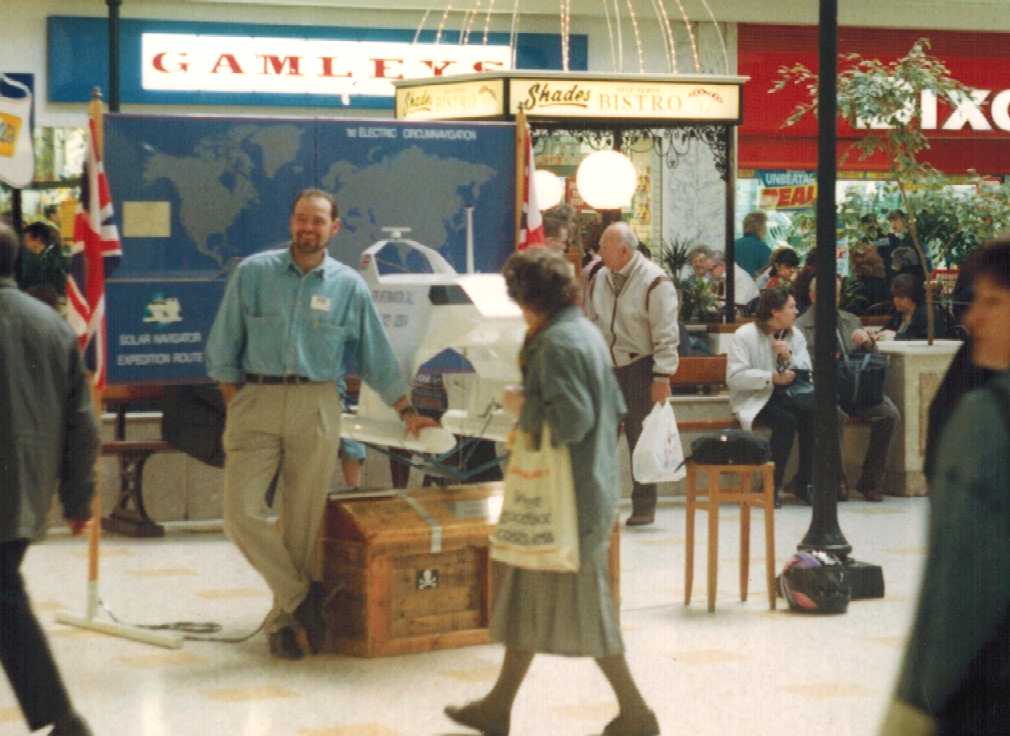 Eastbourne Arndale Centre, exhibition in 1995. Fewer people signed the visitors book, but more insisted on throwing coins into the treasure chest.
LONDON BOAT SHOW

Official participation of foreign countries:

Australia, Austria, Belgium, Brazil, Canada, China, Cyprus, Denmark, Finland, France,
Germany, Hong Kong, India, Indonesia, Israel, Italy, Japan, Korea, Malaysia, Mexico
Maldives, Netherlands, Norway, Oman, Philippines, Poland, Romania, Russia,
Singapore, Spain, Sri Lanka, Sweden, Switzerland, Taiwan, Thailand, Turkey, UAE, UK,
USA, Vietnam
LINKS:
http://www.cokerexpo.co.uk/rotating-display-stand.htm
http://www.kormarine.com/2013/
http://www.maritimeindustries.org/Events/KORMARINE-2013/10726
http://www.maritimeindustries.org/Home
http://www.britishmarine.co.uk/
http://www.oceanologyinternational.com
http://www.maritimeindustries.org/Events/Oceanology-International-China-2013/9255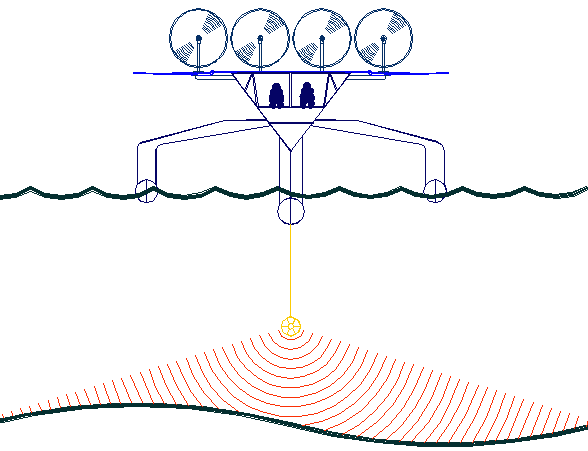 The key to accurate hydrographic mapping is continuous monitoring, for which the SNAV platform, presently under development, is a robotic ocean workhorse. Based on a stable SWASH hull this design is under development by a consortium of British engineers. The robot ship uses no diesel fuel to monitor the oceans autonomously (COLREGS compliant) at relatively high speed 24/7 and 365 days a year - only possible with the revolutionary (patent) energy harvesting system. The hullform is ideal for automatic release and recovery of ROVs or towed arrays, alternating between drone and fully autonomous modes. International development partners are welcome. We are not at this time bound by contract to any one country. This vessel pays for itself in fuel saved every ten years.