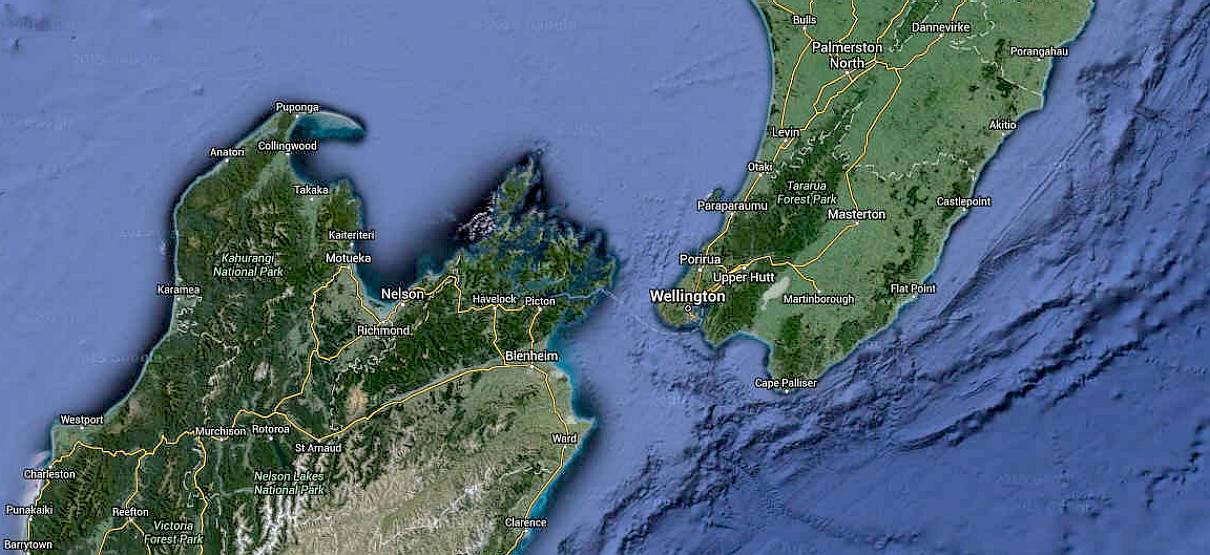 NGAWI, NEW ZEALAND - Ngawi (pronounced "naa-wee") is a small fishing / holiday town within five kilometers of Cape Palliser, the southernmost point of New Zealand's North Island. The town is made up of mainly small wooden houses, which are often called baches. Ngawi has more bulldozers per capita than anywhere else in the world. The bulldozers are used to haul fishing boats into and out of the water as there is no wharf or other access to the ocean other than the beach, which can be notoriously rough at times.

The location has a large population of fur seals, and is popular not just with commercial but recreational fishermen. The best fish to catch are Paua (a type of abalone which is prized for its iridescent shell as well as the flesh), crayfish (also known as rock lobster), and cod. The place is popular with all types of fishermen, including spearfishers. Ngawi is known for its "exposed" climate, its intense and prolonged wind and the fact that there are almost no trees on this isolated coast.The weather can become extremely hot in summer. A number of ships have become victim to this rough coastline.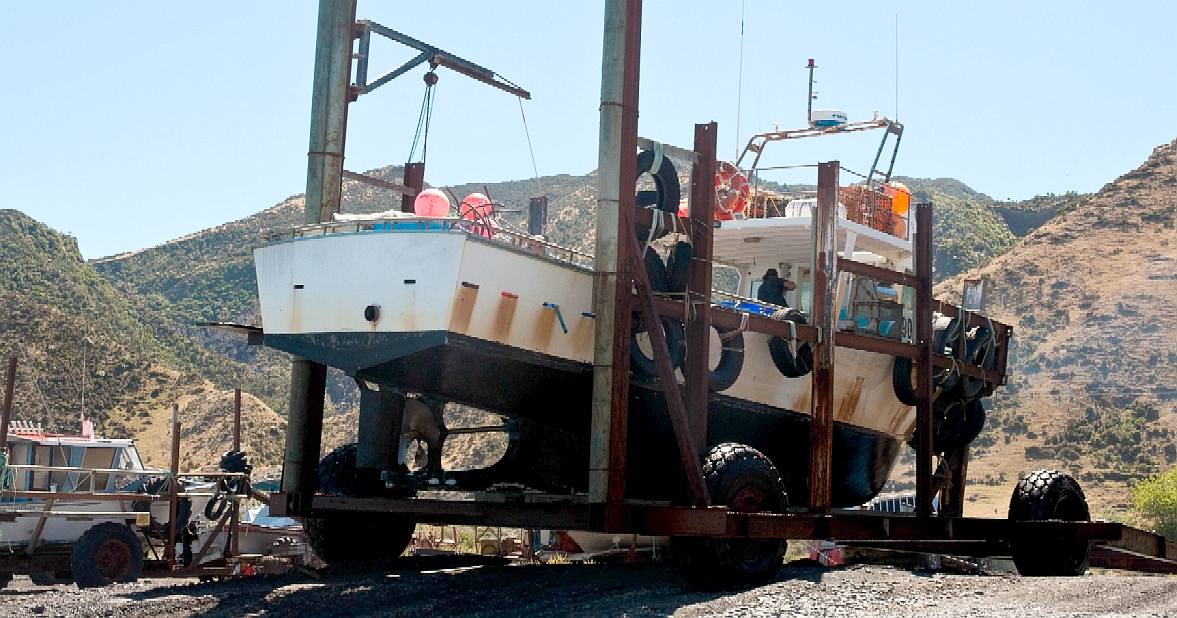 WOW! - We love it. This is more or less what we are trying to achieve with the AmphiMax. This fisherman has used steel girders, we would prefer to use alloy. This chap has four floatation tyres, we will need at least four times that. But, the concept is the same. Of course, if we can do away with the bulldozers and have our wheels powered, that would be a neater solution. That said if it all becomes too complicated and expensive, then this is the way to go.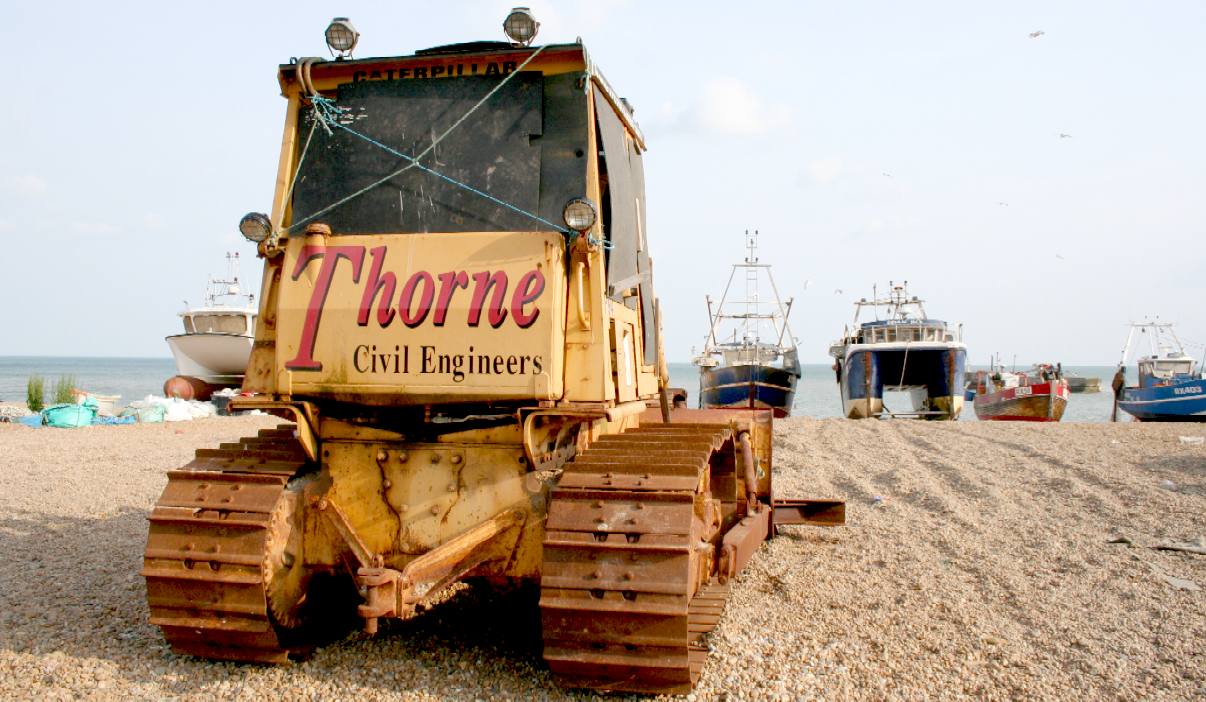 HASTINGS FLEET - The shingle beach has a different texture, but apart from that, in England on the other side of the planet, they are also launching MFVs use old earth moving machinery, like this Caterpillar diesel, to push their vessels into the English Channel. The big difference is that they use winches for the recovery part. Copyright © May 29 2016, all rights reserved. You will need permission from Bluebird Marine Systems Ltd to reproduce this photograph, except for personal study or educational purposes, when a credit would be most welcome.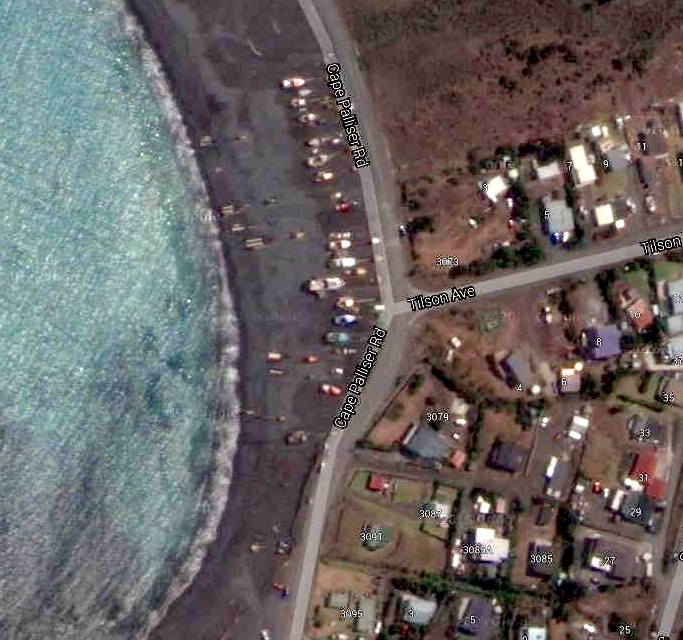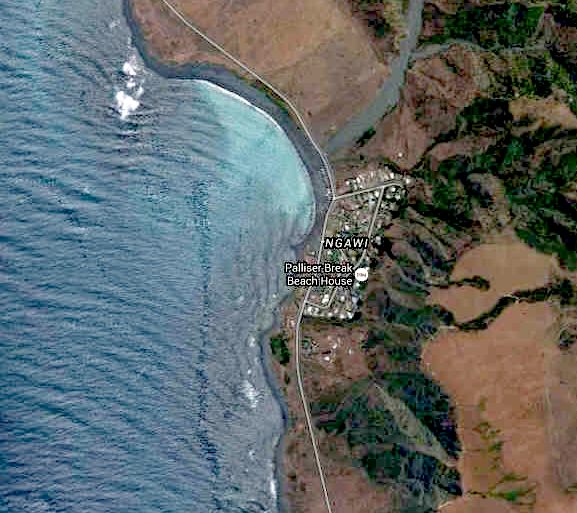 NGAWI - This is the Bay where it all happens. Why the phenomenon is restricted to this beach has something to do with the excellent fishing. The catches are so good, that it's worth making your own wheeled harbour to be able to harvest the natural resource.
DOMINION POST - THE SOUTH COAT VILLAGE OF NGAWI - 19 FEBRUARY 2011

It's AN awesome place," says Jimmy Maguire, Ngawi's youngest commercial fisherman. He's right. Awe is precisely what you feel when you drive to Ngawi.

To take the coast road on the eastern edge of Palliser Bay is to witness a war of attrition between land and sea, and by the look of the fractured cliffs, the sea is winning. Past the Putangirua Pinnacles, around the corner from the North Island's largest seal colony, Ngawi is tucked under a cliff in a horseshoe bay.

You know you are there when you round the corner and see 30 or so bulldozers and trailers camped on the beach. This is the kind of serious kit you need to launch sea-going boats into Cook Strait.

To an outside eye, the launch looks risky the pebbly beach shelves steeply, and the tractors are dwarfed by the boat and trailer. The largest is 109 feet (33 metres) long.

The boats float away once in deep water, but to get them there all but the largest bulldozers are half-swept by surf. On their return, the fishing boats ride the waves, thumping back into the trailer.

It's safer than it looks, says Jimmy. "We're lucky. It's not somewhere like Westport where you have to cross a river bar," he says. There's no narrow channel or hidden rocks and not much need to second-guess the weather. Cook Strait, deep water and any brewing southerlies are around the corner. "It does get very rough, but we are literally on our fishing grounds," he says.

At 21, Jimmy is skipper of the Tinky. "I've been coming out here since I was seven. We used to stay with Curla Gray, the guy I'm working for at the moment." "I started crewing for him two years ago and now I'm running his other boat."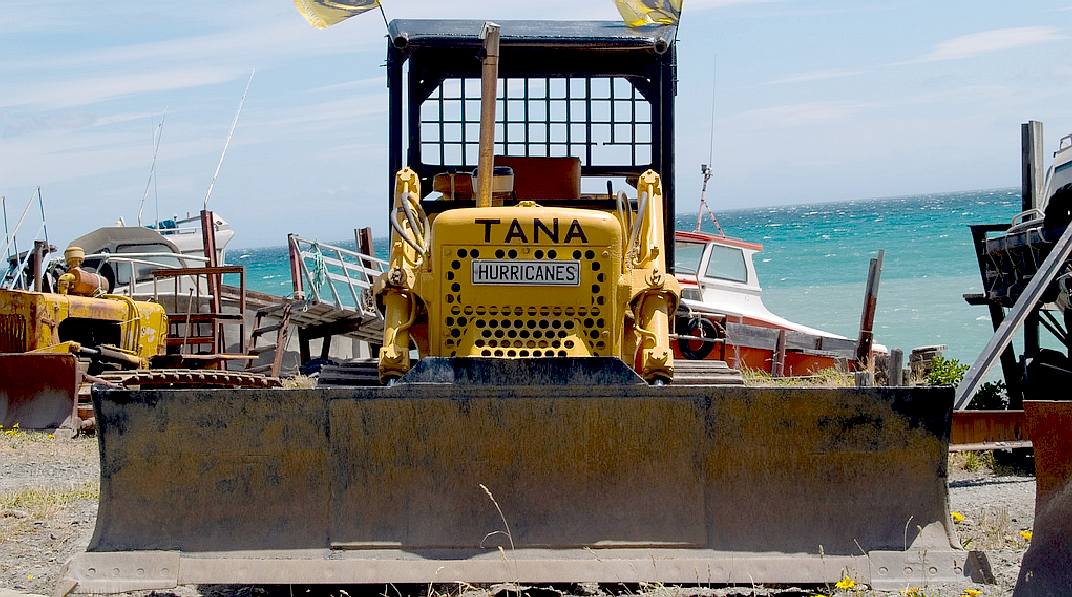 Ngawi has more tractors and bulldozers per capita than anywhere else, but Curla owns what must be the most photographed one in the country, if not the world the proudly purple Tinky Winky. Painted by Jimmy's mother, artist Sally Maguire, the tractor's a compulsory photo stop for passing tourists. "I see photos of it everywhere," says Jimmy. "I even saw a photo of it somewhere in Australia."

Brought up on the Kapiti coast, he has become used to Ngawi's isolation. On weekly shopping trips to Carterton or Masterton, less than an hour's drive away, he finds both towns too busy.

Weekend golf at Ngawi's nine-hole course and Saturday nights at the community hall provide him with enough entertainment. In any case, a crayfisherman's day starts early.

Boats are launched about 6am and are back just after noon, so the live catch can be packed in ice and loaded on the truck bound for Wellington and export. Life is a rhythm of setting and resetting craypots or waiting it out onshore when the weather turns sour.

The quota system, allocating each fisherman a set catch, means that like other fishermen, Jimmy can only take as much as his quota allows. He fishes over the summer months or when the price of crayfish is high, then looks for work elsewhere for the rest of the year.

Jimmy's one of about a dozen commercial fishermen who work out of Ngawi, but one of the few to live there. Most commute from other Wairarapa towns. Weekenders and tourists hugely outnumber Ngawi's 30 or so permanent residents. "Over summer, all the baches are full and there are tents on every lawn," says George 'Frog' Hayes, president of Ngawi's recreational fishing club.

George, who owns a bach a few kilometres around the coast, has been coming to Ngawi all his life. As a child in the 1950s, he would stay at his grandmother's bach, one of the original eight in the bay. Like many of the older baches, it is still in the family. He can remember the hillside, now covered in houses, when it was bare and grassy enough for him to skid down in a homemade sled.

Before the crayfishing boom, farming, rather than fishing, was the focus — George's grandfather worked at Ngawi sheep station. The coastal road was a gravel track and there were no bridges. Any storm would swell the rivers and streams, making them impassable, so the little settlement was frequently cut off from the rest of the world. "You were either stuck there or you couldn't get there," he says. There was no electric power. "It was like camping. We used to run generators and when you ran out of petrol you went to bed. We'd bath the kids outside, heating the water in the sunshine," says George.

He is philosophical about the influx of newcomers — bach owners and weekenders from 'over the hill' — providing they don't want to alter the place too much. "People come and see it's quite unique and they usually don't want to change it," he says. These days, he thinks, life is sweet in Ngawi. "There's a tarsealed road. We have telephones and television. It's just that there is no town nearby."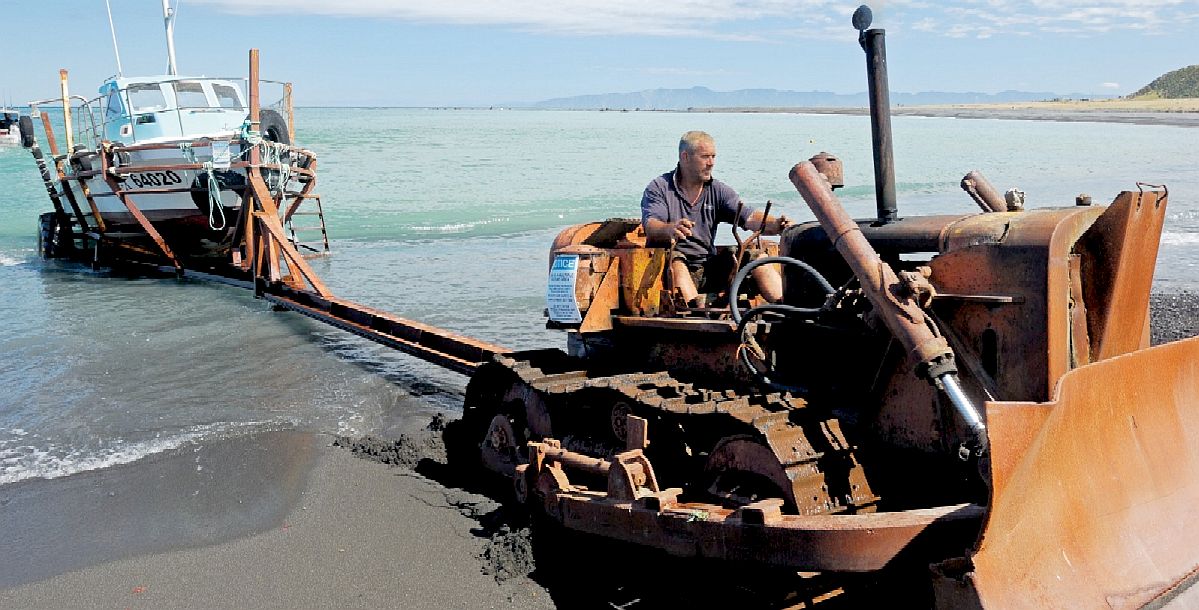 Ex-South Wairarapa councillor Diane Phelps came to Ngawi with her husband, Wayne, 30 years ago during the village's heyday as a crayfish processing centre. "In those days, there were about 130 people here and the school bus would be full of kids off to school in Pirinoa," she says. While the men fished, many of the women worked packing crayfish for export in the small factory. "There were a lot of women here living out their husband's dream," she says.

"It can be rugged for women. It's a place where you need an outside interest or to be able to come and go as you please."

The stark, angular beauty of the landscape divides people sharply into those who either love it or hate it. "I've had some friends come over from the Kapiti coast and they've said, 'You'll have to catch smoke in a wheelbarrow before I come back'," she says.

The need for a tarsealed coast road prompted her to represent the district at the local council, but the improved infrastructure had unexpected results.

"There have been huge changes," she says. "It used to be if a car went past, you would look out the window and say, 'Who's that?' Now there has been a huge influx of tourists."

Visitors pass through the village after lunch at the pub in Lake Ferry (there's no shop at Ngawi) or a walk to the Putangirua Pinnacles (aka the Valley of the Dead), calling in at the seal colony before an assault on the 258 steps up to Cape Palliser Lighthouse.

Most, but not all, visitors are welcome. George talks of poachers ruthlessly stripping the paua beds.

Diane is concerned about summertime's freedom campers. "There is very little public land for them to camp here. Most is privately owned or belongs to local iwi," she says.

You don't have to look very hard to see stone walls and middens, including one found right on Ngawi's beachfront, dating back to the coast's earliest settlers.

Maori farmed and fished on the coast about 800 years ago, only to mysteriously disappear 200 years later.

Legend has it that Kupe rested here and left his sail, a giant triangular slab of rock, to dry just above the seal colony.

Other monuments along the coast — plaques, graves and an anchor — recall later settlers who died in shipwrecks on this treacherous coast. There is a melancholy in the landscape that can snag the heart, and if it does, it won't let you go too easily. Diane notes that in Ngawi's transformation from workday to weekend fishing village, "what we're seeing is those children of the commercial fishermen in the 1970s and 1980s — they are the ones who are coming back and buying the baches".
By Katherine Robinson

NEW ZEALAND GEOGRAPHIC - JUNE 2011
Like mechanical crayfish making landfall, the bulldozers that line the shore at Ngawi are an original solution for an unusual location. But as Mark Scott discovers it is not the only thing that makes the seaside location unique.

A fur seal finds sanctuary well above the high-water mark on the Cape Palliser coast as the sea is whipped into foam in the aftermath of a storm. Exposed to the full fury of Cook Strait gales, this stretch of coast is regarded as one of the most hazardous in the country.

When I first saw the kids down by the seals, it seemed such a nice family outing: a bunch of young folk jumping around the rocks all excited and exploring, an older person, possibly a parent, videoing a peaceful summer excursion. But then I noticed the boys had what seemed to be sticks in their hands, flourished in the manner of taiaha. Seals wriggled in retreat over the rocks. The adult filmed the boys' amusement. I had always wondered how those episodes start where seals are tormented, or beaten to death. What dark things go on.

I used the phone at a local fisherman's house to call the police, who drove 40 minutes from the nearest settlement.
After a review of the video, they were pretty sure the boys hadn't hit any seals, so they let them off with a warning.

That evening at Ngawi's regular gathering spot, it didn't take long for the stage whispers to start up. "Didja hear. Some idiot called the cops about a seal. Me,I woulda given those kids a medal," said a local. "Too right!" agreed his drinking buddy. "Best thing for bloody seals is a bullet in the head."

Since I had already spent a few evenings bending the elbow in the company of these fishermen, I jumped straight in. "That's how you buggers earn a living, hassling wildlife every damned day. Only difference is you don't torment the fish for fun."

I should have known calling in the rozzers wouldn't sit well. People come to Ngawi to get away from busy-bodying, clipboard-thrusting official interference. It was what attracted me here in the first place. Following my interest in isolated corners of New Zealand, I'd driven through Ngawi a few times while off-roading around Cape Palliser. It had stuck in my mind - this huddle of houses cast up on a rocky shore, dug into a cliff. It was the kind of place that you might expect to find on the Chathams, but not on the mainland.

Here, from the crooked tail of the North Island, there is a clear run to Antarctica. Get the nose of your boat pointed right and in no more than a few days the snowy peaks of the Admiralty Range would be emerging from the horizon. And in return, powerful, crystal-blue swells fetch up direct from the Southern Ocean and slam hard against this coast.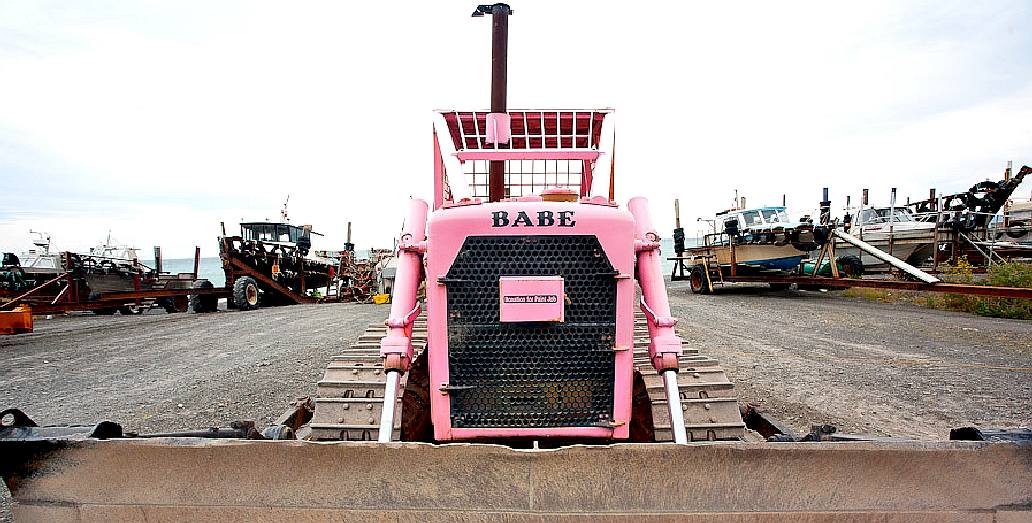 BABE - A great film and the pinkest bulldozer on the beach at Ngawi. We wonder when the trailers will follow suit?
Ngawi, just shy of Cape Palliser, is a good two-hour drive from Wellington. It was little more than a few sweet fishing shacks perched precariously between sea and cliff-face until the 1960s, when an invasion of Fibrolite and ranchslider homes—notable for their staggering lack of pretence - were plonked down in this wild place, bald as badgers.

These were homes for fishermen and their families, not bach-vernacular designer retreats. Yet, despite the influx of holiday houses, Ngawi, at its core, remains a tight-knit fishing community.

Ngawi is nestled on the foothills of Aorangi Range, where low rainfall and clear skies are compared with Central Otago.
To ease my way aboard, I introduced myself on the first day to a clubroom full of folk celebrating a day's golfing tournament. I thought it would be a straightforward way to let the whole village know who I was.

I'd barely started when out of the crowd a bull of a bloke ran at me, screaming, the veins bulging in his neck, eyes popping in their sockets.As he pounded the floor with his feet, and his chest with his fists, I was glad to see from the roomful of grizzled roosters that this was an old joke. An old test.

Turned out he was a village identity, the haka man, delivering a challenge for the newcomer. With red face and shaved skull, he was giving me his signature wero, one which I learned later he's been known to perform wearing little more than a moko made of Marmite.

I was able to reply with a much tamer Auckland version, which somehow seemed to pass muster. I was grabbed by the elbow and hauled through to a table groaning with fresh seafood - crayfish, paua, mussels, fish of every kind. And gourmet bratwurst.

The Ngawegian feast made a unique scene: a room full of blokes going hammer and tong, with tall tales and yabber and backslapping - yelping at one another like cattle dogs at opposite ends of a long paddock. More than a few had hearing aids, with antennas protruding from their ears. And the teeth! A line-up of braying false teeth, brash as the grille of a 1955 Plymouth. Indeed, I soon came to identify a particular Ngawi guffaw - a resonant, adenoidal honk of the kind that only the wearers of false teeth or those who snore, or both, can truly deliver.

As folk drifted off from the clubrooms, I was invited to another gathering, which most nights during the coming week would prove to be a regular fixture. I don't have any memory of the first evening except for failing to keep pace with the shattering quantities of rum and Coke. Haka man seemed to have hollow legs.
It didn't take long to figure out that Ngawi is a place that knows how to let its hair down. What's left of it.

At dawn, I was woken by the roar of a bulldozer crashing through my hangover. It was haka man - fresh as you please - at the levers of a behemoth dozer right outside my ranchslider, launching his boat. I'd chosen this bach off the internet for its proximity to the bulldozers and the fishing boats. I figured I'd be closer to the action. I wasn't wrong.

In the 1920s, the bay was an overnight anchorage for fishing boats from Wellington, but it wasn't until locals hit upon the idea of using bulldozers to haul their boats safely out of the water that Ngawi took off as a permanent settlement.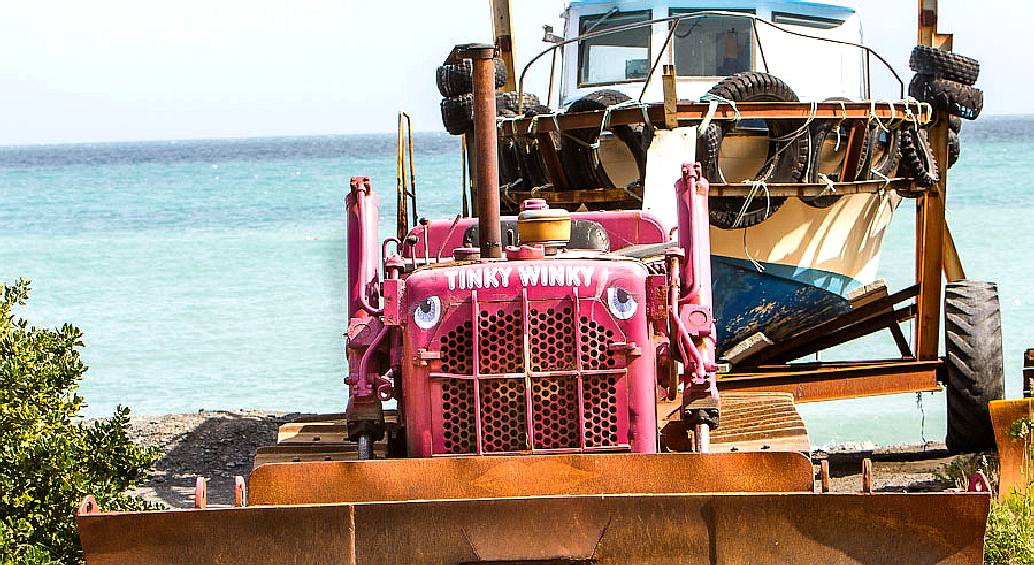 TINKY WINKY - Another pink bulldozer. They'll have to watch out, or Disney Pixar will be making a movie about the character chariots on this beach. "Hello, I'm Tinky Winky. My owner never leaves me alone for too long, except in the winter - when I get a bit lonely. But I never complain, so long as I get the chance to push my mate 'Frances' out to sea."
Now, dozens of dozers with rusted trailers line the steeply sloping beach. With some boats the size of small trawlers, the bulldozers need to be correspondingly large. Looking at this ragtag row, I could imagine a small horde of officials itching to write out a ticket-book of infraction notices. But they wouldn't dare. This colourful line-up of bulldozers and boats has become a valued tourist attraction.

With the exception of rental baches and a summer take-away cart run by another village identity - a man of few words and fewer teeth who, with reluctance, will flip you a burger - Ngawi has little in the way of organised tourist facilities. The glad-handing required isn't exactly in the village DNA. Unless you head for the hills.
In the 1960s, seals were mainly ornamental in Ngawi, but there are now more than 4000 in the region. Just north of Ngawi on the same coastal road is Kawakawa Station, run by Duncan and Sarah Furniss, who also do overnight walking tours. The same rustic charm of the hinterland huts is expressed in their house, where an extension has brought the outside inside - corrugated iron now suffices for lining, and exterior windows give every room a view of the next.

At Kawakawa Station, a few minutes south, Sarah and Duncan Furniss offer trekking that's the nearest you will get to South Island high-country hiking in the North Island.

Up the river at Kawakawa - so named because Kupe's daughter made a lei of kawakawa here - is a valley with twice the rainfall of the barren lands of the coast. A world of fat-breasted pigeons, tui and gullies golden with kowhai. Following a
track that loops higher in the hills, hikers return to mustering huts on river flats where they are treated to grilled paua and crayfish. With corrugated fireplaces, make-do wooden stools and lovely crooked verandahs, these huts overlook a parkland of river flat. They are the genuine item. You can almost hear the hobnail boots on the floor, smell the Dubbin. Through the window manuka blossom falls like snow.

Duncan Furniss speaks of his concern that musterers' huts like these in the South Island are being targeted by DOC for demolition. He tells me that at Ocean Beach, just across Palliser Bay, another long-standing community of quiet little shacks tucked among the dunes is also destined for destruction. "Don't they understand this is our heritage, that these places speak about our history?" he says. "They add to the land."

It's shacks like these that provide a link back to early Pakeha settlement which saw whalers operating out of Te Kopi, a few miles west of Ngawi, until an earthquake destroyed the harbour in 1855, and the station was deserted. For a hundred years, the coast remained more or less uninhabited, save a handful of cottages.

Access from Wellington at this time was around the coast. An early traveller, Charles Carter, recorded his experience at the Lake Ferry Inn in 1853—still the nearest public house to Ngawi.

"The ferry house was made with old boards, timber from ship wrecks and had a thatched roof. It was a cross between a Maori whare and rudely built labourers' cottage. It was kept by an Englishman who had an intelligent, good-looking Maori wife who played the bustling cheerful hostess remarkably well. I watched her preparing eel pie for supper, first placing potatoes over the bottom of a huge camp oven. Next she placed lumps of rancid pork fat over and between the potatoes, upon which she fixed a monstrous eel. This luscious Anglo-Maori compound steamed, fried and spluttered. Going to bed on beer and dry bread I was awoken by the host quelling a brawl which, by means of his fistic and vocal
powers, he had soon quelled."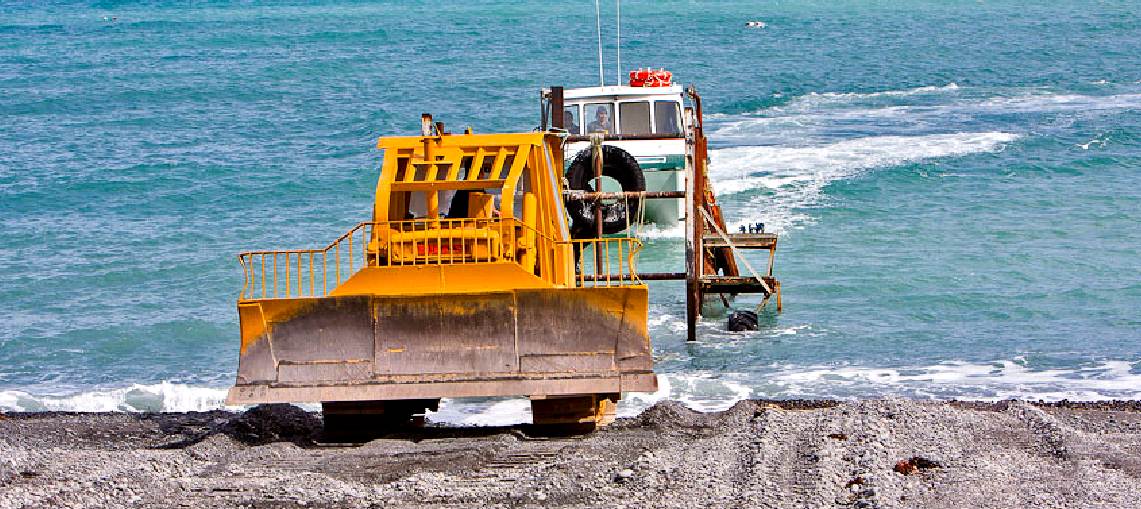 Until a few decades ago, access remained extremely difficult. With no bridges and very few roads, travel was about judging tides and the state of the rivers. The walls in the Ngawi clubrooms feature photos of Morris Oxfords up to their windshields in fast-flowing rivers, or bogged to their axles on shingle beaches, about to be claimed by the incoming tide.

Many baches in Ngawi were built during an influx of visitors in the 1960s. David and Pat Saville have succeeded in retaining the décor in their Ngawi bach, which was renovated at that time - a busy room to reflect a stark coastline.

Known locally as "Curla", fisherman and mechanic Evan Gray makes some running repairs to the steering mechanism of his aging bulldozer "Tinki Winki". Though old age and corrosion seems to take its toll on everything (and everyone) in Ngawi, ingenuity and treachery prevail.

Locals would rope their cars together to get through the trickier sections, and in heavy rain those needing to return would have to pack up in the middle of the night to beat the swelling rivers. It was common enough to be stranded, unable to get out by land or sea—stuck in a scattering of corrugated-iron shacks, rawboned against the wind, having a lively old time on home brew.
Even today, driving over the Rimutakas in rough weather can be an experience of Homeric proportions. The road simply
disappears into the swirling mist and rain like a goat track into the heavens.

It doesn't take long to realise that nothing much happens in Ngawi, but only if you measure time in minutes. In the space of an hour it's a railway station. There on my deck, with a morning cup of tea in my hand, I settled in to watch the parade.

A grandad and grandson puttered past on a quad bike. A fisherman disappeared headfirst into some cavity of a bulldozer,
as though he was extracting the innards of a beached whale. My pensioner neighbour leaped astride his misfiring trail-bike and blatted off, all shorts and sandshoes and foolish grin. Another two elderly bikers towed golfing trolleys, their dogs running alongside. And then the grandson and grandad returned with an outboard lashed to the quad.
Here in Ngawi the old boys have sorted out the hard life. Fixing things, playing golf, hauling in a crayfish or a fish or two and - when you tire of that - throwing down a brew. Blokes and boys lost in a daily round of the important things.

Ngawi is a place whose very purpose seems to be about expressing a deep conviviality. The feasts and constant
movement of people and events seem unending - a spit roast at the gun club, a fishing club function, more golf. And a prize-giving for the fishing contest where every bashful place-getter was greeted with rousing cheers and foot-stamping applause. Especially the young ones - little princesses tickled pink to get the third-place trophy for
the under-12 tarakihi section.

Most nights here at Ngawi seem to be spent in the company of a similar happy din. I started wondering about that old totem of rural Kiwi identity - the idea we are a laconic breed, people of few words and bottled emotions. Nobody here seemed to have heard of it. They were too busy gabbing. Could it be that the man-alone image of the tortured, silent Kiwi male was simply a literary invention of tortured, silent Kiwi writers?

And while it's easy to dismiss the nightly drink-up as a bunch of blokes on the booze chewing the fat about the same old things, an identical gathering of males guzzling mind-altering liquids in an Amazonian hut or Borneo longhouse would be regarded as a sacred bonding ritual, deserving of reverential anthropological study.

Certainly at Ngawi there was an intriguing variety of narratives. At one table, the expected hard-tack fables of storm and danger: "Coming out the northern passage at the Manukau Heads, we're all sittin' there in the wheelhouse and me mate's jaw suddenly dropped into his lap. Bulldog's jaw dropped too. And then I saw what they had seen - and my jaw dropped. Yup, a wall of water just came slamming in over the bow. I don't care what they say, never take
the northern passage over the bar."

Garth Gadsby , president of local gun-club and self-described Ngawi Sheriff is a long-time resident. Having lost his own firearms license in a spateof vigilante action, he can now only supervise the skeet shooting.

From another table came talk about the horrors of Magnamail addiction - someone wanting to get his wife to quit falling for the mail-order temptation. From another quarter I caught the news that a well-packed fridge is more efficient and cheaper to run than an empty one - if you want to save your fridge a lot of work, keep it stocked with bottled water, or beer.

And then there's some Jack tar telling me the fisherman's biggest problem with weather forecasts is not the dangers of the sea, but how to judge your drinking the night before. "Many's the time we've all had a heavy night based on a shitty forecast for the next day really knocking it back sure in the knowledge we wouldn't be putting to sea. Only come the morning and the weather is all clear and the skipper's dragging us out of bedP"

Then for a few nights, as I may have mentioned already, the conversation turned to seals. And I have to say I started to see their point, in part. Seals may be wonderful to watch at a distance, bodysurfing weightless through the waves or threading through kelp and current, but the problem - quite apart from the four kilos of fish they each eat daily - is that they occupy land, and they stink.

Don Hathaway celebrates a good tee shot in the weekly twilight golf tournament. A visitor since 1947, he relocated to Ngawi 25 years ago to retire, and recently moved back to Wellington for health reasons.

South of Ngawi, some 4000 fur seals have moved in, leaving a stench that combines the worst of dog urine and fish guts. At some of the shacks out at the cape the smell is utterly overpowering. It's difficult to envisage the elegant eco-conscious folk of Oriental Bay or St Heliers happily welcoming the same kind of invasion.

And yet the seals are simply reclaiming their former territory. Excavation of midden sites indicate that New Zealand fur seals were a major food source for Maori, who wiped out most of the seal population on the North Island before the
arrival of Europeans. The abundant supply of conveniently slow-moving protein—and warm clothing—must have been as important as moa, and probably more useful.

It's one of the reasons Palliser Bay remained an important centre of Maori settlement. The very name Ngawi the howl of the wind - suggests there must have been some other compelling reason to stay here.

Ngawi may have been important to Maori, but few outsiders have heard of it. If you have, it's likely due to the saga
of the three half-witted teenagers who in 2006 hit the village in a mini crime wave.

Garth Gadsby told me the story. "They pinched a truck, trashed a house and then disappeared. But when they came back in the night a week later, we were ready for them. We all went down the bottom of the village and set up a roadblock."

The boys managed to dodge the blockade, and the locals followed in hot pursuit. The lads might have thought they'd show a clean pair of heels to this Dad's Army of pursuers, but they had picked the wrong town, and the wrong man - Gadsby was both a stock-car champion and trophy-winning skeet shooter. "We chased 'em right up the arse with the spotlight. And then I stuck my shotgun out the window."

In court, Gadsby was irked by the prosecutor's suggestion he'd fired the shotgun recklessly. "Reckless! When I stuck that shotgun out the window, I knew exactly what I was aiming at. I was aiming for the tyres. There was never any danger of them being shot."

The shotgun blasts turned the miscreant teenagers back to the village, which - hemmed in as it is by un-scalable cliffs on the one side and raw surf pounding into rocks on the other - was hardly a promising escape option. Not with a riled gang of shotgun-toting locals blocking the only retreat.

With dawn about to break and the village folk - minus only the flaming torches - hunting them down, the boys took off out the back. "We knew there was no way out up that gully," recalled Gadsby, "knew they'd end up being bluffed out, blocked in, because that gully just ends in a cliff. When daylight started to come through, they realised that too. Realised they were rats in a trap!"

As Gadsby tells the story for the thousandth time, with undiminished relish, I have to admit to feeling some sympathy for these dim-witted kids and their self-inflicted nightmare.

Sure enough, with dawn came the realisation they were caught between a rock and a hard place. "By then we'd sent our boys up the ridges either side of the gully so they could work themselves into positions above them. And once we could see where they were we started pelting them with rocks and boulders."

Featherston resident Len Terry, left, has been frequenting his Ngawi bach since 1963. An avid fisherman and hunter, he was given a Yamaha 185 trial bike by a Ngawi resident 29 years ago. Now he is donating it to the third generation, Josh, with a long list of instructions to deal with the temperamental bike's many idiosyncrasies. However, he says, "If you know
what you are doing, she won't let you down."

It was only when the police turned up that the boys surrendered, and never have three ne'er-do-wells on the lam fallen so gratefully into the arms of the law. Eventually Gadsby, now owner of a tee shirt proclaiming himself Sheriff of Ngawi, also attracted police attention. He copped a $3000 fine, the loss of his firearms licence and the right to shoot skeet, even under supervision. It appears he didn't display enough contrition - or, indeed, any;"I had to go Wellington for the trial. If I had a jury of my peers over here they would have thrown the case out," he recalls.

But the most wounding punishment of all for this unofficial sheriff - bringer of frontier justice to the lawless, and
brandisher of firearms in defence of the townsfolk - was when a favourite destination, the United States, refused him a visa. Gadsby is alive to the irony.

Many in Ngawi are well travelled. When you are flush with the crayfish dollar, there is not a lot of point hanging around in the off-season. Take Keith Banks. One minute he was talking diesel engines and crayfish pots, and the next his favourite
cafes in New York, or expounding on the markets in Fez, Morocco.

"It was great talking to the fishermen in Portugal. Although we had no language, there was so much in common. I really appreciated that they took the time. Now, when tourists drop by I don't keep my head down and avoid them like I used to. I take my time to talk."

I joined Banks to pull some pots. I wish there was some kind of seafaring tale to relate, but I have to say that winning a living from the pots is very often no more challenging than pulling cash out of an ATM. A quota - a commercial licence to fish - can return half a million dollars a season. Even the dogs are onto a winner. In Banks' work shed a terrier waited patiently for crayfish snacks, a streak of bliss crossing her features as she crunched through the bright orange shell into the sweetness of the succulent flesh.

One of the last remaining heritage shacks, tucked in above the churning surf for near on a century, is owned by Pat and David Saville. There's a view of surf and rocky headland from every window. And behind the shack, the raw rock of Palliser, with shale tumbling down the crags of an utterly inhospitable cliff face - a sort of Arthur's Pass by the sea.

"We come here for days on end and just sit and watch the sea, the mountains," he says. High above the kelp and jagged rocks I spy a cockleshell dinghy and ask Saville if he ever gets to use it. "If you wake up and don't hear any surf, you've got a chance, but even if the weather's okay, you have to be careful. If your engine dies and the northwester picks up, there's no rowing against it. You're gone."

Casting a frail loom during a storm, Cape Palliser lighthouse marks the southern-most tip of the North Island. Built in 1897, the light has been managed from a control room in Wellington since 1986.

The attraction here is about more than the fishing. Maori named the area Matakitaki, which means to look upon with admiration. Indeed, sitting here, lost in the same view, the mountains of the South Island frosted with snow, it's not difficult to imagine the sheer wonder of this place for a people encountering mountains and snow for the first time.
For those early voyagers the view from Ngawi - across the charging, vital skies of Cook Strait - must have seemed like the other side of the moon.

Beyond, cliffs of crumbling shale hills lie like fresh-baked loaves of bread, golden brown against an opalescent ocean. The heavy gutted swell rolls in from the deep and, slapped by the wind, crashes against the rocks on the far side of the bay. The lacey fringe of spume washes along shiny black shingle beaches, as if scalloped by pinking shears.

As my last night settles, I see the wisp of an airliner contrail caught by the sun now below the horizon, the plane itself a sliver of molten metal, tiny in a purple sky. I feel a sense of dread at the prospect of returning to the outside world, having to leave this wild place and its people who have cultivated here a powerful sense of kindness and freedom that I will miss deeply.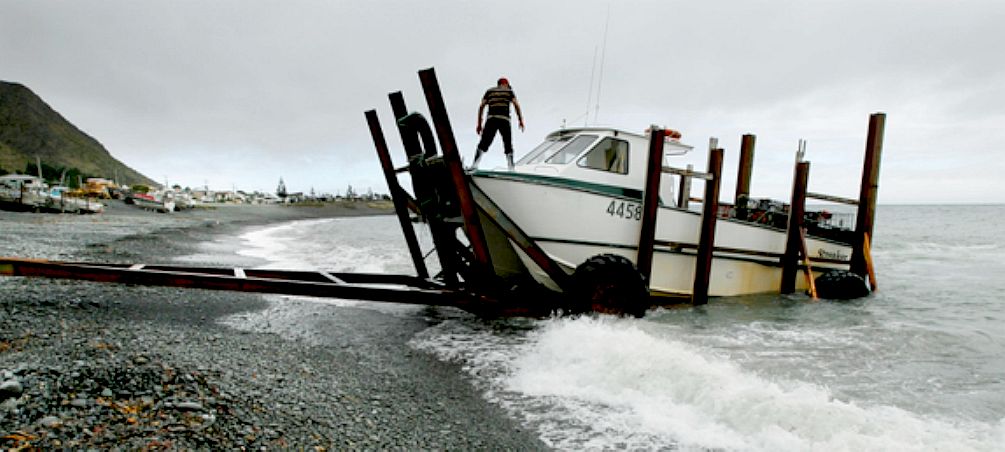 YOU ARE NOT ALONE - Down under the only safe way to get boats in and out of the water at Ngawi is with a brightly painted, or very rusted bulldozer. This is New Zealand where all of their caterpillar tracked vehicles are considered to be a bit of a tourist attraction, and have a different kind of charm to the Hasting boys - but who has the biggest and quickest launch machine? At the moment our money is on the Kiwis. The Brits have a ways to go to recover this fuss free. Most of the bigger bulldozers are owned by commercial fishermen who live at Ngawi, or else who live elsewhere but launch their boat at Ngawi.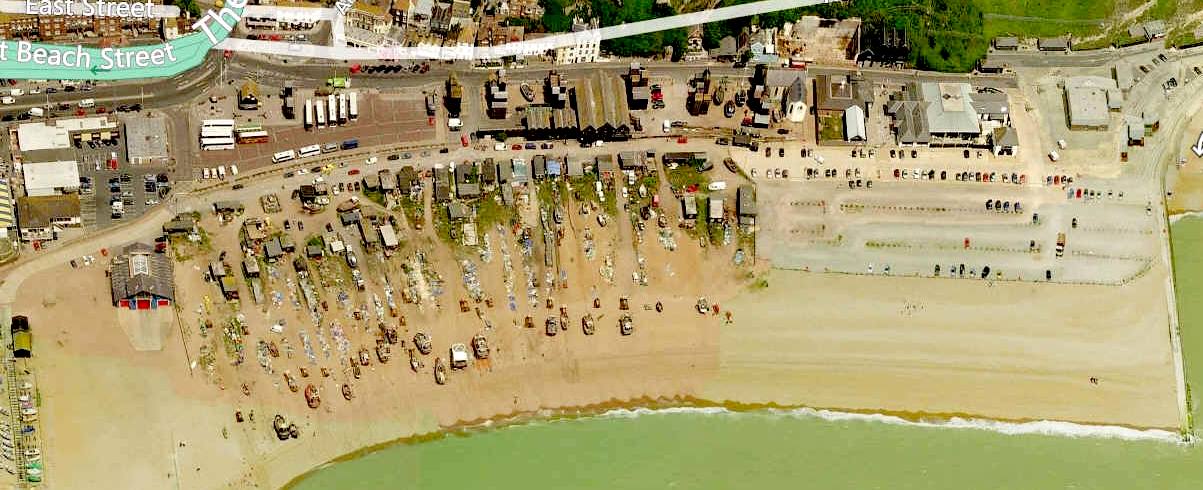 HASTINGS BEACH MAP - This is an aerial view of the world's largest beach launched fishing fleet in Sussex in the United Kingdom. From the satellite pictures on this page it is easy to see the Ngawi has a way to go before it could claim the world record - but they are catching up.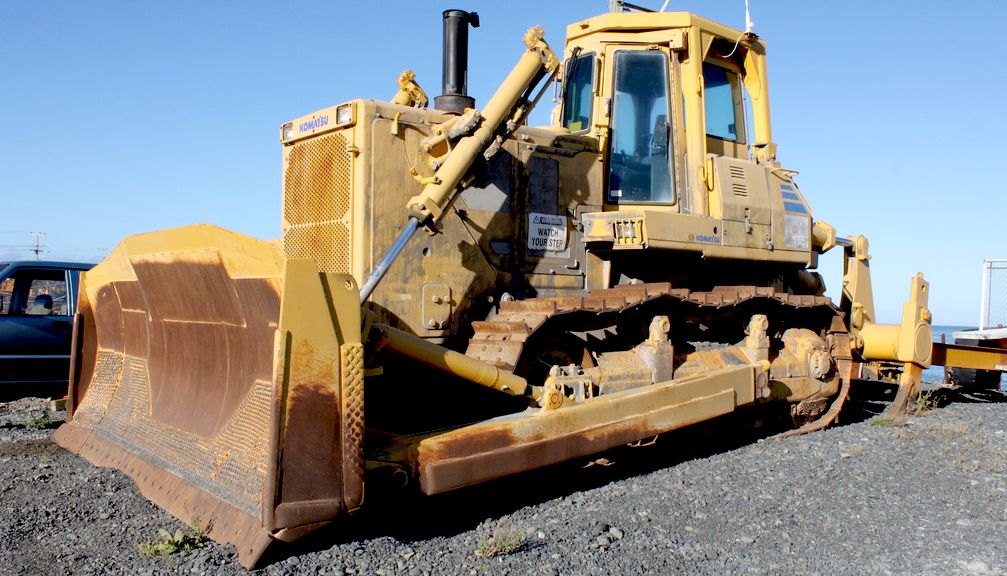 KOMATSU - Once of the larger bulldozers on the beach and a lot less rusty. The vehicles used are almost exclusively tracked. Rustic is part of the charm, inevitably involving rust. You may find it strange that these vehicles still have their hydraulic accoutrements intact. But, why take the shovel and other bits off, when the weight aids traction.

APPROACH - It's a team effort. The bulldozer driver lines the trailer up in the water at as close to ninety degrees to the shore - or pointing straight out to sea - as possible, at the correct depth. The skipper then lines his boat up and powers into the perfectly submerged, rubber tire lined, docking bay.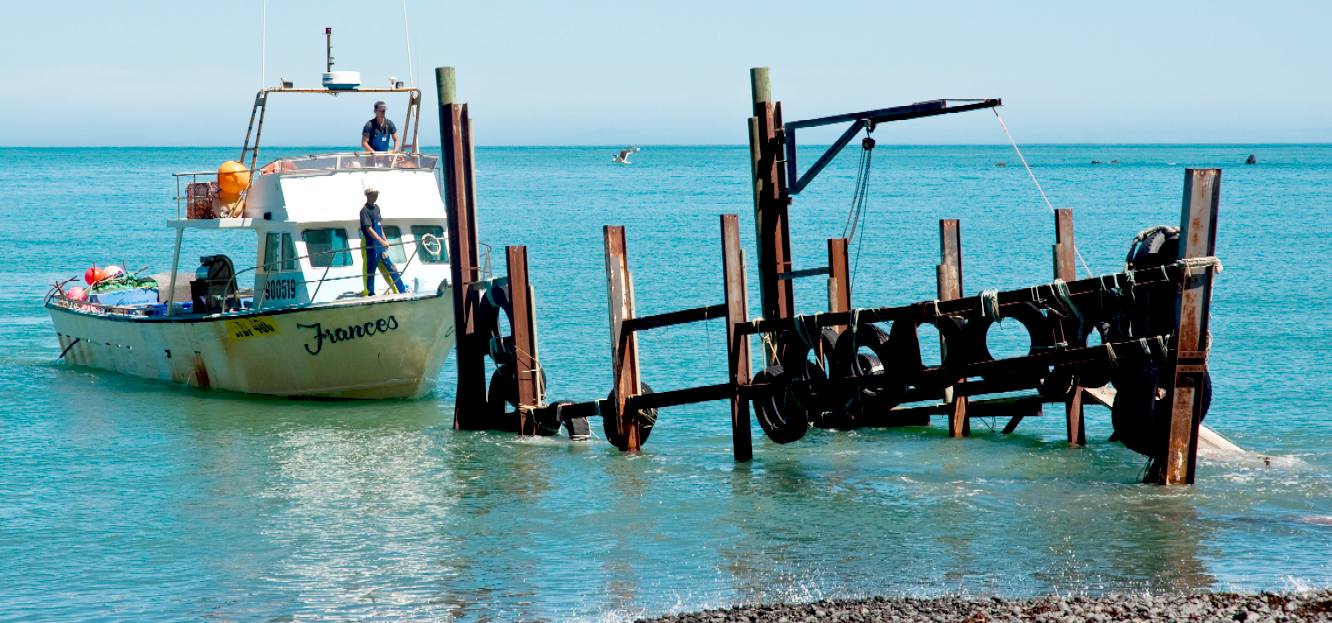 STEERAGE - The point of no return is where the skipper cannot reverse thrust enough to prevent a scrape. The upright girders are placed wide enough so that there is little chance of missing the opening, especially with a skilled captain at the helm.

GUIDANCE SYSTEM - When seen like this, it is obvious that the girder cage makes aiming your vessel a doddle. It looks a bit crude, but it works very well. The old truck tyres prevent the hull of the fishing boat chafing as is glides home to roost.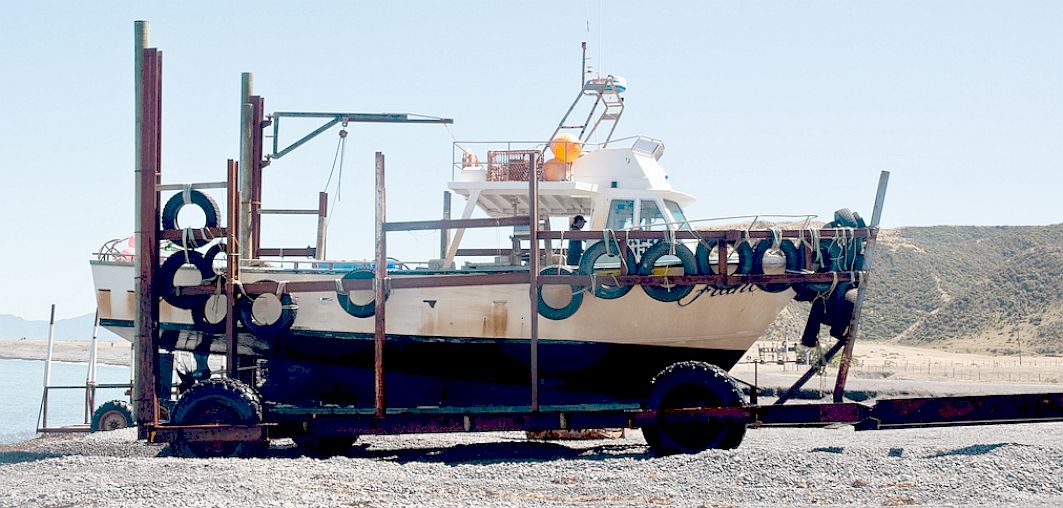 PARKED UP - A bulldozer hauls the rig up the beach without much fuss, apart from the diesel exhaust belching smoke - and once the fish catch is unloaded, the vessel is ready to go out again.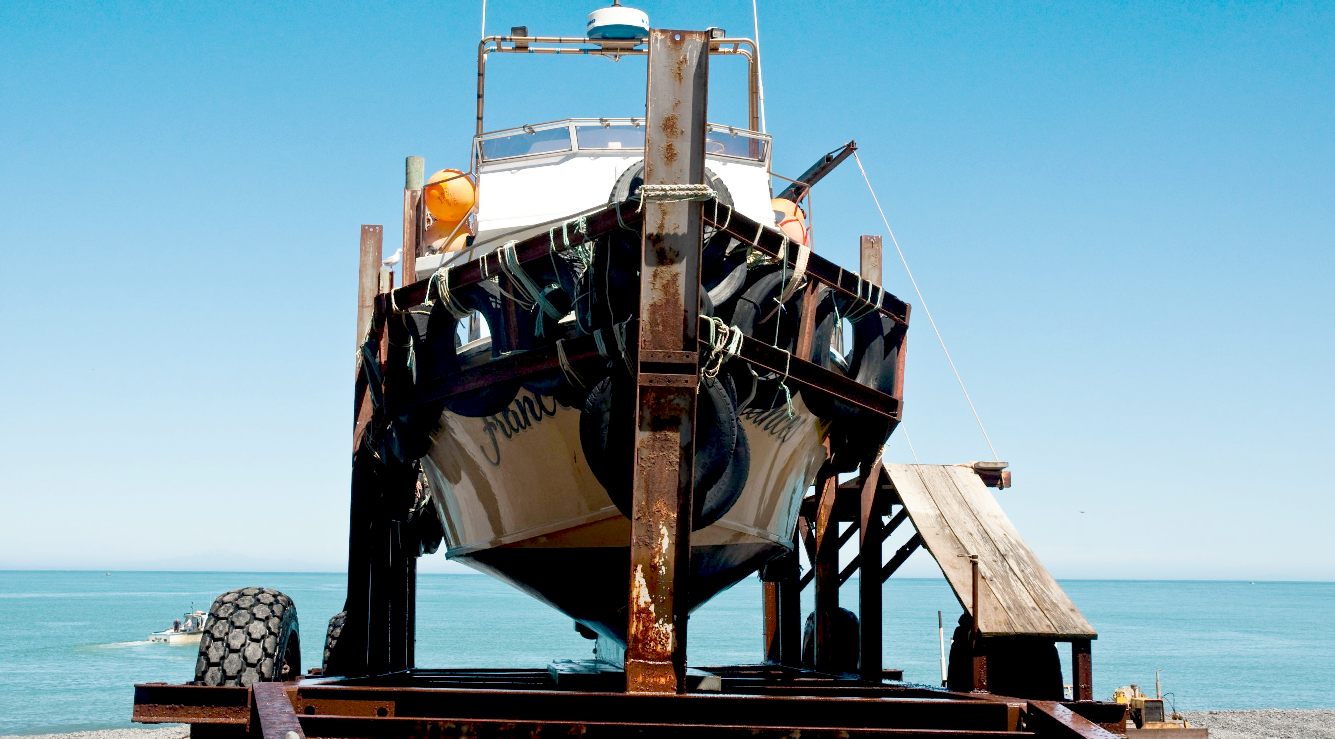 CRADLED - These rigs are splendid examples of man adapting to be able to exploit a rich fishing ground - without a port in sight. We love the way the boats are cosseted by the rubber tyres - another example of recycling.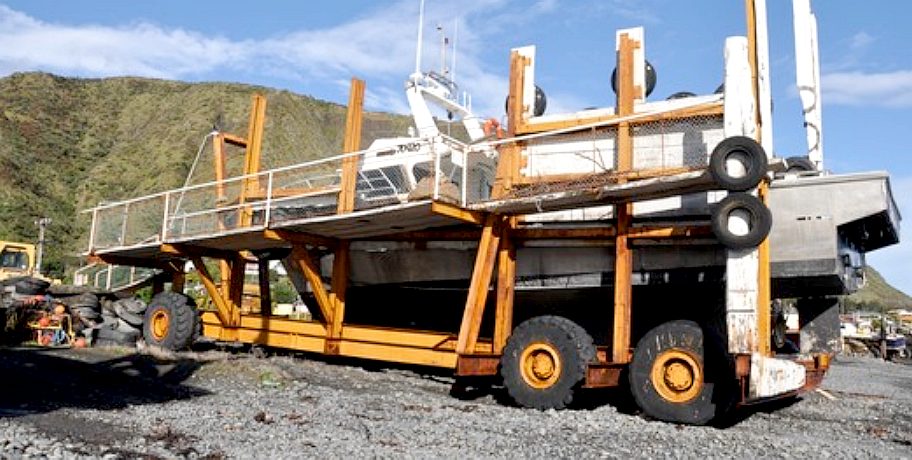 PORTABLE DOCK - This trailer is so big it is a more of a portable dock. It uses earth moving tyres and the frame is made of "I" section steel girders, with two girders bolted (or welded) one on top of the other to give the main chassis rails their strength.
LINKS & REFERENCE
https://ec.europa.eu/easme/en/european-maritime-and-fisheries-fund
http://thewanderlife.com/new-zealand-a-seafaring-paradise-with-awe-inspiring-traditions/
http://www.stuff.co.nz/dominion-post/capital-life/4675597/Life-on-the-edge
https://www.nzgeo.com/stories/the-beach/
http://nomadia.smfforfree.com/index.php?topic=1805.0
https://www.gov.uk/guidance/european-maritime-and-fisheries-fund-emff-before-you-apply
https://en.wikipedia.org/wiki/Hastings_Old_Town
http://www.se-coastalgroup.org.uk/
https://www.gov.uk/government/organisations/environment-agency

AMPHIBIOUS LAUNCH - AMPHIMAX - CHASSIS - DIESELS - FLOATATION - HYDRAULICS - LAUNCH SITE SX - MODEL 1/20 - TIMETABLE - TRACKS - TRAILER - WHEELS