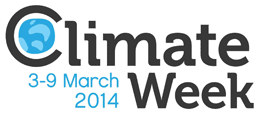 Each year during Climate Week, half a million people attend over 3,000 events across the UK, run by organisations from every part of society.

The events shine a spotlight on the many practical, positive steps being taken to help create a secure and sustainable future.

You can run any kind of event or activity – each year there is a huge range such as workshops, competitions, exhibitions, launches, bike rides, film screenings, open days and debates.

Britain's biggest climate change campaign

Climate Week is a supercharged national occasion that offers an annual renewal of our ambition and confidence to combat climate change. It is for everyone wanting to do their bit to protect our planet and create a secure future.

Climate Week will shine a spotlight on the many positive steps already being taken in workplaces and communities across Britain. The power of these real, practical examples – the small improvements and the big innovations – will then inspire millions more people.

Support from every part of society

Thousands of businesses, charities, schools, councils and others have run events during Climate Week each March since 2011. They have shown what can be achieved, sharing ideas and encouraging thousands more to act during the rest of the year.

Climate Week has support from every part of society – from the Prime Minister to Paul McCartney, the NHS to the Met Office, Girl-Guiding UK to the CBI, the Big Lottery Fund to the National Association of Head Teachers.

Help inspire millions to act

You can help create a massive movement for change by making Climate Week happen where you are. Ask an organisation or group you know – such as your workplace or local school – to run an event.

The event could be a talk, workshop, training session, open day, exhibition, party or any other kind of activity. People can also take part in Britain's biggest live environmental competition – the Climate Week Challenge – and enter the prestigious Climate Week Awards.

THE VENUE
The Crystal is a building on Royal Victoria Dock in east London that contains a permanent exhibition about sustainable development. It is owned and operated by Siemens. It is part of the Green Enterprise District policy that covers much of East London. The site is 18,000 square metres in size. Using solar power and ground source heat pumps to generate its own energy, it has set a high benchmark for sustainability. The building is the first to achieve the highest sustainable building accolades from the world's two leading accreditation bodies, LEED and BREEAM, Platinum and Outstanding respectively.
London's newest landmark, the Crystal, showcases the planet's technological advances, within one of the world' most sustainable buildings. The Crystal's uniquely shaped glass-clad structure houses the world's largest exhibition on the future of cities, with interactive displays and exhibits that bring sustainability to life for young and old alike.

The high-tech exhibition includes two immersive cinemas and more than 50 interactive screens. Highlights include a Tesla coil in the 'Go Electric' area, where visitors can generate electricity by moving their bodies, and the 'Creating Cities' space, where you can 'do a Boris' and become the Mayor of your own city, developing it with other 'city experts' on hand to offer advice. The transport section features electric cars, an electric motorbike and bicycles, and the exhibition concludes with 'Future Life', a vision of what cities might look like in 2050, presented on a 10m-wide film screen. There's also a waterside café that serves organic, sustainably sourced, local food and offers beautiful views of Royal Victoria Docks in East London. As one of the worlds greenest buildings, the Crystal lets students experience first-hand many of the pioneering technologies that are driving future trends for a more sustainable world.
The ECOSTAR DC50 is a two seat prototype sports car concept vehicle with front wheel drive and 50kW direct current electric motors. The roof will carry solar panels to charge an onboard battery cartridge as a range extender between instant recharging pit-stops. The cartridge may contain batteries, fuels cells, or a mix of batteries and fuel cells - thus it is Hydrogen Economy (HE) ready. The technology future proofs vehicles against battery and/or fuel cell advances. To include, or not to include in new zero carbon vehicles, is a no-brainer. This is a future collaborative research project, for which consortium partnerships are invited for an eventual Horizon 2020 bid in 2015 and showing thereafter at events such as Climate Week and the Eco Technology event in Brighton. A follow on stage of the project will be to design a low cost Bluebird™ service station for a network with sufficient capacity to keep London going. What you dream about today becomes reality tomorrow - provided there is the political to support development.

CLIMATE WEEK CONTACTS
Learn more about The Climate Week Electric and Hybrid Vehicle Showcase:

London E16 1GB,
United Kingdom
Crystal Tel: 0207 055 6400
Crystal Email: education@thecrystal.org
ABOUT THE BUILDINGS
The Crystal is one of the world's greenest buildings, achieving Outstanding BREEAM accreditation and Platinum LEED accreditation - the most stringent standards for sustainable design and construction. It demonstrates firsthand the remarkable systems and technologies that are employed to reduce its carbon footprint and ensure its environmental credentials over the long term.
The Crystal is an all-electric building that uses solar power and a ground source heat pump to generate its own energy. That means no fossil fuels are burnt within the building. The Crystal showcases state-of-the-art technologies to make buildings more efficient and also profiles Siemens' Environmental Portfolio.
The building incorporates rainwater harvesting, black water treatment, solar heating and automated building management systems. The design of the building's structure provides additional insulation and takes energy efficiency to a new level.


ARCHITECTURE

Designed by award winning architects Wilkinson Eyre, this iconic building draws inspiration from the many sides of a crystal. The Crystal's waterside location on the Royal Docks is a striking contrast with the surrounding skyline, the O2, Canary Wharf and Emirates Airline Cable Car that passes by. The external shape of the building creates unique internal spaces, including an exhibition hall auditorium, conference facilities, meeting rooms and office spaces.

The ultimate green exhibition as to sustainability, an all electric building
GREEN CONFERENCES - Participation of foreign countries:

Australia, Austria, Belgium, Brazil, Canada, China, Cyprus, Denmark, Finland, France,
Germany, Hong Kong, India, Indonesia, Israel, Italy, Japan, Korea, Malaysia, Mexico
Maldives, Netherlands, Norway, Oman, Philippines, Poland, Romania, Russia,
Singapore, Spain, Sri Lanka, Sweden, Switzerland, Taiwan, Thailand, Turkey, UAE, UK,
USA, Vietnam

LINKS:
http://globaldimension.org.uk/calendar/event/6135
http://www.theclimategroup.org/what-we-do/events/climate-week-nyc-2013/
http://www.climateweek.com/
http://www.thecrystal.org/
http://www.climateweek.com/run-an-event/
http://www.informamaritimeevents.com/event/greenshiptechnology