INNOVATION
The new Innovation Zone at Oceanology International 2014 is an area of the exhibition hall dedicated to showcasing technological innovation in the marine science and ocean technology sector.
In a landscape where more and more activity is being carried out offshore, innovation in marine technology and service solutions becomes an ever-growing requirement. Innovation aims at:

* Reducing capital expenditure
* Reducing downtime
* Improving operational efficiency
* Improving HSE
* Increasing production
* Improving accuracy
* Inspiring new ways of operating

This Innovation Zone is specifically designed for visitors who are looking for out-of-the-box solutions and game-changing ideas that will shape the future of offshore and subsea technologies.

The Innovation Zone will feature:

* Innovative technology display on this dedicated area of the exhibition hall
* Presentations from innovators
* A 'Meet the Investor' Workshop managed by the Oiltech Investment Network, including a seminar programme on ways
to funding and 1-2-1 meetings with PE technology Investors (Tue 11 March 2014)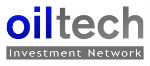 How to showcase your technology on the Innovation Zone

Both exhibiting and non-exhibiting companies at Oceanology International 2014 are invited to submit their technology idea to be showcased on the Innovation Zone.

Entrepreneurs, universities, inventors and small businesses can gain exposure for their technology ideas towards over 7,600 professionals from marine science and ocean technology related sectors.

Exhibiting companies can secure dedicated exposure for their innovative offer and drive additional traffic to their stand.

Exposure on the Innovation Zone includes:

* The opportunity to present on the Innovation Theatre, a dedicate theatre on the exhibition hall
* Display of the technology idea through brochure display, a PPT presentation or video played in loop alongside other
innovative projects
* Inclusion of short description of your technology idea on the Innovation Zone webpage

The Cost: £250 + vat


'Meet the Investor' Workshop at the OI 2014 Innovation Zone (Tue 11th March 2014)

The Innovation Zone will also host a one-day 'Meet the Investor' Workshop, in collaboration with the Oiltech Investment Network, aimed at supporting innovative technology providers getting their technology to market in the fastest and most effective way. The 'Meet the Investor' Workshop will take place on the first day of the show, on Tuesday 11 March 2014.

The Investment Workshop will include a morning half-day seminar programme, free to attend for all visitors at Oceanology International, aimed at providing industry specific advice and expertise for innovators seeking partner funding.

In addition to this, entrepreneurs, universities, inventors and businesses currently seeking funding within the E&P and oilfield service sector can apply to join one-to-one meetings with specialist oil and gas investors (free to attend but subject to acceptance by the Oiltech Investor Panel, deadline to apply has now been extended to Friday 31st January 2014).

Attending the 'Meet the Investor' Workshop will give access to:

> Presentations by guest speakers from the Oiltech members highlighting global technology needs
> Key-note presentations describing alternative routes to funding
> Individual one-to-one meeting with PE technology investors to provide advice on business plans, market access,
strategies and gaining funding
> Opportunities to network with service providers (IP attorneys, finance advisors, accountants) and other entrepreneurs
and key advisors within the E&P technology sector
> Download the Invitation to Apply to the 'Meet the Investor' Workshop
OILTECH MEMBER COMPANIES
MARINE RENEWABLES - SURVEY, INSTALLATION and MAINTENANCE
11 Mar 2014, 10:00 - 17:00 South Gallery Room 11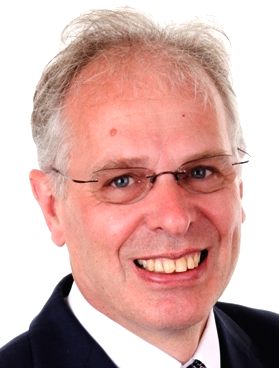 Prof. Ralph Rayner
|
Sector Director, Energy and Environment, BMT Group Ltd and Chairman, Sonardyne International Ltd
CHAIRMEN:

Alan Moore OBE, Chairman, Ventus 2VCT plc, and Director of Offshore Renewable Energy Catapult
Phil Durrant, Managing Director, Gardline Environmental and Co-Chair, Marine Industries Liaison Group

Introduction from the Chairmen

The UK's energy targets require the investment of tens of £billions in offshore renewables, most immediately in offshore wind power. The global market is several times bigger.

Much activity is underway to grow the supply chain and, since more than half of the expected investment is on or below the water line, this presents enormous opportunities for those attending Oceanology International to get involved. We have structured our Renewables Day to cover the relevant energy policies and support mechanisms, the support for innovative ideas, and some of those ideas themselves. Sessions will address the development stages leading to planning consent and grid connection, the challenges of installation in the harsh marine environment, and the rapidly evolving practices around operation and maintenance.

In each session we have chosen speakers with real experience. So judge for yourself if you want to get involved in marine renewables, speak to those who already are, and learn how to make the most of one of the biggest fastest growing environmental, engineering and commercial opportunities of the next decade.

Marine Renewables Policy and Overview

* UK Policy, Gareth Redmond, ORED, DECC
* Round 3 - Progress to Date, Nick Medic, RenewableUK
* Prospects to 2020 and Beyond, William Apps, The Crown Estate
* Encouraging Innovation in Offshore Renewables, Andrew Jamieson, ORE Catapult
* Q&A

Project Development - Pre-costruction

* Lessons Learnt During the Execution of UK Round 3 Pre-Consenting Survey Projects, John Morse, Gardline
* Metocean Standards for the Modern Day Renewable Energy Industry, James Parker, CEFAS
* Consenting the World's Largest Offshore Wind Farms: Dogger Bank - Halfway to the Moon, Michael Stephenson,
Forewind and Martin Goff, Statoil
* Q&A

Commissioning and Construction

* Monitoring Offshore Wind Turbine Foundations, Per Sparrevik, Norwegian Geotechnical Institute
* Habitat Impact Assessment for Offshore Energy Projects: High Time to Abandon 19th Century Tools, Joseph Germano,
Germano & Associates
* M3EA : A New Floating Platform for Offshore Measurements, Jacques Barreau, Nass&Wind Offshore
* Q&A

Operation, Maintenance and Monitoring

* Can the World's Largest Operational Offshore Wind Farm Also Be One Of the World's Best? An Overview of London
Array's Approach to Keeping the Turbines Turning, Safely, Mike O'Hare, London Array Limited
* SPARTA Offshore Reliability Standards, David Arnold, ORE Catapult
* Benefits of Ocean Radars for the Marine Renewable Energy sector, Nicolas Thomas, ACTIMAR
* Management Of UXO Risk In Offshore Wind Farm Developments & Export Cabling, David Sinclair, GeoServices
SPEAKERS
VESSELS & DOCKSIDE DEMONSTRATIONS
CALECORE (Stand K500)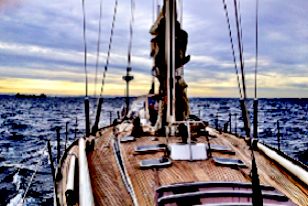 Calecore has exhibited at trade shows in Noway and the UK but this will be her first OI. Calecore will be bringing a Swan 651 named 'Rani'. Rani is an ocean going yacht and has circumnavigated the world on more than one occasion. She was the start boat for the America's Cup in Fremantle in 1987. She will be used for meeting and hospitality purposes for the duration of the show.
BRIGGS MARINE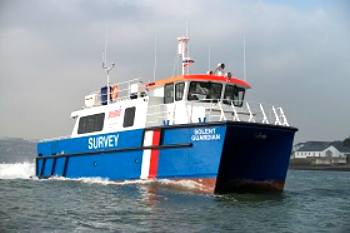 Solent Guardian has recently been brought into service by Briggs Marine to complete the fleet of survey vessels available to the Environment Agency. Solent Guardian undertakes a wide range of sampling and survey activities and is fully equipped for environmental and hydrographic surveys. The vessel's Owner, Briggs Marine, holds a 15 year contract to provide vessels and vessel management to the Environment Agency and 'Solent Guardian' represents last of the 5 Coastal and Inshore vessels that have been built in close cooperation with Environment Agency for their use. The vessels are also available for commercial charter UK wide.
GEOXYZ (stand F255)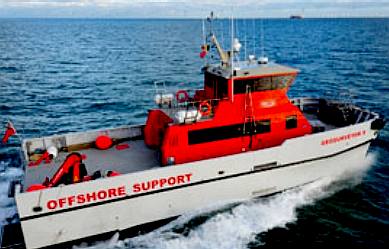 Geoxyz is due to bring the Vessel "Geosurveyor X". Geosurveyor X is a 21 metre catamaran registered in London. She will be carrying out underway demonstration with her R2 Sonic multibeam sonar equipment. She can take 2 x 20m containers on her working deck. Afloat demonstrations can be booked on stand F255.
HAYS SHIPS (Stand J550)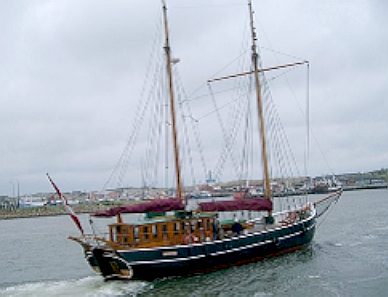 Hays Ships is set to bring the Kommandøren. Built in 1891, the Kommandøren was typical of a small Danish cargo vessel of the period. In 1972 she was purchased by Erik Hays Thegersen and names "Kommandøren" of Rømø and berthed in Københaven. In 1983 she moved to the UK to act as a home base for Hays Ships Ltd. Kommandøren continues to be used to promote Hays Ships and is a regular visitor to oil industry conferences and exhibitions as a reception vessel only.
KONGSBERG MARITIME (Stand E600)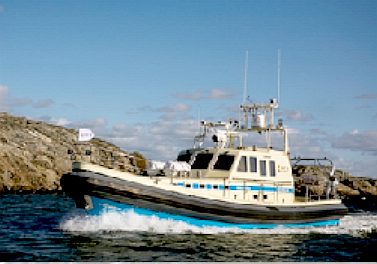 Kongsberg Maritime could be showing the Vessel "Sea Beam". Kongsberg Maritime will be providing waterborne demonstrations during the exhibition utilising the 17 metre MMT survey vessel "SeaBeam". Demonstration equipment will include the Kongsberg EM2040 dual Tx / dual Rx multibeam system and the Seapath 330+ attitude system. To book a demonstration please visit Stand E600.
L3 KLEIN (Stand G500)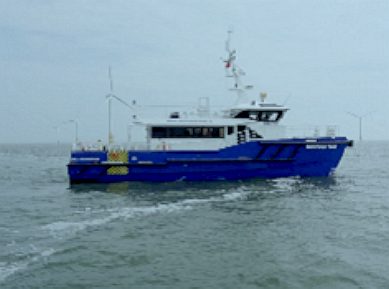 L3 is set to bring the Vessel "Norfolk Tern". The Norfolk Tern is a 17.5 metre windfarm support vessel on hire to L-3 Klein Associates, Inc. (Stand G500). She will conduct live on-water demonstrations of the Klein HydroChart 3500 Shallow Water Bathymetry System during Oceanology International 2014. The Klein HydroChart 3500 system was developed using our latest proprietary "wideband technology". The HydroChart 3500 provides unrivalled range and resolution performance in a compact, lightweight system that is easy to install, set up and operate.
MAIN PRIZE OFFSHORE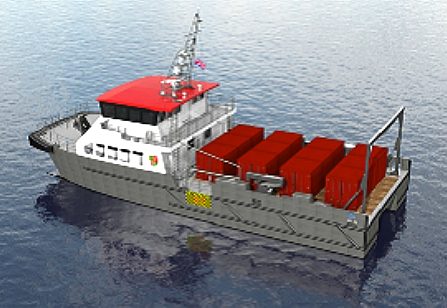 MO1 is a brand new 26 metre offshore survey and support vessel being demonstrated by Mainprize Offshore. Massive deck area lends her to a range of offshore activities. For any queries please visit the Information Desk inside the Exhibition Hall. MO1 will be conducting afloat demonstrations with Innovatum (Stand I155) to launch and recover their remote controlled tethered ROV.
RESON TELEDYNE (Stand G100)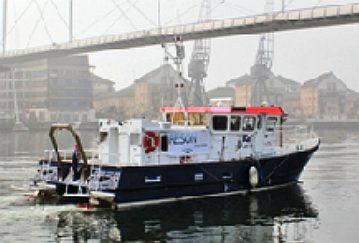 RESON have two vessels this year under the banner of RESON Teledyne. The first is the Yantlet. The Survey vessel 'Yantlet' is a 14 metre inshore survey vessel owned by the Port of London Authority. She will be undergoing survey demonstrations within the Royal Victoria Dock waters on hire to RESON. The vessel has attended and carried out demonstrations at Oceanology International on numerous occasions. To book an underway demonstration of RESON`s equipment, please visit Stand G100.
SONARDYNE (Stand G300)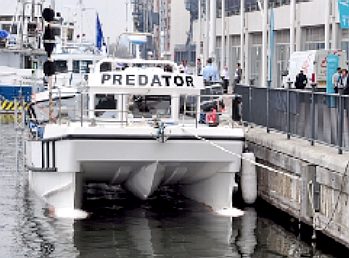 Sonardyne will bring the Vessel "Predator". Sonardyne International (Stand No. G300) will be demonstrating a range of acoustic and inertial navigation based solutions from onboard the Predator, a 10 metre commercial catamaran. Demonstrations carried onboard on the Predator include the SPRINT INS sessions; the 6G LBL sessions; and the 6G USBL demonstrations. New features include support for iWand, auto discovery of subsea transponders, a remote interface and improved signal metrics. Sonardyne's Lodestar GyroUSBL transceiver will also be used for live tracking of transponders around the vessel at ExCel. Please visit the Sonardyne stand (G300) to check availability and to book a place onboard
2014 DEMONSTRATION DAILY PROGRAMME

09:30 Norbit Subsea
View kayak at Pontoon and product at Stand B155
10:00 Seatronics
View at vehicle at West end of jetty (Tues & Wed only)
10:00 RTSys
View at Portacabin on jetty
10:45 SeaBotix
View at Portacabin on jetty
11:00 Seatronics
View at vehicle at West end of jetty (Tues & Wed only)
11:30 Teledyne BlueView
View at Portacabin on jetty
11:45 Norbit Subsea
View at Stand B155
12:00 Seatronics
View at vehicle at West end of jetty (Tues & Wed only)
13:45 RTSys
View at Portacabin on jetty
14:00 Seatronics
View at vehicle at West end of jetty (Tues & Wed only)
14:30 SeaBotix
At Portacabin on jetty
15:00 Seatronics
View at vehicle at West end of jetty (Tues & Wed only)
15:15 Teledyne BlueView
At Portacabin on jetty
15:45 Norbit Subsea
View at Stand B155
16:00 Seatronics
View at vehicle at West end of Jetty (Tues & Wed only)
TUESDAY 11th MARCH - MARINE AUTONOMOUS SYSTEMS WORKSHOP - MAS
If you are a UK company/organisation or your business has a substantial presence in the UK in this field you are invited to register your interest in attending. ATTENDANCE WILL BE BY INVITATION ONLY.

Registration: In the first instance you are invited to register your interest at events@maritimeindustries.org If a place has been allocated to you, you will be informed nearer the time.
MAS PROVISIONAL PROGRAMME:
0930 Registration and coffee
1000 Introduction to Marine Industries Alliance and MAS proposition
1005 Outline, context and status of programme
1030 Q & A
1040 Government support for a collaborative programme
1100 Breakout discussion groups
1145 Plenary summary and closing remarks
1200 End
ABOUT MAS
Autonomy sits as one of the '8 Great Technologies' and the use of these systems in the marine domain is set to see a significant increase in the future. This will take the form of major growth in the use of existing platforms, for example underwater autonomous systems, and diversification into new products and services.

In the scientific sector, long endurance sensing will see a leap in our understanding of the marine environment, supporting sustainable resource use in areas such as carbon capture and habitat monitoring. For the global offshore energy market, the improved ability to both gather data and intervene using autonomous systems will reduce risk and cost while opening up exciting new operating environments. The military applications for autonomous systems are integral to naval capability programmes from minehunting to augmenting submarine operations. Within the marine
transport sector, autonomy has the potential to improve the integration and effectiveness of both cargo and passenger transport, including enabling export business into and out of Great Britain.
Across all of these sectors, the UK looks to take leading positions, driven by development of the required technology, evolving the regulatory environment and ensuring we sustain the cutting-edge skills and knowledge already present in our industrial and academic bases.

Vision for MAS programme:

'A rolling collaborative development programme, which will raise awareness, and solve technical, practical, legal and social challenges'.

Delivering from 2014 onwards, the MAS programme will be jointly funded by industry and a number of Government departments, with inclusion across the full range of UK enterprise. Initial activity will be focussed around a collaborative R&D competition (with matched funding) to generate interest and develop key technologies, but sustained activity to progress non-technical aspects (in particular evolving the regulatory environment) will be key to the UK taking a world-leading position.

The outcome from this phase of the programme will be aimed at delivery of showcase demonstrators that prove technological advances in ways that meet mandated regulatory standards, around 2017.
A potential demonstrator platform is a small coastal passage by an unmanned vessel, under appropriate intelligent control.

The aspired end-state of the programme is enabling 'appropriate autonomous systems, able to operate seamlessly in UK regulated waters'.

Proposed MAS organisation:
The programme needs to engage and enable a range of stakeholders. At the core will be a programme office with responsibility for coordinating the activity, guided and supported by a Steering Group of senior members from government, industry and academia. Work strands that draw on deep expertise from SMEs, wider industry, academia and government will be initiated to progress the development of:
• Technologies and Capabilities
• Standards and Regulations
• Skills and Workforce
The Steering Group will be pull together key experts to provide advice and guidance, issue resolution to the programme office and support engagement at a senior level. This will involve:
• Provide advice and guidance on the programme and priorities,
• Facilitate communications between senior internal and external stakeholders
• Provide direction concerning decisions during all phases
Proposed programme milestones:
• Establishment of Steering Group and detailed work strands for specific areas Spring 2014
• Initial Collaborative R&D competition as first of a series Autumn 2014
• Focussed development projects to address specific technology gaps FY 14/15 onwards
• Delivery of showcase demonstrators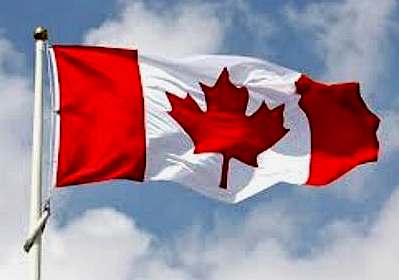 TUESDAY 11th MARCH - CANADA
High Commission of Canada to the UK: New Canadian Product Launches
Date: 11th March 2014
Venue: South Gallery meeting room 6 - Time: 13:30
These presentations are open to all.

13.30 3-D Vector Sensing with GeoSpectrum's New Particle Motion Sensor Arnold Furlong – GeoSpectrum Technologies Inc.
14.00 UV Light: A New Kind of Antifoulant Chris Bueley – AML Oceanographic
14.30 HydroBall-Pro: an essential hydrographic equipment for extreme tasks Jean Laflamme – CIDCO
15.00 Turbulence Measurements from Autonomous Plat forms Jeremy Hancyk – Rockland Scientific
15.30 Know Before You Go: Dynamic 3D simulation of ocean technology using ProteusDS Dean Steinke – Dynamic Systems Analysis Ltd.
16.00 Count the Clicks: Detect Marine Mammals Using the icListen Smart Hydrophone Mark Wood – Ocean Sonics
16.30 Unleash your CTD: wireless oceanography with an iPad Greg Johnson – RBR Ltd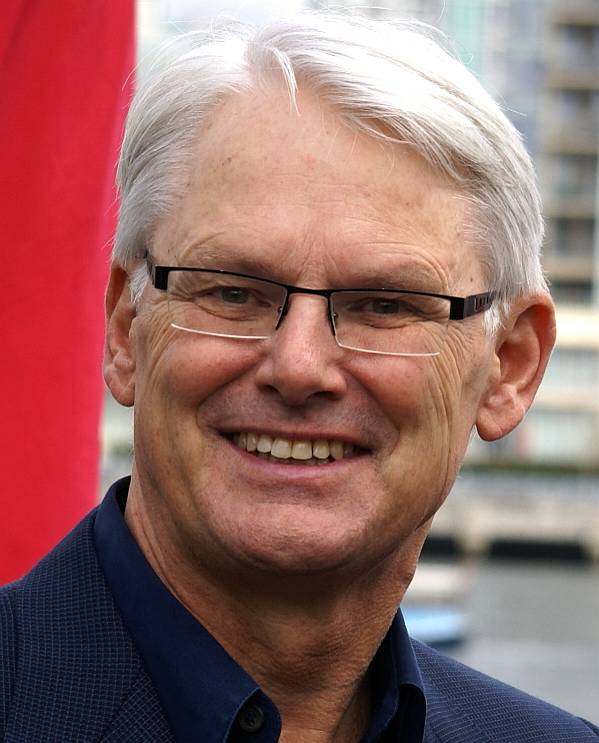 Gordon Campbell - High Commissioner
WEDNESDAY 12th MARCH - CANADA
High Commission of Canada to the UK: Seminars on Canadian Opportunities
Date: 12 March
Venue: South Gallery meeting rooms 13 & 14 - Time: 10:00
The following seminars are open to all.
10.00 "Canada's Marine Renewable Energy Opportunity"
Amanda White – Operations Director, Marine Renewables Canada
10.30 "Ocean Technology in Canada – An Overview"
Scott McLean – Director – Ocean Networks Canada Innovation Centre
11.00 "Regional to Global – Investing in Newfoundland and Labrador's Emerging Ocean Technology Sector"
Anthony Patterson – President and CEO of Virtual Marine Technology Inc. and Chair of OceansAdvance
11.30 "Nova Scotia - An Ocean of Opportunity for Investment and Partnering"
Jim Hanlon – CEO, Halifax Marine Research Institute
High Commission of Canada to the UK Lunch
Date: 12th March 2014 - Time: 12:30pm This event is by invitation only.

Venue: South Gallery Rooms 13 &14
The Honourable Ed Fast, Canada's Minister for International Trade, and the British Columbia Ministry of International Trade invite you to a luncheon on the topic of Liquefied Natural Gas (LNG) Marine Industry Opportunities in British Columbia.

Presented by Paul Lacroix, Chair, Ocean Industries British Columbia.
RSVP: Please email lee.thornton@international.gc.ca
IMCA 'ROV Training & Competence - Global approach, local delivery'
Date: 12 March
Venue: South Gallery meeting room 10 - Time: 13:30 – 17:00
IMCA's Remote Systems & ROV Management Committee and Competence & Training Core Committee will be holding a joint afternoon seminar 'ROV Training & Competence - Global approach, local delivery'. The intent is to discuss a common approach to ROV training and how this can be delivered in different regions including the UK, Canada and Brazil where there are initiatives addressing the training of new ROV personnel.
Speakers will include Jim Mann, Chairman of the IMCA Remote Systems & ROV Committee, Steve Ham of The Underwater Centre Fort William speaking on 'ROV training in a contextual experience environment', IMCA consultant Bill Evans, speaking on 'A syllabus framework for ROV training' and Dwight Howse, Marine Institute of Memorial University and Giorgio de Tomi, University of São Paulo, speaking on 'Delivery of ROV training in Canada & Brazil - a global vision'. The afternoon will also include discussion of the syllabus framework for ROV training and other topics raised during the presentations.
The event is free to attend, and open to all, but registration is required, and space is limited. Please contact events@imca-int.com to express interest in attending.
THURSDAY 13th MARCH - WENDY SCHMIDT OCEAN HEALTH XPRIZE
The Wendy Schmidt Ocean Health XPRIZE will host an innovation workshop to discuss how innovation in the ocean services industry is needed to catalyze the market. They will also introduce the Wendy Schmidt Ocean Health XPRIZE, the teams that are competing and dive deeper into the prize's impact on the ocean services industry.

TECHNOLOGY IMPROVING SOLAR AND FUEL BATTERY SYSTEMS

Created by Tadakatsu Ishiga on Feb 3, 2014
NineSigma, representing a multi-billion dollar electrical manufacturer, is seeking technical information regarding enhancements and improvements for Solar and Fuel Cell battery systems, by providing additional benefits in conjunction with photovoltaic (PV) panels and fuel cells (FC).
The deadline to submit Proposal Briefs for NineSigma RFI# 70389, "Technology Improving for Solar and Fuel Battery Systems" is Monday, February 24, 2014. Please let Mr Ishiga know if you are interested in responding but cannot provide a proposal by this date. This reminder does not represent a complete description of the project.
A full description, associated documents, and discussion forum can be found on the RFI page of our NineSights community, accessible online at:
http://www.ninesights.com/docs/DOC-10035
If you are interested in submitting a proposal or would like more information, you may post questions or comments online, or you may contact Mr Ishiga by email. When you submit a proposal, please use the response template downloaded from the link below:
Login to preview the full Request. To open the full Request specifications as a PDF, use the Download links below. Click here for the NineSigma: Response template
To view all NineSigma RFIs as well as other needs from their clients, join NineSights - the NineSigma Open Innovation Community at http://www.ninesights.com/
Response template 70389

Organization: A Multi-billion Dollar Electronics Manufacturer

Request Type: Standard

Industry: Electronics / Semiconductors / Sensors

Technical Area: Analytics & Testing

Collaboration Type: Joint Development, Technology Licensing, Consulting

Deadline Date: 02/24/2014

NineSigma Manager: T. Ishiga Email: PHD2@ninesigma.com
See more at: http://www.ninesights.com/docs/DOC-10035?campaign

http://www.ninesights.com/docs/DOC-10025

CONTACTS
T. Ishiga
Program Manager
NineSigma, Inc.
23611 Chagrin Blvd., Ste. 320
Cleveland, Ohio 44122-5540
PHD2@ninesigma.com

Blog: http://www.ninesigma.com/blog


EXHIBITORS OCEANOLOGY INTERNATIONAL 2014 LINKS
Show only Spillex Exhibitors

First Time Exhibitor
CONTACTS
Reed Exhibitions Limited - Company No: 678540
Gateway House, 28 The Quadrant
Richmond, Surrey, TW9 1DN
United Kingdom
Exhibitor Helpline
The exhibitor helpline is the first port of call for companies exhibiting at Oceanology International 2014 and can provide any help needed with the exhibitor portal. Customer Services Team
Tel: +44 (0) 20 8271 2133
Email: oi.helpline@reedexpo.co.uk
Sales Team

Contact the sales team for any exhibition or sponsorship opportunity enquiry.

Kirsten Conlon
Key Account Manager
Tel: +44 (0)20 8439 8870
Fax: +44 (0)20 8439 8897
Email: kirsten.conlon@reedexpo.co.uk

Benedict Pickard
Sales Executive
Tel: +44 (0)20 8910 7056
Fax: +44 (0)20 8439 8897
Email: benedict.pickard@reedexpo.co.uk


Ray Filbert
International Sales Group- USA, Canada
Tel: +1 203 840 5821
Fax: +1 203 840 9821
Email: rfilbert@reedexpo.com

Marie-Rose Michel
Sales Manager - France
Tel: +33 141 904 667
Fax: +33 141 904 660
Email: mmichel@reed-export.fr

CONTENT EXECUTIVE
Contact the content executive for conference related enquiries.
Ellen Burgess
Content Executive
Tel: +44 (0)20 8439 5420
Fax: +44 (0)20 8439 8897
Email: ellen.burgess@reedexpo.co.uk
Event coordinator

Contact the event coordinator for general enquiries.

Charlotte Fewlass
Event Coordinator
Tel: +44 (0)20 8439 5575
Fax: +44 (0)20 8439 8897
Email: charlotte.fewlass@reedexpo.co.uk
Exhibition Director

James Coleman
Exhibition Director
Tel: +44 (0)20 8910 7769
Fax: +44 (0)20 8439 8897
Email: james.coleman@reedexpo.co.uk
Marketing Team

Contact our marketing team to enquire about media partnerships and request Oceanology International related marketing material, including show logo, press releases and images.
Mariangela Giuliani
Marketing Manager
Tel: +44 (0) 20 8910 7004
Email: mariangela.giuliani@reedexpo.co.uk
PRESS

Contact Judith Patten for press related enquiries.
Media & PR Manager
Tel: +44 (0)20 8241 1912
Email: judithpatten@jppr.uk.com
Vessels and Demonstrations

Contact our vessels manager to enquire about participating in the vessels and demonstrations programme.
Stephen Taylor
Vessels Manager
Tel: +44 (0)17 3082 1661
Email: dandstayl@aol.com
TOPICS OF INTEREST
Product Category

Acoustics
Batteries
Beacons & Buoys
Benthic Sampling Equipment
Buoys & Buoyancy Materials
Cables & Cable Systems
CADCAM
Cameras
Cathodic Protection
Compasses
Composite Materials
Computer Equipment
Control Systems
Deck Machinery
Displays/Mapping/Graphics
Diving Equipment, Contractors & Vessels
Echo Sounders
Electric Motors
Global Information Systems
Gyrocompasses
Hydraulic Systems
Hydrological Instruments
Instruments/Instrumentation Systems
Lasers
Launch & Recovery Systems
Leak Detection & Sealing
Life Rafts & Rescue Boats
Life Support Systems
Lighting
Magnets & Magnetometers
Manipulators
Mapping Systems
Marine Engineering
Marine Equipment - General
Marine Geotechnical Investigations
Marine Site Investigations
Marine Systems
Meters & Metering Systems
Naval Architecture
Offshore Support & Accommodation Vessels
Oilfield, Drilling & Fishing
Oil Spill Response
Patrol Craft
Position Fixing Systems
Power Supplies
Pressure & Temperature Control Measurement Equipment
Propulsion Systems
Pumps
Remote Sensing
Rescue & Survival Equipment
Robotics
Ropes - Woven, Wire & Mooring
ROVs
Safety, Survival & Security Equipment
Satellite Navigation Equipment
Seismic Equipment
Sensors
Shipbuilding, Repair & Conversion
Software & System Engineering
Sonar & Systems
Sonobuoys
Space Technology
Submarines & Submersibles
Submersible Equipment
Subsea Production Systems
Surveillance Systems & Equipment
Survey Equipment
Towed Arrays & Bodies
Umbilicals
Underwater Communications
Underwater Vehicles
Winches & Accessories
Workboats

Service Category

Bathymetric Survey
Charts & Charting
Coastal Protection
Communications
Consultancy Services
Current Measurement
Data Interpretation, Management & Processing
Diving
Dynamic Positioning
Earth Sciences
Ecological Health & Pollution
Ecology
Environmental Management
Equipment Hire
Geophysics
Geotechnical Engineering
Hydrographic Services
Inspection, Repair & Maintenance
Laboratory testing services
Maritime Surveillance
Navigation & Position Fixing
Ocean Currents
Ocean Modeling
Ocean Observation
Oceanographic Survey
Oceanology
Optics
Optronics
Overhaul & Repair
Port Security
R&D Organisations
Safety & Survival Systems & Analysis
Seabed Sampling
Seismic Survey & Acquisition
Simulation & Training
System Modeling
Systems Integration
Target Acquisition & Recognition
Temperature Measurement
Test & Evaluation
Trials & Trials Facilities
Water Measurement, Sampling

End User Sector

Oil & Gas
Coastal Engineering
Aquaculture
Renewables
Ocean Science
Defense / Security
Desalination
Government
Telecommunications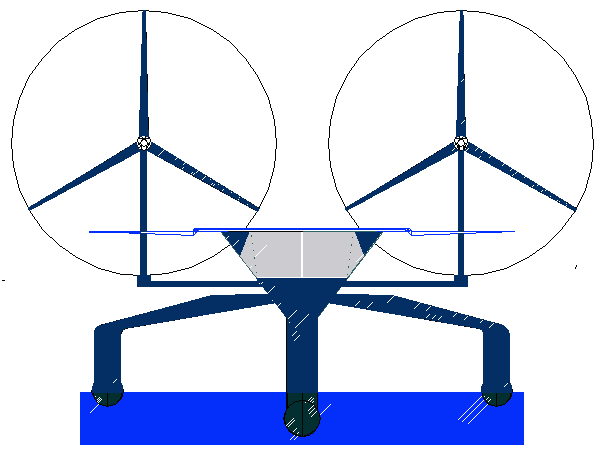 The Combat ZCC with 40kW wind turbines. This is a 50 ton vessel that is elongated, but retaining the same low frontal area as with the merchant Bluefish ZZC platforms above. This battleship can be armed with a potent mix of torpedoes, SAM and Cruise missiles. The total energy harvesting capacity is around 176kW (235hp), giving an Energy Harvested to Displacement ratio (EH/D) of 3.52kW/ton (4.72hp/ton). The vessel is more efficient at collecting energy during darkness, reducing the battery storage needed, hence improving the potential payload. Larger versions of this format could be the emission free cargo ships of the future. The average cruising speed of this vessel will be higher from the longer hull 50m (163ft) hull on the waterline, giving a better speed/length ratio. The OAL is 56M (183ft). The sprint speed of this craft will be in the 20+ knot region - dependent on active hull deployment and motor specification. The cost of diesel fuel to operate this ship continuously for a year is approximately: .29gals/hp x 117 x 24 x 365 = $297,226.80 (£183,393.99) In ten years that would be $2.97M (£1.83M). Fuel for thought!
MEDIA
LINKS
http://www.oceanologyinternational.com
http://subseaworldnews.com/2013/05/02/sonardyne-names-new-non-executive-chairman-uk/
http://www.arabianoilandgas.com/article-4852-carbonate_evolution/#.UhCYTNKsg6Y
http://www.maritimeindustries.org/Events/Oceanology-International-China-2013/9255