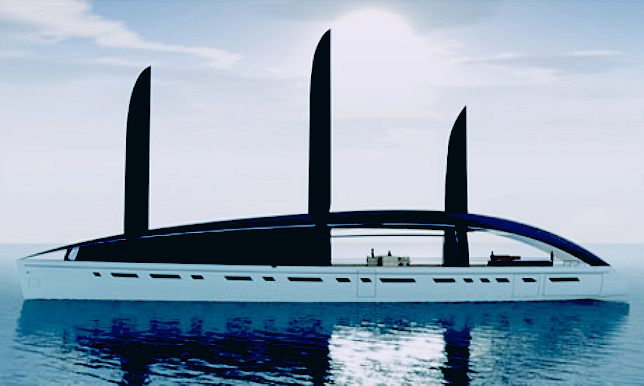 The Soliloquy by Alistair Callendar - 2010 design with solar sails
MAY 2010
It is the super-yacht for the carbon-conscious billionaire. Instead of polluting the Caribbean and Mediterranean with clouds of diesel smoke, oligarchs and sheikhs are being offered the chance to sail zero-carbon, with everything from their on-board plasma televisions and champagne fridges to the main propeller being powered by the sun.

A 24-year-old British boat designer has drawn up plans for what is thought to be the world's first carbon-neutral super-yacht, and has received inquiries from wealthy potential clients after unveiling the designs at recent yacht shows in Monaco and Abu Dhabi.

Alistair Callender, from Chichester in West Sussex, is promoting the idea of "eco-luxury" with plans for Soliloquy, an electricity-powered craft covered in photovoltaic film that harnesses the power of the sun. Fixed sails will double as solar panels to produce enough energy to propel the 58-metre-long boat at a cruising speed of eight knots, and even the hull will be made of sustainable timber instead of the usual more energy-intensive aluminium.

According to Hein Velema, one of the most prominent yacht brokers based in Monaco, his richest clients are intrigued by the idea of that their next floating mansion could be zero-carbon.

"I was sceptical at first, but I have spoken to a few clients who are willing to spend a serious amount extra to go green," he said. "In the current climate we are unlikely to see as many yachts as large as the Eclipse, but people will want to be first in other ways, such as being the first with a green yacht."

Last June, the world's largest private yacht, the 163-metre Eclipse, owned by Roman Abramovich, was launched complete with a military-grade missile defence system and an escape submarine. Callender said he intends his £40m vessel to appeal to the super-rich who until the global economic crisis competed to own ever larger, and often more polluting, yachts.

The global craze peaked in 2008 when 260 yachts longer than 30 metres were launched. The royal families of the UAE and Oman have spent hundreds of millions of pounds on yachts that look more like cruise ships and burn thousands of litres of diesel an hour.

A conventional yacht of the same size as Soliloquy powered on the usual marine diesel can burn up to 2,000 litres an hour travelling at 35 knots, according to Yacht Carbon Offset, a company that provides carbon offsetting for clients including Sir Philip Green, the retail magnate. A two-hour journey at that speed creates 12 tonnes of carbon dioxide. Such a craft can use a further 1,000 litres a day just to power the air-conditioning and electrical systems.

"These giant gin palaces use a huge amount of fuel and produce so much pollution, I wanted to prove the point that eco-luxury no longer needs to be an oxymoron," Callender said. "Even if billionaires don't want to be green, they can save money. There are at least 100 families around the world worth £200m or more who have invested in green technologies and businesses or made hefty financial commitments to the environment." That list includes the likes of Sir Richard Branson and Google founders Larry Page and Sergey Brin.

Soliloquy will feature three fixed sails rising up to 17 metres. They have been designed with solar panels built in by Solar Sailor, which has built solar-powered ferries operating in Sydney and Hong Kong and is currently helping the US navy develop unmanned solar-powered boats. The sails will be able to power the boat in winds up to 40 knots.

The superstructure of the boat above the waterline will be clad in energy-gathering photovoltaic cells, giving it a sleek, black appearance. Together with the sails, the solar panels will fuel four cells that will work in conjunction with diesel engines beneath deck when there is not enough solar power. Callender predicts the engines will only need to be fired on rare occasions, because super-yachts are mostly used in sunny climes.

The interior is likely to feature recycled leather, natural fibre upholstery and wood only from sustainable forests.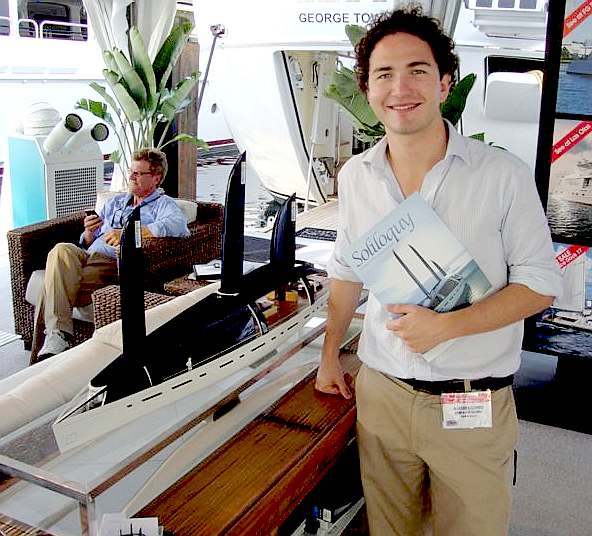 Alastair Callender of Callender Designs with his 1:48 scaled model of the super-green superyacht Soliloquy - Camper and Nicholsons stand, Fort Lauderdale International Boat Show
ISS INTERNATIONAL SUPERYACHT SOCIETY AWARD - 28ember 2010 Sept

On the opening night of the 2010 Monaco Yacht Show it was announced that Alastair Callender, of UK based Callender Designs, won the "Excellence in Innovation" category, which is part of the prestigious "Awards of Distinction". This award is voted by the Board of Directors of the International Superyacht Society (ISS).

Alastair Callender said, "This Excellence in Innovation award is a real honour to receive: to have my name and design work recognised in this way is tremendous. I am looking forward to an exciting career in the yacht design industry."

The Monaco Yacht Club was a fitting venue to announce Alastair as the winner of this category. It was here – one year ago – the 190 foot Soliloquy eco-design concept, was displayed during the 2009 Monaco Yacht Show week.

"Innovation is essential to future business and the development of the industry as a whole. I hope by coupling beautiful aesthetics with a novel, sustainable design approach, the Green Agenda will also be supported through the work that we do as designers."

Alastair's career has been going from strength-to-strength, after receiving numerous international accolades over the last 12 months, including winning the esteemed Condé Nast International Innovation and Design Award in May 2010, for Sustainable Design.

"It is a wonderful award from the ISS, especially in the knowledge that my design work was voted for by professionals within the superyacht industry."

All recipients of the ISS Awards of Distinction will be presented their awards during the ISS International Awards for Design & Leadership Gala, held on the opening night of the Fort Lauderdale International Boat Show in October 2010.

Although the multi-award winning Soliloquy superyacht remains a concept at present, the Callender Designs studio are positive that this super-green superyacht, with technology supplied by Solar Sailor Ltd; or other recent yacht design enquires, will soon be taken through further development, and into reality.

SUPER YACHTS Q&A
British Designer, Alastair Callender, recently received the highly coveted Condé Nast Innovation & Design Award for his 58m superyacht concept Soliloquy.

The 'super-green' Soliloquy has received attention from the global media for its ambitious rigid-wing sail design. The 58m eco-friendly cruiser uses zero emissions systems of propulsion, combining solar, wind and hybrid marine power, with state-of-the-art technology from Solar Sailor Ltd.

What inspired the design of Soliloquy?

Initially the inspiration came from the Masdar City just down the road from Abu Dhabi. It's a super-green city with zero emissions and can be completely self sustainable. This project also has zero emissions; has minimal noise and low levels of vibration. I wanted to do all I could to minimise the carbon footprint of this yacht. The aim was to show that eco-luxury no longer has to be viewed as an oxymoron. The answer to this paradox is Soliloquy.

Do you believe this green model will inspire future eco-friendly and revolutionary designs?

I very much hope so. Sustainability is something very close to my heart; I'm passionate about the planet and about superyachts so the two together resulted in Soliloquy. We are seeing more and more yachts getting greener, and being encouraged to do so by clients, so people can have that option to show the world that they're doing what they can to be green and eco-friendly. Soliloquy's radical, fully automated, rigid-wing rig design will be far more superior than cloth sails.

So, do you think the Green movement is more of a social thing or one of genuine care?

I think it's a combination of both. The PR gains are enormous and that has a huge influence on decisions. However, I very much hope that the future owner would personally care about the environment and take it upon themselves that the waterways stay green and clean for the next generation, and become a pioneer in supporting the Green-Agenda.

What's behind the name Soliloquy?

A Soliloquy is a term used in a Shakespearean play, when the character's inner most thoughts and deepest desires are disclosed to the audience. So in the same way this unique superyacht is saying to the world that she is doing all she can to be green, eco-friendly and sustainable, but at the same time is safe in the knowledge that there is ultimate luxury unrivalled by any other. Also, the world 'Sol' means Sun in Latin. The power of the sun is a primary form of Soliloquy's propulsion.

Do you have any fresh concepts on the horizon?

Plenty more are on the drawing board. Obviously I can't say much, but we're working for a client in Europe who's interested in a new green yacht concept, and we are actively looking for an owner to take this Soliloquy concept into reality.

So you're very much following the same eco-friendly patterns with your designs?

Yes. I'll always try and design with my green hat on whenever possible. I think the amount of interest in the global media has been tremendous to spread the message about the future of sustainable luxury yachting.


The World's Largest "Zero Carbon Neutral" Super Yacht Exceeding 60 Knots: BGV MY 461 Mega -Yacht
LINKS

Vogue parties events 2010 awards eco-yacht
http://www.superyachttimes.com
Superyachts alastair-callender-on-superyacht-soliloquy-and-green-yacht-design
http:/The Guardian environment carbon-offset-projects
The Guardian eco-super-yacht-carbon-neutral
http://www.superyachttimes.com/editorial/52/article/id/3634
http://www.vogue.it/en/people-are-talking-about/parties-events/2010/05/eco-yacht
http://www.superyachttimes.com/editorial/7/article/id/5032
http://callenderdesigns.co.uk/
http://www.superyachts.com/news/alastair-callender-on-superyacht-soliloquy-and-green-yacht-design-638.htm
http://www.theguardian.com/environment/carbon-offset-projects
http://www.theguardian.com/environment/2010/may/06/eco-super-yacht-carbon-neutral

Comparing websites about ropes and knots
19 Jan 2014: If you are an eco entrepreneur, a campaigner for social justice or have a great green idea for making the world better, then we want to hear from you. Lucy Siegle introduces this year's Observer Ethical Awards and explains how you can nominate.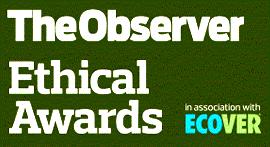 19 Jan 2014: Observer Ethical Awards in association with Ecover. Britain is bursting with brilliant ethical ideas. We are world leaders in sustainability, from grassroots campaigns and education to scientific research. Unfortunately these ideas often don't get the air time they deserve. But then dealing with the causes of issues such as climate change and inequality has never been politically expedient. Lately activists who are ploughing on regardless and are successfully bringing some eco solutions into the mainstream have started to refer to the "green hush" that has descended as those speaking up for marginalised people, communities and landscapes are drowned out. The intention of this year's ninth Ethical Awards is to make as much noise as possible about the extraordinary people, projects and places that are bringing about ethical change.

Our 2014 motto is: Be Better in This Life. Let's not look back wishing we'd done it all differently when it's too late. And if you know someone who is making a difference, please nominate them today. There are 10 categories in this year's awards, including the great energy race to recognise an undiscovered energy-saving genius. We're also looking for the next bright young thing to win Ecover's young green champion award. The winner of this will receive £6,000* funding for their project. We will help create a peerless sustainable fashion collection, and we also want to champion another local hero. If you feel you should be recognised – or know someone who does – please put yourself forward, or nominate them, in one of the categories below.
Best in business

This year we are looking for businesses with world-changing ideas. Their attitudes towards energy, resource use, people, wildlife, communities and supply chain should be revolutionary. Businesses can be from the ethical sector or conventional industries which have employed extraordinary ethical vision. And we are inviting dynamic startups and newer businesses to pitch their worth against the big names. Our winner will be the business creating the blueprint for others to follow.

The community energy project (Sponsored by National Grid)

In this new award, we are looking for energy projects or schemes powered by and designed for communities. We want to reward the best creative minds getting to grips with low carbon forms of generating power who have designed projects to generate, purchase, manage or reduce energy on a community basis. Have you generated community megawatts from solar, wind, hydro or biomass and combined heat and power? Are you committed to reducing fuel poverty through team work and innovation? We want to hear about your community energy projects, from the fledgling to the fully functioning. The winning group will receive £2,000 towards community funds.