Britain's Andy Green holds the current land speed record of 763 mph set in October of 1997. Craig Breedlove plans to reclaim the record soon with a run of 800 miles per hour, that would far exceed the minimum 771 mph run needed to break Green's existing mark.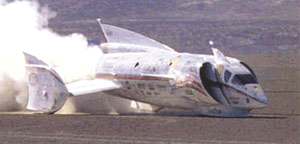 Testing: Spirit of America
In 1992 Craig launched construction on his third-generation Spirit of America car. The new land speed record challenger is powered by a J79 General Electric jet engine from a navy F-4 Phantom fighter aircraft. Modified by the Spirit of America World Speed Record Team, the engine now runs on cleaner-burning unleaded gasoline, Formula Shell, (same as used in passenger cars) offering quicker and better ignition for the jet engine's ultra powerful afterburner.
Engine tests have revealed the power being produced is 22,650 pounds of thrust, equivalent to over 45,000 horsepower and run on Shell premium pump gas. The car sports Centerline wheels, 3/4 inch solid carbon glass tires, and has support from AutoZone, Chevrolet, and Alcoa.
Actor/racer Craig T. Nelson attended the unveiling at Bonneville and has lent his name to the effort, although the car is more likely to run at the Black Rock Desert. In fact he has bought the movie rights to the Craig Breedlove story. We don't know if the 6'5" Coach will play the 5'7" Breedlove!
Craig Breedlove and his baby
The racer has two rear wheels behind an outboard J79 GE jet motor and driver placement square on/in the pointed nose. Spirit of America 3 will carry 118 gallons of fuel, 2.4 gals of oil and weighs 9000 pounds.

For Breedlove, the sensation of such speed is incredible. "I'm sitting six inches off of the ground, going faster than a bullet," said Breedlove. "It is quite a rush." He is also famous for saying: "There's only one thing that can guarantee our failure, and that's if we quit."
The Black Rock Desert is a prehistoric dry alkali lake bed that lies like a 400-square-mile Formica countertop about two hours' drive north of Reno, Nevada. If you love desert, it's the most beautiful place on Earth. If you don't, it's pure hell, a place where the sun hammers down as if the desert floor were the anvil of God.
Many readers (old west) know it as the place where the California and Oregon trails diverge. Film noir buffs know it as the place where Spencer Tracy decked Ernest Borgnine in "Bad Day at Black Rock." More recently, Black Rock has become famous as home to the annual arty super-party known as Burning Man. It also claims a subtler fame: It's the place where men have traveled the fastest across the surface of the Earth.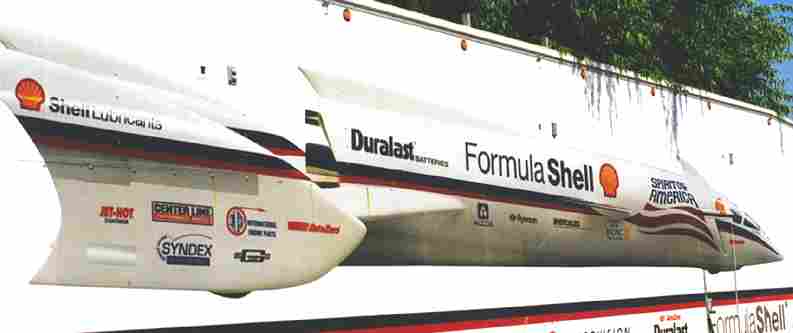 Formula Shell - billboard advertising
For the past few years, Black Rock has been Craig Breedlove's home away from home. A dream brings Breedlove to Black Rock: to return the world land speed record from Britain to the United States and to be the first American to drive through the sound barrier to 800 mph.
It's not a new project for Breedlove. He set his last speed record of 600.6 mph at Bonneville Salt Flats, Utah, 34 years ago. Now, at age 62 and with a newly modified and rebuilt Spirit of America, he's fixing to head out to Black Rock and claim the title once again. The number to beat: 771 miles per hour.
TMC's On Line Gallery:
Limited Edition Prints | Quality Die Cast Models | Books | Videos | Racing Memorabilia | Autograph Index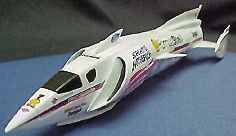 SPIRIT OF AMERICA MODEL
You can now buy this 1/43 scale die cast. 12.5" long featuring removable body panel and fully detailed J-79 jet turbine engine and tube frame. Moving wheels, fully pad printed. Presented on handsome base with SOA insignia.
TMC's On Line Gallery:
Limited Edition Prints | Quality Die Cast Models | Books | Videos | Racing Memorabilia | Autograph Index
US Order Toll Free: 1.800.722.8630 | Inquiries / Outside US: 630.515.1440
Fax: 630.515.1485