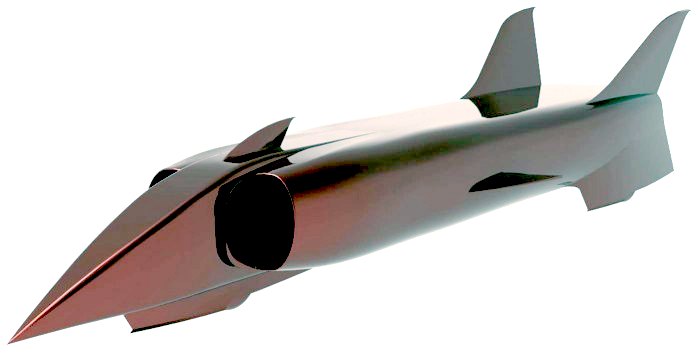 Spirit of America 2014 proposed design for a twin GE J79 engined jet powered car
Britain's Andy Green is the current world land speed record holder at 763 mph set in October of 1997 at the Black Rock Desert in Nevada, also home to the Burning Man festival.
Craig Breedlove spoke of his plans to reclaim the outright land speed record for the USA. During 2013-2014, there has been a resurgence in popularity in land speed record racing. At the moment, no less than three teams are chasing the ultimate goal of a new land speed record above 1,000 MPH. Numerous other teams are pursuing more modest land-speed record goals, and it seems likely that the current record will fall in the next few years.
At the moment, the team with the best odds is likely the Bloodhound SSC squad, which is backed by the British government and a serious contingent of corporate sponsors. Former record holders Richard Noble and Andy Green are on board as well, but the Bloodhound SSC is still in the development stage, possibly years away from testing.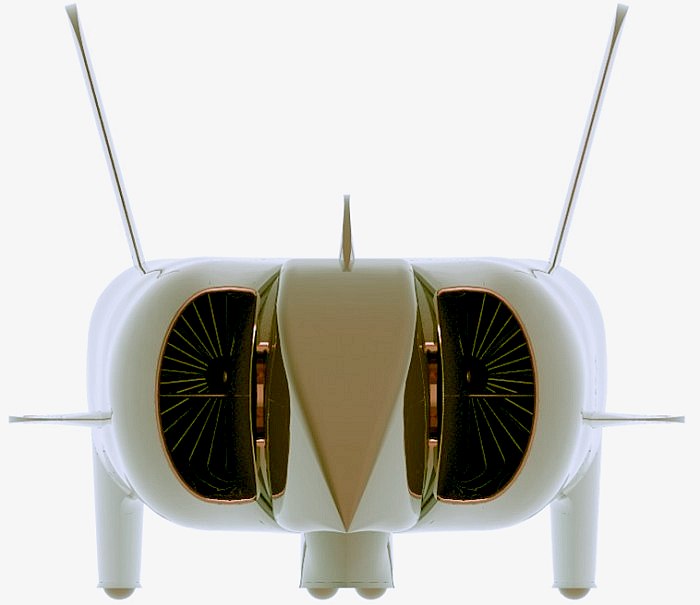 Head on view of the Spirit of America 2014

A NEW TEAM FOR 2014 - MARK ZWIEG
Enter the new Spirit of America team effort–which Breedlove promised when announcing his intentions to run 800 MPH a few years back–consisting of Breedlove as the car's designer, Neil Roberts as the project's director of engineering and Mark Zwieg as the driver. Roberts's day job is as a chassis engineer with Honda Performance Development, but his resume includes a stint as an aerodynamicist for Jim Hall's Indy Car team as well as time spent as a structural design engineer for aircraft manufacturer Northrop Grumman. Zwieg is a diesel truck land-speed record holder, but he's also an F-16 pilot and a certified airframe mechanic. Any one of the group would likely possess the knowledge and skills necessary to design and construct a record-setting car, but as Breedlove is quoted as saying in a conversation with Kurt Ernst:
"Solving the technical problems and building the car are minor milestones compared to the rest of the project."


In years past, obtaining sponsorship was a matter of fabricating a scale model and pitching a business case. Today, a serious land-speed effort requires a full-time staff just to solicit and maintain the type of sponsorship needed, which Craig Breedlove equates to running a successful Indy Car team. Being in the show is one thing, but being competitive in the show is something else entirely, and that's where Breedlove hopes his long-term relationship with suppliers like Shell will pay dividends.

The quest for sponsorship is still a ways off, as the newest Spirit of America exists only as an engineering drawing, in its fifth iteration, on Roberts's computer. Though Roberts is tasked with creating the car's renderings, it's Breedlove who's supplying the design input; in fact, Roberts refers to Breedlove as a "land-speed record genius," adding, "his configuration for the car is a brilliant synthesis of aerodynamic optimization, mechanical practicality and packaging efficiency."

The hot rodder's credo of "use the simplest and most durable components needed to get the job done" will apply to the latest Spirit of America land speed record car. Power will come from a pair of performance-matched General Electric J79 jet engines, built specifically for the purpose by S&S Turbine. Breedlove has decades of experience with the J79 engine, and while there are newer and more powerful options available, the J79 turbojet is an engine that Breedlove trusts. The car's primary structure will consist of a welded steel space frame, but that's pretty much where the low-tech aspect of its build stops.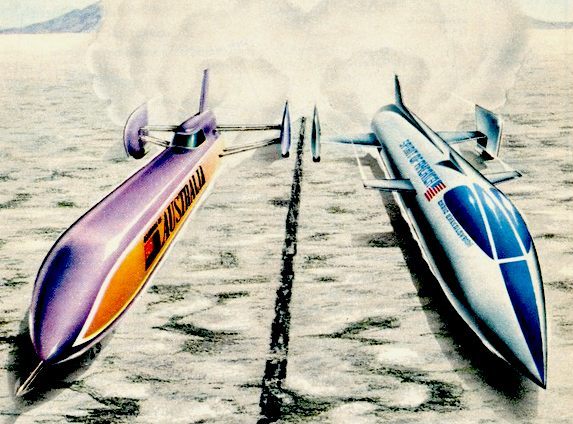 Spirit of Australia v Spirit of America


Per Roberts, "The nose cone material will be a tough, energy-absorbing composite of Zylon, Innegra, carbon fiber, epoxy resin and aluminum honeycomb that is structurally similar to an IndyCar or a Formula One car's nose." Next comes Zwieg's "survival cell" cockpit, which will utilize a monocoque built from carbon fiber, Zylon and epoxy, and will incorporate a rollover structure (likely of welded steel tubing) to increase its strength. The body area nearest the exhaust nozzle (which can reach 3,000 degrees Fahrenheit on afterburner) will be constructed of titanium, and the car's 48-inch wheels will likely be fabricated of a filament-wound carbon fiber material to reduce rotational mass. Tires will be solid strips of thin rubber, necessitating the development of a suspension system capable of soaking up the surface's imperfections and maintaining the car's earth-bound status.

Safety is a serious consideration for the Spirit of America's design, and Roberts sums up the team's number one goal as "nobody dies." To help achieve this, the survival cell is designed to break free from the car's structure in the event of a crash, and a parachute designed to deploy automatically following a catastrophic event will bring the assembly to a halt. The car has redundant fire suppression systems, and the team will supply its own fire-fighting equipment (including an aerial water bomber) during record runs. Thanks to advances in computers and in flight control systems, the Spirit of America will be able to automatically correct for yaw or lift issues during a run, long before Zwieg even senses there's an issue. That said, the transition from subsonic to supersonic in the dense air of low altitudes poses its own incredibly complex set of variables, all of which need to be incorporated into the Spirit of America's design.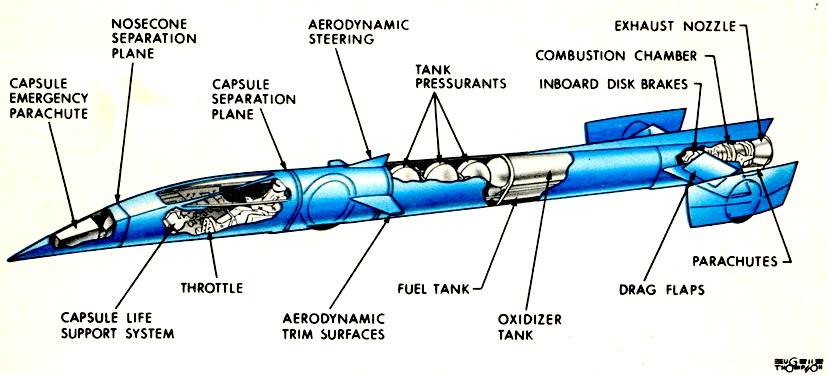 Another issue the team must take into consideration is where to run. Breedlove favors Bonneville, despite the salt's reported degradation in recent years. Scott Andrews, president of the Southern California Timing Association and a Spirit of America team member, is working to help restore the salt to a usable condition, but this effort is not guaranteed to produce the results necessary in a reasonable time frame.
The Black Rock Desert has been torn up in recent years, thanks in part to the growing popularity of the annual Burning Man festival, making it potentially unsuitable for a 1,000 MPH record run attempt. That leaves a few possible alternatives, though neither Breedlove nor Roberts were willing to discuss them at this stage of the planning process.

If all goes as planned, Roberts believes the team can be ready with a pair of land-speed record vehicles in as little as 24 months from project kick-off, while Breedlove referred to it as a "three-year effort." Two identical Spirit of America vehicles will be constructed to ensure the continuity of the program if one is crashed, and to provide a promotional marketing vehicle for the necessary and expected sponsorship appearances. The next step will be building the remainder of the team, and once the key personnel are in place, a serious hunt for sponsors can begin.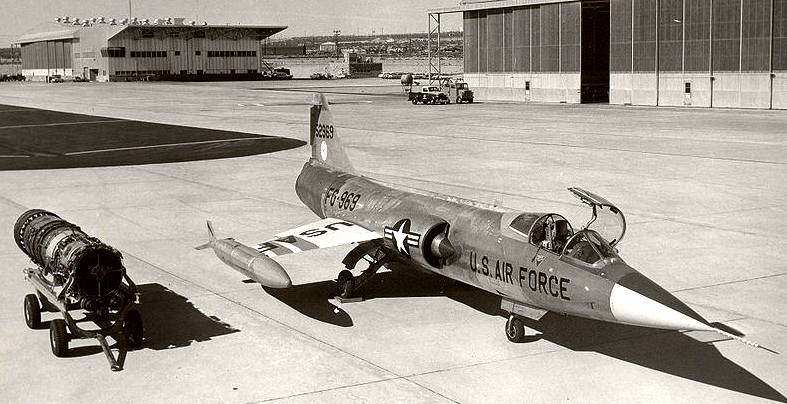 GE J79 engine and a Star fighter of the US Air Force
GENERAL ELECTRIC J79 JET ENGINE
The General Electric J79 is an axial-flow turbojet engine built for use in a variety of fighter and bomber aircraft. The J79 was produced by General Electric Aircraft Engines in the United States, and under license by several other companies worldwide.

The J79 is a single-spool turbojet with a seventeen-stage compressor with a novel arrangement of variable stator blades which allow the engine to develop pressure similar to a twin-spool engine at a much lower weight. Each blade is made largely of stainless steel. Each blade today costs several thousand dollars to replace. The compressor blades are mounted on disks (the first seven stages being made of titanium) and spaced with corrosion-resistant (not stainless) steel spacers.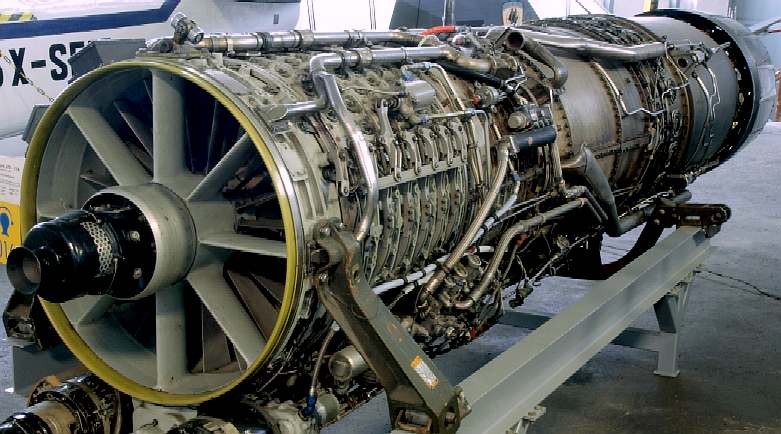 GE J79 Starfighter gas turbine engine
In the F-104 and the F-4, the J79 makes a particular howling sound at certain throttle settings. The sound is thought to be due to airflow in the exhaust section of the engine being disturbed by the engine bypass flaps. This strange feature led to the NASA operated F-104B Starfighter, N819NA, being named Howling Howland. Early engines also produced noticeable quantities of smoke, especially at mid-throttle/cruise settings, a disadvantage in a combat aircraft making them easier to visually spot. Later models were redesigned to be "smokeless".

The turboshaft counterpart to the J79 is the General Electric LM1500, used for land and marine applications. Many J79 derived engines have found uses as gas turbine power generators in remote locations, in applications such as the powering of pipelines.

The J79 has two commercial derivatives: CJ805-3 (a non-afterburning engine, fitted with thrust reverser and sound suppressor), and the CJ805-23 (with a free-wheeling aft fan and thrust reverser) Most fitted to the Convair CV-880 and the Convair CV-990.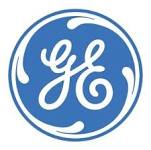 FARNBOROUGH AIR SHOW - July 17, 2014
GE Aviation and its joint venture companies, including CFM International, a 50/50 joint company between GE and Snecma (Safran), announced more than $36 billion (USD) in orders and commitments at this week's Farnborough Air Show. The orders and commitments included more than 1,100 GE and CFM engines as well as OnPoint solution agreements for engine maintenance, repair and overhaul (MRO).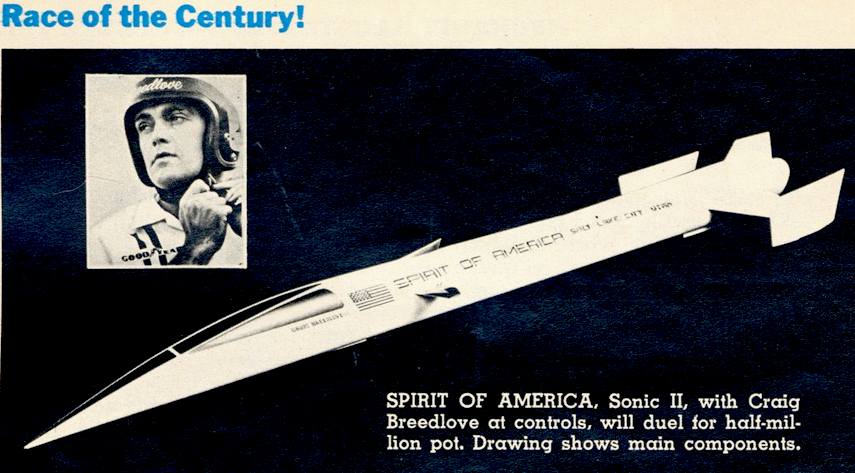 Spirit of America, Sonic II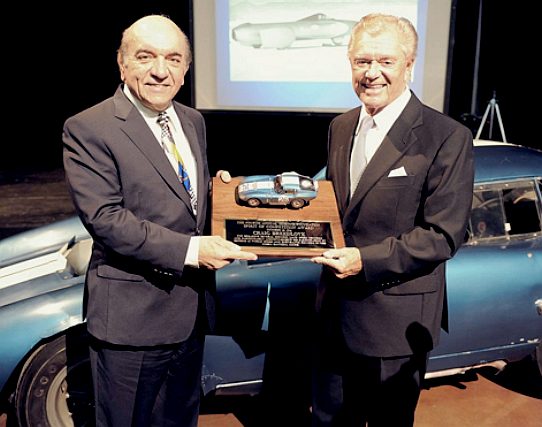 Craig is awarded a trophy sporting the Shelby special, in recognition of his achievements
LINKS & REFERENCE
Wikipedia General_Electric_J79
Blogs Hemmings Craig Breedlove and Spirit of America 2014
Racecar Engineering the fastest cars on earth
Speed Hunters steve_fossetts_lsr_car
Jalopnik steve-fossetts-land-speed-record-car-up-for-sale
Bloodhound SSc LSR challengers
http://www.geaviation.com/
http://www.ge.com/
http://en.wikipedia.org/wiki/General_Electric_J79
http://blog.hemmings.com/index.php/tag/craig-breedlove/
http://www.racecar-engineering.com/a
http://www.ge-energy.com/about/index.jsp
http://www.papermodelers.com/forum/civilian-wheels/23434-fossett-lsr.html
http://www.speedhunters.com/2009/08/random_snap_gt_gt_steve_fossett_s_lsr_car/
http://jalopnik.com/5658468/steve-fossetts-land-speed-record-car-up-for-sale
http://www.bloodhoundssc.com/project/adventure/challengers
http://www.bbc.co.uk/news/world-asia-16901484
http://www.racecar-engineering.com/articles/land-speed-record/the-fastest-cars-on-earth/