The rules for the Cannonball ZEV International Runs are simple, you must use production vehicle running gear - and the car must be road legal. The ultimate prize is the Blue Bird World Cup. Check out the construction sequence below as a guide to building (converting) your own Cannonballer. This unique car began life as an Austin-Rover Metro. The team say that it would not be hard for them to produce chassis kits for others to build their own electric city car from a donor car. They might though choose from current production models for donor running gear.
[Left] This is an example of a superbly penetrating weld using a MIG machine. The steel being joined was 3mm angle iron to 2.5mm subframe. A very ancient SIP 150 was used that had seen better days and caused many problems that needed to be rectified before welding could begin. This was hardly surprising given the 30 year age of the equipment. In that not much welding was required, the team elected not to rent gas cylinders from BOC or Air Products. Instead, they used small disposable bottles that can be purchased from Halfords, Tool Station, Clarke or Ebay. This way you only purchase what you need and don't have the bother of masses of paperwork. [Right] This is an example of a weld using high nickel content rods and an Oxford Bantam that is now 40 years old and still going strong.

Always align sections to be welded securely. We clamped the angle-iron to be joined to a 50x50 box section tube running underneath the main frame box section steel tubes. Tack first and re-measure. Do not weld first then measure - or you may spend more time correcting mistakes, in grinding out incorrect welds. Triangulation is the key to strong, lightweight structures. KISS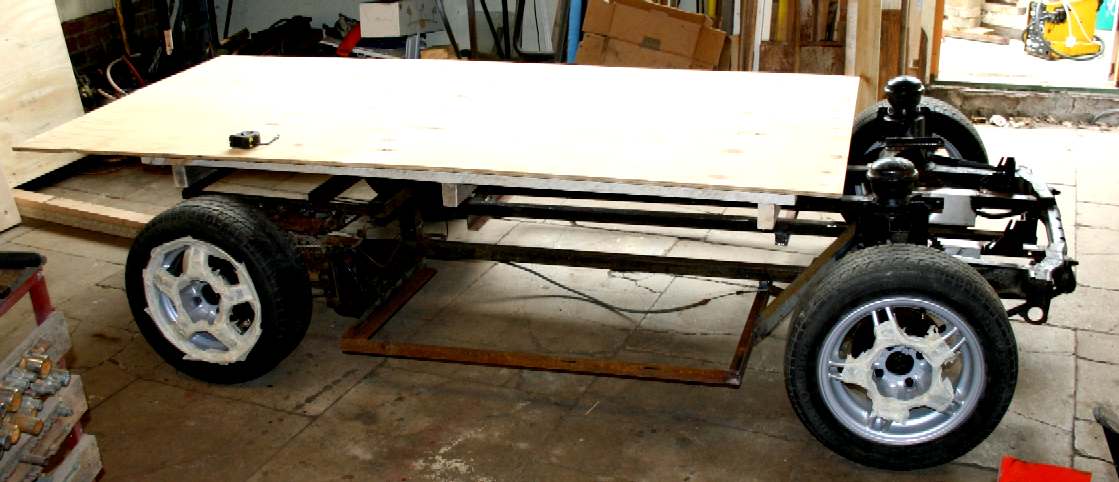 Back on its wheels, the Ecostar makes a handy portable woodworking table. This is some of the plywood that will be used to make the bodywork formers, cut the floor pan, etc. Wood is underrated as construction material for cars. Let us not forget that one of the largest airplanes ever built was made of wood: Spruce Goose.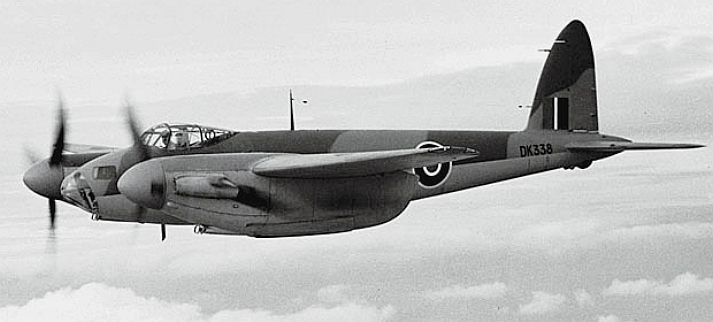 The de Haviland Mosquito WWII bomber, is another aircraft built of wood to reduce weight. The oval-section fuselage of this craft was a frameless monocoque shell built in two halves being formed to shape by band clamps over a mahogany mould, each holding one half of the fuselage, split vertically. The shell halves were made of sheets of Ecuadorean balsawood sandwiched between sheets of Canadian birch, but in areas needing extra strength— such as along cut-outs— stronger woods replaced the balsa filler; the overall thickness of the birch and balsa sandwich skin was only 7⁄16 inch (11 mm). This sandwich skin was so stiff that no internal reinforcement was necessary from the wing's rear spar to the tail bearing bulkhead. The all-wood wing was built as a one-piece structure. It was made up of two main spars, spruce and plywood compression ribs, stringers, and a plywood covering. The outer plywood skin was covered and doped as was the fuselage.

Rear body and roll-over bar mountings are clamped in place for welding. We used a number of 'G' and 'F' clamps. For sheer clamping strength, it's hard to beat a 'G' clamp. For speed of operation and ease of use, it's hard to beat an 'F' clamp.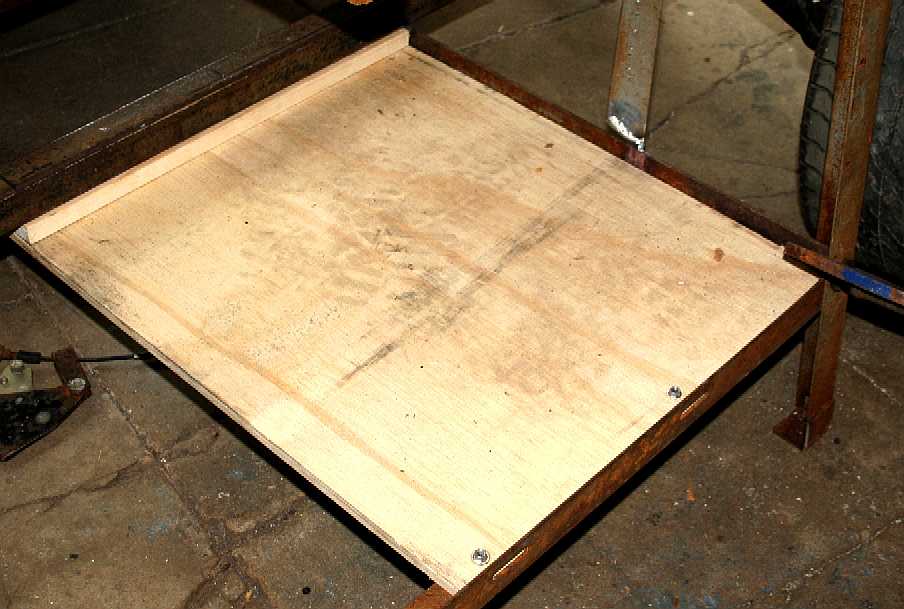 Having tested the seating position at various angles for comfort - and to be able to accommodate drivers of different heights, the floorpan was cut from 12mm plywood and bolted into place. The seats are also made of plywood of various thickness from 4mm to 30mm.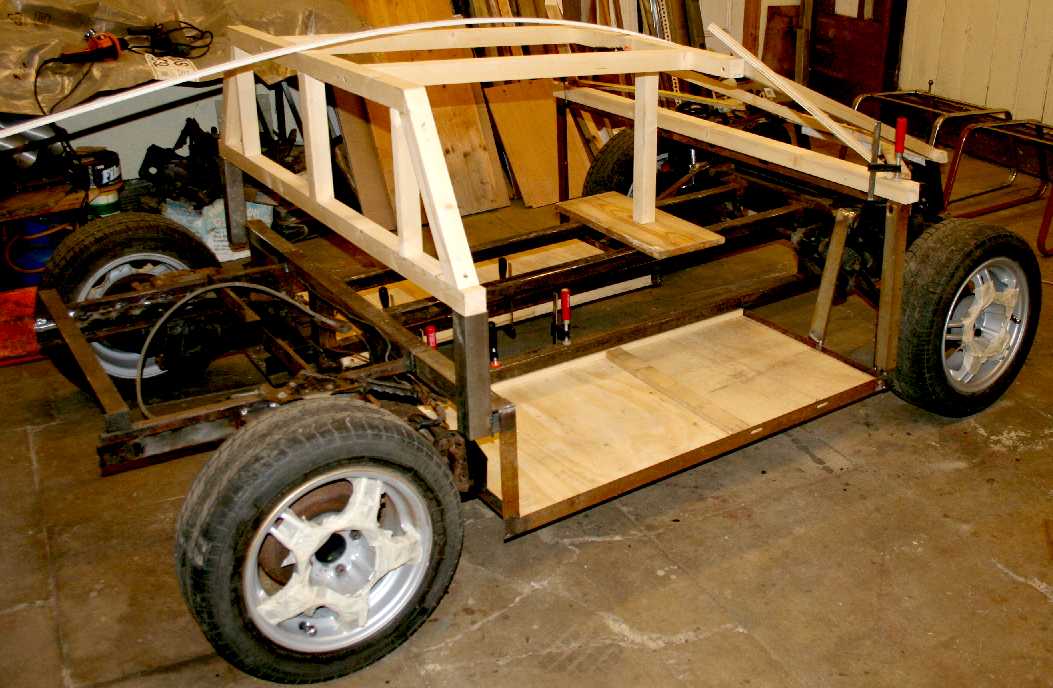 Bodywork softwood buck as of April 2014

Making the gull wing doors - [Left] Close up of a butt join that has been shaped to fit for a closer fit before welding. The steel tubing has been formed with a mic of ball-pein hammers after the correct angle has been cut. [Right] The steel tubing is aligned ready for welding - May 2014.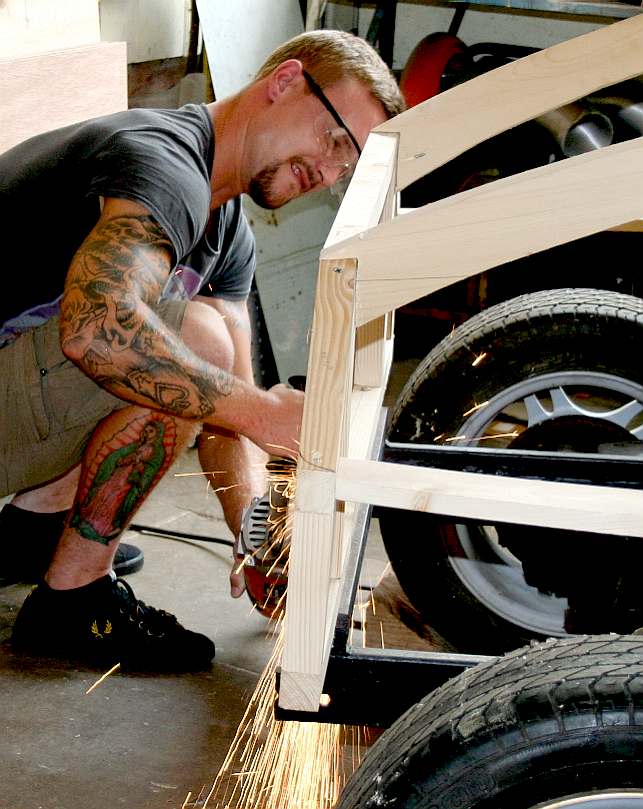 Terry (project co-founder) cutting a chassis rail to length using a soft-start 9" Xpert angle grinder. Note that he is wearing safety glasses but not overalls. It was though a very hot day in August 2014.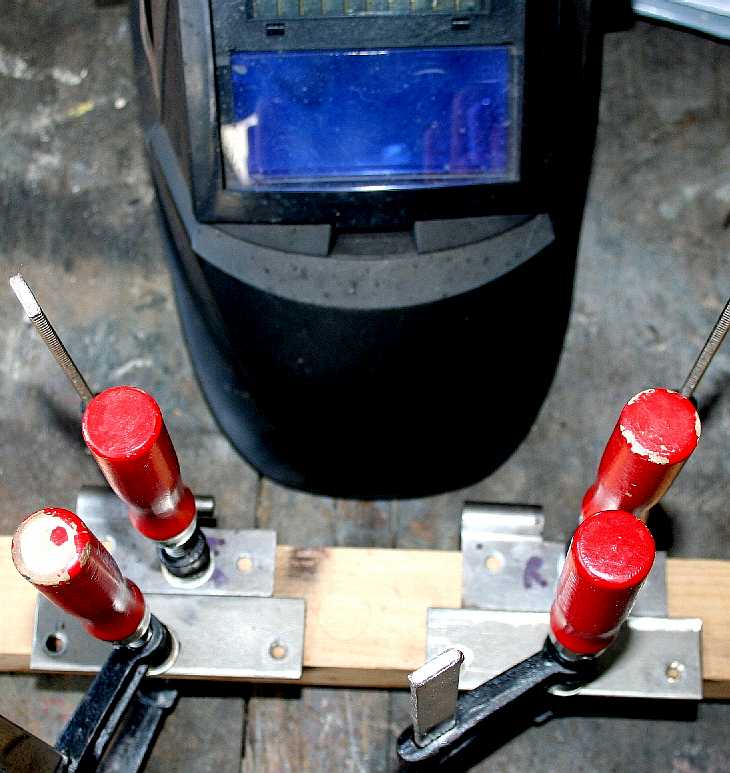 Making the gull-wing door hinges in steel - jigged for welding - June 2014. The solar powered shield is especially useful, leaving both hands free. The lens in this mask automatically darkens to prevent eye damage as soon as you strike a spark. Brilliant!
And here it is in action. This superb photograph (edited down to a lower quality for the web) of the second set of hinges being welded for the DC50s gull wing doors, was taken by the team's archivist on the 28th August of 2014 © Karl Lindsay Photography. The welder is reasonably hardened, such that he does not wear gloves for short duration fabrication and seemed immune to spatter. You would be well advised to wear gauntlet type gloves if welding a lot and especially when positional welding upside down, when you will get white hot balls of steel raining down on you. Ouch!
For the home chassis builder, disposable gas cylinders are a blessing. Some decent gas combinations are now available is the standard 1 liter size. There is even a portable gas brazing & welding kit for around £138 that lets hobbyists obtain professional quality welding. The kit is ideal for plumbing, air conditioning and refrigerating system repairs. Each Set of Cylinders should give approx 30 minutes of continuous use. The disposable cylinder system reduces overheads for small enterprises.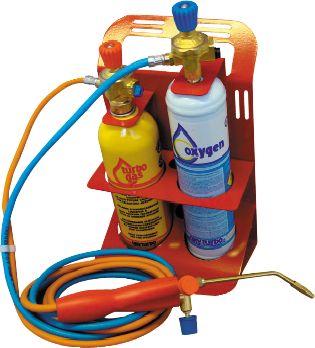 Kit contents: Metal storage carrier; 1ltr 110bar oxygen cylinder; Disposable Turbo gas cylinder; Oxygen pressure regulator and gas-tap; 2x 2m Connection hoses; Handgrip with adjusting knob and lance; 1 star with 4 nozzles: 63, 100, 160, 225 L/h; Safety goggles; Spanner; Lighter filler with deoxidiser

[Left] For around £500 the SIP Autoplus offers reliable welding of thin car bodywork. [Right] For around £400 the Clarke MIG165TEM is a user friendly Metal Inert Gas welder, designed primarily for the home or semi professional user for innumerable mild steel, stainless steel and aluminium welding & fabrication. Using the latest technology this machine is easy-to-use with user friendly operational features combine to make this a truly versatile machine for vehicle repairs and metal fabrication.

* Multiple power settings from 30 to 155Amps
* 'Turbo' fan cooled transformer enhances duty cycle
* Welds mild steel up to 5mm, aluminium & stainless steel
* Variable electronic speed control: 0.6 & 0.8 mm wire spools up to 5Kgs
* Operates from 30A 230V, 1ph power supply.
* Thermal overload protection with auto reset.
* Professional torch & hose assembly, gas regulator, earth clamp, cables,
face shield & instructions.
ECOSTAR DC50 EV CHASSIS FEATURES
| | |
| --- | --- |
| BODYWORK | Composite |
| . | . |
| FRAME | High tensile and mild steel |
| . | . |
| CARTRIDGE | . |
| . | . |
| OVERALL LENGTH | mm |
| OVERALL WIDTH | mm |
| OVERALL HEIGHT | mm |
| . | . |
| ENERGY CAPACITY | . |
| . | . |
| LITHIUM | kW |
| FUEL CELLS | kW |
| . | . |
| EXCHANGE TIMES | . |
| . | . |
| LITHIUM | Target 30 seconds |
| FUEL CELLS | Target 30 seconds |
ECOSTAR DC50 LINKS A-Z
AERODYNAMIC BODYWORK CONTROL SURFACES
BODYWORK ALLOY & COMPOSITES - BOOT
COMPETITION: BETTER PLACE - TESLA
COMPETITON: SUZUKI ALTO & NISSAN LEAF
MECHANICS, SUSPENSION, STEERING, BRAKES
SERVICES STATION INFRASTRUCTURE
SLEP - SOUTH EAST LOCAL ENTERPRISE PARTNERS

EXTERNAL LINKS
http://www.horizonhydrogeneenergie.com/
http://www.fch-ju.eu/news/new-website-programme-horizon-hydrog%C3%A8ne-energie-h2e
http://www.fch-ju.eu/
http://horizon2020projects.com/sc-transport-interviews/storing-energy-in-horizon-2020/
http://horizon2020projects.com/sc-transport-interviews/powering-the-future/
http://cordis.europa.eu/fp7/ideas
http://ec.europa.eu/programmes/horizon2020/en/
http://ec.europa.eu/transport/themes/research/horizon2020_en.htm
http://www.agnimotors.com/site/
http://www.engadget.com/2012/11/13/mclaren-to-supply-ev-groundwork-for-formula-e-cars/
http://ibnlive.in.com/news/bernie-ecclestone-laughs-off-formula-e-comparisons/302635-5-24.html
http://www.wired.com/autopia/2012/09/formula-e/
http://www.telegraph.co.uk/finance/The-electric-cars-of-the-future.html
http://www.greencardesign.com/site/galleries/racing-drayson-b1269ev
Mike Zhao
Elite Welding & Cutting Equipment Co.,Ltd.
Luoshe Town Wuxi City, Jiangsu Province, China Zip:214154
Cell phone: +86-0-13812528128
Email:elitewelding@163.com

Elite welding specialize in manufacturing and exporting automatic welding equipment, CNC cutting equipment, milling equipment and other special welding equipment. Main Products:

Welding manipulator, Welding rotator, Welding positioner, Edge-milling machine, Shot blasting machine, CNC cutters - and more specialist welding machines:
H beam Welding Production Line
Pipe Welding Rotator
Tank Rotators
Rotary Welding Positioners
Column And Boom Manipulator
Self Aligning Rotators
Beam Welding Line
CNC Plasma Cutting Machine
CNC Flame Cutting Machine
Edge Beveling Machine
Edge Milling Machine
Shot Blasting Machine
Box Beam Welding
Hydraulic Tilter
Wind Tower Production Line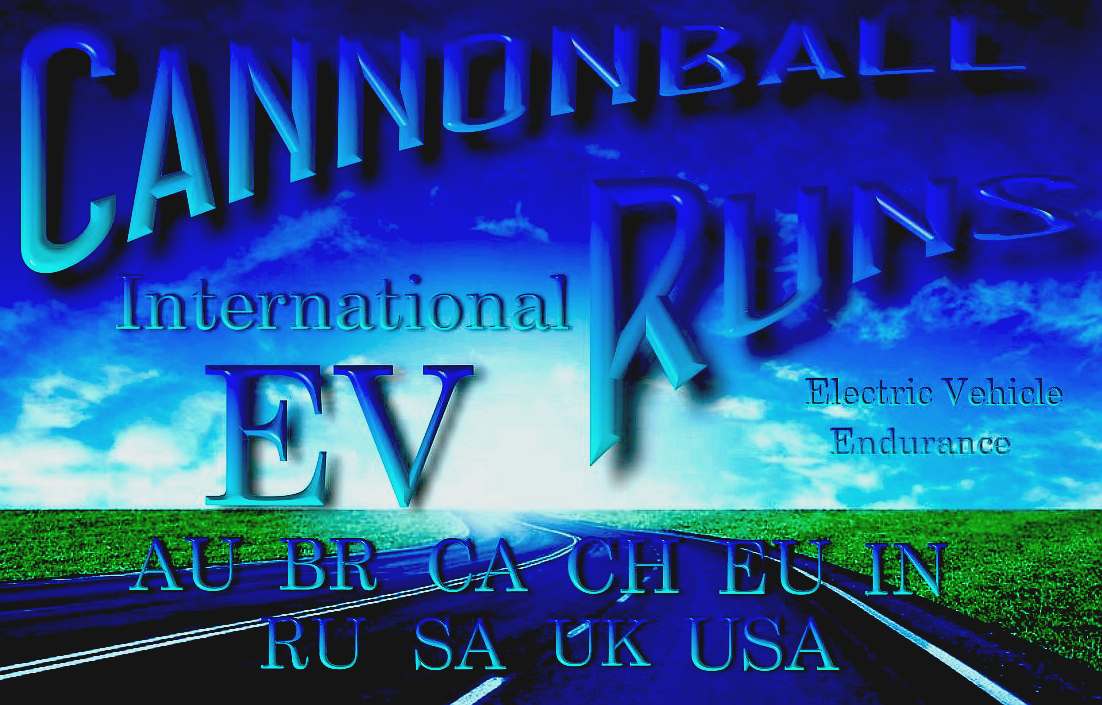 Contact Technical: bluebird@bluebird-electric.net or phone UK:

+44 (0) 1323 831727
+44 (0) 7842 607865
Ask for Leslie
Intelligent Battery Support System
THE BLUE BIRDS OF HAPPINESS