Following on from the development of a standard Rover Metro, modified to incorporate the patent battery cartridge exchange system, Bluebird Electric Racing Ltd, have reduced the Metro component to just the running gear. The unitary body is completely cut away and replaced with a sturdy tubular steel spaceframe.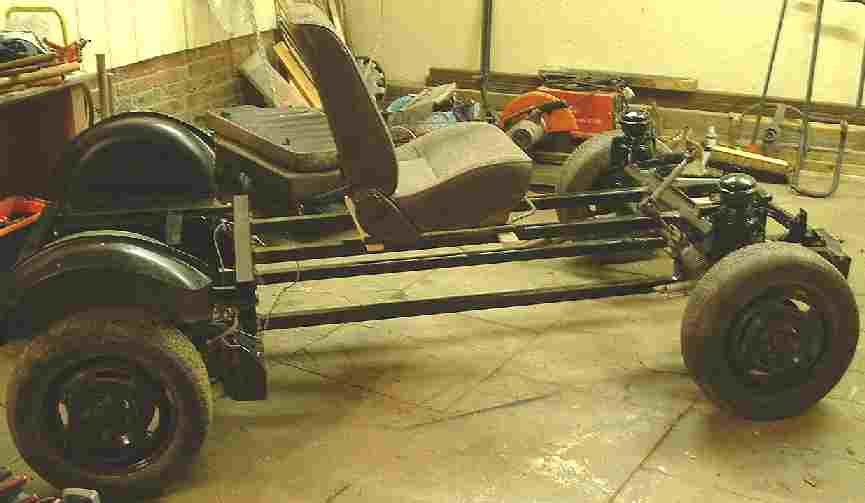 Metro Electro frame under construction
The length of the vehicle has been reduced to about that of a SMART car. The seating is shown below as it was placed approximately to produce a sporty looking buggy. The project continues. It is hoped this vehicle will reduce the running costs to equate to 150 + miles per gallon. The range of the car when fitted with a special transmission is likely to exceed 300 miles per cartridge exchange (or battery charge) and offer sporty performance. If not using a CVT or Perbury (toroidal) transmission the range will be considerably less, at around 200 miles per recharge.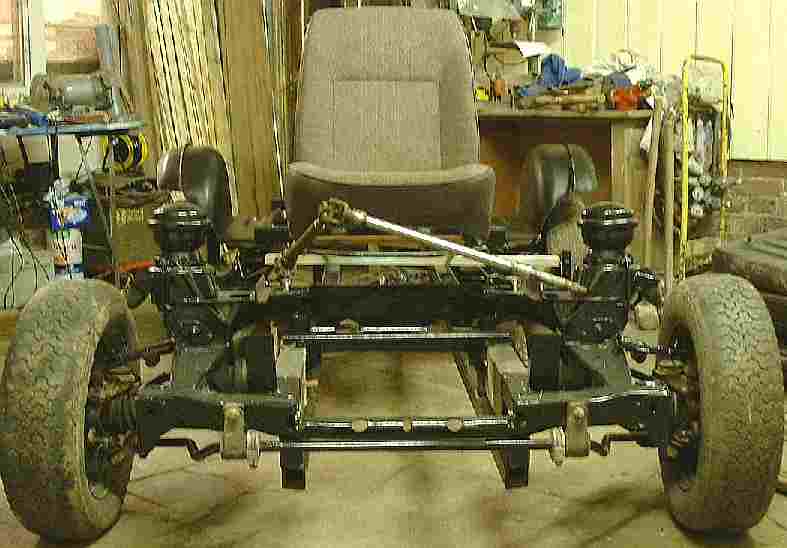 Metro Electro under construction 2006 - now undergoing a rebuild as a sports city car
In addition, this car will be fitted with an onboard generator, running on unleaded petrol, to give the vehicle a hybrid capability, also likely to return above 100 miles per gallon. This will provide a means of keeping going, where either battery exchange is not practical or where a convenient charge point is not to hand.
The roof of the Metro-Electro is to be fitted with solar panels to supplement the already comprehensive EV technology. The PV panels will give between 1,000-2,500 free motoring miles per year, depending on usage.
CHASSIS
The foundation for this design development is the famous hydrolastic suspension of Dr Alex Moulton and Sir Alex Issigonis, who both worked on the Mini and Rover Metro for Austin, Morris and other British car makers that no longer exist. In this design, rubber cones are used and the springs and the front and rear suspension is interlinked via fluid to give better cornering and a smoother ride on rough roads.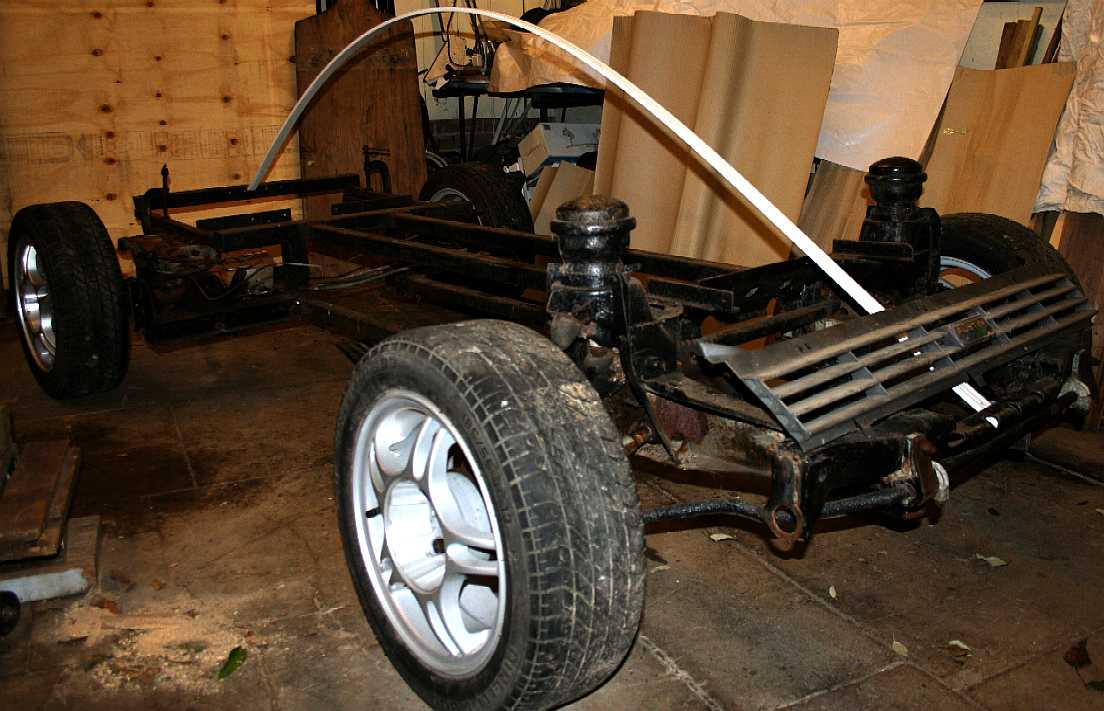 For 2014 (January) the steel road wheels have been replaced with alloy sport rims and low profile tires. A nice line has been described for a body that is now actually taking shape - as seen below.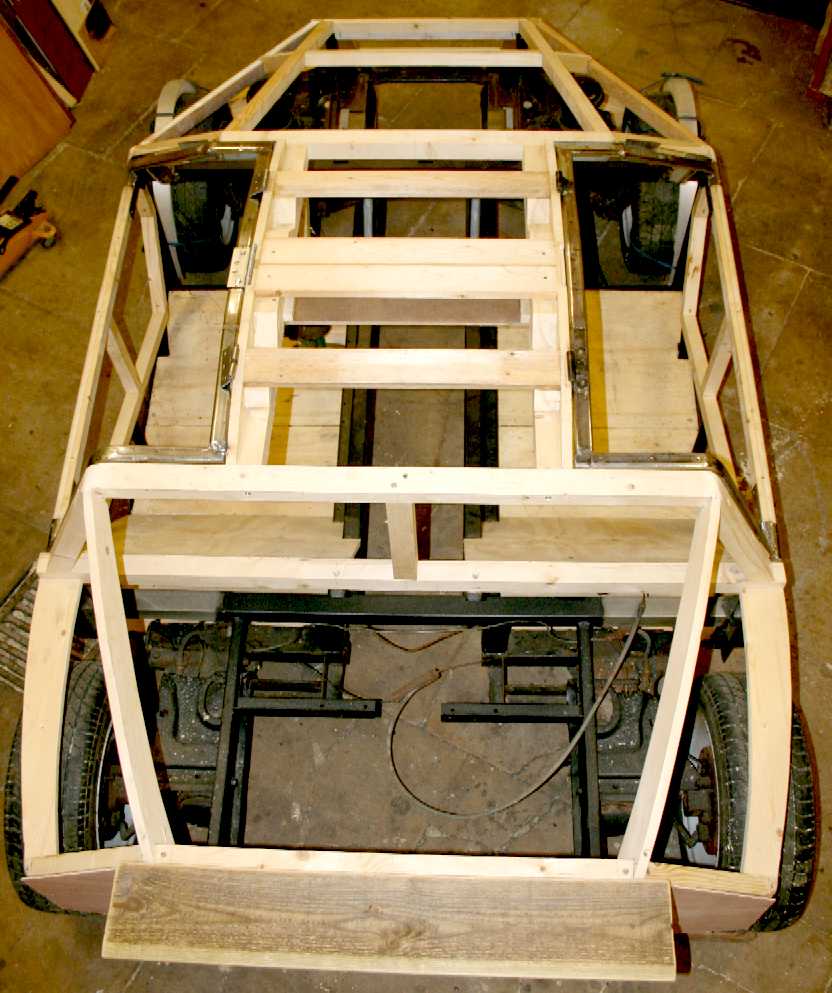 August 2014 - the bare frame above is now beginning to take shape as the Ecostar DC50 - and not a bad looking shape at that. A fitting tribute to the 50th anniversary of Donald Campbell's double success; land and water speed records in the same year (unrivalled today) at Lake Eyre and Lake Dumbleyung in Australia.
AERODYNAMIC BODYWORK CONTROL SURFACES
COMPETITION: BETTER PLACE - TESLA
COMPETITON: SUZUKI ALTO & NISSAN LEAF
MECHANICS, SUSPENSION, STEERING, BRAKES
SERVICES STATION INFRASTRUCTURE
SLEP - SOUTH EAST LOCAL ENTERPRISE PARTNERS
DESIGN BLUES
The UK led the way with EV refueling with patent GB2253379. Since that time Shai Agassi had developed cartridge refueling for urban vehicles with his 'Better Place' company. That system though, is not suitable for the fast pit stops a Formula E car is likely to require. Tesla have since gotten involved with a similar system to Better Place, and Elon Musk demonstrating 90 second battery cartridge exchanges.
Now is the time to think about a faster version of the system used in the BE1 electric land-speed record car. That car could refuel by exchanging batteries in under 2 minutes. The EV designer says it is possible to reduce the 120 seconds time to between 10-30 seconds, but, and the big but is, that chassis engineers must be allowed to think outside of the box - and there must be a scoring system that penalizes a team for using more than one car. In Formula 1 for example, if a car stalls and cannot be restarted, that car and driver is disqualified from the race. In a Formula 1 race a driver cannot switch to another car and continue. Why then in Formula E. We are pandering to the skeptics like Bernie Ecclestone. Mr Ecclestone will be laughing on the other side of his face if racing were qualified a success by the pollution it produces, per car, per race.
Bluebird Marine Systems (BMS) is looking to conduct a feasibility study on high speed cartridge refueling and is looking for collaborative risk share partners and academic institutions interested in reducing pollution. BMS has obtained the right to develop an improved version of the patent GB2253379 system, as fitted to a Rover-Metro city car many years ago and written off by the Dti, in 1998 in dismissing battery cars as futile.

LINKS
Green Car Design Racing Drayson
Engadget 2012 Mclaren-to-supply-ev-groundwork-for-formula-e-cars
IBN Live Bernie-ecclestone-laughs-off-formula-e-comparisons
http://www.telegraph.co.uk/finance/The-electric-cars-of-the-future.html
http://www.greencardesign.com/site/galleries/racing-drayson-b1269ev
http://www.engadget.com/2012/11/13/mclaren-to-supply-ev-groundwork-for-formula-e-cars/
http://ibnlive.in.com/news/bernie-ecclestone-laughs-off-formula-e-comparisons/302635-5-24.html
http://www.bbc.co.uk/
http://www.wired.com/autopia/2012/09/formula-e/
Left to right: BE1, BE2 and the latest BE3 world electric land speed record cars.

Note the increase in frontal area for the BE2 to accommodate a larger battery cartridge. Compared to BE1 and BE2, the BE3 has a smaller frontal area. The BE1 had wheels and suspension outside of the bodywork - which is not shown in the diagram here.

A flat-pack version of this system is suitable to be developed for Formula E circuit racing.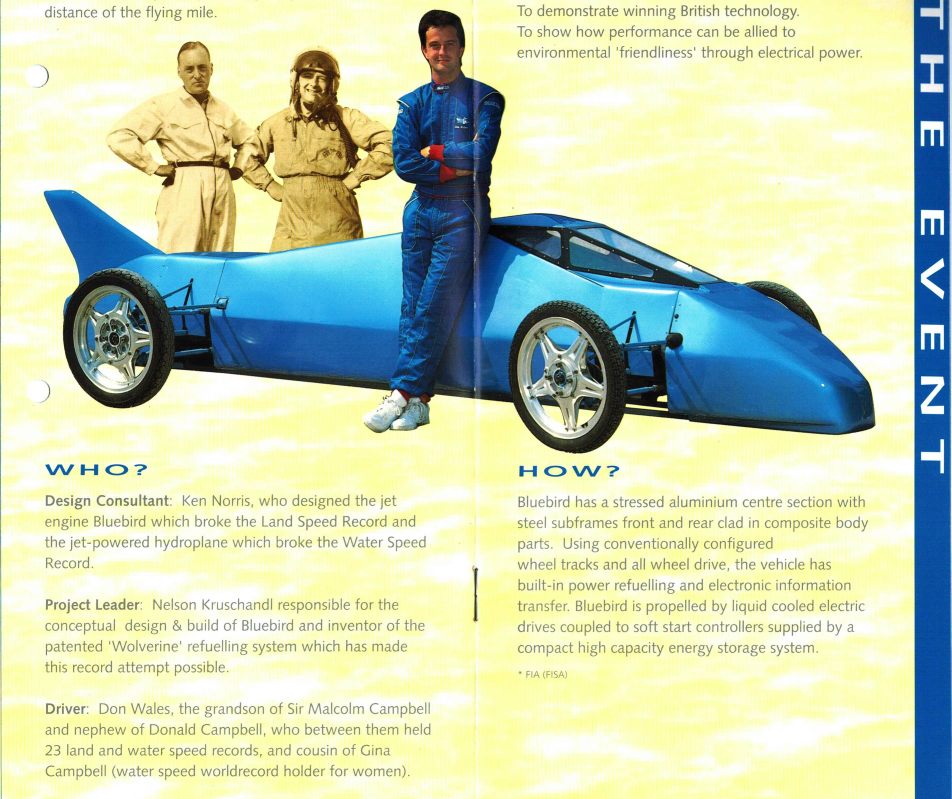 A brochure produced to attract sponsors to the BE1 project in 1995/6. The patented cartridge exchange refueling system is cited as the key technology for the attempt. Not a bad looking car and as it turned out, quite fast - more than capable of taking the 175mph record at the time. This car achieved 160mph unofficially on section of closed road with 80kW (107hp) motors - the short length of useable road being a limiting factor. She was designed to
use 200kW motors for the WLSR attempt - all wheel drive.

Contact Technical:

or phone UK:

+44 (0) 1323 831727
+44 (0) 7842 607865

Intelligent Battery Support System
THE BLUE BIRDS OF HAPPINESS
The world's fastest electric circuit racers need a system to recharge batteries instantly during pit stops. The Formula E concept design above incorporates the patent Bluebird™ instant energy transfer system - allowing EV refuelling in around 10 seconds. Get your free developer License from Bluebird Marine Systems Ltd.