PRESS RELEASE - BLUEBIRD REPLICA BUILD BEGINS

A community fundraising drive in the Shire of Dumbleyung has ensured the construction of a replica of the hydroplane used to break the world water speed record on Lake Dumbleyung.
The replica of the Bluebird K7 Hydroplane Mark 19, is the first stage of the Bluebird project aimed at increasing awareness of British speed legend Donald Campbell's world water speed record which he broke in 1964.
The Bluebird project is a community initiative which will see the construction of the replica and the establishment of a Dumbleyung Discovery Centre which will house memorabilia from the event, an educational exhibition and collections of local stories.
The tender to build the Bluebird replica has been awarded to Mark Motzouris from Statewide Boating in Ledge Point. Mark is a member of the WA Speed Boat Club and a regular speed competitor racing off the Burswood Water Sports centre on the Swan River.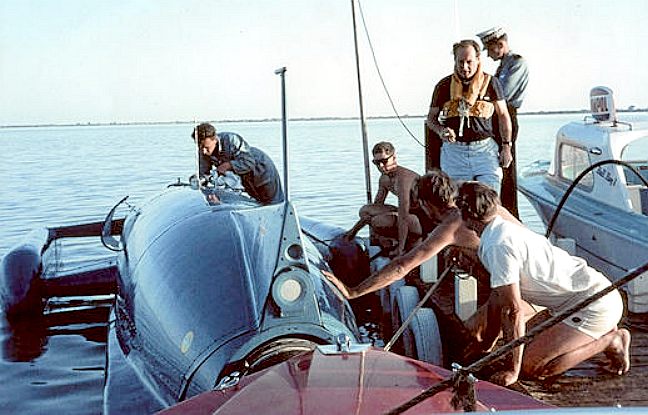 The K7 and its master on Lake Bonney in 1964

Statewide Boating plan on sharing their construction progress with the wider community via our website and Facebook page. There will also be an opportunity down the track for public onsite viewing as the project progresses.
The replica will be housed on the main street of Dumbleyung opposite the former Post Office which will house the Dumbleyung Discovery centre, and unveiled in time for the 50th anniversary celebration on December 31st 2014.
Bluebird Fundraising and media Team Member Louisa Dare said she was overwhelmed with the community spirit, interest and support the project has received.
Mrs Dare said the committee is hopeful further donations will be received to ensure the replica is completely community owned.
All donations of $50 and over will be recognised on an honour board to be housed in the Dumbleyung Discovery Centre.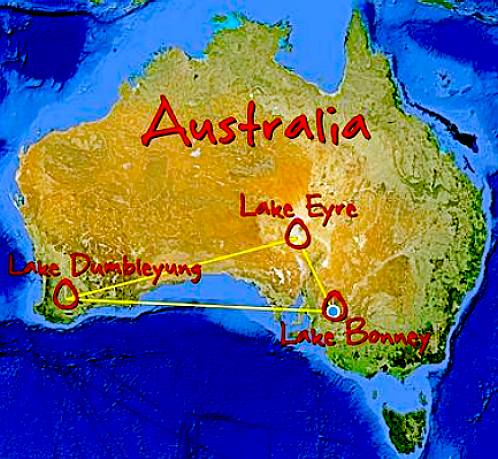 The Australian triangle, land and water speed record locations, that finally proved to be lucky for the very superstitious Donald Campbell and his bluebird land and water speed record vehicles.
On September 19th, 1964, the decision was made that Lake Bonney would be the site for the World Water Speed Record attempt. The size and situation of the fresh water lake was considered ideal to achieve Campbell's goal of the "Unique Double" after having broken the Land Speed Record on Lake Eyre that same year.
Eager for success, Campbell and his dedicated team arrived in Barmera, which was a hive of activity. The Barmera District Council was given exclusive access to Lake Bonney for Campbell's attempts between November 14th and 20th. Nine Police Officers were stationed at Barmera along with the District Telephone Manager, Postal Manager, a picturegram unit and extra ambulance, and 6 large buoys marked the measured mile.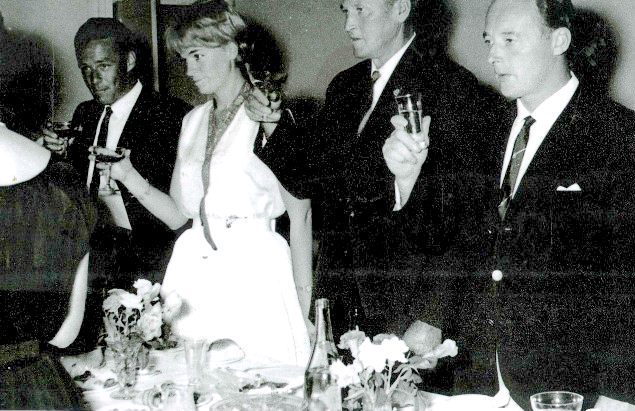 In this picture Tonia looks fresh, while Donald looks tired from the demands of running the K7 at Lakes Bonney and Dumbleyung in Australia. Models of the K7 are available that are powered by real gas turbines for truly realistic runs.
The Bluebird K7 was transported by road, departing Adelaide on November 6th along with the project team. Campbell, his wife Tonia and project manager Graham Ferrett arrived on November 12th by air, landing on the 800 yard landing strip prepared specifically for them by the Barmera District Council.
Campbell and his team, who based themselves at the Barmera Community Hotel for the duration, were welcomed amidst much fanfare. The Bluebird entered the water for the first time since 1959 at Lake Bonney on November 12th 1964. An earlier attempt to launch the boat had failed and adjustments were made to the ramp at Bishop's Boatshed. A two way radio was fitted to the Bluebird to assist in the trials. At 3.15am the team were readying the Bluebird for its official run.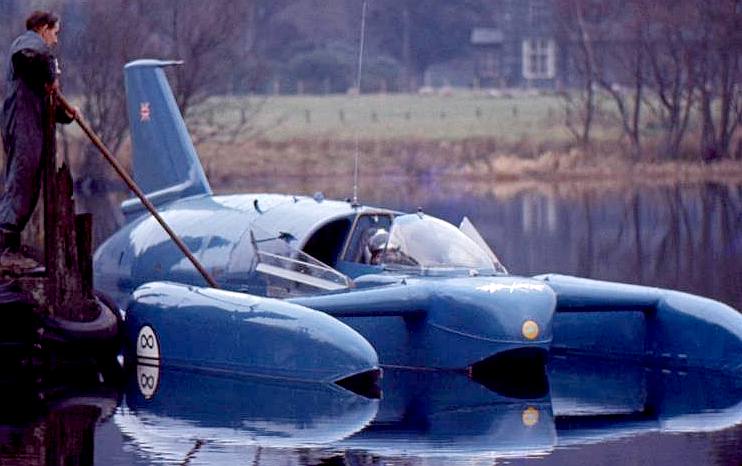 From one weather extreme to another. Donald Campbell's K7 world water speed record boat, Lake Coniston in December of 1967.
By 4.30am Barmera came alive as spectators and camera crews lined the shore. Unfortunately, choppy water hindered the trial, but Campbell indulged the large crowd by driving the Bluebird out onto the lake at low speed. Later in the morning, Campbell did two runs reaching speeds of 210mph and later in the afternoon three attempts failed due to water flooding the engine. Following a delay in radio communication and firing trouble, further attempts were cancelled for the day. On November 15th a large crowd gathered again as alterations were made to the course.
With the weather against them, Campbell and his crew awoke to strong winds on November 17th and 18th which resulted in the marker buoys, which were anchored by large concrete slabs, being washed ashore. And so the set up began again. To alleviate the frustration, a charity event was held that night which led to Campbell's decision to cancel the following day's trial run. This information was not transferred to all of the crew, and the following morning saw them up early finding conditions ideal. The waters of Lake Bonney were like glass, the perfect base for a World Record. With this ideal opportunity missed, inclement weather followed and it was not until November 23rd when 3 runs took place, one which recorded a top speed of 216mph.
Again, poor weather returned and it was this, along with engine and navigation problems which led the team to source a new location at which to break the record and achieve the "Unique Double". So it was that on December 10th, the Bluebird, Donald Campbell and his team departed for Lake Dumbleyung. Two monuments have been erected to commemorate Donald Campbell's Australian Water Speed Record on Lake Bonney, both of which are located near the Bluebird Cafe and Bishop's Boatshed, where the Bluebird was housed.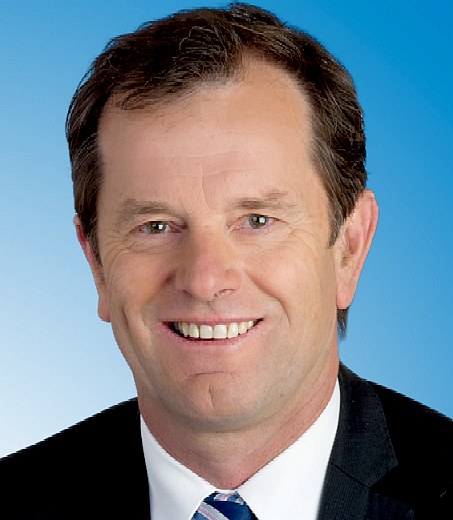 PROJECT PATRON: Tim Whetstone MP, Chaffey - Tim started as a fitter and turner at Holden after school and worked his way up to be a Project Manager in the Moomba gas fields while developing his own business building and restoring muscle cars and boats. He started his citrus and winegrape business in 1989. In 2005 Tim helped re-form South Australian Murray Irrigators (SAMI) and until recently held the role of Chairman. Tim has been a keen supporter of capturing and re-using storm-water across the State to help remove Adelaide's reliance on the Murray. In his spare time Tim enjoys fishing, spending time with his children Nic, Charlotte and Eliza, especially on the river water skiing and tinkering in his workshop at home.

With the passing of Ken and Lewis Norris, the K7 is no longer design protected, meaning that anyone can build an improved boat or a replica and have a go. It is no different to building a scale model in its appreciation of the art. It is also no different to building a classic car replica.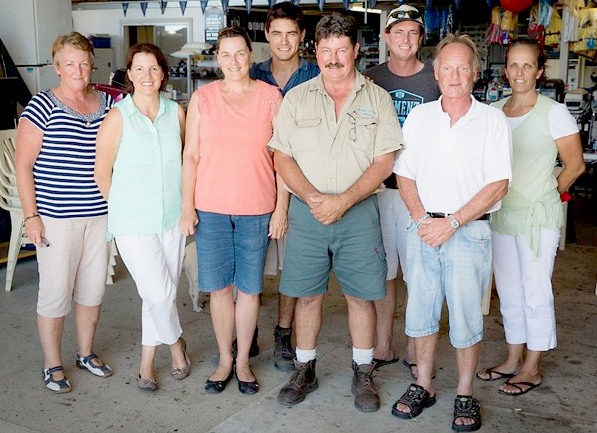 Team Barmera, Australia - Hilary, Johnno and Mark Motzouris (Statewide Boating) Craig Douglas – GingIn shire representative and members of the committee
ABOUT BARMERA
Barmera is a town in the Riverland region of South Australia. It is on the Stuart Highway A20, 220 kilometres north-east of Adelaide, the capital of the state of South Australia. It is primarily an agricultural and viticultural town and is located on Lake Bonney (Riverland), a freshwater lake. The population was 1928 in 2006.

It is unknown where the name "Barmera" comes from but it is suspected that it means "water place" or "land dwellers", being a word from a local Aboriginal group. Others postulate it comes from Barmeedjie, the name of the tribe that lived to the north of the Murray River prior to European settlement.

Lake Bonney was first seen by Charles Bonney and Joseph Hawdon in 1838 drove cattle along the Murray River. The lake was named after Bonney. The land however, was settled in 1859 with the establishment of Overland Corner Hotel. It was a popular area with drovers that drove sheep from New South Wales into South Australia. A police station was also built to prevent and stop arguments between the indigenes and settlers.

An irrigation system was established in the town in 1921. The town became gazetted. An influx of World War I veterans settled with promises of irrigated land from the government. A railway station was opened in 1928 and the town was proclaimed in the same year. In World War II an internment camp was established south of Barmera in Loveday and was one of the largest World War II camps in Australia.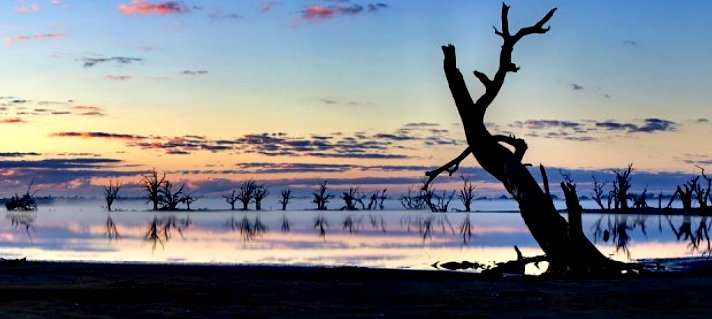 CLIMATE

Barmera exists in a semi-arid location, north of Goyder's Line. Barmera is surrounded by mallee scrub. It is 29 metres above sea level. Barmera has a dry climate with hot summers and warm days and cold frosty nights in winter with seasonal temperatures a few degrees above Adelaide's temperatures and similar to those of Berri. The weather patterns are similar to those of Berri. It receives less than 250 mm of rain per annum. Rain patterns shift from year to year over a nineteen-year cycle.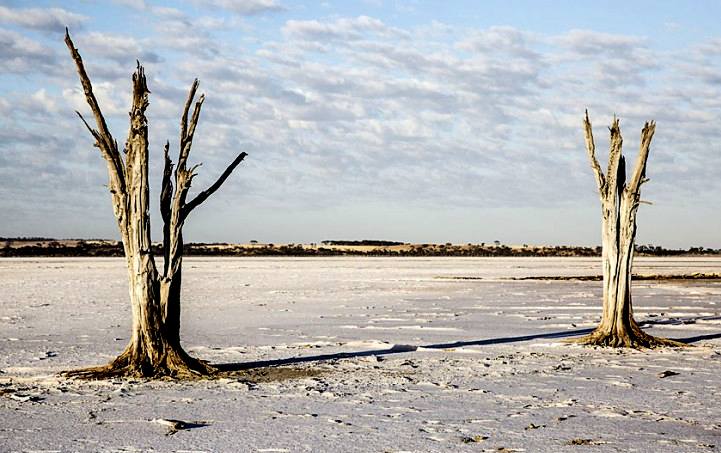 TOWNSHIP

Attractions are Lake Bonney, which is good for fishing and sailing and sunsets at dusk. There is an irrigation and steam museum as well as wine estates. The Overland Corner is also a very popular attraction nearby with its own walking trail. There is also the remnants of a copper mine and historic graves.

Every Easter, a sailing regatta is held on Lake Bonney and a country music festival is held every June. Riverland Field Days are held in September a Show is held in March.

Barmera is in the Berri Barmera Council local government area, the South Australian House of Assembly electoral district of Chaffey and the Australian House of Representatives Division of Barker.

The town is home to the sporting teams Barmera/Monash Roos Football Club and the Barmera United Soccer Club.

Another superb K7 full size model, the K777, crossing Lake Coniston recently at around 80 mph
RECOVERY OF BLUEBIRD K7

The wreckage of Campbell's craft was recovered by the Bluebird Project between October 2000, when the first sections were raised, and May 2001, when Campbell's body was recovered. The largest section, representing approximately two-thirds of the main hull, had been salvaged on 8 March 2001. A diving team led by Bill Smith was responsible for finding the wreckage.
ICONIC - Bluebird K7 running at Lake Bonney in 1964 and on its final run 4 January 1967
Campbell's last words on his final run were, via radio intercom:

" Pitching a bit down here...Probably from my own wash...Straightening up now on track...Rather closer to Peel Island...Tramping like mad...and er... Full power...Tramping like hell here... I can't see much... and the water's very bad indeed...I can't get over the top... I'm getting a lot of bloody row in here... I can't see anything... I've got the bows out... I'm going!....ugh "
BARMERA CONTACTS
Louisa Dare
Tel: 0428227000
Email: bluebirdcommunityfundraising@gmail.com
Tim Whetstone MP (Australia Liberal)
PO Box 959
Berri SA 5343
Telephone: (08) 8582 4230
Fax: (08) 8582 4231
Email chaffey@parliament.sa.gov.au
Paul Mitchell (editor)
The Murray Pioneer
PO Box 832,
Renmark SA 5341
Telephone: (08) 8586 8000
Fax: (08) 8586 4333
Email: editor@murraypioneer.com.au
Barmera Visitor Centre
Barwell Avenue,
Barmera SA 5345
Tel: 08 8588 2269
Email: vic@barmeratourism.com.au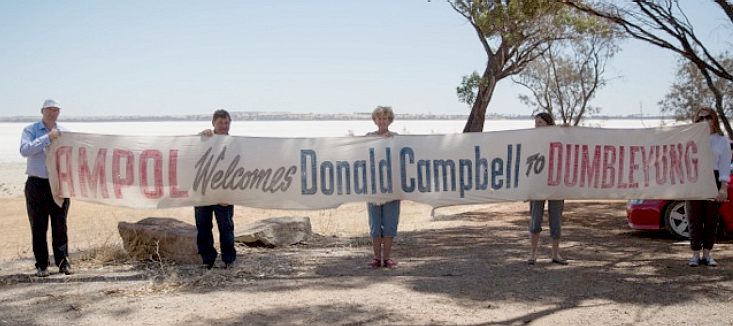 Now that's what we call a warm Australian welcome.
DONALD CAMPBELL'S BLUEBIRDS
Jetstar (not a bluebird boat)
LINKS & REFERENCE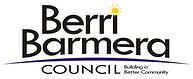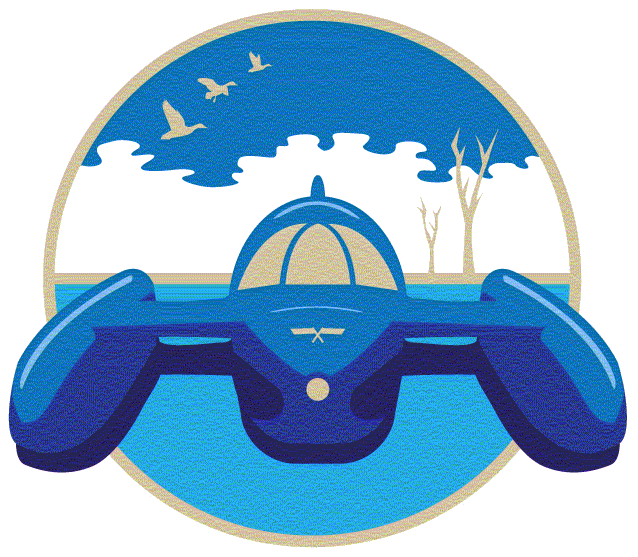 http://www.k7projectbluebird.net/
http://dumbleyungbluebird.com.au/2014/04/19/the-bluebird-replica-build-begins/
http://dumbleyungbluebird.com.au/
http://www.berribarmera.sa.gov.au/page.aspx
http://en.wikipedia.org/wiki/Barmera
http://www.murray-pioneer.com.au/
Coniston-power-boat-records-week-gets-underway-k777-is-launched
Bluebird-lookalike-takes-a-trip-on-coniston-water
Curse-Bluebird-Replica-Campbells-speedboat-sinks-Coniston
http://www.cumbriacrack.com/2011/10/31/coniston-power-boat-records-week-gets-underway-k777-is-launched/
http://www.nwemail.co.uk/news/bluebird-lookalike-takes-a-trip-on-coniston-water-1.893900
http://www.boatdesign.net/forums/boat-design/k777-bluebird-40452.html
http://www.dailymail.co.uk/news/article-2057326/Curse-Bluebird-Replica-Campbells-speedboat-sinks-Coniston.html
http://www.k777club.com/
https://twitter.com/bluebirdspeed
http://www.youtube.com/user/k7projectbluebird
http://www.facebook.com/k7projectbluebird
http://twitter.com/K7ProBluebird
http://www.rcgroups.com/forums/showthread.php?t=1959632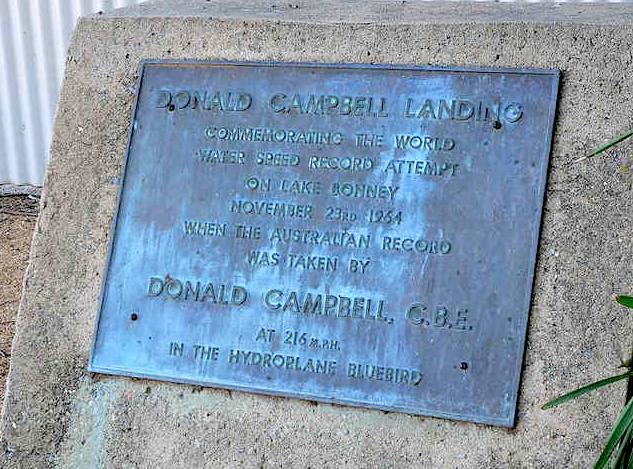 A commemorative plaque near Lake Bonney in recognition of Donald Campbell's WSR attempt in the Bluebird K7 hydroplane.