The part in the BBC production of across the lake was made for Sir Anthony, who, it is said, thinks fondly of Donald Campbell's land and water speed records - he says as much when playing Bert Munro is the World's Fastest Indian. Mr Hopkins is one of our favourite actors, no matter what part he is playing, but the part of a man on the edge racing around in a jet boat at suicidal speeds, is ideal for an actor who portrayed Hannibal Lecter in The Silence of the Lambs.
HISTORY
Anthony Hopkins father ran the family Bakery business, 'A. R. Hopkins and Son' at 151 Tanygroes St, Tai Bach, Port Talbot. It was obvious that Tony had little interest in the family business from an early age and spent most of his time alone, sketching or playing the Piano. He did not enjoy school and found it hard to fit in, his indifferent academic performance prompted his parents to move him from the Central school in Port Talbot, to go instead to boarding school, which they thought would be good for discipline and perk up his marks.
So in 1949 he was dispatched to West Monmouth school in Pontypool, a long way from home. He spent five miserable terms there and was then transferred closer to home to Cowbridge Grammar where he spent the next four years. He has talked often of his unhappiness of his time at Cowbridge, though his difficulties were of his own personal inadequacies rather than the school itself. He left there at 17, with 1 O level in English and then spent the next two years at the Cardiff College of Music and Drama.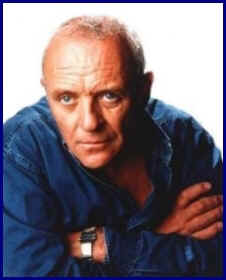 Sir Anthony Hopkins
After graduation he took a job with the Arts Council before being called for National Service in 1958. He joined the Royal Artillery and became 23449720 Gunner Hopkins. Initially posted to Oswestry and then later Bulford Camp, Salisbury Plain where he spent close to two years 'typewriter punching' receiving 30 bob (£1.50) a week for his efforts. He left the Service as Bombardier (NCO) and returned to his parents new house in Laleston, Bridgend. They had sold the Bakery to Toffee manufacturer 'Lovells'.
Hopkins regained his interest in Drama and played several small parts in local plays before joining RADA. He graduated in 1963 and married his first wife Petronella Barker in 1967, they had a daughter - Abigail, Hopkins was working hard, in Theatres up and down the country and drinking heavily, the marriage did not last and they split a few years later. He continued to work himself hard and was in turmoil over abandoning his daughter - boozing sessions became more frequent but just a few months later he became involved with Jennifer Lynton whom later became his second wife. Hopkins was rarely out of work and as the years went on found himself less in the Theatre and more in the Movies. He began to spend more time in America than England and was becoming quite a star.
It was whilst he was in the states that he finally put an end to his drinking, he was quite a regular at AA meetings. His relationship with Jenni was beginning to struggle though - she preferred to live in England, he America - and he would like to go off on his own for months at a time. Always the loner. Enjoyed a solitary life. Jenni eventually moved back to England permanently, but would visit regularly. They would speak on the phone and remained friendly.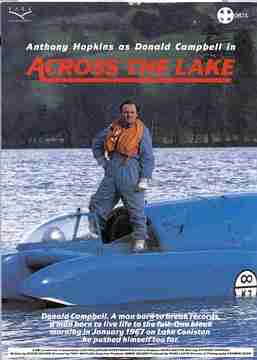 Anthony Hopkins plays Donald Campbell
Hopkins enjoyed roles in several big Hollywood blockbusters and eventually received acknowledgment for his work when he received the 1992 Oscar for Best Actor in 'Silence of the Lambs', now an American treasure. The following year saw him gain his 'Sir' title when he was knighted by the Queen of England in the 1993 New Years honours list. He was going from strength to strength, with each role he just seemed to get better and better. The nineties have been particularly good for Tony with roles like Hannibal Lecter, Stevens, Lewis and Nixon - each one gaining award nominations.
He is now permanently based in the Pacific Palisades area of LA, and in April 2000 he took out dual citizenship with America. The years of separation from Jenni eventually ended in divorce in June 2002. Tony then partnered with former Antiques Dealer Stella Arroyave and they married on 1st March 2003 in a private ceremony in Tony's Malibu home. The rest is pretty much history and he will surely be remembered as one of the great Actors for the parts he has already played, including the most splendid portrayal of Bert Munro and the story of the world's fastest Indian. We very much hope that is more to come. Keep up the good work Sir Anthony.
Name: Phillip Anthony Hopkins
Born: 31 December 1937
Weighing: 7 and 3/4 pounds
At: 77 Wern Rd, Margam, Port Talbot, Wales
Mother: Muriel Hopkins (nee Yeats)
Father: Richard Arthur Hopkins
Eyes: Blue
Hair: Silver/White
Height: 5' 7"
Marital Status: Married
Children: 1 daughter - Abigail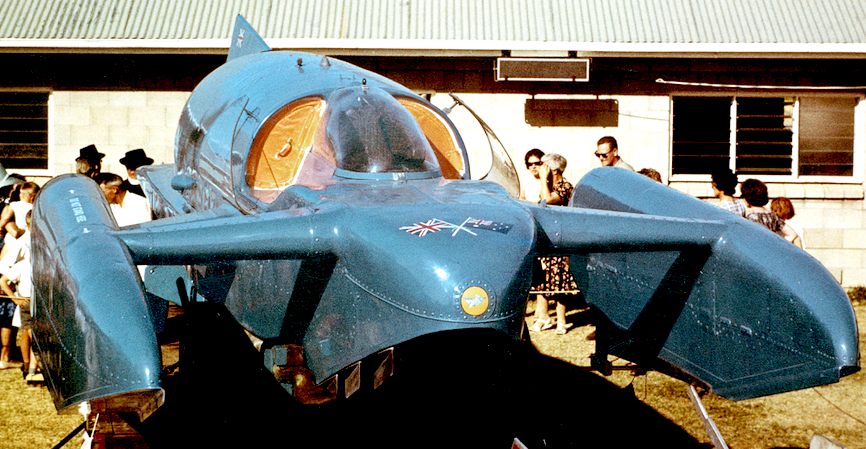 BBC TV DOCU-DRAMA 'ACROSS THE LAKE'
Tagline: 'Donald Campbell, a man born to break records, a man born to live life to the full. One bleak morning in January 1967 on Lake Coniston, he pushed himself too far.'
Synopsis: True story of Donald Campbell who in 1967 whilst trying to become the first person to go over 300Mph on water he crashed his famous 'Bluebird' at Coniston water, in the Lake District. He had achieved a run of 297Mph on the first leg, but turning around without refueling and not waiting for his wake to settle, he set off on the second leg. The boat lifted out of the water after exceeding a speed of over 300Mph, somersaulted and disintegrated on landing on the surface. His body was never found.
Donald was already a legend with the double, land and water speed records in the same year in Australia's Lake Eyre and Lake Dumbleyung in 1964.
Donald Campbell killed at 300mph

On 4 January 1967, weather conditions were finally suitable for an attempt. Campbell commenced the first run of his last record attempt at just after 8.45 am. Bluebird moved slowly out towards the middle of the lake, where she paused for a brief second as Donald lined her up. With a deafening blast of power, Campbell now applied full throttle and Bluebird began to surge forward. Clouds of spray issued from the jet-pipe, water poured over the rear spar and after a few hundred yards, at 70 mph, Bluebird unstuck from the surface and rocketed off towards the southern end of the lake, producing her characteristic cometís tail of spray. She entered the measured kilometre at 8.46. Leo Villa witnessed her passing the first marker buoy at about 285 mph (459 km/h) in perfect steady planing trim, her nose slightly down, still accelerating. 7.525 seconds later, Keith Harrison saw her leave the measured kilometre at a speed of over 310 mph (500 km/h). The average speed for the first run was 297.6 mph (478.9 km/h).
Campbell lifted his foot from the throttle about 3/10 of a second before passing the southern kilometre marker. As Bluebird left the measured kilometre, Keith Harrison and Eric Shaw in a course boat at the southern end of the measured kilo both noticed that she was very light around the bows, riding on her front stabilising fins. Her planing trim was no worse than she had exhibited when equipped with the Beryl engine, but it was markedly different to that observed by Leo Villa at the northern end of the kilometre, when she was under full acceleration. Campbell had made his usual commentary throughout the run.
Bluebird K7 at high speed on Coniston Water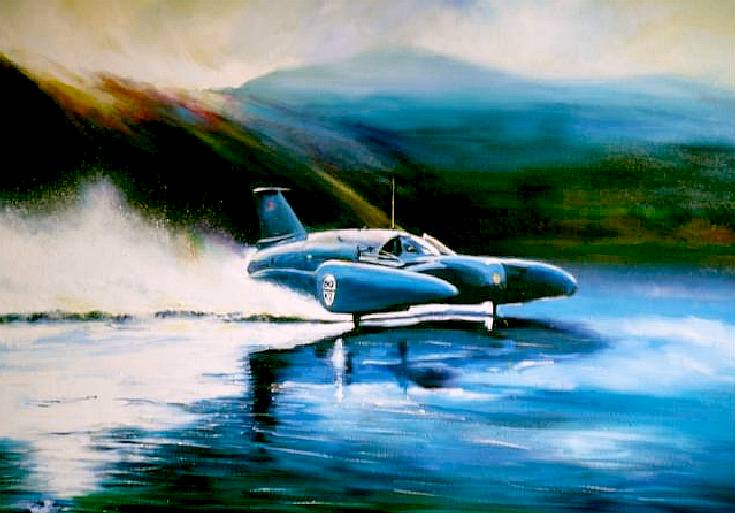 Campbell's words on his first run were, via radio intercom:

ď ... Iím under way, all systems normal; brake swept up, er . . . air pressure warning light on . . . Iím coming onto track now and er . . . Iíll open up just as soon as I am heading down the lake, er doesnít look too smooth from here, doesnít matter, here we go . . . Here we go . . . [pause 3 seconds]. . . Passing through four . . . five coming up . . . a lot of water, nose beginning to lift, water all over the front of the engine again . . . and the nose is up . . . low pressure fuel warning light . . . going left . . . OK weíre up and away . . . and passing through er . . . tramping very hard at 150 . . . very hard indeed . . . FULL POWER . . . Passing through 2 . . . 25 out of the way . . . tramping like hell Leo, I donít think I can get over the top, but Iíll try, FULL HOUSE . . . and I canít see where I am . . . FULL HOUSE Ė FULL HOUSE Ė FULL HOUSE . . . POWER OFF NOW! . . . IíM THROUGH! . . .power . . . (garbled) er passing through 25 vector off Peel Island . . . passing through 2 . . . Iím lighting like mad . . . brake gone down . . . er . . . engine lighting up now . . . relighting . . . passing Peel Island . . . relight made normal . . . and now . . . down at Brown Howe . . . passing through 100 . . . er . . . nose hasnít dropped yet . . . nose down . Ē

Instead of refuelling and waiting for the wash of this run to subside, Campbell decided to make the return run immediately. This was not an unprecedented diversion from normal practice, as Campbell had used the advantage presented i.e. no encroachment of water disturbances on the measured kilometre by the quick turn-a-round, in many previous runs. The second run was even faster once severe tramping subsided on the run-up from Peel Island (caused by the water-brake disturbance). Once smooth water was reached some 700 metres or so from the start of the kilometre, K7 demonstrated cycles of 'ground' effect hovering before accelerating hard at 0.63g to a peak speed of 328 mph (530 km/h) some 200 metres or so from the southern marker buoy. Bluebird was now experiencing bouncing episodes of the starboard sponson with increasing ferocity.
At the peak speed, the most intense and long-lasting bounce precipitated a severe decelerating episode (328 mph - 296 mph, -1.86g) as K7 dropped back onto the water. Engine flame-out then occurred and, shorn of thrust nose-down momentum, K7 experienced a gliding episode in strong ground effect with increasing angle-of-attack (AoA), before completely leaving the water at her static stability pitch-up limit of 5.2į. Bluebird then executed an almost complete somersault (~ 320į and slightly off-axis) before plunging into the water (port sponson marginally in advance of the starboard), approximately 230 metres from the end of the measured kilometre. The boat then cartwheeled across the water before coming to rest. The impact broke K7 forward of the air intakes (where Donald was sitting) and the main hull sank shortly afterwards. Campbell had been killed instantly. Mr Whoppit, Campbell's teddy bear mascot, was found among the floating debris and the pilot's helmet was recovered. Royal Navy divers made efforts to find and recover the body but, although the wreck of K7 was found, they called off the search, after two weeks, without locating his body.

Campbell's last words, during a 31 second transmission, on his final run were, via radio intercom:
ď . . . Full nose up . . . Pitching a bit down here . . . coming through our own wash . . . er getting straightened up now on track . . . rather closer to Peel Island . . . and weíre tramping like mad . . . and er . . . FULL POWER . . . er tramping like hell OVER. I canít see much and the waterís very bad indeed . . . Iím galloping over (I canít get over)* the top . . . and sheís actually giving a hell of a bloody row in here...I canít see anything...Iíve got the bows out ...Iím going . . . U-hh . . .", Ē

This phrase is disputed, but the former is more consistent with events timed to coincide with it, when K7 was accelerating very hard on an almost perfect water surface.

You could not have cast a better actor to play Donald Campbell. Anthony Hopkins is superb and we think has a genuine interest in land and water speed records and the contenders. He also plays Burt Munro in The World's Fastest Indian.

The cause of the crash has been variously attributed to Campbell not waiting to refuel after doing a first run of 297.6 mph (478.9 km/h) and hence the boat being lighter; the wash caused by his first run and made much worse by the use of the water brake, (These factors have since been found to be not particularly important. The water brake was used well to the south of the measured distance, and only from approx. 200 mph (320 km/h) The area in the centre of the course, where Bluebird was traveling at peak speed on her return run was flat calm, and not disturbed by the wash from the first run, which had not had time to be reflected back on the course. Campbell knew this and, as discussed previously, adopted his well-practiced, 'quick turn-a-round' strategy.

The cause of the crash can be put down to Bluebird exceeding its aerodynamic static stability limit, complicated by the additional destabilizing influences of loss of engine thrust, damage to the port spar fairing, and, the hitherto unappreciated contribution of ground effect lift enhancement. There is also evidence to point to the fact that K7s dynamic stability limit had been exceeded.
The cause(s) of the engine flame-out cannot be established unequivocally. It could have been due to fuel starvation, damage to some ancillary structural element associated with engine function (following the worst bouncing episode), disturbance of the air-stream into the intakes during the pitching episodes, or indeed a combination of all three. Further evidence of lost engine thrust may be seen in both cinematographic and still film recordings of the latter part of the run - as Bluebird left the water, jet exhaust from a functioning engine would have severely disturbed the water surface; no such disturbance or accompanying spray is evident. Also, close examination of such records show no evidence to the effect that the water brake was deployed.

Despite extensive efforts by a team of Royal Navy divers, although Bluebird's wreckage was located on the 5th of January, on the lake bed, Donald Campbell's body was not located until 2001.

On 28 January 1967 Campbell was posthumously awarded the Queen's Commendation for Brave Conduct For courage and determination in attacking the world water speed record.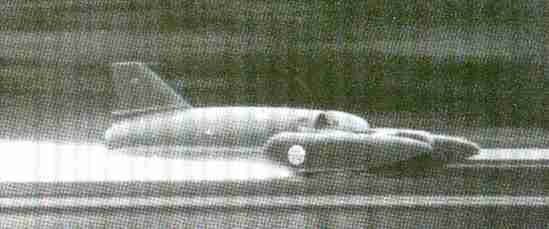 The K7 first run 4 January 1967
Main Players: Sir Anthony Hopkins, Phyllis Calvert, Rosemary Leach
Director: Tony Maylam
Producer: Innes Lloyd
Teleplay: Roger Milner
Based on the last few years of Donald Campbell's life.
DVD BOXED SETS - Donald Campbell 4 Film Dvd Box Set

Disc One:- Donald Campbell - Across The Lake

Staring Anthony Hopkins as Donald Campbell this 1988 film based on real life events in 1967 when Campbell broke the 300 mph water speed barrier in his beloved Bluebird K7.

Cast: Sir Anthony Hopkins, Phyllis Calvert, Rosemary Leach

Director: Tony Maylam

Producer: Innes Lloyd

Teleplay: Roger Milner

Disc Two:- Donald Campbell - Muloorina by BP

Donald's 1963 attempt in Australia with the bluebird car. Based around the sheep shearing station that housed Campbell and his team, Not many people knew this footage existed, it lasts 25 mins and is in colour. Donald fell out with BP over this footage due to royalties & also it was cleverly called Muloorina by BP and was about a sheep station not bluebird. A crafty act from BP. Still an excellent and rare piece of footage with great rare shots.

Disc Three:- Donald Campbell - Speed King

A documentary which chronicles the story of Donald Campbell (DC) and his struggle to become the fastest man on land and water. Also an interview with Richard Noble the then current world land speed record holder.

Disc Four:- One Second from Eternity - History of the Land Speed Record

Shows the dreams & planning that go into a record attempt & the drama as each impossible speed barrier falls, 100mph, 200mph, 400mph, 500mph & 600 mph! included are the tragic stories of those unlucky men who died in their attempts to break the existing record. One set from eternity features on forth stories of lsr holders Craig Breedlove, sir Malcolm Campbell, Art Arfons, Gary Gabelich, Capt George Eyston. The film looks toward the new developments of the future & covers new projects planned for record attempts: the planned American cars show in models & photographs potential record holders of the future.
http://www.60fixings.co.uk/Shops/Products/Donald_01
Planet Hopkins | Thanks | Email Planet Hopkins | The World's Fastest Indian

The blue bird legend lives on. The classic lines of this racing car were inspired by Reid Railton and his designs for the Napier Lion and Rolls Royce engined Blue Bird LSR cars in the 1930s, the Blueplanet BE3 features instant battery recharging using the patent Bluebirdô cartridge exchange system under license from BMS. This LSR car is also solar assisted. She is designed for speeds in excess of 350mph over the flying mile using clean electricity. Imagine the spectacle of this beautiful vehicle speeding across the salt at Bonneville, or flying past on the sand at the Daytona or Pendine beaches. On 6 months notice, you can have this vehicle at your venue for drive bys and the like. Send us an email for a quote.
SIR MALCOLM CAMPBELL'S BLUE BIRDS
DONALD CAMPBELL'S BLUEBIRDS