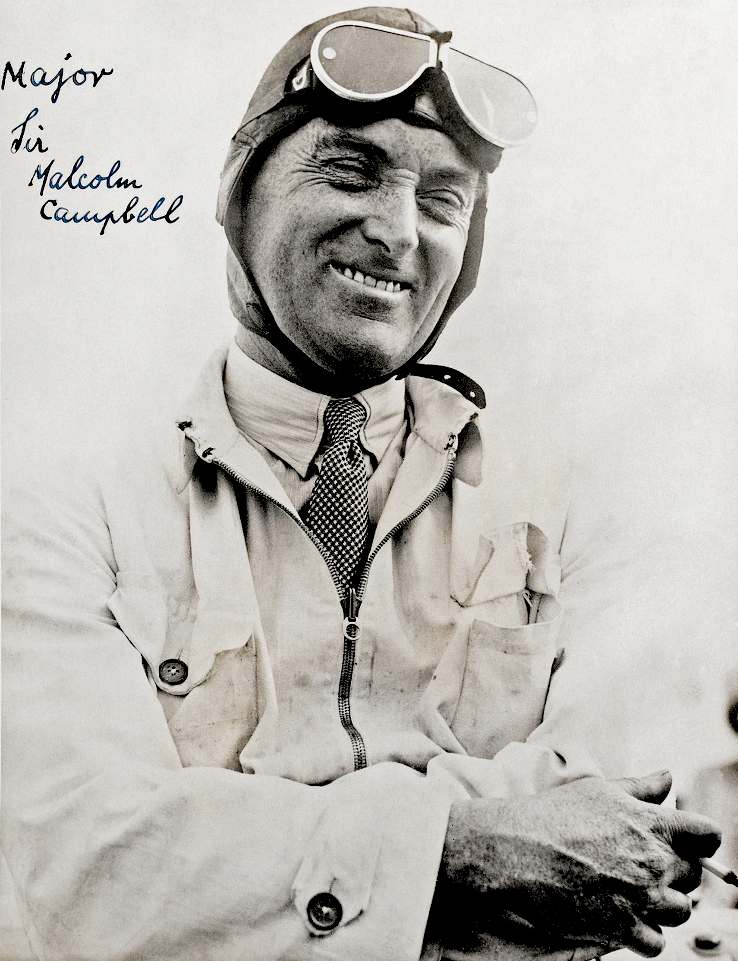 The Reid Railton designed Blue Bird of Malcolm Campbell visits Daytona in 1931. This car features the Napier Lion aircraft engine.
The Campbell-Railton Blue Bird was a land speed record car commissioned by Malcolm Campbell the Napier Lion engined Blue Bird had reached the end of its performance life.

Clearly Captain Campbell needed a more powerful engine to make his next Blue Bird competitive, with a chassis and transmission to handle it. A Rolls Royce R Merlin engine was used. The Campbell-Railton Blue Bird was Sir Malcolm Campbell's final land speed record car.

His previous Campbell-Napier-Railton Blue Bird of 1931 was rebuilt significantly. The overall layout and the simple twin deep chassis rails remained, but little else. The bodywork remained similar, with the narrow body, the tombstone radiator grille and the semi-spatted wheels, but the mechanics were new. Most significantly, a larger, heavier and considerably more powerful Rolls-Royce R V12 engine replaced the old Napier Lion, again with supercharger. This required two prominent "knuckles" atop the bodywork, to cover the V12 engine's camboxes.

The Napier Lion W12 aero engine (left) that was superceded with a Rolls Royce R Merlin engine (right)

1933

Blue Bird's first run was back at Daytona, setting a record of 272 miles per hour (438 km/h) on 22 February 1933.

Campbell now had a car with all the power that he could want, but no way to use all of it. Wheelspin was a problem, losing perhaps 50 miles per hour (80 km/h) from the top speed.


1935

Visually the car was quite different. The bodywork was now rectangular in cross section and spanned the full width over the wheels. Although actually higher, this increased width gave the impression of a much lower and sleeker car, accentuated by the long stabilising tailfin and the purposeful raised ridges over the engine camboxes. This Blue Bird was clearly a design of the Modernist '30s, not the brute heroism of the '20s.

Mechanically the changes to the car had focussed on improving the traction, rather than increasing the already generous power. Double wheels and tyres were fitted to the rear axle, to improve grip. The final drive was also split into separate drives to each side. This reduced the load on each drive, allowed the driver position to be lowered, but required the wheelbase to be shortened asymmetrically on one side by 1½"(37 mm). Airbrakes were fitted, actuated by a large air cylinder. For extra streamlining the radiator air intake could be closed by a movable flap, for a brief period during the record itself.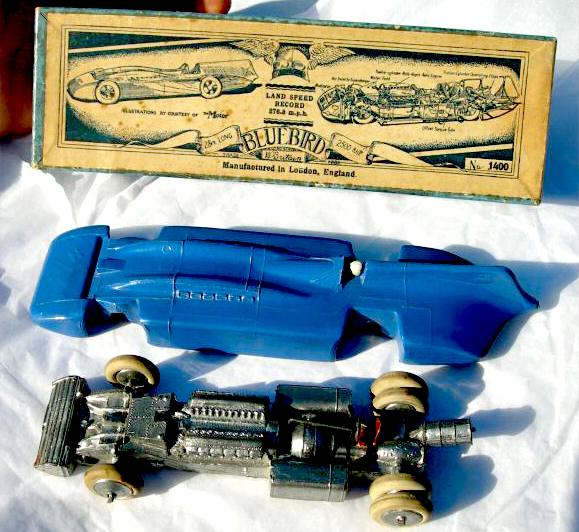 Blue Bird made its first record runs back on Daytona Beach in early 1935. On 7 March 1935 Campbell improved his record to 276.82 mph (445.5 kph), but the unevenness of the sand caused a loss of grip and he knew the car was capable of more.

The faster car needed a bigger and smoother arena, and this led to the Bonneville Salt Flats of Utah. This time the young Donald Campbell accompanied his father. On 3 September 1935, the 300 mph barrier fell by a bare mile-per-hour, crowning Sir Malcolm Campbell's record-breaking career.

SURVIVAL TODAY

There is a replica in the Campbell gallery at the Lakeland Motor Museum, England.

The original is located at Daytona speedway circuit Museum.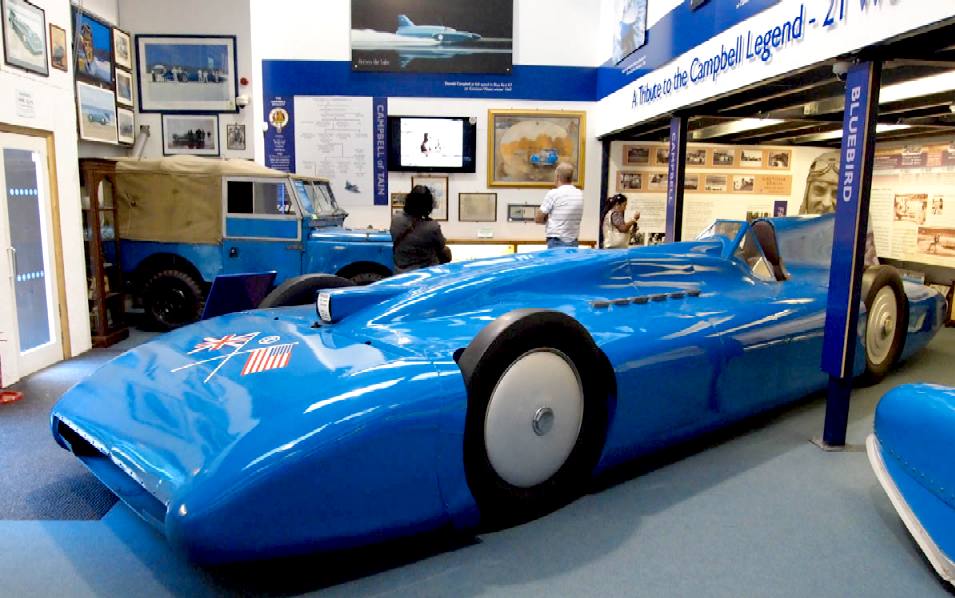 2013 LAND SPEED RECORD DISPLAY BEAULIEU UK
The Blue Bird V joined the Bluebird CN7 already on display at the National Motor Museum, Beaulieu, following their first ever display together in the UK at the 2013 Goodwood Festival of Speed.
This is only the second time in the vehicle's history that Blue Bird V has crossed the Atlantic from its home at the Daytona International Speedway to the UK, giving visitors to Beaulieu an incredibly rare opportunity to see this magnificent motoring icon on display alongside other Land Speed Record Breakers.

It joins the Bluebird CN7, driven by Sir Malcom Campbell's son, Donald, to a land speed record of 403.10mph at Lake Eyre, Australia in 1964.

Beaulieu Commercial Director, Stephen Munn, is quoted as saying:
"Beaulieu has been home to Donald Campbell's Bluebird CN7 since the 1960s, so it is wonderful to finally see his father's most famous Land Speed Record Breaker, the Blue Bird V, displayed alongside it in the museum. To see these legendary vehicles together is an unforgettable experience, and we hope that by having them on display, they will inspire a whole new young generation and reignite the interest in land speed record breaking."


Visitors to Beaulieu can also see Major Henry Segrave's Sunbeam 1000hp which he drove to a record-breaking speed of 203.793mph at Daytona Beach in 1927.

This incredible Blue Bird display will only be on show for a few months, as the Blue Bird V will be making its return journey across the Atlantic at the end of November, so do not miss this amazing opportunity to view these Blue Birds together.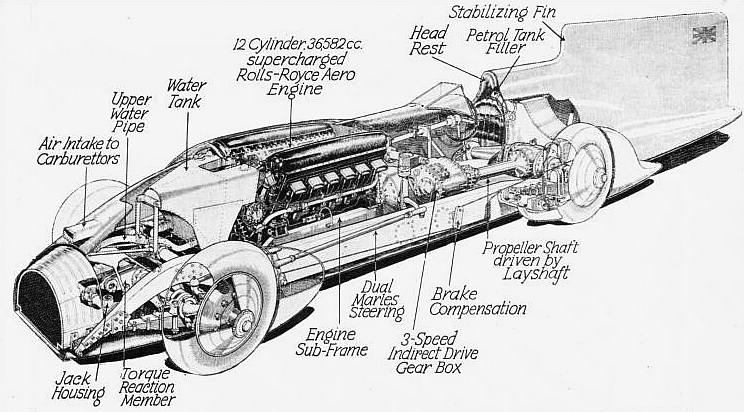 A cutaway drawing of the immediate RR engined Blue Bird and the 1935 Daytona update below. Sir Malcolm Campbell, and later his son Donald, used R engines from 1931 to 1951. At Sir Malcolm's knighthood ceremony in February 1931, King George V expressed great interest in the R and asked many questions about its fuel consumption and performance.

In 1932, Campbell stated that he "... was fortunate in procuring a special R.R. Schneider Trophy engine" for his land speed record car to replace its Napier Lion. Lent to him by Rolls-Royce, this engine was either R25 or R31. By February 1933 the car, named Blue Bird had been rebuilt to accommodate the larger engine and was running at Daytona.

In late 1933 Campbell bought engine R37 from Rolls-Royce; and had also been lent R17 and R19 by Lord Wakefield, and R39 by Rolls-Royce. He then lent R17 to George Eyston. Once he had achieved the 300 mph (480 km/h) record on 3 September 1935 at the Bonneville Speedway, Campbell retired from further land speed endeavours.

Manufacturer

bodywork by Gurney Nutting

Production

one-off (1933)

Body and chassis

front-engined land speed record car.

Related

Powertrain

2,300 hp 36.7 litre supercharged Rolls-Royce R V12

Dimensions

13ft 8in (4.17 m), Track front 5ft 3in (1.60 m), rear 5 feet (1.5 m)

Length

27 feet (8.2 m)

95 cwt (4.75tons)
INSPIRATION - The blue bird legend lives on: The exquisite lines of the Blueplanet LSR were inspired by Reid Railton and his classic designs for the Napier Lion and Rolls Royce engined Blue Bird LSR cars in the 1930s, the Blueplanet BE3 features instant battery recharging using the patent Bluebird™ cartridge exchange system under license from BMS. This LSR car is also solar assisted. She is designed for speeds in excess of 350mph using clean electricity and could be run at Daytona Beach, Pendine Sands and other historic venues, including Bonneville. To hire the BE3 for your event, please contact BMS and ask for Leslie or Terry. The project team need at least 3 months advance notice of venues.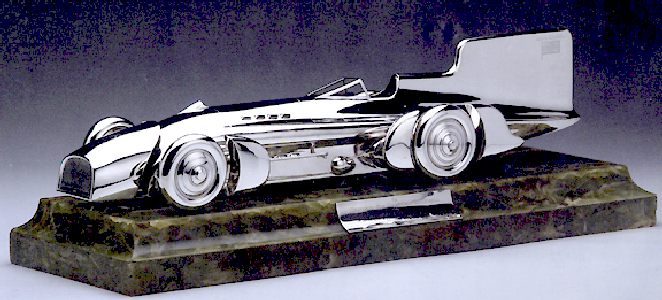 Trophy in silver: Railton Blue Bird Daytona February 1931
SIR MALCOLM CAMPBELL'S BLUE BIRDS
DONALD CAMPBELL'S BLUEBIRDS

LINKS
http://autodromo.co.uk/1935-bluebird-112th-scale-model-edition/
Beaulieu Bluebird v joins land speed record breakers display
http://www.beaulieu.co.uk/news/bluebird-v-joins-land-speed-record-breakers-display
http://en.wikipedia.org/wiki/Campbell-Railton_Blue_Bird
http://en.wikipedia.org/wiki/Rolls-Royce_R
Campbell-Napier-Railton_Blue_Bird
http://en.wikipedia.org/wiki/Campbell-Napier-Railton_Blue_Bird
http://en.wikipedia.org/wiki/John_Cobb_%28motorist%29
http://en.wikipedia.org/wiki/Railton_Special
http://en.wikipedia.org/wiki/Crusader_%28speedboat%29
http://en.wikipedia.org/wiki/Daytona_Beach,_Florida
http://en.wikipedia.org/wiki/Daytona_Beach_Road_Course
History of the Daytona Beach shore
Bill France, Jr.'s account of races at the track
NASCAR track statistics at racing-reference.info
Account of the 1957 Daytona race from winner cottonowens.com
Speed TV article on Daytona's history
Profile of Ormond Beach's racing history
Blue Bird 1933 Bluebird team racing.
1933 Blue Bird Brooklands photo archive.
1933 Blue Bird from the rear Brooklands photo archive.
Blue Bird, 1933 many period photos
Engine and chassis in the workshops, bodywork removed. Note the airbrake actuating cylinder.
Bluebird 1935 Bluebird team racing.
Cockpit, showing the double wheels and also the airbrake flaps Brooklands photo archive.
Blue Bird, 1935 Racing Campbells.
Blue Bird at Daytona, 1935 many period photos
Holthusen, Peter J.R. (1986). The Land Speed Record. ISBN 0-85429-499-6.
Bluebird at Bonneville, 1935 many period photos
record-breaking Pendine Sands (photos). Sand Speed Wales. Many rare period photos.
A - Z OF WORLD FAMOUS RACING CIRCUITS
TAGS
Aintree

Autodromo Hermanos Rodriguez

Autódromo Internacional Nelson Piquet

Autódromo José Carlos Pace

Bahrain International

Barcelona-Catalunya, Circuit de

Bathurst

Brands Hatch

Bremgarten Circuit

Brooklands

Donington Park

Fuji Speedway

Giles Villeneuve

Goodwood

Hockenheimring

Imola

Indianapolis

Knockhill

Korea International Circuit

Laguna Seca

Le Mans

Mallory Park

Monaco

Monte Carlo

Monza

Nurburgring [Nordschleife] (Germany)

Oulton Park

Rockingham

Santa Pod Raceway

Sebring International Raceway

Shanghai International

Silverstone

Snetterton

Spa Francorchamps

Suzuka Circuit

Thruxton

Zandvoort, Circuit Park

Zeltweg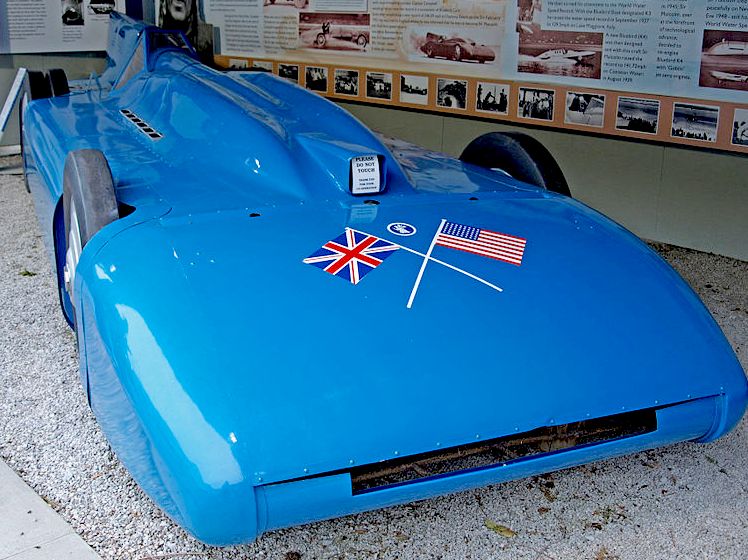 SOUVENIRS - You can now buy a mug with the famous painting of Sir Malcolm's Rolls-Royce Merlin engined LSR preserved in enamel.