The Daytona Beach Road Course was a race track that was instrumental in the formation of the National Association for Stock Car Auto Racing, or NASCAR. It originally became famous as the location where fifteen world land speed records were set.
MAJOR HENRY SEGRAVE

On March 29th 1927 Major Henry Segrave and his Sunbeam 1000 hp Mystery set a world land speed record on the Daytona Beach Road Course, at 203.79 mph (327.97 km/h), peaking at a top speed of 211 mph.
MALCOLM CAMPBELL
Sir Malcolm Campbell was attracted to this promising destination to race his blue painted steeds named: Blue Bird. Thanks to the superb designs of Reid Railton, speed records were set here that have, along with many other famous speedsters inspired new generations to pen a design or two.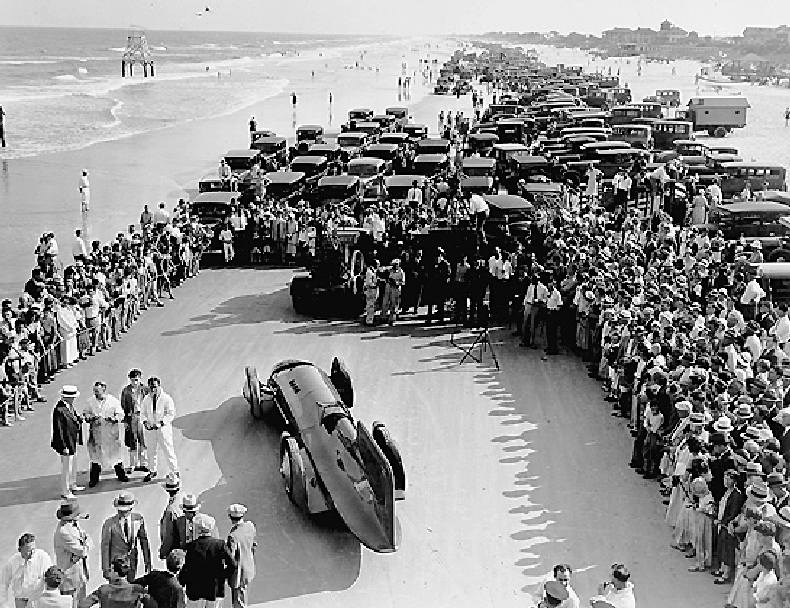 The Reid Railton designed Blue Bird of Malcolm Campbell visits Daytona in 1931. This car features the Napier Lion aircraft engine.
WILLIAM FRANCE
Washington D.C. resident William France Sr. was familiar with the history of Daytona. He moved there in 1935 to escape the Great Depression and he set up a car repair shop.

Daytona Beach officials asked local racer Sig Haugdahl to organize and promote an automobile race along the 3.2-mile (5.1 km) course in 1936. Haugdahl is credited for designing the track. The city posted a $5,000 purse. The ticket-takers arrived at the event on March 8 to find thousands of fans already at the track. The sandy turns became virtually impassable, which caused numerous scoring disputes and technical protests. The event was stopped after 75 of 78 laps. Milt Marion was declared the winner by the AAA (the sanctioning body). Second place finisher Ben Shaw and third place finisher Tommy Elmore protested the results, but their appeal was overturned. France finished fifth in the event. The city lost a reported $22,000, and has not promoted an event since.

Haugdahl talked with France, and they talked the Daytona Beach Elks Club into hosting another event in 1937. The event was more successful, but still lost money. Haugdahl didn't promote any more events.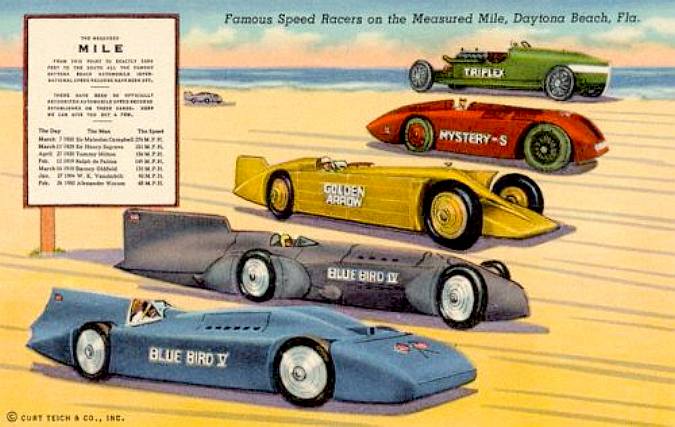 Some of the famous speed record cars to race at Daytona Beach
France took over the job of running the course in 1938. There were two events that year. Danny Murphy beat France in the July event, which made $200. France beat Lloyd Moody and Pig Ridings to win the Labor Day weekend event, this time making $20,000.

There were three races in 1939 and three races in 1940. France finished fourth in March, first in July, and sixth in September.

Lloyd Seay finished fourth in the July 27, 1941 event after rolling twice. He returned on August 24 that year to win the event. He was killed by a family member in a dispute over the family moonshine business. Roy Hall won on the course several times.

France was busy planning the 1942 event, until the Japanese bombed Pearl Harbor. France spent World War II working at the Daytona Boat Works. Most racing stopped until after the war. Car racing returned to the track in 1946.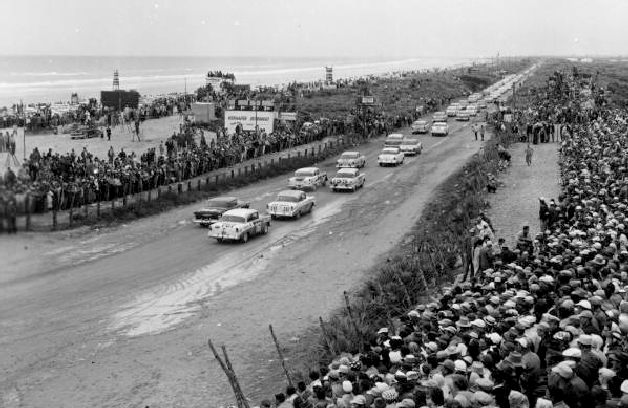 This is what Daytona Beach looked like in the 1950s.
TRACK LAYOUT

The course started on the pavement of highway A1A (at 4511 South Atlantic Avenue, Ponce Inlet 29.108890°N 80.943669°W). A restaurant named "Racing's North Turn" now stands at that location. It went south two miles (3 km) parallel to the ocean on A1A (S. Atlantic Ave) to the end of the road, where the drivers accessed the beach at the south turn at the Beach Street approach 29.084705°N 80.925566°W, returned two miles (3 km) north on the sandy beach surface, and returned to A1A at the north turn. The lap length in early events was 3.2 miles (5.1 km), and it was lengthened to 4.2 miles (6.8 km) in the late 1940s. In the video game NASCAR Thunder 2004 by EA Sports, the course is shortened to about half its distance, but still shows how the basic course was set up.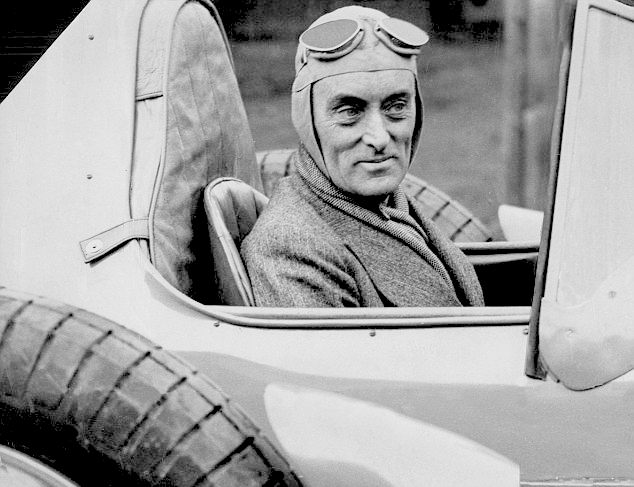 The blue bird legend lives on - Inspired by Reid Railton and his designs for the Napier Lion and Rolls Royce engined Blue Bird LSR cars in the 1930s, the Blueplanet BE3 features instant battery recharging using the patent Bluebird™ cartridge exchange system under license from BMS. This LSR car is also solar assisted. She is designed for speeds in excess of 350mph using clean electricity and could be run at Daytona Beach and other historic venues, including Bonneville. BMS require 6 months advance to hire this vehicle for your event.

LINKS & REFERENCE
http://en.wikipedia.org/wiki/Daytona_Beach,_Florida
http://en.wikipedia.org/wiki/Daytona_Beach_Road_Course
http://www.daytonabeach.com/
http://www.daytonainternationalspeedway.com/?homepage=true
http://www.tripadvisor.co.uk/Tourism-g34172-Daytona_Beach_Florida-Vacations.html
http://www.codb.us/
Daytona International Speedway
Trip Advisor Tourism Daytona_Beach_Florida Vacations
History of the Daytona Beach shore
Bill France, Jr.'s account of races at the track
NASCAR track statistics at racing-reference.info
Account of the 1957 Daytona race from winner cottonowens.com
Speed TV article on Daytona's history
Profile of Ormond Beach's racing history
A plaque dedicated to the 1935 record set by Sir Malcolm Campbell at Daytona Beach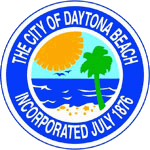 DAYTONA BEACH, FLORIDA, GEOGRAPHY

Daytona Beach is a city in Volusia County, Florida, United States. The city lies about 51 miles (82.1 km) northeast of Orlando, 86 miles (138.4 km) southeast of Jacksonville, and 242 miles (389.5 km) northwest of Miami. In the 2010 U.S. Census, it had a population of 61,005. It is a principal city of the Deltona–Daytona Beach–Ormond Beach, Florida Metropolitan Statistical Area, which was home to 494,593 people in 2010. Daytona Beach is also a principal city of the Fun Coast region of Florida.

The city is historically known for its beach where the hard-packed sand allows motorized vehicles to drive on the beach in restricted areas. This hard-packed sand made Daytona Beach a mecca for motorsports, and the old Daytona Beach Road Course hosted races for over 50 years. This was replaced in 1959 by the Daytona International Speedway. The city is also the headquarters for NASCAR and the Grand American Road Racing Association.

Daytona Beach hosts large groups of out-of-towners that descend upon the city for various events, notably Speedweeks in early February when over 200,000 NASCAR fans come to attend the season-opening Daytona 500. Other events include the NASCAR Coke Zero 400 race in July, Bike Week in early March, Biketoberfest in late October, and the Rolex 24 Hours of Daytona endurance race in January.

Daytona's wide beach of smooth, compacted sand attracted automobile and motorcycle races beginning in 1902, as pioneers in the industry tested their inventions. It hosted land speed record attempts beginning in 1904, when William K. Vanderbilt set an unofficial record of 92.307 mph (148.554 km/h). Land speed racers from Barney Oldfield to Henry Seagrave to Malcolm Campbell would visit Daytona repeatedly and make the 23 mi (37 km) beach course famous. Record attempts, including numerous fatal endeavors such as Frank Lockhart (Stutz Black Hawk, 1926) and Lee Bible (Triplex Special, 1929), would continue until Campbell's March 7, 1935 effort, which set the record at 276.816 mph (445.492 km/h) and marked the end of Daytona's land speed racing days.

On March 8, 1936, the first stock car race was held on the Daytona Beach Road Course, located in the present-day Town of Ponce Inlet. In 1958, William France Sr. and NASCAR created the Daytona International Speedway to replace the beach course. Automobiles are still permitted on most areas of the beach, at a maximum speed of 10 mph (16 km/h).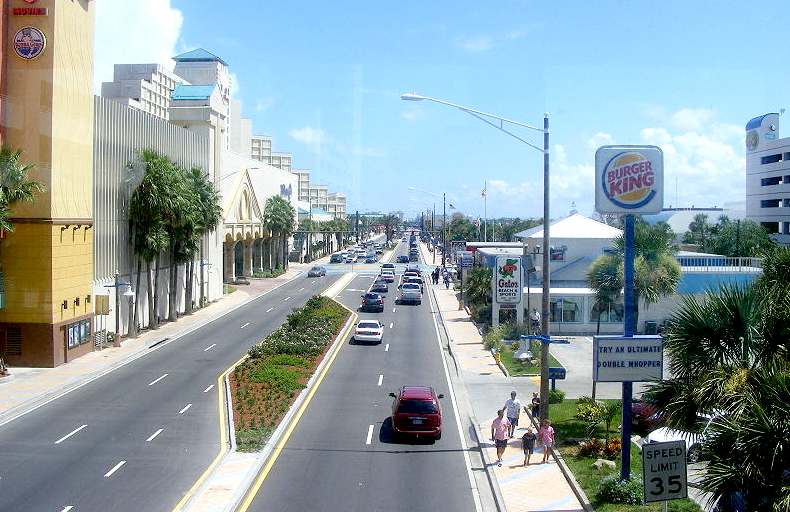 How things change. This is what Daytona Beach (South) looks like today
CLIMATE

Daytona Beach is located at 29°12′N 81°2′W (29.2073, −81.0379). According to the United States Census Bureau, the city has a total area of 64.93 sq mi (168 km2). of which 58.68 sq mi (152 km2) is land and 6.25 sq mi (16 km2) is water. Water is 9.6% of the total area.

The city of Daytona Beach is split in two by the Halifax River lagoon, part of the Intracoastal Waterway, and sits on the Atlantic Ocean. It is bordered on the north by Holly Hill and Ormond Beach and on the south by Daytona Beach Shores, South Daytona and Port Orange.

Daytona Beach has a humid subtropical climate or Cfa – typical of the Gulf and South Atlantic states. As is typical of much of Florida, there are two seasons in Daytona Beach, the hot and wet season (late May through October) and the warm and dry season (November through April).

In the hot season (summer) average daytime highs are in the 80s and low 90s (26 to 33 °C) and average night-time lows are near 70 °F (21 °C) in Daytona Beach. The Bermuda High pumps hot and unstable tropical air from the Bahamas and Gulf of Mexico, resulting in daily, but brief thundershowers. A large amount of the yearly rainfall in Daytona Beach falls during this time of year. Fall and spring are considered near perfect weather-wise, warm and sunny, with daily highs in the 75 to 80 F (21 to 24 °C) range and overnight lows in the 50s to low 60s (10 to 17 °C).

In the warm and dry season (winter), Daytona Beach has mostly mild and sunny weather typical of cities on the Florida peninsula. The coolest months are from December through February, average daytime highs range from 65 to 70 °F (18 to 21 °C) and nighttime lows are near 50 F (10 °C). Occasional cold fronts often drop the daytime temperatures into the 50's F with nights in the 30's F a few times each months. Like much of Florida, Daytona Beach often can be very dry in late winter and early spring, and brush fires and water restrictions can be an issue. Daytona Beach averages only 6 frosts per year according to the National Weather Service office in Melbourne. There is no record of snow on the ground in Daytona Beach in the last 109 years, however snow flurries have been observed twice since 1880 – on January 1, 1977 and in January 2010.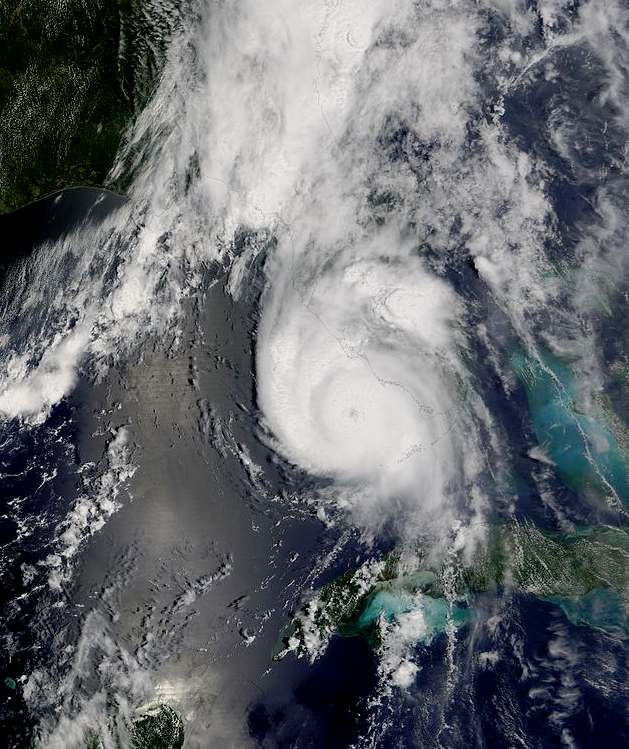 Hurricane Charley August 2004
HURRICANES & TORNADOES
Typically tropical cyclones pass offshore once they reach the northern portion of the Atlantic coast of Florida. As such, the hurricane risk for Daytona Beach is significantly lower than areas of south Florida like Miami and Key West. The 2004 hurricane season was by far the most active in the Daytona Beach area in the last 50 years. However, since 1950 there has only been one direct hit by a tropical cyclone to the Daytona Beach area, Hurricane Donna in 1960.

Although Daytona Beach has a significantly lesser tornado risk than areas like the Great Plains and Midwest, there have been a few deadly and destructive tornadoes in the last 100 years in Daytona Beach area. Most recently, on February 22, 1998 a tornado killed 3 people, injured 70 people, and caused $31 million in damages.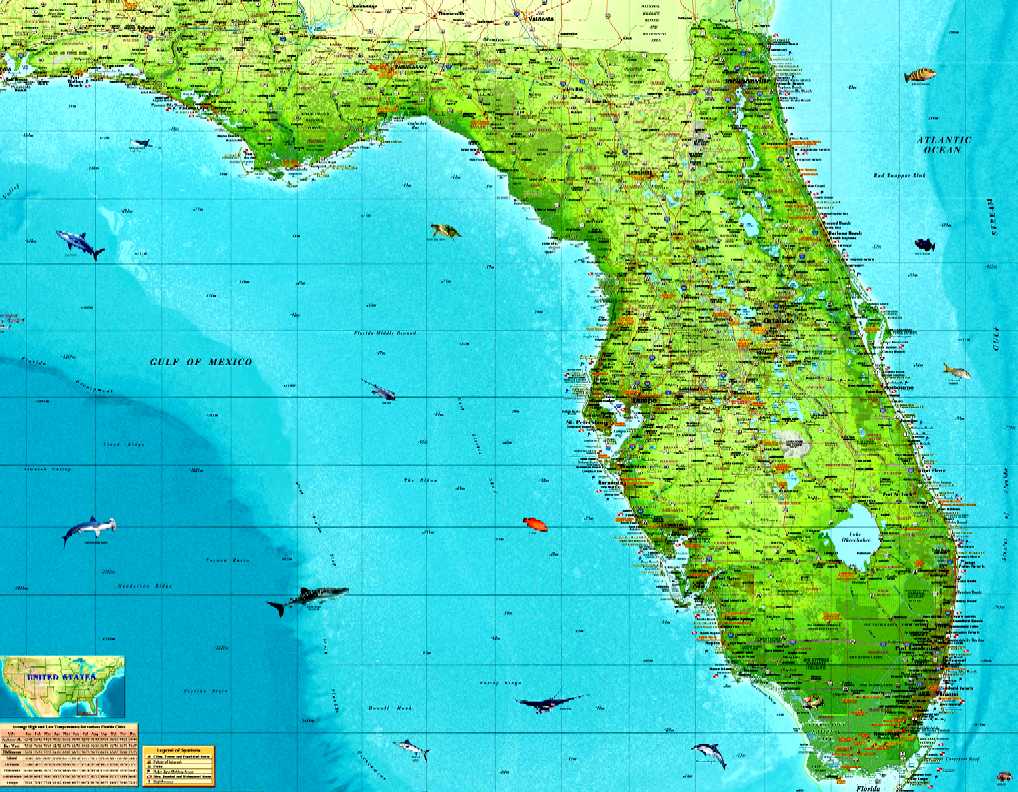 Map of Florida set in the Gulf of Mexico and Atlantic Ocean
ROGUE WAVE
On July 3, 1992, a 28-mile (45 km) long rogue wave hit the Volusia County beaches. The wave's range was from Ormond Beach in the north, to New Smyrna Beach on the south. The crest was 9 feet (2.7 m) high and centered at Daytona Beach. Sailboats crashed ashore onto cars and many people suffered cuts and bruises from glass and debris. Two people required hospitalization and 200 vehicles were damaged. 75 injuries were reported. The prevailing theory is that an underwater landslide caused the rogue wave, although others have theorized that it was the result of a squall line.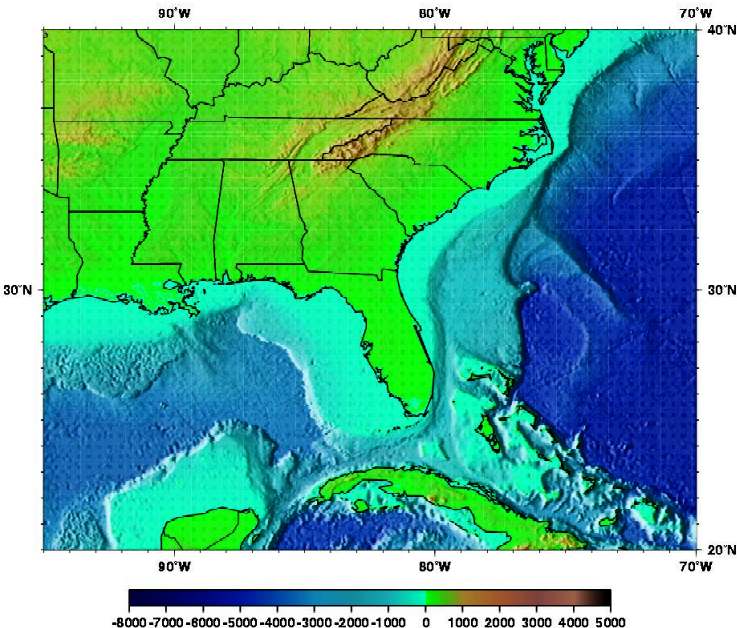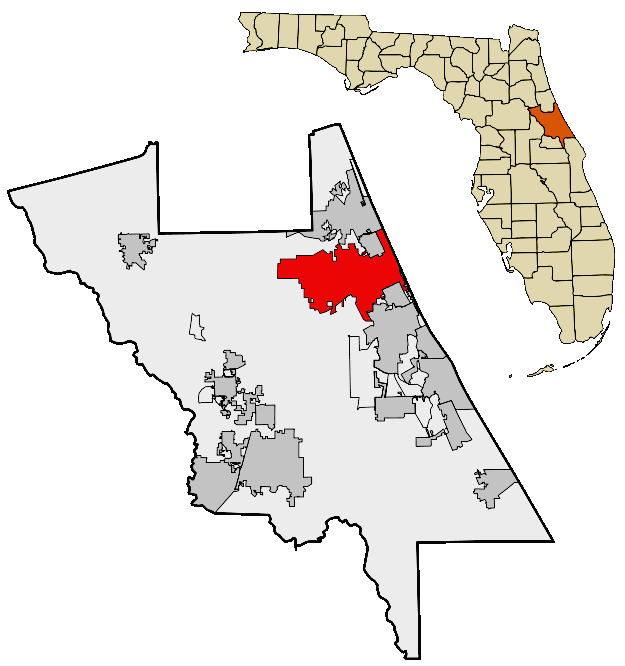 Maps of the ocean seabed (useful for studying currents) and the geographical location Daytona Beach in relation to Florida, USA
TRANSPORT
Passenger airline services are located at Daytona Beach International Airport (DAB), which is centrally located within the city adjacent to Daytona International Speedway. The site was first used as an airport with terminals being constructed in 1952 and 1958. The present facility was constructed in 1992 at the cost of $46 million, and includes both a domestic terminal and an International terminal. Despite the new facilities, DAB has found difficulty in attracting and retaining carriers; Continental Airlines, AirTran Airways, and United Airlines discontinued flights to Daytona in 2007 and 2008. LTU & American Airlines also serviced Daytona Beach during the 1980s and 1990s, both of which ended all flights in 1994 & 1997.

Current passenger airlines serving DAB include Delta Air Lines (with nonstop service to Atlanta) and US Airways (with non-stop service to Charlotte). Both carriers offer connecting service from those cities to destinations worldwide. International flights from DAB fly to destinations in the Bahamas through air taxi and charter services Airgate Aviation and IslandPass; non-stop flights are available from DAB to Marsh Harbour, Treasure Cay, and North Eleuthera. DAB is also heavily used for general aviation, largely due to Embry–Riddle Aeronautical University, whose campus is located at the airport.

Larger airports nearby are Orlando International Airport and Jacksonville International Airport, both of which are approximately one and one half hours away.

Daytona Beach is easily accessible by I-95 that runs North and South and I-4 connecting Daytona Beach with Orlando and Tampa. U.S. 1 (Ridgewood Avenue) also passes through Daytona Beach. A1A is a scenic North/South route along the beach.

The Volusia County Parking Garage is located at 701 Earl Street at North Atlantic Avenue (A1A). The garage is strategically located, next to the Ocean Center, Daytona Lagoon, and across the street from the Hilton Hotel and Ocean Walk Shoppes. Over one thousand parking spaces are available inside the garage, which also houses an intermodal transfer station for VoTran.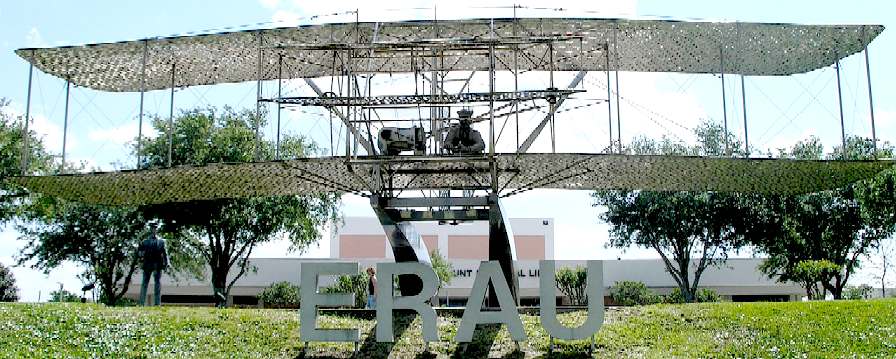 A full size statue of the Wright Brother's 'Flyer' - University of Aeronautics

HISTORY
The area where Daytona Beach is today was once inhabited by the indigenous Timucuan Indians who lived in fortified villages. The Timucuas were nearly exterminated by contact with Europeans through war, enslavement and disease and became extinct as a racial entity through assimilation and attrition during the 18th century. The Seminole Indians, descendants of Creek Indians from Georgia and Alabama, frequented the area prior to the Second Seminole War.

During the era of British rule of Florida between 1763 and 1783, the King's Road passed through present-day Daytona Beach. The road extended from St. Augustine, the capital of East Florida, to Andrew Turnbull's experimental colony in New Smyrna. In 1804 Samuel Williams received a land grant of 3,000 acres (12 km2) from the Spanish Crown, which had regained Florida from the British after the American Revolution. This land grant encompassed the area that would become Daytona Beach. Williams built a slave-labor-based plantation to grow cotton, rice and sugar cane. His son Samuel Hill Williams would abandon the plantation during the Second Seminole War, when the Seminoles burned it to the ground.

A - Z OF WORLD FAMOUS RACING CIRCUITS
Aintree

Autódromo Internacional Nelson Piquet

Autódromo José Carlos Pace (Brazil)

Barcelona-Catalunya, Circuit de

Bathurst (Australia)

Bremgarten Circuit

Donington Park

Fuji Speedway

Knockhill

Korea International Circuit

Laguna Seca (CA, USA)

Mallory Park

Nurburgring [Nordschleife] (Germany)

Oulton Park

Santa Pod Raceway

Sebring International Raceway

Spa Francorchamps (Belgium)

Suzuka Circuit

Thruxton

Zandvoort, Circuit Park

Zeltweg (Austria - Red Bull)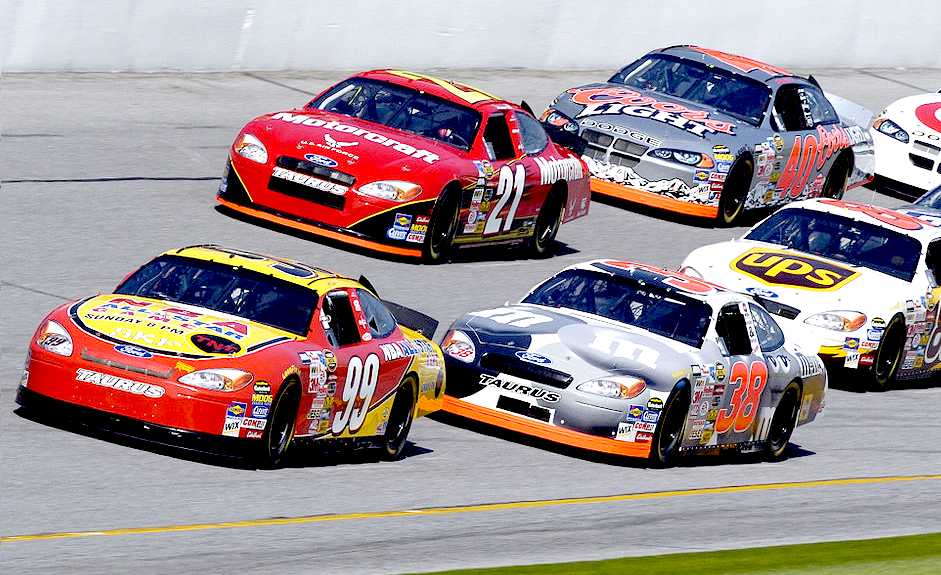 NASCAR racing Daytona 500 practice lap - International Speedway