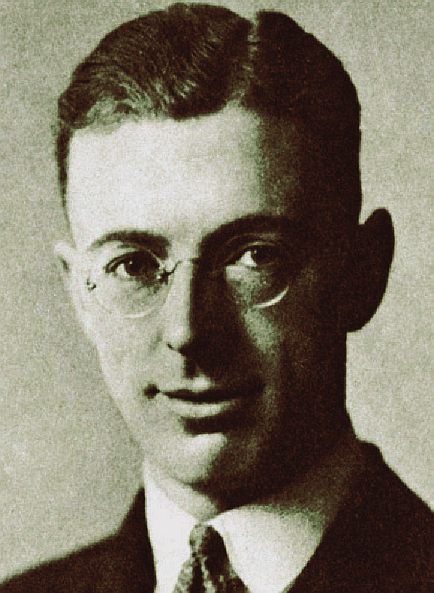 Reid Railton as a young man.
Reid Antony Railton was the son of a Manchester stockbroker. Reid was born in Chorley, Alderley Edge, Cheshire and was Christened on 13 August 1895 at the local parish church. He was educated at Rugby School and Manchester University. He joined Leyland Motors in 1917 where he worked with J.G. Parry-Thomas on the Leyland Eight luxury car. He left in 1922 to set up the Arab Motor Company where he was chief designer. Only about twelve cars were built, of which two low-chassis cars survive. One is in the Isle of Man and the other one (Chassis number 6, engine number 10, registration UW 2) is now in Austria having been rebuilt and rebodied by David Barker in the early 1990s.

In 1927, on the death of his friend Parry-Thomas, Railton closed the Arab factory and moved to Brooklands working for Thomson & Taylor becoming their Technical Director with responsibility for John Cobb's 1933 Napier Railton car which took the Outer Circuit record in 1933 and Sir Malcolm Campbell's Bluebird Land Speed Record cars of 1931 to 1935. His greatest achievements were probably designing the Railton Mobil Special car with which John Cobb set the Land Speed Record at 394.7 mph (635.2 km/h) in 1947 and designing the E.R.A. racing cars built in 1933-1934 at Thompson & Taylors at Brooklands. He also tuned the Hudson chassis used on the Railton car, named after him.
In 1939 he moved to California to work for the Hall-Scott Motor Company. He died in Berkeley, California, in 1977 at the age of 82.
MALCOLM CAMPBELL
Sir Malcolm Campbell was attracted to Daytona, a promising destination to race his blue painted steeds named: Blue Bird, the first of which was dubbed the Napier Bluebird and the second the Campbell Napier Railton. Thanks to the superb designs of Reid Railton, speed records were set here that have, along with many other famous speedsters inspired new generations to pen a design or two.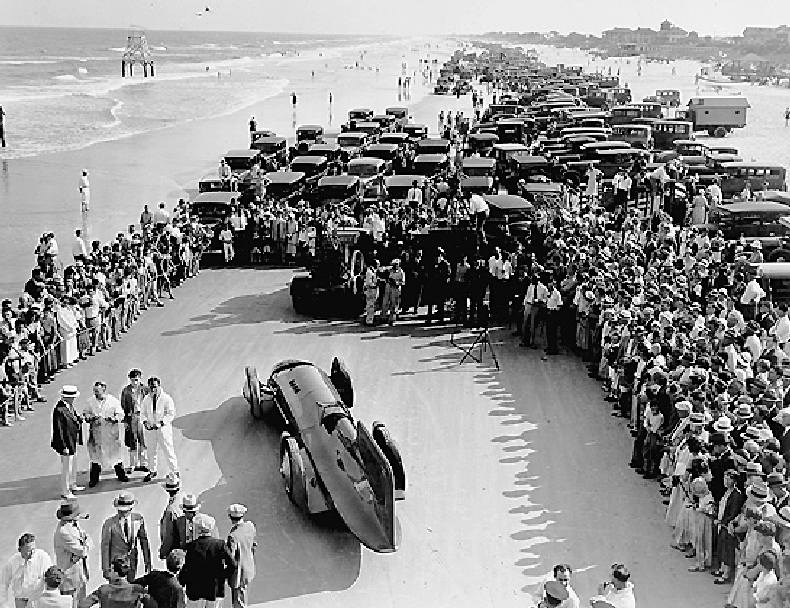 The Reid Railton designed Blue Bird of Malcolm Campbell visits Daytona in 1931. This car features the Napier Lion aircraft engine.

An original Reid Railton drawing of the Napier engined Blue Bird which fetched £450 at auction at Bonhams Lot 239A
JOHN COBB

NAPIER-RAILTON
The Napier-Railton is an aero-engined race car built in 1933, designed by Reid Railton to a commission by John Cobb, and built by Thomson & Taylor. It was driven by Cobb, mainly at Brooklands race track where it holds the all-time lap record (143.44 mph (230.84 km/h)) which was set in 1935 and now stands in perpetuity since the track fell into disuse during the Second World War.

Between 1933 and 1937 the Napier-Railton broke 47 World speed records at Brooklands, Montlhéry and Bonneville Salt Flats in Utah.
While he had been evolving the aerodynamic streamlining of the later cars and then boats of Sir Malcolm Campbell, Railton had also created the chassis of the Napier-Railton and the Railton-Special record-breaking cars, which had been piloted so skillfully by the tall, burly Englishman (John Rhodes Cobb).

RAILTON MOBIL SPECIAL
The Railton Special, later rebuilt as the Railton Mobil Special, is a one-off motor vehicle built for John Cobb's successful attempts at the land speed record.

It was powered by two supercharged Napier Lion VIID (WD) W-12 aircraft engines. These engines were the gift of Marion 'Joe' Carstairs, who had previously used them in her powerboat Estelle V. Multiple engines was not a new technique, having already been used by the triple-engined White Triplex and the Railton Special's contemporary rival, Captain Eyston's twin-engined Thunderbolt. With the huge powers thus available, the limitation was in finding a transmission and tyres that could cope. Reid Railton found a simple and ingenious solution to this by simply splitting the drive from each engine to a separate axle, giving four wheel drive.

On 15 September 1938, the Railton Special took the land speed record from Thunderbolt at 353.30 mph (568.58 km/h), also being the first to break the 350 mph (560 km/h) barrier. Eyston re-took the record within 24 hours (357.50 mph / 575.34 km/h), holding it again until Cobb took it a year later on 23 August 1939 at a speed of 369.70 mph (594.97 km/h).

After the Second World War further development and sponsorship by Mobil Oil led to renaming as the Railton Mobil Special. It was the first ground vehicle to break 400 mph (640 km/h) in a measured test. On 16 September 1947 John Cobb averaged 394.19 mph (634.39 km/h) (385.6 & 403.1) over the measured mile in both directions to take the world land speed record.

It weighed over 3 tonnes and was 28 ft 8 in (8.74 m) long, 8 ft (2.4 m) wide and 4 ft 3 in (1.30 m) high. The front wheels were 5 ft 6 in (1.68 m) apart and the rear 3 ft 6 in (1.07 m).
Reid Railton and John Cobb with a model of the Crusader and (right) at Loch Ness
CRUSADER 1948
After successfully crowning his Brooklands-Utah chain of four-wheeled victories with a new land speed record of 394mph (during which he became the first man to hit 400 plus), the quiet, kind-hearted Cobb realized that he was perhaps the only man experienced enough to take up Campbell's torch (K4)in the
waterspeed race and patriotically decided privately to sponsor Railton and du Cane in their revolutionary concept.
Crusader was a jet-powered speed boat piloted by John Cobb. It was built by Vospers of Portsmouth and designed by Reid Railton, costing £15,000 in 1949. It was silver and scarlet in colour and 10m long. The engine was a de Havilland Ghost. The boat was destroyed and Cobb killed on 29 September 1952 when on a world record attempt at Loch Ness, Scotland.

The hull was of trimaran form, a main hull with a planing step, and two smaller rear-mounted outriggers. Construction was of birch plywood, with aircraft-style riveted aluminium for the cantilevers to the outriggers.
Fortunately, Cobb earned substantial sums from fur-broking in the City, because the programme which was
initiated at Vospers of Portsmouth in the spring of 1949 was to cost him £15,000 before the craft would even be put in the water. Railton's concept was of 'a very small seaplane hull with a couple of small floats or skis mounted on outriggers, where the tail normally is: i.e. a tricycle with one wheel in front'.

After several months of tank-testing down at the Haslar experimental tank, during which the news came that Stanley Sayres had taken the record back to the States, they decided to build a 5 ft gyro-controlled scale model, powering it with a cordite rocket, and send it up and down a disused torpedo range near Horsea Island at speeds approaching l00 mph.

With this promising performance, Major Halford was able to persuade the Ministry of Supply to 'loan' the venture one of the de Haviland Ghost engines which he had developed from the Goblin II. By January 1952 construction had begun on the marine projectile which Cobb aptly named the Crusader (registered K6) because: '... a Crusader was a man who liked to get away from his office and go out and have some fun'.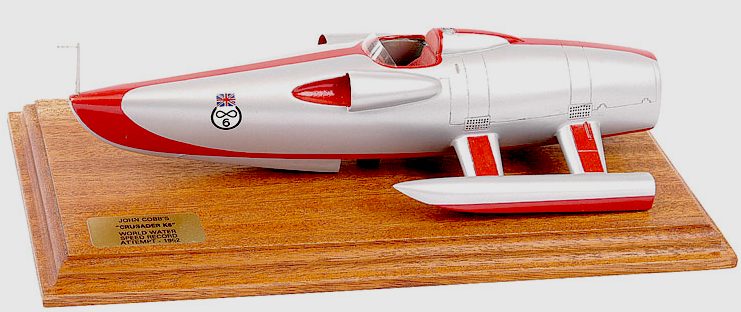 A WSR VENUE

John Cobb and Reid Railton scouted around for a test lake long enough to let the Crusader safely hit 200mph with room to move. They ultimately decided on an eerie inland sea, 23 miles long and over 1000 ft deep, whose main claim to fame was the enigma of a legendary sea monster - Loch Ness.

After seven months of skilled construction the 31ft three-pointer was ready for flotation tests. Built of birch plywood, reinforced by DTD 610B, a high tensile alloy produced by the British Aluminium Company, she had already personally cost John Cobb over £15,000 before even touching the water.

In July 1952 Commander du Cane gave the K6 her first 55 mph run in a choppy Portsmouth Harbour and had little trouble in getting her 'over the hump' and onto her sponsons. A few weeks later her sponsons were removed for the journey up to Temple Pier, the steamboat terminal at the side of Loch Ness which the
Castrol team under the direction of Captain George Eyston, their competitions manager, had converted and fully equipped as a launch-pad for the attempt.

In 1939, George Eyston had fought a day-to-day land speed record battle with Cobb on the Utah Salt Flats, so it was perhaps appropriate that he should join forces with his old rival to tackle the more complex problems of the water.

The composite team of experts had arrived to find a very well-equipped base, complete with mobile crane and tractor. After the customary flotation tests and land test of the Ghost engine, Cobb started to work his Crusader up through speeds of 50, 100, then 150 mph. He had never driven a speedboat before in his life and described the sensation as 'like driving a London omnibus without tyres on'.

But with September, the Highland weather started to play havoc with their plans: cross-winds lashed the surface of the loch into two foot waves and rainstorms swelled the rivers, bringing down the usual debris and driftwood into the centre of Crusader's runway. Added to this there were of course the teething troubles: to make her ride at a better planing angle they had to make some structural alterations to her sponson ribs; they then altered her bronze rudder to make her go straighter, and sealed up a small unforeseen leak around her tailpipe.

But the major structural problem was one which no amount of calculation, tank-testing or model-testing could have suggested: the front planing shoe showed signs of weakness at speeds approaching 200 mph. Commander du Cane had asked Cobb to let him take the boat back to Portsmouth and strengthen the
planing shoe at Vosper's own expense. But such were Cobb's commitments that he had to decline the offer, telling du Cane that he would only reach 190 mph - just enough for the record. So long as she had a flat calm loch to plane across Crusader would be in no danger.


On the misty autumnal dawn of September 29th, the team was woken at about 4 o'clock with a report that conditions looked favourable. Before long the Crusader had been fuelled with kerosene and prepared for launching. As the sun rose, the mist lifted and there was a barely perceptible ripple on the water.

While the two support boats went out to their positions down the loch, Crusader was towed out to the eastern shore. Then around 8.30am, it was reported that a southeaster was whipping up a two-inch 'corrugated-iron' ripple. Until this subsided Crusader could not be run. After an hour of waiting for it to die down, Cobb decided to postpone his attempt until after breakfast, but he gave strict orders to the Maureen, the 40ft support boat carrying the timekeepers, to stay beside the measured mile. This was because a boat of her size could create a wash, which in calm conditions, might continue to rebound in and out, concertina-fashion, with a dangerously solid force that was only fractionally diminished by the steep sides of the loch - a force that could be a direct threat to Crusader's stability.

Almost two hours had passed when the wind suddenly dropped and the loch became as calm as a millpond. They would have to act fast, or conditions might deteriorate again. So rather than wait for the long journey to the east shore, Cobb had the Crusader towed out to only 300 yards from the jetty. On the way out, they met the Maureen, which for some unknown reason had disobeyed orders and was returning to base. Very angry Cobb told them to get back to their post at once, which they did.

They then had to risk waiting a further ten minutes for the various wakes and washes to die down. Then a green Verey light went up, the Ghost engine whined into action and the attempt began.

She accelerated beautifully, rock steady, but to a speed well over 200 mph. She would probably have completed a very fast north-south run if she hadn't met a series of three 'swells' rolling out broadside from the shore of the loch. Their impact must have smashed in her planing prow, because from then on she went into an increasingly violent porpoise. Every time she bucked, water rushed into her jet intakes, flooding and eventually bursting the hull right open and into pieces. When her mushroom cloud had subsided, hundreds of little pieces of silver and goldfish red were left bobbing up and down across the loch; the largest piece they found was only 3 ft long. The engine, of course, plunged to the depths below.

Even though he had received some terrible injuries, they were not enough to kill a man as powerfully built as John Cobb. He did not die from his injuries, but like so many people suddenly facing tragedy, he died from shock.

Reid Railton wrote:
'We'll never know exactly what happened, since the evidence lies in 1000ft of water, where it is likely to remain'.
He had left for his California home only two days before, intending to return for the attempt later in the week. Railton was so shocked by the loss of his friend that - like Clinton Crane in 1911 - he completely pulled out of a design field in which, aged 57, he stood unmatched in experience.

On 5 July 2002 the wreckage of Crusader was discovered by the Loch Ness Project in 200 m (660 ft) of water. There is a live project to raise the wreckage.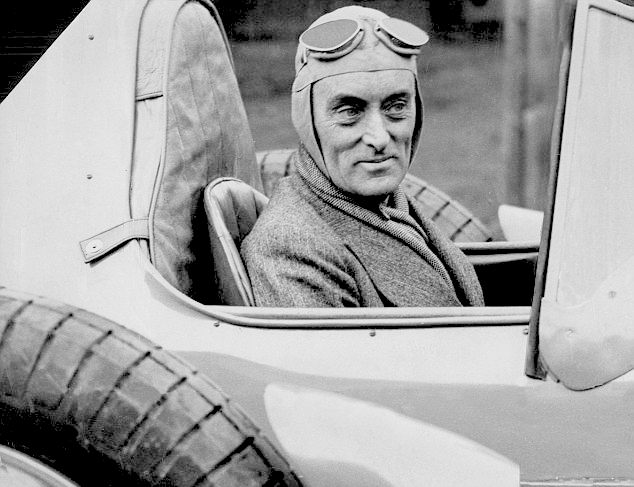 The blue bird legend lives on: Inspired by Reid Railton and his designs for the Napier Lion and Rolls Royce engined Blue Bird LSR cars in the 1930s, the Blueplanet BE3 features instant battery recharging using the patent Bluebird™ cartridge exchange system under license from BMS. This LSR car is also solar assisted. She is designed for speeds in excess of 350mph using clean electricity and could be run at Daytona Beach, Pendine Sands and other historic venues, including Bonneville. BMS require 6 months notice for hire of this vehicle, or 3 months with considerable additional cost attaching.

LINKS
http://en.wikipedia.org/wiki/John_Cobb_%28motorist%29
http://en.wikipedia.org/wiki/Railton_Special
http://en.wikipedia.org/wiki/Crusader_%28speedboat%29
http://en.wikipedia.org/wiki/Daytona_Beach,_Florida
http://en.wikipedia.org/wiki/Daytona_Beach_Road_Course
History of the Daytona Beach shore
Bill France, Jr.'s account of races at the track
NASCAR track statistics at racing-reference.info
Account of the 1957 Daytona race from winner cottonowens.com
Speed TV article on Daytona's history
Profile of Ormond Beach's racing history
A - Z OF WORLD FAMOUS RACING CIRCUITS
Aintree

Autodromo Hermanos Rodriguez

Autódromo Internacional Nelson Piquet

Autódromo José Carlos Pace

Bahrain International

Barcelona-Catalunya, Circuit de

Bathurst

Brands Hatch

Bremgarten Circuit

Brooklands

Donington Park

Fuji Speedway

Giles Villeneuve

Goodwood

Hockenheimring

Imola

Indianapolis

Knockhill

Korea International Circuit

Laguna Seca

Le Mans

Mallory Park

Monaco

Monte Carlo

Monza

Nurburgring [Nordschleife] (Germany)

Oulton Park

Rockingham

Santa Pod Raceway

Sebring International Raceway

Shanghai International

Silverstone

Snetterton

Spa Francorchamps

Suzuka Circuit

Thruxton

Zandvoort, Circuit Park

Zeltweg
SIR MALCOLM CAMPBELL'S BLUE BIRDS
DONALD CAMPBELL'S BLUEBIRDS