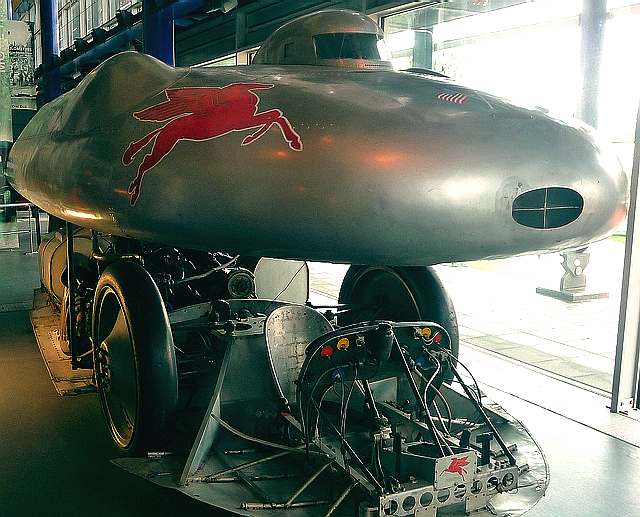 Art on wheels and a fine display, making a feature of the ingenuity of the designers of the time. It is rather drastic means to gain access to the mechanicals, but a godsend for those working on the vehicle.
The Railton Special, later rebuilt as the Railton Mobil Special (RMS), is a one-off motor vehicle built for John Cobb's successful attempts at the land speed record between 1938 and 1947 - the golden years of LSR making and breaking.

The RMS was powered by two supercharged Napier Lion VIID (WD) W-12 aircraft engines. These engines were the gift of Betty 'Joe' Carstairs, who had previously used them in her powerboat Estelle V. Multiple engines was not a new technique, having already been used by the triple-engined White Triplex and the Railton Special's contemporary rival, Captain Eyston's twin-engined Thunderbolt. With the huge powers thus available, the limitation was in finding a transmission and tyres that could cope. Reid Railton found a simple and ingenious solution to this by simply splitting the drive from each engine to a separate axle, giving four wheel drive.
SILVERSTONE 1949
John Cobb took to the Silverstone motor racing circuit in 1949, to demonstrate his futuristic-looking land speed record holder to a crowd of spectators.

The streamlined projectile, powered by two Napier Lion W12 engines (supercharged), negotiated the airfield circuit, a short time after motor racing had commenced at the venue, so a good publicity stunt for the venue.

For a long (28 foot 8 inches in length) car designed to go in a straight line at high velocities, negotiating the twists and turns of Copse, Becketts, Stowe and Club corners must have been interesting, even at demonstration speeds only.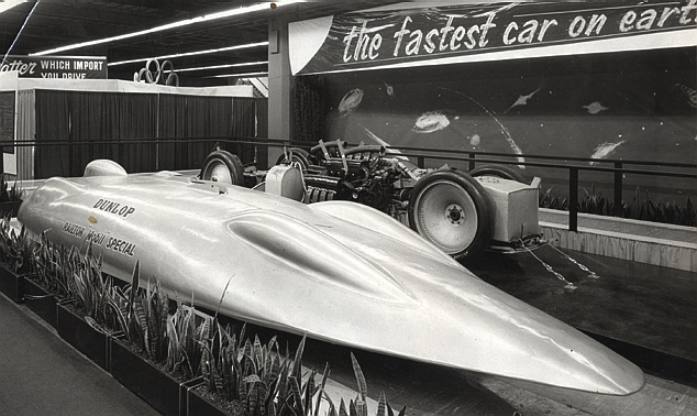 Simply fantastic: The Railton Mobil Special on display, the lines of Cobb's LSR are breathtaking - an inspiration for all speedsters and latterly, Ken Norris, who used this design as the benchmark for the CN7 Bluebird.
SPONSORSHIP

By 1947 the Railton Special was renamed the Railton Mobil Special after further development and sponsorship by Mobil Oil. For those in the Birmingham, England area you can see this remarkable automobile on display at the Thinktank science museum if our sources are up to date.

On 15 September 1938, the Railton Special took the land speed record from Thunderbolt at 353.30 mph (568.58 km/h), also being the first to break the 350 mph (560 km/h) barrier. Eyston re-took the record within 24 hours (357.50 mph / 575.34 km/h), holding it again until Cobb took it a year later on 23 August 1939 at a speed of 369.70 mph (594.97 km/h).

After the Second World War further development and sponsorship by Mobil Oil led to renaming as the 'Railton Mobil Special' . It was the first ground vehicle to break 400 mph (640 km/h) in a measured test. On September 16, 1947 John Cobb averaged 394.19 mph (634.39 km/h) (385.6 & 403.1) over the measured mile in both directions to take the world land speed record.

It weighed over 3 tonnes and was 28 ft 8 in (8.74 m) long, 8 ft (2.4 m) wide and 4 ft 3 in (1.30 m) high. The front wheels were 5 ft 6 in (1.68 m) apart and the rear 3 ft 6 in (1.07 m). The National Physical Laboratory's wind tunnel was used for testing models of the body. It was designed by Reid Railton and is currently on display at the Thinktank museum in Birmingham, England.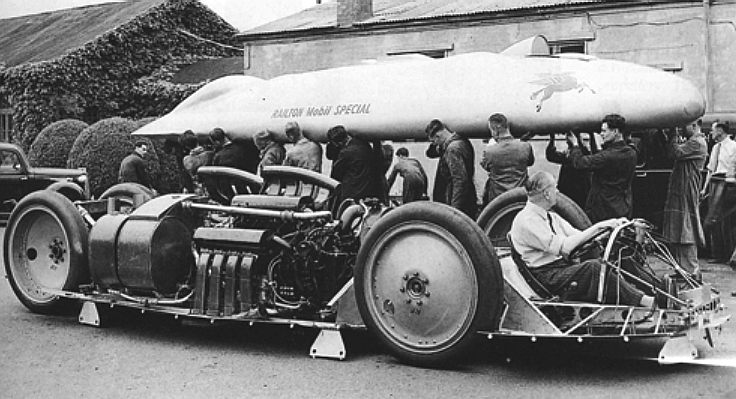 John Cobb in the driving seat waiting for the bodywork to be placed on the chassis
REID RAILTON

The futuristic, one-of-a-kind vehicle was designed by British automotive engineer Reid Railton (1895–1977). Cobb set what was then the fastest wheel driven land speed record of 394.7 mph (635.2 km/h) in 1947, breaking his previous records in 1938 and 1939 in this same vehicle. It is of note that Cobb's 1947 record went unbroken for 17 years until 1964 when Englishman Donald Campbell's vehicle reached 403.1 mph (648.73 km/h).

Tragically, John Cobb lost his life in 1952 while attempting to break the water speed record at Loch Ness in the jet-powered speed boat named the Crusader which was also designed by Railton. Who knows what other records he might have broken had he lived. Cobb was traveling at a speed of 200 mph (320 km/h) when the Crusader bounced on the water multiple times and broke apart in dramatic bits in front of his wife and the on-looking crowd. The documentary footage of this event is gripping.

In 1947 John Cobb was awarded the Segrave Trophy and then posthumously in 1953 he was honored with the Queen's Commendation for Brave Conduct "for services in attempting to break the world's water speed record, and in research into high speed on water, in the course of which he lost his life."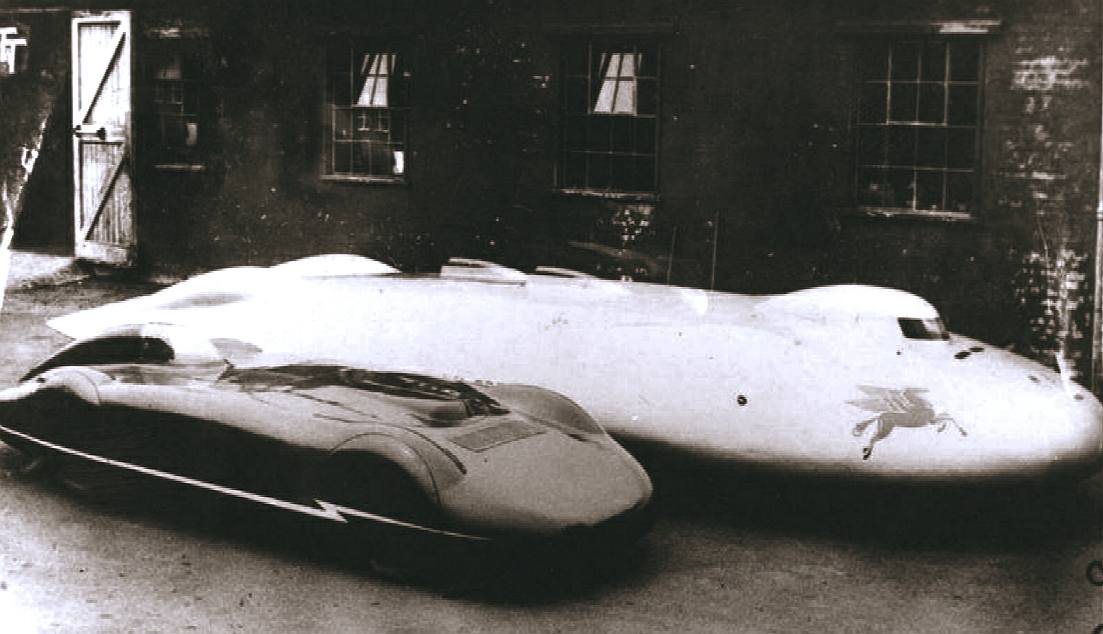 The Railton Mobil Special parked side by side with the MG land speed record car

LETTER FROM REID RAILTON

In a letter, Reid Railton commented:
'We'll never know exactly what happened, since the evidence lies in 1000ft of water, where it is likely to remain'.
Railton had left for his California home only two days before, intending to return for the attempt later in the week. He was so shocked by the loss of his friend, John Cobb, that he completely pulled out of the design field in which, aged 57, he stood unrivalled in experience.
After Reid Railton, Ken Norris took over the mantle of LSR design kingpin. Indeed, Ken mentioned to our designer that he based the bodywork of the CN7 Bluebird on the Reid's Mobil Special. Ken added the large fin to cure a directional problem that he had identified, but Ken also fell foul of design limitations and experimentation that all LSR designers face, when Donald Campbell flipped the K7 on Lake Coniston.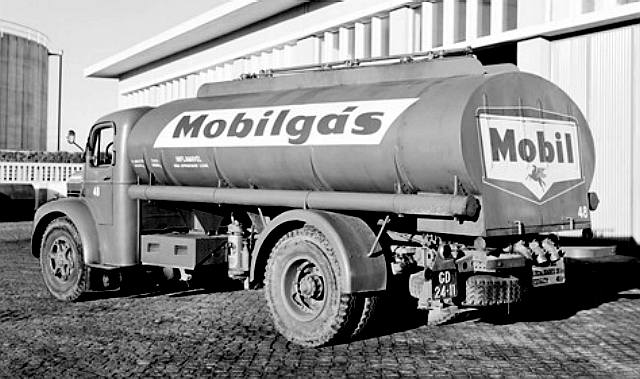 A collection of Mobil pumps and vehicles to remind us that progress is necessary in a changing world, but that we must appreciate that we stand on the shoulders of the giants of innovation of the past. A big thankyou to our parents and grandparents.
MOBIL OIL
Mobil, previously known as the Socony-Vacuum Oil Company, was a major American oil company which merged with Exxon in 1999 to form ExxonMobil. Today Mobil continues as a major brand name within the combined company, as well as still being a gas station sometimes paired with their own store or On the Run. Its former headquarters in Fairfax County, Virginia, are currently used as ExxonMobil's downstream headquarters.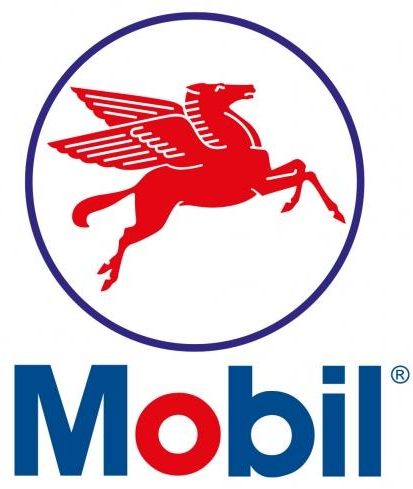 MOBIL HISTORY
1911 - Following the break-up of Standard Oil the Standard Oil Company of New York, or Socony, was founded, along with 33 other successor companies. In 1920, the company registered the name "Mobiloil" as a trademark.
1931 - Socony merged with Vacuum Oil to form Socony-Vacuum.

1933 - Socony-Vacuum and Jersey Standard (which had oil production and refineries in Indonesia) merged their interests in the Far East into a 50–50 joint venture. Standard-Vacuum Oil Co., or "Stanvac," operated in 50 countries, including East Africa, New Zealand and China, before it was dissolved in 1962.

In 1935 - Socony Vacuum Oil opened the huge Mammoth Oil Port on Staten Island which had a capacity of handling a quarter of a billion gallons of petroleum products a year and could transship oil from ocean going tankers and river barges.
1936 - Mobil sponsored an economy run each year begun by the Gilmore Oil Company of California (except during World War II) in which domestic automobiles of various manufacturers in several price and size classes were driven by light-footed drivers on cross-country runs.
1940 - Mobil purchased the Gilmore Oil Company (purchased by Socony-Vacuum in 1940) and later became the Mobilgas Economy Run and still later, the Mobil Economy Run. The cars driven in the economy run were fueled with Mobil gasoline and Mobiloil and lubricants were also used. The vehicles in each class that achieved the highest fuel economy numbers were awarded the coveted title as the Mobilgas Economy Run winner. This initiative closed in 1968.
1942 - Socony's unescorted tanker, named Mobiloil, was sunk by a German U-boat (German Type IX submarine U-108 captained by Klaus Schlotz), and all 52 people survived after 86 hours adrift in lifeboats.
1954 - Mobil introduced a new and improved Mobilgas Special in response to trends toward new automobiles powered by high-compression engines that demanded higher and higher octane gasolines. The newest formulas of Mobilgas Special was advertised as offering "A Tune-Up in Every Tankful" due to a combination of chemicals known as the "Mobil Power Compound" which was designed to increase power, check pre-ignition ping, correct spark plug misfiring, control stalling and combat gumming up of carburetors.
In 1955 - Socony-Vacuum was renamed Socony Mobil Oil Company.
1963 - SMOC changed its trade name from "Mobilgas" to simply "Mobil," introducing a new logo (created by New York graphic design firm Chermayeff & Geismar). To celebrate its 100th anniversary in 1966, "Socony" was dropped from the corporate name.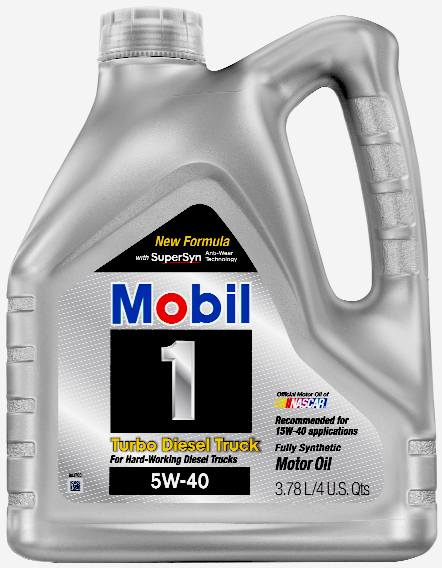 Two of the most popular lubricants sold today - we use them
MOBIL BRANDS TODAY

Mobil continues to operate as a major brand name of ExxonMobil within the ExxonMobil Fuels, Lubricants & Specialties division. Many of its products feature the Mobil symbol of a winged red horse, Pegasus, which has been a company trademark since its affiliation with Magnolia Petroleum Company in the 1930s.

The Mobil brand now mainly covers a wide range of automotive, industrial, aviation and marine lubricants. For historic reasons, the Mobil brand is still used by Mobil service stations and for fuel (gasoline, diesel, heating oil, kerosene, aviation fuels and marine fuel) products.

Mobil 1 - Mobil 1, the successor to the Mobiloil brand, is a brand name of ExxonMobil. It was introduced in 1974 as a Multi-grade 5W20 viscosity synthetic motor oil. The brand now includes multi-grade motor oils, oil filters, synthetic grease, transmission fluids, and gear lubricants. It is the GM warranty requirement for the Chevrolet Corvette and is recommended for the fifth-generation Chevrolet Camaro.

Mobil Delvac - Mobil Delvac is a range of heavy-duty lubricants designed for commercial vehicles. The range includes engine oils, transmission oils, drivetrain lubricants and greases.

Mobil Industrial - Mobil Industrial is a sub-brand of ExxonMobil for marketing oils and greases used in industrial applications. The main product lines are Mobil SHC synthetic oils and Mobil Grease greases.


The blue bird legend lives on - this beautiful car was inspired by Reid Railton and his designs for the Napier Lion and Rolls Royce engined Blue Bird LSR cars in the 1930s, the Blueplanet BE3 features instant battery recharging using the patent Bluebird™ cartridge exchange system under license from BMS. This LSR is also solar assisted. She is designed for speeds in excess of 350mph using clean electricity. The BE3 could run at such historic venues as Pendine Sands, Daytona or the Bonneville salt flats un Utah. Advance notice of 6 months is required for event hire.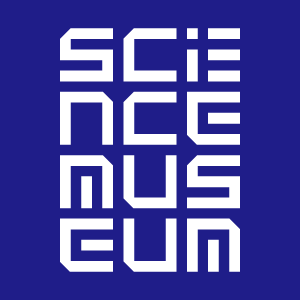 LINKS & REFERENCE:
http://en.wikipedia.org/wiki/Mobil
http://www.lesliefield.com/personalities/john_cobb.htm
Loch Ness Project Cobb_Crusader
http://www.lochnessproject.org/explore_loch_ness/groundtruth/loch_ness_Cobb_Crusader.htm
National Motor Museum collection
British Electric Land Speed Record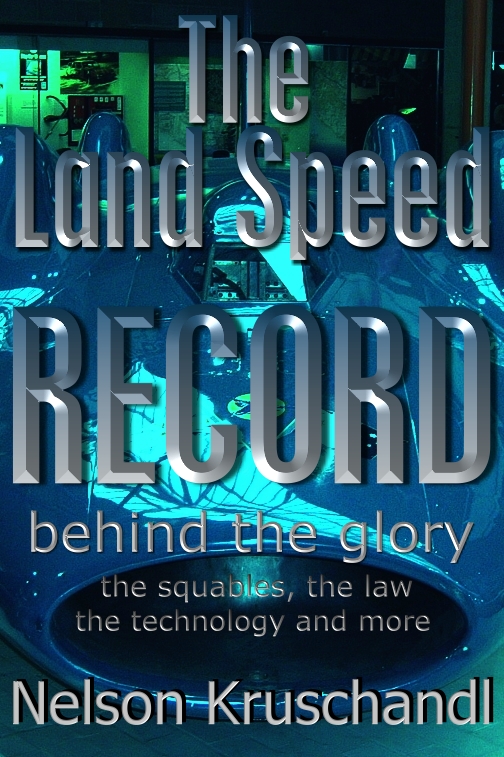 A fascinating look at land and water speed record projects from a design engineer's perspective. According to the author, designing a fast vehicle is all very well, but getting paid for your work is another matter as Ken Norris would also attest to with water speed record boats. LSR contenders frequently overlook that professionals need to earn a living. It's like not paying your doctor or solicitor. You've had the service, but somehow think it is okay not to pay for it - even though it was the service that drew in the sponsors. A well balanced design of craft is the key to a successful water or LSR career. The other key to success is making sure that all contributors are rewarded for their part in a project.