By Jove it's George, a very clever engineer and inventor, who reminds us a little of Barnes Wallace, another brilliant British engineer, who was responsible for the famous "bouncing bomb" in WWII.
Between 1926 and 1954, Captain George Edward Thomas Eyston MC OBE (28 June 1897 – 11 June 1979) broke dozens of speed records at Brooklands, Montlhery, Pendine Sands, & Bonneville Salt Flats, in cars ranging in size from 750cc M.G.'s to the 5,000 b.h.p. Thunderbolt. Thunderbolt was the British holder of the World Land Speed Record in the 1930s. George raced between 1920 well into the 1930s.
THE GOLDEN YEARS
Between 1937 and 1939, the competition for the Land Speed Record was between two Englishmen: Captain Eyston and John Cobb. Thunderbolt's first record was set at 312.00 mph (502.12 km/h) on 19 November 1937 on the Bonneville Salt Flats. Within a year Thunderbolt returned with improved aerodynamics and raised its record to 345.50 mph (556.03 km/h) on 27 August 1938.

This record only stood for a matter of weeks before John Cobb's Reid-Railton broke the 350 mph (560 km/h) barrier and raised it to 353.30 mph (568.58 km/h) on 15 September 1938, as Eyston watched. This inspired him to take Thunderbolt to a new record of 357.50 mph (575.34 km/h). Cobb had held the record for less than 24 hours.

Eyston and Thunderbolt held the record for almost a year, until Cobb took it again at a speed of 369.70 mph (594.97 km/h) on 23 August 1939 in his Railton Special. This was the last record attempt before the outbreak of the Second World War. Although Cobb returned after the war and further developed his car to exceed 400 mph (640 km/h), Thunderbolt never attempted the record again. In the end it all boiled down to aerodynamics and power to weight ratio, or more correctly the power for a given frontal area of a car, multiplied by the form drag. That is the challenge common to all land speed record designs - simples.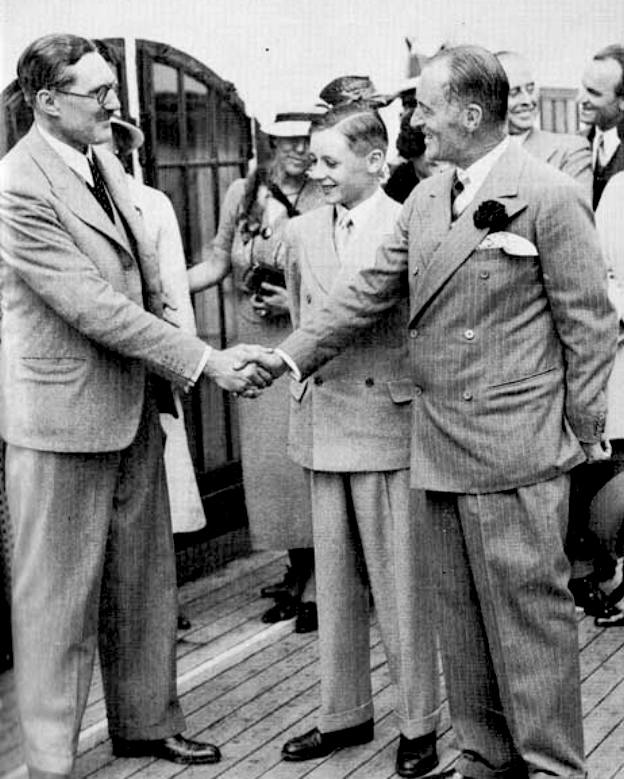 It's so nice they all seemed to get along in the Golden Age of LSR. Here George Eyston meets the young Donald Campbell and his speed king father, Sir Malcolm Campbell, whose record George had just shattered, with Mr Campbell lending Mr Eyston a spare Rolls Royce R engine for his attempt. Most sporting. Sir Malcolm is saying: "Well done old boy."
GEORGE EYSTON
George was educated at Stonyhurst College and Trinity College, Cambridge. His study of engineering at Cambridge was interrupted by World War I when he was commissioned in the Dorset Regiment and later served in the Royal Field Artillery. After the war he returned to Trinity College and was captain of the First Trinity Boat Club.


MOTOR RACING

Eyston's racing career began with European road races, particularly in Bugattis, with success in races such as the 1921 and 1926 French Grand Prix.

Later he became well known for racing supercharged MGs such as the Magic Midget and the K3 Magnette. His entries with the K3 included the 1933 Isle of Man and 1934 Northern Ireland Tourist Trophy events, and the 1934 Mille Miglia.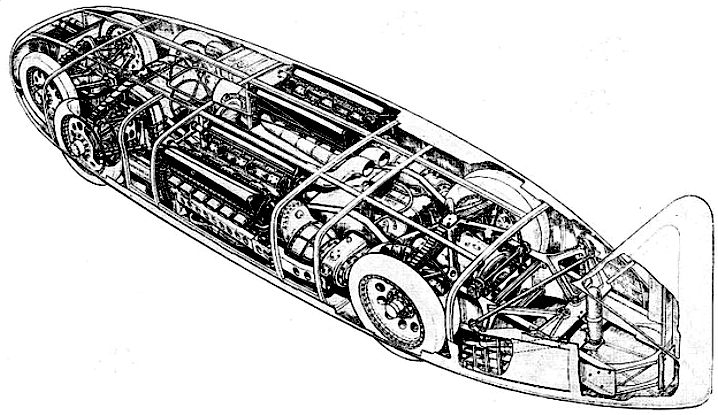 A nice bit of engineering art. We love cutaway drawings that show so much that is often missed with photographs. For example, the horizontal air brakes, that look suspiciously like those used later by Ken Norris on the CN7 Bluebird.
SPEED RECORDS

He fitted a diesel engine from an AEC bus into a car built on a Chrysler chassis and used it to set high-speed endurance records at Brooklands, attaining 100.75 mph in 1933 rand 106 mph in 1936.

In 1935, he was one of the first British racers to travel to the Bonneville salt flats of Utah, with his 24 & 48 hour record-setting car Speed of the Wind.

He is best known today for land speed records set in his car Thunderbolt. Between 1937 and 1939 he set three new land speed records, wresting them from Malcolm Campbell's Blue Bird, but was twice bettered by John Cobb. The rivalry was friendly, and in later years Eyston, as competitions manager for Castrol, assisted with Cobb's ill-fated attempt on the water speed record in Crusader. He was also involved in the design of his Thunderbolt car at the Bean Cars factory in Tipton, Staffordshire (now West Midlands).


PATENTS AND ENGINEERING

As an engineer and inventor, he held a number of patents related to motor engineering and particularly supercharging. His work on developing high-power gearboxes was important for Thunderbolt, along with his invention of the Powerplus supercharger used on MGs.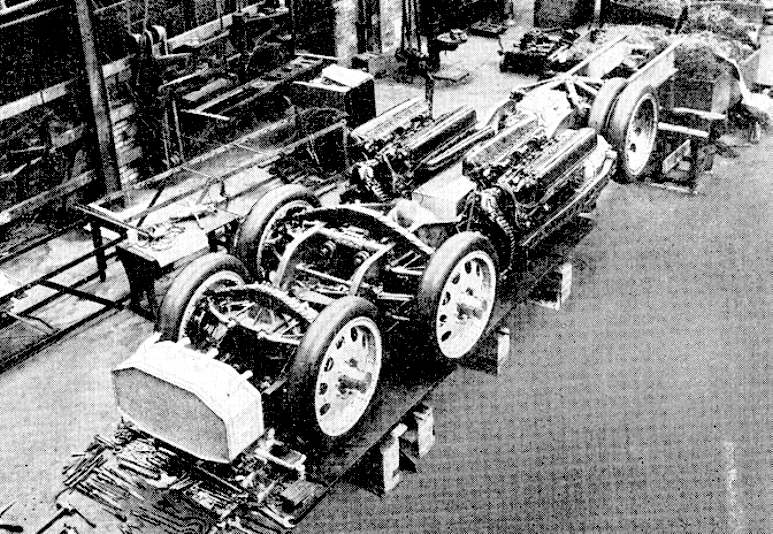 It's hardly surprising that Thinderbolt was so fast. It had twice the power of the Napier Blue Bird of Malcolm Campbell and far more competent wishbone suspension. This picture shows the two Rolls Royce R engines driving the twin rear wheels. Note from the transverse leaf springs on the dual front axles, that coil springs were yet to come.

WWII

During World War II Eyston served on various bodies connected with industry and was a Regional Controller for the Ministry of Production.


HONOURS AND AWARDS

Eyston was awarded the Military Cross on 18 July 1917 - 2nd Lt. (temp Lt.) George Edward Thomas Eyston, RFA., Spec. Res. For conspicuous gallantry and devotion to duty. He rendered most valuable service when carrying out reconnaissance under heavy fire. On several occasions he went forward under heavy shell and machine gun fire. He carried out his duties with great courage and determination, and was able to obtain most valuable information.

* He was awarded the Segrave Trophy in 1935.

* He was made a chevalier of the Légion d'honneur in 1938.

* He was made an OBE in 1948.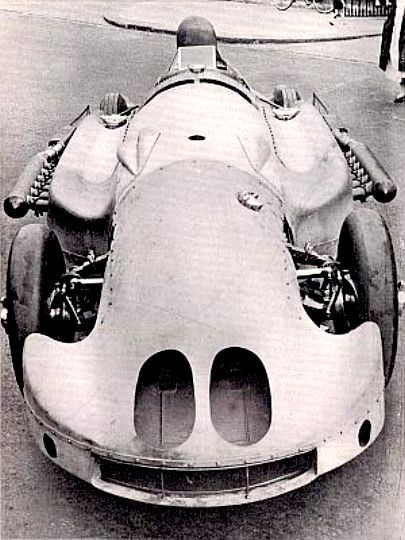 The "Speed of the Wind" - and unusual name that could we think have been improved, and indeed was with his next WLSR car: Thunderbolt. That's more like it!
SPEED OF THE WIND
Speed of the Wind was a record-breaking car of the 1930s, built for and driven by George Eyston.

The car was designed by Eyston and E A D Eldridge, then built by the father of Tom Delaney It was powered by an un-supercharged version of the V-12 Rolls-Royce Kestrel aero engine. The car was too large and heavy for circuit racing and was already underpowered by the standards of the absolute speed record breakers. This car was designed for endurance, more than peak power. Running a supercharged engine with the fuel and materials technology of the day would never have lasted the duration. This particular engine was obtained second-hand from Roll-Royce, where it had previously powered an airflow fan in an engine test cell. Having always been intended for long-term use at ground level, it had been built without the Kestrel's usual supercharger.

For streamlining, a distinctive feature of the car are the two small "nostrils", headlights and air inlets in the nose. These produced less drag than a typical inlet and flat honeycomb radiator. The engine was cooled instead by a surface radiator wrapped around the top of the bodywork, just in front of the driver.

During testing, the car appears to have run, although not competitively, at either Brooklands or Montlhery.
WIND SPEED RECORDS

Speed of the Wind was built for long-duration speed records, which were the domain of Ab Jenkins and the Bonneville salt flats of Utah. Jenkins was fond of competition and was instrumental in encouraging British teams to travel to Bonneville.

1935

In September 1935, shortly after Campbell's 300 mph record with Blue Bird, Eyston broke Jenkins' 24-hour record and raised it to 140.52 mph (226.15 km/h)

LEFT: The Double Duesenberg with Tommy Miller at the wheel on Daytona Beach in 1920 clocked 199.51 kph. RIGHT: The Mormon Meteor from 1932 is on display in Salt Lake City at the Price Museum, it clocked 150.163 mph (241.664 km/h)

1936

For the 1936 season, Jenkins created the Mormon Meteor by fitting a Curtiss Conqueror V12 into his previous Duesenberg chassis. Eyston returned, with E A D Eldridge as team manager, and his colleague from Brooklands, John Cobb in the Napier-Railton as another competitor.

Eyston set the first records, averaging 149.096 mph (239.947 km/h) for 24 hours and 136.34 mph (219.42 km/h) over 48 hours.

The Mormon Meteor made its first attempt, beating the average speed to 12 hours at 152.84 mph (245.97 km/h), but retiring with a driveshaft failure. John Cobb then took Eyston's 24 hour record at 150.163 mph (241.664 km/h), but didn't attempt a 48 hour record.

The Meteor made a second attempt, and this time remained reliable. Its two co-drivers set times of 153.823 mph (247.554 km/h) for 24 hours and 148.641 mph (239.215 km/h) for 48.

The remains of the car were destroyed by bombing during World War II.
A couple of nice workshop pictures of Thunderbolt, revealing how the body panels were removable for servicing - something that John Cobb, or rather, Reid Railton could have learned from.
THUNDERBOLT DESIGN
The leading Land Speed Record cars of the period had taken two approaches to obtaining power; using either the latest and most sophisticated aero-engines available or combining multiple engines. Thunderbolt used both techniques to produce a muscle car precedent. In its day, terms like "leviathan" and "behemoth" were commonly used to describe the 7-ton car, over twice the weight of its competitors.

The engines were a pair of Rolls-Royce R-type V-12 aero engines, as previously used singly in Malcolm Campbell's Blue Bird of 1933. In fact, one of Eyston's spare engines for the record attempts was on loan from Campbell. There were so few of these engines built (around 20) that many of them had illustrious careers over several different records. One of the Thunderbolt's had already powered the Schneider Trophy winner. Each engine was of 36.5 litres capacity, supercharged, and had an individual output power of 2,350 bhp (1,752 kW; 2,383 PS). Handling all this power through a single driven axle required great innovation in metallurgy and in manufacturing the geartrain, as well as water-cooling the completed transmission.

The chassis and bodyshell were built at the Bean works in Tipton. There were three axles and eight tyres. The two leading axles steered and were of varying track, so that each tyre ran on a clean surface rather than following a rut. The driven rear axle used twin tyres to reduce the load on them, a technique already used by Bluebird. Separate panels of polished silver Birmabright, a new aluminium alloy, clad the chassis. The body never had the aerodynamic refinement of the Railton Special and was distinctly blocky in appearance. At the rear was a large triangular tailfin, flanked by a pair of hydraulically activated air brakes.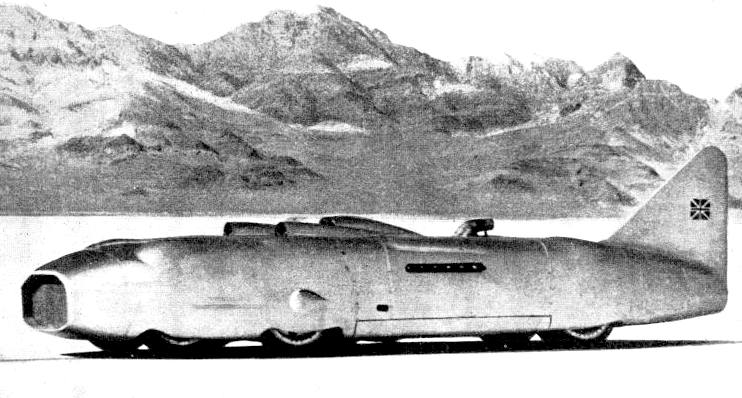 THUNDEROUS IMPROVEMENTS
When first built there was a large eight-sided cooling air intake at the front, replaced by a smaller oval intake for the 1938 season. Another improvement for this second attempt was to paint a matt black arrow onto the side of the car. During the first attempts, the new photo-electric timing equipment had failed to detect the polished aluminium car body against the brilliant white salt.

For the 1939 attempts, the streamlining was increased further. Cooling was now by a tank of melting ice rather than a radiator (as used first by Golden Arrow). A rounded nose now filled the previous radiator air intake and the stabilising fin was removed, all leading to an appearance more like Cobb's Railton. Ken Norris was to do the reverse with the later Bluebird CN7, adding a fin to a Cobb/Railton inspired design.
THUNDEROUS LOSS
Thunderbolt was displayed in the British Pavilion at the New Zealand Centennial Exhibition in 1939-40, it also toured New Zealand during the Second World War, but is thought to have been destroyed by a fire in a Rongotai warehouse.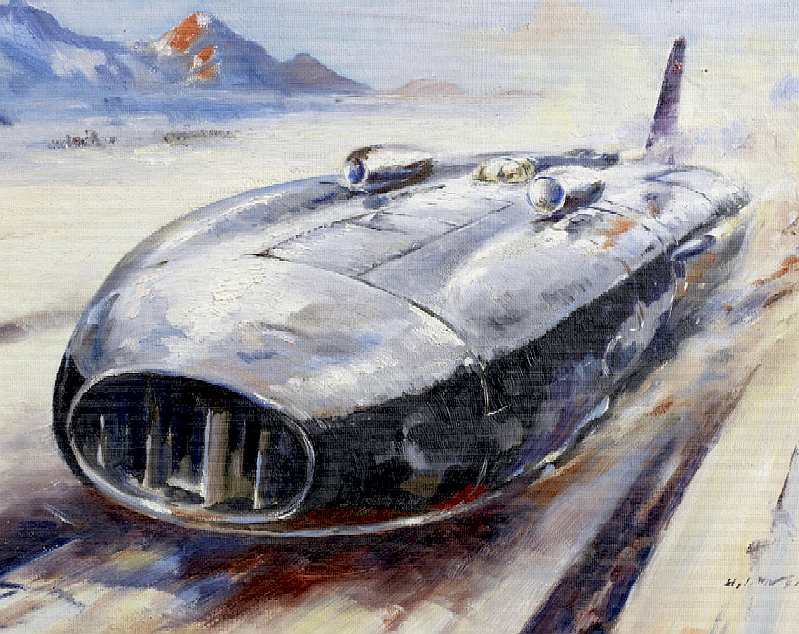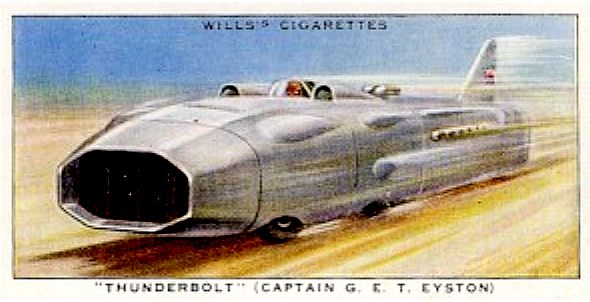 MODELS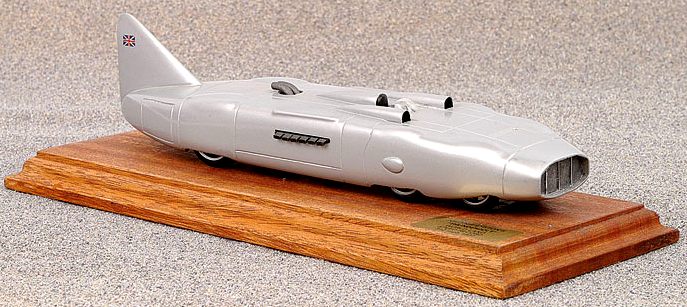 Vectis Lot 1126 - Replicast model of George Eyston's "Thunderbolt" 1937 World Land Speed Record Holder - silver. Mounted on wooden plinth - Mint. Sold 2005
STATISTICS
Driver

George Eyston

Car

Thunderbolt

Date
Speed

27 August 1938

345.50 mph (556.03 km/h)

Place

Bonneville, USA

Power Source

Rolls Royce R (Merlin) engines x 2

Max power

4,700 hp

Weight (approx.)

7 tons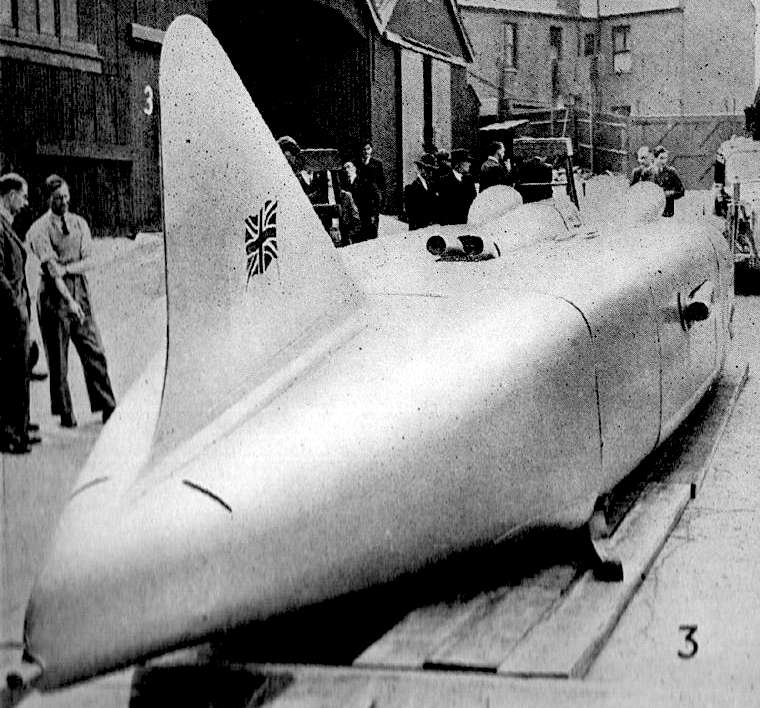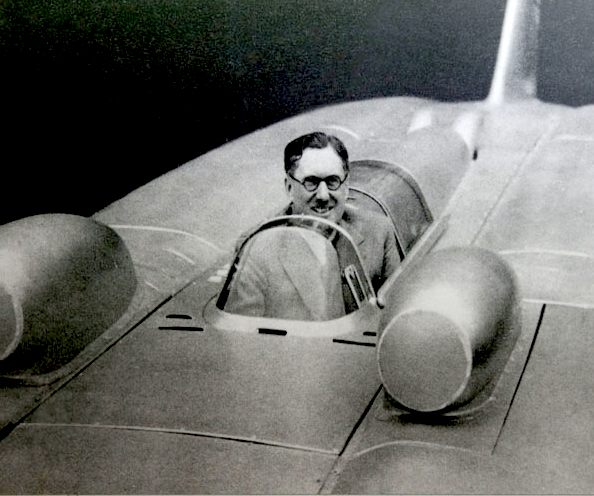 Thunderbolt had a very small canopy, a bit like the Railton Mobil Special
LINKS
Wikipedia Thunderbolt - Wikipedia George_Eyston - Wikipedia Speed_of_the_Wind
http://en.wikipedia.org/wiki/Thunderbolt_%28car%29
http://en.wikipedia.org/wiki/George_Eyston
http://en.wikipedia.org/wiki/Speed_of_the_Wind
White Triplex article - White Special
http://selvedgeyard.com/tag/car/
White-triplex-triunfo-e-fim-tragico-do-monstro-dos-anos
http://autoclassic.com.br/site/white-triplex-triunfo-e-fim-tragico-do-monstro-dos-anos-20/
White-triplex-three-engines-1500-hp-and-one-tragic-result
http://www.nieworld.com/special/racing/thatwasthen7.htm
http://selvedgeyard.com/2009/12/28/the-white-triplex-three-engines-1500-hp-and-one-tragic-result/
Wikipedia White_Triplex - Wikipedia Ray_Keech
http://en.wikipedia.org/wiki/Ray_Keech
http://www.thrustssc.com/thrustssc/History/Triplex.html
Unique cars and parts world_land_speed_record
http://www.uniquecarsandparts.com.au/world_land_speed_record_27.htm
http://www.motorsportmemorial.org/focus.php?db=ct&n=1112
http://en.wikipedia.org/wiki/White_Triplex