The Bluebird K777 is a turbo jet-engined three-point hydroplane that was inspired by the designs of Ken and Lewis Norris (brothers) for Donald Campbell's K7 Bluebird. This is what the papers said.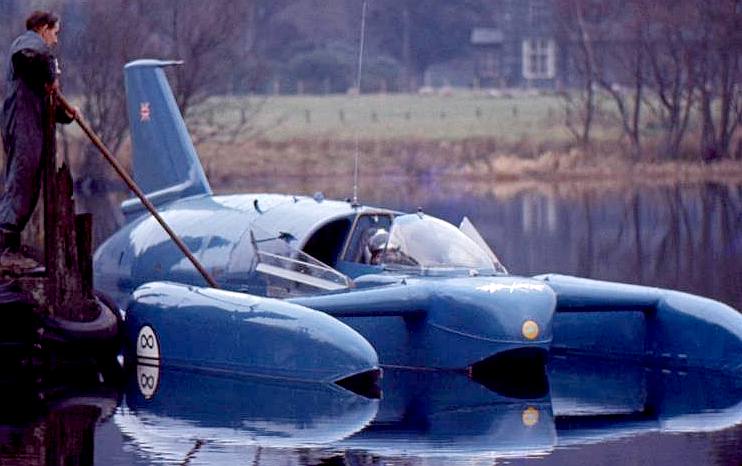 Donald Campbell's K7 world water speed record boat, Lake Coniston 1967
31 OCTOBER 2011 - CUMBRIA CRACK -
Coniston Power Boat Records Week Gets Underway & K777 is Launched

This morning Helical Technology, a Northwest based engineering firm, unveiled a boat they have lovingly hand built during the last four years on the opening day of Coniston Power Boat Records Week.

The boat designated K777 is based on classic British Hydroplane technology. Helical Technology wanted to demonstrate that a boat could be hand built from scratch using British know how and skill, a tribute to the engineering used in Donald Campbell's Bluebird K7.

K777 is a starting point for the firm as they prepare in the future to build a boat using the best of British technology, innovation and engineering to win back the World Water Speed record from the Australians.

On November 20, 1977, Australian Ken Warby piloted his Spirit of Australia to 464.5 km/h (290.313 mph) to beat Lee Taylor's record. Warby, who had built the craft in his back yard, used the publicity to find sponsorship to pay for improvements to the Spirit. On October 8, 1978 Warby traveled to Blowering Dam, Australia, and broke both the 480 km/h (300 mph) and 500 km/h barriers with an average speed of 510 km/h (317.596 mph).

With this in mind the Helical Technology team behind K777 have taken four years to produce this boat, which will take to the water this week piloted by veteran powerboat racer Jim Noone. Jim himself is no stranger to setting records, is officially Britain's fastest boater in the R.Unlimited class covering 7000cc-infinity engined boats, set a record of 154.77mph during a run across Windermere in 2003 and this experience may well prove to be invaluable to the Helical team for the future.

Jim is hoping to collect technical data in K777 during his runs this week on Coniston to help with the design and build of a future British record attempt boat. Additionally the team from Helical Technology are hoping to supply technical data to the Bluebird Project Team, which is currently conserving and rebuilding Donald Campbell's real seven-times World Water Speed Record – breaking Bluebird K7.

This data will provide Ted Walsh with an invaluable insight into performance and handling characteristics of this type of boat design in preparation for him piloting the real legendary Bluebird K7 in future low-speed engineering proving trails on Coniston Water, before she is placed on display in the award-winning Ruskin Museum, in Coniston.

Coniston Power Boat Records Week 31 October – 04 November is the only event in the Powerboat Racing Calendar to bring together all classes of boat. Entry is open to all from tiny hydroplanes, through inshore circuit racers to the largest offshore boats. It is the finale to the racing season.

During the five days of Power Boat Records Week, competitors (who are all RYA registered drivers) attempt to break British and World Power Boat Records in a variety of classes, at speeds ranging from 30mph to over 150mph. Competitors and officials from all over the country assemble annually for what has become an increasingly popular event since it's inception in 1970.

The runs commence at 8:00am weather permitting. Lunch is from 12:00 – 2:00pm with the last run each day at around 4:00pm, with the final run on Friday at 2:00pm but without lunch.

The most famous drivers have been Sir Henry Segrave, Sir Malcolm Campbell and Donald Campbell. Norman Buckley was instrumental in the inauguration of Records Week and together with The Windermere Motor Boat Racing Club, had various courses on Windermere surveyed. In the mid 1990′s One, Two and Three Hour Records were attempted during the annual Enduro, which took place at the end of Records Week, until the event moving to Coniston in 2005, when a speed limit was imposed on Windermere.

For almost a hundred years Powerboat record attempts have been made on several of the English lakes including Ullswater, Windermere and Coniston Water attracting competitors, enthusiasts and visitors alike. Coniston Power Boat Records Week is free for spectators, with the best views from the shoreline at either end of the run, viewed from the Brantwood side of the Lake, where there is limited parking. There is also an opportunity to see the boats up close in the pit area at Coniston Boating Centre.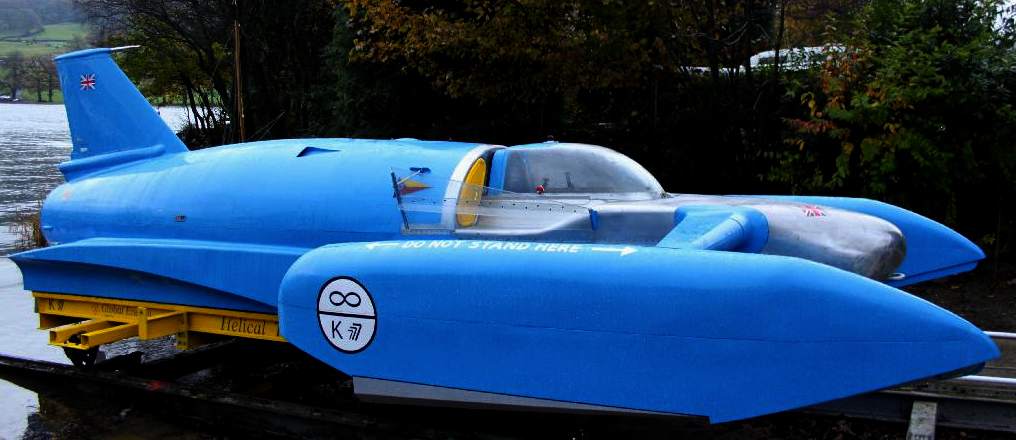 Helical's K777 jet powered boat - there are clear differences

DAILY MAIL - NOVEMBER 2011
It was supposed to be a tribute to water speed legend Donald Campbell on the very lake where he lost his life. But, in front of scores of spectators in the Lake District yesterday, this controversial replica of his Bluebird K7 speedboat failed to even stay afloat. After two aborted runs on Coniston Water's speed course, the K777 was returning to its mooring when it began to sink.

It was a humiliating anti-climax for its owners, who have been condemned by Campbell's family for building it without their blessing.

The replica was intended as a tribute to Campbell's K7 speedboat which flipped on the lake in January 1967, killing him instantly. The 46-year-old had been traveling at more than 300mph trying to beat his own world record.

The arrival of the K777 for Coniston's Power Boat Records Week sparked fury among Campbell's family.
They had been planning to launch the painstakingly restored original next year in a tribute and said the K777's creators should have had the 'decency' to tell them they were building a replica.

An onlooker said: 'The back was at a 45-degree angle with the nose out of the water and the rest of it under.' Veteran racer Jim Noone then emerged from the cockpit and on to a rescue boat, before the replica was pulled ashore.

Last night, Campbell's daughter, Gina, herself a former waterspeed champion, said: 'Anything that takes the shine off the real K7 and the work so many hardworking people and sponsors have put in is just wrong. 'It is a travesty, not a tribute.'

Helical-Technologies, which built the replica, did not respond to calls for comment.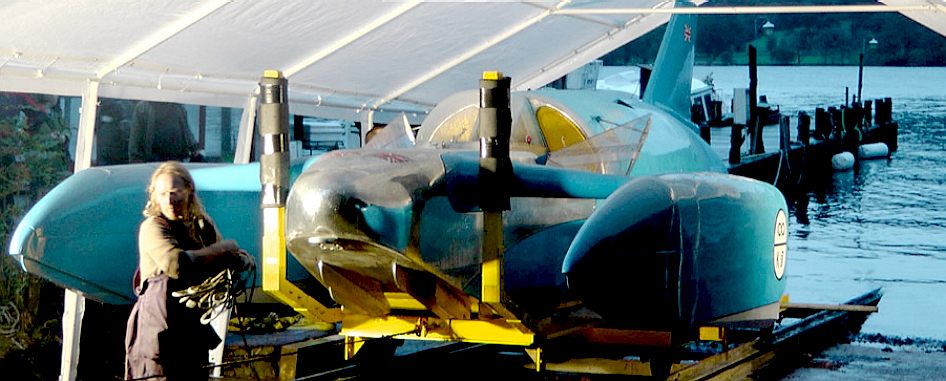 K777 launch. Note the snug fitting steel sledge dedicated to the task. So often details like this are overlooked. This picture reminds us of Campbell's launch at Lake Dumbleyung in Australia. Scale models of the K7 that are powered by real gas turbines appear to perform exceptionally well - and could form the basis of design improvements.

COMMENT - The K7 is no longer design protected, meaning that anyone can build an improved boat or a replica and have a go. It is no different to building a scale model in its appreciation of the art. It is also no different to building a classic car replica.
But why? When Donald Campbell proved what Ken Norris feared most; that the Bluebird had design limitations. Clearly, it would be unrealistic to build a replica with built in limitation, just as the plans to run the original K7 again - are folly, save only for nostalgic occasions at slow speed, when a replica would suffice. But the K777 is significantly more advanced in materials technology.

We can appreciate the enthusiasm and dedication that the K777 team have displayed in improving on the specification of the original - which should most probably have been left in its recovered condition - for the sake of science. This much was argued by some at Heritage Lottery Fund and elsewhere some years back. That said, we can also understand the enthusiasm of Bill Smith, which fervor appears to have boiled over. Mr Smith could just as easily have built a fresh K7 to original specifications and save the original for engineers and historians to wonder at - perhaps as a side by side comparison exhibition [before and after impact]. The fact is that the K7 was history and many think should have remained as history - or tempt fate and another flip, and another death.
Let us not forget that the relatives of Donald Campbell did nothing to preserve the K7. It remained in the Lake until someone else found it and raised it. You may think that that should have been left to the family of DC and we note that there is a Malcolm Campbell Heritage Trust, but we have yet to see a dedicated website listing their achievements? There is of course time for that and we have a hat in readiness to take off as and when.
Relatives of past speed kings may have vested interests which jars them to scornful comments to preserve their part in a production, rather than point fingers at themselves for inaction. The glory belongs to the man in the ring, not the bystanders. Time and again this has happened and doubtless it will continue so, but that should not deter those with the fortitude to unfold their wallets and have another go.
Restoring the original K7 somehow takes away the horror of the inevitable somersault that took the life of a very brave man, some said suicidal and others that the flip was a scam - it was not of course. Restoration though is in some measure like saying that the run never happened. Much as when Babs was dug up from the beach at Pendine, when maybe it should have been left as a memorial - and a replica taken its place in the Museum. And there ladies and gentlemen lies the nub, for without restoring an original vehicle as a prerequisite, it is doubtful that funding would be forthcoming for anything. Reflect then on the K777. They have most probably done the right thing and we take our hat off to that team for what they have achieved in such a very short time - and yes, they can only learn from the experience, presumably by adding strain gauges and other instrumentation for data logging and analysis.
Anyone looking at the build of the K777 from the pictures shared with the public on their website can see for themselves that the craft has been built to a very high standard. As such the team deserve praise. Oh, and by the way, imitation is the sincerest form of flattery. How on earth the Campbell family not notice this project for four years is another matter, granted that it might have spoiled the surprise- if that is that is what was intended.
INVITATION - If any member of a speed king family (or ongoing project) would like to have their/your say, we will publish their/your comments verbatim as a right of reply protected by Articles 9 and 10 of the ECHR - and we look forward to hearing from them/you.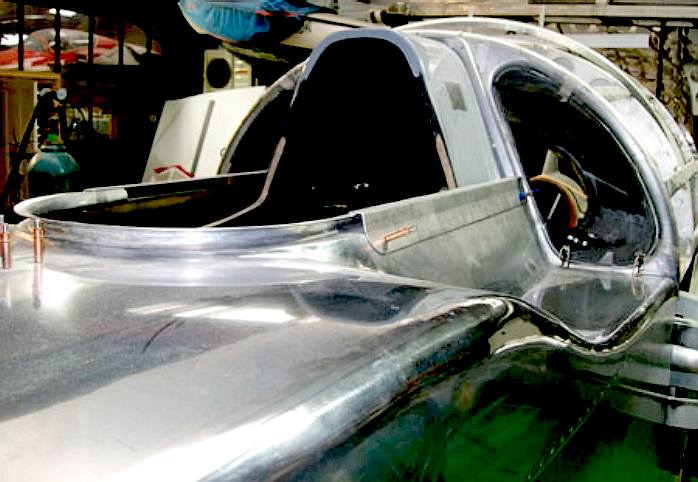 K777 under construction - superb quality engineering
NORTH WEST EVENING MAIL 8 NOVEMBER 2011 - Bluebird lookalike takes a trip on Coniston Water
Spectators on the shores of Coniston would be forgiven for thinking they have seen a blast from the past this week (3-11-11).

The iconic Bluebird K7 and its legendary driver Donald Campbell CBE famously broke seven world water speed records between 1955 and 1964. The super machine flipped on Coniston Water on January 4, 1967, while Mr Campbell was bidding to raise the speed record to more than 300mph.

During this year's Coniston Records Week a look-alike blue powerboat took to the water. Helical Technology's K777, which resembles Bluebird K7, had its first outing on Tuesday on a practice course on Coniston. A timed run was being delayed due to gusty weather.

The K777 team has stressed the boat is not a Bluebird replica, but draws on the design of the great British boat and is a tribute to its engineering. It is hoped the team can gather data for future record-breaking attempts.

But K777's presence on Coniston has sparked fury with the family of Mr Campbell, who have called it "disrespectful," saying it has come without any consultation or respect to family or the Norris brothers' families, the designers of Bluebird K7.

Bluebird K7 has been undergoing painstaking restoration in North Shields since 2008, after the wreckage was recovered between October 2000 and May 2001. It is hoped Bluebird K7 will be completed in 2012 and trialled on Coniston.

Don Wales, grandson of Sir Malcolm Campbell and nephew of Donald Campbell, said: "We feel that it is disrespectful to Donald, and that those responsible are clearly out to bolster their credibility as a publicity stunt by alluding to the connection with the real Bluebird, a connection that neither exists nor is wanted. Their claim that valuable data collected on the behaviour of the craft will benefit the genuine machine is total nonsense.

"The Campbell family do not support or condone the building or operation of the vessel named K777 or any perceived association of it with the Campbell/Bluebird story."

K777 is piloted by veteran powerboat racer Jim Noone. Mr Noone said: "This is not disrespectful. We have nothing but the ultimate respect for Donald Campbell."

He says it is not a Bluebird K7 replica and it has similarities and differences. Mr Noone said: "If you are building a British boat, you go back to the best British boat."

He described the boat as feeling "awesome" and said the practice route was useful for developing the boat and engine, with an initial test at around 80mph.

K777 crossing the lake at around 80 mph
K777 SPECIFICATIONS
Hull: Internal space frame seamless square section aluminium alloy tube. Outer skin aluminium alloy.
Sponsons, spars and planing shoes: Fabricated aluminium alloy.
Tailplane: Folland Gnat.
Engine: Bristol Siddeley Orpheus turbojet converted to electric start.
Cockpit safety cell: Carbon fibre / foam sandwich, UIM registered.
Fuel consumption 650 gallons kerosene / Avtur per hour.

Let us hope that the K777 team take the time to iron our the wrinkles that existed in the K7 design. We think that it would be appropriate to add some air control surfaces, in the wake of Ken Warby. That is if the new British team are serious about attempting a record. Let us not forget that Nigel MacKnight is hot on the heels of a water speed record with Quicksilver.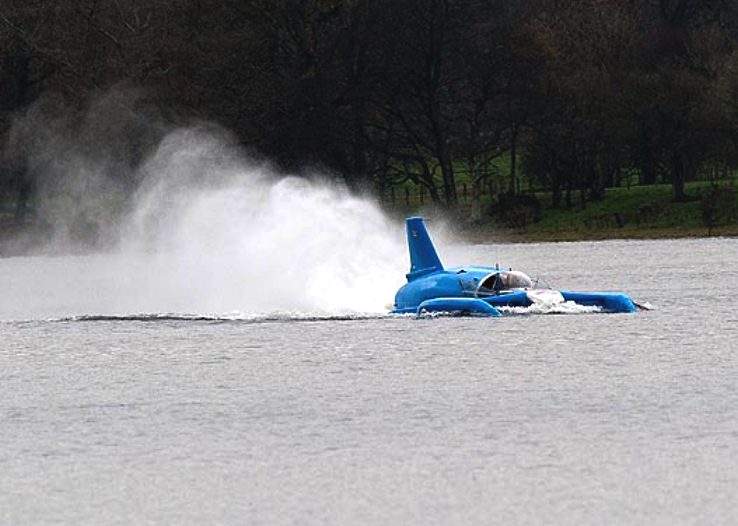 The K777, piloted by Jim Noone. It seemed a little nose heavy during trials, suggesting that some re-trimming might be in order. This was a problem that Leo Villa and Donald Campbell came across, sometimes resorting to weights.
Recovery of Bluebird K7

The wreckage of Campbell's craft was recovered by the Bluebird Project between October 2000, when the first sections were raised, and May 2001, when Campbell's body was recovered. The largest section, representing approximately two-thirds of the main hull, had been salvaged on 8 March 2001. A diving team led by Bill Smith was responsible for finding the wreckage.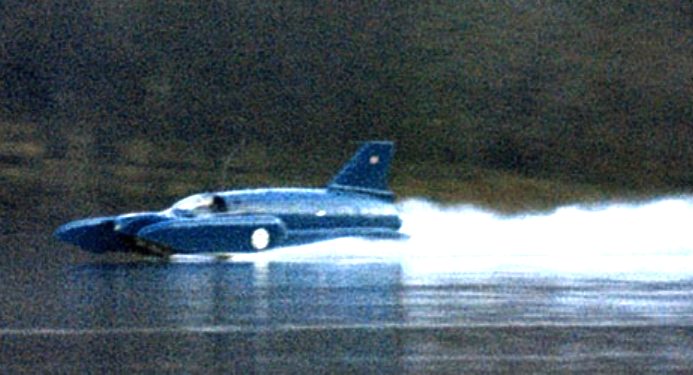 The K7 on its final run 4 January 1967
Campbell's last words on his final run were, via radio intercom:

" Pitching a bit down here...Probably from my own wash...Straightening up now on track...Rather closer to Peel Island...Tramping like mad...and er... Full power...Tramping like hell here... I can't see much... and the water's very bad indeed...I can't get over the top... I'm getting a lot of bloody row in here... I can't see anything... I've got the bows out... I'm going!....ugh "
SIR MALCOLM CAMPBELL'S BLUE BIRDS
DONALD CAMPBELL'S BLUEBIRDS
Jetstar (not a bluebird)
LINKS
Coniston-power-boat-records-week-gets-underway-k777-is-launched
Bluebird-lookalike-takes-a-trip-on-coniston-water
Curse-Bluebird-Replica-Campbells-speedboat-sinks-Coniston
http://www.cumbriacrack.com/2011/10/31/coniston-power-boat-records-week-gets-underway-k777-is-launched/
http://www.nwemail.co.uk/news/bluebird-lookalike-takes-a-trip-on-coniston-water-1.893900
http://www.boatdesign.net/forums/boat-design/k777-bluebird-40452.html
http://www.dailymail.co.uk/news/article-2057326/Curse-Bluebird-Replica-Campbells-speedboat-sinks-Coniston.html
http://www.k777club.com/
http://www.rcgroups.com/forums/showthread.php?t=1959632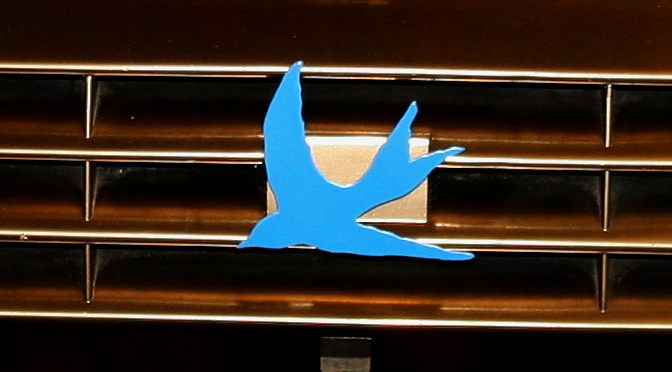 Bluebird lives on: The first road car to use our blue bird trademark is an electrically powered long distance runner that uses cartridges to recharge instantly (in under a minute). This is achieved with built in Bluebird™ power loaders, enabling the car to recharge at any road stop where a cartridge is waiting to be picked up. The first event where the DC50 will be tested is the UK Cannonball ZEV Run, a road trip of close on 900 miles from Lands End to John o'Groats. Donald Campbell owned many road cars that he painted blue, such as his Jaguar E-Type with the number plate DC7. He never owned a road car sporting the blue bird logo. The DC could easily stand to commemorate Donald Campbell and the 50 could be recognition of the fiftieth anniversary of his Australian water and land speed records.