You can see from the scans of what appears to be a 'Declaration of Trust' dated the 16th of October 2001, that the original Trustees of the MCHT were:
1. Peter John Hulme, New Barn, Tokens Farm, Loxwood, West Sussex.
2. Malcolm Brian Hulme, 17 Norman Avenue, Twickenham, Middlesex.
3. Donald Charles Wales, 11 Weston Avenue, Addlestone, Surrey, KT15 1UW.
4. Georgina Campbell, Birkby Grange Farm, Carr Lane, Thorner, Leeds, LS14 3HG.
5. Jean Dorothy Wales, Orchard Lodge, Oakhurst Lane, Loxwood, West Sussex.
It is also clear that: Antoinette Marie Bern-Campbell of Lake View Lodge, 280 Donner Drive (better known as Tonia Bern) of Crestline CA 92325, was agreeable to the transfer of ownership of the recently salvaged 'Bluebird K7,' brought to the surface of Lake Coniston by Bill Smith - now the subject of The Bluebird (restoration) Project.

Where the precise details of the Objects are still unclear, we at least know the key intentions as set out in clauses (A) and (B) of the Trust Declaration reproduced above from documents seized by Sussex Police in March of 2014 (recently brought to our attention).

The Malcolm Campbell Heritage Trust (MCHT) may have changed trustees since October 2001, but Georgina (Gina) Campbell came to be in the media scrum concerning applications to the Heritage Lottery Fund for funding to restore her father's boat.

Most of Sir Malcolm's racing cars and boats are not in the ownership of this organization, but in the hands of private individuals and collections, where care and attention is lavished by persons not related to one of Britain's finest sporting characters, for which the MCHT can be grateful:

a) The K3 is owned by Karl Faulkes-Halbard and housed at the Filching Manor Motor Museum in Sussex.

b) The Rolls Royce Blue Bird is owned and displayed by a museum in the US (Daytona).

c) The Blue Bird yachts of Sir Malcolm are also privately owned and cared for.

d) As are the Bentleys, Rolls Royce and other cars at one time owned by the speed ace.

The same appears to be true of the effects of Donald Campbell. The CN7 belongs to the Science Museum (on permanent loan to the National Motor Museum at Beaulieu in Brockenhurst, Hampshire SO42 7ZN, and the K7 is up North being restored, even though it would possibly be worth more to the nation preserved as it was recovered from the lake bed at Coniston Waters. For some reason those in a position to influence the destiny of what was once dubbed "the blue lobster" would prefer to put a gloss on events and turn back the clock.

That said, there must be other memorabilia that the MCHT keep for posterity for the nation and we would like to learn more about that. We would imagine that this Trust intend to buy up any memorabilia at auctions and the like - possibly to begin a Museum or other exhibition of their own. This 'Trust' does not appear to have their own website where (presumably) such information could be shared. We are sure that fans of Sir Malcolm and Donald Campbell would want to see such a site in the future.
BLUEBIRD CN7 NOSE PANEL - PERFORMANCE CAR GUIDE 2013
The National Motor Museum at Beaulieu has become the proud custodian of the original front nose panel from Donald Campbell's famous World Land Speed Record Breaker, the Bluebird CN7.

The Malcolm Campbell Heritage Trust has offered the item on loan to the museum following its donation to the Trust by Stadco Ltd Coventry, formerly Motor Panels Ltd – the original manufacturing company that worked on the CN7.

In a presentation in the museum, in front of the Bluebird CN7 itself, two nephews of Donald Campbell, Don Wales and Peter Hulme, handed the panel over to the Chief Executive of the National Motor Museum Trust (NMMT), Russell Bowman. Two representatives from Stadco, Paul Jaggers and Neil Holloway, were also present to witness the handover.

The panel, displaying the Union Jack and US flags alongside the Bluebird insignia, is the original nose panel from the Bluebird CN7, damaged during the world's fastest ever survived car crash at the Bonneville Salt Flats in 1960 in a land speed attempt prior to Donald Campbell's 403.1mph record set in the car in 1964 at Lake Eyre, Australia.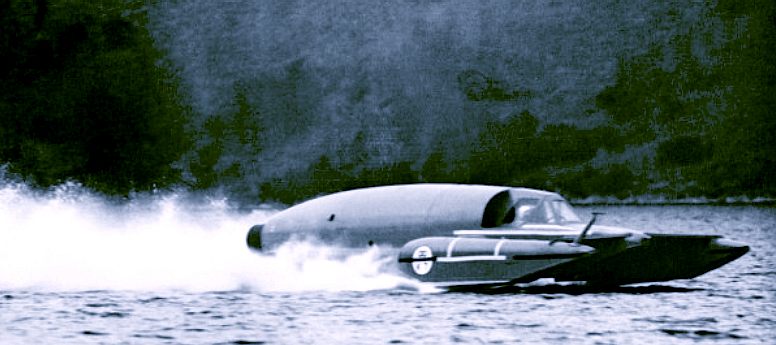 The K7 Bluebird (blue lobster) in 1955 being raced by Donald Campbell at Ullswater

Following the crash, the CN7 returned to Motor Panels for a redesign, including the addition of a tail fin to stabilise the vehicle at speed, and during the repairs the panel was removed and replaced. The old, damaged nose panel spent the next 50 years in various places on the Coventry site at Stadco before its recent donation to the Malcolm Campbell Heritage Trust.

Since receiving Stadco's donation, the Malcolm Campbell Heritage Trust has loaned the panel to the National Motor Museum, which has housed the Bluebird CN7 since the late 1960s, for a brand new Land Speed Record Breakers display.

Don Wales, nephew of Donald Campbell, said: "We are very grateful to Stadco for returning this special panel to the family. It is an iconic piece of land speed motoring history and we are delighted to be able to loan it to Beaulieu for the new Land Speed Record Breakers display being unveiled next year."

Expected to launch in Spring 2014, the museum's new display will feature four iconic World Land Speed Record cars, including the Bluebird CN7, Sir Malcolm Campbell's Blue Bird 350hp, Major Henry Segrave's Sunbeam 1000hp and Golden Arrow, accompanied by new high definition images and archive film footage.

The panel will join a number of other rare land speed artifacts that will be showcased alongside the record breakers themselves.

NMMT Chief Executive, Russell Bowman, said: "We are delighted that visitors to Beaulieu will be able to see the original panel alongside the car itself, helping us to illustrate the determination exhibited by Donald Campbell and his team to overcome major setbacks and achieve his 1964 record. We are very grateful to Stadco and the Campbell Family for this loan."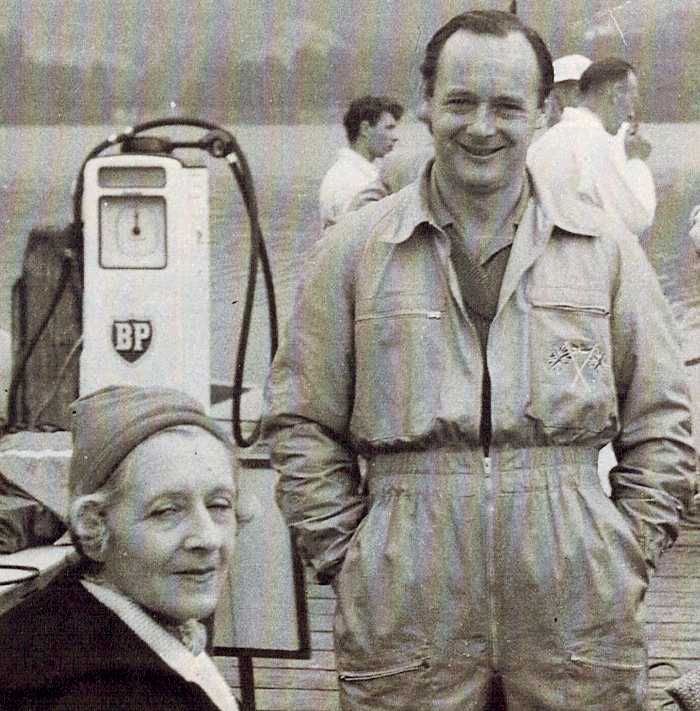 Sir Malcolm and Lady Campbell had a son and a daughter. Donald is well known for his speed records. Jean Dorothy Wales (nee Campbell) is lesser known, save for her son Donald, better known as Don Wales of course. Jean and Donald (sister and brother) are pictured above together at Lake Coniston.

If Sir Malcolm and Lady Campbell did not want their son to enter the speed record game, do you think that Donald Campbell would have wanted his descendants to do so? Regardless, Gina Campbell could not resist having a go, neither could her cousin Don. So far Gina has attained a higher record speed on water (146.49mph) than her cousin has on land - and survived a high speed boat flip to tell the tale.

Sir Malcolm and Lady Campbell

in 1932. According to the newspaper clipping below from the New York Times, Sir Malcolm re-married Betty Mickory when he was aged 60, just 2 years before he died. Campbell divorced in 1940, giving him 6 years before tying the knot again.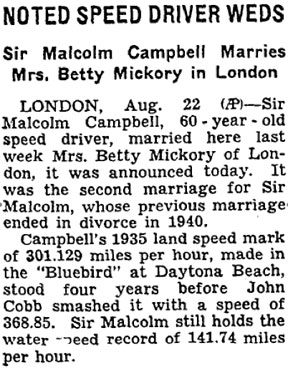 SIR MALCOLM'S WATER SPEED RECORDS

1st September 1937: 126.33 mph Blue Bird K3, Sir Malcolm Campbell,Lake Maggiore, Switzerland

2nd September 1937: 129.56 mph Blue Bird K3, Sir Malcolm Campbell, Lake Maggiore, Switzerland

17th September 1938: 130.93 mph Blue Bird K3, Sir Malcolm Campbell, Lake Hallwyl, Switzerland

19th August 1939: 141.74mph Blue Bird K4, Sir Malcolm Campbell, Coniston Water, England

The Malcolm Campbell Heritage Trust is (according to Donald Wales) a body set up by family members in the 2000s to seek to preserve what they may of Sir Malcolm. Exactly what they are seeking to put into trust is not known. We do not know if there is a collection or museum that is operated by this trust, what they own and don't own. If you have any information of MCHT projects please let us know.

The next generation hydroplane: K3 to K4. Not much difference in the basic concept, but lead in angle to wider front sponsons will improve stability coupled with a change in weight distribution.

Unfortunately, it did not work - or at least it was driver unfriendly.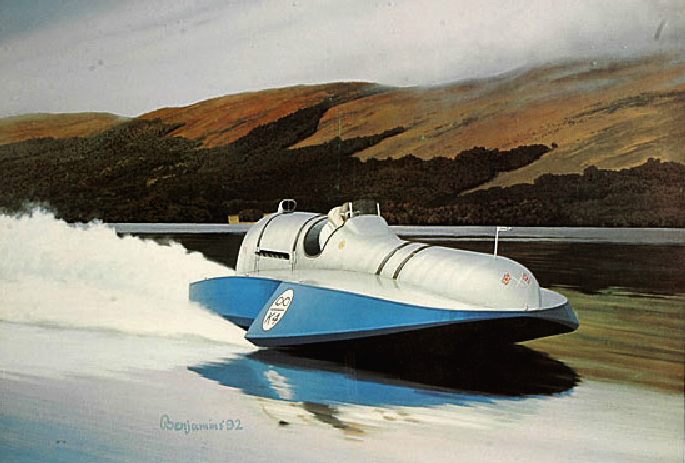 Limited Edition Print by Arthur Benjamin titled "August Reflections" showing Sir Malcolm Campbell in Bluebird K4 on Conniston Water in 1939. This was a limited edition print No.10 of 100 and signed by the artist. Well framed - Mint. Friday 9th December 2005 12:00am - Lot 1492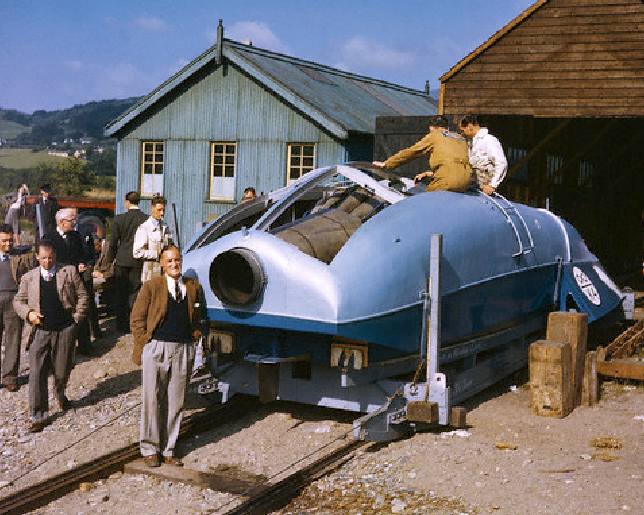 A very rare picture of the 'Slipper', as this version of the K4 jet boat came to be known. It was also a bit of a damp squib in water speed record terms, being unable to perform as well as anticipated. The boat does not survive.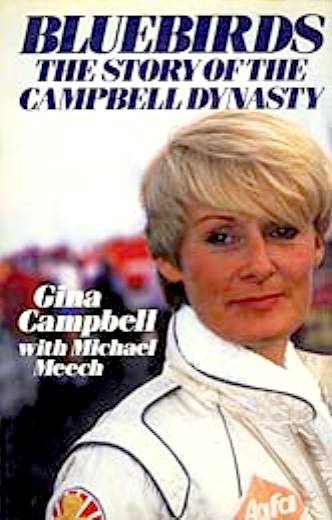 BLUEBIRDS: The story of the Campbell Dynasty. Compiled by Gina (Georgina) Campbell with Michael Meech from 1988. This is an autobiographical portrait of the Campbell family and its record-breaking achievements from Donald's daughter Gina, a trustee of the MCHT. The volume covers Sir Malcolm's and Donald's records on land and water and Gina's powerboat speed record and racing. The book is illustrated and a hardback measuring 6in x 9.5in.
LINKS & REFERENCE
http://www.ruskinmuseum.com/content/donald-campbell-bluebird/campbell-and-bluebird-faqs.php
http://www.bluebirdsupportersclub.com/
Bluebird-cn7s-original-nose-panel-loaned-to-the-national-motor-museum
http://www.performance-car-guide.co.uk/bluebird-cn7s-original-nose-panel-loaned-to-the-national-motor-museum.html
http://www.bluebirdproject.com
http://www.bluebirdproject.com/
https://www.facebook.com/BluebirdSupportersClub
http://ginacampbellqso.com/record-attempts/great-britain/
https://www.bonhams.com/auctions/14259/lot/497/
http://www.bluebirdspeedrecords.com/timeline.php
http://en.wikipedia.org/wiki/Water_speed_record
http://www.touchwoodmodels.com/water-speed-record-models/mach-one-models.html
http://www.historicracer.com/motorsport/the-unobtainable-campbell-book-preview/
http://www.sirmalcolmcampbell.com/sirwater.html
http://en.wikipedia.org/wiki/Blue_Bird_K4
Rolls-Royce-Phantom-electric-blue-costing-450-000-to-celebrate-Sir-Malcolm-Campbells-water-speed-record
http://www.bonhams.com/auctions/14259/lot/496/
http://www.bonhams.com/auctions/18213/lot/238/
Arthur Benjamins - http://www.bluebirdpublications.co.uk/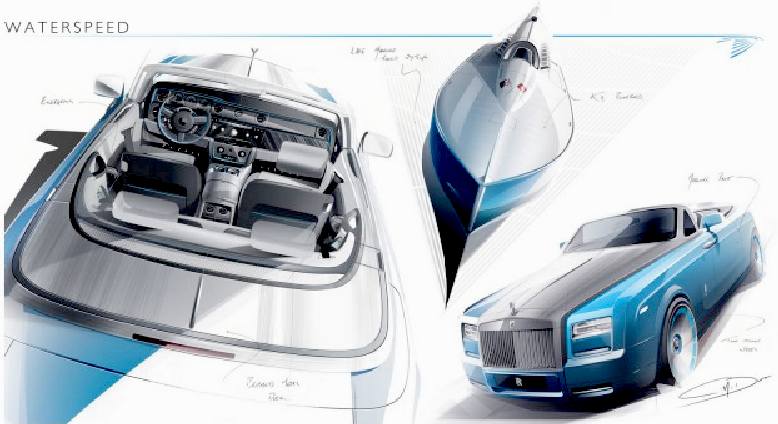 Rolls Royce Phantom "Waterspeed" commemorative edition drophead coupe. This special limited run of custom cars is dedicated to Sir Malcolm Campbell and the famous K3, where the K4 and K7 would not be appropriate. The Rolls-Royce Phantom Drophead Coupé Waterspeed Collection was previewed to selected UK press and customers at an exclusive event on the site of the original Bluebird Motor Company – now the Bluebird Restaurant – on the King's Road, London on Tuesday 13 May 2014.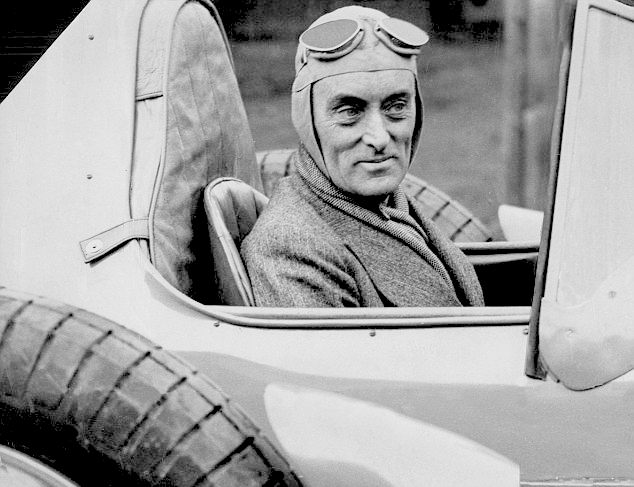 The beautiful BE3 below was inspired by Reid Railton and his designs for the Napier Lion and Rolls Royce engined Blue Bird LSR cars in the 1930s, the Blueplanet BE3 features instant battery recharging using the patent Bluebird™ cartridge exchange system under license from BMS. This LSR car is also solar assisted. She is designed for speeds in excess of 350mph using clean electricity and could be run at Daytona Beach, Pendine Sands and other historic venues, including Bonneville. That would put a smile on Sir Malcolm's face, especially if the speed ace was driving it. The BE3 has no connection with Don or Joe Wales or any other member of the MCHT. She is available for hire for rolling (drive past displays) with 6 moths notice, or at a considerable additional premium, with 3 months notice. Hire includes use of the BMS owned trademarks for your event.