Bluebird K7 Crash

, Recovery & Conservation Issues

A heavier, more powerful gas turbine engine was fitted to K7 and the position changed so as to correct the boats trim. Donald Campbell had overspent keeping his crew on while waiting for a break in the weather. Determined to give the Press a show to make their wait worthwhile, at around 8:30am Donald clambered into his boat. An army of photographers had been camped by Lake Conniston waiting for something to happen and this was it. To the amazement of all gathered to record the event and with shutters clicking for all they were worth, the K7 gracefully took to the air, somersaulted and nose dived into the lake. There was a stunned silence for quite a time before somebody reported over the radio: "There's been a complete accident. No details. Over." Although the wreck was not recovered, the K7's insurers made an ex-gratia payment to the estate of Donald Campbell against this total loss.

Bluebird K7 crash 4 January 1967, Lake Coniston

Thirty-four years later a salvage operation led by Bill Smith, finally raised the wreck of the K7 to the surface of the lake. Tonia Bern-Campbell witnessed the landing of the craft. Donald's body had not been located by this time, but the search continued apace and with the aid of modern sonar equipment, Donald's body was also recovered two months later in May 0f 2001 and laid to rest. May he rest in peace.

RESTORATION 2011

The grey metal skeleton bears little resemblance to the jet beast which gently lifted off the surface of Coniston Water, somersaulting, crash-landing and cart=wheeling into legend. Rarely has a lump of corroded metal meant so much.

But this is the boat which sank to the lake bed and stayed there for 34 years, until a Geordie engineer and diver called Bill Smith found it, recovered it – with a view to a resurrection.

About a dozen people, all volunteers, are bringing Bluebird back to life led by Bill Smith, a diver and engineer. They are working to original drawings and footage of the craft in the moments before it crashed.

The team has developed processes to repair and reuse even badly damaged wreckage. One man wears a Bluebird Project polo shirt. On the back are two words: 'It'll fix'.

The K7 wreckage recovered 8 March 2001, John Cobb's Crusader was found a year later.

HERITAGE LOTTERY FUNDING

Bill wasted four years failing to secure Heritage Lottery Fund backing. He's a big, brash man, a natural leader. Those who follow him are rewarded with relentless banter, filthy jokes and a ticket to wherever this journey is heading.

Those who do not share his vision, such as the lottery staff who rejected two applications, fare less well.

"They couldn't sit the right way round on a toilet seat," he declares. "One of them said anybody under the age of 40 wouldn't remember Bluebird and so wouldn't be interested. Well I don't know ANYBODY who remembers the Romans..."

Bill was born in May 1967, four months after Donald Campbell died. He has a grainy memory of sitting on his grandmother's floor, watching the black and white footage of Bluebird's final run and its brief, fatal flight.

He never gave it another thought until the mid-1990s when rock band Marillion released a song called Out of This World.

'Three hundred miles an hour on water, in your purpose-built machine...'

This hymn to Donald Campbell transported Bill back and retrieved memories he didn't know had been mislaid, memories of a shipwreck in the middle of an English lake.

"I was sitting round being miserable, 'cos my girlfriend had buggered off. I heard the song, rang the lads, and said 'We've got a project.' It got a bit out of hand."

Bill found the wreck in October 2000 and raised it the following March, with the backing of Campbell's daughter Gina. Not everyone approved. Some thought Campbell should have been left to rest with his craft.

"I always heard about it rather than encountered it," says Bill of the criticism. "I could understand people being concerned. This legend's been lying on the bottom of the lake for 34 years. Then this bunch of hooligan Geordie divers turns up.

"But in Donald's last will and testament, he said if anything happened to him his team were to pick up and carry on. Gina said if Donald had survived the accident he'd have had the boat brought straight back up. On ethical and moral matters, I'll always defer to Gina."

She decided that Bluebird should be rebuilt and so the craft was brought to North Shields, where it has spent almost 10 years. The question of when the boat will be ready to glide down Coniston again is being asked with increasing frequency.


Above: Bill Smith with K7 as of 2011, and Below: with sponson fairings and tailfin in place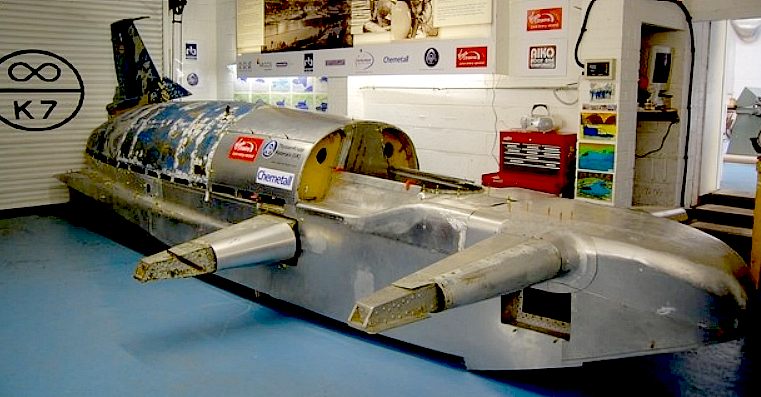 Bill is keener than anyone to provide the answer, but claims he's not bothered whether Bluebird's long-awaited return to water takes place in Cumbria or somewhere else.

"All I need [to see that Bluebird works] is two miles of straight water. I don't care if that's Coniston or the River Tyne or a Scottish loch. As long as it's water I'm happy, from an engineering point of view."

Of course: Bill is an engineer. This is an engineering project... but does emotion ever leak into it?

"Not really... the odd little time, you kind of cross paths with it. The best example recently: we fitted the cockpit. And I couldn't get out quick enough. Every panel is original. The seat, everything. To be sat in THE cockpit... that was weird."

After she glides again – probably at about 90mph; no record attempts this time around – Bluebird will be housed at the Ruskin Museum in Coniston village. Bill hopes it will not spend its entire second life there.

"We always said this is not going to be a dead husk of a thing on the shelf. It will be a living, breathing thing. Without inspiring the little people, this is just an exercise in self-indulgence for a bunch of middle-aged blokes. Annually we could arrange a project with youngsters at the heart of it. They can be taught engineering and team work."

"Nowadays kids spend their lives on ipods and computers, not going anywhere, not doing anything."

The world has certainly changed since January 4, 1967, the final day of a former public-schoolboy who circled the globe breaking speed limits, accompanied by a teddy bear mascot called Mr Whoppit.

Donald Campbell's story is extremes of success and failure in the same package. Scorch down a lake at 328mph; the fastest anyone has ever traveled on water. And die seconds later.

Bill Smith has written himself into the story and may yet add a happy ending. Maybe he's earned one.

Two months after raising Bluebird, Bill brought up Donald Campbell. Four months after that he helped carry the coffin into St Andrew's Church in Coniston on an afternoon rendered even more surreal by its timing: the day after 9/11.

"It probably would have been quite a pure emotional experience, if everyone hadn't been wandering around thinking World War Three had just started."

Looking back, the big Geordie thinks he may have used up a substantial portion of emotional energy when he first found the body.

"Donald was about 60 metres from the point of impact. The boat landed on its side. He came out the cockpit and off to the left.

"I got it into my daft head that we should go to the bottom and tell him what was going on. Well done Bill.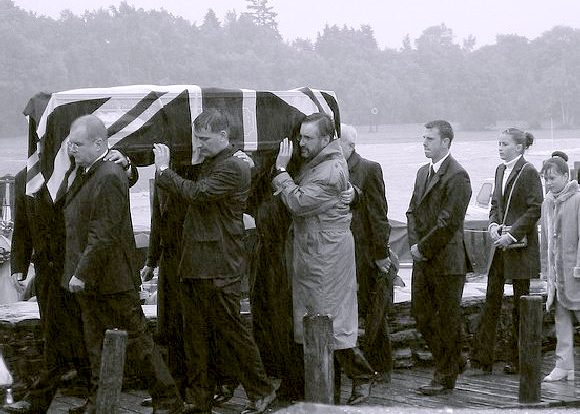 Donald Campbell is laid to rest on land
DAILY MAIL - CAMPBELL'S FINAL JOURNEY
Speedboat daredevil the late Donald Campbell CBE will make one final trip around the lake where he died, at his funeral this week.

Campbell will be buried at St Andrew's Church in Coniston Water on Wednesday more than 34 years after he died at the age of 46 attempting to set a new water speed record in his Bluebird K7.

His coffin will be loaded on to a small boat and steered around the lake before being placed on a horse-drawn carriage and driven through the village of Coniston.

The 1pm funeral service is due to be broadcast to hundreds of villagers and fans outside the church and a second service will run concurrently on the banks near to where he lost control of the speedboat on January 4 1967. There will also be a fly-past by a fleet of RAF tornadoes.

His widow, Tonia Bern-Campbell, who is now in her 70s and lives in Los Angeles where she works as a cabaret singer, and his sister, 77-year-old Jean Wales, will attend [in the end she did not].

Campbell's nephew and godson, Don Wales, who himself currently [now superceded twice] holds [held] the UK land speed record for an electric car, said Campbell's daughter, Gina, had spent months organising the details of the funeral, which will be a celebration of his life.

"Donald was a larger than life character and very charismatic and that is what we will be remembering next week," he said.

"It will be a very respectful affair, hopefully, but not sombre. It is going to be a celebration of the life and achievements of a very brave man.

"He will have one last ride on the lake before he is laid to rest, I'm sure he would have liked that."

Campbell's remains were discovered in May this year, two months after the Bluebird was finally lifted out of the water.

The 1.5 tonne wreckage was first sighted last December after a four-year search and the recovery was filmed by the BBC.

Campbell, son of Sir Malcolm Campbell, who himself held land and water speed records at different times, had been trying to break his own water speed record of 276 mph, when the nose of the boat lifted and the craft somersaulted repeatedly.

Yesterday the family celebrated a legal victory which named Campbell's widow and executors as the rightful owners of the ill-fated Bluebird.

A former business associate of Campbell, Paul Foulkes-Halbard, claimed he had acquired ownership of the ill-fated boat through the course of certain business dealings. [Had paid coin of the realm for the wreckage to insurers after an ex-gratia payout - details of which are to be confirmed]

But Mr Foulkes-Halbard yesterday confirmed he had relinquished his claim on the boat [by consent], which will now become one of the highlights of The Donington Collection, at the famous race circuit, for up to 12 months, before being moved to a purpose-built extension at the Ruskin Museum in Coniston.

Mr Wales, a 40-year-old father-of-two, added: "My family has spent tens of thousands of pounds fighting this claim and we are extremely pleased to have been successful."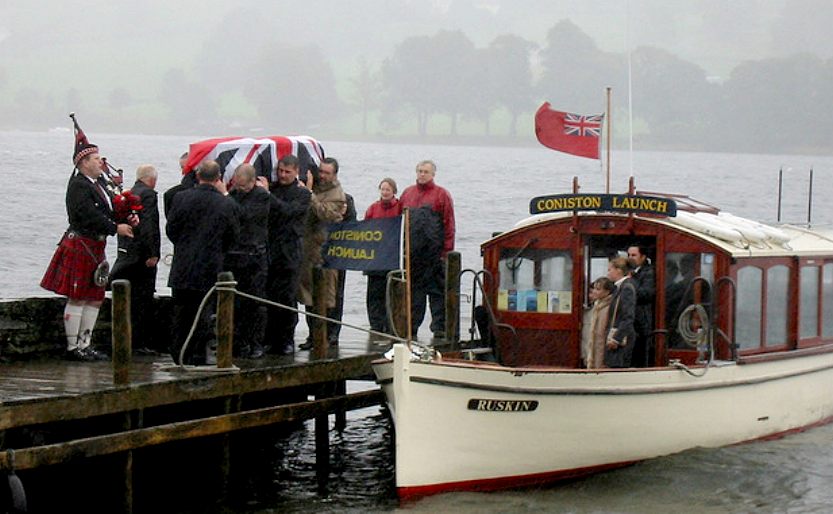 COMMENT
Many at Filching Manor Motor Museum, under the leadership of Paul (PFH) and Karl Foulkes-Halbard, have worked tirelessly and given freely of their time to restore the Blue Bird K3 over many years, bringing back a rotting hulk into good working order, while preserving the originality of the vessel as far as possible. Filching Manor is a working museum, a good thing in that exhibits are restored until able to function. The objective of PFH at the time was to ensure that the K7 would be properly conserved and not just sold off, where there have been many auctions of Malcolm Campbell's memorabilia being sold rather than collected. Gina Campbell sold off Mr Whoppit, a very personal item that many could not have parted from. With that assurance Paul was only too pleased to pass the mantle. Anyone who has restored anything with a history would know the expense and responsibility that is involved in getting it right, while also providing a secure location. Media articles at the time did not know the full background, and indeed, the objectives of PFH were also successful in extracting assurances to forward management and procedure. In that that was achieved, PFH was successful. PFH already had a full size replica of the K7 in his museum.

MR WHOPPIT
As was his father Sir Malcolm Campbell, Donald Campbell was highly superstitious. Both consulted spiritualist mediums and fortune tellers, Donald also placed his faith in a lucky mascot, Mr Whoppit. He refused to drive unless Whoppit was with him. One of his wife Tonia's tasks was to hand Whoppit to him on entering the cockpit. Whoppit was noted in 2003 by reporter Frank Bennett as being part of the "threesome" arriving for the 1964 record run – the others being Campbell himself, and his wife. Bennett remarked that the mascot was in the cockpit each time, along with other memorabilia.
Donald Campbell with Mr Whoppit in the CN7. DC would never have the color green on any of his cars. That included the windshield of the CN7, which Ken Norris told our IP consultant that he had to replace because of a green tint. No amount of insurance can stave off the inevitable, but it can ease your mind - and please investors.
Marine Insurance Guide: SAIL, POWER, TRAWLERS, LINER, YACHTS, RIBs, TENDERS, TANKERS, CARGO, CONTAINERS
LINKS
http://www.dailymail.co.uk/news/article-71475/Campbells-final-journey.html
Donald-campbell-s-bluebird-almost-ready-to-ride-on-water-again
http://www.k7projectbluebird.net/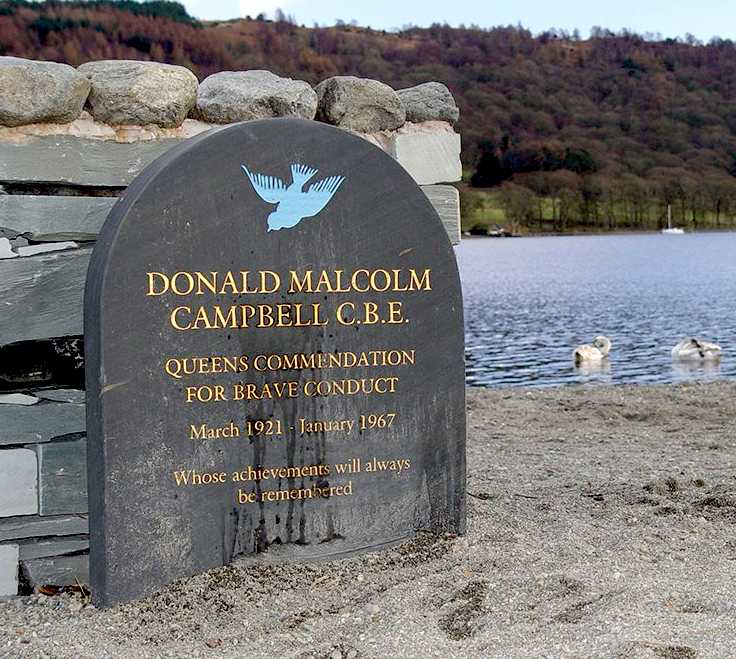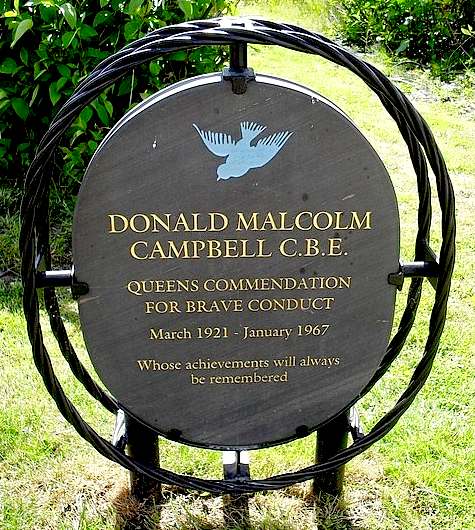 Donald Campbell is remembered all over the country, with commemorative plaques and headstones in various locations. The two pictures above are just two examples of similar designs in different settings.