John Campbell is related to the Duke of Argyll and Sir Colin Campbell of India who is buried in Westminster Abbey (The Clan Campbell is one of the most prominent Highland Scottish clans with lands in Argyll.) John holds the record for the shortest sprint event in the world: "Galley Hill Dash" - a 98.4 meter progressive uphill sprint. This event was held at the Bexhill 100 in 2000. John managed this distance in 4.82 seconds, beating 700 cars including Colin McRae's four wheel drive Ford Escort rally car and a Metro 6R4. John was driving his 1979 Duckham's Works team Lola-Ford at that time. The Bexhill 100 event is no longer running.
Apart from driving racing cars, John Campbell is also a skilled engineer, mechanical and welding. He has in the past used these skills to teach classic car restoration, which includes panel beating and engine and gearbox rebuilds. John has always been a motor sport enthusiast and continues to watch the sport develop.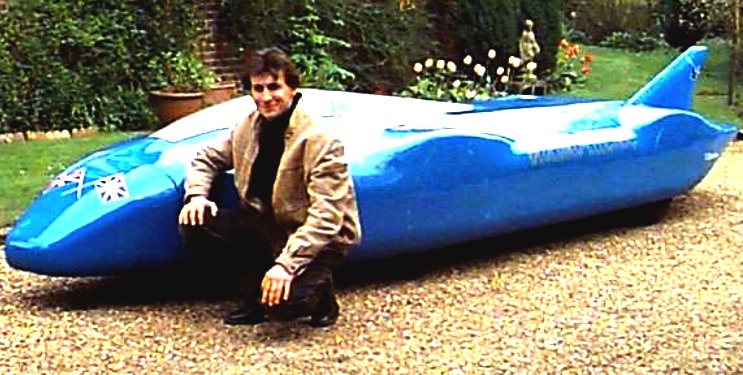 John in 1998 beside the BE2. Click on the picture above to see the world's fastest electric
battery cartridge exchange for land speed record cars.
The vehicle in the picture above is now retired but the technology developed from this series of cars could be used for an assault on the British electric land speed records planned for 2015-16, currently standing at 204mph. Previously in 2012 a 151mph speed was achieved by the Nemesis Lotus converted by Ecotricity for Nick Ponting.
The Ecotricity record had (unofficially) been surpassed by an exceptionally lightweight Bluebird Electric 1 (BE1) at 160mph, a four wheel drive machine with instant battery cartridge exchange built in. The BE1 achieved this speed on a road under construction in Sussex between Polegate and Pevensey Bay many years before - and should perhaps have been entered for an officially timed event - which may have changed the course of record breaking in the UK. The BE1 was the worlds first electric car able to power exchange its own batteries with a patented system, and is now recognized as a historic milestone in the development of the electric car.
Other cars that can exchange batteries do so with the aid of external machinery, such as the Better Place and Tesla systems.
Then in 2013, along came Lord Drayson with his Lola based racing car to set the newest record.
The latest project seeking to raise the British LSR is the Blueplanet BE3.
LINKS: