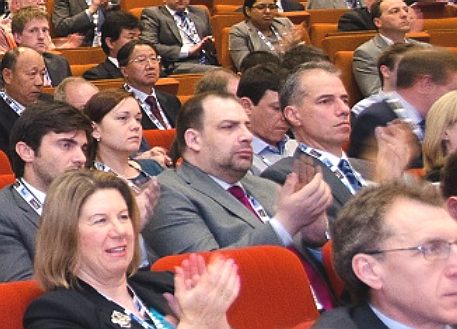 All-Energy Exhibition and Conference is the UK's largest renewable energy event taking place in Europe's energy city, Aberdeen, on 21-22 May 2014.

As a free-to-attend event, showcasing the complete range of renewable and sustainable technologies and with a world-class multi-stream conference alongside, All-Energy is where busy people come to do business.
SIR RICHARD BRANSON
Sir Richard Branson is a last minute addition to the list of speakers at All-Energy 2014. The U.K.'s renewable energy exhibition and conference is being held at Aberdeen Exhibition and Conference Centre (AECC), May 21-22.

Speaking live from his renowned Necker Island base, Sir Richard will be joining the conference on Thursday, May 22, through the medium of Skype; his presentation will take place at the end of "Investing in the future – innovation" a session devoted to innovation in the offshore wind sector (Crombie B at AECC).

"Sir Richard may not be directly involved with offshore wind, but the fact that this session is being chaired by Calum Davidson, Highland and Islands Enterprise's Director of Energy and Low Carbon was the deciding factor. The work on island energy systems undertaken by Sir Richard and The Carbon War Room makes Calum's involvement particularly relevant," says Judith Patten,
All-Energy's Conference Director.

"Earlier in the day, Peter Boyd, Chief Operating Officer, The Carbon War Room will be speaking in the Plenary Session at 09:15 with its theme 'Taking a different view'. The Carbon War Room is a global nonprofit organization, founded by Sir Richard Branson and a team of like-minded entrepreneurs that accelerates the adoption of business solutions that reduce carbon emissions at gigaton scale and advance the low-carbon economy. The organization focuses on solutions that can be realised using proven technologies under current policy landscapes. Having Sir Richard with us later in the same day will give our audience a greater understanding of the work of the organization."

The Carbon War Room identifies and works in sectors where emissions can be reduced profitably, and where there are barriers preventing greater adoption of low-carbon solutions.

Peter Boyd will be combining climate change and optimism in the same talk, airing the view that "solving climate change is the single biggest society opportunity on the planet today" and encouraging everyone in the audience "to grasp the opportunities and profit from it at the same time" ….. Two case studies of Carbon War Room's recent work highlight the opportunities and have resonance in Scotland as well as around the world – island energy systems, and fuel efficient shipping.

FREE TO ATTEND

The All-Energy conference program begins with political keynote addresses by Rt Hon Alistair Carmichael MP, Secretary of State for Scotland and Fergus Ewing MSP, Minister for Energy, Enterprise and Tourism; and at lunch time on Day 1 includes The Great Debate, on the energy implications of the Scottish Independence Referendum between Fergus Ewing and Tom Greatrex MP, UK Shadow Energy Minister, and Chaired by Professor Sir Jim McDonald.
THE CONFERENCE

Year-on-year All-Energy provides an unparalleled opportunity to gain insight across all areas of the renewable energy industry.

Their multi-stream conference covers all renewable energy sectors and the challenges facing the industry, as well as associated issues such as grid, funding and increasingly important areas such as business energy efficiency.
CALL FOR PAPERS

The Call for Papers deadline has been extended until 6 January 2014. For inspiration you can download the 2013 conference programme and link to individual presentations. The full programme for 2014 will be available in early Spring.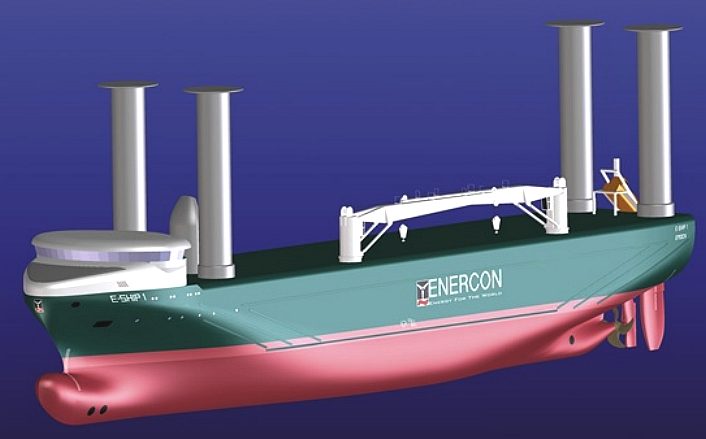 Of all the subject headings, there appears to be no speaker (slot) for zero carbon ships. The Enercon design study above is not zero carbon, but hybrid wind and solar powered ships could be if the necessary research is done to prove the concept.
ALL ENERGY CHAIR & SPEAKERS LIST 2013
123 - 40 South Energy - Michele Grassi, CEO
A

Åbo Akademi - University, Finland - David Agar, Research Scientist, Process Chemistry Centre
Aalborg Energie Technik a/s Frank Scholdann Lund, Manager
ABB Limited - Kevin A Wilson, Technology Engineer; Brian Cheung, Principal Technology Engineer; Peter Jones, Engineering Manager for Grid Systems, Martin Hale, Head of Marketing & Sales, UK & Ireland; Chris Stubbs, Energy Practice Leader
Aberdeen City Council - Lord Provost, George Adam, Lord Provost of the City of Aberdeen, Emma Watt, Project Manager; Gordon McIntosh, Director of Enterprise, Planning and Infrastructure
Rachel Sharp, Project Officer
Aberdeen Heat & Power Ltd - Michael King, Board Director
Aberdeen Renewable Energy Group (AREG) - Iain Todd, Renewables Champion
ABP Marine Environmental Research Ltd - Heidi Roberts, Head of Coastal Processes; Jamie Hernon, Marine Hydrodynamics

Abundance Generation - Louise Wilson, Managing Director
Accenture New Energy Solutions - DrMauricio Bermundez - Neubauer, Director, Offshore Wind
ADIL - Cara Heller, Strategy Development Analyst
AECOM - Claire Frost, Graduate Engineer; Kit Gillibrand, Associate; Neal Kalita, Head of Energy Advisory; Robert MacGregor, Principal Engineer; Catherin e Mackay, Principal Environmental Consultant; Paul Woods, Technical Director; Aidan Harber, Principal Engineer
ÄFAB - Sweden Bengt - Erik Lofgren, CEO
AGHO Port of Oostend - Wim Stubbe, Business Development Manager; AlanC Watson; Hamish Watson
AMEC Europe - Alastair Rennie, Project Director
Ampair - David Sharman, Managing Director
Andritz Hydro Service and Rehabilitation - Markus Kainberger, Project Manager
Aqua-Media International Ltd - Alison Bartle, Director
Aquatera and International Centre for Island Technology (ICIT) Gareth Davies, Managing Director;
Areva - David Matthews, Head of Sales
Artemis - Dr Win Rampen, CEO
Aspin Kemp & Associates - Mike Bonga, Senior Engineer, Mechanical & Reliability
Atkins Limited - Dr Evan Passaris, Technical Director
Atlantis Resources Corporation - Joseph Fison, Director of Corporate Development
Axeon, Johnson Matthey - Rebecca Trengove, Head of Marketing and Corporate Affairs
B

Baringa Partners - Duncan Sinclair, Partner in the Energy Advisory Services
Bauer Renewables Ltd - Bill Shaw, Commercial Director
Bloomberg New Energy Finance - Angus McCrone, Chief Editor
Bluewater Energy Services - Anne van Houten, New Energy Market Developer
Bond Dickinson LLP - Jonathan Bower, Partner
British Hydropower Association - Professor David Williams, Chief Executive
Brodies LLP - Neil Collar, Head of Planning Law
Bruxiehill Wind Energy Ltd, Ednie Wind Energy Ltd, Greenside Wind Energy Ltd - Dr Elaine Booth, Director
BVG Associates Ltd - Dr Alun Roberts, Senior Associate; Bruce Valpy, Director
BYD Overseas Group - Hill Ren, Senior Country Manager
C

Caledonian Maritime Assets Limited - Andrew Flockhart, Head of Business Development
Carbon Trust - Charlie Blair, Technology Acceleration Manager, Marine Renewables; Clare Hanmer, Technology Strategy Manager; Phil de Villiers, Offshore Wind Accelerator Manager; Al-Karim Govindji, Technology Acceleration Manager, Innovation
Carter Jonas Andrew Watkin, Partner
Clean Capital - Peter Whiting, Partner Cleantech Investor; Nigel Hawkins, City Investment Analyst
CO2 Technology Centre Mongstad (TCM) - Frank Ellingsen, Managing Director
Community Energy Scotland - Mo Cloonan, Head of Development; Nicholas Gubbins, Chief Executive; Jennifer Ramsay, Community Benefit Officer; Felix Wight, Policy & Innovation Manager
Co-operative Social Goals - Colin Baines, Community Energy Campaigns Manager
Cranfield University - Professor John Sharp, Professor to the Centre for Energy and Resource Technology
Crown Estate (The) - Huub den Rooijen, Head of Offshore Wind Energy; Alastair Dutton, Programme Manager (Wind Development) Adrian Fox, Programme Manager Supply Chain and Technology, Energy and Infrastructure; Tom Mallows, Development Manager (CCS & Gas Storage); Ronnie Quinn, Lead for Energy and Infrastructure Scotland; Dorothy Shepherd, Commercial Manager, Offshore Wind; Dr Anne Westwood, Consents Manager
D

DCNS Ocean Energy Business Unit - Sylvain de Mullenheim, Vice-President Development
DECC - Rt Hon Edward Davey MP, Secretary of State; Jonathan Brearley, Director for Electricity Market Reform; Ian Ellerington, Head of Innovation Delivery; Trevor Raggatt, Head of Small Scale and Emerging Renewables
DHI - Henrik Skov, Senior Ecologist
DHI Water Environments UK Ltd - Sonja Pans, Senior EIA specialist and Business Manager (Marine/Energy)
DONG Energy - Benj Sykes, UK Country Manager, Wind Power
Douglas Westwood - Frank Wright, Manager, Renewables
DWF Biggart Baillie - Dr Martin Sales, Partner, Infrastructure, Environment & Transport
E

E4TECH - David Hart, Director
ECCI - Ed Craig, Head of Business Innovation; Andy Kerr, Director
Ecofin Research Foundation - Dr Angela Whelan, Chief Executive
EDF Energy - Robert Gunn, Acting Plant Director, Torness Power Station, Nuclear Generation
Edinburgh College - Ross Milligan, Curriculum Development Manager
EDPR UK - Dan Finch, Managing Director
EGS Energy Limited - Guy Macpherson-Grant, Managing Director
Element Energy - Ben Madden, Founding Director; Harsh Pershad, Principal Consultant
Endurance Wind Power - Edward Kenny Levick, European Sales Manager; Edward Young, Business
Development Project Manager
Energy & Utilities Skills - Neil Robertson, CEO
Energy4All - Mark Jennison, Development Director
Energy Institute - Yasmine Dialdas, Accreditation Manager
Energy Ministry–Chile - Jose Miguel Arriaza, Head of Marine Energy
Energy Networks Association - Tony Glover, Director of Policy
Energy Saving Trust-Scotland - Mike Thornton, Director
Energy Technologies Institute - Simon Cheeseman, Marine Programme Manager; George Day, Head of Economic Strategy; John Batterbee, Tools & Technology Manager; Andrew Scott, Offshore Wind Programme Manager
Energy Technology Partnership - Simon Puttock, Executive Director
Energy UK - Lawrence Slade, Chief Operating Officer
ENERTRAG - Christopher Small, Director
EngineeredSolutions - Eurling Prof Ian M Arbon Ceng, Cenv, Senior Partner
Erasmus University College Brussels - Dr Mark Runacres, Department of Industrial Sciences and Technology, and Faculty of Engineering, Vrije Universiteit Brussel, Belgium
Ernst & Young - Thomas Fletcher, Assistant Director European Marine Energy Centre (EMEC Ltd)
John Griffiths, Technical & Compliance Director; Neil Kermode, Managing Director
Eversheds LLP - Charles Reynard, Partner, Clean Energy Team; Marcus Trinick QC, Partner
F

Fife Council - Barbara Whiting, Lead Officer -Renewables
First Subsea Ltd - Greg Campbell-Smith, Sales & Development Manager
FloWave TT Ltd - University of Edinburgh; Stuart Brown, Chief Executive
Forestry Commission - Malcolm Crosby, Forest Renewables Team
Fraenkel Wright Ltd - Martin Wright, Director
Fred Olsen - Alan Taylor, Consultant
Frost-Free Ltd - Martin Turner, Director
Fuel Cell Today - Marge Ryan, Market Analyst
Fuel Cells & Hydrogen Joint Undertaking - Bert De Colvenaer, Executive Director
Fundy Tidal Inc - Dana Morin, Director of Business Development
G

Gaia Wind Ltd - John Gallacher, Sales & Marketing Director
Gamesa - David Blunt, Director Public Policy UK and EU Institutions (& Member of Norstec Steering Committee)
Gardline Environmental - Katie Cross, Environmental Business Manager
Geomarine Ltd - Peter Allan, Managing Director; Scott Gooding, Engineering Manager
GeoServ - Riccardo Pasquali, Managing Director
Geothermal Engineering Ltd - Ryan Law, Managing Director
GL Garrad Hassan - Mark Cowling, Project Management Consultant; Felicity Jones, Strategy & Policy Analyst; David Robertson, Head of Project Management Services - UK Marine & Offshore
H

Harlaw Hydro Ltd - Simon Dormor, Director
Highlands and Islands Enterprise - Gavin MacKay, Senior Development Manager - Renewable Energy Policy & Strategic Projects
Hochtief - David Craft, Business Development Manager, Civil Engineering and Marine Offshore
Hurleypalmerflatt - Dr David Telford, Director Energy and Sustainability
I

Imperial College - Nigel Brandon, Director Energy Futures Lab; Alan Moore OBE, Adjunct Professor
Intelligent Energy - Denis Hayter, CEO
iPower - Jon Cape, Managing Director; Alastair Roberts, Community Renewables Manager
ITM Power plc - Charles Purkess, Marketing and PR Manager
J

James Hutton Institute - Kirsty L Holstead, Social, Economic and Geographic Sciences; Lee Ann Sutherland, Social, Economic and Geographic Sciences
Jigsaw Energy - George Wood, Director
Jumbo Offshore - Brian Boutkan, Business Development Manager Offshore Wind
K

K&L Gates LLP - Richard Jordon
Kiwa GASTEC at CRE - Mark Crowther, Director and General Manager
L

Linknode - Crispin Hoult, Director
Lloyds Banking Group Scotland - Lady Susan Rice CBE, Managing Director
Lloyd's Register - Morten Bøgild, Fluid Dynamics Consultant - Peter Davies, Global Technology Leader for Renewable Energy
Lloyd's Register EMEA - Andrew Martin, Technical Manager
Logan Energy - John Lidderdale, Chairman
Logan Energy Ltd - Bill Ireland, Managing Director
LUC - Marc van Grieken, Landscape Architect, Principal of LUC
M

Mackie's of Scotland - Maitland Mackie, CBE, LLD, FRAGS,DBA, BScAg, MAhonsEcon, Chairman

Mackinnons - Martin Sinclair, Partner

Maclay Murray & Spens LLP - David Cruickshank, Head of Renewables Team

Mariens Consortium - Eduoard Gasse, Ailes Marines Offshore Project Manager

Marine Energy Matters - Colin Cornish, Managing Director

Marine Scotland - Jim McKie, Head of Licensing Operations Team; David Pratt, Offshore Wind and Marine Renewables Planner

Marine Scotland Science - Ian Davies, Scientific Research to support Offshore Renewable Energy in Scotland

Maritimes Energy Association - Barbara Pike, CEO

Marks & Clerk LLP - Douglas Ranking, Chartered & European Patent Attorney

McElhinney & Co - Derek McElhinney

Mick Cook Limited - Mick Cook, Director

Mojo Maritime - Richard Parkinson, Managing Director

Mor Hydro Ltd - Adrian Loening, Director
N

Narec - John Watson, Business Development Manager

National Nuclear Laboratory - Adrian Bull, Director of External Relations

National Renewable Energy Laboratory (NREL) - Michael Penev, Senior Chemical Engineer

Natural Power Consultants - Cris Sagar, Bionenergy Manager

NB Power - Keith Cronkhite, Vice President of Generation and Business Development

NEL Hydrogen AS - Henning Langaas, Director of Marketing & Sales

NGenTec Limited - Dr Makhlouf Benatmane, Chief Executive Officer

NIA Decommissioning Group - Gareth Davies, Vice Chair

NIRAS Consulting Ltd - Dr Tim Norman, Managing Director
O

Offshore Marine Support Ltd - Andy Iannetta, Managing Director

Offshore Renewable Energy Catapult - Andrew Jamieson, Chief Executive; Alan Moore OBE, Non-Executive Director Mainstream Renewable Power; Adam Bruce, Global Head of Corporate
Affairs (& Chairman of Offshore Wind Programme Board)
P

PA Consulting Group - Roy Williamson, Tech & Cleantech Specialist for VC's

Parsons Brinckerhoff - Duncan Botting, Business Innovation & Growth Director; Peter Kydd, Director of Strategic Consulting
Partrac Group - Kevin Black, Technical Director

Pelamis Wave Power - Andrew Scott, Project and Business Development Manager

Pinsent Mason LLP - Nicholas Carlin, Senior Associate

Planet-energie - Klaus Stolzenburg

Plymouth University - Daniel Conley, Associate Professor

Powerpipe - Philippe Terrien, Country Manager

Pöyry Management Consulting - Dr Phil Hare, Vice President, Head of North West European Region

Process Systems Enterprise Ltd - Dr Nouri Samsatli, Senior Consultant

Pure Energy Centre - Elizabeth Johnson, Business Development Manager
R
RBS - Jamie Mehmood, Senior Director, Sustainable Energy Finance
Regen SW - Johnny Gowdy, Programme Manager, SW Marine Energy Park and
Programme Director
Renewable Energy Association - Gaynor Hartnell, Chief Executive; Dr Stephanie Merry, Head of Marine Renewables; Jenny Grant, Organics Recycling Group Manager-Scotland
RenewableUK - Gemma Grimes, Director of Onshore Renewables; Skye Holcome Henley, European Marine Policy Officer; David Krohn, Wave and Tidal Energy Development Manager; Maria McCaffery MBE, Chief Executive; Maf Smith, Deputy Chief Executive
REpower Systems SE - David Hilbert, Wind & Site Engineering / Advanced Flow Modelling
REpower UK Ltd - Tom Findlay, Offshore Business Development Manager
Ricardo UK Ltd - Andy Atkins, Senior Technologist; Stuart Bower, Chief Engineer – Electrical Power Systems
Ricardo-AEA - Colin McNaught, Managing Consultant
Robert Gordon University - Bryan McNay, Senior Lecturer, Aberdeen Business School
Rousay Egilsay and Wyre Development Trust - Michelle Koster, Turbine Development Officer
RPS Energy - Leo James, Principal Advisor–Site Investigation & Survey
RSPB - Harry Huyton, Head of Climate Change Policy and Campaigns
RWE npower renewables - Chris Pasteur,Hydro Development and Construction Manager
S

SAC Consulting - Kate Hutchinson, Senior Biomass Energy Consultant
Saipem-SA - Jaques Ruer, Directeur Adjoint Développement des Technologies
Savills Energy - Gregory Dix, Associate Director, Strategic Projects
SCENE - Vijay Bhopal, Operations Director
Scotrenewables Tidal Power Ltd - Mark Hamilton, CTO
Scottish and Southern Energy Power Distribution (see also SSE) - Frank Clifton, Development Manager; David Gardner, Director of Transmission
Scottish Carbon Capture & Storage - Maxine Akhurst, Project Leader
Scottish Energy Laboratory - Terry Hogg, Head
Scottish Enterprise - Christopher Bryceland, Senior Executive–Energy, CCS, Thermal Generation and Unconventional Gas; David Butler, Energy & Low Carbon Technologies Team; Dr Gregor McDonald, Technology Analyst, Renewable Energy and Low Carbon Technologies; Jan Reid, Senior Manager, Renewable Energy; Ewen Cameron, Senior Manager-Renewable Energy and Low Carbon Technologies
Scottish European Green Energy Centre - Johanna Yates, Ocean Energy Manager
Scottish Future Trust - Vivienne Cockburn, Associate Director
Scottish Government - Fergus Ewing MSP, Minister for Energy, Enterprise and Tourism; Chris Stark, Head of Electricity Division; Jonathan Guthrie, Project Investment Advisor, Energy Technology & Investment Unit; Ann McKenzie, Head of Domestic Energy Efficiency; John McMenemy, Energy Efficiency Policy Manager; Lewis Hurley, Environmental Assessment Specialist, Environmental Assessment Team
Scottish Hydrogen and Fuel Cell Association (SHFCA) - Nigel Holmes, CEO
Scottish Investment Bank - Kerry Sharp, Head of the Scottish Investment Bank
Scottish Natural Heritage - Mareike Moeller-Holtkamp, Policy & Advice Officer; Kenny Taylor, Renewable Energy Policy and Advice Officer; Brendan Turvey, Policy and Advice Manager–Renewables
Scottish Power-Energy Networks - Derek Drummond, Sustainable Technology Manger
George Kirk, Cities Director; Martin Hill, Future Networks Manager
Scottish Renewables - Joss Blamire, Senior Policy Manager
Scottish Windfarm Bird Steering Group - Professor Colin Galbraith, Chairman
Sea Power Ltd - Ben Wrafter, CEO
Seaforth Energy - Mike Morris, President & CEO
SeaRoc - Nick Murphy, Head of Wave & Tidal Projects
Senergy Survey & GeoEngineering - Mark Finch, Geotechnical Director; Richard Orren, Global Technical Head
SEPA - Andrew Sullivan, National Operations Waste Unit
SgurrEnergy Ltd - Peter Clive, Renewable Energy Consultant
ShareEnergy - Jon Halle
Shell International - Dr Owain Tucker, Global Deployment Lead CCS & Contaminated Gas
Shetland Islands Council - William Spence, Plant Manager
Shetlands Heat Energy & Power - Neville Martin, General Manager
Siemens- Colin Henry, Business Development Manager–Smart Grid; Matthew Knight, Director of Business Development; Rob Wyatt, Team Leader-Renewables; Sinclair Knight Merz; Peter Dunmow, Landscape Technical Lead
SLR Consulting Ireland - Nick O'Neill, Director
SLR Consulting Ltd - Jean Welstead, Technical Director
Smarter Grid Solutions - Professor Graham Ault, Development Director
SmartestEnergy - Iain Robertson, Generation Sales Manager
SmartMotor AS - Alexey Matveev, Head of R&T Department
Society for Underwater Technology Dr Bob Allwood, Chief Executive
SODERCAN - Ignacio Abaitua Fernández–Escárzaga, Project Manager
SSE (see also Scottish and Southern) - Stewart Reid, Future Networks Manager
Star Refrigeration Ltd - Dave Pearson, Director of Innovation
StillWind - David Still CBE
Strathclyde University - Sir Jim McDonald, Principal and Vice Chancellor
Supacat - Nick Ames, Managing Director
T
Technology Strategy Board - Rob Saunders, Head of Energy; Gary Staunton, Adviser - Energy
That Friday Feeling and Daily Record - John Curtis, That Friday Feeling
Tidal Energy Ltd - Martin Murphy, Managing Director
Transport for London - David Yorke, Project Manager
U

UK Green Investment Bank - Rob Cormie, Group Operations Director
UK Power Networks - Stephen Halsey, Distributed Generation Development Manager; Sotiris
Georgiopoulos, Flexible Plug and Play Project Director, Future Networks
UK Trade & Investment - Simon Carter, Head of Renewable Energy; Dr Juan Matthews FInstP, Technology Specialist – Nuclear: Karl Royce, Deputy Director - Chile: Xavier Owen, Senior Trade Adviser - France: Kerstin Rath, Senior Trade Adviser, Germany: Dinesh Arya, Senior Trade and Investment Advisor - India
University of Aberdeen - Professor Paul Mitchell, Offshore Renewables Institute, School of Engineering & Director of the Institute of Energy Technologies
University of Bath - Tim Mays, Department of Chemical Engineering
University College Cork, Beaufort Research - Mark Healy, MARINET Project Manager
University of Edinburgh - Professor Stuart Haszeldine OBE, ScottishPower Professor of Carbon Capture & Storage; Jamie Stewart, Research Associate of Scottish Carbon Capture and Storage
University of Glasgow - Dr Ian Watson, Senior Lecturer
University of Manchester - Michael Martin, Researcher, Tyndall Centre; Ralitsa Hiteva, Doctoral Candidate, Sustainable Consumption Institute, School of Environment and Development
University of Strathclyde - Keith Bell, Department of Electronic and Electrical Engineering; Dr Iliana Portugués, Director, Power Networks Demonstration Centre
Utilyx - Zosia Riesner, Head of Renewables
V

Vensys Energy AG - David Still CBE
Ventus2 VCT plc - Alan Moore OBE, Chairman
W

WaterstofNet - Adwin Martens, Director
William Industrial Services - John Toner, Chairman and Managing Director
Wilson, Rt Hon Brian - Former UK Energy Minister
Woodlands Power Ltd - Doug Everard, Independent Management Consultant
X - Xodus Group - Kenneth Couston, Environmental Consultant
Z - Zero Waste Scotland - Iain Gulland,Director
TOPIC TRAILS - 12 sector trails were created with the aim of helping visitors to swiftly identify and connect with the exhibitors they need to see. For exhibitors, the trails bring visitors genuinely interested in their products/services directly to their stands. "Trail maps" will be produced to guide visitors around the exhibition. In addition, the 3 trails exhibitors have selected will be displayed on the front of their stand, further helping visitors to find the companies in which they're interested.
Bioenergy (100)
Energy Efficiency (138)
Hydropower(100)
Investment (78)
Jobs (47)
Low Carbon Transport (59)
None(44)
Offshore Maintenance (135)
Offshore Wind (237)
Onshore Wind (229)
Renewable Heat (122)
Solar Energy (128)
Wave and Tidal (215)
Transport - In the UK alone, transport represents 21% of total domestic emissions. Decarbonising transport now to help drive down air-polluting emissions is imperative to combat climate change and meet carbon reduction targets. This trail includes electric vehicles, biofuels, fuel cells and transport infrastructure. With greenhouse gas emissions from transport representing 21% of total UK domestic emissions, decarbonising transport is a major challenge for the UK.
Air transport (18)
Low carbon transport and electric vehicles (57)
Other (89)
Vessels (76)
EVENT SPONSORS 2014
CONTACTS
Reed Exhibitions Limited
Gateway House, 28 The Quadrant
Richmond, Surrey TW9 1DN, United Kingdom
The exhibitor/ visitor helpline can help with an enormous range of enquiries. Get in contact for general show enquiries, or for something more specific contact the relevant member of the team.

Tel: +44 (0)20 8271 2179
Email: ae.helpline@reedexpo.co.uk

SALES

Sales Manager
Mark Lewis
Tel: +44 (0)20 8439 8858

International Sales
Enrico Tracogna
Tel:+44 (0)208 910 7816
enrico.tracogna@reedexpo.co.uk

Sales Executive
Joe Rawlins
Tel: +44 (0)20 8910 7044
USA Sales Representative
Wayne Kakos
Tel: +1 (203) 840-5875
China Sales Representative
Renee Guo
Tel: +86 10 5933 9225
renee.guo@reedexpo.com.cn

Low Carbon Transport Sales
John Curtis
Tel: +44 (0)7515 761 300
Japan Sales Representative
Keiko Itai
Tel: +81 3 5575 7510
itaik@reedexpo.co.jp

Germany Sales Representative
Christina Linda Neumann
International Sales & Marketing Manager
Tel: +49 211 55 628 539
christina.neumann@reedexpo.de

MARKETING

Marketing Manager

Alan Caddick
Tel: +44 (0)208 439 5585
Marketing Executive
Chloe Modaberi
Tel: +44 (0)20 8910 8898
chloe.modaberi@reedexpo.co.uk

Customer Relationship Executive
Manpreet Sira
Tel: +44 (0)208 910 7716
manpreet.sira@reedexpo.co.uk

CONFERENCE

Conference & PR Enquiries
Judith Patten
Project Director
Tel: +44 (0) 20 82411912
judithpatten@jppr.uk.com

Content Executive
Ellen Burgess
Tel: +44 (0)20 8439 5420
ellen.burgess@reedexpo.co.uk

OPERATIONS

Operations Manager
Georgina Coles
Tel: +44 (0)208 910 7997

Operations Executive
Rebecca Lighten
Tel: +44 (0)208 910 7927
rebecca.lighten@reedexpo.co.uk

GENERAL

Exhibition Director
Jonathan Heastie
Tel: +44 (0)208 910 7133
jonathan.heastie@reedexpo.co.uk
Exhibition Co-ordinator
Faye Sumner
Tel: +44 (0)20 8439 7075
faye.sumner@reedexpo.co.uk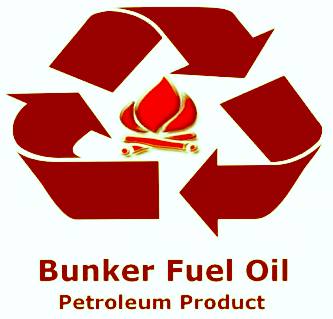 ALTERNATIVE ENERGY
A return to sails using autonomous management of sail booms has been proposed and investigated in several designs, the object being to eliminate manual trimming. Wing sails have been shown to work, but have never taken off. Though, recent proposals by Japanese ship builders include large sails on deck, a variation of the Walker wing-sail system. Rotary wings, or turbines is another area of harvesting energy from nature that is in its infancy, Solar power has been used to circumnavigate the globe, but at relatively slow speeds. Wave power is another area receiving renewed attention.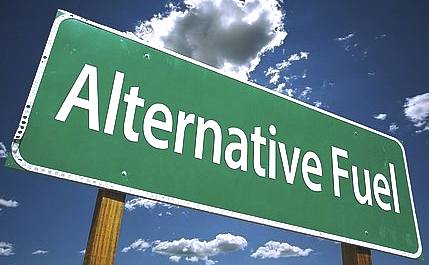 HORIZON 2020 - RESEARCH COLLABORATION OPPORTUNITY
The EU is looking for proposals that will eventually give zero, or near zero emission ocean transport. Bluebird Marine Systems Ltd is looking for European partners to prove the concept of a zero emission hybrid vessel that harvests a mix of solar and wind energy to give cruising speeds that will be competitive against ships using expensive bunker fuels. Please contact us today if this is of interest to your organization.
LINKS:
http://www.maritimeprofessional.com/News/369246.aspx
http://www.all-energy.co.uk/Contact-Us/
http://www.all-energy.co.uk/conference/
Kittiwake bunker fuel testing analysis
Merchant_Shipping_(Pollution)_Act_2006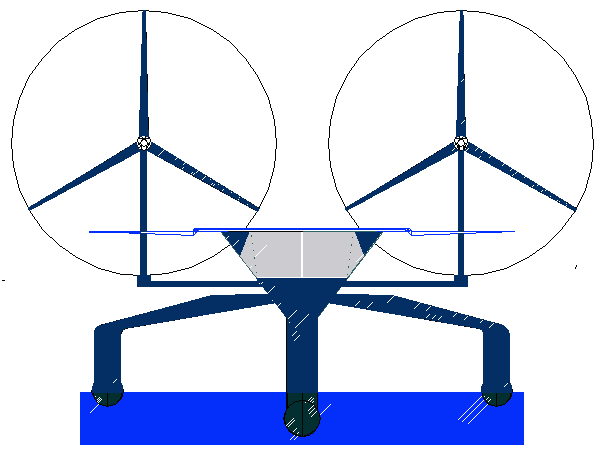 Electric Superyachts are now possible that operate on nothing but energy harvested directly from nature. The above is a 50 ton ZCC yacht with a low frontal area and hyper efficient SWASH hull. This craft sports 40kW wind turbines and 300m2 of solar panels. The total energy harvesting capacity of this design is around 176kW (235hp). The hull is 50m (163ft) hull on the waterline, OAL is 56M (183ft). Cruise the Mediterranean virtually silently with no pollution and at vastly reduced cost. The sprint speed of this craft will be in the 20+ knot region. If this yacht had not been powered with free energy from nature, the cost of diesel fuel to operate continuously for a year would be approximately: .29gals/hp x 117 x 24 x 365 = $297,226.80 (£183,393.99) In ten years that would be $2.97M (£1.83M). Fuel for thought!