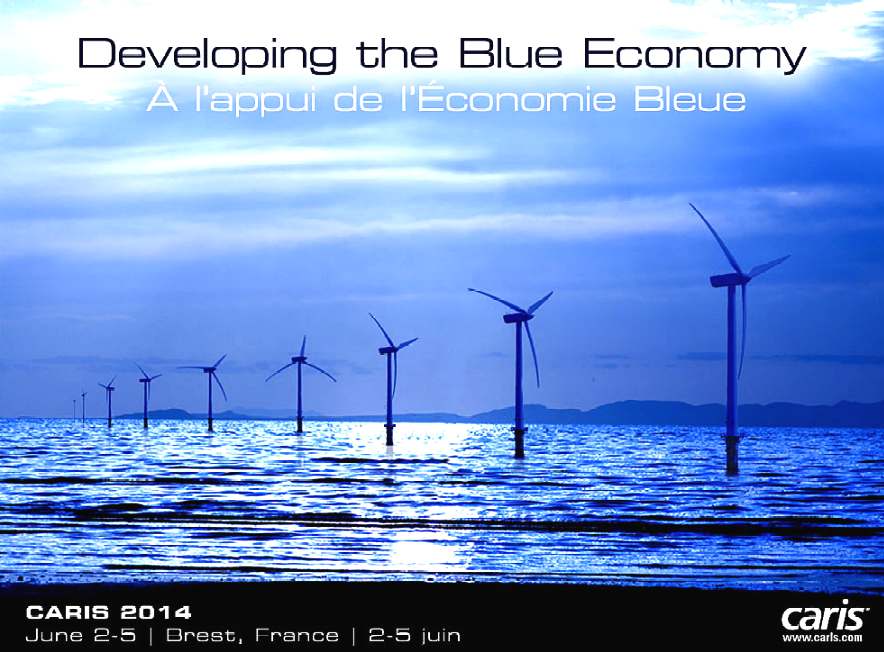 BLUE GROWTH COLLABORATION JANUARY 2014
CARIS will host its 15th international user group conference in Brest, France, one of Europe's main centres of marine science and technology, in June 2014. The event will take place June 2-5, 2014 at Le Quartz, Brest's conference centre and national theatre. The conference centre is within walking distance from many local hotels and amenities.

Brest is recognized as a centre of excellence in marine research, education and hydrography, and is the home of the prestigious Service Hydrographique et Océanographique de la Marine (SHOM). With its natural harbours and beautiful coastlines, the surrounding region of Brittany has strong links to the sea to provide an inspiring setting for the CARIS conference.

The oceans and seas of planet Earth are a valuable natural resource and major contributor to the world economy. Over 90 per cent of global trade is transported by sea and a wealth of resources can be found within its depths including food, minerals and energy. The health of our oceans and seas is critical in developing economic sustainability, yet it remains to be the most unexplored portion of the world.

The need for more marine information is evident. Through the use of advanced technology and forward thinking organizations, hydrography will play a significant role in sustaining our oceans. Going beyond traditional core maritime activities, hydrographic data can support an increasing amount of activities including coastal zone management, ocean science, offshore energy, environmental monitoring, tourism and many more.

CARIS users will have the opportunity to share their experiences, talk with industry leaders, drive the direction of CARIS software and hear about the latest technological advancements.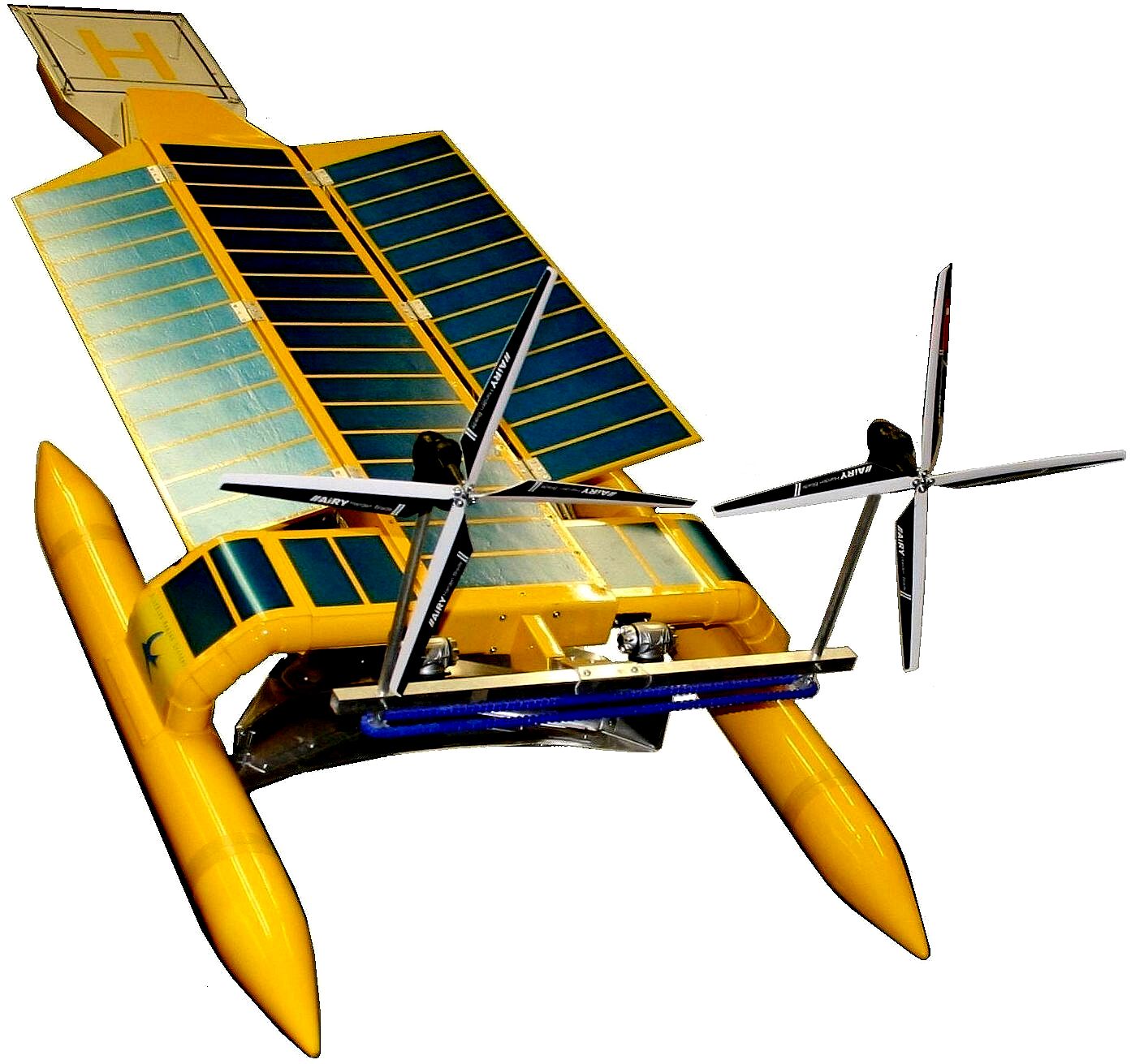 SEAVAX: It's only 1/20th scale at the moment, but this little beauty is paving the way for cleaner rivers and oceans. Cleaner oceans means healthier fish and more fish means food security. Help us to help each other feed the world.
PORTWORK SEAWORK 2013
Following a presentation on Port Centricity at Seawork 2013, stakeholders from the English and French coastlines have met to discuss how collaboration and cooperation could ensure a sustainable future for the Channel.

The event, held in Rouen, marked the end of the four-year Channel Arc Manche Integrated Strategy (CAMIS) project which, together with 19 partner organisations, including the University of Chichester, focused on supporting coastal communities bordering the Channel.

Dr David Cooper, a reader in management and economic development, University of Chichester, said at the event: "We have used the experience gained to undertake additional funded work on analyzing the supply chains for the Sussex and Kent wind farms and also to inform strategy development work for the Coast to Capital Local Enterprise Partnership."

Alongside French colleagues, senior lecturer, Dr Dawn Robins, also from the University, presented her findings on the importance of small ports in supporting local communities, before her colleague Dr McKinley spoke about the role of marine clusters in sustainable growth of maritime businesses and coastal community regeneration.

The University has also produced a number of recommendations on best practice for port centric activity and developed a prototype online Channel Maritime Portal providing up-to-date information for Channel stakeholders and businesses.

The event was also an opportunity for partners to launch a new strategy which will be used to guide governance of the Channel for the future.

Called the Integrated Maritime Strategy (IMS), it aims to help stakeholders in the Channel region to work collaboratively to create a sustainable future. The IMS will guide future national and EU policies, including supporting member states to meet objectives set by the Blue Growth Strategy, for future funding programmes to identify essential priorities for the Channel region.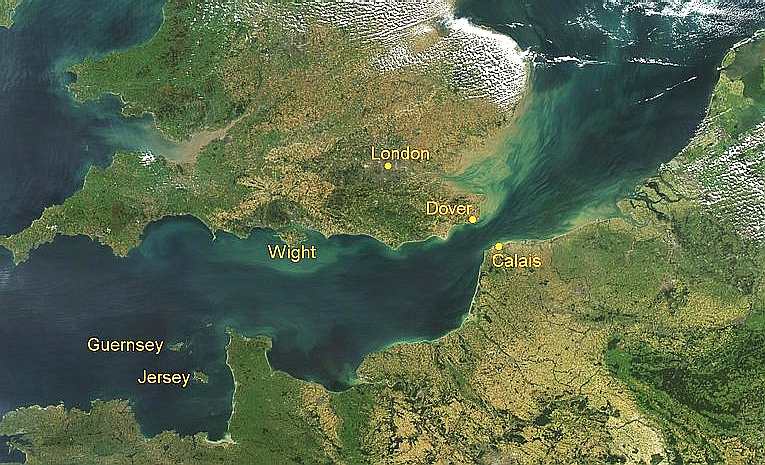 The most dangerous green lane route is between Dover and Calais - it needs constant management and vigilance

AGENDA
Schedule of events
Boot camps
HIPS and SIPS boot camp
S-100 boot camp
User group meetings
Bathy DataBASE user group meeting
HPD user group meeting
HIPS and SIPS user group meeting
Opening session
Keynote speaker
Conference session
Exhibition
Poster session
Keynote speaker
Conference session
Closing session
Exhibition
Poster session
Visit to SHOM headquarters (optional)
Brittany sightseeing trip - TBD (optional)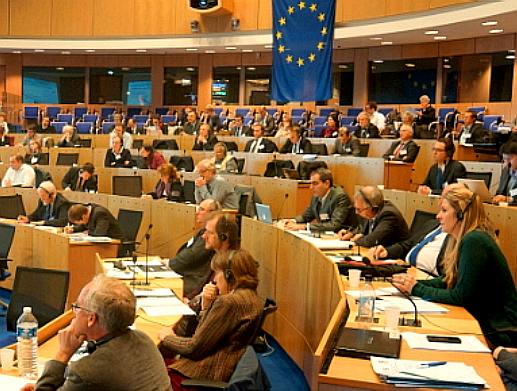 * The above sessions, dates and/or times are tentative and subject to change.
Important dates
January 31, 2014 - Deadline for abstract submission
February 14, 2014 - Notification of acceptance
March 1, 2014 - Early registration deadline
March 15, 2014 - Deadline for poster abstract
May 2, 2014 - Submission of final presentation
June 2-5, 2014 - CARIS 2014 International User Group Conference

ABOUT CARIS

Established in 1979, CARIS is a leading developer of geospatial software. The CARIS Ping-to-Chart™ product line delivers an integrated software solution for the entire workflow of hydrographic information from the echosounder "ping" through to the production and distribution of the "chart". CARIS products are continually selected by hydrographic offices, military agencies, survey contractors, ports and harbours, municipalities, land administrators and academia among others. In addition to its Canadian headquarters, CARIS has offices in The Netherlands, United States, Australia and United Kingdom. There are also more than 20 resellers bringing sales and support of CARIS brand software to more than 85 countries.

CARIS CONTACTS
Call Erin Roberts, Marketing Coordinator
Tel: +1 (506) 458-8533
or email: erin.roberts@caris.com
Le Quartz Congrès Brest
60 rue du château
Square Beethoven
BP 901039 - 29210 BREST CEDEX 1
http://www.caris.com
EVENT SPONSORS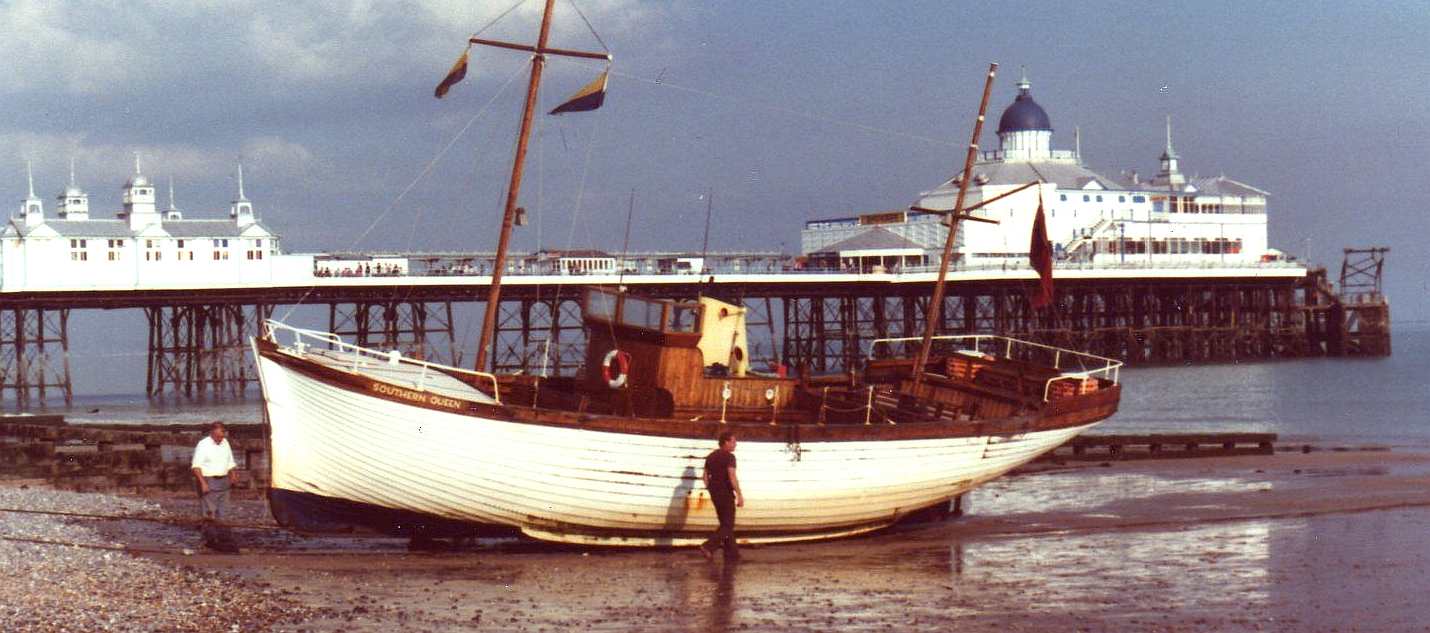 TOURISM - Hands up who rode on the Southern Queen when it was operation. I did. The SQ was completed in 1950. She was a seasonal sight, operating pleasure trips along the coast of Eastbourne to Beachy Head, first with her Sister the Eastbourne Queen then with the William Allchorn. Both surviving boats are now rotting away. It is important that we save these beautiful craft for future generations and time is running out.
The Southern Queen and the Eastbourne Queen were built in a barn at Westham Village not far from Pevensey Castle. The barn was part of Street Farm of which no part remains today, though local public houses display photos of the farm with the Queen in the foreground. This is now a housing estate, much as Eastbourne's very own Airport which played a vital part in training pilots for the First World War - now an industrial estate with a dual carriage way running through it. Do you know where it is. Did you even know Eastbourne had an Airport? It is interesting that the Southern Queen was taken almost two miles by road to her launch site in Norman's Bay.
The Southern Queen is built of clinker construction and is one of the largest vessels of this type of construction to survive in the UK, if not the world. She was licensed to carry seventy two passengers, is 46 feet in length and weighs 27 tons. This form of construction is a dying art, as most boats of this size are made from fibreglass.
The William Allchorn was a purpose built pleasure boat, commissioned by the Allchorn Brothers of Newhaven, East Sussex, in 1950 and funded by the Ministry of Defence Compensation Fund as recompense for 'Enchantress,' a wooden vessel lost during the Dunkirk evacuation. The reconstruction is said to incorporate diagonal planking, the same kind of construction as WW2 torpedo and Air Sea Rescue boats made by the famous British Powerboat Company. She was almost certainly the largest beach-launched pleasure boat still in service until a few years ago.
There is a project in the making to preserve these fine boats. If you would like to get involved in any capacity, contact: Mr. Lloyd Stebbings C&G Dip Mobile:- 07885 022436 Emails: pevenseymarine@aol.com datelinemarine@aol.com
LINKS & REFERENCE
http://www.caris.com/news/story.cfm?ID=327
http://www.channelswimmingassociation.com/
http://en.wikipedia.org/wiki/English_Channel
University-study-highlights-importance-of-cross-english-channel-collaboration
http://news.ninemsn.com.au/world/2013/07/23/06/08/divers-nearly-swallowed-by-humpback-whales
http://www.cascadiaresearch.org/robin/humpback.htm
http://www.seashepherd.org/lightbox_pages/humpback_whale.php
http://www.enchantedlearning.com/subjects/whales/species/Humpbackwhale.shtml
http://www.dimdex.com/en/warship-display.aspx
http://www.maritimeaustralia.com.au/
http://www.pacific2013.com.au/innovation-awards/index.html
fansshare.com sectasaur_antarctic_melt_john_storm_adventure_book_by_jameson_hunter