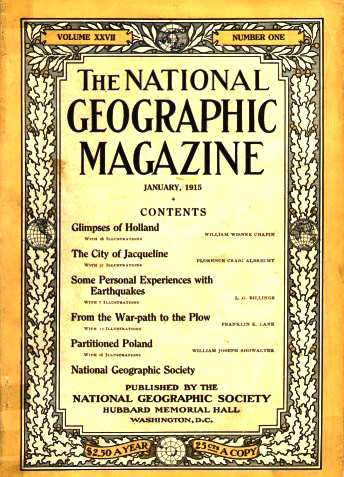 National Geographic, formerly the National Geographic Magazine, is the official magazine of the National Geographic Society. It has been published continuously since its first issue in 1888, nine months after the Society itself was founded. It primarily contains articles about geography, history, and world culture. The magazine is known for its thick square-bound glossy format with a yellow rectangular border and its extensive use of dramatic photographs.

The magazine is published monthly, and additional map supplements are also included with subscriptions. It is available in a traditional printed edition and through an interactive online edition. On occasion, special editions of the magazine are issued.

By 2011, the magazine was circulated worldwide in thirty-six language editions and had a global circulation of 8.3 million. Its U.S. circulation is around 5 million per month.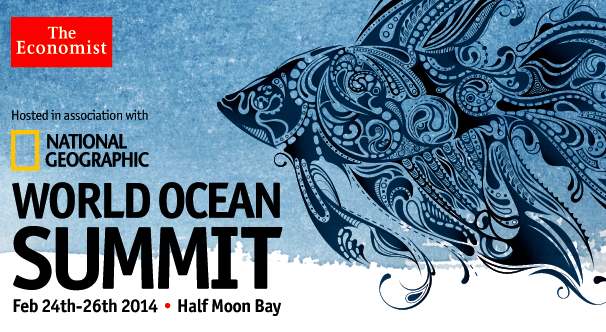 WORLD OCEAN SUMMIT 2014
National Geographic is working with Google, Blancpain and the Economist to host a prestigious event in California's Ritz Carlton hotel near San Francisco. Join more than 250 leaders from business, government, academia, multilateral institutions and NGOs at the second World Ocean Summit to discuss how economic development and ocean conservation can be reconciled. The conference, hosted in association with National Geographic, offers delegates the opportunity to shape debate about governance of the ocean.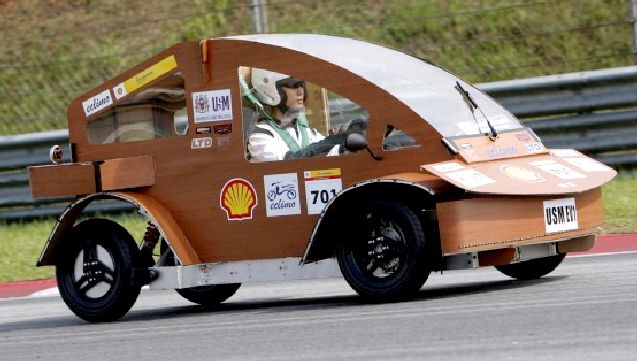 A wooden electric car stole the limelight at the Shell Eco-Marathon Asia. The electric car seen above was designed by students from Universiti Sains Malaysia. It stood out among 119 teams competing in the Asian leg of Eco-marathon in July 2012, an annual fuel efficiency competition, for its unique choice of body material: plywood, for which they needed a carpenter to teach them construction skills.

Team USM-EV's manager, David Chew, 24, was quoted as saying: "We chose to use wood because it's strong and biodegradable." Speaking of composites, David said: "It's stinky and not biodegradable. Some of us developed rashes after handling it…We don't want to harm ourselves." Chew is a final-year engineering student.

Apart from the wooden construction, their car also featured a rattan chair. Similar to bamboo, rattan is sturdy and light, and is commonly used to make furniture and baskets.

According to David the team bought the chair for only 20 ringgit ($6.30). Chew plans to make his career in electric drive systems and wireless power transfer when he graduates in October. The car can achieve a maximum speed of 80 kilometers per hour (50 miles per hour) but they have capped the speed at 50 kilometers per hour (31 mph) to comply with the race's safety regulations. Team USM-EVT's vehicle is currently ranked third in the Urban Concept plug-in battery category, achieving the best result of 45km/kWh (28 m/kWh) after three test runs today.

The Shell sponsored 'Eco-marathon Asia' was held for the third time at the Sepang International Circuit in Malaysia from July 4 to 7. Malaysia has the largest representation with 28 teams, followed by 18 from Indonesia, 12 from Thailand and 11 from India. Five new regions — Lebanon, Qatar, United Arab Emirates, Hong Kong and South Korea participated for the first time.
30th SHELL ECO MARATHON - GREAT ENERGY CHALLENGE - MAY 17 2014
Over 3,000 students from 27 countries compete this weekend in one of the slowest racing competitions in the world. Speed is not the issue in the 30th edition of the Shell Eco-marathon Europe: It's all about fuel efficiency.
English

Chris Johns

October 1888

Mohammed Al-Hamady

October 2010

Krassimir Drumev

November 2005

Ye Nan

July 2007

Chinese (Taiwan)

Roger Pan

January 2001

Hrvoje Prćić

November 2003

Tomáš Tureček

October 2002

Danish

Karen Gunn

September 2000

Dutch (Netherlands/Belgium)

Aart Aarsbergen

October 2000

Estonian

October 2011

Finnish

Karen Gunn

January 2001

French

François Marot

October 1999

Georgian

October 2012

German

Erwin Brunner

October 1999

Greek

Maria Atmatzidou

October 1998

Hungarian

Tamás Schlosser

March 2003

Hebrew

Daphne Raz

June 1998

Hebrew (Orthodox)

April 2007

April 2005

Italian

Marco Cattaneo

February 1998

Japanese

Hiroyuki Fujita

April 1995

Korean (South Korea)

Kay Wang

January 2000

Latvian

Rimants Ziedonis

October 2012

Frederikas Jansonas

October 2009

Mongolian

October 2012

Norwegian

Karen Gunn

September 2000

Persian (Farsi)

Nov 2012

Polish

Martyna Wojciechowska

October 1999

Portuguese (Brazil)

Matthew Shirts

May 2000

Portuguese (Portugal)

Gonçalo Pereira

April 2001

Cristian Lascu

May 2003

Russian

Andrei Doubrovski

October 2003

Serbian

November 2006

Slovene

April 2006

Spanish (Latin America)

Omar Lopez

November 1997

Spanish (Spain)

Josep Cabello

October 1997

Swedish

Karen Gunn

September 2000

Kowit Phadungruangkij

August 2001

Nesibe Bat

May 2001

Ukrainian

April 2013
NATIONAL GEOGRAPHIC - THE BEST WAY TO DEAL WITH OCEAN TRASH, APRIL 2014

Plastic debris doubles every decade. What ends up in the ocean is nearly impossible to clean up.
Tony Haymet, former director of the Scripps Institution of Oceanography, has heard hundreds of ocean cleanup plans. Late at night, over many beers, he's come up with a few dozen of his own. None of them, he says, has seemed likely to work.
That includes this spring's offerings. A Dutch engineering student, Boyan Slat, envisions a contraption with massive booms that would sweep debris into a huge funnel. Songwriter and music producer Pharrell Williams wants to fund the monumental cost of any cleanup by turning recycled ocean plastic into yarn and then clothes.
The challenge is huge. For one thing, the garbage is spread over millions of square miles. For another, it's made up mostly of degraded plastic, broken down by sunlight and waves into tiny bits the size of grains of rice.
"That's what makes it so horrifying," Haymet says. "The micro-plastic is the same size as the stuff living in the water column. How would we ever go out and collect it? So far no one's come up with a plan to separate all the micro-plastic from the living life that's the same size."
In the face of growing criticism, Slat had to back off his optimistic boast that he could clean up the oceans in five years. He posted a notice on his website asking the media and the critics to wait until he finishes his research.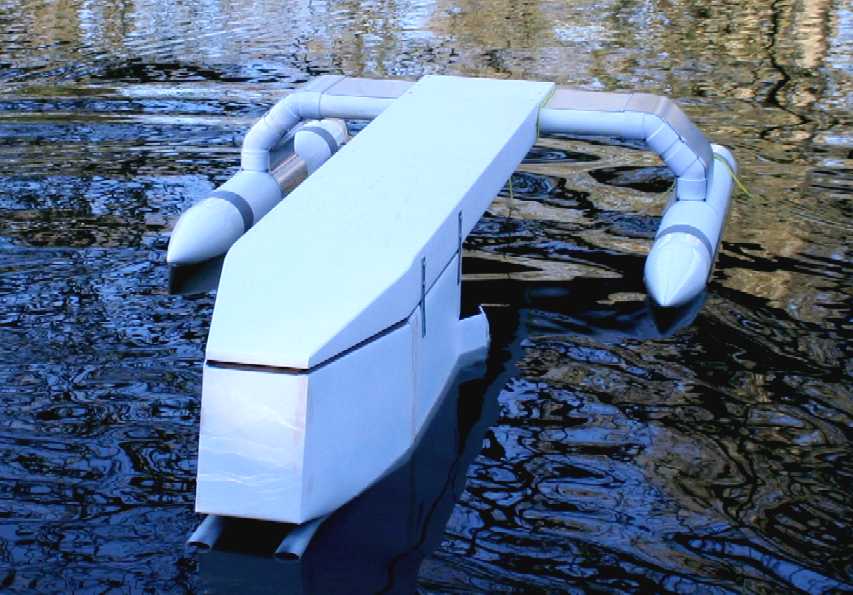 PATENT PENDING - This 'proof of concept' model robot boat is capable of sucking up plastic waste from a body of water, first shredding solids as necessary. A full size version is designed to go out into the ocean gyres and hunt down the floating garbage dumps. It is not a competitor to Boyan Slat's passive system, it is a much needed additional tool in the fight to keep oceans clean and fish stocks healthy. The boat is solar and wind powered, hence autonomous, it is also designed to be used unmanned for the main part, or drone controlled for certain conditions of operation, such as rescuing animals caught in fishing nets.
A high speed version of this robot ship based on a SWASH hull would use no diesel fuel to monitor the oceans autonomously at relatively high speeds 24/7 and 365 days a year - only possible with the revolutionary energy harvesting system. A modular hullform is adaptable for automatic release and recovery of UAVs, ROVs or towed arrays, alternating between drone and fully autonomous modes. This vessel could pay for itself in fuel saved every ten years.
MEANWHILE THE GARBAGE KEEPS GROWING

Consider this alarming statistic from CSIRO, Australia's national science agency, which is wrapping up a three-year study of marine debris: Every decade global production of plastics doubles. Even if someone came up with a workable collecting mechanism, how much impact could it have?

"If we are doubling what we are putting into the ocean on a ten-year basis, there's no way to keep up," says Chris Wilcox, an ecologist at CSIRO. "It would be as if you were vacuuming your living room, and I'm standing at the doorway with a bag of dust and a fan. You can constantly keep vacuuming, but you could never catch up."

THE GARBAGE PATCHES

Most of the garbage accumulates in five little-explored "patches" found in the doldrums of the Atlantic, Pacific, and Indian Oceans.

The largest is the Great Pacific Garbage Patch, which starts a few hundred miles off the coast of North America and stretches to a few hundred miles off the coast of Japan; a more concentrated area lies between California and Hawaii.

One commonly accepted estimate is that the high-density area inside the Great Pacific Garbage Patch contains 480,000 pieces of plastic per square kilometer (nearly four-tenths of a square mile). But scientists say that's only a guess.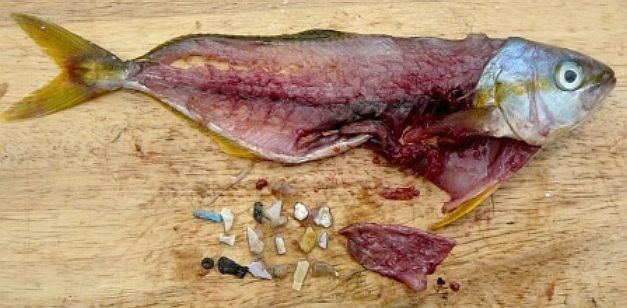 PLASTIC DIGEST - The gut of this fish reveals that plastic is routinely mistaken for food. All the way up the food chain this is happening, poisoning fish stocks for human consumption.
Charles Moore, who "discovered" the Great Pacific Garbage Patch in the late 1990s and plans a research trip there in July, estimates that altogether the globe's garbage patches contain 200 million tons of floating debris. He came up with the figure based on calculations that 2.5 percent of the world's plastic ends up in the sea.

Marcus Eriksen, a marine scientist and co-founder of the California-based 5 Gyres, which studies the five main garbage patches, estimates the total floating debris is just 500,000 tons.

In either case, the harm to fish and other sea creatures is increasing. A 2009 research trip to the Great Pacific Garbage Patch by Scripps found 9 percent of the fish had ingested plastic. Eriksen, with help from seven other scientists, recently analysed material in all of the garbage patches. Of 671 fish collected, 35 percent had ingested plastic particles.

"Either number scares me," Haymet says. "Those are only the sick fish - not the ones who died because they ate plastic that was too big. And they are the only two studies. There should be hundreds of studies of this stuff. Our life, our economies are totally dependent on the oceans. Fifty percent of the oxygen we breathe is made in the ocean every night."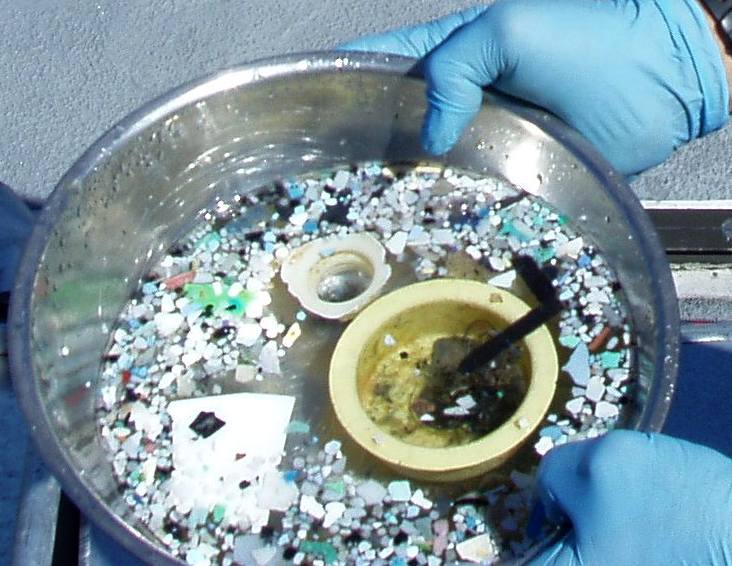 WORLD RECORD CONTENDER, ZERO CARBON CRUISER (ZCC) - The latest British 'Bluefish' world record contender is 40 meters (130 ft) long and 16.2 meters (52.65 ft) wide in the water. The Bluefish/SNAV platform also has considerably more than twice the power to weight ratio of Planetsolar and an anticipated average speed of 7-8 knots, with a top speed of 18 knots. That will make the Bluefish platform the largest and the fastest solar boat in the world, once it is built. Until then, the PlanetSolar is the world's largest solar powered boat.
ADDRESSING THE PROBLEM

Haymet and like-minded ocean scientists haven't given up. They favor a low-tech, more practical approach to protecting the oceans from trash: Persuade the world's people to stop littering.

Only about 20 percent of ocean plastic comes from marine sources, such as discarded fishing equipment or cargo ship mishaps. About 80 percent of it washes out to sea from beach litter or was carried downstream in rivers, according to the CSIRO study, which is considered the most comprehensive.

About half of that litter is plastic bottles. Most of the rest is packaging.

"All of that stuff was in a human's hand at one point or another," Wilcox says. "The essence of the solution is to provide incentives for people not to throw this stuff away. It is the cheapest, simplest, and far most efficient solution to the problem."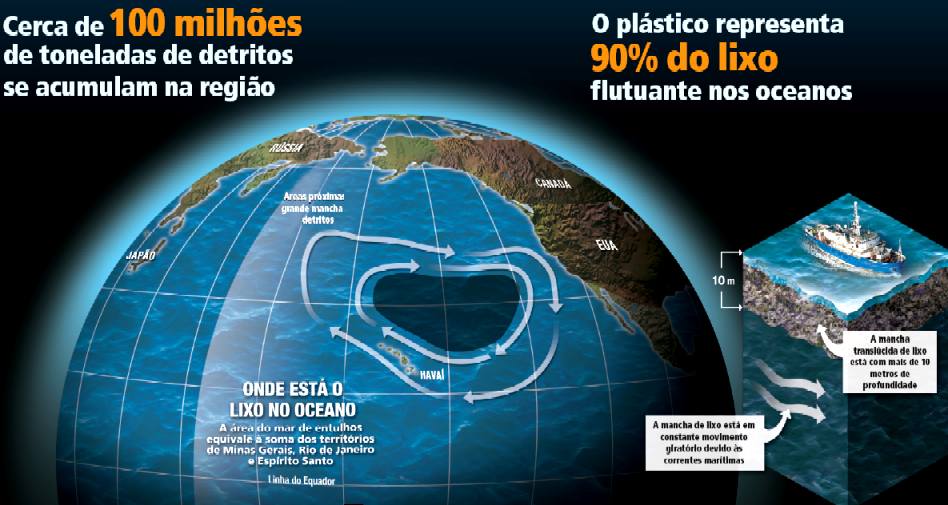 Creating incentives to help reduce littering can be a political challenge. Only one of Australia's eight main states and territories has a beverage-container deposit law, says Britta Denise Hardesty, who conducted the CSIRO study.

In the U.S. only ten states - including California, Maine, Massachusetts, and Connecticut-have enacted container deposit laws. Opinion polls show support for such laws, but beverage manufacturers have opposed legislation. They argue that bottle deposits are more expensive than other forms of recycling and that requiring deposits constitutes a tax, which increases the cost of beverages.

"When you think about climate change, it's hard to reduce our carbon footprint, because we have to go through a fundamental shift in our economies," Wilcox says. "With plastic, when you're throwing a bottle cap on the ground, that should be an easy impact to get rid of."
by LAURA PARKER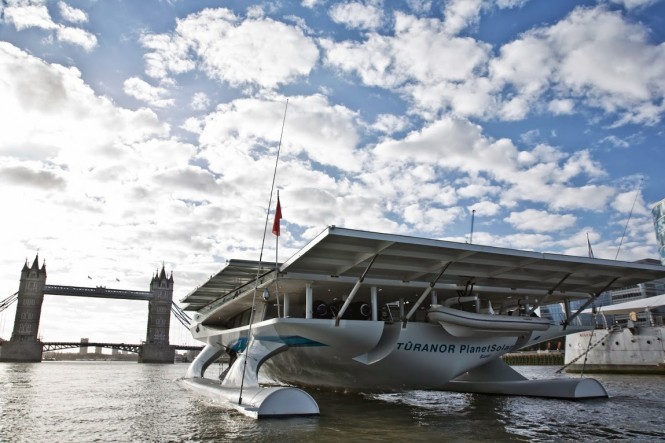 WORLD RECORD CONTENDER, ZERO CARBON CRUISER (ZCC) - The latest British 'Bluefish' world record contender is 40 meters (130 ft) long and 16.2 meters (52.65 ft) wide in the water. The Bluefish/SNAV platform also has considerably more than twice the power to weight ratio of Planetsolar and an anticipated average speed of 7-8 knots, with a top speed of 18 knots. That will make the Bluefish platform the largest and the fastest solar boat in the world, once it is built. Until then, the PlanetSolar is the world's largest solar powered boat.
LINKS
http://news.nationalgeographic.com/news/2014/04/140414-ocean-garbage-patch-plastic-pacific-debris/
https://www.facebook.com/natgeo
http://ngm.nationalgeographic.com/
http://en.wikipedia.org/wiki/National_Geographic_%28magazine%29
http://www.guinnessworldrecords.com/
http://challengers.guinnessworldrecords.com/
http://www.algalita.org/mid-ocean-plastics-cleanup-schemes-too-little-too-late/
Algalita mid-ocean-plastics-cleanup-schemes-too-little-too-late
http://www.charterworld.com/news/planetsolar-reaches-london-final-stage-deepwater-scientific-expedition
News National Geographic 2014 ocean-garbage-patch-plastic-pacific-debris
http://www.charterworld.com/news/tranor-planetsolar-catamaran-reaches-canary-islands-1st-solar-boat-expedition
CBS Solar boat shines light on suns power
Worlds-largest-solar-powered-boat-powers-arrives-Britain-spectacular-style.html?ito=feeds-videoxml
http://www.mby.com/news/535154/planetsolar-world-s-largest-solar-powered-boat-visits-london
http://www.wharf.co.uk/2013/08/worlds-largest-solar-powered-s.html#more
The worlds largest SOLAR boat breaks world record crossing Atlantic just 22 days
http://www.nytimes.com/2013/06/25/science/solar-boat-harnessed-for-research.html
New York Times solar boat harnessed for research
http://solar.calfinder.com/blog/solar-politics/solar-boat-lands-cop16/
economic times india ms-turanor-planetsolar-worlds-largest-solar-boat
http://oweolar.info/2012/09/page/33/
http://www.newscientist.com/blogs/shortsharpscience/2011/08/solar-powered-yacht-docks-at-h.html
http://au.businessinsider.com/oceanographic campaign to study the gulf stream
http://marinedebris.noaa.gov/info/patch.html
http://www.cbsnews.com/8301-35040_162-57591895/solar-boat-shines-light-on-suns-power/
http://www.planetsolar.org/follow-us/planetsolar-awards
http://www.csiro.au/
http://www.ship-technology.com/projects/planetsolar/
Design concept - Raphael Domjan - PROMOTIONAL TOUR 2012
English - Swiss - French - History - Links - Homecoming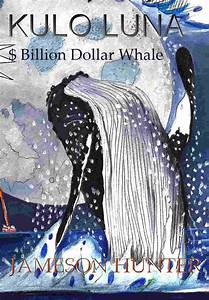 The captain of a solar powered ship take on pirate whalers
with a $Billion dollars riding on the conclusion.
ACIDIFICATION - ADRIATIC - ARCTIC - ATLANTIC - BALTIC - BERING - CARIBBEAN - CORAL - EAST CHINA
ENGLISH CH - GOC - GULF MEXICO - INDIAN - MEDITERRANEAN - NORTH SEA - PACIFIC - PERSIAN GULF - SEA JAPAN
STH CHINA - PLASTIC - PLANKTON - PLASTIC OCEANS - SEA LEVEL RISE