The first World Ocean Summit gave us a background upon which the 2014 event, chaired by John Micklethwait (Editor-in-chief, The Economist) will look towards solutions - and the role business can play to achieve those solutions. Central to this ideology are two things;
1. Governance and
2. Sustainability.
Good governance is difficult to forge in the face of political snow blindness. That is changing with high fuel prices and global warming melting the ice caps. The sustainable use of our seas is equally essential - and inextricably linked to better governance. The challenge now is to design a regime which successfully balances economic development with sustainability. That depends to a very great extent on adaptability (innovation) and willingness to change. Nobody would doubt the human ability to adapt (invent), but we only do so when it either suits us, or is necessary for survival.

Taking place in the evening of the first day of the summit, the gala dinner, hosted by National Geographic, is an opportunity to hear from inspiring speakers from the National Geographic and network with other event participants in a relaxed, evening setting. We are delighted to announce Paul Nicklen, National Geographic photographer, as a speaker at this year's dinner. The gala dinner is open to all registered delegates of World Ocean Summit 2014. February 24th - 26th 2014, Half Moon Bay, CA
| | | |
| --- | --- | --- |
| | | |
| HRH Prince Albert II | Maria Damanaki | José María Figueres |
| Principality of Monaco - Plenary panel: Sustainable strategies for the ocean | Commissioner for maritime affairs and fisheries, European Commission | Former president, Republic of Costa Rica and co-chair, Global Ocean Commission |
| | | |
| | | |
| Trevor Manuel | Masamichi Morooka | Achim Steiner |
| | | |
| Co-chair, Global Ocean Comm. Case study & discussion: Taming the high seas. | Chairman, International Chamber of Shipping. Plenary panel: The ocean as the new economic frontier? | Director, UN Environment Programme Plenary panel: The ocean as the new economic frontier? |
CONFERENCE PROGRAM 2012
VENUE
Delegates of World Ocean Summit can stay at The Ritz-Carlton, Half Moon Bay for a preferential rate of $260 per night from February 23-27 2014. The deadline for this rate is January 31 2014. The Ritz-Carlton is an award-winning San Francisco Bay Area resort which overlooks 50 miles of pristine Pacific Ocean coastline. It is located just 30 minutes from San Francisco International Airport and 45 minutes from downtown San Francisco, the Golden Gate Bridge and Union Square. Explore the the charming seaside community that surrounds The Ritz-Carlton, which features some of California's finest golf courses, art galleries, and wineries.



The Ritz-Carlton, 1 Miramontes Point Rd
Half Moon Bay, CA 94019

SPONSOR COMPANIES
CONTACTS
• Tickets and further information
Phone: +1 (212) 541 0539
event-tickets@economist.com

• Sponsorships and partnerships
Genevieve Moore
Phone: +1 (212) 641 9825
genevievemoore@economist.com

• Speaking opportunities
Tatyana Gulko
eventspeakers@economist.com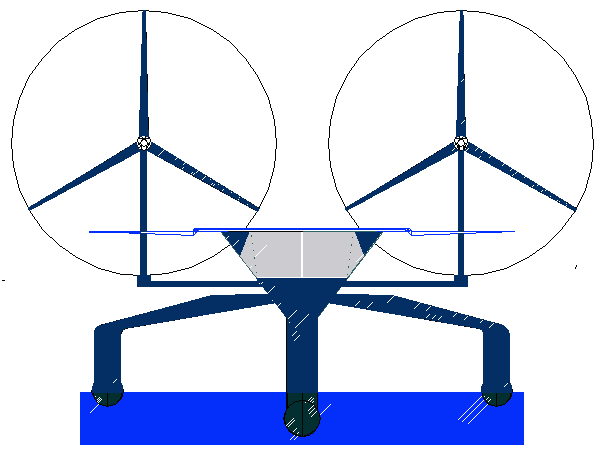 Is this innovation still ahead of its time? The Bluefish ZZC+ platform has a total energy harvesting capacity around 176kW (235hp), giving an Energy Harvested to Displacement ratio (EH/D) of 3.52kW/ton (4.72hp/ton). Larger versions of this format could be the emission free cargo ships of the future. The average cruising speed of this vessel will be higher that the standard hull 50m (163ft) hull on the waterline, giving a better speed/length ratio [nominal]. The OAL is 56M (183ft). The sprint speed of this craft will be in the 20+ knot region. The cost of diesel fuel to cruise this ship continuously for a year would be approximately: .29gals/hp x 117 x 24 x 365 = $297,226.80 (£183,393.99) In ten years that would be $2.97M (£1.83M). There is though no fuel cost during normal operations. Fuel for thought!
OTHER TOPICS OF INTEREST
Product Category

Acoustics
Batteries
Beacons & Buoys
Benthic Sampling Equipment
Buoys & Buoyancy Materials
Cables & Cable Systems
CADCAM
Cameras
Cathodic Protection
Compasses
Composite Materials
Computer Equipment
Control Systems
Deck Machinery
Displays/Mapping/Graphics
Diving Equipment, Contractors & Vessels
Echo Sounders
Electric Motors
Global Information Systems
Gyrocompasses
Hydraulic Systems
Hydrological Instruments
Instruments/Instrumentation Systems
Lasers
Launch & Recovery Systems
Leak Detection & Sealing
Life Rafts & Rescue Boats
Life Support Systems
Lighting
Magnets & Magnetometers
Manipulators
Mapping Systems
Marine Engineering
Marine Equipment - General
Marine Geotechnical Investigations
Marine Site Investigations
Marine Systems
Meters & Metering Systems
Naval Architecture
Offshore Support & Accommodation Vessels
Oilfield, Drilling & Fishing
Oil Spill Response
Patrol Craft
Position Fixing Systems
Power Supplies
Pressure & Temperature Control Measurement Equipment
Propulsion Systems
Pumps
Remote Sensing
Rescue & Survival Equipment
Robotics
Ropes - Woven, Wire & Mooring
ROVs
Safety, Survival & Security Equipment
Satellite Navigation Equipment
Seismic Equipment
Sensors
Shipbuilding, Repair & Conversion
Software & System Engineering
Sonar & Systems
Sonobuoys
Space Technology
Submarines & Submersibles
Submersible Equipment
Subsea Production Systems
Surveillance Systems & Equipment
Survey Equipment
Towed Arrays & Bodies
Umbilicals
Underwater Communications
Underwater Vehicles
Winches & Accessories
Workboats

Service Category

Bathymetric Survey
Charts & Charting
Coastal Protection
Communications
Consultancy Services
Current Measurement
Data Interpretation, Management & Processing
Diving
Dynamic Positioning
Earth Sciences
Ecological Health & Pollution
Ecology
Environmental Management
Equipment Hire
Geophysics
Geotechnical Engineering
Hydrographic Services
Inspection, Repair & Maintenance
Laboratory testing services
Maritime Surveillance
Navigation & Position Fixing
Ocean Currents
Ocean Modeling
Ocean Observation
Oceanographic Survey
Oceanology
Optics
Optronics
Overhaul & Repair
Port Security
R&D Organisations
Safety & Survival Systems & Analysis
Seabed Sampling
Seismic Survey & Acquisition
Simulation & Training
System Modeling
Systems Integration
Target Acquisition & Recognition
Temperature Measurement
Test & Evaluation
Trials & Trials Facilities
Water Measurement, Sampling

End User Sector

Oil & Gas
Coastal Engineering
Aquaculture
Renewables
Ocean Science
Defense / Security
Desalination
Government
Telecommunications
LINKS

The Ritz Carlton, Half Moon Bay, California
http://www.ritzcarlton.com/en/Properties/HalfMoonBay/Default.htm
http://www.economist.com/events-conferences/americas/world-ocean-summit-2014
http://inhabitat.com/shells-arctic-oil-drilling-efforts-halted-by-a-massive-rogue-iceberg/
http://www.oceanologyinternational.com
http://www.telegraph.co.uk/Overcoming-challenges-of-Arctic-oil-drilling
http://subseaworldnews.com/2013/05/02/sonardyne-names-new-non-executive-chairman-uk/
http://www.arabianoilandgas.com/article-4852-carbonate_evolution/#.UhCYTNKsg6Y
http://www.maritimeindustries.org/Events/Oceanology-International-China-2013/9255
American Association of Petroleum Geologists
American Institute of Chemical Engineers
American Institute of Mining, Metallurgical, and Petroleum Engineers
American Society of Civil Engineers
ASME International Petroleum Technology Institute
Institute of Electrical and Electronics Engineers — Oceanic Engineering Society
Society of Exploration Geophysicists
Society for Mining, Metallurgy, and Exploration
Society of Naval Architects and Marine Engineers
Society of Petroleum Engineers
The Minerals, Metals & Materials Society
Brazilian Petroleum, Gas and Biofuels Institute
International Association of Drilling Contractors
Petroleum Equipment Suppliers Association