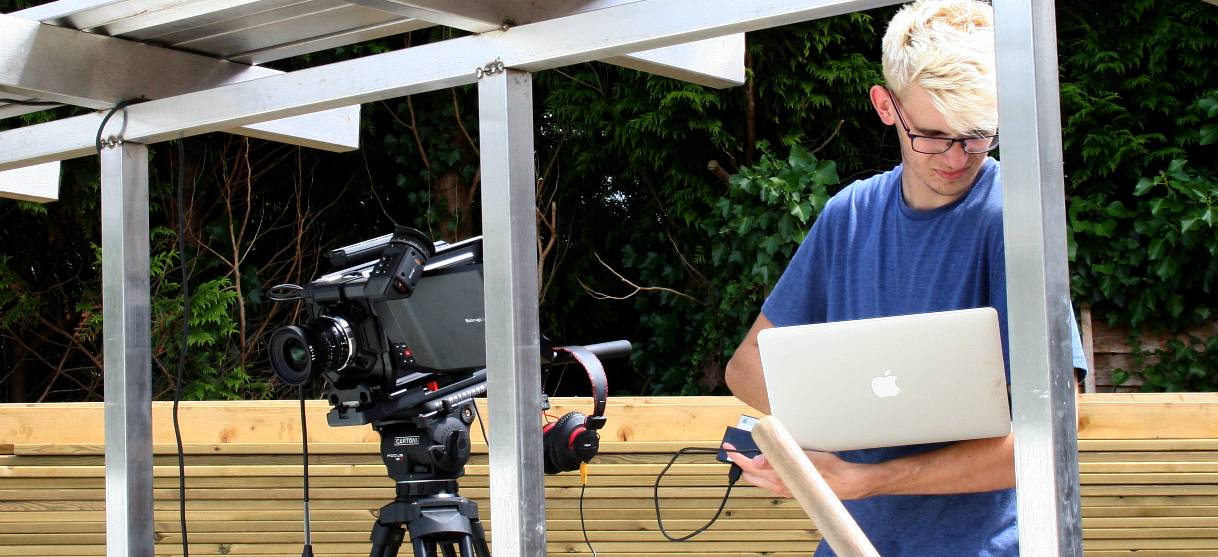 ACTION STATIONS - Our techie, Jamie, sets up a Black Magic movie camera aiming at the empty test tank with Chris, our project manager, in the background sorting out a tank sealing niggle. We were not able to use the Ursa PL as we had planned because of the T5 torx screws preventing us from removing the battery mounting blanking plate. Copyright © 29 July 2016. You will need permission from Bluebird Marine Systems Ltd to reproduce these photographs, except for private study or media review.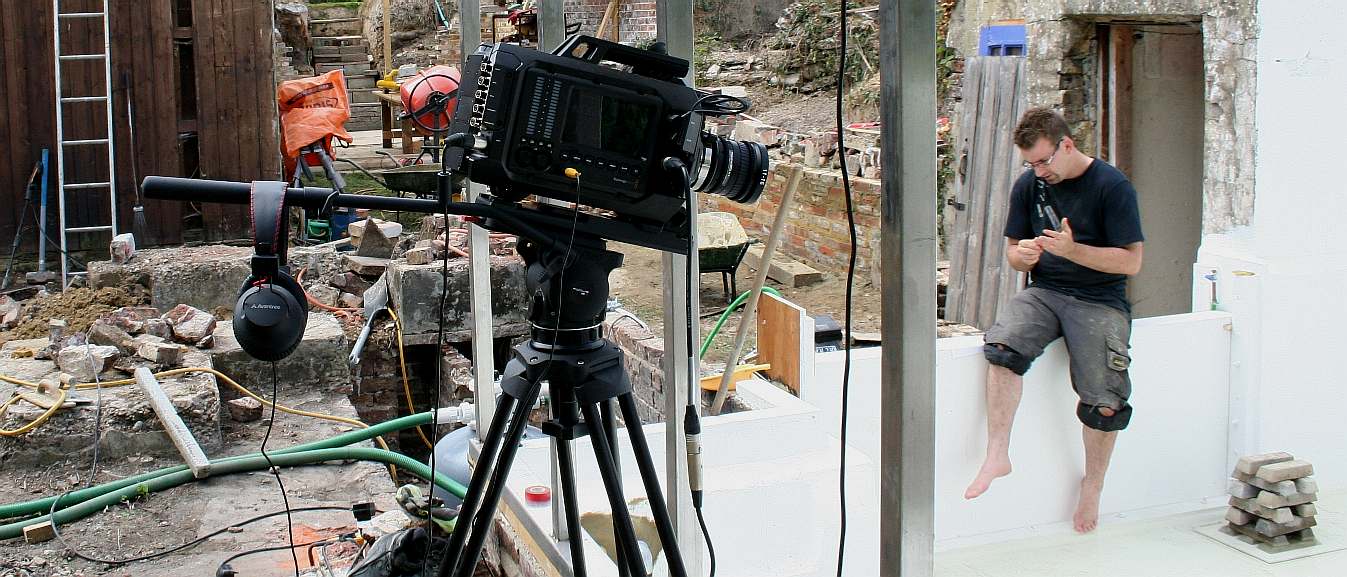 NECK JOINT - Operating on mains is fine for many situations but our project demands mobility. We need to be able to use the lithium battery packs to get into awkward situations and reduce set up time when on location.
According to Blackmagic their URSA is the world's first high end digital film camera designed to revolutionize workflow on set. Built to handle the ergonomics of large film crews as well as single person use, URSA has everything built in, including a massive 10 inch fold out on set monitor, a new user upgradeable 4.6K Super 35 image sensor with a massive 15 stops of dynamic range, 12G-SDI, internal dual RAW and ProRes recorders and more. Because the sensor and lens mount assembly can be changed, you can upgrade to the latest sensor technology in the future and keep your investment in the camera body!

Blackmagic Design claim that the URSA is designed to be used on high end feature films, commercials, episodic television production, documentaries, electronic news gathering, music videos and more. When used on jobs with a large crew you can easily dress the camera with high quality cinema lenses, rails, follow focus, matte boxes and more. With built in scopes for exposure, focus and audio levels, it's easy for DOPs to get perfect results every time. The dedicated screen for camera assistants lets them check and update camera parameters independently of the DOP. If you're shooting solo then the large fold out on set monitor, built in scopes and internal recorder means you don't need any extra on set equipment because it's all built into the camera. That's a whole film set of equipment built into the one extremely portable design.
HOW TO RATE THE URSA
There are hundreds of movie cameras to choose from, so how do you rate any one of the multitude for performance, ease of use and service backup?
All was well in July of 2016 but our production came to a grinding halt when our camera operator could not attach the batteries to be able to use this machine in portable mode with the shoulder mount supplied by CVP.
CVP were contacted about this problem and asked if there was a special tool for the Ursa. They recommended an expensive multi-tool that would be bound to undo the tiny screws, but when it arrived it was of no use. They offered a refund, but no remedy.
Filming ceased. The cameraman lost interest and stopped coming to record the project. In 2017 we got a new video producer. The first thing he wanted to do was attach the batteries. Black Magic Design were contacted directly. We sent photographs and asked if there was a special tool. They told us it was a standard Torx T5, but that was the tool we had been using. We bought another couple of Torx sets and tried two more brand new drivers. They would not move the screws at all, and just tore steel from the lobes as though we were using the wrong tool.
A very helpful service chap finally revealed that these screws may have been fitted with loctite, or similar thread sealant. We are waiting for a returns number, where it has been suggested that we return the entire back plate and blanking plate complete for a replacement. We'll let you know how we get on. Hopefully, this snag will be resolved without much more saga.
BLACK MAGIC HISTORY
The company was founded in 1984 by Grant Petty. On November 2002, the company introduced DeckLink, a QuickTime-based PCI capture card that was the first to offer uncompressed 10 bit video. Version 2.4 for the device was available in February 4, 2003, and added full compatibility for 8 and 10 bit uncompressed Digital Voodoo format and color correction. On February 18, the successor to the DeckLink, DeckLink 2, was released. Microsoft Windows support was added on March. In April, two variants of the DeckLink, the SP and Pro, were announced. Full support for Adobe Premiere Pro and Microsoft DirectShow was released in March 2, 2004 and the Extreme model was announced on March 19. The DeckLink HD Plus,Workgroup Videohub and DeckLink Multibridge were jointly announced on September.

In April 2005, the company announced the Multibridge family of PCIe bi-directional converters and the FrameLink family of DPX-based software. The PCIe variant of the DeckLink Extreme was then announced in September. In January 2006, a software update gave full compatibility with the Adobe Creative Suite, then Adobe Production Studio. In April, the Multibridge Pro and DeckLink HD Extreme were announced, as well as production software for television entitled Blackmagic On-Air.

In 2009, the company acquired the assets of Da Vinci Systems, a former company that had won Emmy Awards for film colouring and restoration equipment. In July 2010, the company acquired Echolab, a manufacturer of vision mixers. In 2011, the company acquired Teranex, a developer of video processing products.

At the NAB Show in April 2012, Blackmagic announced the Cinema Camera, featuring interchangeable EF mount lenses. Due to popular demand, they also announced at IBC, in September, a passive Micro Four Thirds mount to the Cinema Cameras. At IBC 2014 Blackmagic Design announced a production friendly PL-Mount version of the Camera. In July, Blackmagic acquired Cintel, a manufacturer of professional post-production equipment, for transcribing film into video or data formats.

Again at NAB in April 2013, the Production Camera 4K, the first of their cameras to support 4K, was announced. Alongside the Production Camera 4K, the company also announced the Blackmagic Pocket Cinema Camera, a highly compact camera which records to SD cards in digital Super-16 1080p RAW or ProRes, has 13 stops of dynamic range, and is compatible with active MFT mount lenses.

At NAB in April 2014, the company announced the URSA camera. In February 2014, the company announced and released the Intensity Pro 4K PCIe card. On April 2015, the company announced the Micro Cinema Camera, a miniature version of the Cinema Camera which allows it to be mountable on drones, releasing the product in July, and the URSA Mini. In September, the company announced the acquisition of eyeon Software, the original authors of Blackmagic Fusion, previously eyeon Fusion. On September 2016, Fairlight announced that Blackmagic had acquired them. On November, the company was reported to open a production facility at Batam in December.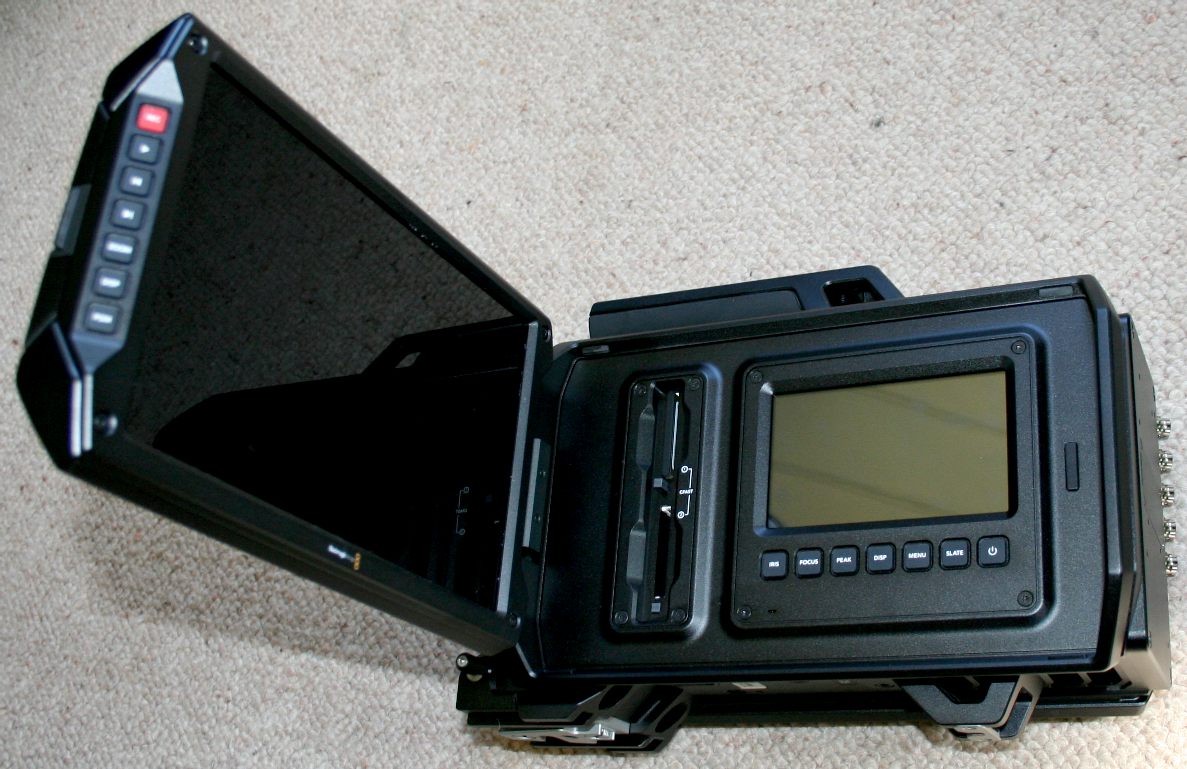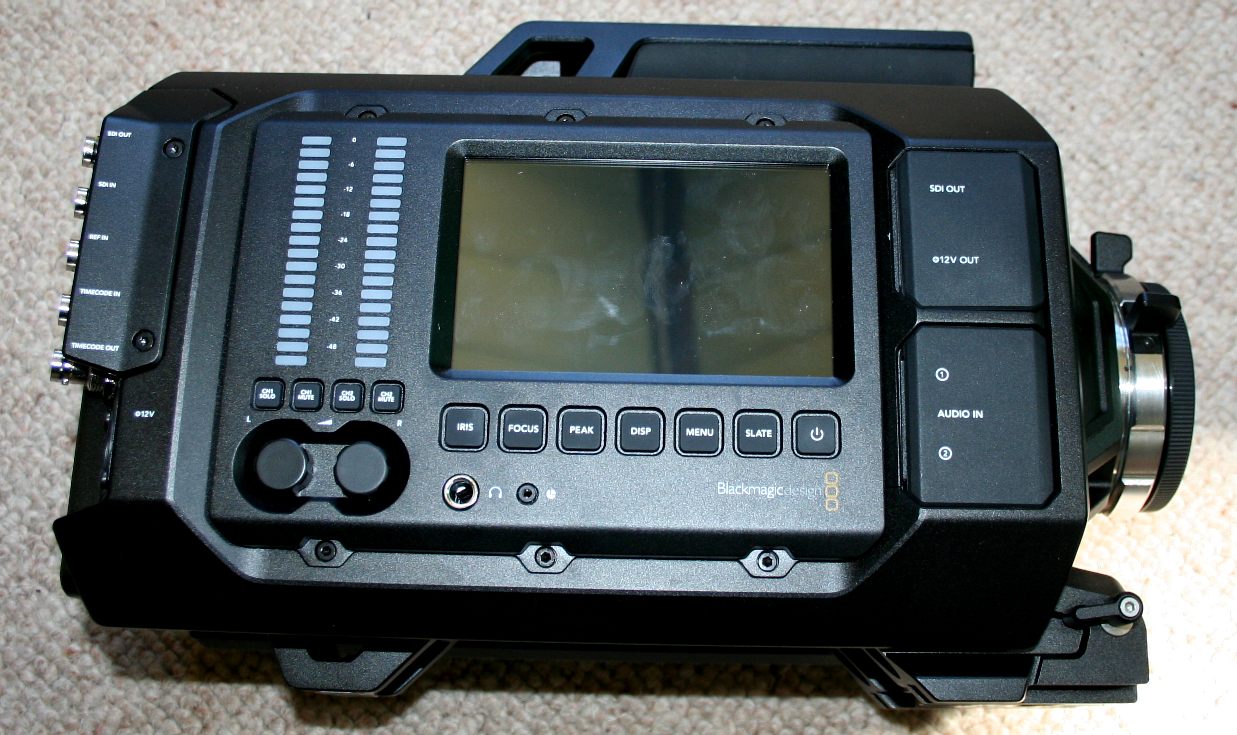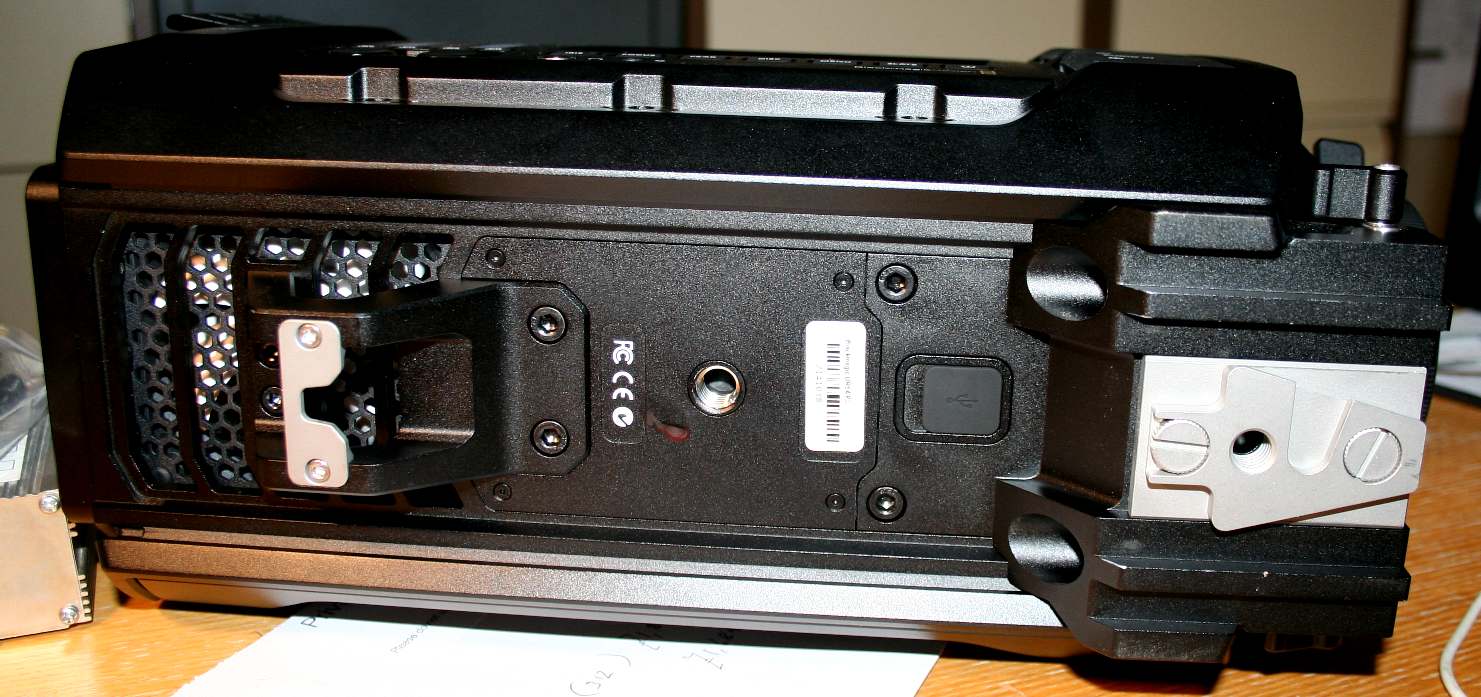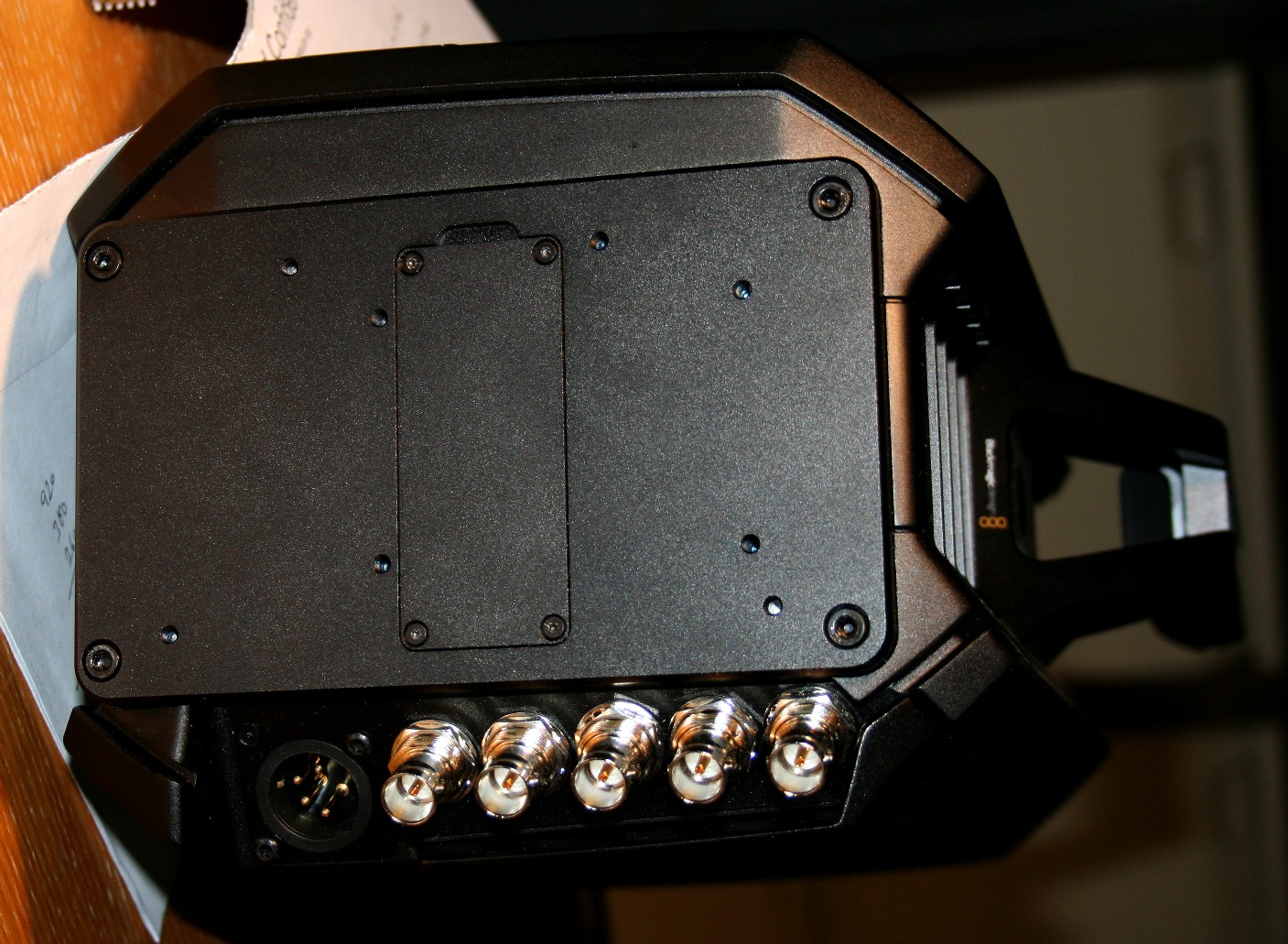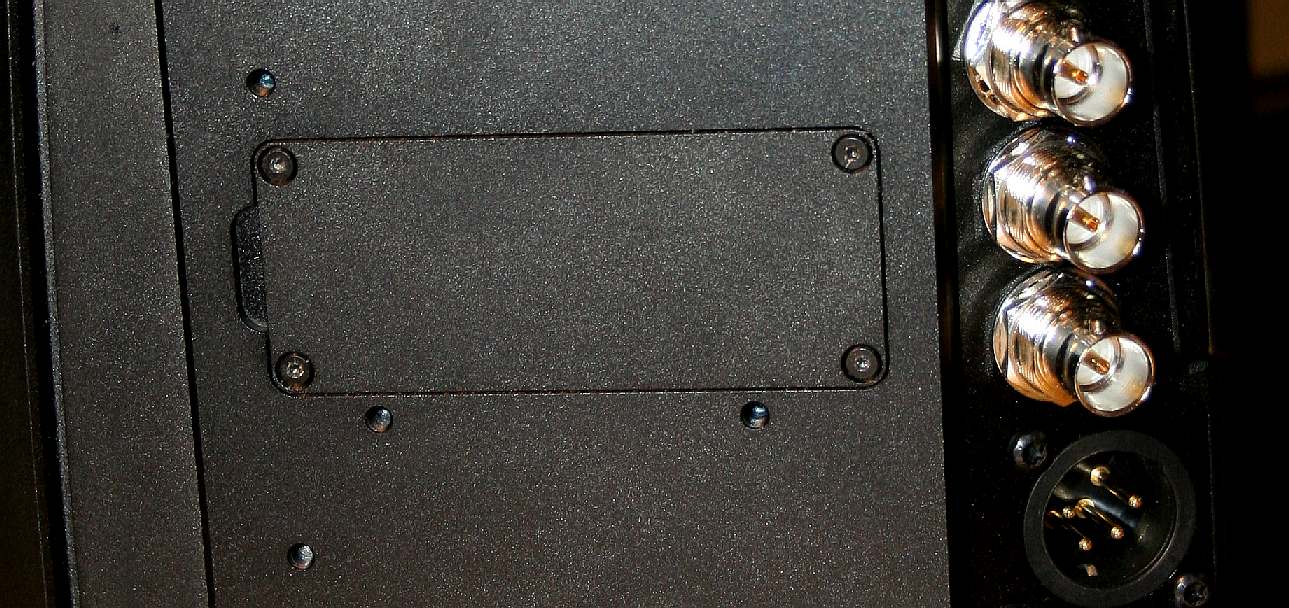 BLANKING PLATE - At the moment we cannot say why it was impossible to remove these T5 screws using brand new top quality tools. It has been suggested that they were glued in place with a thread sealant to prevent them undoing.
1. SETUP IN BATTERY MODE
The first thing you'll need to do is to remover the battery attachment blanking plate ........
UK SUPPLIERS CVP
Web Orders
Priory Mill
Castle Road
Studley
Warwickshire
B80 7AA
01527 851 858

London
23 Shield Drive
West Cross Industrial Estate
Brentford
Middlesex
TW8 9EX
020 8380 7400


CVP Group claim to be passionate about all things Cine, Video and Photo. They claim to be one of the leading Broadcast and Professional video solutions providers in the UK and Europe – with a comprehensive UK sales and support infrastructure, and amazing relationships with key manufacturers such as Sony, Panasonic and Canon. We employ around 90 highly motivated professionals – and from the systems designers to the engineers who run our Sony and Panasonic accredited service centres and keep stuff working… from the web wizards to the all-knowledgeable sales support team whose job is to look after their customers.

BLACK MAGIC DESIGN CONTACTS
Europe
Mere Hall Business Centre
Unit 3 Bucklow Hill Lane Mere
Knutsford Cheshire, WA16 6LE

T: +44(0) 1565 830049
F: +44(0) 1565 830739

Stuart Ashton - Email: info-euro@blackmagicdesign.com


United States

2875 Bayview Drive
Fremont, CA 94538

T: +1 408 954 0500
F: +1 408 954 0508

Dan May - Email: info-usa@blackmagicdesign.com


Australia

11 Gateway Court
Port Melbourne VIC 3207

T: +61 3 9682 4770
E: info@blackmagicdesign.com


Japan (Tokyo Office)
Regional Sales Office

4F Take bldg. II, 1-9-1 Shinjuku
Shinjuku-ku, Tokyo 160-0022

T: +81 3 5361 6312
F: +81 3 5361 6313

Rie Morohara - Email: info-jp@blackmagicdesign.com


Asia (Singapore)

31 Tannery Lane
#08-01 HB Centre II
Singapore 347788

T: +65 6339 2171
F: +65 6339 2172

Richard Lim - Email: richardl@blackmagicdesign.com


Asia (China Sales Office)

D-1003 Floor
Brewery International Art Garden
Beihuqu, Anwai Beiyuan Chaoyang District
Beijing China 100012

M: +86 134 5022 0935
T: +86 10 5166 1116

Cai Jin - Email: caijin@blackmagicdesign.com
LINKS & REFERENCE
https://www.amazon.co.uk/d/ibn/Camera-Blackmagic-Design-9338716001945-Production-4K-Camcorder/B00CWLSHYG
https://en.wikipedia.org/wiki/Blackmagic_Design
https://www.blackmagicdesign.com/uk
http://cvp.com/
https://www.amazon.co.uk/d/ibn/Camera-Blackmagic-Design-9338716001945-Production-4K-Camcorder/B00CWLSHYG
http://cvp.com/index.php?t=product/blackmagic_cinema_camera
https://en.wikipedia.org/wiki/Blackmagic_Design
https://www.blackmagicdesign.com/uk
https://digital-photography-school.com/iso-settings/
https://petapixel.com/2014/01/24/40-tips-take-better-photos/
http://www.wikihow.com/Take-Better-Photographs
https://blog.hubspot.com/marketing/good-pictures-phone-tips#sm.0013r0zdu13zxdnqqgn15f5m1ihdg
https://www.99inspiration.com/2016/04/16-mind-blowing-examples-of-insect-macro-photography/
http://www.diyphotography.net/the-comlete-guide-for-photographing-live-insects-at-home/
ANTICS - ARDUINO - ARMOUR - ARTWORK - BIOLOGY - BLACK BOX - COMPUTERS - ELECTRONICS - ENERGY - FRAME - HEAD - JAWS - JIMMY WATSON - KITS - LEGS - MECHANICS - MOTORS - MOVIE - PHOTOGRAPHY - RASPBERRY Pi - R/C DRONE - SENTRY - SOFTWARE - SOUND PROOFING - SPEED - SUSPENSION - TAIL - WEAPONS - WARGAMING
DINOSAURS - DOLPHINS - HUMANOIDS - RAYS - SHARKS - WHALES
ARDUINO - ARM HOLDINGS - BEAGLEBOARD - MBED - PCBS - PICAXE - RASPBERRY PI