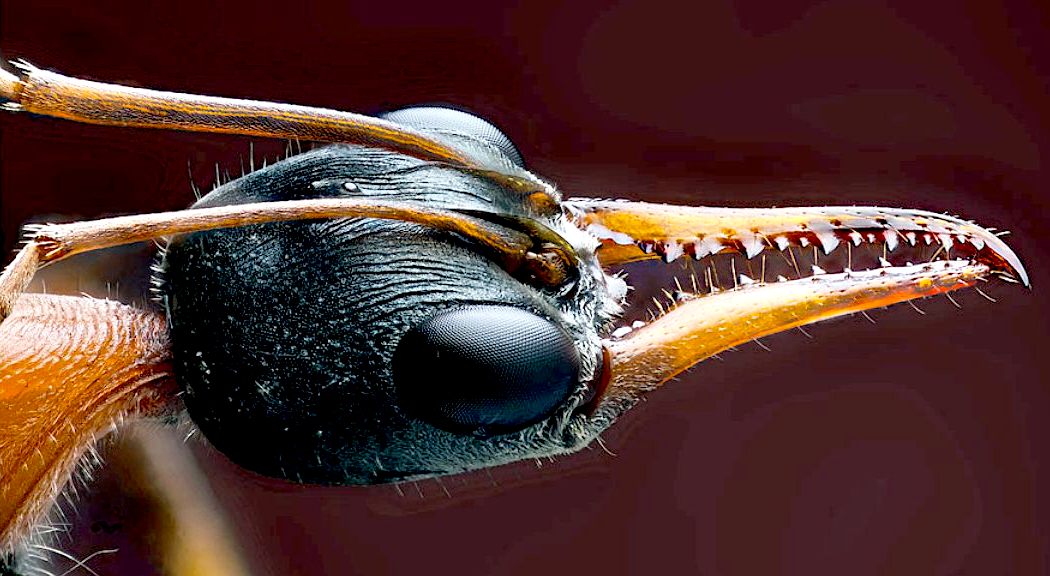 ANT BEHAVIOUR - In order to give Dino the look and feel of the real bulldog ant, we need to build into the design, the ability to perform those functions.
ANTICS - SITTING & JUMPING
In order to mimic some of the natural movements of an ant, we will have to modify the standard transmission so that we have more control over each limb individually. Fortunately, this is possible without resorting to hydraulics or without the need to radically depart from the transmission that we need for ordinary locomotion. It is an add on - that at the moment we are not keen to show anyone how it works. Just in case Jameson Hunter want the additional protection of a patent. Sorry.
There are some seriously complicated motor/drive arrangements that are trying to achieve the movement we are aiming for, such as 'Hector', from Bielefeld University in Germany, seen below.
We hope to achieve a similar level of adjustment to rough ground, without using much in the way of computing power, and more in the way of mechanical design adaptation. The object is to keep the transmission as simple, hence, as rugged and as economical as possible. KISS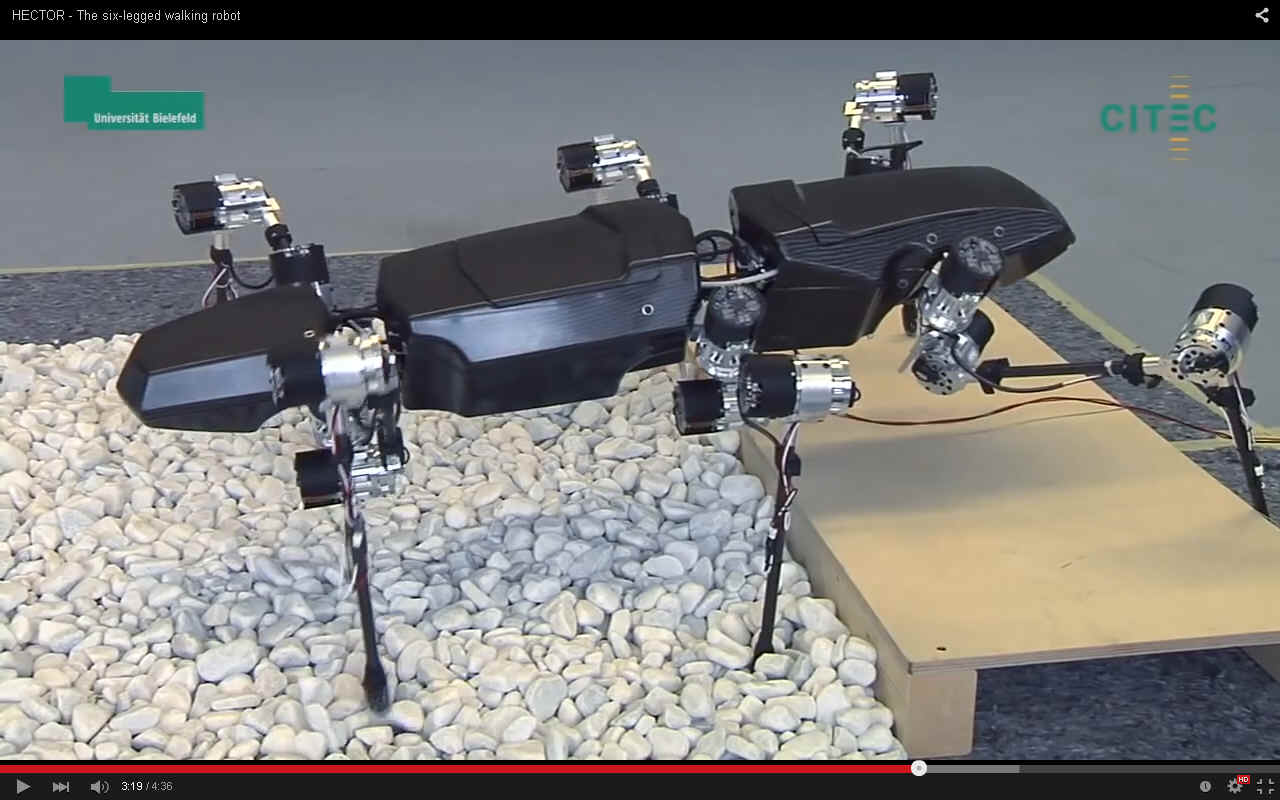 HECTOR - The Biomechatronics research group of Bielefeld University, led by Prof. Dr. Axel Schneider, developed this six-legged walking robot using a stick insect as a model. For the design, the insect's measurements were increased by a factor of about 20. The total length of the robot is roughly 90 cm and weighs 12kg. They say it's a giant stick insect, but it looks more like an ant or a beetle. The project's goal was to better understand the gait of insects and make the underlying coordination principles usable for technical systems. The research team also wanted to investigate fundamental concepts for controlling elastically actuated robotic systems. Now this is something we are also looking at.

Hector's extremely light exoskeleton consists of carbon-fiber reinforced plastic (CFRP). All drive parts and the connections between the leg segments were designed and fabricated in-house in Bielefeld. The legs are made of aluminum alloy, as are ours. The unique features of this robot are the multitude of sensors with which it is equipped and its biologically inspired, decentralized control principle. With its specially designed drives and sensors, it can adapt to the ground conditions while walking - albeit rather slowly. Hector is currently capable of negotiating slightly uneven terrain and overcomes smaller obstacles, such as steps, without difficulty. Our objective is to cope with seriously uneven ground.

As you can see from the picture above, each leg of the walking robot has three joints, so that the movements of 18 joints have to be controlled simultaneously. Each joint is equipped with a brushless Maxon EC 45 (flat) motor. These 50 watt drives are custom units without a lateral connection board. The 18 leg joints are controlled using biologically inspired algorithms, much the same as Dino the DinoBot. Eighteen motors x 50w = 900w or 1.2hp. That's a lot of power in a lightweight robot for not a lot of speed. Granted that all of the motors are not operating all of the time. We assume that Hector can travel faster than seen in the videos.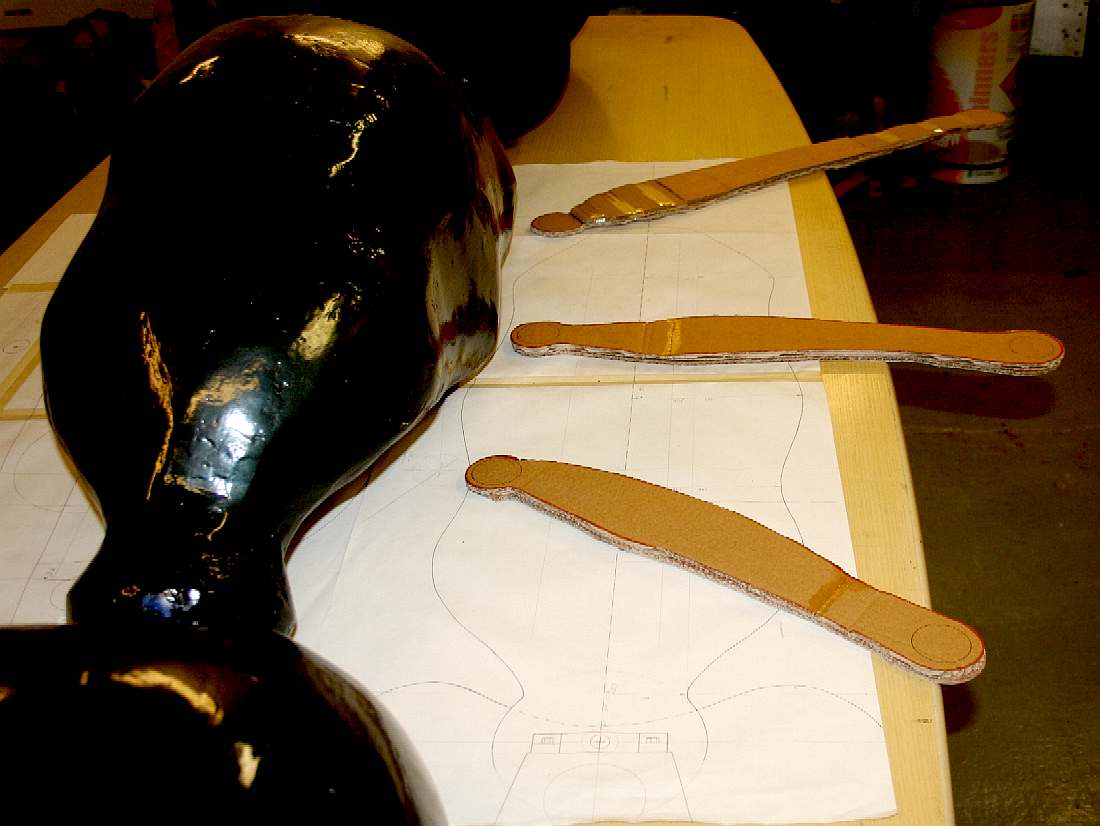 LEG MASS v COST - Aluminium legs in 28.5mm tubing is likely to be around £35 + delivery, whereas, titanium in 25 and 19mm tubing will run to £138 + delivery. The price for carbon fibre will be significantly higher because of the moulds, but we need leg patterns anyway for film special effects. Please note that this photograph is copyright © Jameson Hunter Ltd 2015. You will need permission from Jameson Hunter to be able to reproduce it.

LINKS & REFERENCE
battle Kits
Super droid robots shop chains and sprockets
Tetrix Robotics Sprocket_and_Chain_Pack
HPC gears
Gears and Sprockets UK 6mm steel chain
Technobots online 6mm-steel-chain-sprockets
Bearingboys
Kellycontroller 24v-48v 300a separately excited with regen
Myskunkworks 200 amp PWM speed controller
Electric scooter parts speed controllers 48 volt
Buggies built for fun UK links
http://www.electricscooterparts.com/speedcontrollers48volt.html
http://kellycontroller.com/kdz48303gdv24v-48v300aseparately-excited-with-regen-p-1364.html
http://myskunkworks.net/index.php?route=product/product&path=60&product_id=101
http://www.battlekits.com/
http://www.superdroidrobots.com/shop/category.aspx/chains-and-sprockets/128/
http://www.tetrixrobotics.com/TETRIX_Sprocket_and_Chain_Pack
http://www.hpcgears.com/
http://www.gearsandsprockets.co.uk/6mm-steel-chain-sprockets.html/
http://www.technobotsonline.com/6mm-steel-chain-sprockets.html
http://www.bearingboys.co.uk/
http://www.gngebike.com/apps/webstore/products/show/3019663
http://www.electricscooterparts.com/bicyclesprockets.html
https://www.aldebaran.com/
http://www.softbank.jp/en/
http://electronics.howstuffworks.com/gadgets/other-gadgets/stun-gun.htm
http://www.mufg.jp/english/
http://www.maplin.co.uk/
http://www.bostondynamics.com/robot_bigdog.html
http://uk.rs-online.com/web/c/automation-control-gear/sensors-transducers/strain-gauge-accessories/
http://zjmy-lu.en.made-in-china.com/product/YKNnjrEkZWVS/China-800W-36V-W-Bracket-Electric-Motor-Kit-W-Control-Box-Throttle-F-Scooter-My1020.html
http://www.robots.nu/robot-animals/
http://buggies.builtforfun.co.uk/Links/index.php
http://www.maxonmotor.com/maxon/view/application/STICK-INSECT-ROBOT-AB
LEFT - Movie idea, lurking beneath the Antarctic ice is a discovery that scientists will die for. This story is now the subject of a low budget trailer to be produced mostly in the UK. The promoters are looking for backers. The UK will contribute 20% toward production costs. Roughly 60% of a low budget film may be pre-sold as distribution rights, leaving 20% finance to source. The deal is that investors recover 120% on their project stake within 12 months of shooting, with an income stream thereafter from networks and merchandising. Producers and directors please take note that there is a significant audience for well made movies of this genre. Look at what happened when they remade Godzilla. RIGHT - 1954 Warner Brothers movie poster for "Them." The plots are completely different, but the idea is similar, save that there is a degree more plausibility in the scale - and we hope, the ants to be used in the film.
ANTICS - ARDUINO - ARMOUR - ARTWORK - BIOLOGY - BLACK BOX - COMPUTERS - ELECTRONICS - ENERGY - FRAME - HEAD - JAWS - JIMMY WATSON - KITS - LEGS - MECHANICS - MOTORS - MOVIE - PHOTOGRAPHY - RASPBERRY Pi - R/C DRONE - SENTRY - SOFTWARE - SOUND PROOFING - SPEED - SUSPENSION - TAIL - WEAPONS - WARGAMING
DINOSAURS - DOLPHINS - HUMANOIDS - RAYS - SHARKS - WHALES
ARDUINO - ARM HOLDINGS - BEAGLEBOARD - MBED - PCBS - PICAXE - RASPBERRY PI