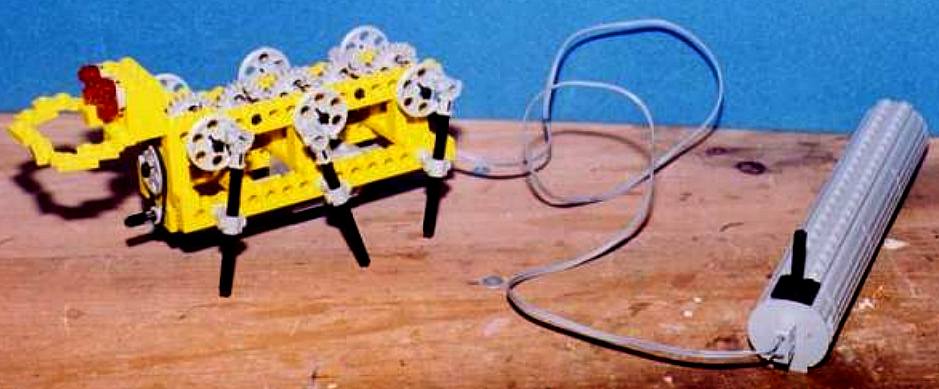 This is what your Lego ant robot should look like. It does not look a lot like a real ant, but it is a hexapod, so it does have six legs just like an insect.
According to Richard, this ant design needs quite a lot of power to lift itself up and down as it walks. He suggests that you use fresh batteries in your motor's power box. Reversing the direction that the motor spins, using the switch on the power box, will make the ant walk forwards and backwards - but not turn corners. To be able to do that this robot would need two motors and two sets of gears, one for each side of the ant.
Helical (6) cut gears are not that efficient. Also, the sliders create a lot of drag where the ratio of turn (9) to leg-stroke length is not conducive to an effective walking gait. Lubrication would ease the leg (push-rod) movement, but would also make a mess as any fluids dribbled down the legs onto a table.
The object of this exercise is to get young engineers to experiment to use motors in different ways to achieve locomotion. By amalgamating motors with static Lego parts, budding students can bring their creations to life.
Three gearwheels turn in one direction and the 2nd and 4th cogs turn the opposite way, each cog reversing the direction of travel of the preceding gear.

The three cogs with long shafts are used to drive a circular drive plate with six holes in it.

Next construct a basic frame onto which the other parts can be assembled.

Insert six slider bearings, or guides into the holes indicated.

Assemble a drive shaft bearing from two blocks, using a helical gear and a circular plate.

Clip the drive shaft bearing blocks onto the base chassis. Add four more blocks to make a base onto which to clip the gear train assembly in (2) above.

Lower the transmission onto the chassis, and pass the push rods through the guides from (4) above. Clip the motor and drive shaft underneath the chassis.

Clip the push-rod bearings into the circular drive plates, being sure to stagger the timing by 180 degrees for each adjacent leg.

You can then add a head and tail if you want.

The great thing about using universal building blocks is that you can try out different ideas very quickly. Plastic is not the strongest engineering material. So, if you can get your idea to work in plastic, it will be far more effective in another material as a dedicated design.
This is NOT an official LEGO® Web site. This is an article by an enthusiast who likes experimenting LEGO® blocks. The name "LEGO" is a registered trademark of the LEGO Group of companies which does not sponsor, authorize or endorse this web site.
LEGO on Youtube
DINOSAURS - DOLPHINS - HUMANOIDS - RAYS - SHARKS - WHALES
ARDUINO - ARM HOLDINGS - BEAGLEBOARD - MBED - PCBS - PICAXE - RASPBERRY PI
LINKS
http://megarobot.webs.com/lego.htm
http://en.wikipedia.org/wiki/Lego_Mindstorms
http://www.robotee.com/index.php/proffesional-lego-robotic-arm-11023/
http://blog.mostlyrobots.net/tag/autonomous-vehicle/
http://www.lego.com/
http://www.picaxe.com/
http://3drobotics.com/
http://wiring.org.co/
http://www.arduino.cc/
http://www.youtube.com/user/RaspberryPiTutorials
http://www.raspberrypi.org/
ANTICS - ARDUINO - ARMOUR - ARTWORK - BIOLOGY - BLACK BOX - COMPUTERS - ELECTRONICS - ENERGY - FRAME
FORMICARIUM - HEAD - JAWS - JIMMY WATSON - KITS - LEGS - MECHANICS - MOTORS - MOVIE - PHOTOGRAPHY - RASPBERRY Pi R/C DRONE - SENTRY SOFTWARE - SOUND PROOFING - SPACE ROVERS - SPEED - SUSPENSION - TAIL - WEAPONS - WARGAMING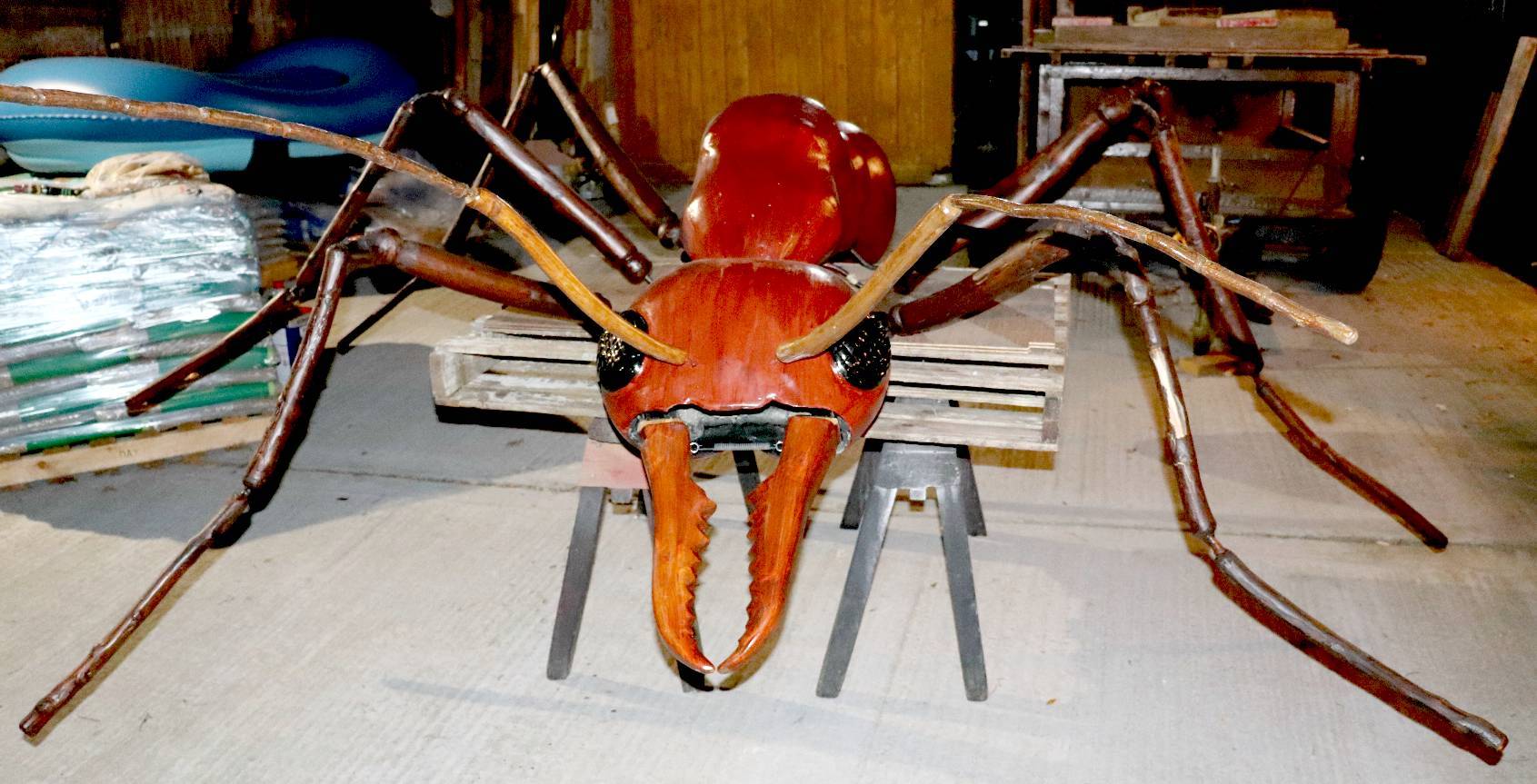 A Sectasaur™ (thawed) - now on permanent display at Herstmonceux Museum, in Sussex, England.