At nearly three times the size of her sister ships, the Wind Surf (left) carries 312 pampered guests in 154 total staterooms: 31 ocean-view suites and 123 deluxe ocean-view staterooms. What that means in real terms is wide- open deck spaces; new services and lots of little extras that help to make a Windstar cruise a fresh air experience. Gross Tonnage: 14,745 - Length: 617 feet - Country of Registration: Bahamas - Passenger Capacity: 312 - Number of Crew: 163 - Officer Nationality: British, Norwegian. Windstar (right) Cruises operates three sailing yachts that accommodate 148 to 310 guests, sailing to nearly 50 nations and 100 ports throughout Europe, the Caribbean and the Americas. Enjoy a seven-day Classic Italy and the Dalmatian Coast, Mediterranean cruise from Rome to Venice that stops in the ports of Capri, Messina, Dubrovnik, Split, and Pula, among others.
ABS American Bureau of Shipping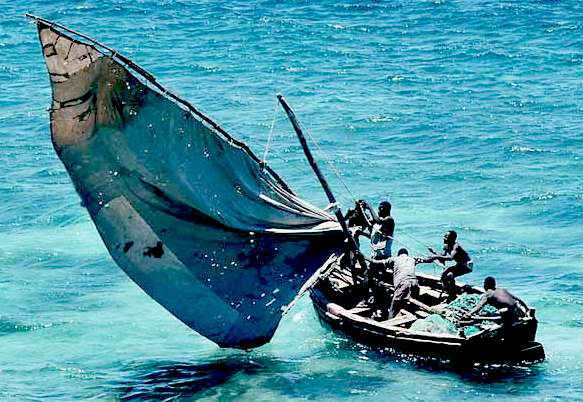 BACK TO BASICS - This picture says it all. The problems with sail powered craft has always been handling the harvesting medium. Sails need a lot of looking after and can, as these chaps could confirm, mean some tricky situations. Automation of sails and sail handling equipment has come a long way thanks mainly to ocean racing events, such as the Whitbread and Volvo, round the world ocean events, now attracting entries from China with the Dongfeng team.
CLASSIFICATION LINKS
ABS American Bureau of Shipping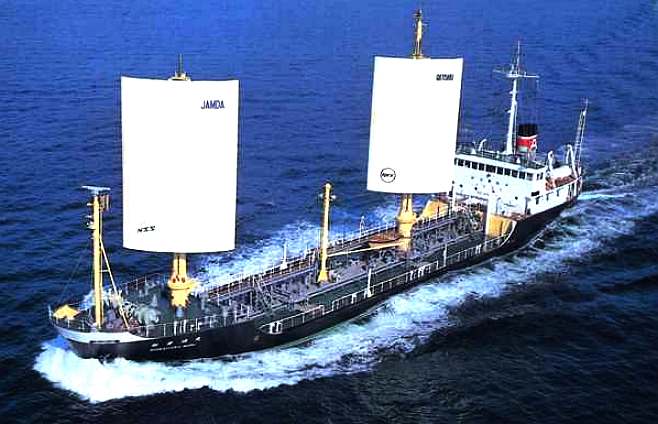 JAMDA - A computer controlled, sail assisted merchant ship.
Classification societies came into being as a means to provide assurances to investors in ocean transport services that the vessels they were operating or commissioning would be insurable, hence a viable business risk. In order to make this possible any existing vessel, or any new build would need to be either surveyed or built to a specification that a bureau or register of shipping recognized.
One problem looming for ship operators is that wind and solar powered hybrids have not been built, and where proposed involve innovation that a conservative industry like ocean transport will shun, so that there is no classification as yet. It is a chicken and egg situation with investment sadly lacking for what most businesses would consider mavericks.

ROTARY WIND POWER: A daring conversion; wind turbine powered catamaran, the Revelation II. We'd like to feature this vessel if the owner would care to get in touch.
USING RENEWABLE ENERGY FOR GREENER SHIPPING

The trend towards using renewable and alternative energy sources on land has gathered momentum over the last decade as the general public and policy makers tackle the issues of pollution, energy security and climate change. However at sea the shift towards the widespread adoption of alternative energy is only now beginning to take shape.

Over recent years the shipping industry has begun to seriously look at ways to reduce fossil fuel consumption and operate in a more environmentally friendly way. The concept of Green Shipping or Sustainable Shipping is now becoming an important issue for ship owners, shipping lines and ship builders globally.

In the 1970's and 1980's there were several ships fitted with rigid sails of various types with the aim of reducing fuel consumption. This was driven largely by the oil crisis in the 1970's which resulted in oil shortages and the price of oil soaring. However the oil crisis passed and as the prices fell in the 1980's the viability of rigid sails in terms of cost was undermined.

However Japanese ships such as the Shin Aitoku Maru and Usuki Pioneer did prove that rigid sails reduced fuel consumption. The rigid sail concept has also been applied to a range of smaller vessels but it has not gained widespread acceptance to date on either large ships or smaller vessels.

Another way to reduce fuel consumption on-board ships is through the use of solar power. Recent advances in solar cell and photovoltaic module technologies have lead to solar power becoming a cost effective fuel reduction option on pleasure boats, ferries and tourist vessels. However on large ships the amount of fuel saved through the use of solar power alone is relatively small. So the idea of a commercially viable solar ship seems impractical at the moment. Or is it?

SUSTAINABLE CONTAINER SHIPS - This 50m concept vessel may be doubled and quadrupled without too much trouble. You'd need to up-scale by a factor of 8 to match the 400 meter ships that operate today to carry 960 standard containers. See our top ten list below. That is nowhere near the capacity of a heavy bunker fueled giant, but it is a formula for eventual 100% zero carbon transportation that is theoretically workable. We believe that such a system could eventually replace bunker fuels and eliminate the need for liquid fuels that may be potentially dangerous.

A - Z SAIL AND SOLAR ASSISTED BOATS & SHIPS
A-Z INDEX OF H2 POWERED FUEL CELL SHIPS

BARILLEC MARINE
LINKS & REFERENCE
http://www