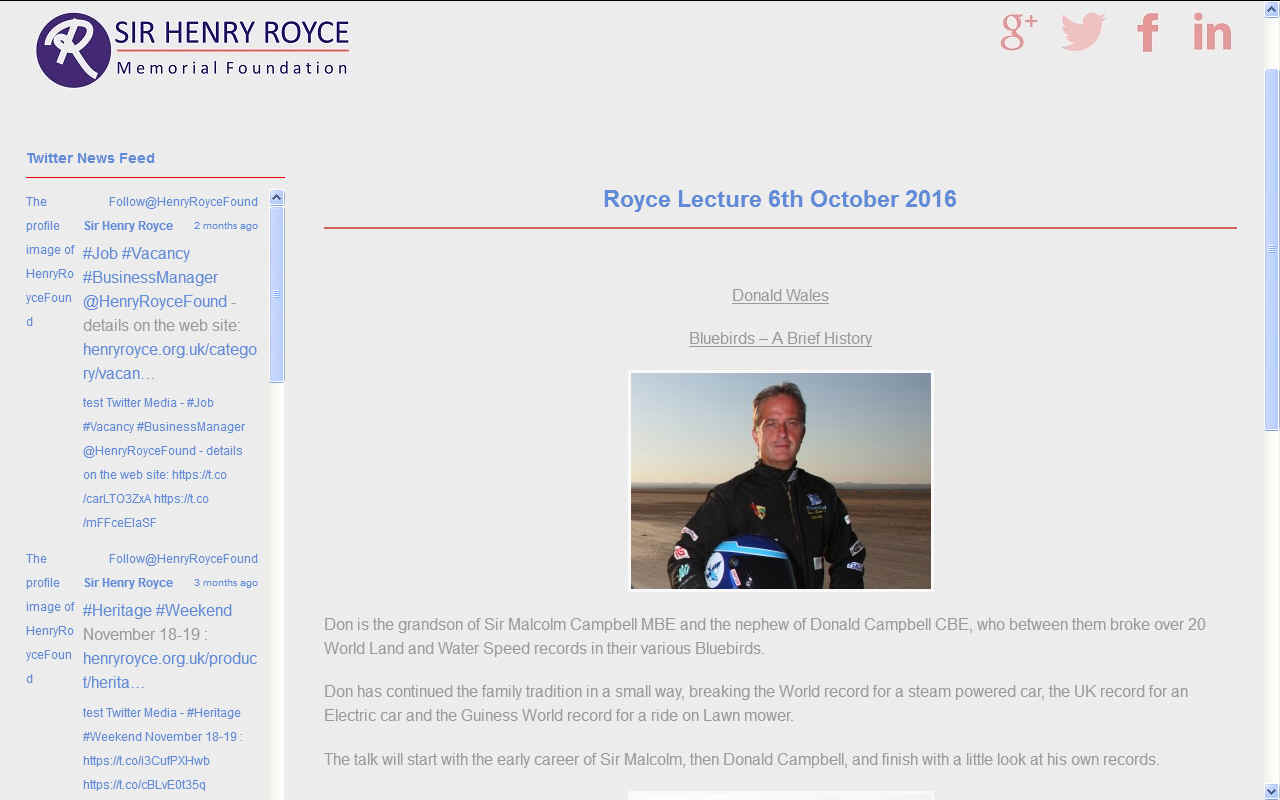 Frederick Henry Royce was the fifth child of an unsuccessful miller of Alwalton near Peterborough in the United Kingdom. When the milling business failed his father took him to London, where the young lad sold papers for W. H. Smith and Son. When Frederick was just nine years old his father died. During the following five years he worked to keep the family from starving, having little to eat and no regular schooling; only about one year in all. Then an aunt sent him to be an apprentice at the works of the Great Northern Railway at Peterborough. But after another three years his aunt died and he had to leave his apprenticeship and to go to work for a toolmaker. This turned out to be a very valuable experience.

When the toolmaker also failed, Royce went back to London to a job with the Electric Light & Power Company, who were pioneers in the lighting of streets and public buildings. Here he met Sir Hiram Maxim, pioneer and explorer. Henry acquired a great liking for the new science of electricity and worked hard at night school to repair his lack of education.

When the Electric Light and Power Company failed Frederick was in Manchester and, with the little money which he had saved, he joined a friend, Albert Claremont in setting up in business making small electrical fittings such as lamp-holders and door bells. Later this little concern was to become Royce Ltd, well respected makers of dynamos, motors, electric cranes and conveyors. We wonder if Sir Henry ever bumped into Thomas Edison or Henry Ford, where both of these gentlemen had quite a bit to do with electricity, Ford having worked for Thomas Edison and Thomas being one of the inventors of the incandescent light bulb, the other being Joseph Swan.
Is it not odd then that there are no electric cars from Rolls Royce in 2018. With the 2040 ban on petrol cars in England we wonder if their stubbornness will mean the demise of the marque? Of, if there will be a sudden rush by the present owners to catch up with the likes of BMW with their i3.

Getting back to young Frederick, during the depression brought about by the Boer War, Royce turned his attention to the motor car. He bought a Decauville, which he immediately started to improve upon and by 1904 he had designed and made a car of his own.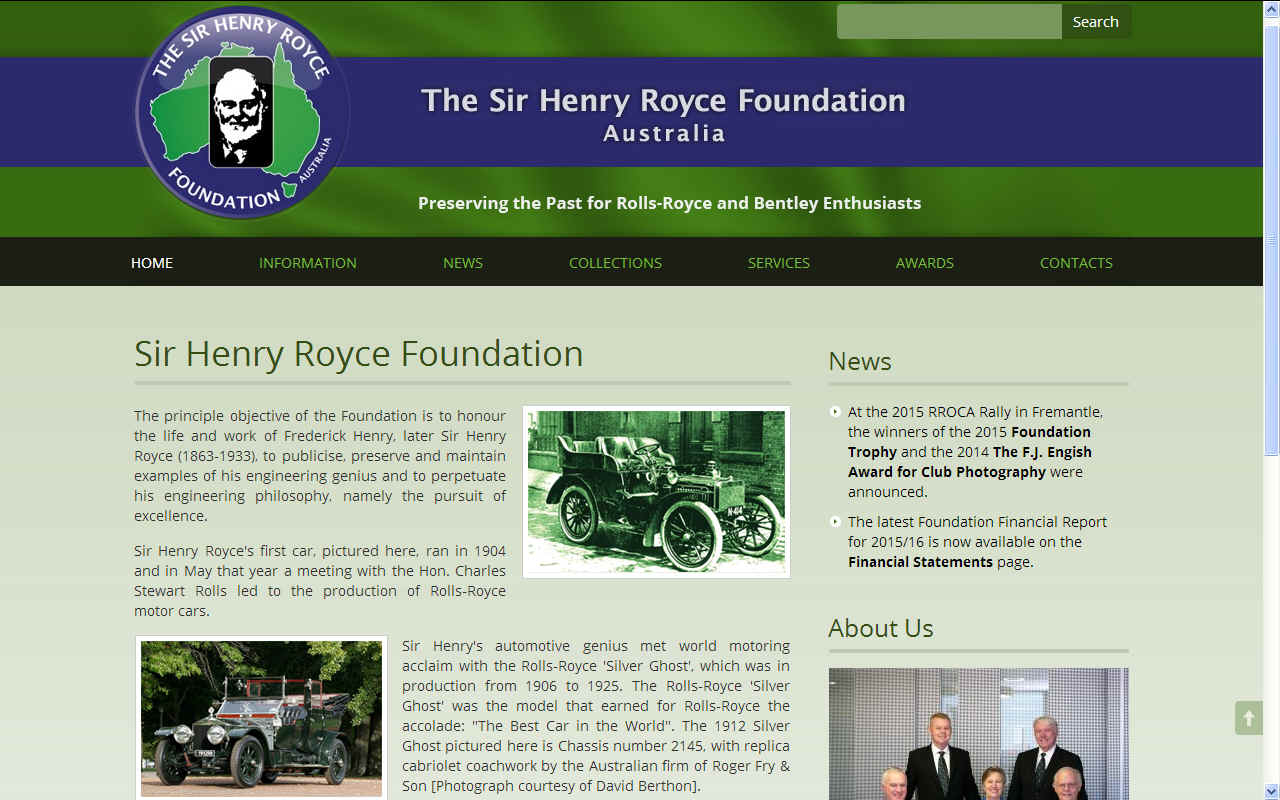 AUSTRALIA - The principle objective of the Australian Sir Henry Royce Foundation is to honour the life and work of Frederick Henry Royce, later Sir Henry Royce (1863-1933), to publicise, preserve and maintain examples of his engineering genius and to perpetuate his engineering philosophy, namely the pursuit of excellence.

Sir Henry Royce's first car ran in 1904 and in May that year a meeting with the Hon. Charles Stewart Rolls led to the formation of the partnership and company and production of Rolls-Royce motor cars.

Sir Henry Royce's aeronautical contribution commenced with the 'Eagle' engine in 1915. The development of Rolls-Royce aero engines progressed to the 'Merlin', which powered British aircraft such as the Hawker Hurricane and Supermarine 'Spitfire' to victory in the 1939-45 World War.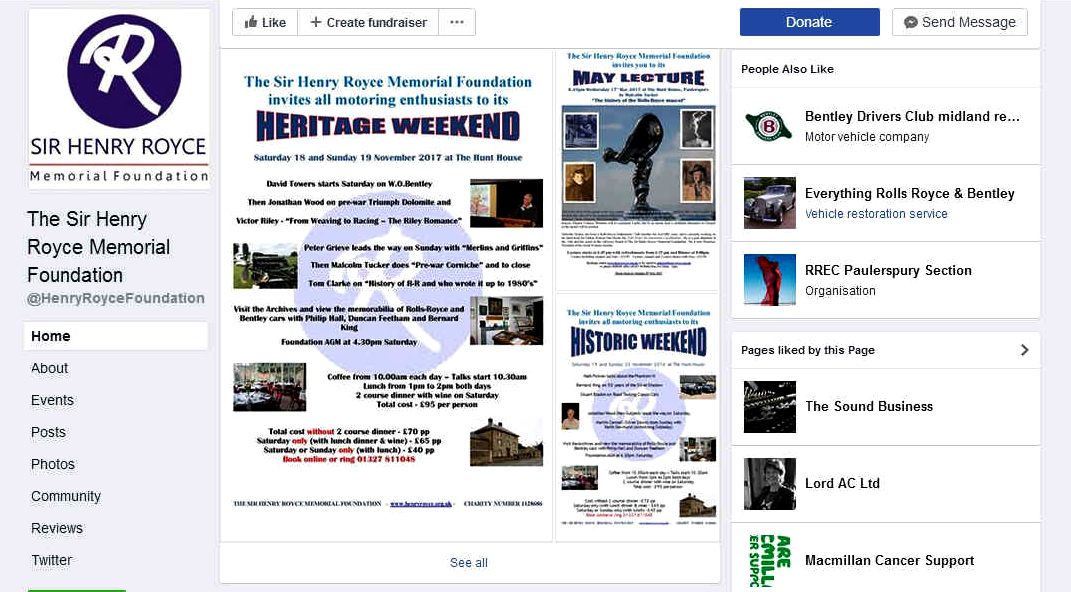 TALK & DINNER - The talk started with the early career of Sir Malcolm, then Donald Campbell, and finished with a look at Don's own records. The lecture started at 6.45 pm with refreshments from 6.15 pm and Dinner at 8.00pm. Lecture (including canapés and wine) were £15.00 per person. Don is the grandson of Sir Malcolm Campbell MBE and the nephew of Donald Campbell CBE, who between them broke over 20 World Land and Water Speed records in their various Bluebirds.
Don has continued the family tradition in a small way, breaking the World record for a steam powered car, the UK record for an Electric car for a short time and the Guinness World record for a ride on Lawn mower for a brief time.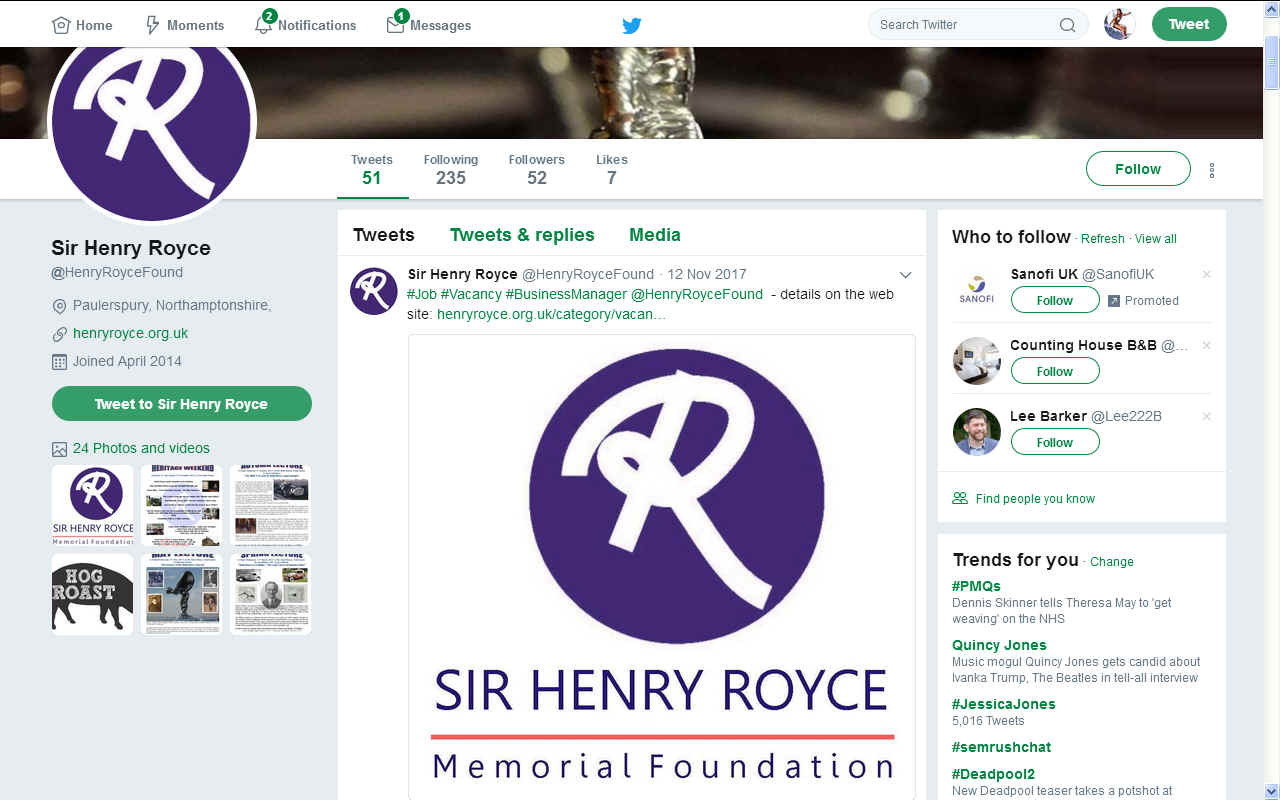 CONTACT THE FOUNDATIONS
The Sir Henry Royce Memorial Foundation
The Hunt House
High Street
Paulerspury
Northants, NN12 7NA

Office Hours – Monday to Friday. 10.00am until 3.00pm

Email: admin@henryroyce.org.uk

Tel: 01327 811 048

The Sir Henry Royce Memorial Foundation is a company limited by guarantee Registration No: 6819026 – Charity number: 1128686
Sir Henry Royce Foundation (Australia) Locations:

Bill Allsep House,
Rowville, Victoria
Australia

Lionel Gell School of Instruction,
Rowville, Victoria,
Australia
Email: enquiries@roycefoundation.com.au
DON'S VEHICLE TIMELINE: 1991
Born on the 23rd of September 1960, Donald Charles Wales, 58 at the time of writing, entered into the land speed record arena after 1991 at the age of 31, having agreed to drive an electric car called Bluebird 9 Electric (BE1) for the conceptual design engineer Nelson Kruschandl. Thus, Don became an advocate for electric vehicles and since meeting Kruschandl (who is now a consultant on sustainable EV infrastructure) Don has banged the EV drum loud and clear - and, presumably, continues to do so today. Nelson says that he is "...proud to have converted this member of the Campbell clan to clean electricity," after all those years of his ancestors polluting the atmosphere.
We understand that what Nelson was not so pleased about was not being paid by Don for all his work in promoting Don's career and allowing him to profit from his BE1 and BE2 cars in this way. Some £62,000 was invoiced to Bluebird Electric Ltd, but not a penny of what was agreed would be paid was paid, even when Nelson offered to settle for half: £30,000. The only time Don offered to pay anything was to abandon a trademark application, when Don offered around £10,000. In the end Don settled by offering a Trade Mark license. But even that was not forthcoming. The only Agreement that materialized - was signed and delivered - was that Don would not use the names "Bluebird" and "Electric" together for any land speed record cars.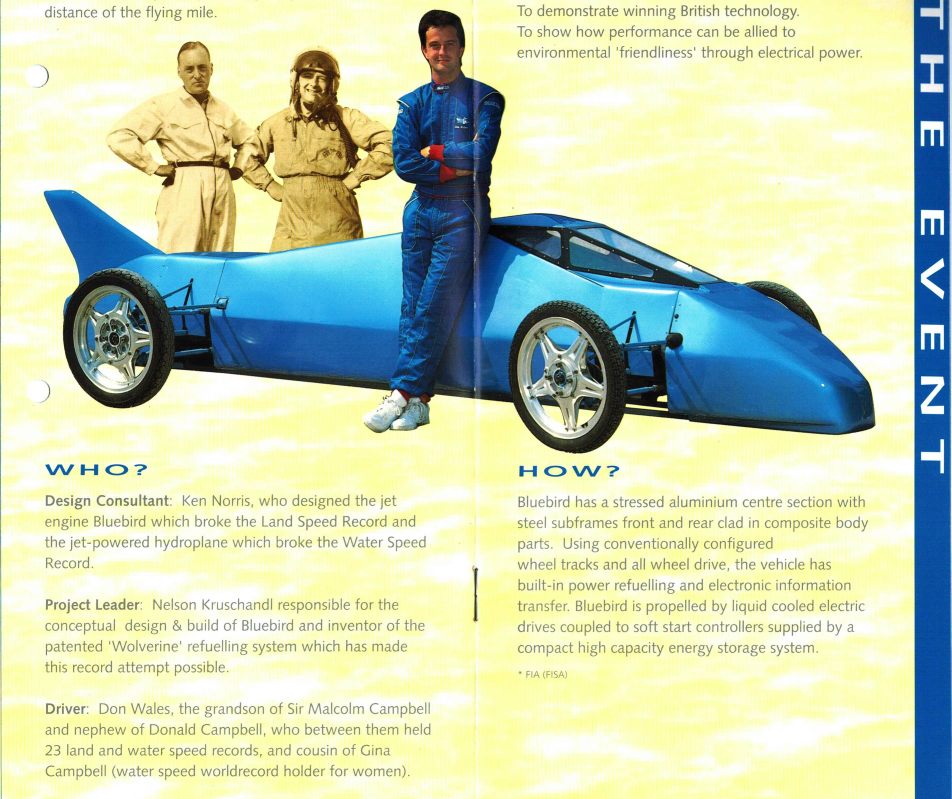 This is the centre page of a brochure produced to attract sponsors to the BE1 project for 1995/6. Don is seen here centrefold, modeling against the Bluebird Electric 1. The patented cartridge exchange refueling system is cited as the key technology for the attempt. Not a bad looking car and as it turned out, quite fast - more than capable of taking the 175mph record at the time (at Bonneville). This car achieved 160mph unofficially on a section of closed road with 80kW (107hp) motors - the short length of useable road being a limiting factor. She was designed to use 160kW (214 hp) motors for the WLSR attempt - all wheel drive. The BE1 chassis was so light that it could be lifted above the head with one hand. The cartridge refueling system further reduced the mass of the vehicle between runs.
Some years after meeting and after quite a bit of PR had been generated by Kruschandl and his cars, he and Donald (Don) formed a company together called Bluebird Electric Limited, which company was set up by Alex Spofforth (Spofforths) to accept funds for Nelson's LSR project vehicles from sponsor companies. This was under the terms of a License Agreement (long since terminated) to their company to use his revolutionary EV refueling system and car designs (then the subject of a 2nd patent application GB2253379).
STUNNER - This beautiful electric car (right) was designed and built by Nelson Kruschandl in 1997. It featured his patented battery cartridge exchange system using four of the pneumatic servos that were tried and tested in the BE1 above. The car above was built at workshops in what is now Herstmonceux Museum, an early electricity generating station that is the oldest surviving example of its kind anywhere in Europe. For this reason is was on a Monument Protection Programme operated by English Heritage. But even that failed to persuade the District Council to help with the restoration. At least one councillor is believed to have known Mr Wales. If that is not so we'd like the details if anyone knows.
DESIGN GENIUS - Kruschandl (left) being interviewed by the BBC with Don Wales ready to say his piece in 1996/7 at or near the Bluebird Store, London. NOTE: Mr Wales is not associated with current projects supported by Bluebird Marine Systems. It is such a shame when people fall out over money. Think what might have happened with the original fund raiser still backing such a project. Nelson is said to be a marketing guru as well as a gifted engineer.
LAWNMOWER MAN 2010 - Back to his Go-Kart roots. Don waves to an audience sitting on a machine that can presumably cut the grass in record time - or at least it did until Honda sharpened up their blades. Our question is: why would the grandson of Sir Malcolm Campbell get involved with what we can only describe as a sideshow record like this? Given that Don is not a landscape gardener or otherwise involved in grass cutting, would he not have been better served concentrating on the main event. If that is his agenda was/is to carry on the Campbell tradition of excellence. We can though see the funny side of it. One glaring omission is that the team seem to have forgotten to paint their cart blue!
This steam turbine powered car (380bhp) uses 12 water tube boilers fuelled by liquid propane. The car was mainly built on a farm at Lymington in Hampshire. The small team of 15 persevered after many setbacks. The car was driven by Charles Burnett first, thus demonstrating it was safe to the crowd, and then Don Wales, setting a number of new Guinness World Land Speed Record for a steam powered car at Edwards Air Force Base in California, with an average speed of 139.843mph for a measured mile. A point of note is that Donald Campbell, Don's uncle was very cautious and would not have the color green near any of his cars, so would not have entertained driving this car.

Chairman of the Royal Automobile Club's Awards Sub-Committee, John Wood, is quoted as saying:

"No one is going to suggest that this vehicle represents a major technical breakthrough, a relatively small improvement has been won at a cost of enormous complexity but it is unquestionably a triumph of determination, persistence and absolute refusal to give up in the face of adversity............"
In September 2012 Nick Ponting set a new British Electric Land Speed Record of 151.6mph (244km/h) at Elvington Airport in the Nemesis, a modified Lotus Exige sponsored by Ecotricity. Then in June of 2013 Lord Drayson (seen above right) successfully raised the BELSR to 204.185mph in his electric McLaren racer. This was a rise of 53mph or 35%.
On Saturday 22nd May 2010 Don broke the World Land Speed Record for a lawnmower when he achieved 86.069mph. Now you may see this a regressive step for a racing Campbell, but you have to take what life throws at you when you are not a marketing genius and your photography will not stretch to racing cars.

WALES' DC50 - Artwork for a proposed Bluebird DC50 - The claims are bold for an upstart electric supercar, promising a sub-1000kg curb-weight, 45/55% front/rear weight distribution, and either 240bhp, 280bhp or 360bhp drivetrains. Don also claims 0-60mph in 'less than six seconds' with a top speed limited to 140mph. A full battery recharge cycle is claimed in four hours with a range for the 240bhp version stretching to 200 miles. Options include a bespoke-trimmed cabin with a built-in Apple iPad driver interface incorporated into a 'unique floating dashboard' and Bluetooth connectivity as standard. If the car gets into production, we somehow doubt that having an iPlayer will matter to prospective buyers. *NOTE: This car does not feature the BMS Bluebird™ built in cartridge exchange technology. We have not seen any chassis or motors, or design drawings for that matter, to be able to comment on the validity of any claims.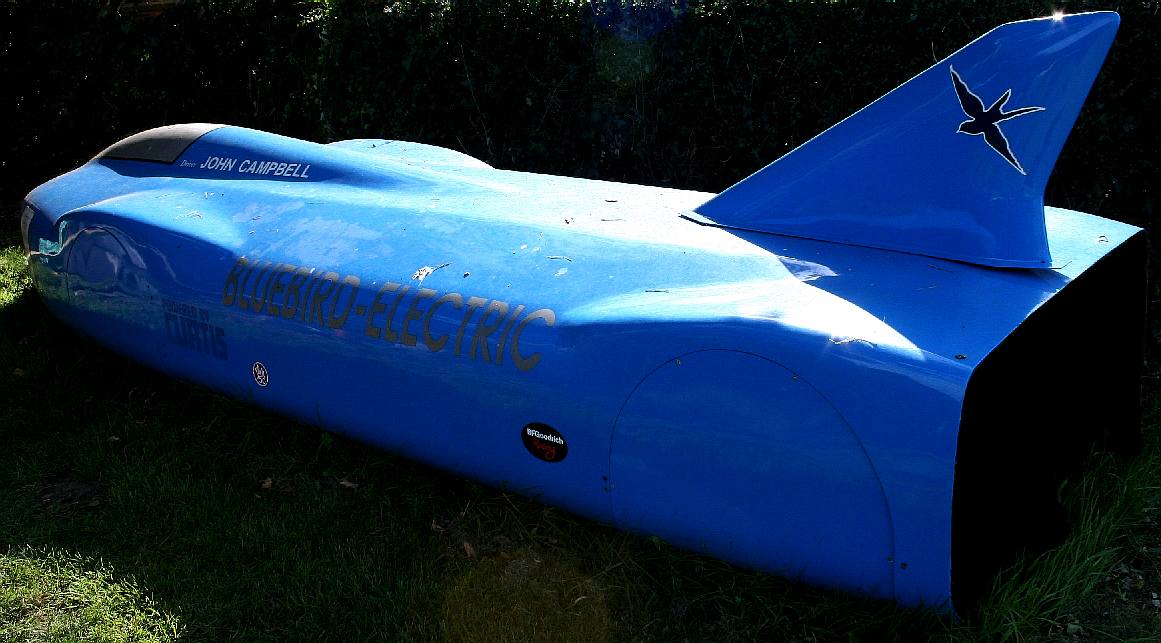 BE2 ROCKET - In truncated form, as used for sprints, the body of the BE2 looks as though it is jet powered like the Green Monster from Art Arfons, or Craig Breedlove's Spirit Of America, rather than electrically propelled. Please note that this photograph is Copyright © 9 August 2016 Bluebird Marine Systems Ltd. You will need permission from the company to reproduce these pictures, except for private review or study. You can see this splendid automotive art on display at the Campbell Hall, Herstmonceux Museum, East Sussex, UK.
A BIT MORE HISTORY - THE CAMPBELLS
Donald Wales lived in Addlestone, Surrey and was married to Francesca. They had two children Joseph and Charlotte, of which, Joe Wales, raced an electric land speed record car in 2011. Prior to Francesca producing the couple had problems with a birth, after which they got involved with fund raising for Guys children's hospital to buy vital health monitoring equipment.
It is not well known that Sir Malcolm and Lady Campbell had a son and a daughter. Donald is well known for his speed records. Jean Wales (née Campbell) is lesser known, save for her son Donald, better known as Don Wales of course. Jean and Donald (sister and brother) are pictured above together at Lake Coniston. Jean met Nelson Kruschandl and Alex Spofforth during a visit to her home in West Sussex when Don made the introductions to his then LSR partners. Jean passed away in June 2007 aged 83.
Sir Malcolm and Donald Campbell - father and son helmeted speed aces. While MC and DC liked to be seen in their racing gear, DW is very rarely pictured with a racing helmet on.
Don Wales was a photographer by trade, specializing in snapping weddings and ladies in skimpy underwear. He attended Eastbourne College. Don did not achieve his ambition to hold the world electric land speed record. We wonder if another relation may come out of the woodwork at some point in the future.
LINKS & REFERENCE
http://www.roycefoundation.com.au/
https://www.facebook.com/HenryRoyceFoundation
http://henryroyce.org.uk/royce-lecture-6th-october-2016/
https://twitter.com/HenryRoyceFound