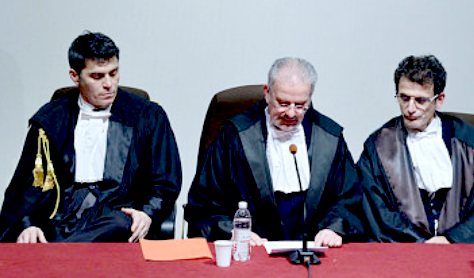 Court President, Judge Giovanni Puliatti (Centre) flanked by judges Sergio Compagnucci (Right) and Marco Mezzaluna (Left) reads the sentence at the end of the trial of Francesco Schettino, the captain of the Costa Concordia.
COURT SENTENCES CAPTAIN - 12 FEB 2015
The former Captain of the 'Costa Concordia' cruise ship that capsized back in January 2012 has been found guilty of manslaughter and sentenced to 16 years in prison – 10 years less than expected.
Francesco Schettino had been on trial in Tuscany, Italy, on criminal charges including multiple manslaughter, causing an environmental disaster and abandoning ship on the night of the disaster that took 32 lives.
But, the legal battle for justice continues for passengers and crew who suffered physical injury and psychological symptoms including post-traumatic stress disorder, causing flashbacks, nightmares and a fear of traveling.
Philip Banks, a partner at the UK-based personal injury lawyer firm representing the passengers and crew, Irwin Mitchell, said: "It was over three years ago when the Costa Concordia sank - this is unthinkable in modern times and was life-changing experience for those onboard."
Irwin Mitchell is now working with Italian lawyers to issue court proceedings for 12 passengers and crew. Last year, the firm also secured undisclosed settlements for a number of other British passengers through the UK courts against cruise operator Costa Crociere Spa to include compensation for their pain and suffering and other financial losses.
"It is vital that all cruise operators learn from the information gathered from the Captain's criminal trial as well as the many other investigations into what happened so that the risk of any similar accidents being repeated is reduced," Mr Banks is quoted as saying.
A prosecutor condemned the Captain as a "careless idiot", but Schettino has long maintained his actions after the ship ran aground prevented a much greater loss of life. As he asked for a 26-year sentence, prosecutor Stefano Pizza listed all the mistakes Capt Schettino had made. He is quoted as saying: "May God have pity on Schettino, because we cannot."
Born in 1960 in the southern coastal town of Castellammare di Stabia, near Naples, Capt Schettino has lived a life dominated by the sea. He attended a nautical institute in the nearby town of Piano di Sorrento and then joined Costa Cruises in 2002, initially as an official in charge of security. In 2006, he was promoted from second-in-command to captain.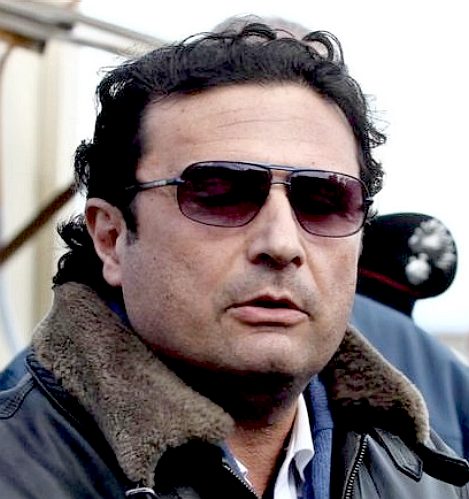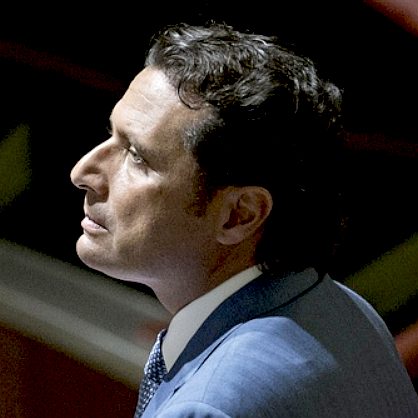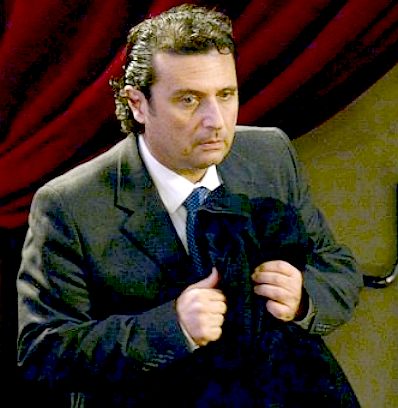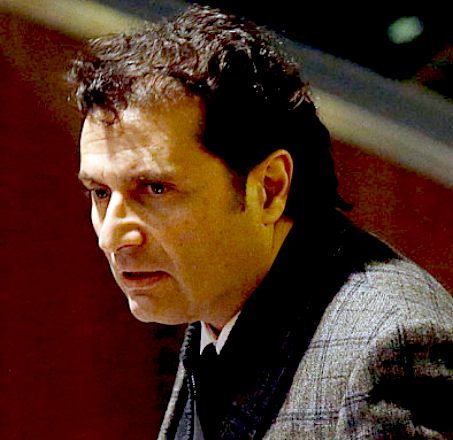 Captain Francesco Schettino during the trial that lasted some 19 months. He received a 16 year sentence for manslaughter and abandoning the Cost Concordia. In moments of extreme pressure like a shipwreck, some people suffer from shock and abandon normal reasoning, while others stretch to extraordinary feats of order and clarity.
Capt Schettino was singled out for blame by the official report into the sinking of the Costa Concordia, almost a floating city with its 4,300 passengers and crew members. It alleged he deliberately changed course to perform a risky night-time sail-past salute to people on the tiny island of Giglio.
He said at trial he: "wanted to kill three birds with one stone": to please the passengers, salute a retired captain on Giglio and do a favour to the vessel's head waiter, who was from the island. He has rejected rumours that he had wanted to impress his lover, Domnica Cemortan, with him at the helm.
As details of the unplanned change of course emerged, ship owner Costa Cruises distanced itself from the captain who, it said, had made "serious errors of judgement" and carried out a manoeuvre "unauthorised, unapproved and unknown to Costa".
The captain said in court that he had been been sacrificed to safeguard "economic interests", arguing that the court should be considering an entire organisation rather than one man.
Mr Schettino's shock and disbelief was clear in an interview given hours after the incident, when he told reporters the rocks had not been shown on his charts: "We were about 300 metres from the rocks, more or less, we shouldn't have hit anything."
Widely vilified in Italy for leaving his ship while passengers were still on board, Capt Schettino's reputation was further damaged when transcripts suggested he had not told the coastguard initially of the gravity of the damage to the ship.
"Listen Schettino, perhaps you have saved yourself from the sea, but I will make you look very bad. I will make you pay for this. Dammit, go back on board!" says Coastguard Capt Gregorio De Falco, repeatedly ordering him to return to the ship.
Speaking by radio from a lifeboat, Capt Schettino said he was co-ordinating the rescue from there, pleading at one point: "Do you realise that it is dark and we can't see anything?"
The coastguard shouts back: "So, what do you want to do, to go home, Schettino?! It's dark and you want to go home? Go to the bow of the ship where the ladder is and tell me what needs to be done, how many people there are, and what they need! Now!"
A taxi driver who says he took the captain to a hotel the morning after the sinking said the captain had asked only where he could buy some socks: "He looked like a beaten dog, cold and scared."
Capt Schettino has accepted some degree of responsibility, asking for forgiveness in a television interview in 2012 as he talked of those who died. He said he blamed himself for being "distracted" but said that he had not been on the bridge when the ship ran aground. In the interview, he broke down when asked about the youngest of the 32 victims, a five-year-old girl.
As the accusations against Capt Schettino grew, there were those who came to his defence, including sailors, who agreed with his assertion that his decision to steer the ship towards shallower waters had probably saved dozens of lives.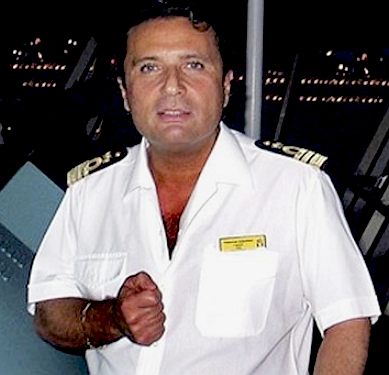 Captain Francesco Schettino in happier times
His defence lawyers accused the prosecution of focusing on him while offering plea bargains to five co-defendants, jailed in July 2013 for up to two years and 10 months.
According to an interview in Naples-based II Mattino newspaper quoting his sister, the first person Capt Schettino called after the incident was his 80-year-old mother, Rosa: "He called her at five in the morning on Saturday to tell her there had been a disaster, that he had tried to save as many passengers as possible and not to worry, because it was all over."
Testimony during the 19-month trial, which began in July 2013, highlighted errors by crewmembers and equipment that failed.
In a last appeal to the court, defense lawyer Domenico Pepe said the shipwreck was an "accident … and successive events led to the deaths of these poor people." He expressed the hope that "this trial will serve for something, at least to save lives" on future cruises because of lessons learned.
Schettino and Costa Cruises, the Italian unit of Carnival Corp., were also ordered to pay about $34,000 to each passenger, along with millions of dollars for environmental damage. The cruise company has already paid a $1.1 million fine for the disaster.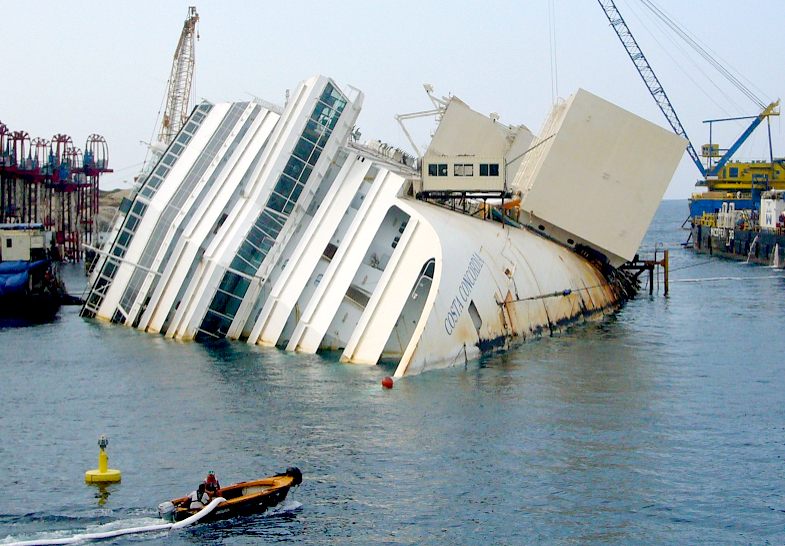 On 13 January 2012 at about 9:45 p.m., in calm seas and overcast weather, under command of Captain Francesco Schettino, Costa Concordia struck a rock in the Tyrrhenian Sea just off the eastern shore of Isola del Giglio, on the western coast of Italy about 100 km (62 mi) northwest of Rome. This tore a 50 m (160 ft) gash on the port side of her hull, which soon flooded parts of the engine room resulting in power loss to her propulsion and electrical systems. With water flooding in and listing, the ship drifted back to Giglio Island where she grounded 500 m (550 yd) north of the village of Giglio Porto, resting on her starboard side in shallow waters with most of her starboard side under water. Despite the gradual sinking of the ship, its complete loss of power, and its proximity to shore in calm seas, an order to abandon ship was not issued until over an hour after the initial impact. Although international maritime law requires all passengers to be evacuated within 30 minutes of an order to abandon ship, the evacuation of Costa Concordia took over six hours and not all passengers were evacuated. Of the 3,229 passengers and 1,023 crew known to have been aboard, 32 died.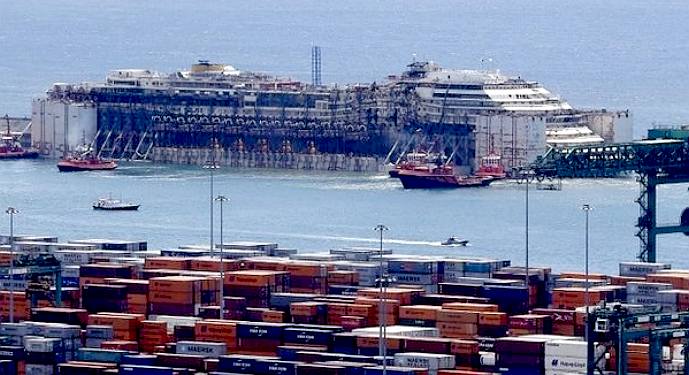 The Costa Concordia returns to the port of Genoa nine years after it was launched. If ever there was a case for autonomous navigation, this is it.
Artists impressions of the salvage and floating away procedure that proved to be very successful, if incredibly expensive.
COASTGUARD HERO SENT TO COVENTRY - 25 September 2014
He was the Italian hero to Francesco Schettino's villain: a coastguard official who, in the days after the Costa Concordia disaster, became a symbol of responsibility in a nation that was horrified by the allegedly reckless behaviour of the cruise ship's captain. On Thursday Italians were yet again engaged in a collective frenzy over straight-talking Gregorio de Falco.

The 50-year-old has said he is being transferred out of operational service at the Livorno coastguard and into administrative duties, prompting anger among those who remember his bracing words to Schettino on the night of the tragedy and despair over a country that they say does not know how to treat its heroes.

After recordings of the heated dialogue between De Falco and Costa Concordia's skipper were released the coastguard official was hailed as "the voice of duty" by newspaper La Repubblica, in which 32 people died. His command "Vada a bordo, cazzo!" ("Get on board, for fuck's sake!" was even emblazoned on T-shirts.

Federico Gelli, an MP in Italy's centre-left Democratic party called for the reasons for De Falco's transfer to be investigated.

"In the news media of the world he became the symbol of the Italy that tries to portray a different image from a disaster of this kind. This removal … deserves public clarification, even if to dispel potential suspicions that it is connected with the trial going on in Grosseto."

In that trial, Schettino faces charges including multiple manslaughter and abandoning ship, which he denies.

A row erupted in August at Rome's Sapienza University after it emerged Schettino had been invited to address a seminar organised by one of its professors. As the Costa Concordia was towed away from Giglio this summer, photographs emerged of the former captain partying on the island of Ischia.

"We are a country that rewards the Schettinos and punishes the De Falcos. That prefers buffoons to those who quietly get on with the job," wrote one Twitter user, @mariogiordano5, as the hashtag #DeFalco trended. "Italy punishes its best men," commented another, @francofontana43.

In an interview with La Repubblica, De Falco said he was saddened by the transfer, which he had not requested.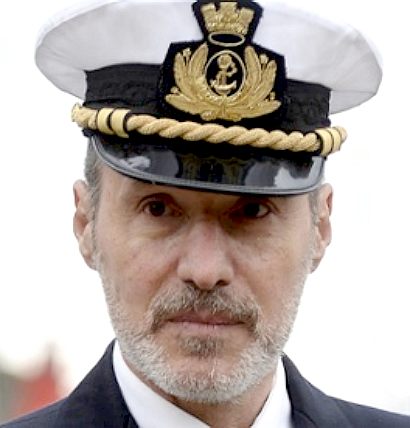 Coastguard hero, Gregorio De Falco
SALVORS GIVEN ENVIRONMENTAL AWARD - 24 September 2014
Houston Based Titan Salvage has been awarded the North American Marine Environment Protection Association (NAMEPA) 2014 Corporate Marine Environment Protection Award.

The prestigious award recognises Titan's proactive approach towards protecting and preserving the oceans and is due to be accepted by the company's vice president Chris Peterson at NAMEPA's New York City annual conference at the end of October.

Titan's director of business development Lindsay Malen will also attend the conference and participate in a risk management roundtable discussion with other leaders from across the industry. Ms Malen said: "Titan is a proud member of NAMEPA [and] we will continue to support the organisation's efforts to protect our seas and lead by example." Also commenting on the award, Mr Peterson said: "Titan is committed to ensuring the safety of our people, the public and the environment … this accolade is a testament to our mission, we are both humbled and honoured to receive NAMEPA's Corporate Marine Environment Protection Award."

Titan Salvage is a wholly owned subsidiary of Crowley Maritime Corporation and in recent years has expanded to become a major international player in marine salvage, emergency response and wreck removal activities. The company was formed in 1981 with just a single tug, since when they have performed over 450 salvage and wreck removal projects globally. They have primary offices and equipment depots in the UK, Singapore and Australia. Titan also maintain a network of strategically placed agent's offices in port cities around the world. They are a member of the International Salvage Union (ISU), the Marine Response Alliance (MRA) and the American Salvage Association.

Notable among Titan's many salvage operations was the protracted wreck removal of the cargo vessel New Carissa after grounding in the surf zone outside Coos Bay, Oregon and raising of the Confederate submarine Hunley which sank off the exposed coast of South Carolina in 1864. The jack-up barges Karlissa A and Karlissa B are among the best known item of plant in their armoury.

Titan's flagship project is probably its involvement in the removal of the wreck of the cruise ship Costa Concordia from Giglio Island. Titan teamed up with Italian marine contractor Micoperi for the project, a company with a long history as a specialist in underwater construction and engineering.

The project required 48,000 engineering man-hours and a workforce totalling 1,200. More than 22,000 dives totalling 30,000 hours were performed. The contract was awarded in April 2012 marking the beginning of over two years of intense activity. After anchoring and stabilising the wreck and with the aid of strandjacks Costa Concordia was parbuckled upright, resting on support structures pre-installed into the seabed. Following installation of substantial ballast caissons each side, the wreckwas eventually refloated and with a draft of 18.5m towed to Genoa for demolition.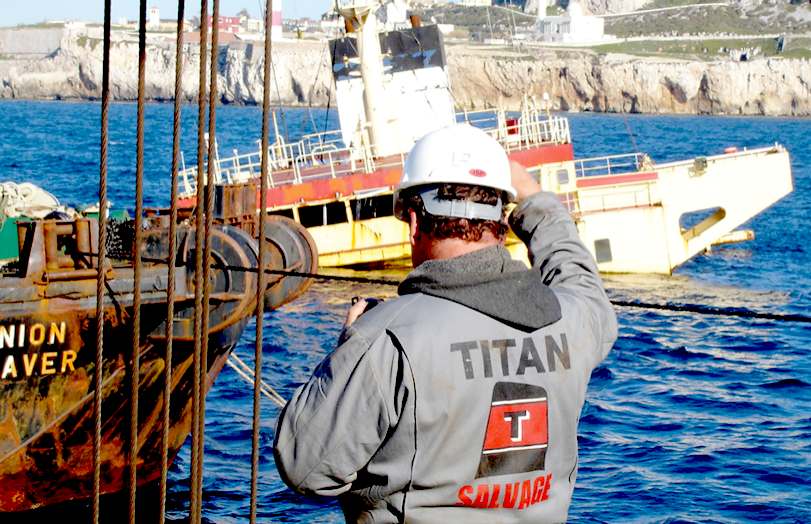 BBC NEWS 27 July 2014
The wrecked Italian cruise ship, the Costa Concordia, has entered the port of Genoa for scrapping after a two-year salvage operation.

Its removal was one of the biggest ever maritime salvage operations.

It limped into the port to be greeted by Prime Minister Matteo Renzi and to the sound of ships' horns blaring.

Worries that the damaged hull would disintegrate under the strain of the four-day, 280km (170-mile) journey from the disaster site proved unfounded.

"This is not a runway show. It's the end of a story in which many people died, which none of us will ever forget," Prime Minister Matteo Renzi is quoted as saying:

"I have come to say thank you to those who have done something that everyone said was not possible."

Environment Minister Gian Luca Galletti is quoted as saying it was time finally: "to breathe a sigh of relief".

The BBC's Alan Johnston in Italy says that the arrival of the vessel - which is longer and heavier than the Titanic - in Genoa at sunrise on Sunday marks the end of the biggest ever salvage operation of its kind.

The Costa Concordia struck a reef off the island of Giglio in January 2012 and capsized, killing 32 people.

The wreck was re-floated earlier this month and was kept above the surface by giant buoyancy chambers. It was towed to Genoa by more than a dozen vessels.

A fleet of eight tugs came out of Genoa port and lined it up before very slowly beginning to haul it into the calm waters of the harbour.

Straining against stiff winds, they manoeuvred the vessel inch-by-inch towards a wharf that had been specially prepared to receive it.

It is still hoped that down in the depths of the vessel the remains might be found of crew member Russel Rebello, who went missing on the night of the disaster. His was the only body that was never recovered.

Captain Francesco Schettino has denied charges of multiple manslaughter and abandoning ship. If convicted, he could be jailed for up to 20 years.

Genoa is where the Costa Concordia was built and launched amid fanfare and celebration nine years ago.

Antonio Benvenuti, the head of Genoa's harbour workers' union, told AP that there was no "precise schedule" for each stage of dealing with the wreck.

Tests will be carried out first to monitor for potential pollution problems, Mr Benvenuti said, before the first stage of the operation would begin, reducing the weight of the ship in order to lift it.

The Costa Concordia's owners, Costa Crociere, estimate the operation to remove the wreck from the reef and tow it for scrapping will cost 1.5bn euros (£1.2bn; $2bn) in total.

SURREAL
It's like being on the set of a Bond movie, as the giant liner slowly comes upright. The budget would certainly pay for Daniel Craig and a supporting cast in another lavish production. Hmmmm.
In engineering terms the theory of this salvage attempt is simple physics. It's a challenge you might set a classroom of school children in a paddling pool with a small model. But, this is not a small model, it's one of the largest ships ever built.
The snag is that they can't cut up the wreck as they might harm the waters it is lying in. Basically, they will weld some watertight steel boxes on the side, rotate the vessel clockwise until the boxes are in the water, then put some more watertight boxes on the other side and float the whole thing away. It's a bit like giving the ship water-wings. So, yes the theory is simple.

But that makes this no less of a delicate problem for the salvage team, when at this scale such rotation can take 24 hours and there have been problems with the cables. It's a logistical nightmare.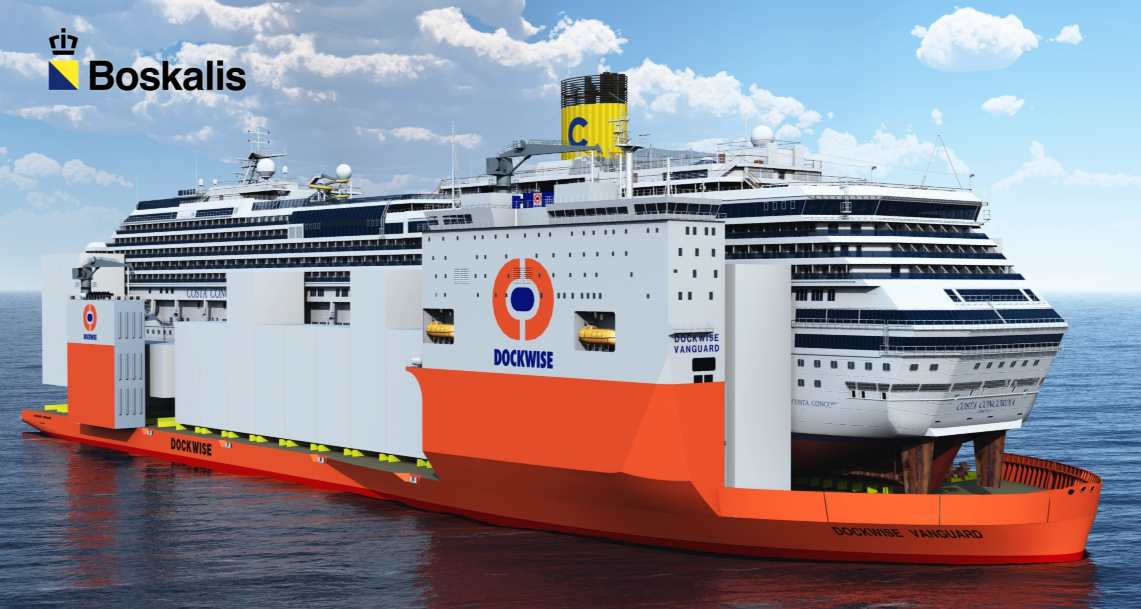 10 OCTOBER 2013
Dockwise, a wholly owned subsidiary of Royal Boskalis Westminster NV, has been awarded the contract to load and transport the Costa Concordia wreck from Isola del Giglio onboard the Dockwise Vanguard.

The contract was awarded by the client, Costa Crociere S.p.A.

Following the successful parbuckling of the Costa Concordia, and in anticipation of the pending refloat, Dockwise and the client have been in discussion to seek a safe solution to remove the Costa Concordia wreck from Isola del Giglio in Italy. In a unique operation, the Costa Concordia can be loaded as a whole onto the Dockwise Vanguard and safely transported to a location where it can be scrapped. The client has yet to make a decision in agreement with the local authorities on the final destination. Alternatives under review include scrapping the vessel in Italy.

As part of the contract, certain modifications will be made to the Dockwise Vanguard to accommodate the loading of the Costa Concordia in its current state. The operation is planned to take place around mid-2014 and contract value of the work scope as described amounts to approximately $30m.

The Dockwise Vanguard is the world's largest semi-submersible ship, uniquely positioned to lift and transport extremely heavy cargoes in a dry and safe manner. The ship was initially designed to transport offshore oil and gas structures, but can also carry other vessels and act as an offshore dry dock facility. The Dockwise Vanguard has an open and flat stern and bow-less deck measuring 275m by 70m, allowing the vessel to transport cargo longer and wider than the deck dimensions. When the ballast tanks are flooded, the ship deck submerges below the surface, allowing it to handle deep draught cargoes. Once the Dockwise Vanguard is semi-submersed, the floating Costa Concordia will be brought in position above the deck and as the ballast tanks are emptied, the entire ship, including the Costa Concordia is brought above the water line allowing it to transport the cargo in a safe and swift manner.

Boskalis, through its wholly owned subsidiary SMIT Salvage, also provided emergency response services in the first months following the Costa Concordia accident. SMIT Salvage, together with its local partner Tito Neri, successfully removed the bunker fuel from the ship and acted as caretaker from mid-January through to mid-March in 2012.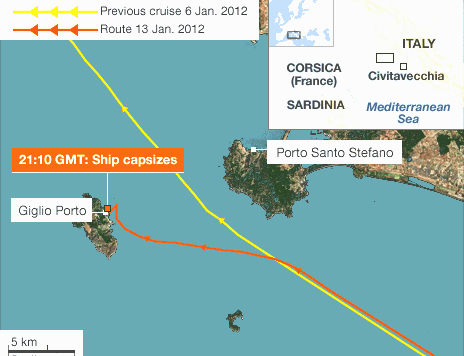 The yellow course is the correct, or usual navigation line. The orange course is the deviation taken for the wave and salute, a marine equivalent of a 'fly past.' Any way you look at it, the course change was cutting it a bit fine.

Having struck the submerged rocks, the Concordia filled with water on one side causing a list to port, then for some reason she rolls to starboard as she goes down, sliding down the ledge until coming to rest. The ship was not lucky in grounding, but it was lucky for the passengers that the list to port did not continue, because that would have submerged all of the upper decks - with probable additional loss of life.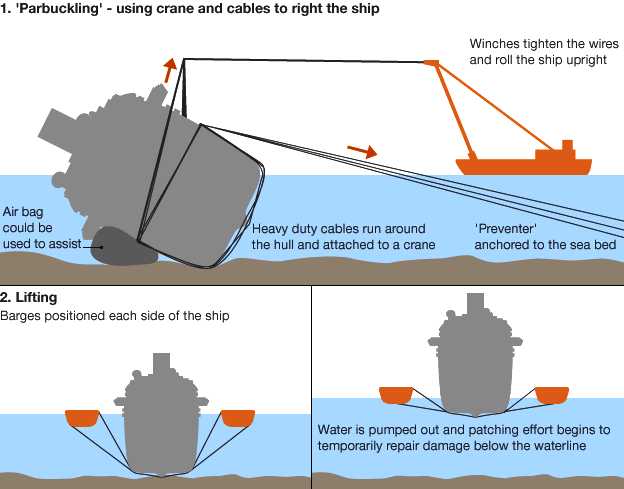 This was another proposal, that is less robust in concept, and does not take into account the slope that the ship rests on.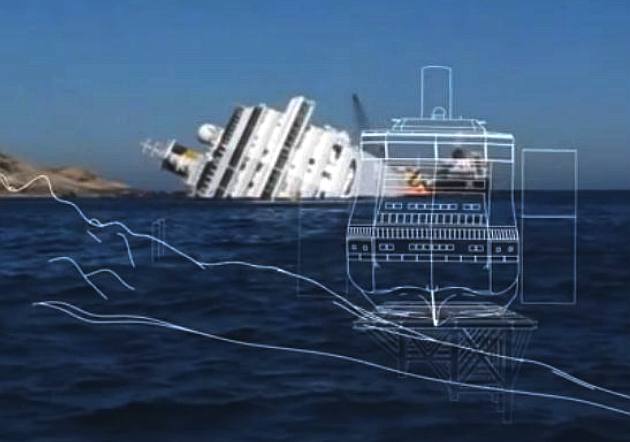 A sketch of the cradle and ship upright, superimposed on a photograph of the wreck.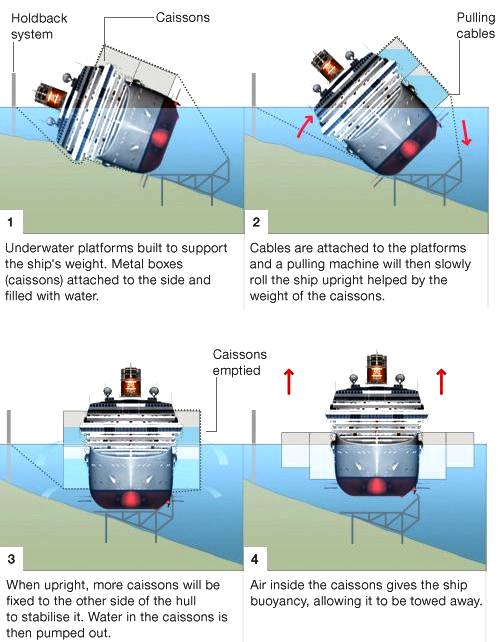 The sheer scale of the project is staggering. The mechanics relatively basic. Fix flotation tanks to one side of the wreck. Flood those tanks part way through rotation sequence to assist roll. Rotate the ship until it is sitting on a steel cradle. Affix saddle tanks to opposite side of the ship. Pump out saddle tanks and patch the hull. What then? Repair for use, or scrap her?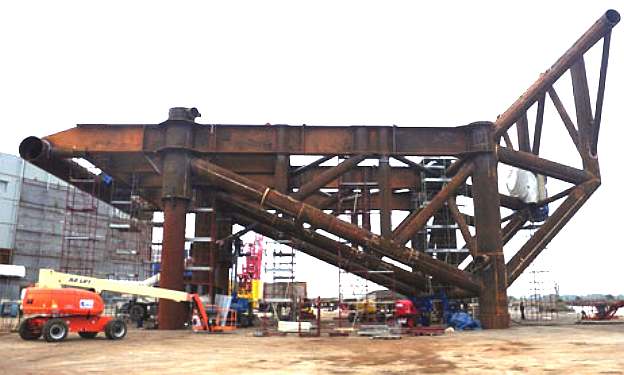 The massive steel cradle onshore
1. A crane ship positions the port saddle tanks. 2. Steel cables under tension as pull is applied to right the hull. It is important that pull should be applied evenly at the correct angle to all of the cables. 3. Ship is raised upright. 4. Search & rescue operations begin.
16 September 2013 - Details about salvage operation

The Costa Concordia sank off the coast of Giglio, Italy, two years ago has now been successfully lifted off rocks in the first part of a huge rescue operation. The project, which is said to be costing as much as £500m, was delayed after lightning storms hit the small island overnight.

The Costa Concordia was pulled off the rocks and moved on to a platform on the sea bed during the operation which is believed to be the biggest of its kind - no ship of its size has previously undergone such a rescue.

Some 32 people died when the cruise ship hit the rocks, but two bodies - a passenger and a crew member - have never been recovered.
American-owned specialist marine salvage and wreck removal company Titan Salvage alongside with Italian firm Micoperi were awarded a Costa Concordia wreck removal contract in April. Together they presented a plan to refloat and tow away the cruise ship to one of the Italian ports where she will likely be scrapped.

The salvage plan is the world's biggest and most complex ship salvage operation and it will cost at least 400 million euros ($525 million), Carnival Cruise says.
From these two pictures you can see how the ship crashed back onto the seabed rocks after the initial roll to port, then slid down before settling - in so doing, tearing up the steel walkways which are thin metal compared to the hull of the ship.
26 SEPTEMBER 2013

Human remains have been found at the site of the wreck of the Costa Concordia, a week after the cruise liner was wrenched from the sea-bed.
Divers have been combing the ship and surrounding areas for the bodies of Italian passenger Maria Grazia Trecarichi and Indian crew member Russel Rebello since the ship was judged sufficiently secure for investigation on Tuesday.
Last week, following a 19-hour operation to right the ship, the families of the two remaining missing victims arrived on the island of Giglio in the hope that their loved ones' remains would be found.
Franco Gabrielli of Italy's civil protection agency said the bones had been discovered in an area that had previously been identified as of major interest. He said: 'On first impression they seem to be the remains of the people we are looking for.'
The bones were found beneath the ship on the seabed this morning, sources told news agency Adnkronos. They will be DNA tested. Police and coast guard divers were in the water between 9am and 11am UK time, but returned without the remains to inform the prosecutor. They planned to return to bring up the bodies on Thursday afternoon.
Mrs Trecarichi, the last remaining missing passenger, was on the cruise to celebrate her 50th birthday with her friend Luisa, her daughter Stefania and her daughter's friend. The two young people survived.

As the ship sank, Mrs Trecarichi rang her husband, but in a heartbreaking twist of fate he failed to answer, having gone to bed early. She had not got onto a lifeboat with her daughter because she had returned to her cabin to get a warm jacket.

The Sicilian mother-of-one then rang a friend, saying that Stefania was on a boat and she was waiting for the next one. The phone call was then interrupted by a shout: 'My God my God we are sliding into the water.' Stefania, 18, is now competing in the Miss Italia beauty pageant in her memory of her mother, who had always encouraged her to enter.

Her grieving husband Elio Vincenzi spoke last week of his hope that he will finally be able to bring his wife home. He said: 'I want to bring her home back to Sicily, her homeland. I think only of her.' The successful parbuckling operation had given him new hope of closure, he said.

The brother of Indian waiter Rebello said his entire family was praying that he had been found. He said: 'I've been waiting for a week since they began work on the ship. I'm trying to control myself but I'm very emotional. 'I've already warned my sister-in-law and my mother and they are praying that the remains turn out to be those of my brother. It's important to have a place to cry and a place to pray.'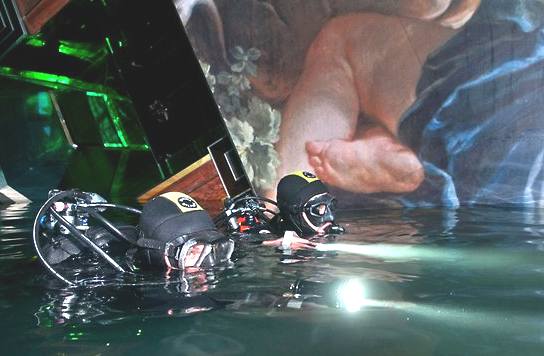 Divers find the remains of Maria d'Introno aboard the now upright Costa Concordia

An engineer working on the salvage operation, Sergio Girotto, told reporters the operation was going smoothly, saying: "Everything is going according to plan, we are following the plan to sequence... There is no problem whatsoever," the BBC reported.

More than 50 huge chains and winches have been used to free the ship at painstaking speed in order to prevent damage to the hull which has been exposed to the weather since the sinking in January 2012.

The Concordia's captain, Francesco Schettino, is currently on trial in Italy on a number of charges related to the sinking, including manslaughter.

It is alleged he ordered the ship off its prescribed course so passengers could wave at people on the shore. The liner then hit a reef which Schettino claimed was not mapped.
SUMMARY OF INCIDENT
The Italian cruise ship Costa Concordia capsized and sank after striking an underwater obstruction off Isola del Giglio, Tuscany, on 13 January 2012, with the loss of 32 lives.

The ship, carrying 4,252 people, was on the first leg of a cruise around the Mediterranean Sea, starting from Civitavecchia in Lazio, when she deviated from her planned route at the Isola del Giglio, coming closer to that island, and contacted an object on the sea floor.

The contact could be heard by passengers on board and caused a temporary power blackout when water flooded the engine room. The captain, Francesco Schettino, ordered evacuation after an hour of drifting, during which the ship had started to list. Meanwhile, the harbour authorities were alerted by worried passengers, and vessels were sent to the rescue. During a six-hour evacuation, most passengers were brought ashore. The search for missing people continued for several months, with all but two being accounted for. The ship was righted on 17 September 2013, and on 24 October 2013 it was reported that DNA analysis of one body found earlier in the same month confirmed it was the body of missing Italian passenger Maria Grazia Trecarichi.

Costa Concordia, operated by Costa Crociere (Costa Cruises), is one of the largest ships ever to be abandoned, dominating international media in the days after the disaster. Schettino was arrested on preliminary charges of manslaughter in connection with causing a shipwreck, failing to assist 300 passengers, and failing to be the last to leave the wreck. He was later charged with failing to describe to maritime authorities the scope of the disaster and with abandoning incapacitated passengers. Costa Cruises offered compensation to passengers (to a limit of €11,000 a person) to pay for all damages, including the value of the cruise. One-third of the passengers took this offer. The company also at first offered to pay Captain Schettino's legal costs, but later changed its mind.

There were immediate fears of an ecological disaster, as the partially submerged wreck was in danger of slipping into much deeper water, with a risk of oil pollution that could have devastated the popular tourist zone. In the end, no significant fuel leak occurred, and all the fuel was extracted safely from the ship by 24 March 2012. Costa Concordia has been officially declared a "constructive total loss" by the insurance company, with her salvage expected to be "one of the biggest maritime salvage operations". On 16 September 2013, the parbuckle salvage of the ship began. The operation started late due to bad weather, and the wreck was set upright in the early hours of 17 September 2013. In July 2014, the ship was refloated and towed to Genoa. There the ship will be dismantled and materials from the ship will be recycled.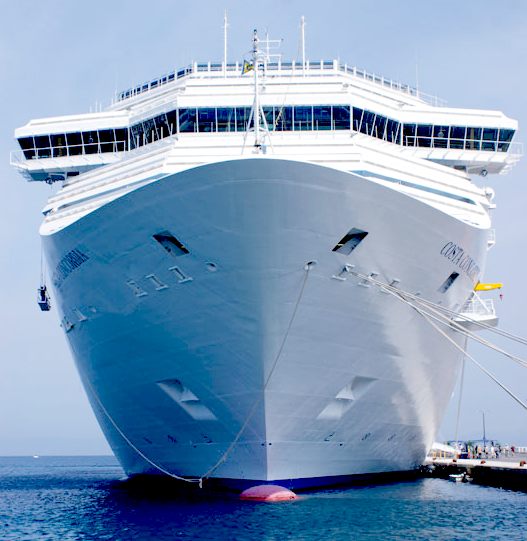 STATS
Owner:
Carnival Corporation & plc
Operator:
Costa Crociere
Port of registry:
Italy
Route:
Western Mediterranean
Ordered:
19 January 2004
Builder:
Fincantieri Sestri Ponente, Italy
Cost:
€450 million (£372 million,

US$570 million

)
Yard number:
6122
Launched:
2 September 2005
Christened:
7 July 2006
Acquired:
30 June 2006
Maiden voyage:
14 July 2006
In service:
July 2006
Out of service:
13 January 2012
Identification:
Call sign: IBHD
IMO number: 9320544
MMSI number: 247158500
Status:
Moored in Genoa, Italy for scrapping.
Class & type:
Concordia-class cruise ship
Tonnage:
114,147 GT
Length:
290.20 m (952 ft 1 in) (overall)
247.4 m (811 ft 8 in) (between perpendiculars)
Beam:
35.50 m (116 ft 6 in)
Draught:
8.20 m (26 ft 11 in)
Depth:
14.18 m (46 ft 6 in)
Decks:
13
Installed power:
6

×

Wärtsilä 12V46C
76,640 kW (102,780 hp) (combined)
Propulsion:
Diesel-electric; two shafts
Alstom propulsion motors (2

×

21

MW)
Two fixed pitch propellers
Speed:
19.6 knots (36 km/h; 23 mph) (service)
23 knots (43 km/h; 26 mph) (maximum)
Capacity:
3,780 passengers
Crew:
1,100

ABOUT THE COSTA CONCORDIA
Costa Concordia (Italian pronunciation: [ˈkɔsta konˈkɔrdja]) was a Concordia-class cruise ship built in 2004 by the Fincantieri's Sestri Ponente yards in Italy and operated from 2005 until 2012 by Costa Crociere (a subsidiary of Carnival Corporation). It was wrecked off the coast of Isola del Giglio in Italy on 13 January 2012. It was declared a total loss and later towed to the port of Genoa where it will be scrapped. The name Concordia was intended to express the wish for "continuing harmony, unity, and peace between European nations."

Costa Concordia was the first of the Concordia-class cruise ships, followed by similar ships Costa Serena, Costa Pacifica, Costa Favolosa and Costa Fascinosa, and Carnival Splendor built for Carnival Cruise Lines. When the 114,137 GT Costa Concordia and its sister ships entered service, they were among the largest ships built in Italy until the construction of the 130,000 GT Dream-class cruise ships.


CONCEPT and BUILD

Costa Concordia was ordered in 2004 by Carnival Corporation from Fincantieri and built in the Sestri Ponente yard in Genoa, as yard number 6122. At the vessel's launch at Sestri Ponente on 2 September 2005, the champagne bottle, released by model Eva Herzigová, failed to break when swung against the hull the first time, an inauspicious omen in maritime superstition. The ship was delivered to Costa on 30 June 2006. She cost €450 million (£372 million, US$570 million) to build.


TECHNICAL SPECIFICATION

Costa Concordia was 290.20 metres (952 ft 1 in) long, had a beam of 35.50 m (116.5 ft) and drew 8.20 m (26.9 ft) of water. It had a diesel-electric power plant consisting of six 12-cylinder Wärtsilä 12V46C four-stroke medium-speed diesel generating sets with a combined output of 76.6 MW (102,780 hp). These main generators provided power for all shipboard consumers from propulsion motors to hotel functions like lighting and air conditioning. The ship was propelled by two 21-megawatt electric motors coupled to fixed-pitch propellers. Her design service speed was 19.6 knots (36 km/h; 23 mph), but during sea trials, she achieved a speed of 23 knots (43 km/h; 26 mph).


AMENITIES

Costa Concordia was outfitted with approximately 1,500 cabins; 505 with private balconies and 55 with direct access to the Samsara Spa and were considered Spa staterooms; 58 suites had private balconies and 12 had direct access to the spa. Costa Concordia had one of the world's largest exercise facility areas at sea, the Samsara Spa, a two-level, 6,000 m2 (64,600 sq ft) fitness center, with gym, a thalassotherapy pool, sauna, Turkish bath and a solarium. The ship had four swimming pools, two with retractable roofs, five jacuzzis, five spas, and a poolside movie theatre on the main pool deck.

There were five on-board restaurants, with Club Concordia and Samsara taking reservations-only dining. There were thirteen bars, including a cigar and cognac bar and a coffee and chocolate bar.

Entertainment options included a three-level theatre, casino, a futuristic disco, and a children's area equipped with video games. She also had aboard a Grand Prix motor racing simulator and an internet café.

LINKS
Wikipedia Costa_Concordia_disaster
The Guardian Costa Concordia hero coastguard gregorio de falco italy
http://www.lusitania.net/lastrestingplace.htm
http://www.history.navy.mil/wars/korea/minewar.htm
BBC news Costa Concordia enters Genoa for scrapping
Maritime Journal Costa Concordia prestigious award for Titan salvage
Telegraph Costa-Concordia-captain-Schettino-sentenced-to-16-years-in-prison
http://www.costacruise.com/
http://www.costacruises.co.uk/
http://www.usatoday.com/story/news/world/2015/02/11/costa-concordia-captain-conviction/23237995/
http://www.theguardian.com/world/costa-concordia
http://en.wikipedia.org/wiki/Costa_Concordia
http://en.wikipedia.org/wiki/Costa_Concordia_disaster
http://www.theguardian.com/world/2014/sep/25/costa-concordia-hero-coastguard-gregorio-de-falco-italy
Last registered track and speed—on Google Maps
Rome newspaper nautical chart and satellite photo
Flickr Blog 16 January 2012 : Costa Concordia run aground off the Italian coast
US NOAA Nautical Chart of Area
Live 24Hour webcam view of Costa Concordia