The C-Worker undergoing ocean trials in the Solent (English Channel)

FEBRUARY 2014 DEBUT

ASV introduced C-Worker, a multiuse offshore unmanned surface vehicle developed to conduct subsea positioning, surveying and environmental monitoring for oil and gas operations.
C-Worker was demonstrated to members of the oil and gas and offshore surveying industries in January 2014 when ASV, alongside sister company C&C Technologies operated the vehicle in the Solent off Portsmouth, U.K. Fitted with a Sonardyne Gyro USBL acoustic positioning system, the vehicle successfully executed seabed positioning and Compatt calibration as well as station keeping and following survey lines.
C-Worker leverages technology from over 50 highly successful unmanned vehicles ASV has built to date. Additional technological advancements introduced in the C-Worker include the integration of a variety of offshore payload combinations including USBL, ADCP (current meter), CTD, Multibeam Sonar, Acoustic Telemetry, and Passive Acoustic Sonar (PAM) for marine mammal detection. Payloads can be developed by ASV or by customers who are supplied an empty payload frame and a software and power interface specification. The C-Worker's navigation sensor suite is comprised of C-Nav DGNSS, color and light cameras, an infrared pan tilt camera, an x-band marine radar and AIS.
ASV Managing Director, Dan Hook, is quoted as saying: "The C-Worker represents a new way of working, enabling customers to operate safely in the most challenging environments, reducing the risk to personnel and saving costs".
Having completed the build and commissioning of the first C-Worker, ASV are now underway with the production of the second. The vehicles will be operated and leased by ASV with options for bare-boat and full service solutions.
ASV and C&C Technologies will be attending this year's Oceanology International, March 11-13, London. Visit them at stand K301.
ASV designs, builds and tests hydrodynamic models as part of its concept and feasibility studies. Tests are undertaken in a number of slow and high speed towing tanks and also in free running, open water conditions.
NOC, RN SURVEY - FISHFINDER MISSION
ASV CONTACTS
Autonomous Surface Vehicles Ltd
Unit 6a, Trafalgar Wharf
Hamilton Road
Portchester
Hampshire
PO6 4PX
UK

Tel: 02392 382573
Fax: 02392 178718
Email: sales@asvglobal.com


C&C TECHNOLOGIES INC
C & C Technologies, Inc. is a privately-owned international surveying and mapping company specializing in deepwater services, with 600 employees worldwide. Our cutting-edge technologies, inspiring workplace and "can do" attitude endear our clients and attract the industry's leading innovators.
C&C CONTACTS
C & C Technologies
730 E. Kaliste Saloom Road
Lafayette, LA 70508
(T) 1-337-210-0000
(F) 1-337-210-0003

Corporate Officers

President & CEO - Thomas Chance
Executive Vice President - James Chance
Chief Operating Officer - Jeff Sides
Chief Financial Officer - Tommy Ortego
Health, Safety, and Environmental

Department Manager - Dirk Forman
Sales and Marketing

V.P. Director of Marketing - David Connell
Project Engineer - Jefferies Tatford
Director of Government Programs - Art Kleiner

Human Resources Manager - Jeanne Tatman
C & C Technologies UK Ltd.
5A Hillside Road (First Floor)
Bury St Edmunds
Suffolk, IP32 7EA, UK
Phone: +44 (0) 1284 703 800
Fax: +44 (0) 1284 701 004

UK Regional manager: Rick Davey
LINKS
http://www.unmannedsystemstechnology.com/plans-and-pricing/
http://www.unmannedsystemstechnology.com/company/autonomous-surface-vehicles-ltd/
http://www.asvglobal.com/
http://cctechnol.com/
http://www.cctechnology.com/
http://www.seadiscovery.com/mtStories.aspx?ShowStory=1110462070
http://www.science.mod.uk/Engagement/the_portal.aspx
http://www.science.mod.uk/Engagement/enterprise.aspx
https://www.dstl.gov.uk/centrefordefenceenterprise
https://www.dstl.gov.uk
US Department of Navy Research, development & Acquisition - http://acquisition.navy.mil/
US Fleet Forces Command - http://www.cffc.navy.mil/
US http://www.msc.navy.mil/
http://en.wikipedia.org/wiki/Naval_Oceanographic_Office
http://www.maritimejournal.com/news101/industry-news/ukho-appoints-new-national-hydrographer
http://en.wikipedia.org/wiki/United_Kingdom_Hydrographic_Office
http://www.ths.org.uk
http://www.spri.cam.ac.uk/friends/committee/
http://www.thefutureofnavigation.com/ten_steps.aspx
http://www.quaynote.com/ankiti/www/?code=ecdis13&f=programme
Wiki United_Kingdom_Hydrographic_Office
https://www.dstl.gov.uk/insight
http://www.innovate2014.co.uk/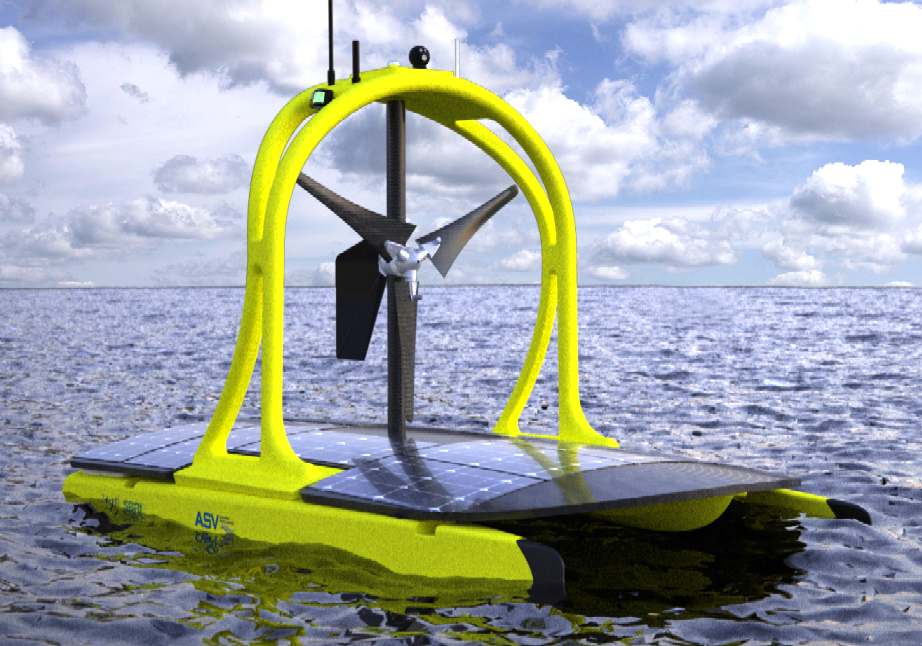 Another project from ASV, an endurance survey boat powered by solar and wind energy, with a diesel generator backup. Nice one chaps.
DECEMBER 12 2013 - Portsmouth UK, ASV's latest vehicle, the widely anticipated C-Enduro has begun sea trials in Portchester UK. The trials, organised by the National Oceanography Centre (NOC), were attended by the potential users from NOC and Royal Navy personnel who saw the C-Enduro operate autonomously and follow various courses set out by ASV's control system - and as a publicity stunt spelling out the name 'ASV' as part of the navigation exercise.

The C-Enduro brings a step change in oceanographic data collection, with an endurance of up to three months enabled by its environmentally friendly power structure the vehicle can support up to 500 watts of payload power. The applications for the vehicle are vast, ranging from marine environmental surveying to security and defence roles.

The vehicle was developed under a UK Government-backed Small Business Research Initiative (SBRI) intiated by the National Oceanography Centres (NOC) requirement for long endurance USVs for environmental research. The initiative is co-founded by the National Environmental Research Council (NERC), NOC's parent body, with the Technology Strategy Board (TSB) and the Defence, Science, Technology Laboratories (DSTL). The team behind the development of the LEMUSV, led by ASV, includes Hyperdrive Ltd who investigated motor options and power management systems and Cranfield University who have conducted research into collision avoidance technologies.
The C-Enduro vehicle centres on a 'three pillar' energy system providing a flexible and fault tolerant solution to energy supply. Having researched and trialled various energy sources the team selected solar panels, a wind generator and a lightweight diesel generator. ASV studies showed that this selection, combined with efficient power management and command and control systems packaged in a rugged self-righting vehicle, provides the greatest likelihood of meeting the performance requirements.