FIRST WORLD EV TOUR 11 February - 24 Sept 2012 - 227 DAYS
It's not quite 80 days but Jules Verne would be sure to applaud the two French adventurers on their achievement.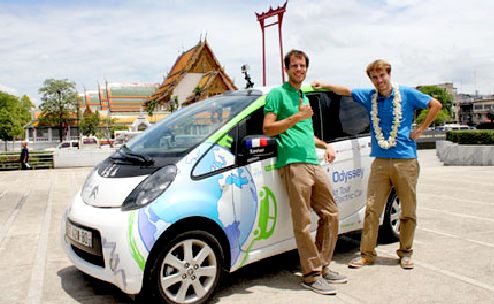 FIRST WORLD EV ROAD (and ocean) TRIP - 24 Sept 2012
PARIS – After eight months, two French engineers completed the first world tour with a standard electric car, a 25,000 km-odyssey (about 15,500 miles) across 17 countries on the 24th of September 2012.

The purpose of the Electric Odyssey was to promote electric mobility to the public at large and to turn people's skepticism into acceptance. "If we can do a world tour in a standard electric car, you can use it for your daily rides," declared crew members Antonin Guy and Xavier Degon.

The two globe-trotters left the French city of Strasbourg on Feb. 11 2012 aboard a C-Zero, a Citroen-branded Mitsubishi iMiEV that utilizes high energy density lithium-ion batteries.

The C-Zero has a 90-mile autonomy. The complete charge of the Lithium-ion battery is possible in 6 hours using a classic 220V electric outlet. When using a quick charge station (50kW under 400V), 80 percent of the battery can be charged in 30 minutes.

Guy and Degon said that the apparent strain of stopping approximately every 60 miles (100 kms) to charge the car was in fact an opportunity to meet up with the inhabitants of the 17 countries crossed as each day several charging points had to be found, which in the end meant 300 charging points and as many encounters.

The duo said they had a good surprise in Japan. The country is indeed equipped with quick plug-in stations, 20 minutes instead of six hours in average. However, they said they faced the greatest difficulties in the U.S. where it would take 14 hours to recharge the car.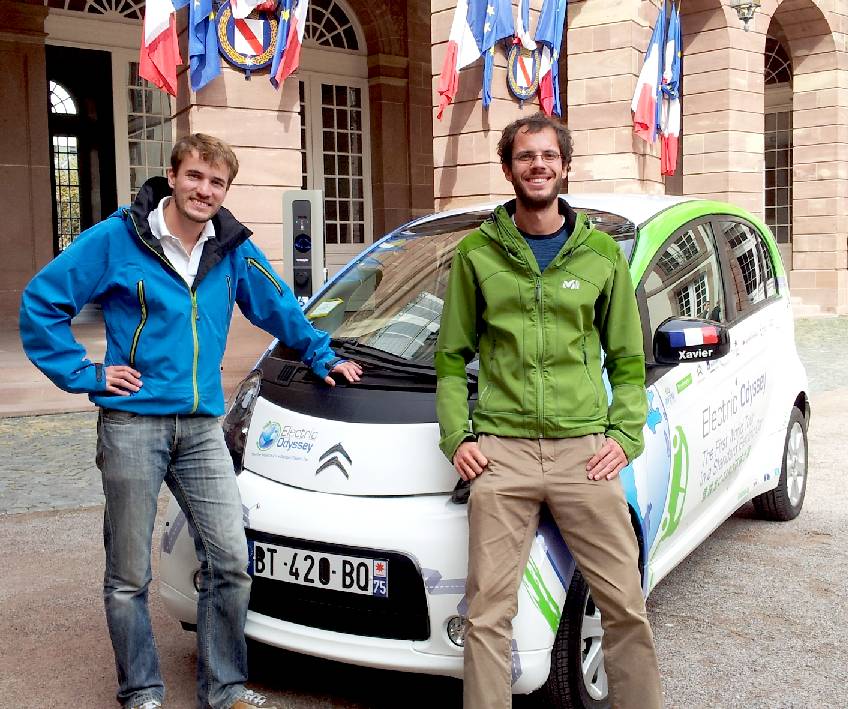 CONVERSION - MODIFICATION LINES MARCH 12 2012
Every age has its own means of transport and the twenty-first century seems to be an electric car. At least according to Citroen, which is undertaking an enterprise which will go into history: the first around the world aboard a zero emissions vehicle standard, the Citroen C-Zero.

"Electric Odyssey", this is the name of the operation to promote the mobility and the small electric city car – entry into the market last year – leading the audacious enterprise.

The protagonists

"If an electric car can travel around the world, then anyone can use it to go grocery shopping" this is the thought of one of two drivers who are undertaking the journey, his name is Xavier Degon, 27 years old and is a engineer at EDF. At his side there Antonin Guy, 28, a consultant at Capgemini Consulting.

The numbers

The company began a few days ago, on 11 February and will last about 200 days. Started from Strasbourg, the C-Zero will travel 25,000 kilometers across 17 countries. The Rocky Mountains, the heart of Japan, the Silk Road between China and Kazakhstan and Central Europe are only some of the highlights of his trip. As regards supplies were provided 300 recharges for a total of about 250 Euro of electric current.

Citroen C-Zero

The Citroen C-Zero is equipped with a magnet motor of 64 HP (47 kW) located at the rear (with rear wheel drive) and powered by lithium-ion battery (88 cells) device positioned at the center of the car. A full recharge takes about 6 hours through a 220 V. The maximum speed that can reach is 130 km/h while the maximum range is about 150 km at an average speed of 70 km/h.

At the time of the Electric Odyssey project launch, the estimated total cost of the world tour was between 250 euros ($325) and 500 euros ($650) of electricity, 5 to 7 times cheaper than the same trip using gasoline, engineers said. The project generated significant media attention and a meeting with the French energy minister Arnaud Montebourg.
THE CHARGING POINT JULY 26 2012
Two Frenchmen and a Citroen C-Zero currently in China, and created a rather fun video during the Japan leg.
The Electric Odyssey team has reached China and is heading through Gansu province, between the Mongolian plains and the foothills of Tibet, with the aim to get to Kazakhstan on 10th August.

Engineers Antonin Guy and Xavier Degon are aiming to get around the world on electric power alone, traveling 25,000km and using just 250 euros-worth of electricity to power their Citroen C-Zero.

The pair set out from Strasbourg in February, and in the last two months, have come from Japan and Singapore to go through Malaysia, Thailand, Laos and Vietnam, charging up mostly from domestic points belonging to volunteer 'Pluggers' supporting their quest. Arriving in China earlier this month, they were met by a delegation of Citroen staff in Chengdu and held a media conference, and they took the car through the high-altitude Yunnan province.

Their latest video records their experiences in Japan – including a Back To The Future encounter with an electrified DeLorean. "There are quick-charge stations everywhere", they say, the only drawback of these being that they charge the car up so quickly, there's barely time to finish a bowl of noodles or see to other personal needs… Farah Alkhalisi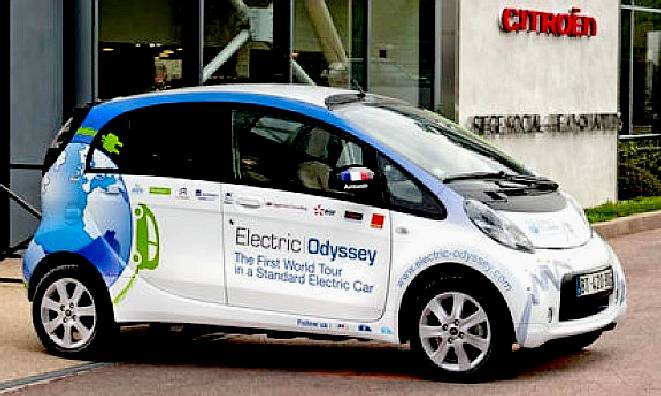 The electric Odyssey: Citroen C-Zero (Mitsubishi) sporting a nice paint job

BLOG COMMENT

In case you guys missed it, there's a Tesla Roadster owner, who'd been waiting for his Model S delivery to do a round the world trip. But when he heard about a bunch of guys doing it in a C-Zero, he decided to beat them to it. I think he just about caught up with them, as both cars are now in China. Just thought it was worth mentioning. http://www.1e-race.com/
CITROEN C-ZERO REVIEWS
The Citroen C-Zero is a well-engineered four seat electric city car that is let down by a huge price tag £25,4866. By comparison, the C1 city car can be leased from £119 a month, making the C-Zero a costly alternative.
The Citroen C-Zero can cover up to 93 miles on a full seven hour charge. Citroen claims a top speed of 80mph and says the car will accelerate from 37-56mph in six seconds. Of more interest is the range. A conservative estimate of 80 miles will be enough for most owners.

Citroen is no stranger to electric power. Back in the mid-1990s, it produced electric versions of the Berlingo, and sister company Peugeot built an electric 106. Nearly 20 years later, the world has caught up, and in a climate of spiralling fuel prices, buyers are now beginning to take electric vehicles seriously.

The Citroen C-Zero is effectively a rebadged version of the Mitsubishi i-MiEV and Peugeot iOn. It has a 66bhp electric motor fed by lithium-ion batteries mounted midships. A full recharge takes seven hours from a household electricity supply.

Citroen says there is still anxiety among buyers about the lifespan and cost of batteries, so it is offered on a four-year, 40,000 contract for £299 a month, excluding VAT. The plan includes the cost of leasing the car and battery, full servicing and maintenance, a two year vehicle warranty and a five year drivetrain warranty.
Despite the skinny tyres, handling is stable. And while the C-ZERO has been designed for the urban environment, it certainly isn't disgraced out on the open road.
VERDICT
Anyone who is expecting Citroen's first electric motor to be a revolution will be disappointed. However, the C-ZERO does exactly what it says on the tin: it's a zero-emissions city car that has enough punch for town driving. It's well equipped and will seat four in relative comfort and safety, too. Only the high asking price, expected to be around £25,000, is a disappointment. But for the local authorities and fleets Citroen is primarily targeting, that shouldn't be too much of a turn-off.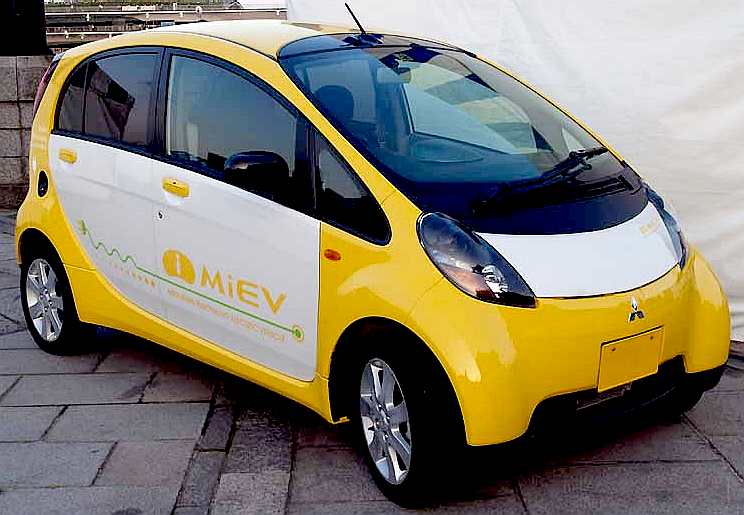 MITSUBISHI i-MiEV
The Mitsubishi i-MiEV (MiEV is an acronym for Mitsubishi innovative Electric Vehicle) is a five-door hatchback electric car produced by Mitsubishi Motors, and is the electric version of the Mitsubishi i. The i-MiEV is also sold in Europe rebadged by PSA Peugeot Citroën (PSA) as the Peugeot iOn and Citroën C-Zero.

The i-MiEV was launched for fleet customers in Japan in July 2009, and on April 1, 2010, for the wider public. International sales to Asia, Australia and Europe started in 2010, with further markers in 2011 including Central and South America. Fleet and retail customer deliveries in the U.S. and Canada began in December 2011. The American-only version, called "i", is larger than the Japanese version and has several additional features.

According to the manufacturer, the i-MiEV all-electric range is 160 kilometres (100 mi) on the Japanese test cycle. The range for the 2012 model year American version is 62 miles (100 km) on the United States Environmental Protection Agency's (US EPA) cycle. In November 2011 the Mitsubishi i ranked first in EPA's 2012 Annual Fuel Economy Guide, and became the most fuel efficient EPA certified vehicle in the U.S. for all fuels ever, until it was surpassed by the Honda Fit EV in June 2012.

As of December 2013, more than 28,000 i-MiEV family vehicles have been sold worldwide. Japan is the leading market with 9,402 i-MiEVs sold through December 2013, followed by France with 4,455 units, Norway with 4,241 units, Germany with 2,307 units of the i-MiEV family registered through December 2013, and the United States with 1,697 i-MiEVs sold through December 2013.
SPONSORS
OFFICIAL CANNONBALL INTERNATIONAL ZEV ROUTES
The Cannonball EV Run™ series is for battery or hydrogen fuel cell powered electric vehicles that are based on ordinary production vehicle running gear and must be capable of carrying a passenger. They may be solar assisted, provided that the solar panel area does not exceed the surface area of the original bodywork, or in the case of a custom car, four square meters - a rule that may be reviewed as the events develop.
The Ecostar DC50™ is a contender that holds the potential to change the rules of this particular ballgame. For starters it has solar panels to charge it's battery cartridge - giving between 100-200 free motoring miles a week. Then it can swap its own battery with built in loaders - making it the fastest charging car in the world potentially. Conventional fast charging is also on the menu, but with instant cartridge exchanges and the load leveling that provides for electricity generators - who might now want to look at service stations - it's downhill all the way to sustainable motoring, politics willing. A British team is looking for sponsorship for an event in 2015.
ENERGY COMPANIES
ENERGY GENERATING-DISTRIBUTION UTILITIES
ORIGINAL CANNONBALL BAKER TROPHY DASH
The Cannonball Baker Sea-To-Shining-Sea Memorial Trophy Dash, widely known simply as the Cannonball Baker or Cannonball Run, was an unofficial, unsanctioned automobile race run five times in the 1970s from New York City and Darien, Connecticut, on the U.S. Atlantic coast, to the Portofino Inn in Redondo Beach, a Los Angeles. As it was found out, the newly imposed 55 mph (89 km/h) speed limit imposed by the National Maximum Speed Law (imposed as an energy conservation measure) was actually slower than the quickest average speeds of point-to-point travels of Erwin George "Cannon Ball" Baker in the first half of the 20th century. In 1933, Baker drove coast to coast in a Graham-Paige model 57 Blue Streak 8, averaging greater than 50 mph (80 km/h), setting a 53 hour 30 minute record that stood for nearly 40 years.

Baker racked up 53 victories and 20 podium finishes in the following years, setting 11 new speed records in the process. In 1912, Indian Motorcycles hired him as a factory-sponsored rider. Here Baker went above and beyond the call of duty keeping the Indian name in the headlines. In 1914 Baker took part in a cross-country race that spanned 3,379 miles, of which just four were on paved roads and 68 miles on railroad tracks. He completed the run in 11 days, 11 hours and 11 minutes, shattering the previous record by some nine days, also breaking the automobile cross-country record by four days. This feat prompted a New York newspaper reporter to nickname Baker "Cannon Ball," after the unstoppable train run by the Illinois Central Railroad.

As the years went by, Baker continued racking up transcontinental records. Driving a 1926 Ford Model T, he made the coast-to-coast run in five days, two hours and 13 minutes. A year later, he hauled three tons of seawater from New York to San Francisco in five days, 17 hours and 36 minutes, driving the truck pictured above built by General Motors. Perhaps his most inspirational record of all came in 1933, when Cannon Ball Baker drove a supercharged Graham-Paige Model 57 across the country in just 53 hours and 30 minutes, with just one 30-minute rest stop.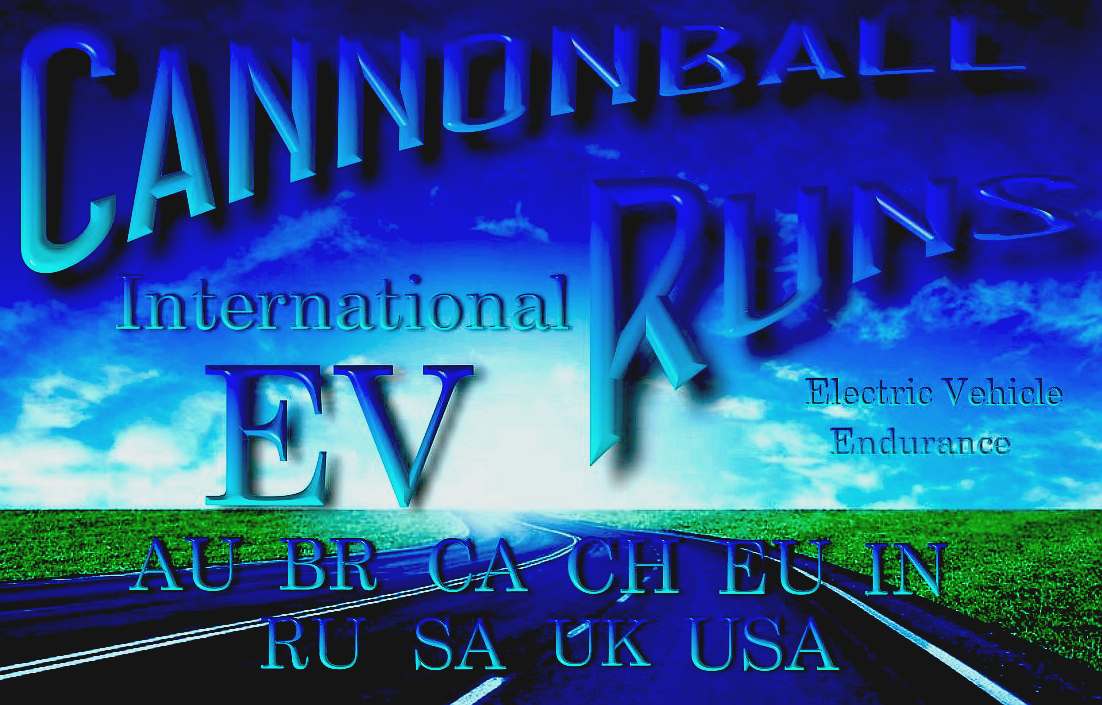 LINKS & REFERENCE

http://www.connect4climate.org/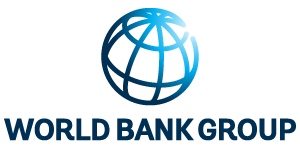 http://www.worldbank.org/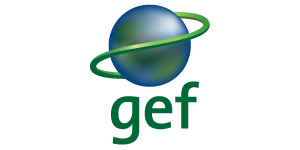 http://www.thegef.org/gef/
http://www.autocar.co.uk/car-review/citroen/c-zero
http://www.autoexpress.co.uk/car-reviews/17653/citroen-c-zero
http://www.electric-odyssey.com/
http://en.wikipedia.org/wiki/Mitsubishi_i-MiEV
http://www.thechargingpoint.com/news/Video-round-the-world-Electric-Odyssey-reaches-Japan.html
http://modificationlines.com/electric-odyssey-around-the-world-in-200-days-the-citroen-c-zero/
Electric-odyssey-around-the-world-in-200-days-the-citroen-c-zero
Round-the-world-with-electric-cars-synchroniz
https://en-gb.facebook.com/electric.odyssey
http://www.eetimes.com/document.asp?doc_id=1279936
http://www.autotrader.ie/news/Cannonball-Run-a-big-success-newsitem761.html
http://www.gumball3000.com/#/home
http://www.theautobahntour.com/
Cannonball-Run-Two-drivers-licenses-confiscated-day-London-Paris-race
http://www.cannonball.ie/
http://cannonballruneurope.co.uk/
http://www.worldcarfans.com/1080808507/huh-smart-fortwo-wins-cannonball-run
http://www.wired.com/autopia/2008/06/cannonball-run/
http://green.autoblog.com/2012/04/07/mens-health-looks-to-set-coast-to-coast-electric-vehicle-record/
Mercedes CL driver sets new record 98mph 29 hour car cannonball police gadgets
http://www.siliconrepublic.com/clean-tech/item/23525-electric-car-goes-the-dista
http://www.worldsolarchallenge.org/
http://www.discovery-campervans.com.au/adelaidedarwin.php
http://www.endtoenders.co.uk/
https://maps.google.com/
VAUXHALL AMPERA endurance ev attempt 2010_ampera_e-revs
http://en.wikipedia.org/wiki/Cannonball_Baker_Sea-To-Shining-Sea_Memorial_Trophy_Dash
http://www.formaplex.com/news/formaplex-launches-electric-car-world-record-attempt/
http://www.engadget.com/2010/05/31/racing-green-endurance-srzero-electric-car-to-make-16-000-mile-t/
http://www.rideacrossbritain.com/packages/end-to-end/
http://www.discoveradventure.com/challenges/land-s-end-to-john-o-groats-cycle
http://en.wikipedia.org/wiki/Land%27s_End_to_John_o%27_Groats